Thinking about past, long before I met the love of my life and presently my dear husband (Aditya), I was studying religiously to get high scores so that I would do something with my career. I always hated the idea of being a homemaker. I wanted to be a career-oriented woman. And of course, I did work hard to achieve that too. I did my graduation and post-graduation in Life Sciences. During this period I met my husband pursuing his research career. As I drifted towards him, soon we get married in May 2013 and I also started pursuing a research career. In between, we were blessed with a beautiful baby girl "Karen" in December 2014.
So, we are now a beautiful family of three. Three like a shape of a triangle, world's strongest shape. But inside us, there is a wanderer who needs to quench the thirst of wanderlust. Me and Adi, both have itchy feet. We are always looking for a chance, whether it is for a day, a weekend or a week off to travel someplace new.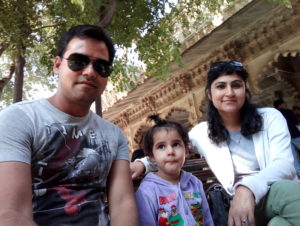 'KAREN'- Our Inspiration
'SUPRIYA'-  Trip planning, Story, Writing, and Website Maintenance
'ADITYA'- Driving, Photography & Videography, and Final Editing
Gadgets We Use:
DSLR-NIKON 3200
GoPro– HERO5
ActionPro
Transport:
Grand i10
Follow us at:
Pinterest
Facebook  
YouTube
Google+
Twitter
Instagram
Hi people!
Our blog has been listed with other fellow travel bloggers in gotravelblogs.com. 
You may like to check this, sharing the link here:
http://www.gotravelblogs.com/traxplorers/
Follow us