TRAXPLORERS
(Travelers and Explorers)
Live…Love…Travel…Learn…Evolve!!
Welcome to the blogging site of Family Travelers and Explorers (TRAXPLORERS). This blog is greatly influenced by all-time traveling people around the world. We offer you our best travel and adventurous experiences with the infant to our toddler (KAREN). The motivation for traveling and exploring our beautiful planet keep encouraging us. Our motive is to inspire other people who are families and always reluctant to traveling with kids. We believe traveling inspire kids and helps them to discover this beautiful world with their own first-hand experiences. Moreover, it also helps to understand this world better. The most important thing is – traveling improves FAMILY BONDING which ultimately helps in building a GREAT TEAM.
We are sharing our first-hand experiences of:
Traveling through various different parts of India.
Epic & adventurous road trips
Exploring various heritage sites.
Learning about different cultures.
Visiting places of historical importance.
Exploring the unexplored regions. (Off-the-Beaten Track).
Budget Backpacking Trips.
Doing various adventurous activities. (Trekking/Hiking/Paragliding etc.)
Let SHARE & INSPIRE others!
Who we are?


Thinking about past, long before I met the love of my life and presently my dear husband (Aditya), I was studying religiously to get high scores so that I would do something with my career. I always hated the idea of being a homemaker. I wanted to be a career-oriented woman. And of course, I did work hard to achieve that too. I did my graduation and post-graduation in Life Sciences. During this period I met my husband pursuing his research career. As I drifted towards him, soon we get married in May 2013 and I also started pursuing a research career. In between, we were blessed with a beautiful baby girl "Karen" in December 2014.
So, we are now a beautiful family of three. Three like a shape of a triangle, the world's strongest shape. Although we are research oriented couple but inside us, there is a wanderer who needs to quench the thirst of wanderlust. I and Adi, both have itchy feet. We are always looking for a chance, whether it is for a day, a weekend or a week off to travel someplace new.
This is how we landed on two platforms-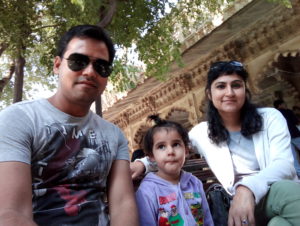 'KAREN'- Our Inspiration
'SUPRIYA'- Trip planning, Story, Writing, and Website Maintenance
'ADITYA'- Driving, Photography & Videography, and Final Editing
To know more about our work visit GliaBoffin and for travels read our Blog.
Gadgets We Use:
DSLR-NIKON 3200
GoPro– HERO5
ActionPro
Transport:
Grand i10
Follow us at:
Pinterest
Facebook
YouTube
Twitter
Instagram
Hi people!
Our blog has been listed with other fellow travel bloggers in gotravelblogs.com.
You may like to check this, sharing the link here:
http://www.gotravelblogs.com/traxplorers/