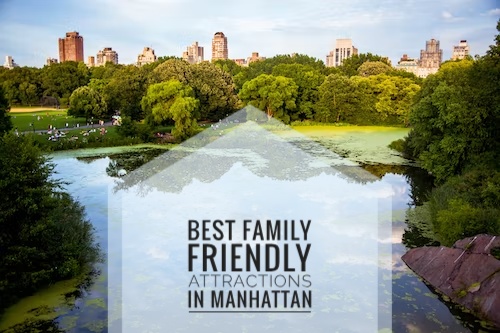 7 Best Family-friendly Attractions in Manhattan
Manhattan for Family
New York is a fantastic place to explore on a family trip. While this big and bustling city may not be one of the cheapest around, in fact, it's one of the world's most expensive. If you have the budget for it, there's plenty to keep you occupied with family friendly attractions in Manhattan. Besides, you'll find that some of the top attractions in this area are completely free to visit, making your dollars stretch further on your family trip.
Drop off your bags at Manhattan luggage storage, and you'll have access to everything this fascinating area of the city has to offer. There's so much to do here with kids that you'll never have to hear that terrible complaint that haunts the family trip, "I'm bored!"
Central Park
Central Park is always a great place to start. This sprawling park has something for everyone, from small children to adults, and you can easily spend the whole day here with family if you like. There are playgrounds, carousels, and even Central Park Zoo. You'll find it's just the perfect spot for a family picnic lunch too.
Central Park is such an icon of New York that you really can't afford not to visit it while you're in town. Luckily, there's enough to do here that both kids and adults will be happy they made the journey. And if nothing else, the trails around the park are a great place to stretch your legs and get some fresh air while you let the kids burn off some energy. This oasis in the middle of the towering city is an icon for a reason, so don't forget to add it to your list for your family trip to Manhattan.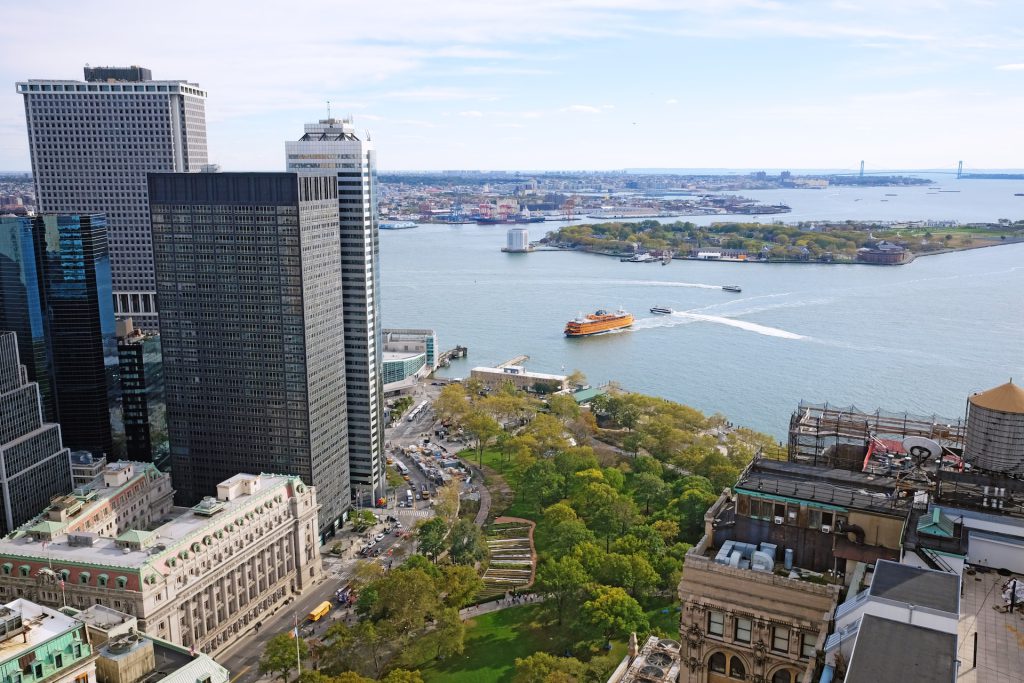 Battery Park
During nice weather months, another great outdoor activity is found at Battery Park's Sea Glass Carousel. Not only do its twinkling lights make it popular with kids, but they'll also love hopping on these unique horses that look like they were made out of sea glass. Plus, you get an amazing view of the Statue of Liberty while you ride!
Besides the carousel, the park itself is a great place to explore and get a taste of nature in the city. Although not as big or famous as Central Park, it provides similar opportunities for tiring the kids out and allowing you to take a break from the city to recharge your batteries.
Museum of Modern Art
Museums and kids don't always go together. But New York's iconic Museum of Modern Art is actually an extremely child-friendly place to visit. The museum has an "interactive learning space" just for kids, and they even offer family tours specifically designed to engage the whole family in art.
You can also take part in their creative workshops with your children, where you'll learn about art from around the world. Make sure to check out their website for upcoming themed events too.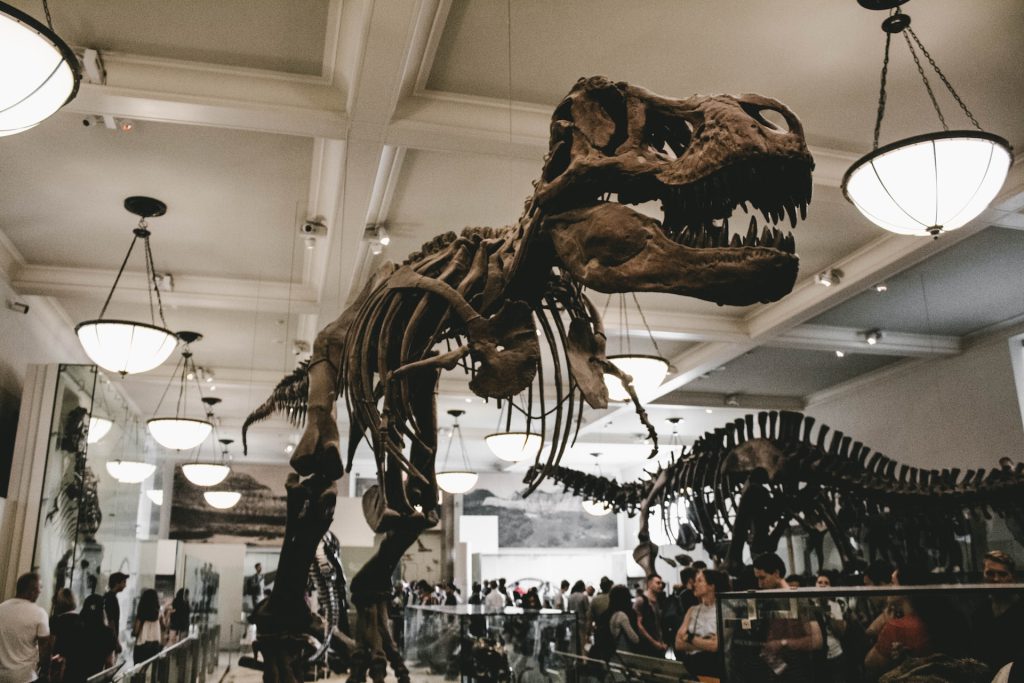 American Museum of Natural History
This iconic attraction is hardly a well-kept secret, but it's popular for a reason. Generations of families have been coming here, and the exhibits are just as big a hit with kids today as they were decades ago.
Kids will love seeing the life-size models of dinosaurs, visiting the interactive exhibits, and exploring the library. The night sky planetarium show is a great way to end your day here.
Children's Museum of Manhattan
Spread over five floors, this kid-centric museum is an ideal family activity in Manhattan. It provides educational programming, interactive exhibits, and activities that bring the world of art, music, and science to life for visitors. Explore a range of topics like culture, health and wellness, sustainability, and global citizenship through hands-on inquiry and creative play.
Every floor offers something new, from exploring the animal kingdom to learning about urban gardening or designing your own virtual cityscape. Interactive displays let kids create their own inventions and explore how different cultures interact in our communities. The museum also has an outdoor space where families can relax in between exhibitions or take part in special events like movie screenings or storytelling sessions. What more do you need?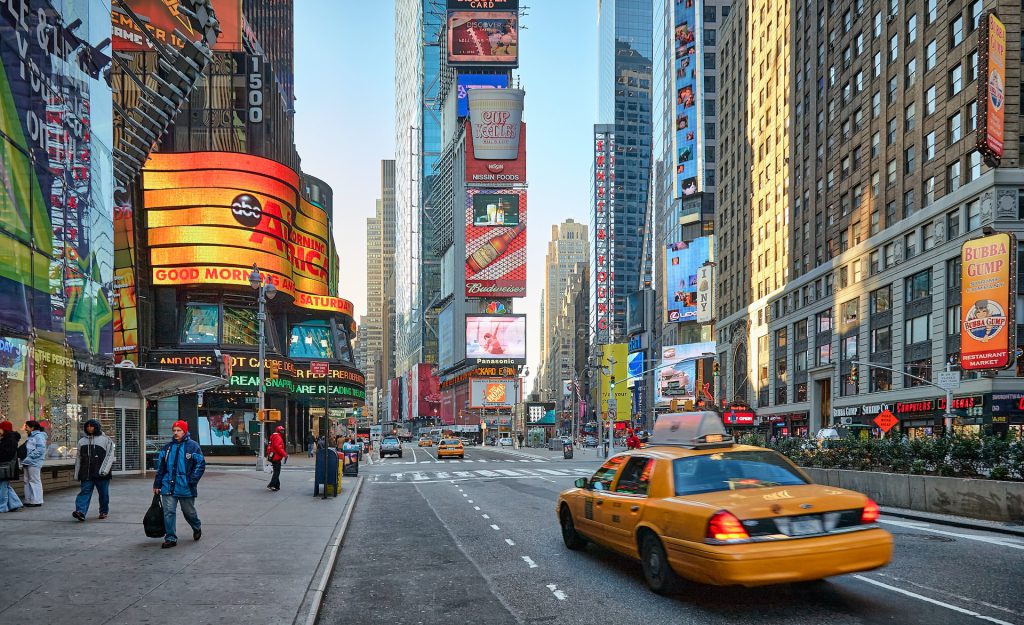 Times Square
This iconic public space is an attraction all by itself, with its brightly lit screens, street performers, and lively urban atmosphere that is sure to get kids' pulses racing. It's an ideal spot for a photo opportunity before you head off to explore the rest of Manhattan.
Plus, Times Square is also home to some excellent family friendly activities such as Madame Tussauds, Hershey's Chocolate World, and M&Ms World. You could easily spend a day or more exploring Times Square alone without running out of things to do, so make sure to add it to your New York family trip itinerary.
Empire State Building
Another must-see for families is the still impressive Empire State Building. Taking in the view from the observation deck of this towering building is an amazing experience that your kids will never forget.
The Empire State Building has special family packages, so you can benefit from discounts when visiting with children. In addition to the incredible views, there's also a kid-friendly audio tour that provides tons of fun facts about the building and its history.
Soak up some culture and take in those unforgettable views while spending time with your family — it'll definitely be a trip you won't soon forget.
Conclusion
The city streets may not be as friendly to families as more suburban areas, but that doesn't mean you can't find plenty of family-friendly activities in Manhattan. From educational trips to Central Park and Battery Park to cultural activities like visiting a museum or carousel ride, there's something for everyone in this amazing metropolitan area. Just make sure to pack light so you don't tire yourselves out carrying too much baggage with you all day long.
You may like to read: Why We Travel?- Reasons Decoded, Egypt- Great Family Holiday Attractions, Marseille- Outdoor Adventure Activities
Liked this article? Share and pin the image below to read later. Thanks!