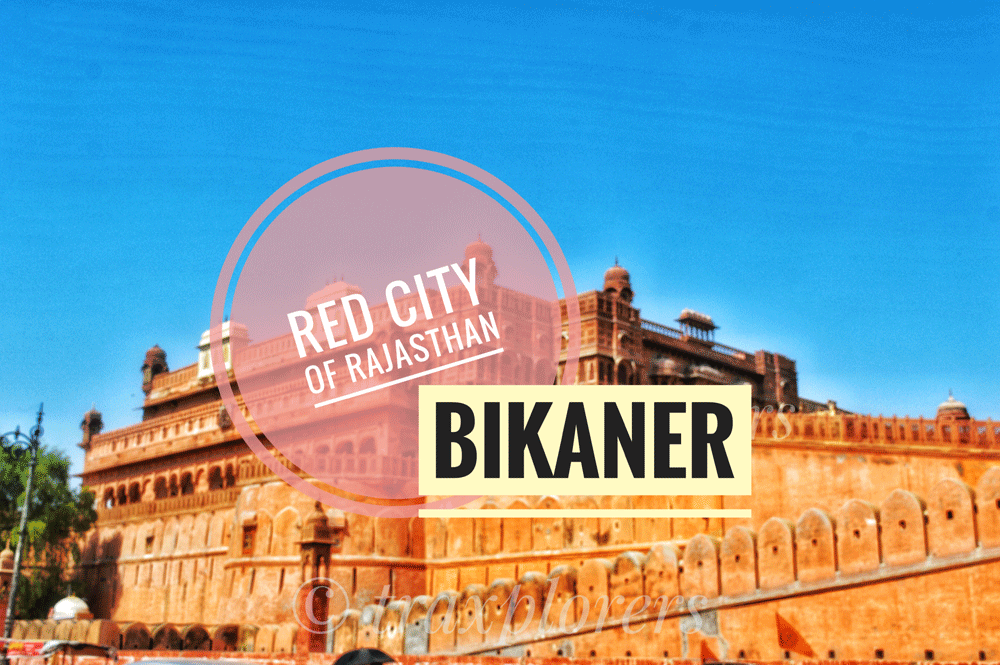 Bikaner- What is it Famous for?
Bikaner- The Red City
Bikaner before the mid-15th century was a barren wilderness amidst the Thar Desert of Rajasthan. It was known as Jangladesh. The present city Bikaner was founded by Rao Bika in 1488 CE, who was the son of Rao Jodha of 'Jodhpur- The Blue City'. Now, it has developed into the fourth largest city in Rajasthan. There are numerous Havelis and old houses that are made of red sandstones in the city. You will find a blend of Mughal and Gujarati architecture in the historic structures of Bikaner. Even today, the city is red in shade due to the red sandstones that adorn the city. There are numerous attractions to visit and experience the interesting history of Bikaner along with famous one like 'The Temple of Rats'.
Location: Bikaner is 330 km to the northwest of the state capital, 'Jaipur- The Pink City'.
How to Reach?
By Air: There is a domestic civil airport named 'Nal Airport' located 15 km west of the city.
By Train: Bikaner Railway Station is efficiently well connected to Delhi and Jaipur along with major Indian cities.
By Road: Central Bus Stand in Bikaner is well connected to other cities and nearby states by road.
Best time to visit: Best months are October to March.
Why is Bikaner Famous?
1. Bikaner is most famous for its savory snack 'Bikaneri Bhujia'. Its popularity can be guessed from the fact that it is sold all over the world.
2. It is also famous for its handicrafts, and leather products.
3. It has the biggest camel farm in Asia.
4. It is known for its historic architecture and intricately carved jharokhas.
5. Junagrah fort was not built on a hilltop or rocky mountain like other forts but rather built on a plain area.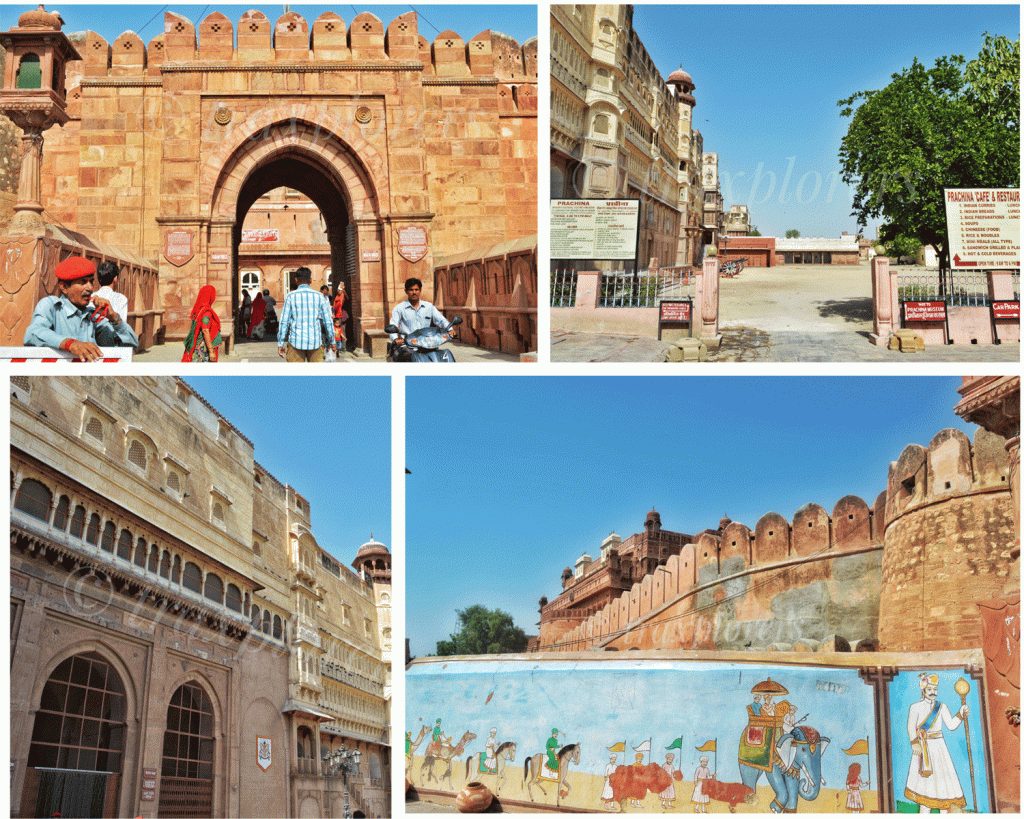 Famous Places to Visit in Bikaner
1. Junagarh Fort
Usually, we see forts built on hilltops but this is among one of the very few forts which are not built on a hilltop. Junagarh fort was built by the 6th ruler of Bikaner, Raja Rai Singh in the 16th century. Originally, it was called 'Chintamani' and was renamed 'Junagarh' in the early 20th century.
What to see inside Junagarh Fort?
1. Gates: There are seven gates, among them two are the main gates known as Karan Pol and Suraj Pol. Karan Pol was the former main'. gate entry for the fort. Suraj Pol is the current main entry gate. It is made of yellow sandstone.
Apart from these, other gates are Daulat Pol, Fateh Pol, and Chand Pol. At Daulat Pol there are several hand imprints of all the women who committed 'Sati'(died in funeral pyre) on the death of their husbands in battlefields.
2. Temples: The Har Narayan temple is dedicated to Lord Lakshmi Narayan and his wife, Lakshmi. The Ratan Behari temple dedicated to Hindu God Krishna located near Junagarh fort.
3. Palaces: Palaces are worth visiting in the fort as they represent their unique architectural features.
1. The oldest one is 'Phool Mahal' built by Raja Rai Singh.
2. The 'Karan Mahal' was built to commemorate the victory of 'Raja Karan Singh' over Aurangzeb in 1680.
3. An administrative headquarters of the kingdom known as 'Anup Mahal'. It is a multi-storeyed building.
4. The 'Anup Mahal' was extended to build 'Badal Mahal' which consists of many brilliant paintings.
5. The most luxurious palace in the fort is 'Chandra Mahal'.
6. Raja Ganga Singh built 'Ganga Mahal' in the 20th century which houses a museum now.
7. Havelis of Bikaner with a unique architectural style are located both inside and outside the fort.
4. Museum: In 1961 Maharaja Karni Singh built a museum in the fort which consists of various paintings, jewels, and other things depicting the royal life that the fort had witnessed.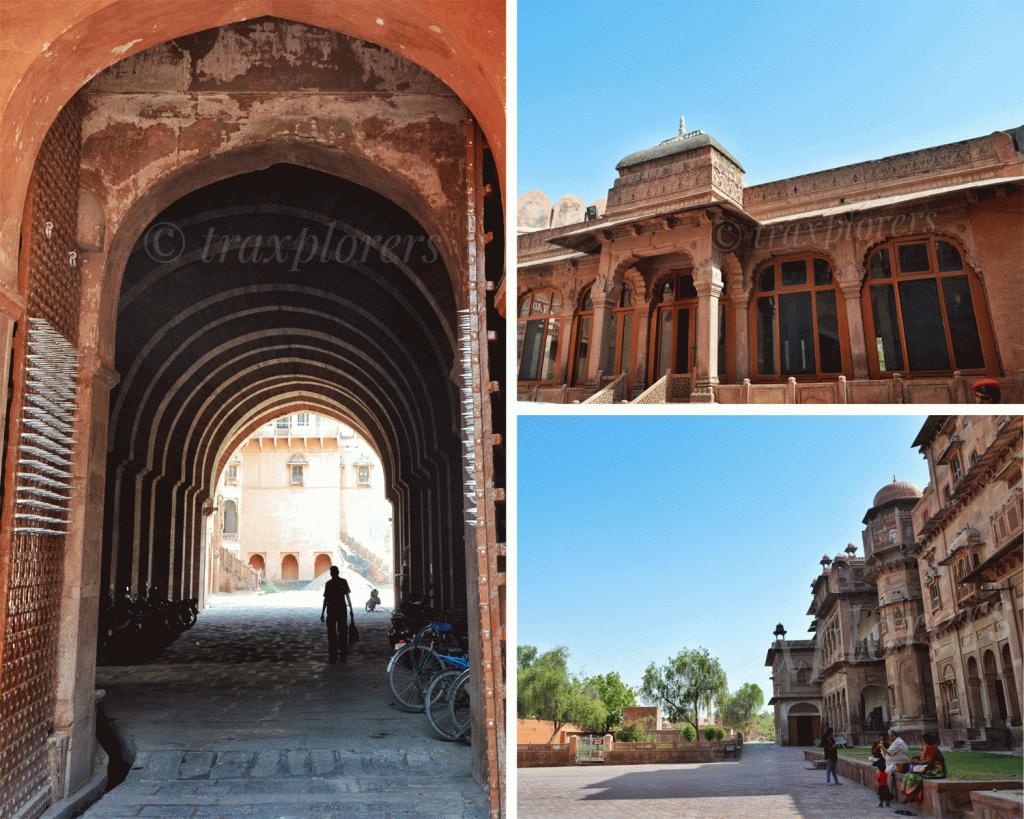 Timings: 10:00 AM - 4:30 PM
Entry Fee : Indians: INR 50, Foreigners: INR 300
Audio Tour: INR 350,
Phool Mahal and Chander Mahal: INR 100
2. Laxmi Niwas / Lalgarh Palace Bikaner
This palace was built in the early 20th century by Maharaja Ganga Singh. Its construction was completed between 1902 and 1926. Now, it is a heritage hotel of Bikaner.
Structure and Architecture
The palace was built with red sandstone in Indo- Saracenic style which was designed by the famous British architect Sir Samuel Swinton Jacob.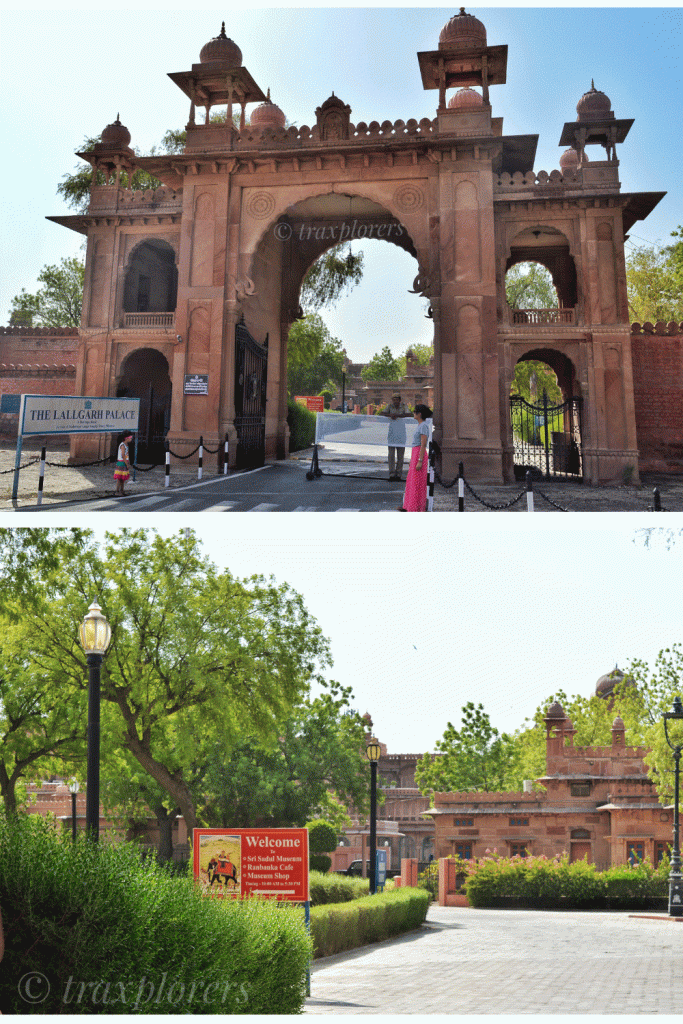 What Lalgarh Palace Hotel has to offer?
The Palace hotel organizes camel safaris, and dinner on sand dunes and offers billiards and massages. Other than this, it provides top amenities like an indoor pool, on-site restaurant, bar/lounge, etc.
Location: Laxmi Niwas Palace is a 2 Km distance away from Junagarh Fort.
Timings: Lalgarh Palace is open to tourists from 10 AM to 5 PM on all days of the week except Sunday.
3. Rao Bikaji's Fort
Rao Bikaji built this fort in 1478. This was the city's first original fort built around 500 years ago. This fort is also known as 'Bikaji ki Tekri'. It is made of red sandstone and the structure is quite fascinating. But after the construction of Junagarah Fort, this fort is now left as ruins.
What to expect at Bikaji Fort?
You would love to visit if you are a history lover and wants to know about ancient Bikaner. Other than this, there is a basement where you would get to see maze-like chambers connected to each other. It is surely a must-visit place to get deep into history.
Location: It is around 1.5 km distance away from Junagarh Fort.
Timings: 5 AM to 1 PM, 5:30 PM to 8:30 PM
4. Karni Mata Temple
Karni Mata Temple is also known as Madh Deshnoke. It is a prominent Hindu Temple dedicated to Goddess Karni. Karni Mata is believed to be the incarnation of Goddess Durga and is worshipped by Rajputs and Charan clan. It is one of the 52 Shakti Peeths, which are the major shrines associated with the mother Goddess Durga.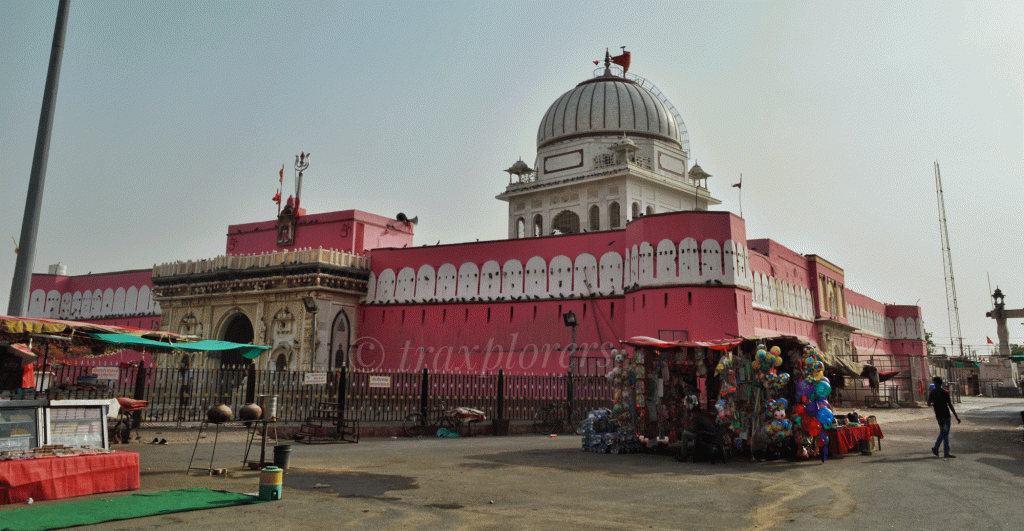 Why Karni Mata Temple is Famous?
There is an enormous population of rats in the temple which are known as 'Kabbas'. There are black rats mostly and only a few are seen as white. The white ones are especially considered holy. They are believed to be the incarnations of four sons of Mata Karni and herself. These rats are not harmful. They are well fed with the offerings by pilgrims.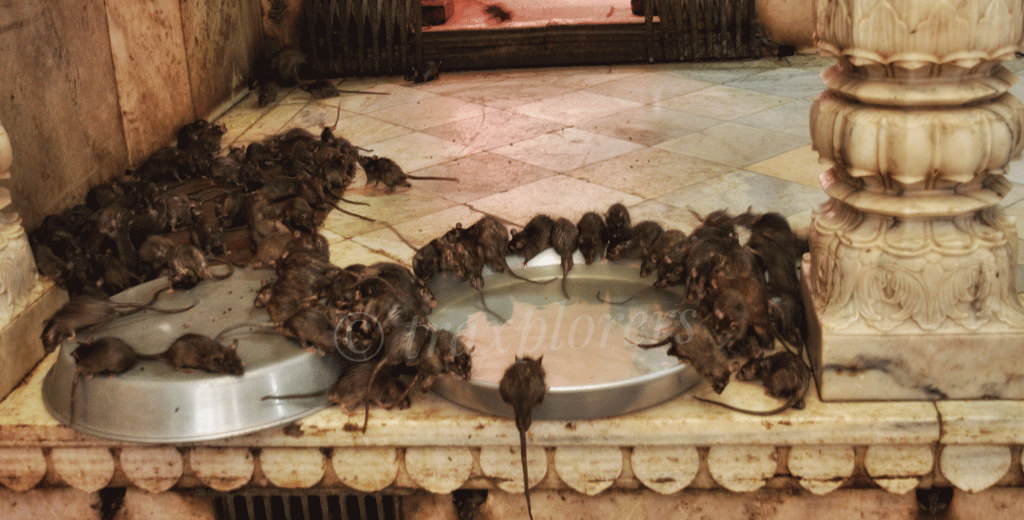 Story of Karni Mata Temple
It is said that there were four sons of Mata Karni. Once, one of her sons – Laxman fell in Kapil Sarovar in Kolayat Tehsil in an attempt to drink water and died. Karni Mata met the God of Death – Yama and demanded her son's life back. God Yama initially refused but eventually relented to her. He reincarnated her son into a rat. Even he also incarnated other followers of the Charan clan into rats. He said that all her family members will be reborn as rats before they die again and got a human life.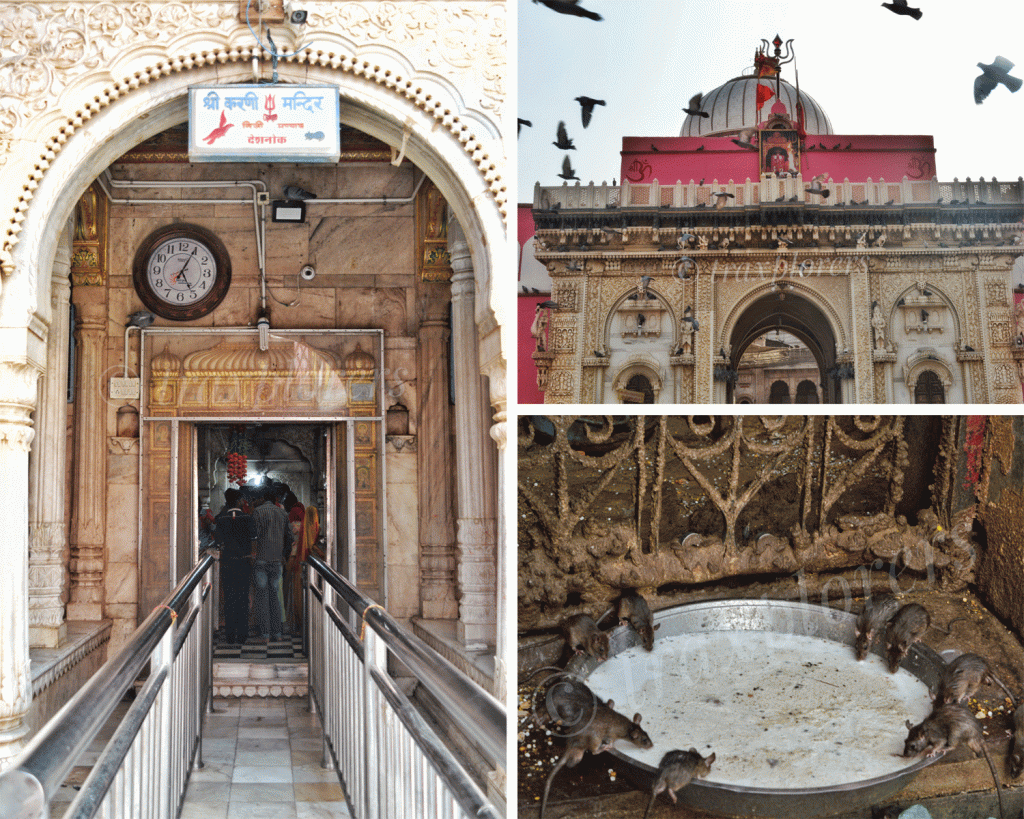 Best time to visit: Best to visit in the afternoon.
Opening Hours: The Temple remains open for all days of the week from 4 AM to 10 PM
Location: At 30 Km south of Bikaner.
5. Bhandasar Jain Temple Bikaner
This Jain Temple was built in the 15th century and is among one of the oldest temples in Bikaner. The Temple is dedicated to Sumatinath (5th Jain Tirthankar) and consists of a garbhagriha, an antarala, a mahamandapa and an ardhamandapa. It is a two-storied temple that is made of red sandstone. Today, it is protected by the Archaeological Survey of India (ASI).
What is it famous for?
This Temple is famous for wall paintings, mirror work, stone carvings, and artwork.
Opening Hours: Remains open for all days of the week from 5 AM to 1 PM and 5:30 PM to 11:30 PM.
Location: Approx. 3 km away from Bikaner railway station.
Biggest Attraction of Bikaner
International Camel festival: It is held in January every year to honor the 'Ship of The Desert- Camel'. Beautifully adorned camels and performances by various artists are the key attractions of the festival.
How did you find this article? Helpful? Like and spread the love by sharing it. Pin the image below to save and read later. Thanks!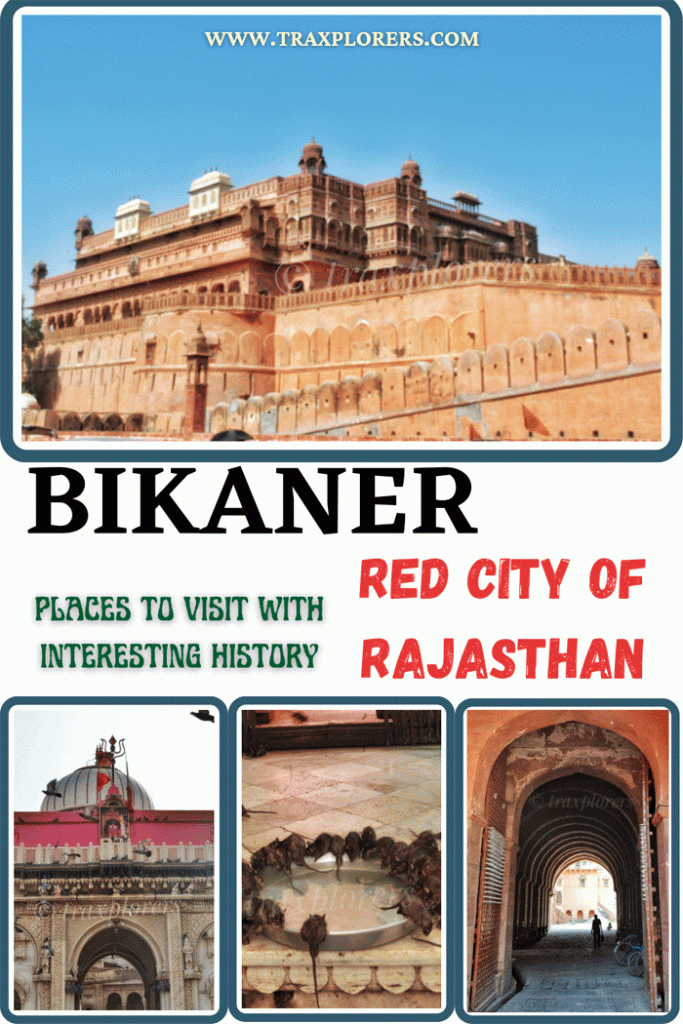 Tagged Best time to visit, Bhandsar Jain Temple, Biggest attractionof Bikaner, Bikaner, history, How to reach, International Camel festival, Junagarh Fort, Karni Mata Temple, Lalgarh Palace, Laxmi Niwas, location, Places to visit, Rao Bikaji Fort, Red City of Rajasthan, Temple of Rats, Things to do, timings and ticket prices, what to see