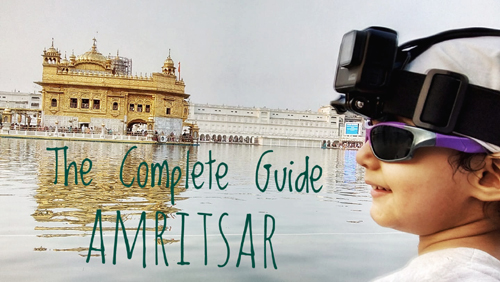 Amritsar City: The Complete Travel Guide
Amritsar- The Holy City
Being a local how could we skip writing about the holy city Amritsar? Undoubtedly, it took us time to prepare an ultimate travel guide but this post assures you complete exposure to the city. In North India, Amritsar is the prime city to get the rich experience of Punjabi culture and heritage. One could get to know the glorious history of Punjab at Gobindgarh Fort, indulge in enthusiasm of patriotism at Wagah Border, breathe the holy air at Golden Temple (most visited place in the World) and Durgiana Tirath, feel the sacrifice of martyrs at Jallianwala Bagh, pain of people during Indo-Pak partition at Partition museum, shopping traditional Punjabi suites at Hall bazar. No visit to Amritsar is complete without having mouth-watering Amritsar special Kulcha and food of community kitchen named Langar in Gurudwaras (Sikh Temples). There are many hidden places yet worthful to explore like Ram Tirath Temple, Model Town, Gurudwara Baba Atal Rai Ji. From rich past to present day modern life, Amritsar has it all. Come and explore yourself the holy city Amritsar with Traxplorers.
Best Time to visit
The best time to visit Amritsar is in winters or in early winters especially from October to March. These months are pleasant to explore Amritsar otherwise it is quite hot weather in the city. However, sometimes during the peak winter month of January temperature drops to almost zero degrees Celsius.
Note: Best time to visit the city during the Diwali festival and Gurupurab (Birthday of Guru Nanak Dev Ji- first Guru of Sikh community). This adds extra glory to the holy city of Amritsar.
View this post on Instagram
How to reach?
By Air: An international airport located 11 km from the city center is well connected to other cities of India and also international cities. There are daily flights to and from Dubai, London, Toronto, and Tashkent.
By Train: The railway station is well connected to all the major cities in India. One can reach Amritsar by train from New Delhi in 6 hours approximately.
By Bus: There are many bus services that connect Amritsar to many cities in India.
Where to stay in Amritsar?
You need two to three days to explore Amritsar at the fullest. One can opt for best stays near Golden Temple, Mall of Amritsar, Railway Junction, Amritsar Bus Stand, and best hotels near Sri Guru Ram Dass Jee International Airport, Amritsar. Check out hotels in Amritsar for your luxurious as well as budget stay.
Places to visit
See the most visited place in the world- The Golden Temple
The Golden temple- plated with gold is also known as Shri Harmandir Sahib or Darbar Sahib. This Sikh pilgrimage is not only the site of Sikhism but also a symbol of brotherhood and equality.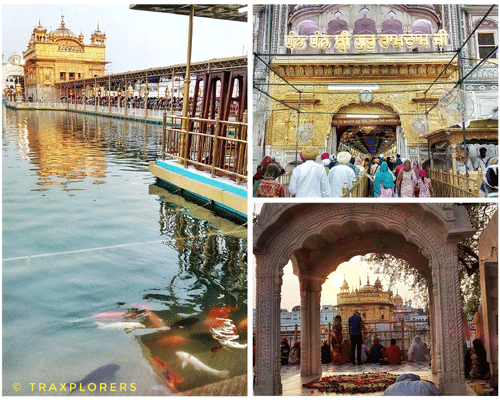 Timings & Entry: Open for 24x7. The entry is free.
Location: Golden Temple Road, Atta Mandi, Katra Ahluwalia, Amritsar.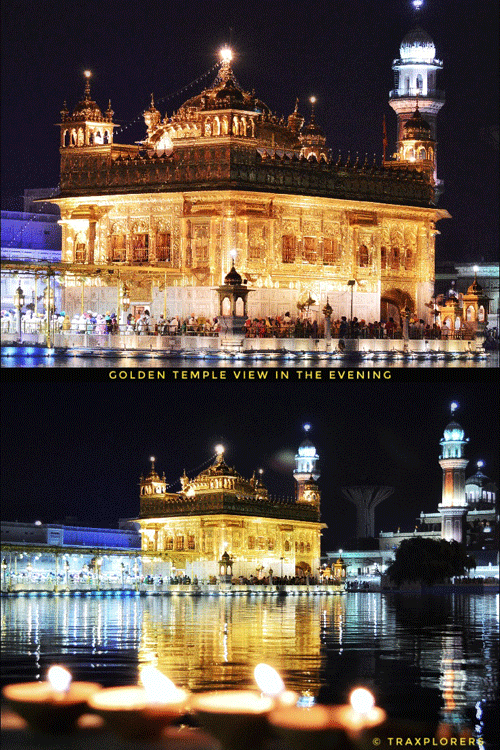 Gurudwara Baba Atal Rai Ji
This nine storied memorial built between 1778 and 1784 in the memory of Baba Atal Rai. Baba Atal had given up his body in the ninth year which inspired the construction of nine storied Gurudwara. It offers a panoramic view of the whole Amritsar city from the top.
Timings: Open for 24x7. To get the city's panoramic view the timings are 7:30 AM to 10:30 AM and 3 PM to 5:30 PM (all days). Except that entry is closed to go on top.
Entry: Free
Location: At the backside of the Golden Temple.
Jallianwala Bagh- A Memorial of National Importance
It is a memorial park that houses a museum, gallery, and several memorial structures. This is the place where a massacre took place on the festival of Baisakhi (Dark history of 13 April 1919) of unarmed supporters of Indian self-government by British troops. Around 1,000 people lost their lives and hundreds of people were injured.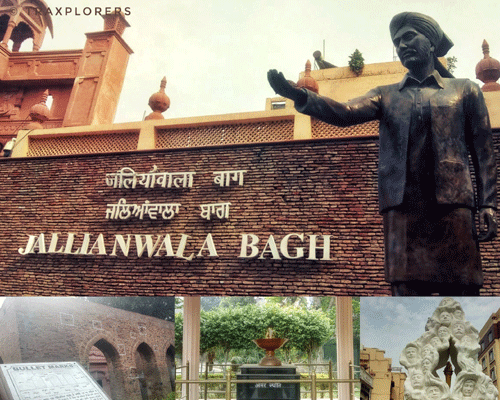 Timings: Entry: 6:30 AM to 7:30 PM (all days), Gallery: 10 AM to 4 PM
Entry: Free
Location: Near Golden Temple, Amritsar.
Partition Museum
This is the first ever museum that focuses on stories, pain, and trauma of those millions of people who had suffered the agony of partition in 1947. There is a central repository of documents, stories, and things related to post-partition riots followed by the division of British India into two independent countries- India and Pakistan.
Timings: 10 AM to 6 PM (all days except Monday)
Entry Fee: Indians: Rs.10/person, Foreigners: Rs.250/person
Location: Hall Road, Town Hall, Katra Ahluwalia, Amritsar.
Recommended Reading: Virasat-E- Khalsa: A Sikh Heritage Museum
Heritage Walk
Know the rich culture and heritage of the holy city Amritsar through sculptures and an interactive heritage walk. A walk through the heritage street leading to Golden Temple would take you back in time. This street begins at the old Town Hall building, which now houses the 'Partition Museum' (Indo-Pak partition 1947), then going towards 'Jallianwala Bagh' and then up to the Golden Temple. This whole stretch feels like a walk through an open monument.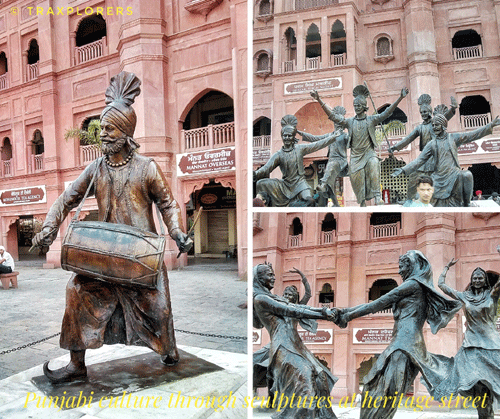 Durgiana Tirath
The Hindu Temple is also known as Lakshmi Narayan Temple, Durga Tirath, and Sitla Mandir is an ancient temple located in Amritsar. This Hindu shrine was built in the architectural style of the famous Sikh Golden Temple surrounded by a Sarovar (holy pool).
Timings: 6 AM to 10 PM (all days)
Location: Near Lohgarh Gate close to the railway station, Amritsar.
Model Town- Mata Lal Devi Temple
This is a sacred Hindu pilgrimage that holds a great attraction in the form of a cave designated as Gufa Vaishno Devi Ji dedicated to Goddess Vaishno Devi. It is a replica of the famous Hindu shrine Vaishno Devi located in Katra (Jammu).
Timings: 5 AM to 11 PM (all days)
Location: 61/62, Model Town, Rani Ka Bagh, Mohindra Colony, Amritsar.
Maharaja Ranjit Singh museum
The museum is dedicated to Maharaja Ranjit Singh- the Sikh Empire founder. Due to his important role in Indian history, he has been called as Sher-e-Punjab (Lion of Punjab).
Timings: 10 AM to 5 PM (all days)
Entry Fee: Rs.40/- adult, Rs.20/- child
Location: Lawrence Road, Ram Bagh, Company Bagh, Amritsar.
Suggested Reading: The Tallest Victory Tower of India- A Sikh War Memorial
Gobindgarh Fort
The fort is dedicated to the life of Sikh warriors. It was earlier occupied by the Indian army but now from February 2017 is open to the public. The fort was named after the 10th Sikh guru, Guru Gobind Singh. This is a unique live museum.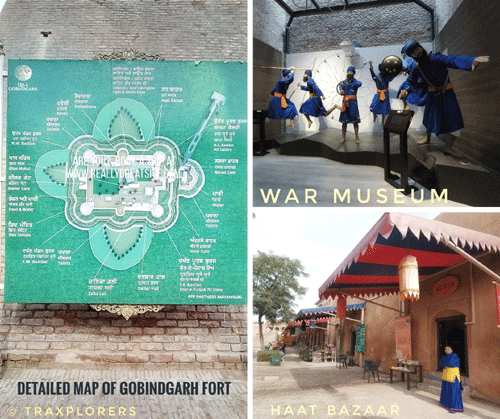 Timings: 10 AM to 10 PM (all days)
Attractions:
Laser Light and Sound Show- Whispering walls is a show using art projection mapping technologies and laser lights being shown daily post sunset. It is shown in two languages-Punjabi and English.
A 7D show titled 'Sher-e-Punjab' is something not to be missed in the fort.
Ancient Warfare Museum- It has several replicas of instruments and attires of warfare.
Spirit of Punjabi culture- The live performances of Bhangra, Gidda, etc. keep the fort stage alive all day long.
Amritsari cuisines- Punjabi food as well as other eating options are available.
Haat Bazaar- provides clothes, accessories and other antique hand made products.
Coin Museum- The old and rare coins including a replica of Kohinoor diamond, as it was worn by the Maharaja is placed in the coin museum.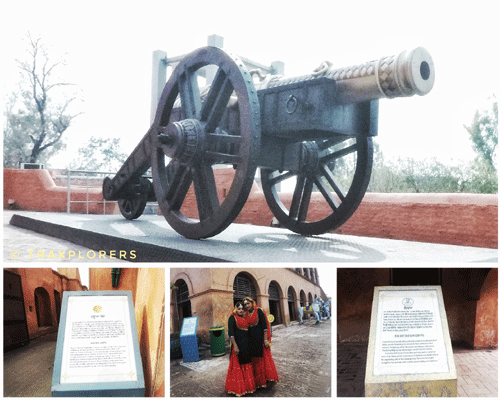 Entry Fee: It depends on the package you want to choose. There are also customized packages available.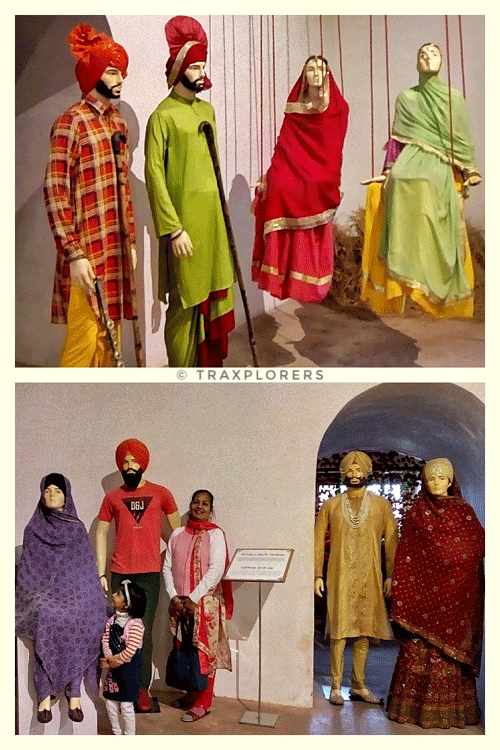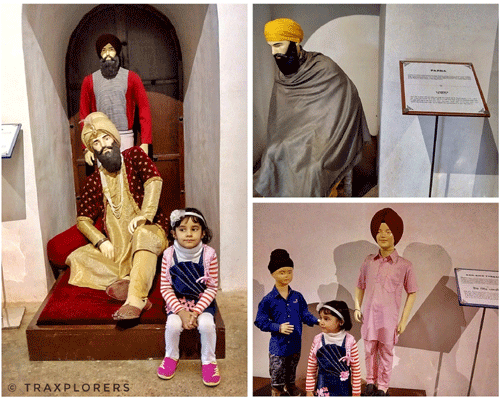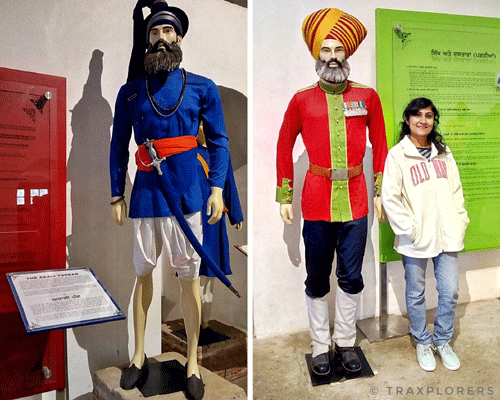 Location: Old Cantt. Road, inside Lohgarh Chowk, Amritsar.
Ram Tirath | Bhagwan Valmiki Tirath
This is a religious place dedicated to Maharishi Valmiki. As per Hindu mythology, in Ramayana, this is the place where sage Maharishi Valmiki gave shelter to Sita (Wife of Rama) when she was abandoned by her husband. This is also the birthplace of Lava and kusha- sons of Rama in the ashram. It is also said that the epic Ramayana was also written at this place by Maharishi Valmiki.
Get a glimpse of Ram Tirath 👇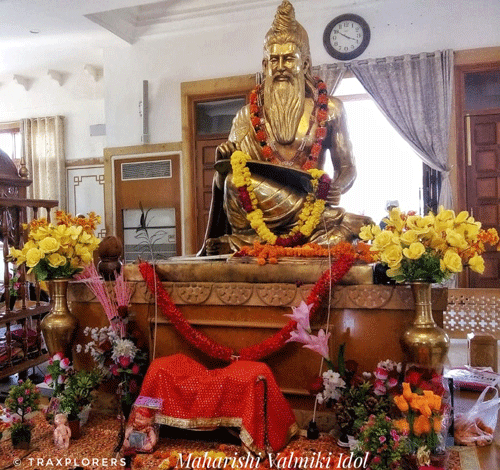 Location: Bhagwan Valmiki Tirath road at 11 km west of Amritsar.
Timings: 6:00 AM to 8:00 PM
View this post on Instagram
Things to experience
Karah Parshad of Gurudwaras
The sweet flour based vegetarian food which is regarded as blessed food and should not be refused in the Sikh Temple.
You may like to perceive the holy aura of Golden Temple 👇
Langar- Food of community kitchen
The free meal known as Langar in Sikhism for the community kitchen in Gurudwara (Sikh temple) is served every day without distinction of caste, religion, gender, economic status or ethnicity. The meals provided in langar are vegetarian.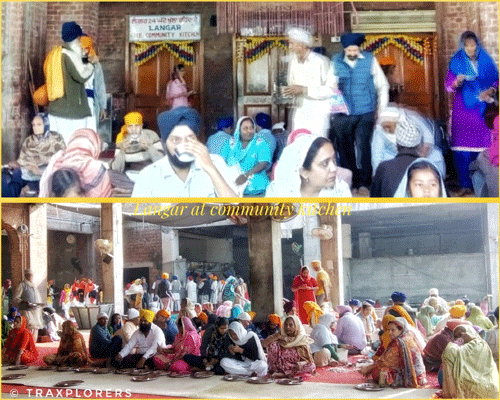 Fact: The langar in Golden Temple feeds 1,00,000 people every day for free.
Amritsar local food
Amritsari kulcha, a dish made of maida bread filled with a spiced mixture of potatoes, paneer, and special masalas is baked in tandoor and served with butter or ghee.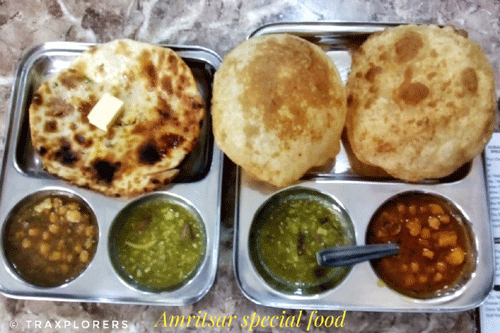 Shopping in Amritsar
For traditional Punjabi attire like Punjabi suit, phulkari or Punjabi jutti (footwear) explore Katra Jaimal Singh market in Hall bazaar. Amritsar is also famous for spices and is available in the busiest Hall bazaar market.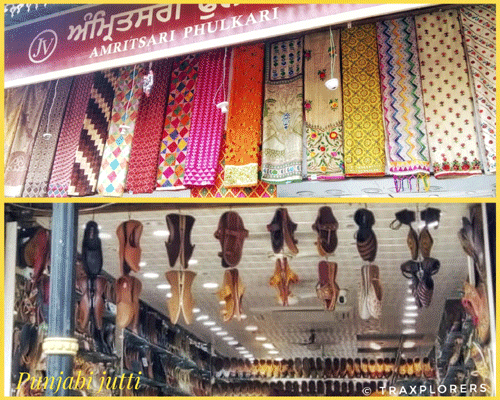 Wagah Border- Watch retreat ceremony
The Wagah border is a post between India and Pakistan at 20 km from Amritsar. This is famous for beating retreat ceremony every evening. The ceremony lasts for 45 minutes and starts before sunset. It is easily accessible by road.

Timings: 4:15 PM in winters, 4:45 PM in summers.
Note:
Reach at least one hour before the ceremony as there is always a huge crowd at the place.
Huge rush on public holidays and weekends.
There is no entry fee.
Get your best photo shoot in mustard fields
You have a good chance to get your memorable photographs in serene mustard fields of Punjab during the winter season. And the best thing is you would find the fields on the way to Wagah border.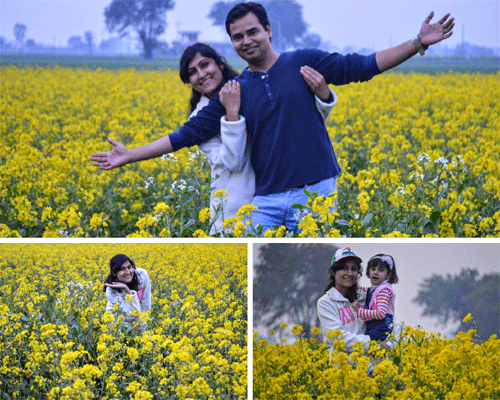 Admire the architectural beauty of Khalsa College
Khalsa College of Amritsar is a historic educational institution founded in 1892. It was built during British rule in India. The architecture of the college is greatly influenced by traditional Indian and Mughal styles. It is the place where the shooting of Bollywood (world's biggest film industry) movies Veer Zara, Rang De Basanti, and Rab Ne Bana Di Jodi took place.
Bonus Tip: There is a provision for a local sightseeing bus known as Hop On Hop Off in Amritsar city. One can book it online.
EndNote
Amritsar is a city full of all flavors that any traveler would enjoy. This city welcomes everyone and embraces diversity with unique affinity. If you are a devotee or history buff, loves shopping traditional things or a local food hunter, Amritsar never fails you.
Like this article? Please share it and support us. Pin one of our pins below: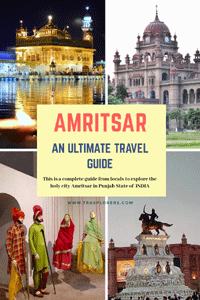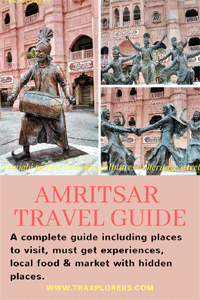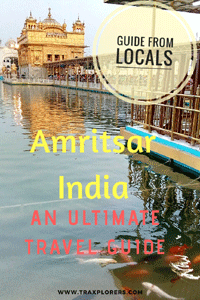 DISCLAIMER: Some links on this site contain affiliate links, meaning if you book or buy something through one of these links, we may earn a small commission (at no extra cost to you). Thank you for supporting this website.
Terms & Conditions: ©Unauthorized use and/or duplication of any material (text and/or images) without consent from this site's author and/or owner are strictly prohibited. Links and excerpts may be used provided that full credit is given to Traxplorers or Supriya Bhardwaj with specific and appropriate direction to the original content.
Tagged Amritsar city, Amritsar local food, Architectural marvels, Border Retreat Ceremony, Community Kitchen Food, Culture trip, Durgiana Tirath, Gobindgarh Fort, Golden Temple, Hall Bazaar, Heritage sites, Heritage walk, Historical Places, Holy city, Indo-Pak Border, Jallianwala Bagh, Khalsa College, Model Town, Mustard Fields, Partition Museum, Ram Tirath, Shopping in Amritsar, Wagah Border, Wagah-Attari