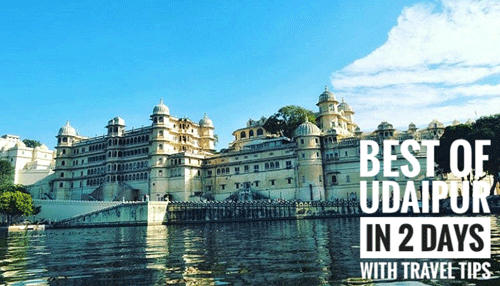 How to get the best of Udaipur in 2 days: Travel Tips
---
How to explore Udaipur at its best in 2 days
Most of you have already read about things to do or places to visit in the City of Lakes aka Udaipur aka Venice of East in various blog posts. So, you probably are wondering what you will get new in this post? Well, the USP of this post is our personal family traveling experience to this royal and romantic city of Rajasthan. We will be sharing our itinerary along with pro travel tips to explore Udaipur at its best in two days. Hope, this will help you to plan your own itinerary and visit this beautiful city of royal Rajasthan.
Family exploring places quite often as road trips
Well, till now our readers are well acquainted with the pattern of our exploration around places. We often choose road trips as the best way to visit and explore a place as by this way  you will get a closer look at local traditions and culture. We have covered quite some places of Rajasthan and already shared our experience about Jaisalmer- The Golden City, Mount Abu- The Hill Station, Banswara- The land of 100 Islands (off-beat destination), and many others are coming in our next blog posts. But right now enjoy 'Udaipur- City of Lakes from Southern Rajasthan'.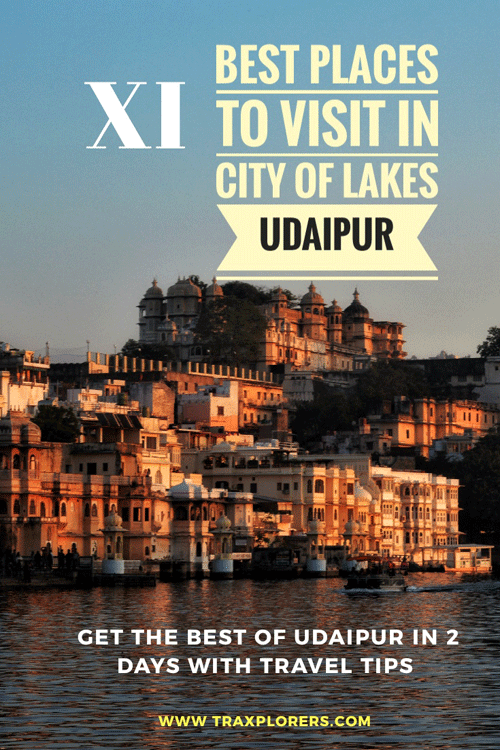 ---
Road trip: Ahmedabad to Udaipur
It started early in the morning at Christmas weekend of year 2017. Luckily, we got leaves and immediately planned our trip as days are quite pleasant in the month of December in Rajasthan. As usual, we drove down all the way to Udaipur from Ahmedabad.
#Travel tip: Best to explore Udaipur in the month of December and January.
Itinerary for Day 1
1. Start the day from Lake Pichola
An artificial fresh water lake created in 1362 AD and named after village Picholi nearby Udaipur city. It is a must see attraction in Udaipur. There are many small islands situated in the lake. These include temples, gardens, and palaces for royalties.
Start your morning by boating in Lake Pichola from Lal Ghat.
Timings: 9:00 A.M to 6:00 PM (all days)
Attractive sites to see:
1. Lake Palace: This marble palace was set in 18th century by Maharana Jagat Singh II and initially it was named as Jag Niwas. But now it is a luxury heritage hotel. It is the most romantic hotel in the world. It was once featured in James Bond movie 'Octopussy'. Now known as Taj Lake Palace after taken over by Taj Group of Hotels. It has 65 luxurious rooms and 18 grand suites.
2. Jag Mandir: This is also known as Lake Garden Palace and its construction started in 16th century and completed in 18th The construction is credited to three Maharanas of Sisodia Rajputs of Mewar kingdom.
3. Natini Chabutra: It is a raised platform in a courtyard built to honour Natini- a tightrope walker. There is an interesting legend behind this. Maharaja Jawan Singh promised Natini half of Mewar kingdom if she tightrope walked across the lake. But when she was about to finish, the rope was cut on sign of King and she was drowned. She cursed the lineage of King while drowning. And apparently, there was no direct descendent of the king.
4. Arsi Vilas & Mohan Mandir: These are small Islands built in Lake Pichola. Arsi Vilas island is a bird sanctuary and Mohan Mandir was used by King to watch Gangaur festival and is now used for the festival celebrations.
5. City Palace view: City Palace built over the period of 400 years by several rulers of Mewar dynasty and is situated on the banks of Lake Pichola. The ghat of City Palace is known as Bansi Ghat.
We have some glimpse of our boat ride at Lake Pichola if you would like to watch 👇
# Travel Tip: Boat rides cane be taken from Bansi Ghat (City Palace) and Lal Ghat. But best is to take boat ride from Lal Ghat.
From City Palace- Boat prices vary from 400 INR/adult and 200 INR/child to 700 INR/adult and 400 INR/child (normal to Sunset Cruise).
From Lal Ghat- 150 INR/person. It takes 20-25 min for the whole ride.
---
2. Visit City Palace & Museum
This is a huge palace complex situated on the banks of Lake Pichola. A must visit when in city Udaipur.
Timings: 9:30 A.M to 5:30 PM
Ticket prices:
Palace Complex
Entry– 30 INR/adult and 15 INR/child
Camera– 200 INR
Tour Guides– 300 INR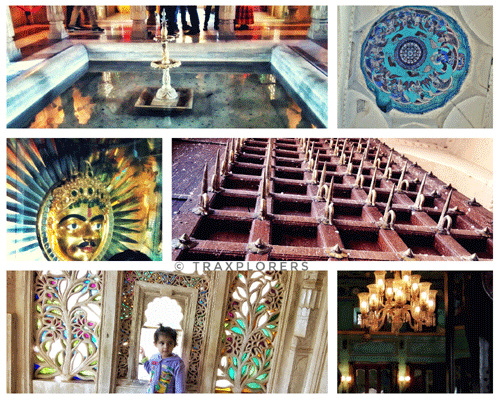 Palace Museum
Entry– 250 INR/adult and 100 INR/child
Camera– 250 INR
Tour Guides– 200 INR
Major Attractions of the Palace Complex:
1. Gateways– There is three entry gates namely- Badi Pol, Tripola, Hathi Pol.
2. Amar Vilas– It is an elevated garden built in Mughal style architecture. There are beautiful hanging gardens with fountains, terraces, and towers served as a leisure home for Maharanas.
3. Badi Mahal and Bhim vilas– These Palaces exhibits miniature paintings from 18th and 19th centuries.
4. Chini Chitrashala– Exhibits Chinese and Dutch ornamental tiles.
5. Choti Chitrashala– A small gallery from 19th century consisting of pictures of peacocks.
6. Dilkusha Mahal– Palace of joy, from 17th century consists of paintings of artistic skills.
7. Durbar Hall– A venue for official occasions displays weapons and portraits of Maharanas.
8. Krishna Vilas, Laxmi Vilas, and Manak Mahal– An admirable collection of miniature paintings in Krishna Vilas and unique collection of Mewar paintings in Laxmi Vilas are the must visit part. A sun face emblem representing Sun God worshipped by Maharanas is the unique feature of Manak Mahal.
9. Mor chowk– Also known as Peacock square has three peacocks depicting three seasons- summer, winter, and monsoon. There is a beautiful glass and mirror mosaic work with pictures of Lord Krishna looks magnificent on the walls.
10. Sheesh Mahal and Zenana Mahal– Palace of mirrors (Sheesh Mahal) was built by Maharana Pratap for his wife in 18th Zenana Mahal is the ladies chamber now converted into museum.
#Travel tip: There is a parking facility available inside the Palace campus with 250 INR parking fee. But the best advice is to hire local cab/auto to avoid crowd of the city streets.
---
3. Bagore Ki Haveli
It was just a matter of chance that we came to know about some cultural performances being organised at 'Bagore Ki Haveli'- 18th-century museum exhibiting the royal architecture of that time.
We were lucky enough to get a chance to visit 'Dharohar Dance Festival' inside 'Bagore Ki Haveli' in the evening. This was a unique experience of a cultural dance of western Rajasthan, puppet show, and other cultural performances.
I think words are not enough to describe the beauty of the show. We have a couple of videos from the show to get good insight.
The 'Ghoomar Dance' of western Rajasthan which has been performed by ladies of royal families is an attraction of the show.
The unique dance performed by 71 years old lady with 11 earthen pots balancing over her head known as 'Matka Dance' which is a must watch performance.
Show timing: 7:00 PM to 8:00PM
Entry ticket: There is a minor entry fee for this grand show.
Camera: 100 INR
#Travel tip: You must reach at least one hour before the starting of Dharohar Dance festival at Bagore Ki Haveli to avoid big queue for entry ticket. It is a must visit place in Udaipur.
---
4. Swaroop Sagar Bridge
Pichola Lake is connected with Swaroop Sagar Lake with Swaroop Sagar Bridge. This bridge was constructed in 19th century by Maharana Swaroop Singh.
5. Spend your evening at Gangaur Ghat
Gangaur Ghat is the main Ghat of Udaipur and situated in heart of the city. It is basically known for colourful Gangaur Festival celebrated every year in the month of March-April. Gangaur festival is one of the most colourful festival of Rajasthan. View at the Ghat in the evening looks magnificent. And you would get better options for candle light dinner alongside the Ghat.
#Travel tip: Must enjoy romantic candle light dinner at the Ghat near Swaroop Sagar Bridge.
We had booked our stay bit away from the city centre to avoid crowd and get free parking space.
---
Itinerary for Day 2
1. Start the day from Fateh Sagar Lake
Fateh Sagar Lake is another artificial lake built by Maharana Fateh Singh in 17th century. You can have boat rides here also. But we enjoyed a morning walk around the lake path.
Boat ride timing: 8:00 AM to 4:30 PM
Boat ride prices:
30 INR/person- for regular boat
100-200 INR/person- for motor boat
200-400 INR/person- for speed boat
#Travel tip: There are pretty much options for breakfast around the Fateh Sagar Lake side.
---
2. Visit Maharana Pratap Memorial
This memorial is dedicated to the great Rajput warrior Maharana Pratap. There is a spectacular life sized bronze statue of Maharana Pratap on his loyal horse named Chetak. The horse Chetak was so loyal companion of Maharana that he stood by his side till his last breath in the battle of Haldighati.
Location: At the top of Moti Magri or Pearl Hill on the banks of Fateh Sagar Lake.
Timing: 9:00 AM to 6:00PM
Entry Fee:
20 INR/person- for Indians
50 INR/person- for foreigners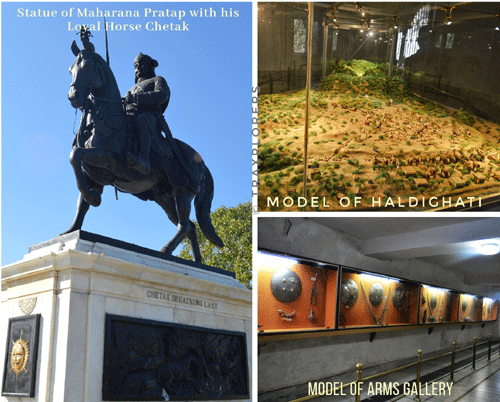 #Travel tip: If you got some more time to spend in Udaipur then try to visit Haldighati- famous for 'The Battle of Haldighati' fought betweenRana of Mewar Maharana Pratap and Mughal emperor Akbar in 1576.
---
3. Saheliyon ki Bari
On the banks of Fateh Sagar Lake existed a beautiful garden and is the most visited place of Udaipur. This garden is known as Saheliyon ki Bari (Garden of Maids). It was built by Maharana Sangram Singh in 18th century for a group of 48 maids. As per legend, the Queen was accompanied with these maids in her marriage and the King himself designed this beautiful garden to offer pleasurable moments and relaxing spot to the royal ladies.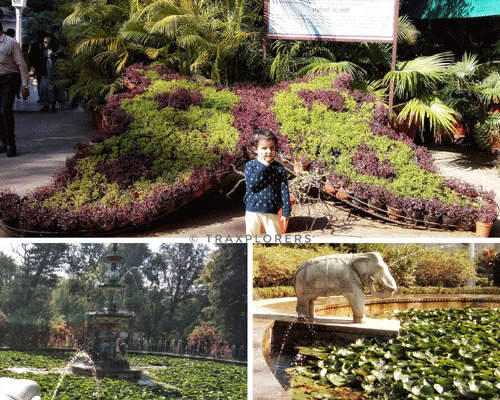 Attractions:
Lush green garden
Numerous fountains
Lotus pool
Beautifully carved marble pavilion
Marble elephants
Marble seat for King & Queen
Timing: 9:00 AM to 7:00 PM (all days open)
Entry Fee:
10 INR/person- for Indians
50 INR/person- for foreigners
---
4. Gulab Bagh/Sajjan Niwas Garden
This garden is the largest garden in Udaipur which spread over 100 acres land. It was built by Maharaja Sajjan Singh in 19th century. This garden got its name from abundance number of rose varieties in it.
Attractions:
Saraswati Library- First library of Rajasthan.
Toy Train- For both adults and kids at a nominal charge. The train departs and arrive at Luv Kush station.
Miraj jyotish Upvan- This is an acupressure park.
Timing: 9:00 AM to 6:00 PM (all days open)
Entry Fee: 25 INR/person
---
5. Vintage Car Museum
This museum consists of collection of rarest and classic vintage cars. It can be easily accessed from Gulab Bagh by road. Famous as car lover's paradise, this museum certainly is a place to visit.
Timing: 9:00 AM to 9:00 PM (all days open)
Entry Fee:
250 INR/adult
150 INR/kid
---
6. Witness sunset at Monsoon Palace aka Sajjangarh Palace
Maharana Sajjan Singh of Mewar dynasty built Monsoon Palace also known as Sajjangarh palace after his name. It was constructed in 19th century. It was named as Monsoon Palace because it was used to watch monsoon clouds from its hilltop location high on Aravalli Hills.
Attractions:
Location of Palace– Located on Bansdara peak of Aravalli ranges (oldest range of fold mountains in India).

Structure of Palace– It is made of white marble with Rajasthani architecture comprising of beautiful domes, fountains and jharokas.

Panoramic view of the city– The top of Monsoon Palace offers panoramic view of city lakes, palaces and the surrounding countryside.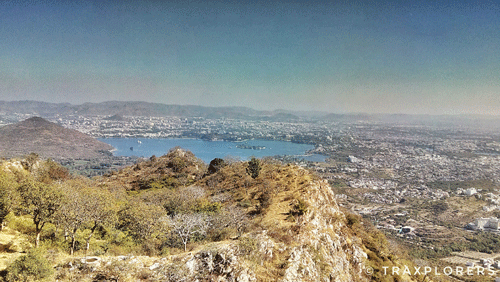 Timing: 8:00 AM to 6:00 PM (all days open)
Entry Fee:
10 INR/person- for Indians
80 INR/person- for foreigners
#Travel tip: The monsoon Palace is 5 Km away from west of Udaipur. It can be accessed via taxi/auto rickshaw or by your own car and is well connected with the city. Paid parking facility is available.
It is the best place to witness sunset in Udaipur. Must carry your camera for capturing best views of the city.
Visit wildlife sanctuary and Sajjangarh Biological Park nearby if you have an extra time.
---
The above itinerary was completed by Traxplorers in two days (23-24 December 2017) but you can extend it to three days depending upon your own convenience. Further, on the third day, we continued our journey towards the Great Wall of India- Kumbhalgarh. We will share our experience in the upcoming post.
Till then stay tuned. Keep reading. Keep exploring. Keep sharing. Keep loving. To read later save the pin images below. Thanks. ♥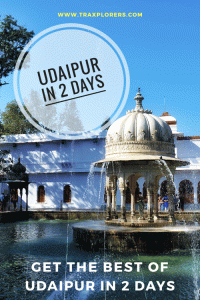 ---
DISCLAIMER: Some links on this site contain affiliate links, meaning if you book or buy something through one of these links, we may earn a small commission (at no extra cost to you). Thank you for supporting this website.
Terms & Conditions: ©Unauthorized use and/or duplication of any material (text and/or images) without consent from this site's author and/or owner are strictly prohibited. Links and excerpts may be used provided that full credit is given to Traxplorers or Supriya Bhardwaj with specific and appropriate direction to the original content.
Tagged Artificial Lakes, Bagore Ki Haveli, City of Lakes, City Palace & Museum, Family travel, Fateh Sagar Lake, Gangaur Ghat, Gulab Bagh, India Travel, Jag Mandir, Lake Pichola, Maharana Pratap Memorial, Monsoon Palace, Rajasthan, Romantic City of rajasthan, Royal Palaces & Museums, Royal Rajasthan, Saheliyon ki Bari, Sajjan Niwas garden, Sajjangarh Palace, Swaroop Sagar Bridge, Taj Lake Palace, Udaipur, Venice of East, Vintage Car Museum