Jaisalmer-First Trip to the Land of Kings
The Golden City of Rajasthan: Jaisalmer
---
Let me introduce you to the 'Land of Kings-Rajasthan'. This state is well famous for beautiful palaces, lakes, ancient arts, culture, and remnants of forts and palaces. The state is located in a north-western region of India.
Personally, this state is my dream state to explore ever since my childhood days. I always get fascinated by hearing the tales of Maharajas and Maharanis (kings & Queens) of the state. The tales of historic battles and Royal romance literally developed my strong desire to explore the rich culture and heritage of Rajasthan in person.
We have a huge list of places which we had visited during our family exploration of the state. These places include both well-known (famous) cities as well as some places which are less known or unexplored. We had enjoyed every bit of our traveling and exploring the interior regions of Rajasthan and get ourselves acquainted with Rajasthani culture. It is not possible to describe the beauty of Rajasthan in a single post. We will cover it in parts with a post dedicated to one place. In this post, we will cover Jaisalmer- The Golden City of Rajasthan.
---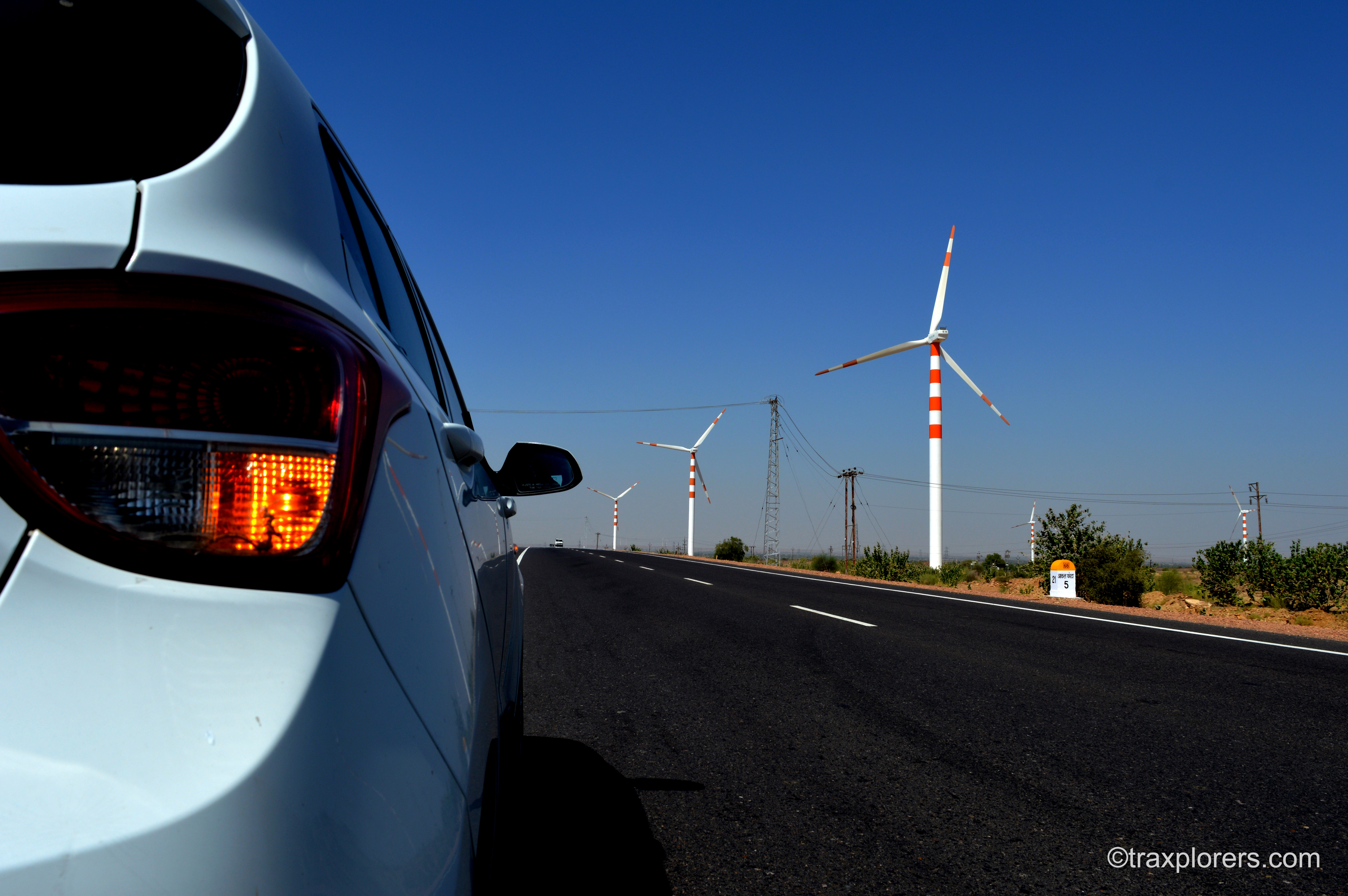 ---
Road Trip: Ahmedabad to Jaisalmer
Our trip started in the month of October 2017 at the time of the famous Indian festival Diwali. This trip was special to us in many ways. Firstly, this was our first trip to the royal lands of India. So, obviously, we were more than excited to explore it. Secondly, we got a chance to be in the Great Indian Desert. Thirdly, it was the birthday of Aditya. What else could be the perfect timings to visit this historic land?
We started our journey early in the morning from Ahmedabad and drove down to Jaisalmer. It took seven hours for us to reach our destination booked near The Golden Fort. We opted to stay outside the fort for our first day stay and inside the fort for the second day.
---
[bdotcom_bm bannerid="2094″]
Day 1: Jaisalmer
The city is also known as 'Golden City' located in the heart of 'Thar Desert'. Jaisalmer was named after Maharawal Jaisal Singh, who founded the city in 1156 AD. All over you can see buildings built by yellow sandstone only. That is why the name Golden City came up. We stayed at Qutub Villa which we found best near the Golden Fort. The staff of the guest house was very co-operative and well behaved. Until now, we hadn't planned anything for desert safari and all other stuff to do in the Thar Desert. Talked to the locals and we got our best deal. You will find many budget hotels, as well as luxury stays in Jaisalmer.
Our Package included:
1. Visit Sam Sand Dunes amidst the Thar Desert.
2. Desert Safari: Both Jeep safari and Camel safari.
3. Entertainment at Campsite with Rajasthani Cultural Performances in the Desert with refreshments.
4. Dinner giving flavors of Rajasthani dishes.
#Total package for a couple: 3500 INR
---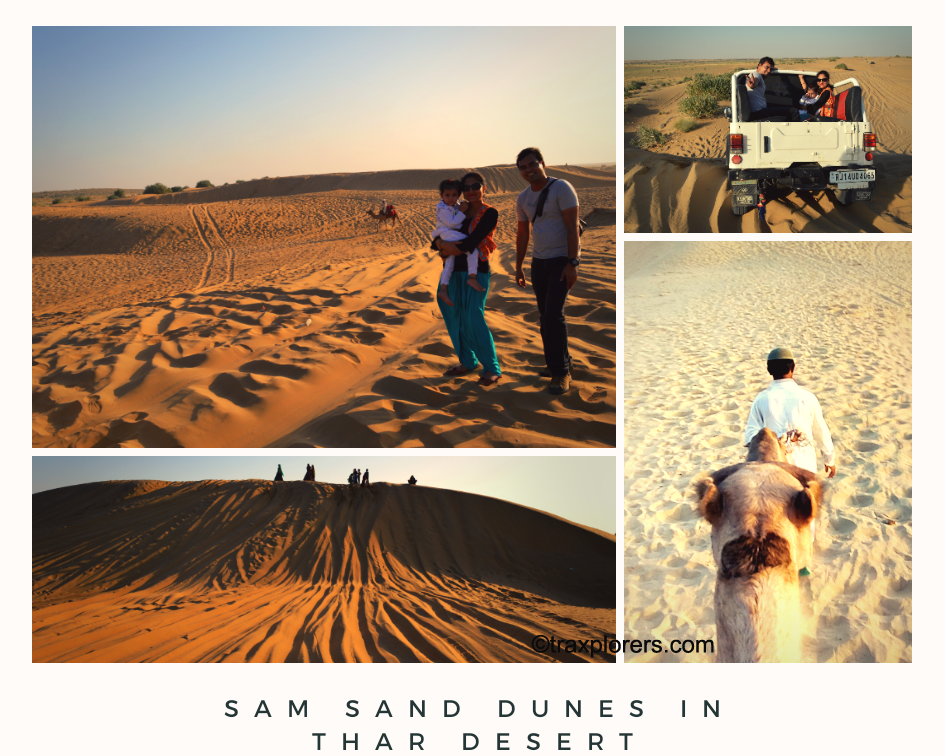 ---
Sam Sand Dunes
These are located away from the city in midst of the Thar Desert. It is the most popular attraction in Jaisalmer. It is located at around 50 km from the city. The transport facility was provided by the organizers. We reached at Sam Sand dunes at 5 PM.
Desert Safari
Jeep Safari: Firstly, we jumped into a jeep and it took us amidst the Thar Desert. It was our first ever experience with sand dunes all over around us. Nothing was visible except sand. The sunlight falling over sand gave a golden hue which looked majestic. And the thrilling experience we felt with the jeep safari can't be explained in words as it was meant to be felt only. Our hearts fall out at every jump and bump we got during the safari. It was an incredible experience.
---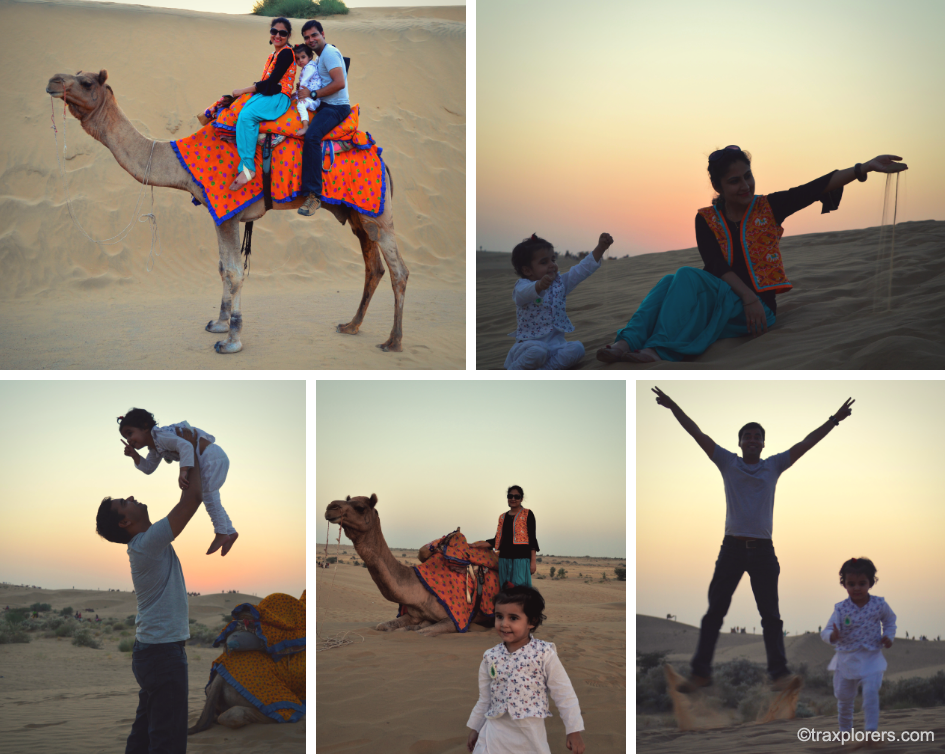 ---
2. Camel Safari: After a thrilling experience of jeep safari, I totally loved camel safari. Even Karen enjoyed her ride a lot and seemed to be playful with the camel named MJ. We had some beautiful shots in the sand dunes. Camel owner took us to the point where we could see a majestic sunset. It was a brilliant show of nature. No one could beat nature. The view here totally captivated us. We stayed there till the complete sunset.
---
---
Cultural performances & Rajasthani Cuisines
Don't miss out the desert safari and cultural performances at desert camps. Yeah, this is our personal advice to all of you. This whole experience could not be felt elsewhere. Wonderful and extraordinary talent of native folks out there delighted us with their music, songs, dances, and some daring acts. The day was then concluded with Rajasthani dinner inside the desert camp. Thus, we had spent our Diwali with such grandeur and essence of Rajasthan that deeply etched in our memories.
---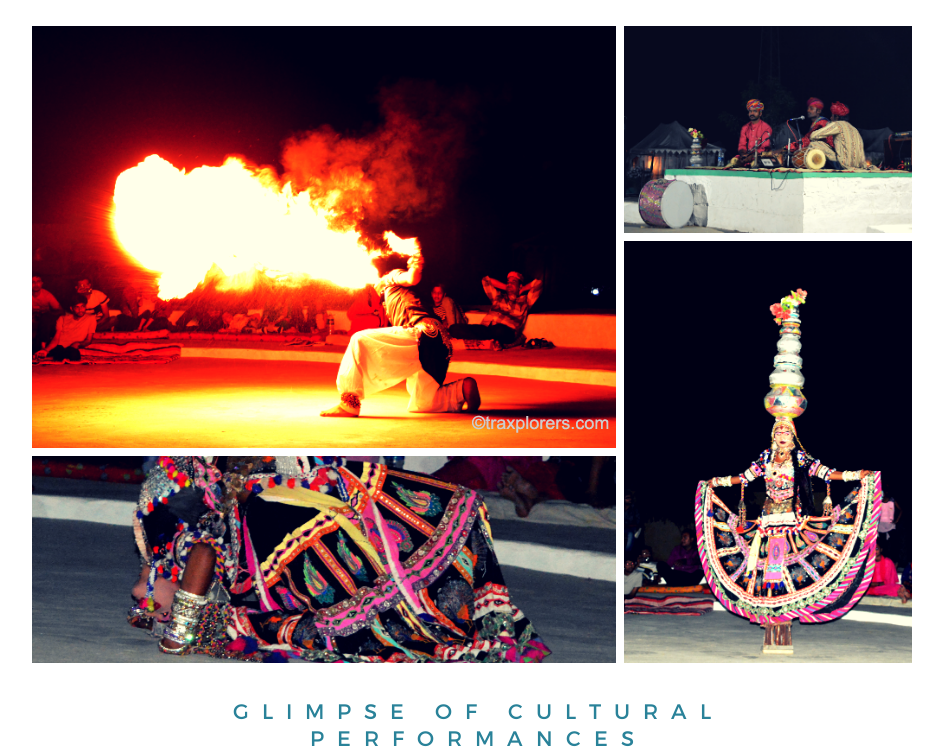 Get your best tour package from Get your guide here 👇
---
Day 2: The Golden Fort
Also known as 'Sonar Kila' and is distinguished by its yellow sandstone architecture. We came to know through locals that the fort is a home for around 500 families currently. This looks like a small town establishment inside the fort. There are numerous intricately carved Hindu and Jain temples inside the fort itself. One would need a whole day to explore every nook of the fort.
---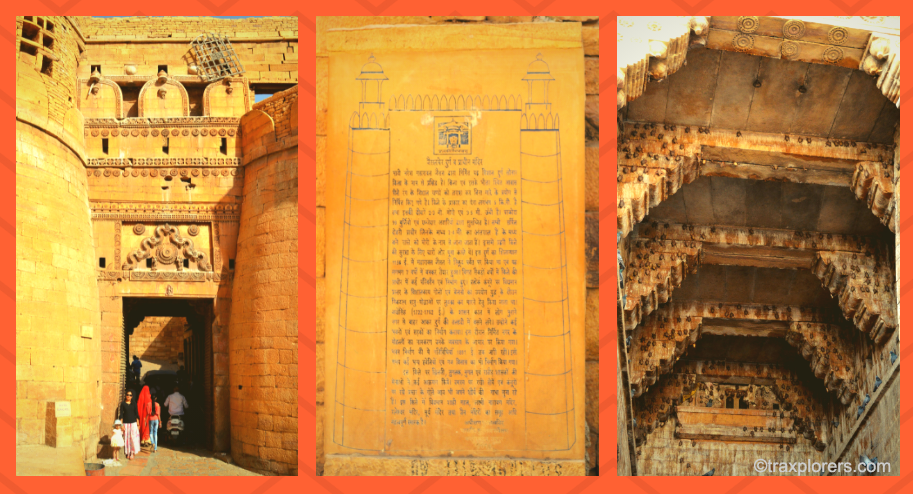 ---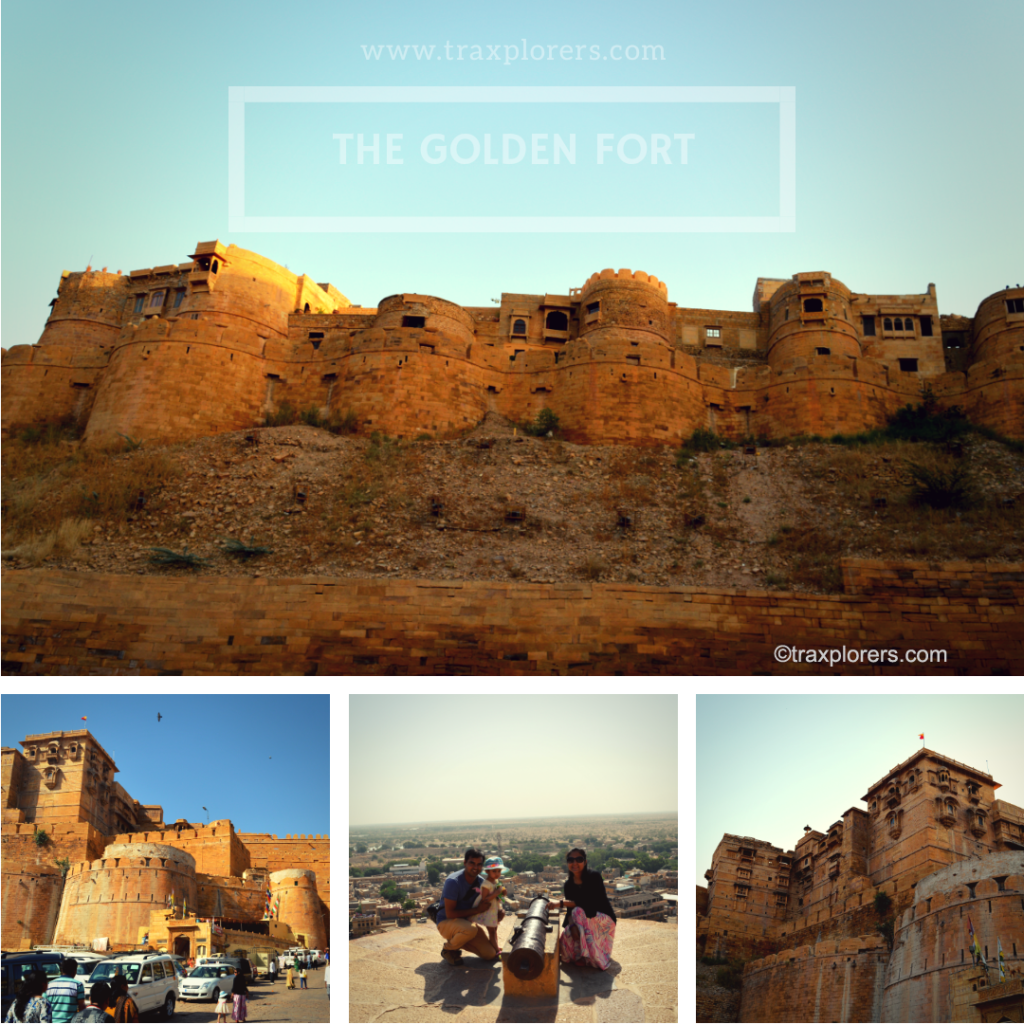 ---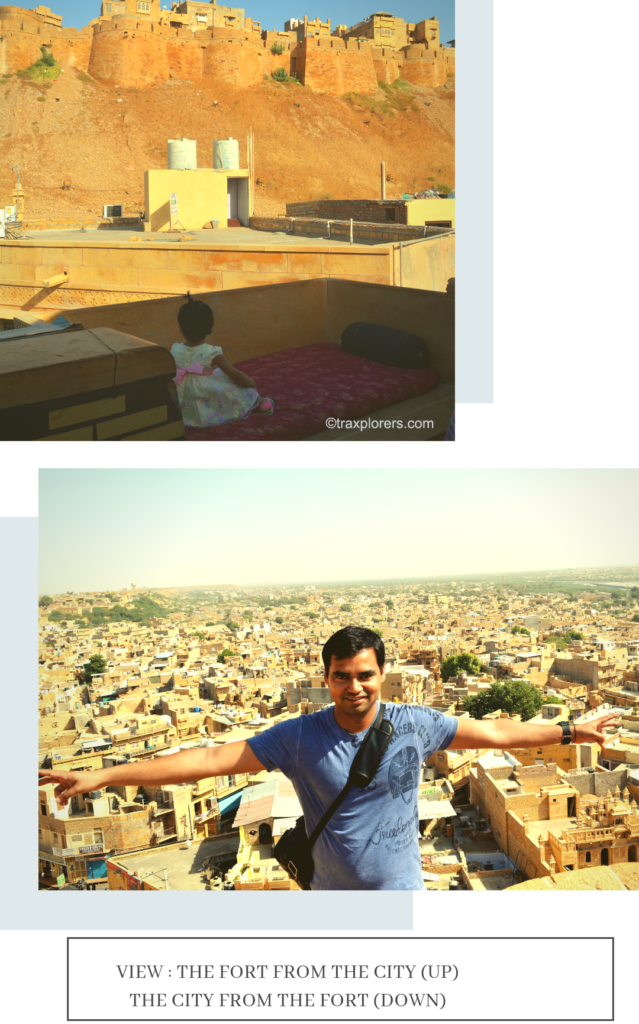 ---
Market inside the Fort
There are various local markets inside the fort displaying products of art and culture of Rajasthan including gorgeous handicrafts, souvenirs, jewelry pieces etc.
If you are a lover of unique jewellery then here is Best Rajasthani Jewellery for You.
---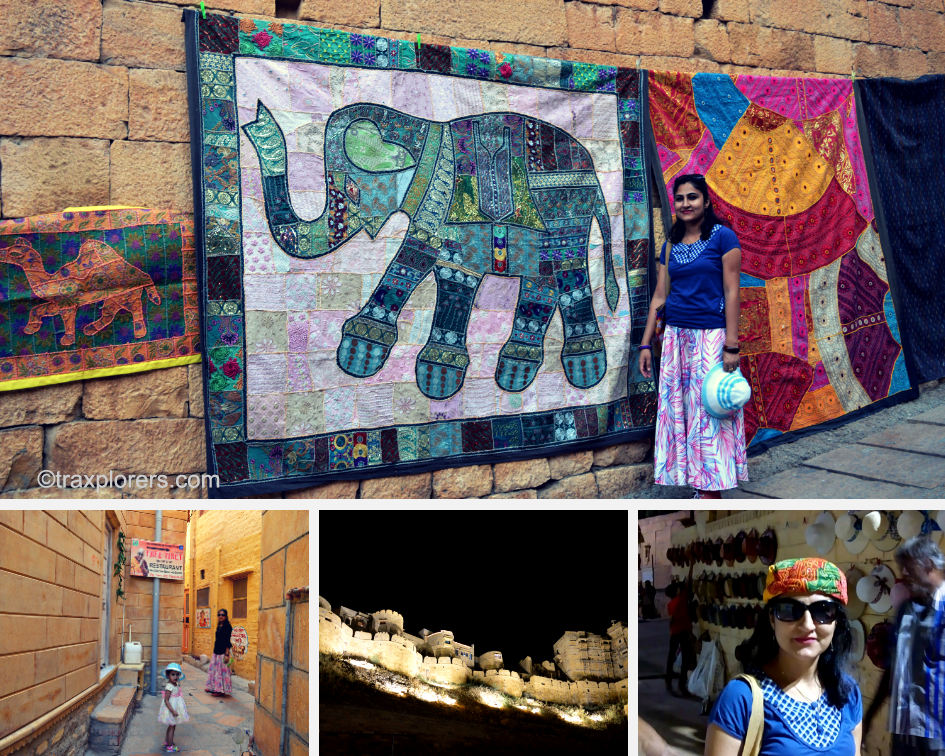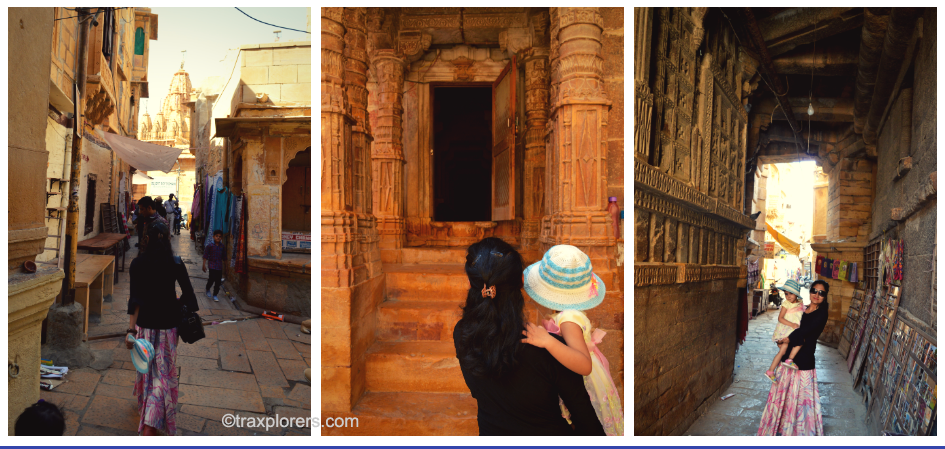 ---
---
The Havelis
The Havelis were built by merchants and traders in the city as it was the major trading center in its medieval times.
There are a series of grand havelis from the 19th century in the golden city which beautifully features Islamic and Rajput style architecture. All the havelis are made of yellow sandstone with beautiful intricate carvings, oriel windows, the antique furniture, and artwork. These havelis have belonged to rich merchants of the era. Now, these havelis are turned into museums.
---
The most impressive Havelis are-
This haveli is the most famous one in Jaisalmer. It is a five-building complex built between 1800 and 1860 by a merchant for his five sons. The complex is rising above a narrow lane and brings a magnificent delight to watch. There are as many 60 balconies projecting bay windows which leave you awestruck.
---
Opening Hours: 9 AM to 5 PM
Entry Fee: 20 INR (for Indians)
100 INR (for Foreigners)

---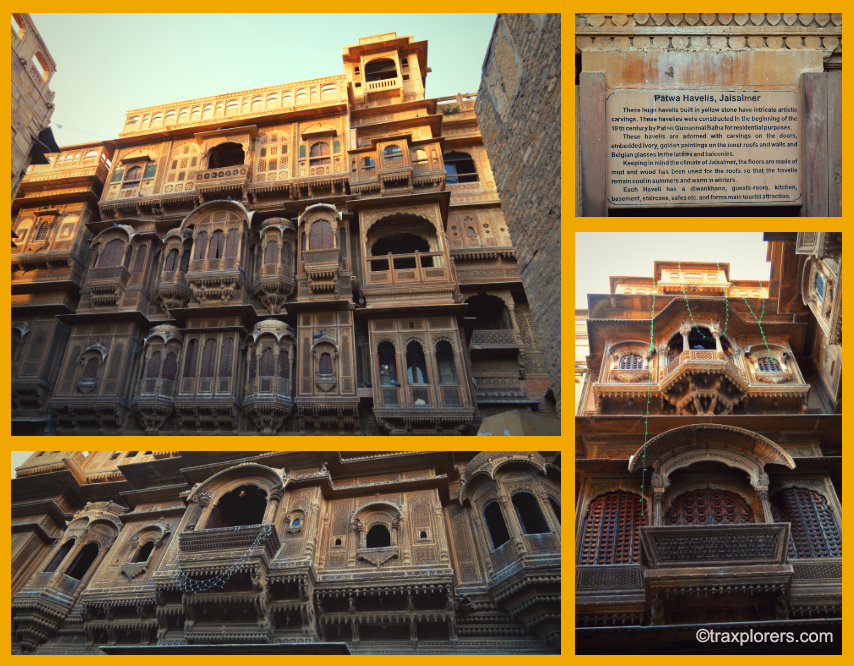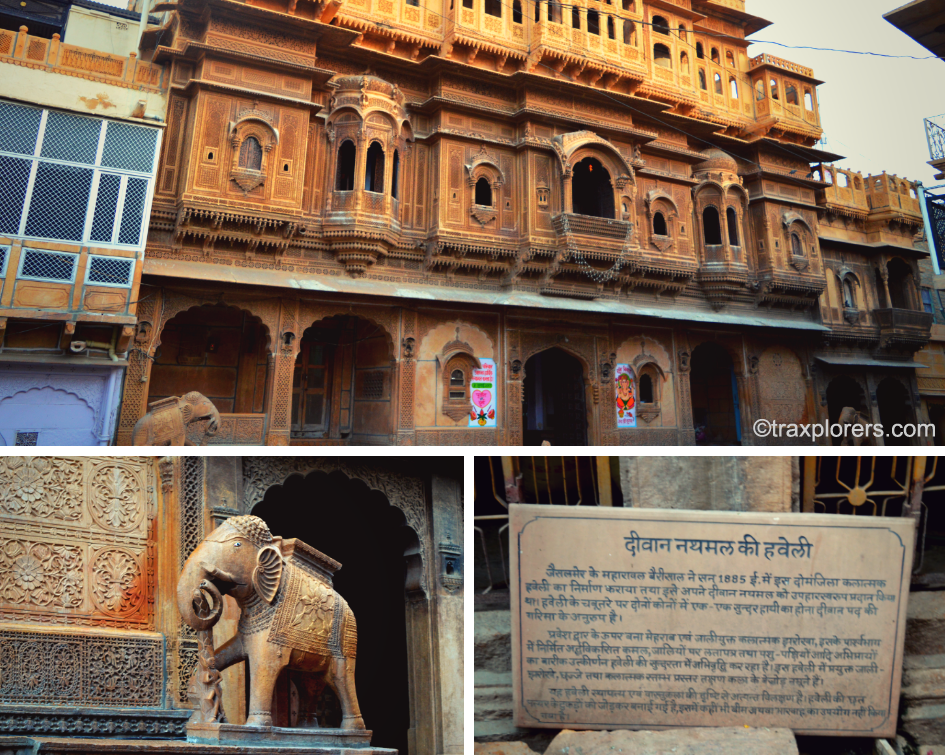 ---
It was served as the residence of Diwan Mohata Nathmal (Prime Minister of Jaisalmer). There is an interesting story behind the architecture of this haveli. The architects of this haveli were Hathi and Lulu, who were brothers. They started construction of different facets of the haveli simultaneously. At that time there were no such instruments to keep track on the continuity of building, so the haveli came up as irregular in shape but still considered impressive in terms of grandeur.
There are two elephants put in the front of main entrance as if they are guarding the haveli. There are many other minor details which are fascinating.
Address: Sadar Bazar, Jaisalmer
Opening Hours: 9 AM to 5 PM
Entry: Free
---
---
Gadisar Lake
After all the day exploration around the streets of Golden city, we were totally exhausted and came back to get some rest at our stay inside the Fort itself. In the evening after sunset, we headed towards one and only lake in Jaisalmer- The Gadisar Lake. It is an artificial lake surrounded by artistically carved temples and shrines. It was built by Raja Rawal Jaisal, the first ruler of Jaisalmer and later was reconstructed in 1367 AD by Maharawal Gadsi Singh. This lake was built to conserve rainwater and was the only source of water in Jaisalmer at one-time. This place is full of history, beauty, and serenity.
Things to do:
Boat rides-One can experience boat ride in different types of boats like a rowboat, paddle boat, and shikara. The boat rides are for half an hour.
Experience history of the place.
Stroll around the market nearby.
Address: Postal Colony, Jaisalmer
Opening Hours: It remains open for 24 hrs. But boat rides will be available from 8 AM to 8 PM
Entry Fee: Entry is free except for the boat rides.
Rowboat- 10 INR
Paddle boat- 50 INR
Shikara- 100 INR
---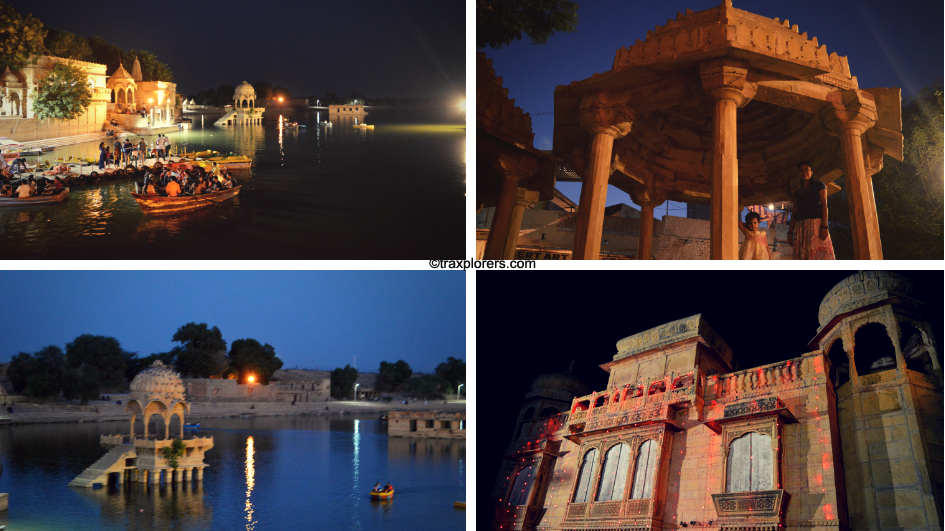 ---
We had enjoyed every bit of Jaisalmer during our two days stay. Wish we could have more time to explore some other places also. Hope this post has inspired you enough to visit Jaisalmer with the help of our itinerary or you can make your own.
Stay tuned with our upcoming posts about Rajasthan exploration, till then feel free to share this post among your friends and family.
Read our next post of Rajasthan: Mount Abu: A Hill Station of Rajasthan
Please pin the image below to save and read it later. Thank you! ♥
---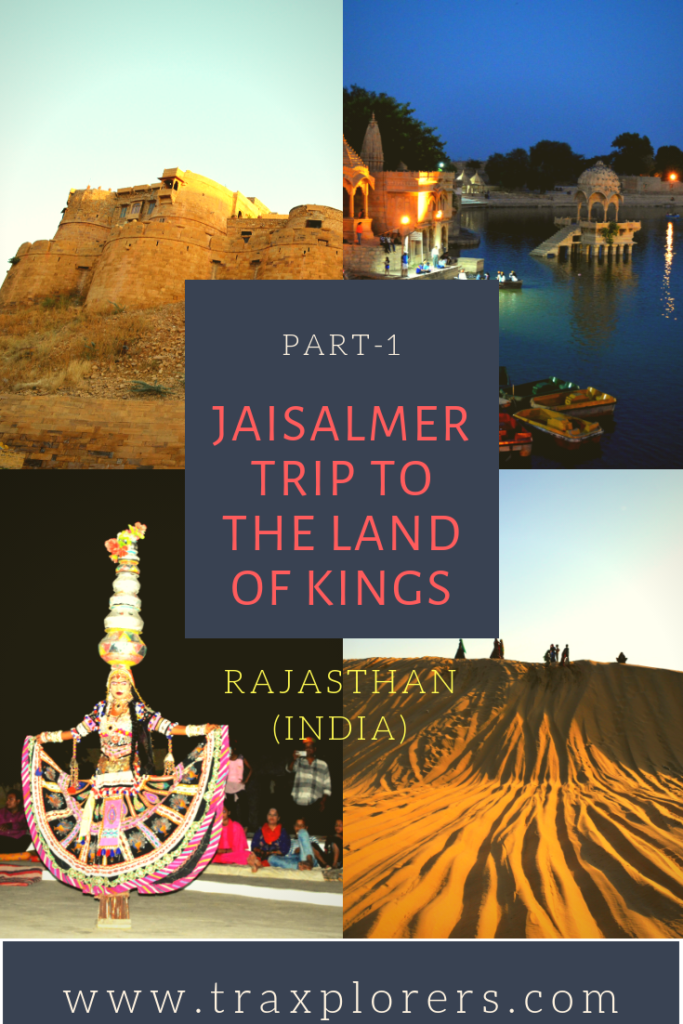 ---
DISCLAIMER: Some links on this site contain affiliate links, meaning if you book or buy something through one of these links, we may earn a small commission (at no extra cost to you). Thank you for supporting this website.
Terms & Conditions: ©Unauthorized use and/or duplication of any material (text and/or images) without consent from this site's author and/or owner are strictly prohibited. Links and excerpts may be used provided that full credit is given to Traxplorers or Supriya Bhardwaj with specific and appropriate direction to the original content.