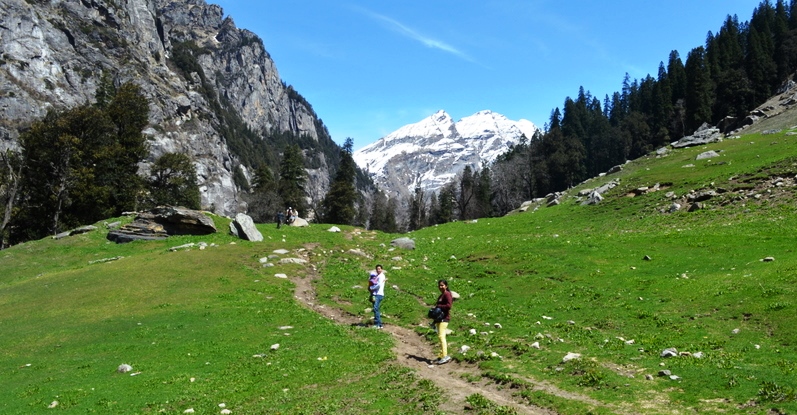 Manali (Part-2): Hampta Pass Trek (Beginners Trek)
"Manali (Part-2): Hampta Pass Trek"
We explored 'Gulaba', 'Solang Valley', 'Ancient Temples' in old Manali and 'Mall Road' in the heart of Manali on the first day of our trip. For 'Day 1: 13th April 2016' experience read our previous post 'Manali (Part-1): Complete Package for Travel Explorers'
Next, time to get some adventure so we planned a trek to 'Hampta Pass'. We were totally excited as this would be our first trekking experience with our toddler.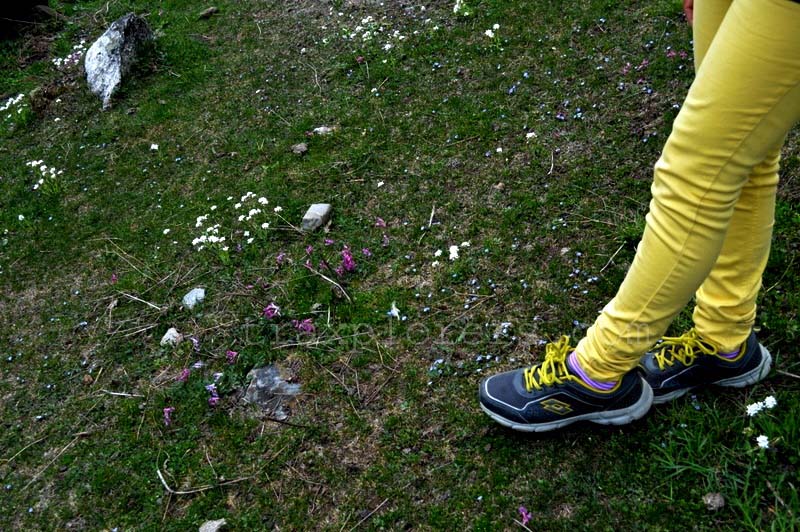 Day 2: 14th April 2016
For the second day, our guide & driver was Mr Rajesh. Again we got the best choice as he was well behaved and extremely helpful.
Hampta Pass got its name from Hampta village. This trek is used by shepherds and villagers to reach Lahaul Spiti valley of Himachal Pradesh. The trek is also known as beginners trek as it is easiest among all the treks of Himachal Pradesh. The whole trek takes five days to complete from 'Manali to Chandrataal Lake'.
Grade: Easy to Moderate
Trekking Distance: Approx. 26 km.
Highest Altitude: 14,100 Ft.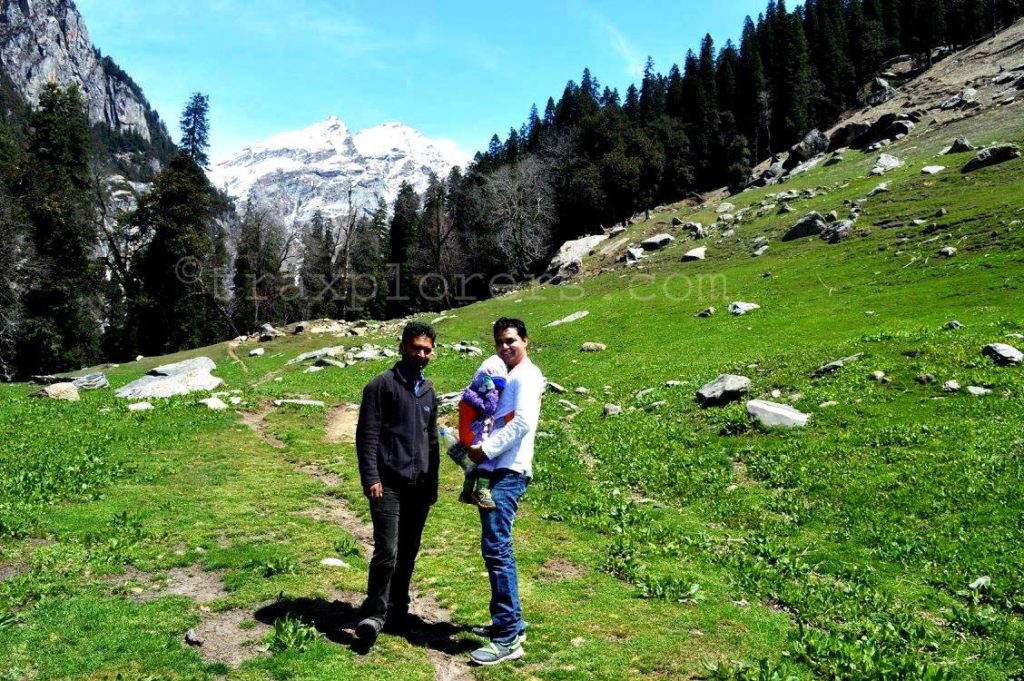 Complete Itinerary for the Trek:
Day 1: Manali to Chikka
Day 2: Chikka to Balu ka Ghera
Day 3: Balu Ka Ghera to Siagoru
Day 4: Siagoru to Chatru. Then to Chandrataal
Day 5: Chandrataal to Manali
Best Time to visit:
May-June and September-October
Hampta Pass Legend
The trek is also known as 'Stairway to Heaven'. According to Hindu Epic 'Mahabharta', Pandavas traversed through this path while on their way to heaven. It was Chandrataal where 'Yudhishtra' the eldest brother of Pandavas, was taken to heaven in his mortal form.
What to know before?
Here is the thing to keep in your minds; trek to Hampta Pass is not open for everyone. You need to get permission at least one day prior as the route involves 'Allain Duhanga Hydropower Project'. You cannot drive your own vehicle. The permit is required and that is also given to four-wheelers. We were lucky enough to have a local cab driver who had no problem in getting permission in time.
How did we reach?
Mr Rajesh (our cab driver) took us to 'Jobra village' which took around 1-2 hours from Manali. The place was beautiful but the road was terrible and there were many sharp and steep turns. We came across 40 such stomach-churning sharp turns. But the view of Manali from that height was beautiful. From Jobra, we left the cab and started the trek.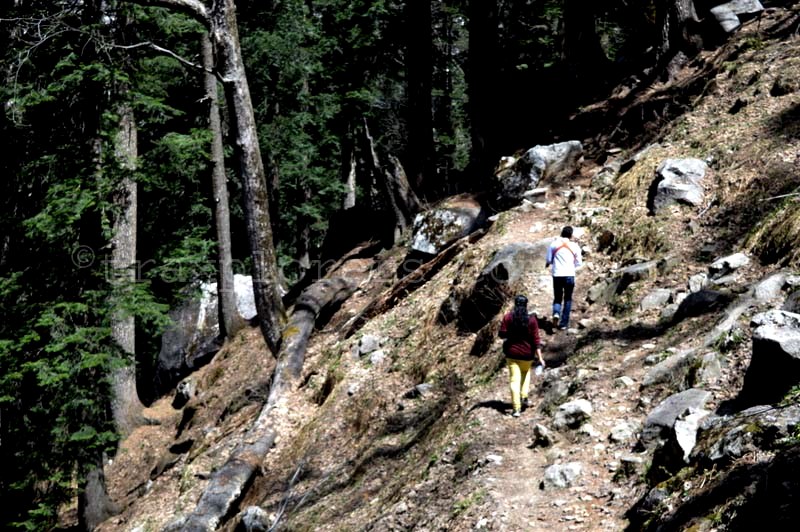 Our Trekking Experience
The Hampta Pass trek can be considered as easy and convenient trek among all the treks of Himachal Pradesh but one can surely be mesmerized by the tremendous variations along the trail. The trek is full of picturesque landscapes, beautiful valleys, open green meadows, glaciers, rocks, and rivers.
"Full trek takes 5 days to complete up to 'Chandratal'. We did one day trek as we were carrying our baby (Karen) with us."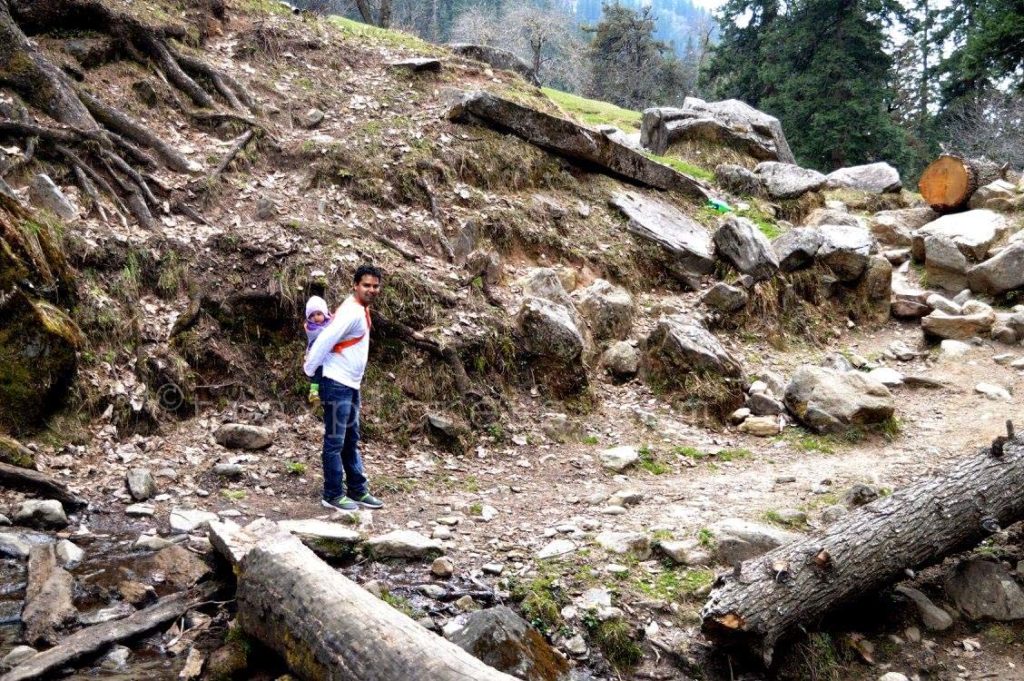 One Day Trekking Itinerary
Manali to Jobra:

One can start from Manali to Jobra village via cab. Manali is at 6726 ft. above sea level. Jobra is at an altitude of 9800 ft. It was the generosity of our cab driver cum guide, Mr Rajesh, that he came along with us and guided us through the trek.
Jobra to Pandu Ropa:

After covering some distance across the main road we came across a pine forest which also consists of deodar, maple, and oak. The drive was quite refreshing and after an hour we reached a site known as 'Pandu Ropa'. According to Hindu epic, here Pandavas cultivated rice fields during their exile period.

'Pandu Ropa' where Pandavas did cultivation at Manali Hampta Pass Trek

Up trek to Chikka:

After covering distance for about 20-30 minutes, we were amid beautiful lush green alpine meadows. There were sheep grazing in the field and the whole scene looked very amazing. After spending a couple of minutes we started the trek once again. After covering a gradual up trek and slight descent to the point known as 'Chikka'. Chikka is the campsite for the first day of this trek. A river named 'Rani River' flowing in the middle which makes this place perfect for camping.
Glacier Valley:

After crossing the river we reached glacier valley. This was the only place we found scattered patches of snow during April, a moment of happiness for us. We spent some time there capturing the beauty of the valley and of course played with snowballs with our baby 'Karen'. She also enjoyed a lot and trekked some path by herself too. In front of our eyes, we could see 'Indrasan' as told by our guide. After spending some quality time in natural wonders of the Great Himalayas in the south-east of Manali, we headed back. It took around 4-5 hours for this trek. We wish to complete the whole five-day trek of Hampta Pass in future when our kid would lead us.

Karen on Glacier, enjoying snow 🙂




Distant view of 'Indrasan' at Hampta Pass Trek
This was the only place where we found snow. The previous day, we went to Gulaba but hardly found any snow. We could not make to Rohtang Pass as it was closed. Wish to go there some other time in future for sure.
I

f you like online shopping then please go to Amazon search page below. Thank you <3
Tips for Explorers:
Get prior permission for the trek and hire a local cab from Manali.
Take a guide, as the trek is long.
At snow points, one can get synthetic overall on rent but carry enough woollen clothes for children.
Keep plenty of drinking water.
Acclimatize yourself first with the high altitude by staying in Manali before trekking for at least one day.
There are other beautiful destinations you want to explore and get the best deals for a stay in Manali. Just check out the things one can do in Manali.
Suggested Read: Triund trek: Trekkers with an unborn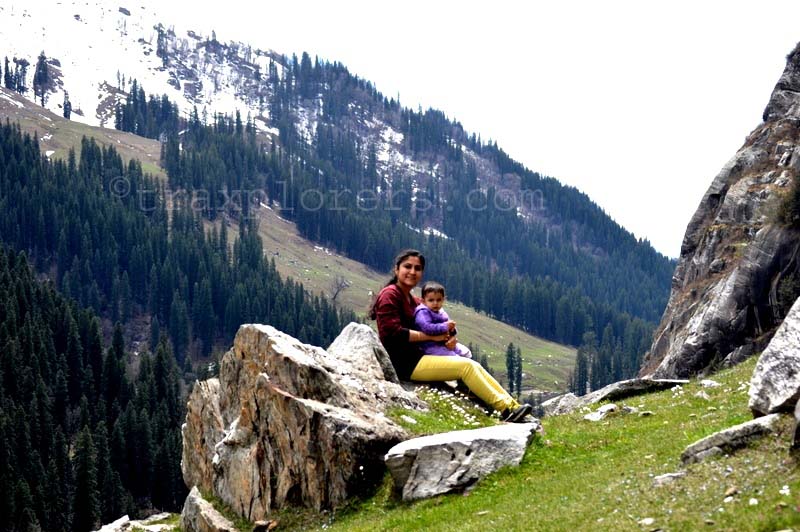 You may like to read our previous post about our first-day experience in Manali-
'Manali (Part-1): Complete Package for Travel Explorers'
Love it? Pin it. 🙂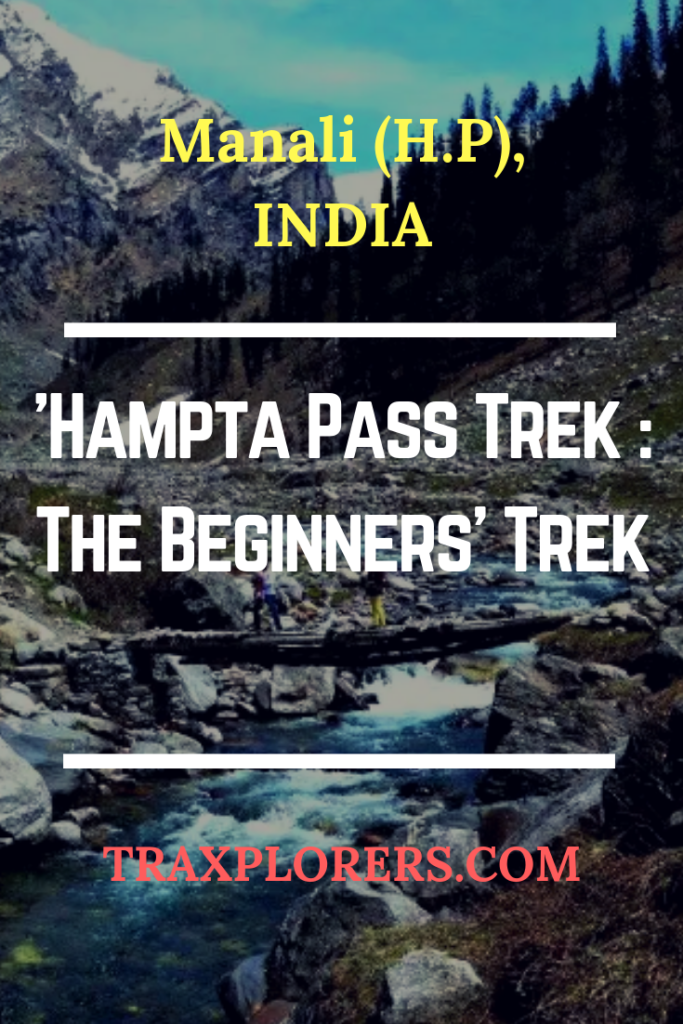 DISCLAIMER: Some links on this site contain affiliate links, meaning if you book or buy something through one of these links, we may earn a small commission (at no extra cost to you). Thank you for supporting this website.
Terms & Conditions: ©Unauthorized use and/or duplication of any material (text and/or images) without consent from this site's author and/or owner are strictly prohibited. Links and excerpts may be used provided that full credit is given to Traxplorers or Supriya Bhardwaj with specific and appropriate direction to the original content.