Triund Trek: Trekkers with an Unborn
Triund Trek: Trekkers with an Unborn
I still remember, when there were only two of us, just got a long weekend due to some national holiday in April 2014. We wanted to escape from the rapidly increasing heat of northern plains, so we picked Mcleodganj, Himachal Pradesh.
At that time we were completely unaware that I was carrying another soul inside me, a new life (our Karen).
Boarded a bus from Chandigarh to Dharamshala
As we planned, we boarded a late night bus for Dharamshala, H.P. We reached around five in the morning. From there we took another bus towards Mcleodganj, a suburb of Dharamshala in district Kangra of Himachal Pradesh, India. After an hour or so we reached Mcleodganj and searched for a hotel. After some rest; we were ready to explore this place.
First Day: Local Market and Place Survey 
The place was beautiful… full of nature, peace, and greenery. There were many monasteries and local Tibetan market to visit. Mcleodganj also provides refuge for a large population of Tibetans monks and nuns. Apart from this, there was much more to explore. The first day, we just explored the local markets in the city.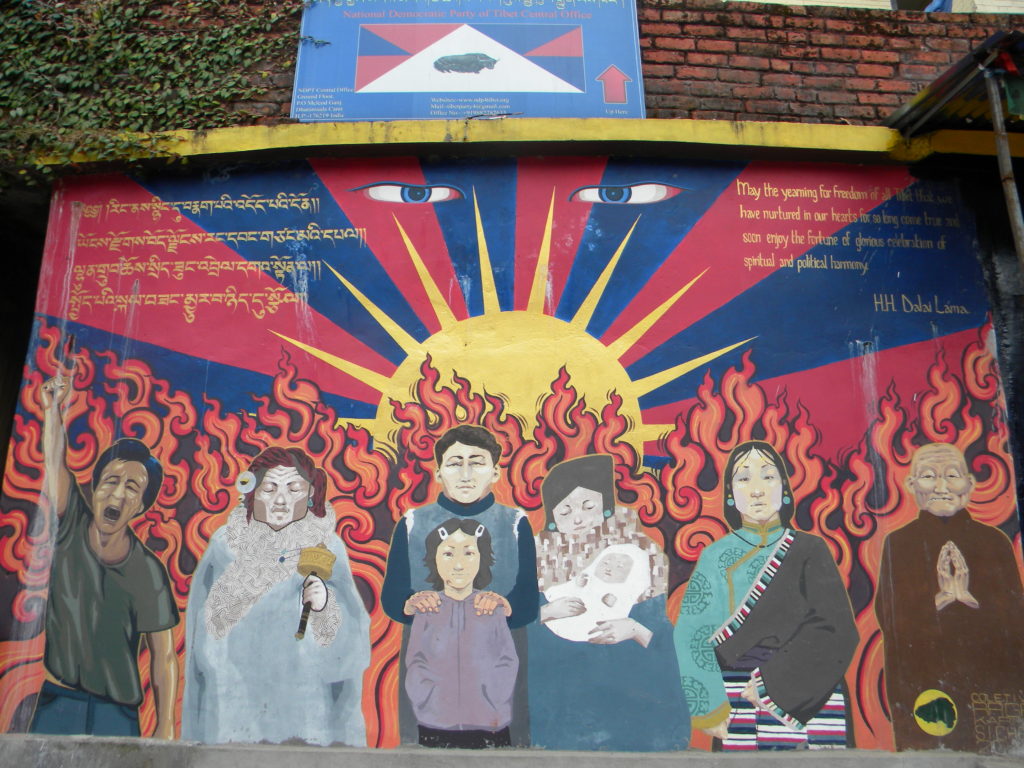 The tourists flock in there from different parts of the world as it is famous for its culture and crafts, antique items etc. The shopping experience is worth remembering, provided you know how to bargain and purchase the local items of the place such as Tibetan mats and carpets.
There was a Tibetan National Martyrs Memorial for people who sacrificed their lives for Tibet.
Second Day: Bhagsu Naag Temple & Waterfall
Next day, we started a small trek towards famous Bhagsu Naag temple and a natural waterfall. There were many local cafes on the way and was really a nice experience to explore this place.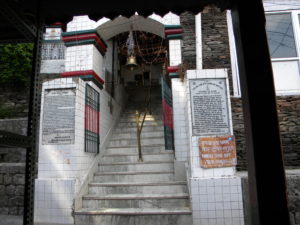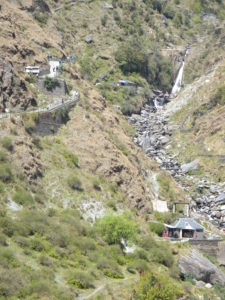 Third Day: Trekking to Great 'Triund'
On the third day, we went for a real trekking experience of our lifetime. We made up our mind to trek the great "Triund". Before going further, I would like to give a brief overview of this mountain…
Triund
Triund is situated in laps of Dhauladhar mountain ranges. Triund is a very popular trekking spot and attracts a lot of tourists every year from all over the world. Triund is a crown jewel of Dharamshala and offers a panoramic view which is quite exhilarating and inspiring.
Triund Trek
Grade: Easy to moderate.
Elevation: 9350 fts.
Distance: Approx. 10 km gradual trek from Mcleod Ganj.
We took a taxi up to Gallu Devi temple and had a wonderful breakfast in a small refreshment hut and also bought a few bottles of Gatorade. Then we started the amazing trek of Triund. It was an actual path for trekkers and we enjoyed it to the fullest, actually, it was the silence that most beautiful on that mountain. Soon we reached a breathtaking point from where the village was looked like tiny dots.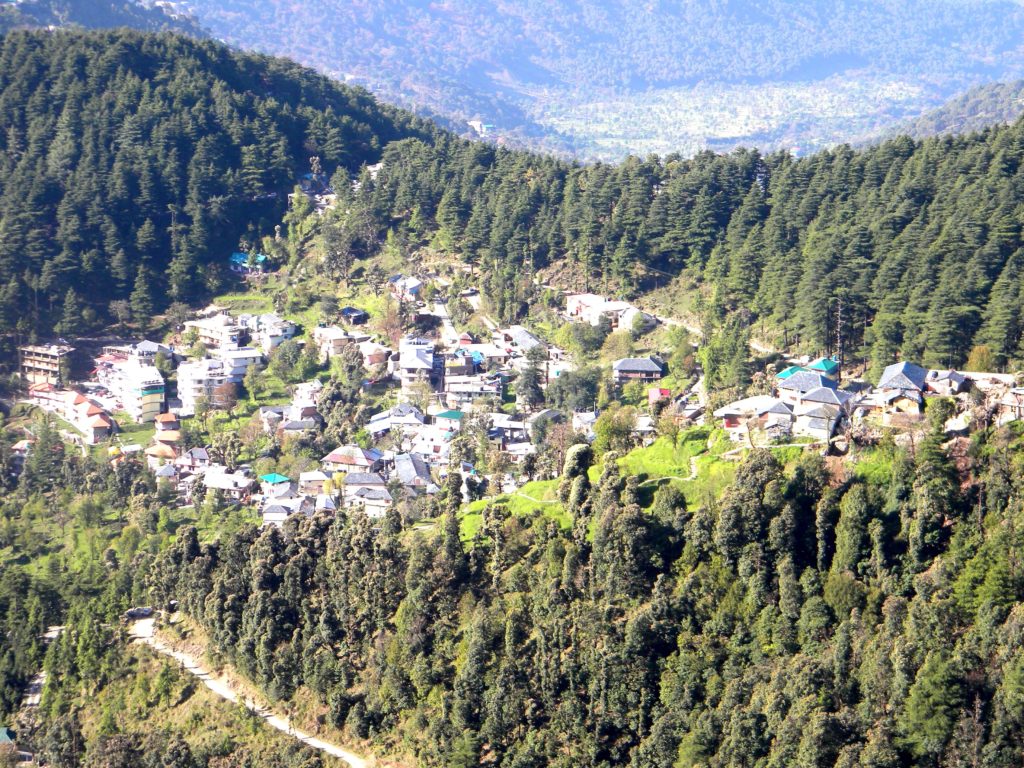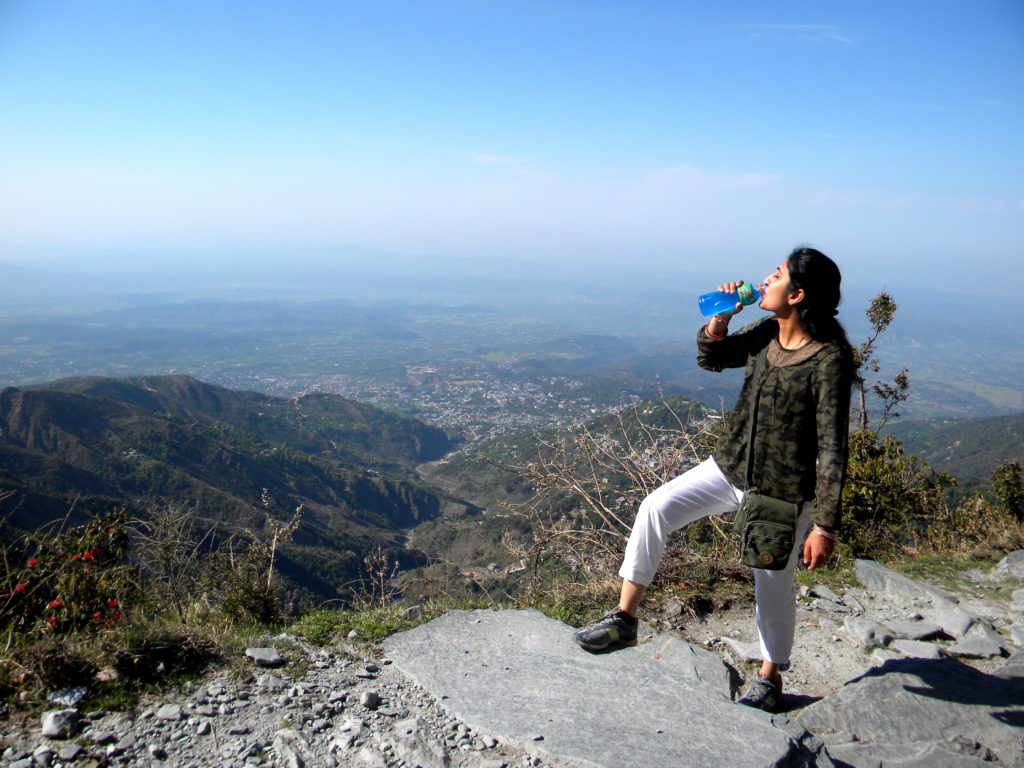 The weather was cool and chilly breeze felt magnificent. The Triund path cut through a mixed forest of oak, deodar, and rhododendron. Birds were chirping giving musical delight. A full package of nature therapy. We tried to capture the beauty of nature and shot small video clips. Luckily, even in the month of April, there was still some snow patch on the path. I ran towards the snow and jumped on to it, made few snowballs and threw towards Adi. We found one dog that also seemed to have fun in the snow.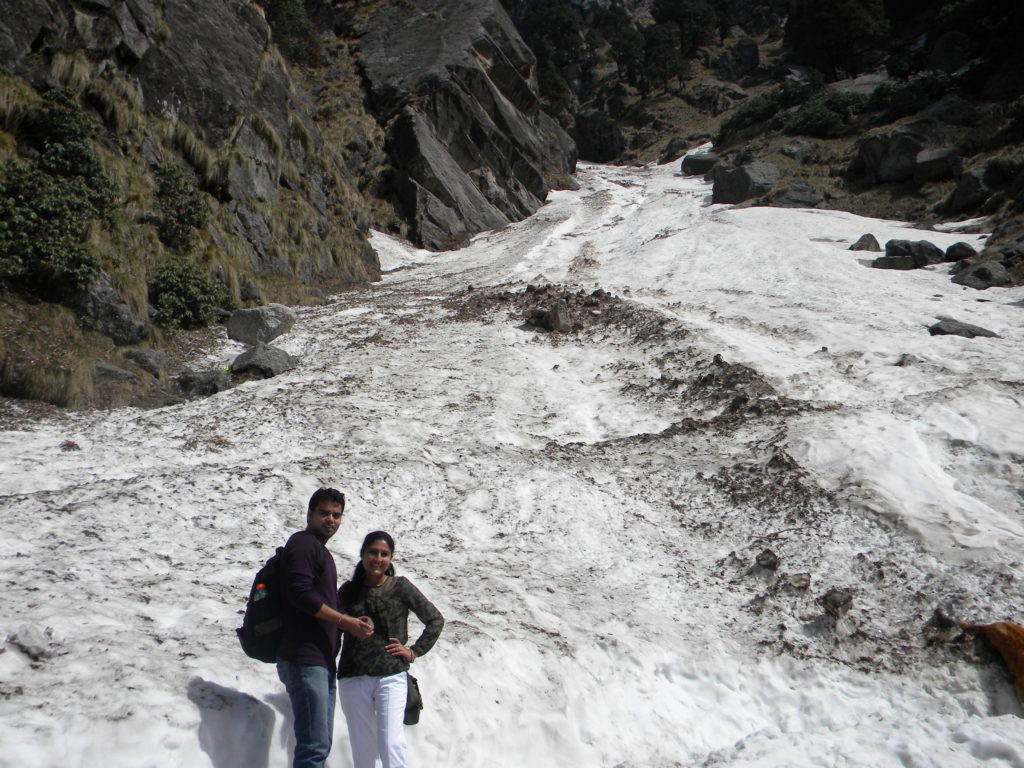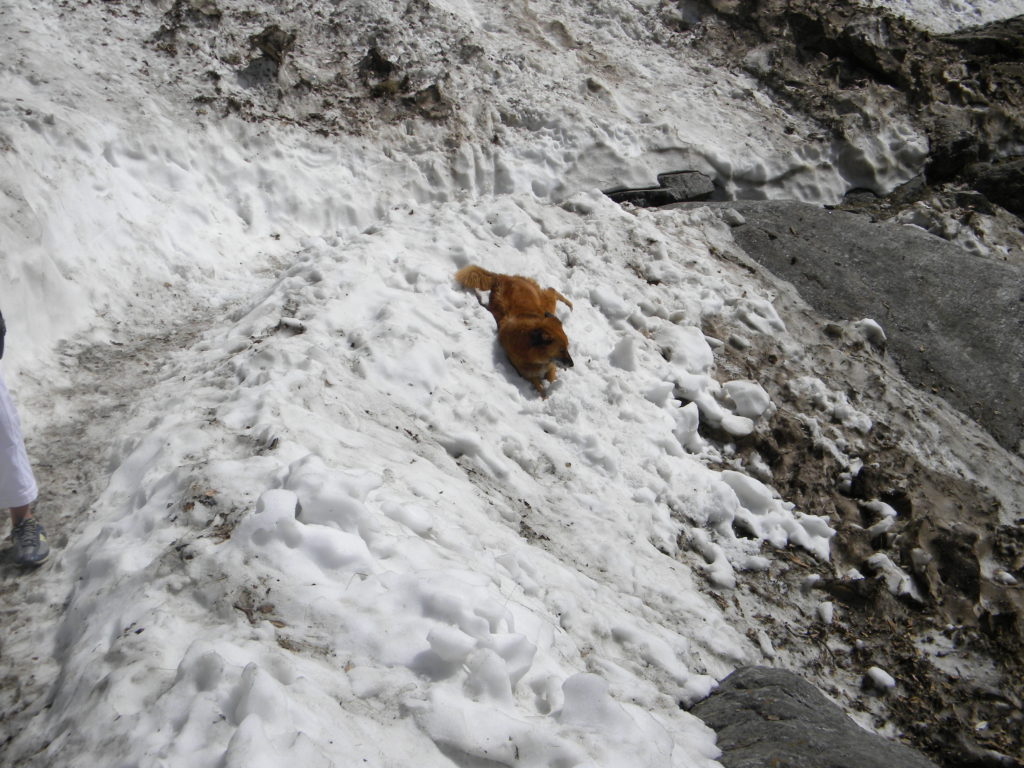 After passing that snowy patch, a steep and narrow path was ahead of us.  Triund trek was easy for around five kilometres next few kilometers were moderate but last one-kilometer trek required a bit of toil. The last one kilometer was popularly known as "22 curves".  We had to cross 22 tiring curves before we finally reached the top of Triund. It took around half an hour to cross that but as soon as we crossed it we reached the top of the mighty Triund.
The trek took around three hours. We conquered our first trekking together and unknowingly along with our unborn child "Karen". So, she became unborn trekker with us.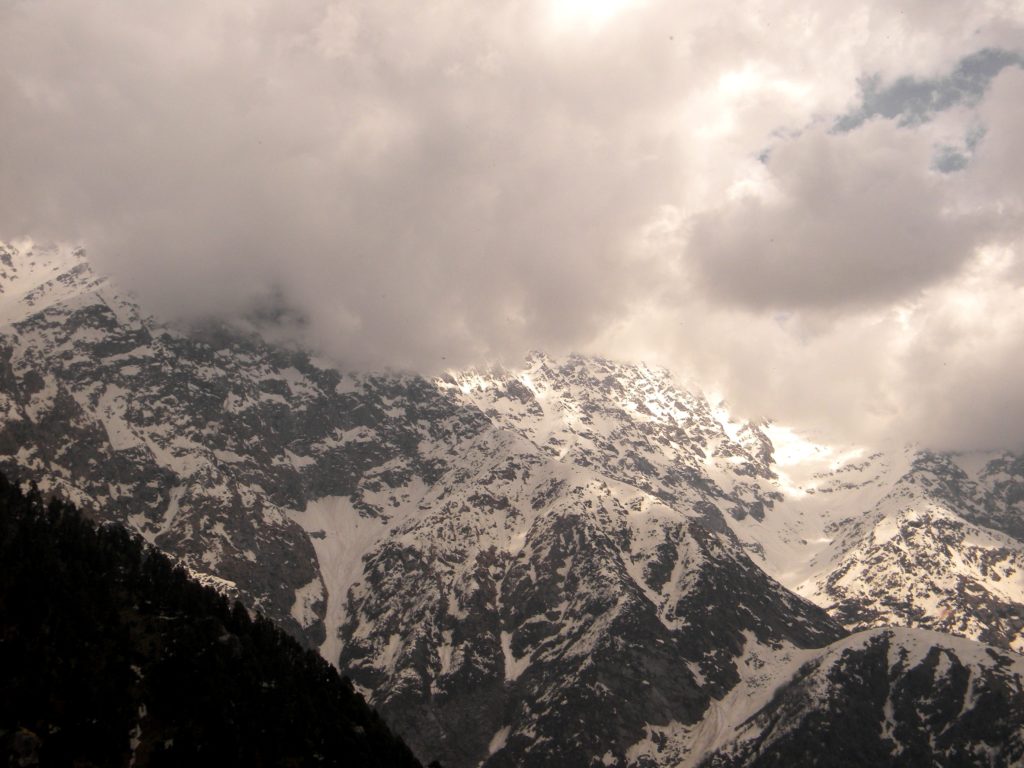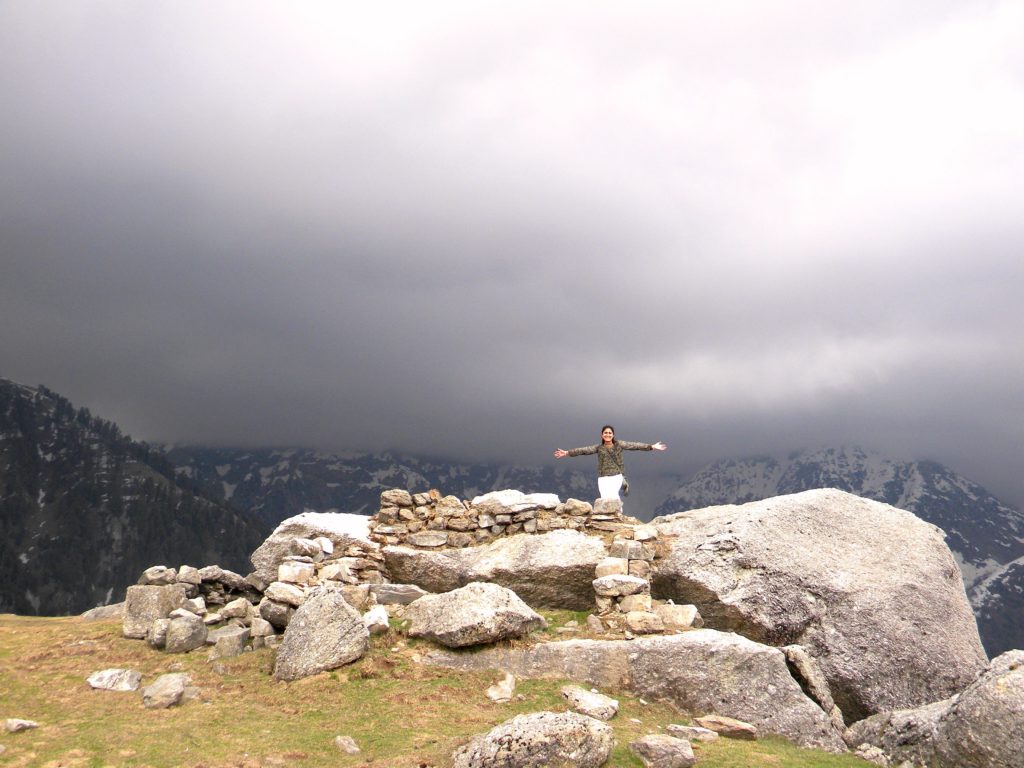 Ahhhh! View from the top was breathtaking. It was spectacular and truly majestic to saw Dhauladhar ranges in front of our eyes. It was truly exhilarating. Felt like heaven. Definitely, it was an amazing and awesome experience to just sit there and watch clouds coming towards us.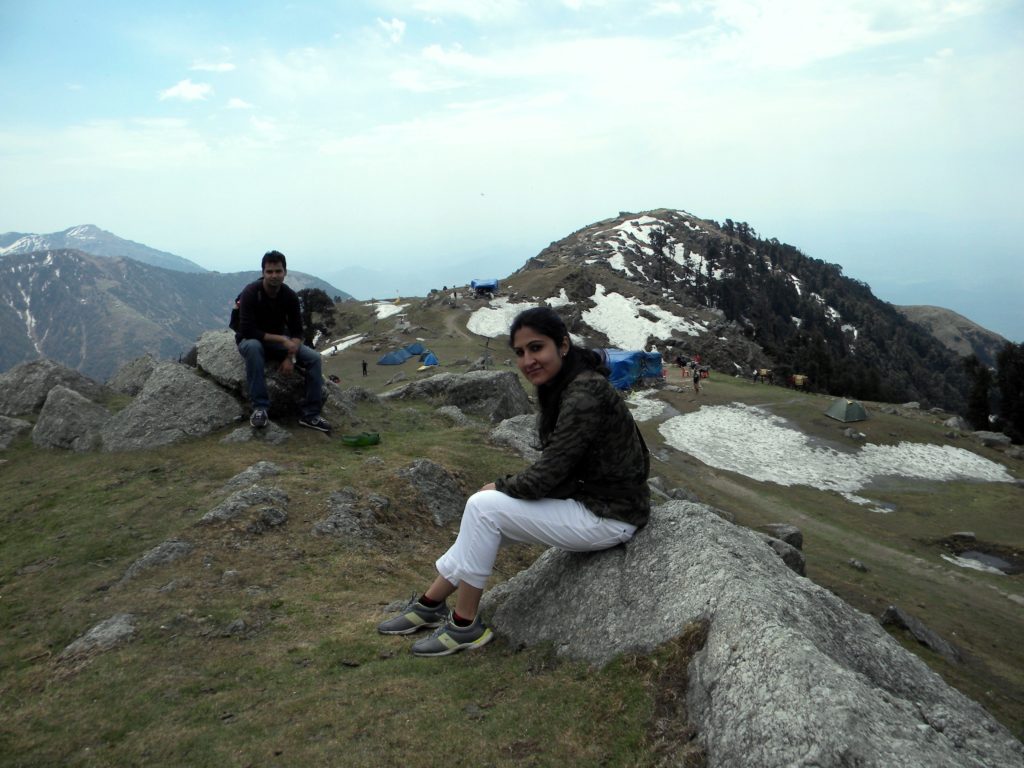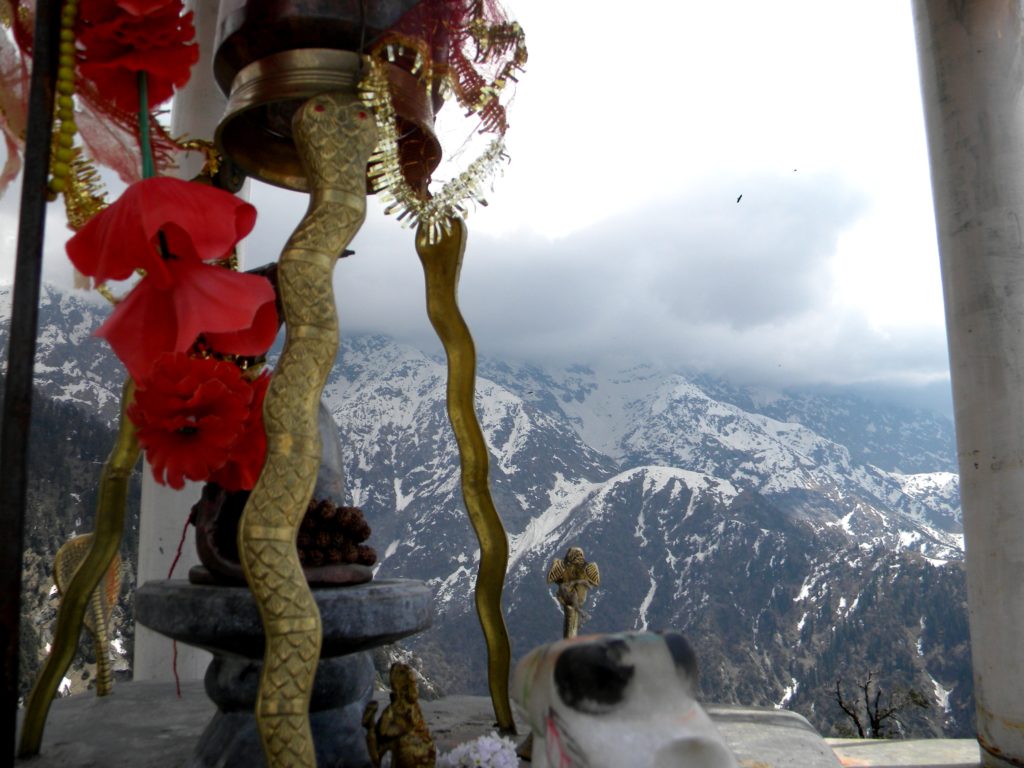 There was a Shivlinga, a moment of heavenly blessings at the Triund top. There was also a camping site. One can plan on camping there for a night. But as we did not plan on camping earlier, we had to come back.
While coming down, nature wanted to show us more beauty in its package… it started drizzling!!
Awesome….we loved it and tried to shoot some videos also.
You may like watching our video of Triund Trek below

👇

👇
Soon we were feeling a bit cold and therefore increased our speed. There were few makeshift tea stalls on the trek as well as at the top of Triund, which provide maggie, tea, soft drinks, chips etc. They charged triple to the MRP but surely they have to because it is not easy to transport necessities up there. We had a tea and maggie, enjoying the nature at its best. The drizzling stopped after half an hour and we again started our down trek. It took around 2 hours to come down. We completed the whole Triund trek within 6 hours.
It was a great achievement for both of us as it was our very first trekking experience which went so well with wonderful experience.
Tips for Trekkers:
You can do this trek with or without a guide.
A good trekking shoe is a must as the terrain is rocky.
One should be physically fit as the hike is steep at some places.
Pack some warm clothes as it gets very cold at nights if you are camping.
Carry basic first aid and Snickers.
Suggested Read: Hampta Pass Trek: The Beginners' Trek
If you want to explore Dharamshala then must read Dharamshala travel guide first.
Don't forget to carry a good camera on trekking:
Have you done this trek?  Share your experience with me. If not done it yet then go for it.  And don't forget to share and Pin it.  🙂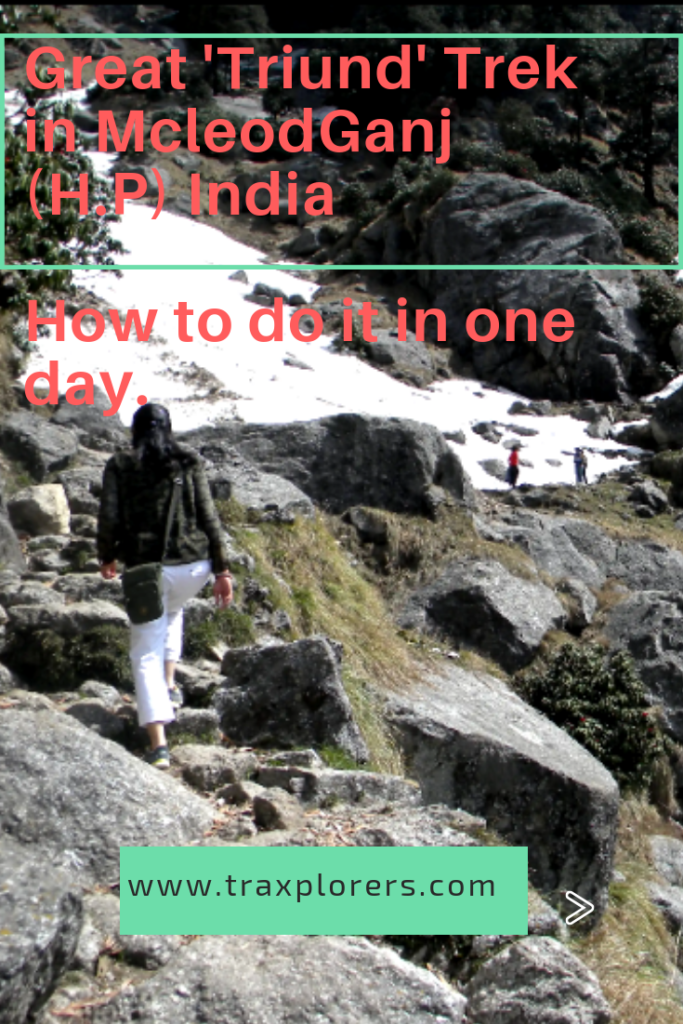 DISCLAIMER: Some links on
this site contain affiliate links, meaning if you book or buy something through
one of these links, we may earn a small commission (at no extra cost to you).
Thank you for supporting this website.
Terms & Conditions: ©Unauthorized
use and/or duplication of any material (text and/or images) without consent
from this site's author and/or owner are strictly prohibited. Links and
excerpts may be used provided that full credit is given to Traxplorers or Supriya
Bhardwaj with specific and appropriate direction to the original content.