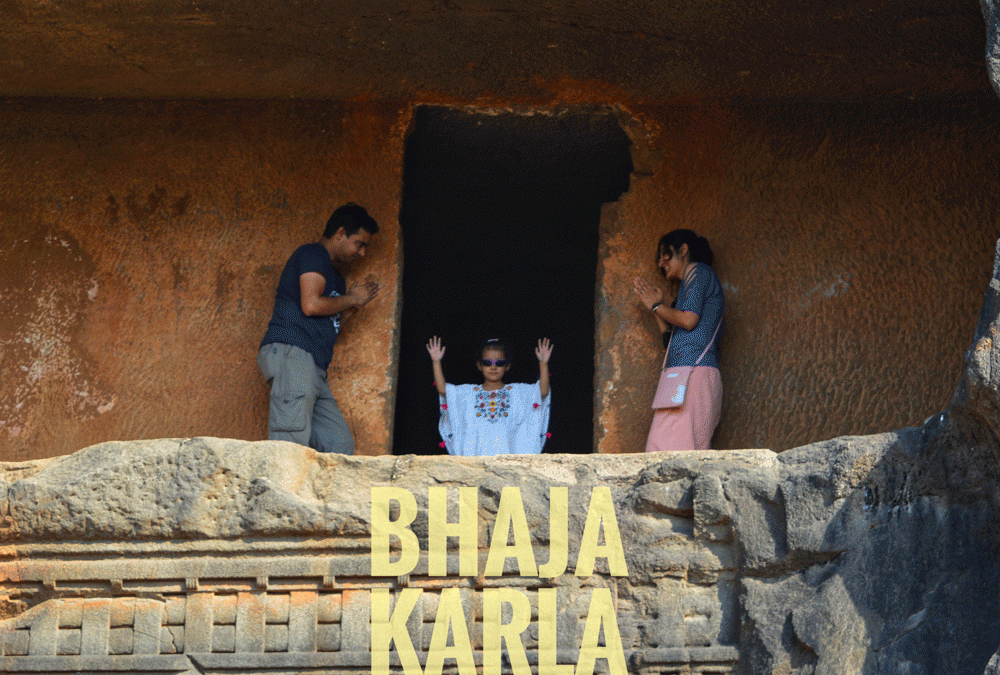 Bhaja and Karla Caves: A Journey Through Time and Architecture
Bhaja Caves and Karla Caves near Lonavala
Bhaja Caves, also known as Bhaje Caves, and Karla Caves, also known as Karle Caves, is a group of ancient rock-cut caves located near Lonavala in the state of Maharashtra, India. These caves date back to the 2nd century BCE and are a significant historical and architectural site in the region. They are part of the larger complex of rock-cut caves found in the Western Ghats of India.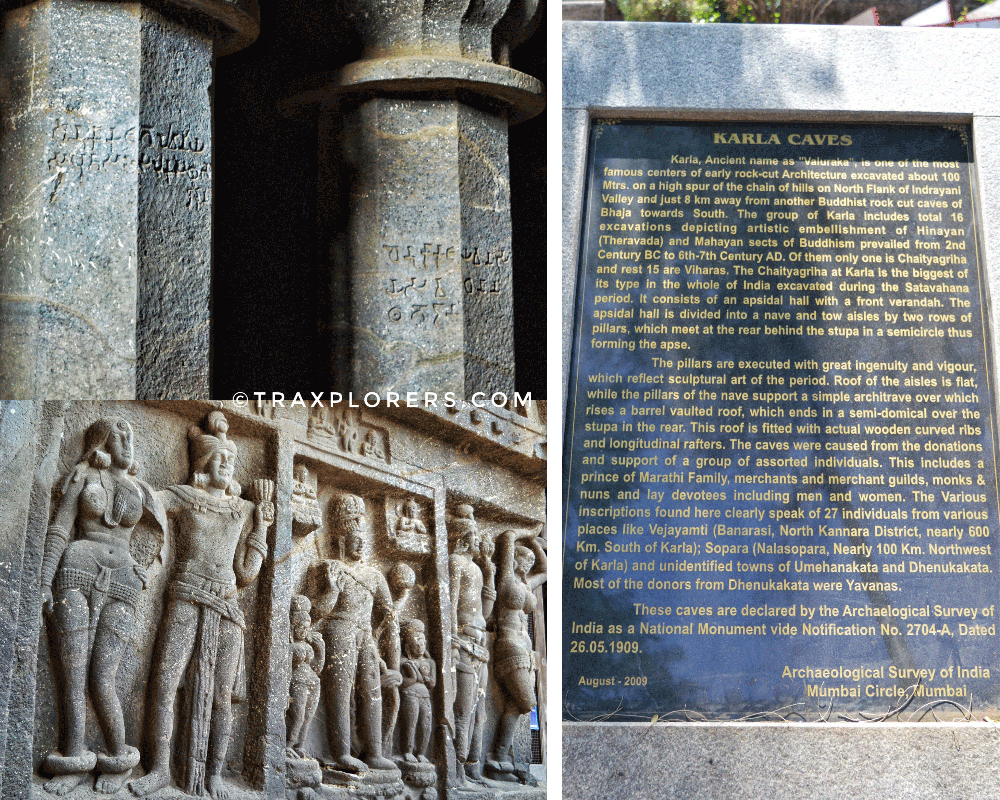 Key features of the Caves: The Rock-Cut Ancient Wonders
Architecture: The caves were carved out of a hillside and are an excellent example of ancient Indian rock-cut architecture. The skilled artisans of that time meticulously carved the caves into the basalt rock to create prayer halls, viharas (monasteries), and chaityas (Buddhist prayer halls).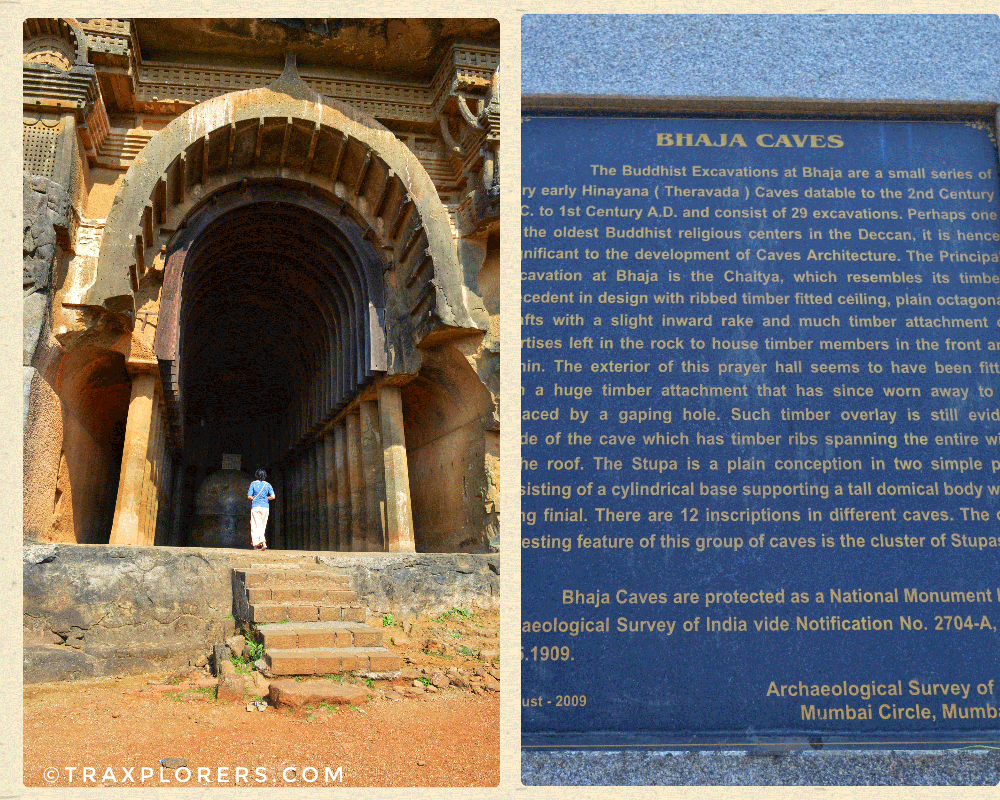 Buddhist Heritage: The Caves hold immense historical and religious significance for Buddhists. These caves were once used as a meditation retreat for Buddhist monks. The chaitya in Cave 12 is the most remarkable structure among them and resembles a small wooden chapel with intricate wooden patterns, though it's entirely carved from rock.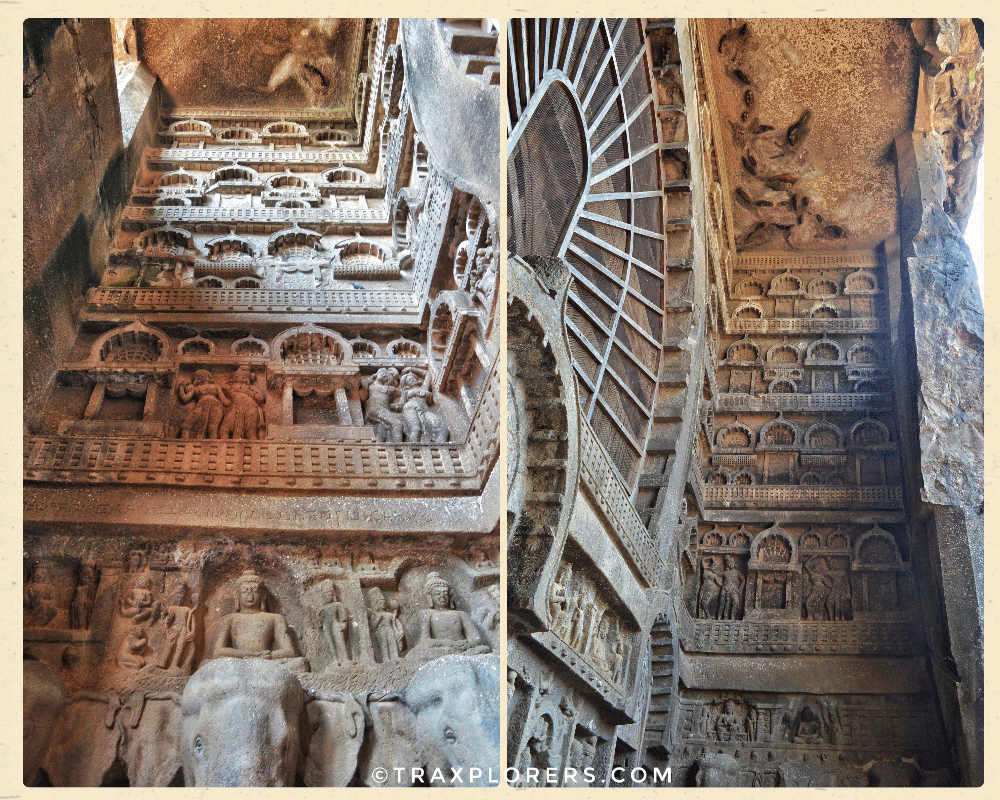 Stupas and Reliefs: The caves also contain several stupas (Buddhist shrines) and reliefs depicting scenes from the life of Buddha and various Bodhisattvas. The reliefs serve as artistic representations of Buddhist teachings and stories.
Caves with Water Cisterns: One notable feature of these Caves is the presence of several water cisterns cut into the rocks. These were designed to collect and store rainwater, which was crucial for the monks' sustenance during their stay in the caves.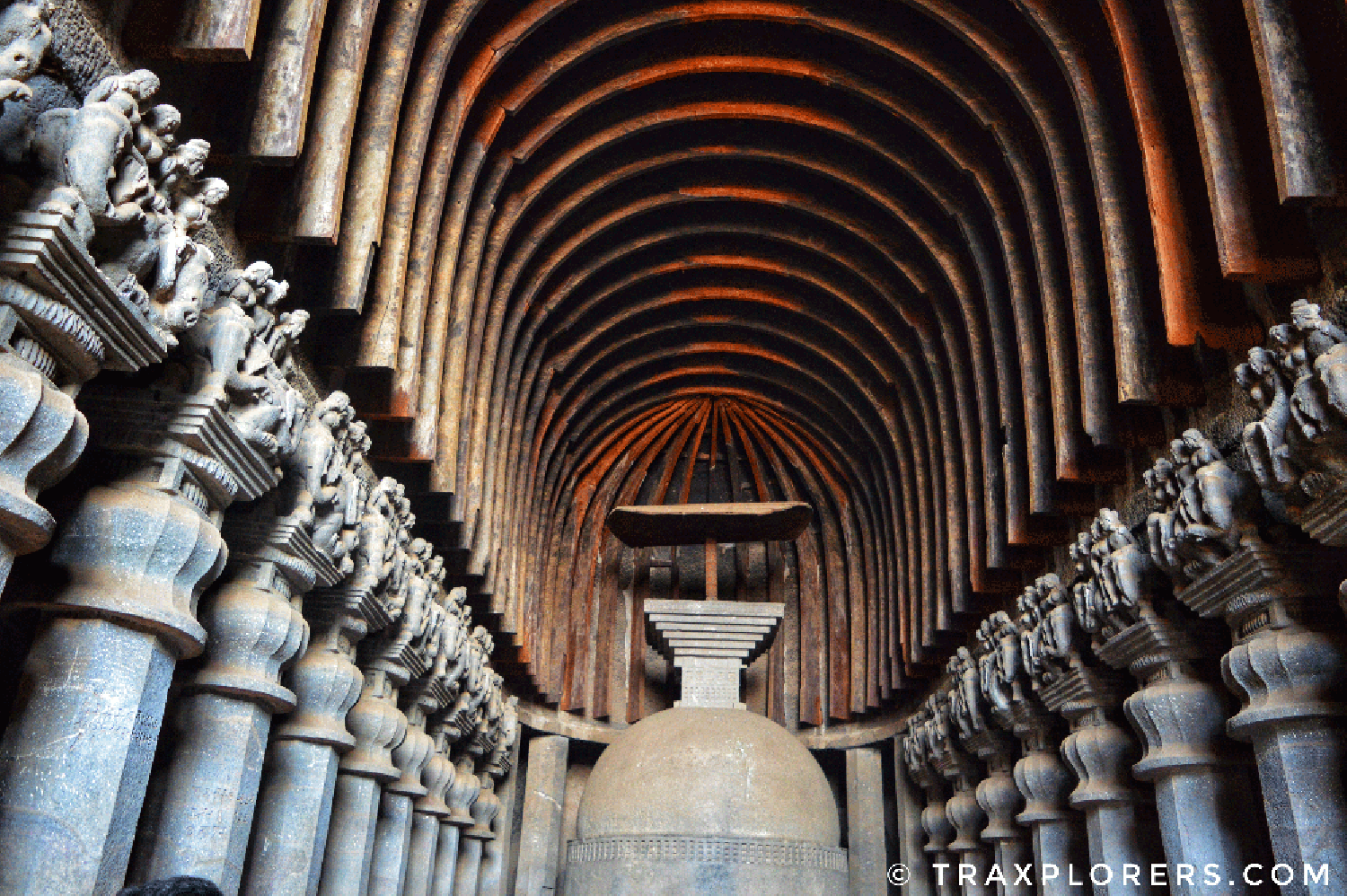 Vihara Complex: The site also includes a large vihara complex, which consists of multiple residential cells for the monks to live in during their periods of meditation and study.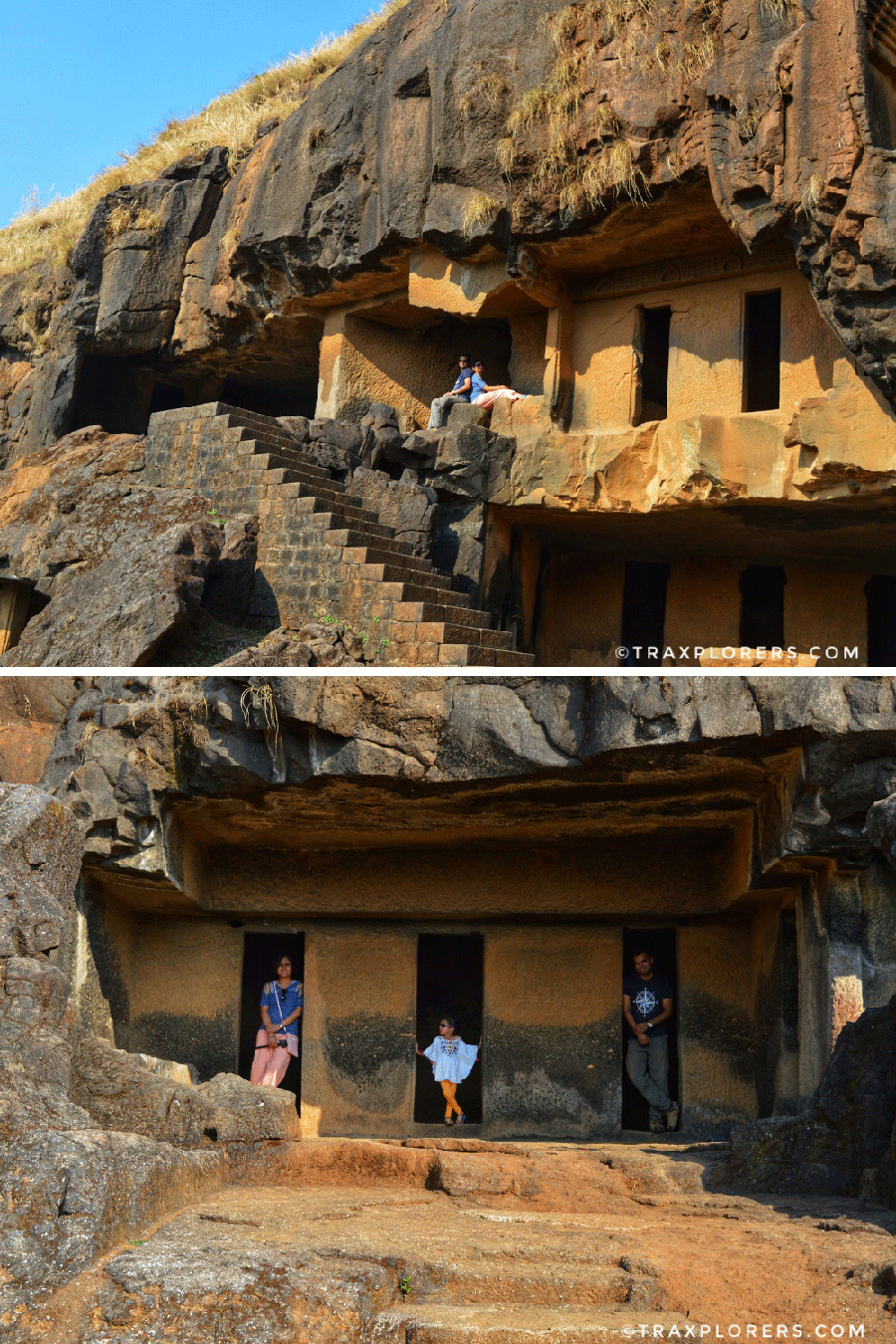 Visiting Bhaja and Karla Caves:
These Caves are easily accessible from Lonavala and can be reached by road. The trek to the caves involves a short hike uphill, offering lovely views of the surrounding landscapes.
These Caves offer a glimpse into India's ancient past, showcasing the Buddhist influence and the mastery of rock-cut architecture during that era. It remains a significant pilgrimage site for Buddhists and an enlightening experience for visitors interested in history, art, and spirituality.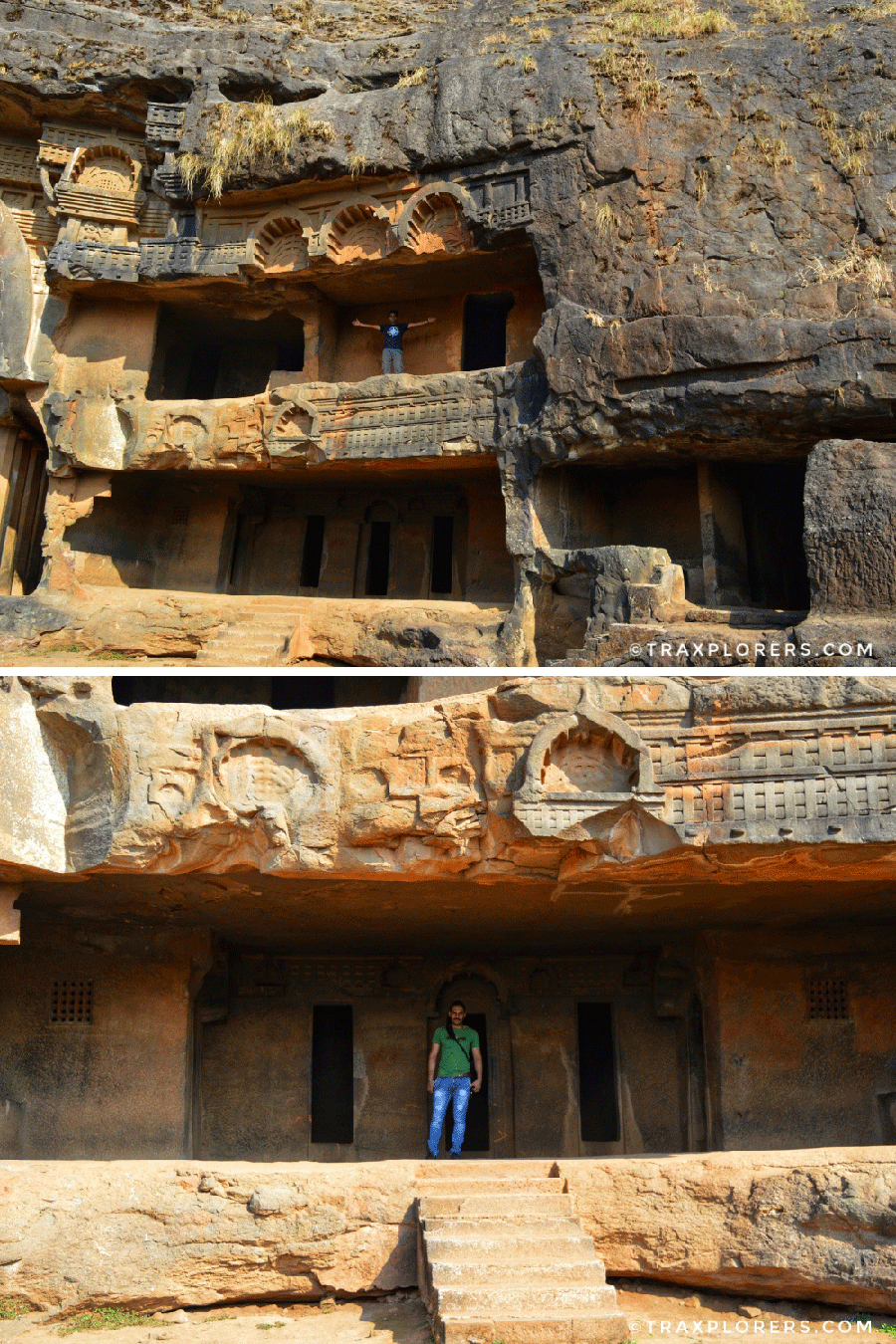 Ekvira Devi Temple
The temple is located adjacent to Karla Caves. This temple is situated on a hilltop close to the Karla Caves complex. Ekvira Devi is a local deity revered by the people in the region, and the temple dedicated to her is a popular pilgrimage site. The temple attracts a significant number of devotees, especially during Navratri and other festive occasions.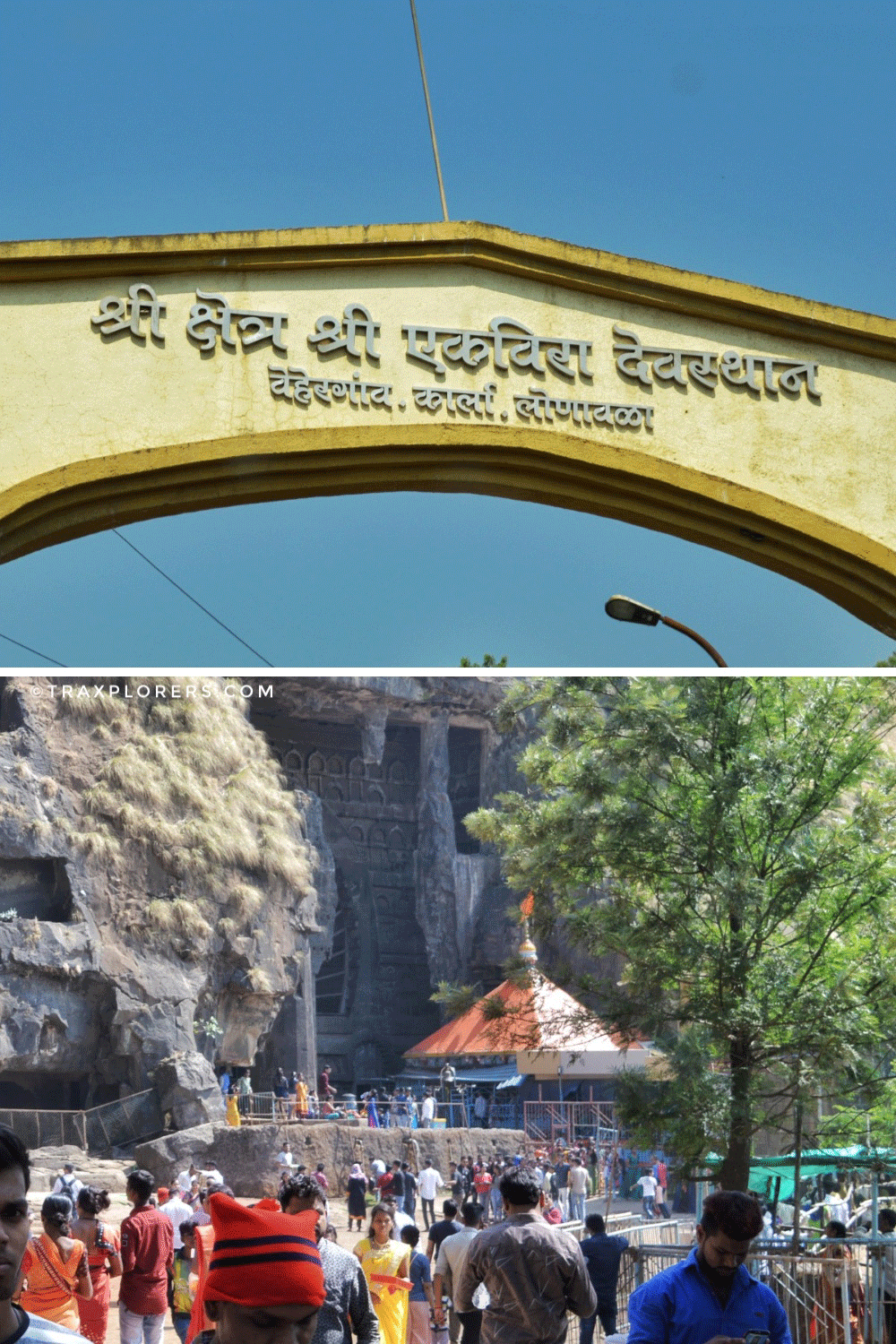 Many visitors to Karla Caves also make a visit to the Ekvira Devi Temple, as it is just beside the cave complex. The temple offers beautiful views of the surrounding landscapes and adds to the spiritual significance of the entire area. The combination of the ancient Buddhist rock-cut caves at Karla and the nearby Ekvira Devi Temple provides a unique and enriching experience for both history enthusiasts and religious devotees.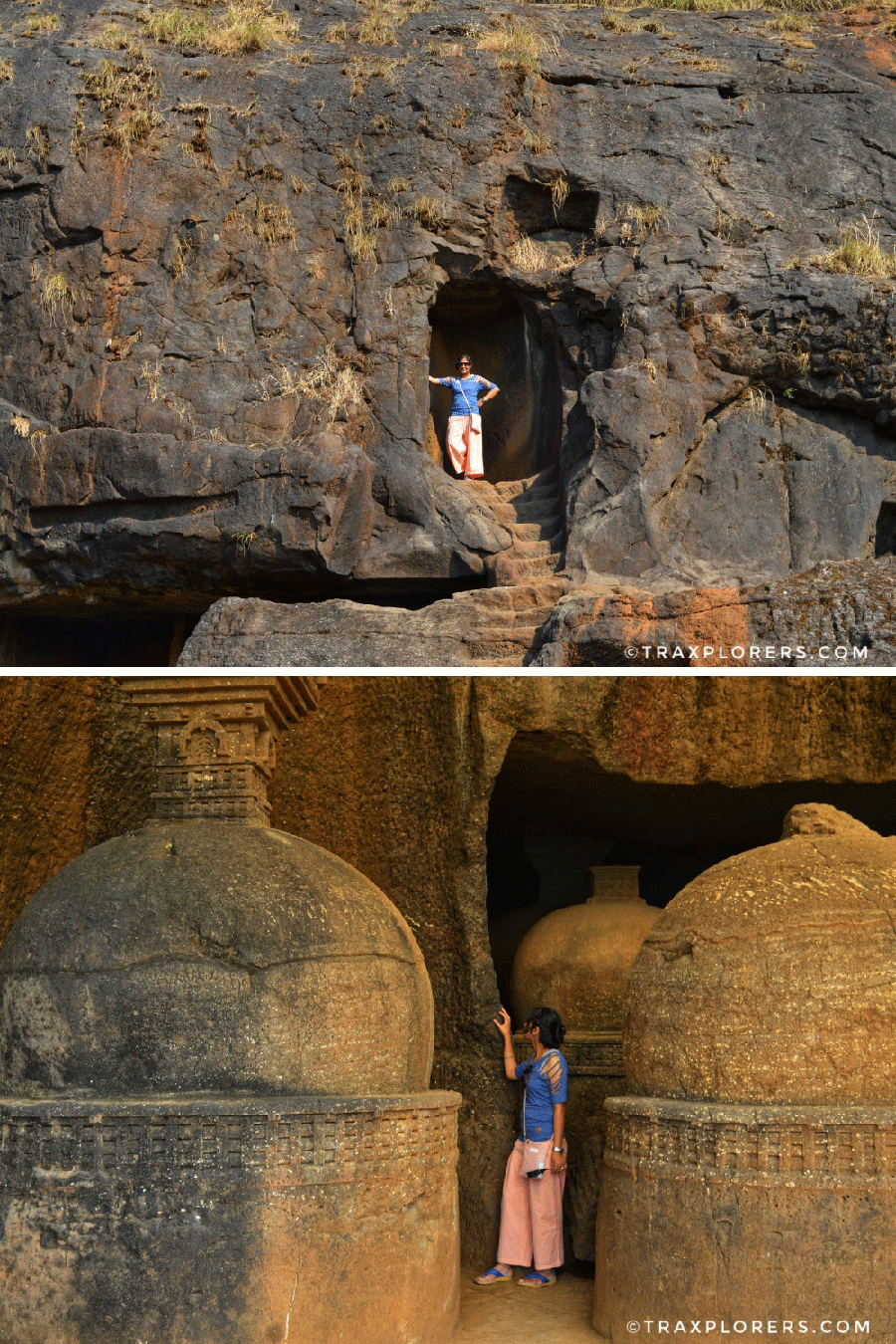 How to reach Bhaja and Karla Caves
To travel from Mumbai to Bhaja and Karla Caves, you have several transportation options. Both caves are located near Lonavala in Maharashtra. Here are the common ways to reach Bhaja and Karla Caves from Mumbai:
By Car:
The most convenient option is to drive from Mumbai to Lonavala, which is approximately 83 kilometers and takes around 2-3 hours, depending on traffic conditions. From Lonavala, Bhaja Caves are about 15 kilometers away, and Karla Caves are approximately 11 kilometers away. You can easily reach both sites by driving or hiring a local taxi.
By Train:
Take a direct train from Mumbai to Lonavala. Lonavala is well-connected to Mumbai by regular trains, and the journey takes around 2-3 hours, depending on the type of train you choose. From Lonavala Railway Station, you can hire a taxi or take a local bus to reach Bhaja and Karla Caves.
By Bus:
Several state-run and private buses operate between Mumbai and Lonavala. You can take a bus from Mumbai to Lonavala, which usually takes around 2-3 hours. Once you reach Lonavala, you can hire a local taxi or take another bus to Bhaja and Karla Caves.
By Cab/Taxi:
You can book a cab or taxi directly from Mumbai to Bhaja and Karla Caves. It's a convenient option if you prefer a door-to-door service and want to explore both cave sites at your own pace.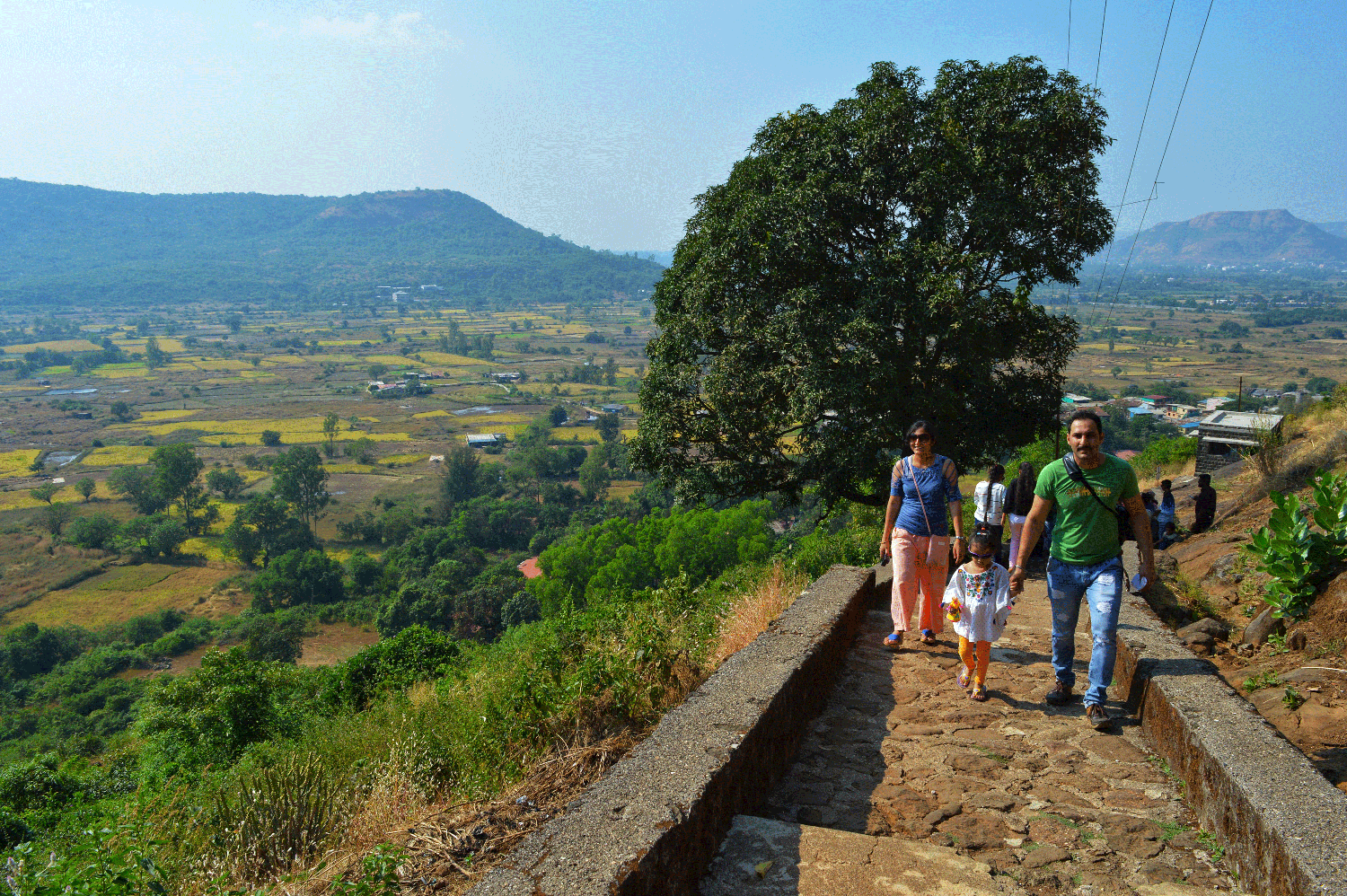 Best Time to visit Bhaja and Karla Caves
Winter: The best time to visit Bhaja and Karla Caves is during the winter months (October to February). The weather in the Lonavala region is pleasant with mild temperatures. The days are relatively cool, making it comfortable for exploring the caves and the surrounding areas.
Monsoon Season: The monsoon season in Maharashtra lasts from June to September, and during this time, the region experiences heavy rainfall. While the monsoon can enhance the natural beauty of the area, it also makes the terrain slippery and can lead to roadblocks or transportation disruptions. Visiting the caves during heavy rainfall may not be safe or enjoyable.
Avoiding Heat: The summer months in Maharashtra (April to June) can be quite hot and humid, with temperatures soaring. Visiting the caves during this period might be uncomfortable, especially when exploring the caves that involve walking and climbing.
Festivals and Events: If you're interested in experiencing local festivals and cultural events, you might plan your visit during Navratri (September-October) when the Ekvira Devi Temple (near Karla Caves) sees significant footfall of devotees. Additionally, the festival of Holi (March) can also be a vibrant time to visit the region.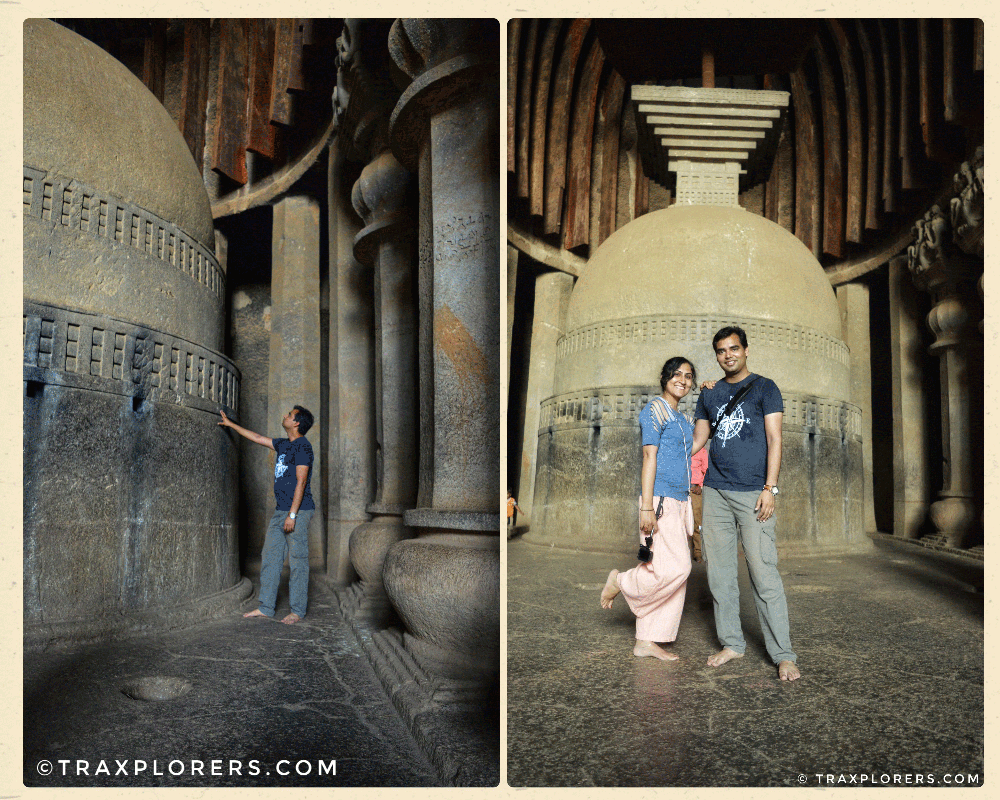 Do's and Don'ts
When visiting these Caves, it's essential to wear comfortable shoes suitable for walking on uneven terrain.
It is essential to keep in mind that weather patterns may vary from year to year, so it's always a good idea to check the weather forecast and plan accordingly.
Weekends and holidays can be relatively crowded, so if possible, try to visit the caves on weekdays to enjoy a more peaceful experience.
Additionally, as with any historical site, it's advisable to maintain the sanctity of the place and follow the rules set by the authorities to preserve these ancient structures for future generations to admire and learn from.
Like the article? Share with others. Please pin the image below to save and read it later. Thank You!