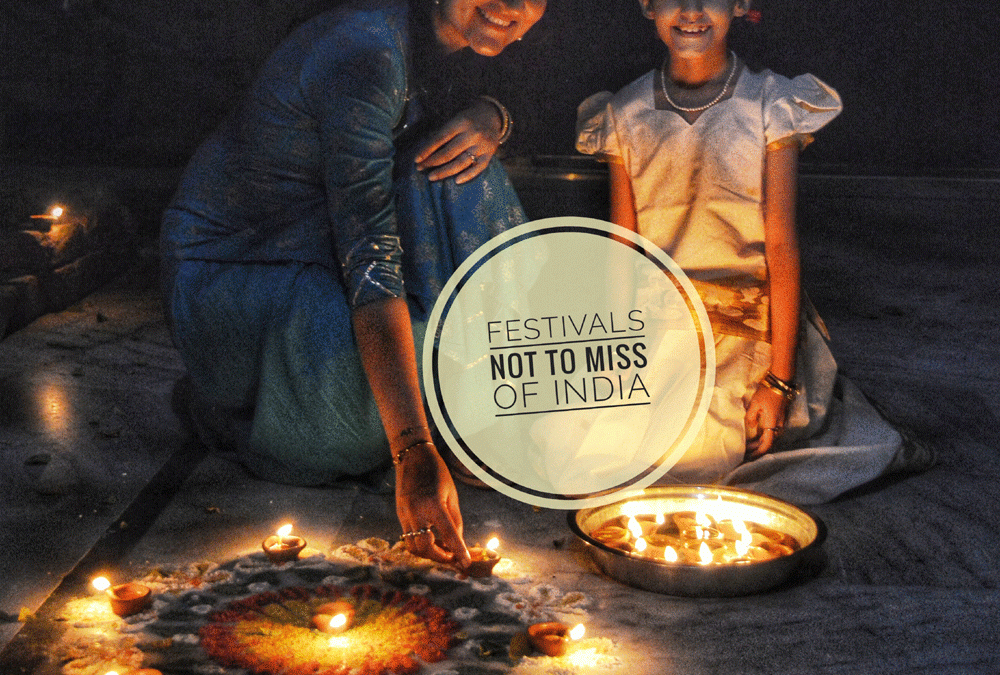 Diverse Festivals NOT to Miss of Incredible India
Festivals of India
India in itself is incredible due to its diversity in all aspects whether it is religion, culture, geography, weather, etc. India is known for its vibrant festivals. Along the famous festivals like Diwali, Holi, etc. there is a lot of diversity in the style of celebration that varies from one state to other. Each festival holds its own specialty from the region. So, this post is an effort to compile the various famous as well as unique festivals celebrated throughout the year in different regions of India. Let's know how and when Indian festivals are celebrated with unique charm and fervor across the country. Here is a list of Indian festivals starting from January to December.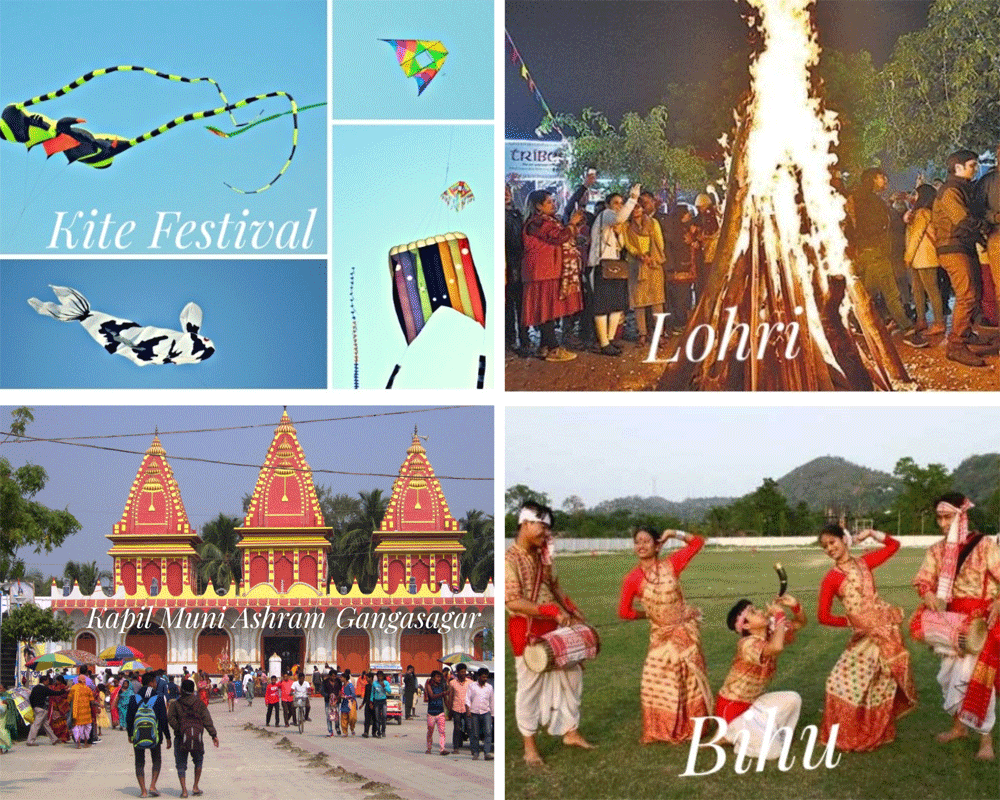 January
Uttarayan- Harvest Festival
Uttarayan marks the day when winter begins to fade and there is the arrival of summer days, according to the Indian calendar. This day is also known as Makar Sankranti in Bihar, Jharkhand, Maharashtra, and Andhra Pradesh, which is a sign for farmers that the sun is back and harvest season is approaching. Tamil Nadu celebrates it as Pongal also known as the harvest festival.
Kite flying in the month of January on the auspicious day of Makar Sankranti or Uttarayan usually falls on the 13-14th of January. Basically, the kite festival is celebrated in north India.
In Gujarat, the kite festival is known as the Uttarayan festival. Since 1989, Gujarat hosted an International festival of kites as part of the official celebration of Uttarayan, bringing masters of kite makers as well as kite flyers from all over the world into one place.
Lohri- Punjab
Punjab celebrates Makar Sankranti on 13th January and calls it Lohri. It is marked as the best season for harvesting sugarcane.
Poush Parbon- West Bengal
West Bengal celebrates Makar Sankranti as Poush Parbon with mouth-watering sweets and the smell of fresh-cut rice which marks the harvest festival.
Bihu- Assam
Assam celebrates the harvest festival in a set of three- 'Bhogali' or 'Magh Bihu' in January, 'Rongali' or 'Bohag Bihu' in April, and 'Kongali' or 'Kati Bihu' in October.
Key Highlights: Kite flying, vibrant colored kites in the sky, delicacies with sesame seeds, and jaggery.
Gangasagar Mela
The Gangasagar Mela is an auspicious occasion for Hindus. It's held at the Ganga Sagar Island on river Hooghly of West Bengal. The fair or mela lasts for two months, from January to February. The day of Makar Sankranti records the most crowds as it's considered to be the holiest time.
This annual celebration witnessed lakhs of people visiting different parts of the country. Netaji Subhash Chandra Bose Airport of Kolkata is the closest to the mela at a distance of 118 km. You can reach Gangasagar from Kolkata from Sealdah station; it's around 2 hours to reach Kakdwip or Namkhana railway station. Irrespective of the mode of transportation, all pilgrims must cross the Muriganga River by boat to reach Kachuberia on the other side. From there, it takes one hour on a bus to reach Gangasagar.
The legend says King Sagar and his sons disturbed Kapil Muni's meditation. In a rage, Kapil Muni cursed them to turn into ashes. King Sagar's grandson Bhagirath prayed to Ganga to liberate his ancestors from the mortal world. The river granted his wish and changed its course to wash upon his ancestors' ashes. Today pilgrims from all over India attend this fair to take a dip in the holy Ganges to purify their souls and attain salvation. Devotees also often visit the Kapil Muni ashram nearby to pay respects to the mighty sage.
Key Highlights: The presence of Naga Sadhus is a unique feature of this grand fair.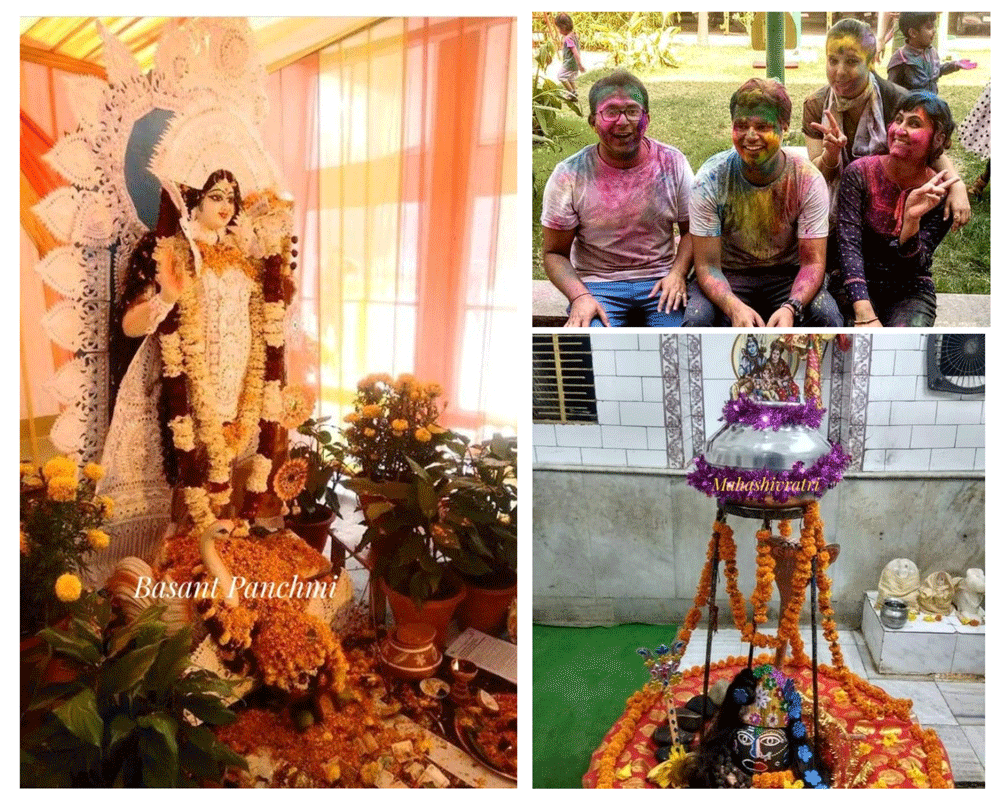 February
Basant Panchami- Spring Festival
It is a Hindu festival, celebrated during spring to start new things in life. According to the Hindu calendar, it falls on the fifth day of Magha mass (month). Goddess Saraswati is worshipped on this auspicious day, who is the goddess of knowledge, music, and learning. Schools, colleges, and other educational institutes celebrate this day throughout India.
March
Mahashivratri- Dedicated to Lord Shiva
This month begins with the Mahashivratri, which is one of the biggest festivals in India. On this day, people fast the whole day and night. From the early hours of the morning, devotees gather in temples dedicated to Lord Shiva. The holy rituals are performed before the lingam (idol). Maha Shivratri falls on the 14th day of the dark fortnight in the month of Phalguna. As per Hindu mythology, Lord Shiva tied the nuptial knot with Goddess Parvati on this day. This day marks the celebration of the union of Lord Shiva with Goddess Parvati.
Holi 'Festival of colors'- Across India
Holi is the festival of colors, where people play with colors and the festival is celebrated on different days in different regions. The date of Holi is decided according to the lunar calendar. It comes after 40 days of Basant Panchami's celebrations. It is a celebration of the victory of good over evil, a celebration of love, peace, and unity. The festival begins with Holika Dahan, the destruction of the demoness Holika on the night of the full moon (Purnima) in March. It happens a day earlier in West Bengal and Odisha, where it is celebrated as Dol Jatra or Dol Purnima on the same day as Holika Dahan. There are many extraordinary places to celebrate Holi in India. The festivities begin a week or so earlier in some parts of India such as Mathura and Vrindavan.
This festival is also known as Phagwah or Dhuleti in Goa. Goa is an excellent place for Holi celebrations. Every year thousands of people from all over the world gather here to celebrate this festival of color, love, and happiness. It is also known as the "Festival of Colours" or "Festival of Love."
Goa is a coastal state in India. It's famous for its beaches and temples, as well as its tropical climate. In Goa, you can enjoy Holi by participating in a beach bonfire Holi party in Anjuna Beach, or a beach bonfire Holi party in Vagator Beach. You will also see many beach club parties celebrating Holi, the most famous is at SinQ Night Club.
Holi is a beautiful Hindu festival celebrated all over the world, but there is something special about celebrating it in Goa. The combination of beautiful beaches, friendly people, and colorful traditions make this place a perfect destination for travelers who want to experience a different culture.
Key Highlights: People dance through the streets, throw colors at each other, music, and party. Traditional Holi delicacies- Gujiya, Puran Poli, Malpua, and Thandai
By Mary Biron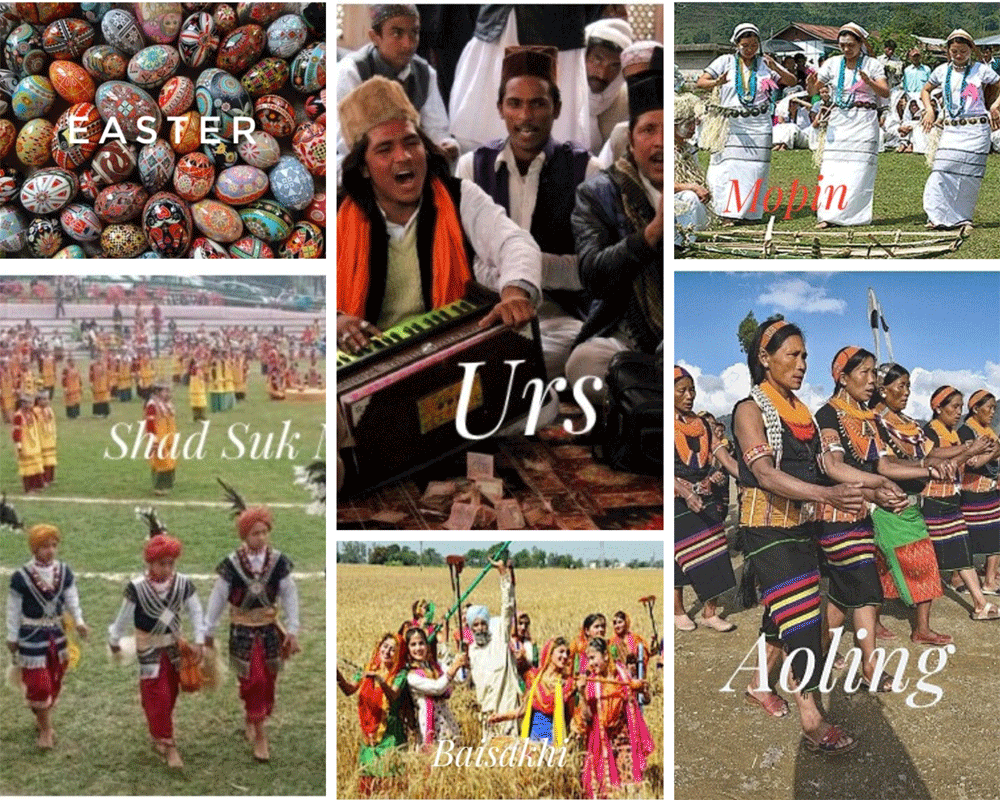 April
Baisakhi- Punjab
Baisakhi is primarily celebrated in Amritsar of Punjab. It falls on April 14 (the first day of the Nanakshahi calendar). It happens to be the harvest season of Rabi crop. According to the Hindu calendar, it marks the beginning of the New Year in India.
This particular time is celebrated by different names across India:
'Rongali Bihu' – Assam
'Naba Barsha' – Bengal
'Puthandu' – Tamil Nadu
'Pooram Vishu' – Kerala
'Vaishakha' – Bihar
Dance Festivals- in Northeast India
Shad Suk Mynsiem- Meghalaya
It is also known as Thanksgiving Dance Festival. In this festival, women are beautifully decorated in wonderful silk dresses and gold ornaments. The men dressed up in silk dhotis, waistcoats, plumed turbans, and traditional ornaments to perform various rites and dance together.
Aoling Festival- Nagaland
It is the festival of the ferocious Konyak Tribes – the headhunter tribes of Nagaland. This festival is celebrated to mark the beginning of spring.
Mopin Festival- Arunachal Pradesh
It is celebrated by the people of Along, Basar, and Bame. It is a harvest festival and locals believed it as a measure to keep the evil spirits away.
Easter- Across India
Easter is celebrated as the day of the resurrection of Jesus Christ. The day believed when Jesus was raised from death and he paid penalty through his death, burial, and resurrection for the sin of others. It is celebrated across the nation.
Urs Festival- Ajmer, Rajasthan
In memory of Sufi Saint Khwaja Moinuddin Chishti, the Urs festival is celebrated in Ajmer. There are mass prayers and other rituals along with exclusive Sufi Qawwalis by popular artists.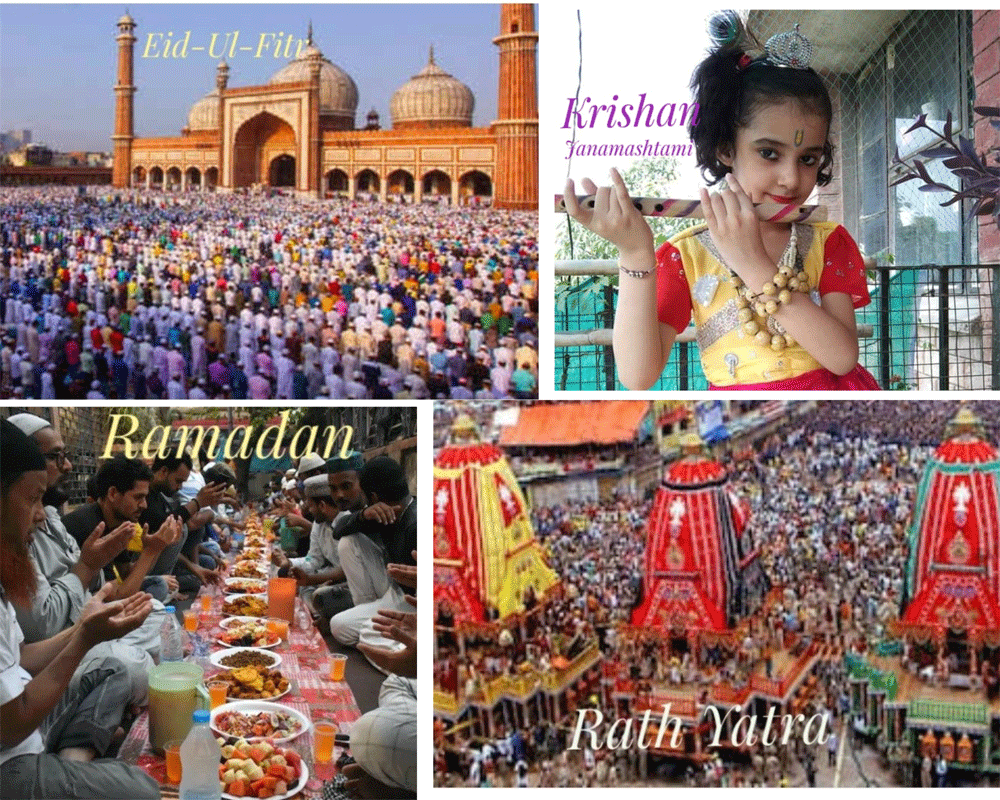 June
Rath Yatra- Puri, Odisha
The incredibly diverse city of Puri celebrates this amazing religious festival in which millions of locals and international visitors come and join. The streets are filled with people who sing, dance, prayer, and do other rituals. The date of the Rath Yatra festival changes every year according to the Hindu calendar.
It is believed that during this time, the three deities Jagannath, and his siblings Balabhadra and Subhadra leave the temple, and headed for the Gundicha Temple riding on wooden chariots. They stay there in the temple for 9 days, after that, the Bahuda Jatra begins, which is the return journey of the deities.
Key Highlights: The three chariots:
1) 45 feet high with 16 wheels is of Lord Jagannath
2) 45.6 feet high with 14 wheels is of Balabhadara
3) 44.6 feet high with 12 wheels is of Subhadra
Ramadan and Eid ul Fitr- across India
Ramadan means month-long fasting and feasting just once (Iftar). It begins in May and concludes with a grand celebration of Eid ul Fitr in June. This festival is celebrated across India but there are some places like Old Delhi, Lucknow, Kozhikode (Kerala), and Hyderabad where one can see the festival in full swing.
Key Highlights: One gets to taste some of the most delicious meat dishes and biryanis.
August-September
Krishna Janamashtami- Across India
This festival is celebrated at a grand scale in India and also in some parts of the world which marks the birthday of Lord Krishna. This day is also known as Gokulashtami in some places. This occasion is celebrated with much vigor and kids dress up like Krishna to narrate his life story.
Key Highlights: Dahi- Handi competition in which people in colorful attire form pyramids and break clay pots filled with buttermilk and yogurt.
Ganpati Utsav- Maharashtra
This is one of the famous festivals of India which is celebrated for around 11 days. This festival marks the birth of Lord Ganesha. In this festival, gigantic statues of Lord Ganesha are decorated and worshipped. People bring the statue of Lord Ganesha into their homes for 10 days, worshipped, and submerged it in water by the end of it. It is celebrated at a grand scale mostly in the states of Maharashtra, Goa, Karnataka, Tamil Nadu, and Andhra Pradesh.
Key Highlights: Ganpati Visarjan in water with final rituals.
Onam- Kerala
Onam is celebrated at the end of the monsoon season by the state of Kerala. This festival is a harvest festival and is celebrated for 10 days. It starts as a royally decorated elephant procession with the iconic Kathakali dance.
Key Highlights: Religious rituals, grand feasts, huge flower decorations, elephant procession, snake boat race, tiger dance, traditional music performances, and many others.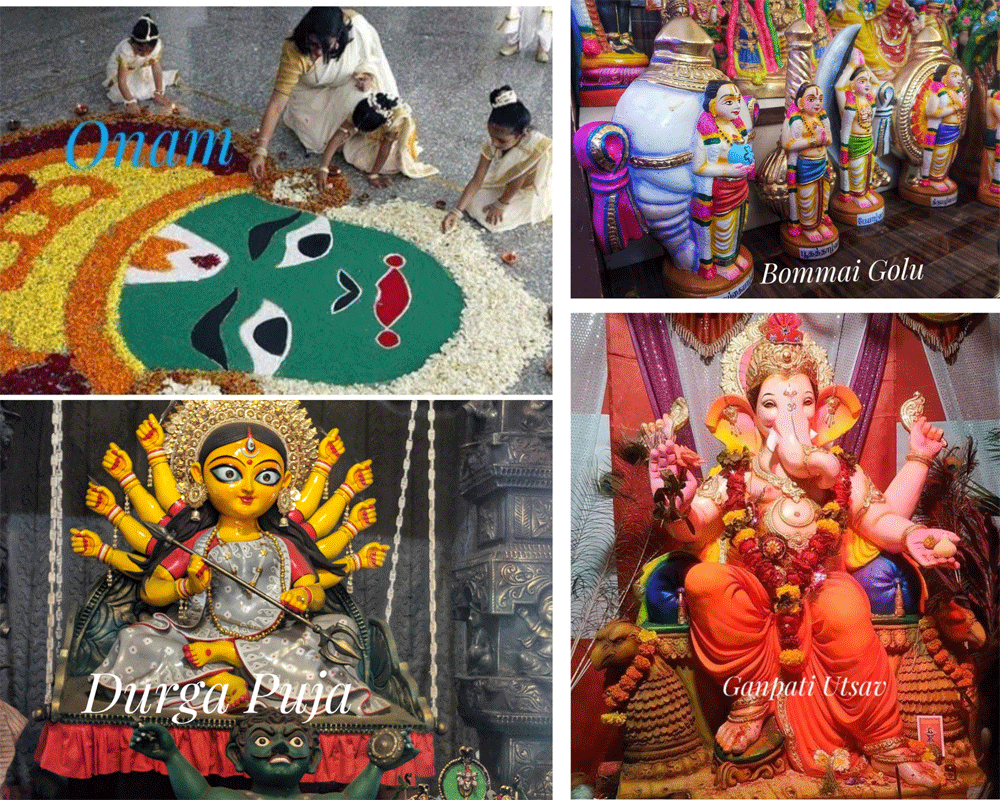 September – October
Bommai Golu- Tamil Nadu
Navratri in Southern India, particularly in the state of Tamil Nadu, takes the form of Bommai Golu. Also known simply as Golu or Kolu, the festive celebration involves a display of figurines of Gods & Goddess and other generic dolls on an odd-numbered stepped stand called Golu Padi. The setup begins on the first day of Navratri and is kept until the Vijaya Dashami (the last) day.
Most Golu displays feature traditional dolls/figurines like Marapacchi Bommai (representing a couple and generally made from red sandalwood), Kalasam (a kind of copper pot that is said to represent life source and abundance), figurines of Gods & Goddesses (Vishnu, Ganesha, Durga, Lakshmi & Saraswathi, etc.), dancing bobble-headed dolls (from Thanjavur) and many more.
On the last day of Navratri, one of the dolls from the Golu setup is symbolically put to sleep, and later the stepped stand is dismantled and the dolls & figurines are packed to be brought out again the next year.
Key highlights: Throughout the nine days, people visit the homes of their friends and relatives to see the Golu decorations, partake in the religious festivities, enjoy the 'Sundal' naivedyam (a stir-fried, legume-based offering to God), and socialize with each other.
Durga Puja- Bengal
There is a running joke amongst people in West Bengal (East India) that they drag their feet for the rest of the year waiting for days to pass until it is time for Durga Puja and life becomes worth living. The energy in the months leading to Durga Puja, which usually falls in September or October (the month of Ashvin as per the Hindu calendar), is palpable everywhere in Kolkata, the capital—in the shopping frenzy, houses redecorated, holidays taken in advance, and the constructions of the massive pandals (pavilions) and idols—landmarks of the festival, unparalleled in the world. Durga Puja celebrates the victory of Goddess Durga over the demon king Maheshasura. Growing up, we looked forward to the ten days of Durga Puja, not only because we would get to see our extended family and eat lots of goodies, but also receive the year's supply of new clothes. Every street celebrates Durga Puja some lavishly, some modestly, but none without representation. It is a sight worth seeing.
Key Highlights: The entire city is bedecked as a bride, construction of massive pavilions and Durga idols. The festival was recently included in UNESCO's representative list of intangible cultural Heritage of Humanity.
How to see: Find out which are the biggest pandals that year (through newspaper/internet/asking locals—there are a few standard ones each year). Hire a local cab to take you there. Start early (2 or 3 am) to avoid the crowds and see the gorgeously lit pandals.
Garba Navratri- Gujarat & Maharashtra
Navratri is a nine nights long celebration observed in October and is seen mainly in the northern part of India and Gujarat. The people of the northern states like Punjab, and Himachal follow a religious fasting regime. The people in Gujarat showcase a more vibrant fiesta. Every year people get together in the highly enthralling Dandiya & Garba dances to honor and worship Goddess Amba in nine different avatars.
Key Highlights: Women in dazzling lehenga-choli, and men in traditional dress are seen dancing to the beats of Garba and celebrating with Gujarati cuisine like Mandavi Paak, Singoda ki Kheer, etc.
Dussehra-'Victory of Good over Evil'- Kullu, Himachal Pradesh
Each year, the Kullu Dussehra celebrations begin when the rest of the country has finished theirs. So, if you're missing Durga Puja or Navratri, just land up in Kullu, a city in central Himachal Pradesh. The Kullu Dussehra goes on for 7 days with idols of around 300 deities from the villages and towns in the Kullu district, making the journey from their usual temple seats to the city of Kullu. The idols are brought to Kullu in bedecked palanquins carried by men on foot, sometimes walking over days. On the starting day of the Dussehra, the deities and the worshippers (4-5 lakhs of them) gather at the Dhalpur grounds in Kullu, to pay obeisance to the chief deity—Raghunath (or Ram). At the end of the prayers, the main idol of Raghunath and a select deity are carried through the grounds in a 'Rath' to a makeshift temple where they will be placed for 7 days. People offer prayers to him on those days and shop, eat, and frolic in the fair set up in the sprawling Dhalpur Maidan.
There are many stories about how Kullu Dussehra started, but most people believe the festival began in the 17th century, started by a king who wanted to absolve himself from a curse.
When to see: Usually October, starting on the tenth day of the rising moon, on Vijay Dashami.
Key Highlights: 300 deities in bedecked palanquins are carried for 7 days across the Kullu district
How to see: Hire a cab to take you to Dhalpur grounds. Keep aside at least a few hours to enjoy the spectacle: first to see all the minor deities arriving in Dhalpur Maidan (this happens between 12 pm and 2 pm), and the actual Rath Yatra starts around 3 PM. Dances and performances take place in the maidan over the next few days.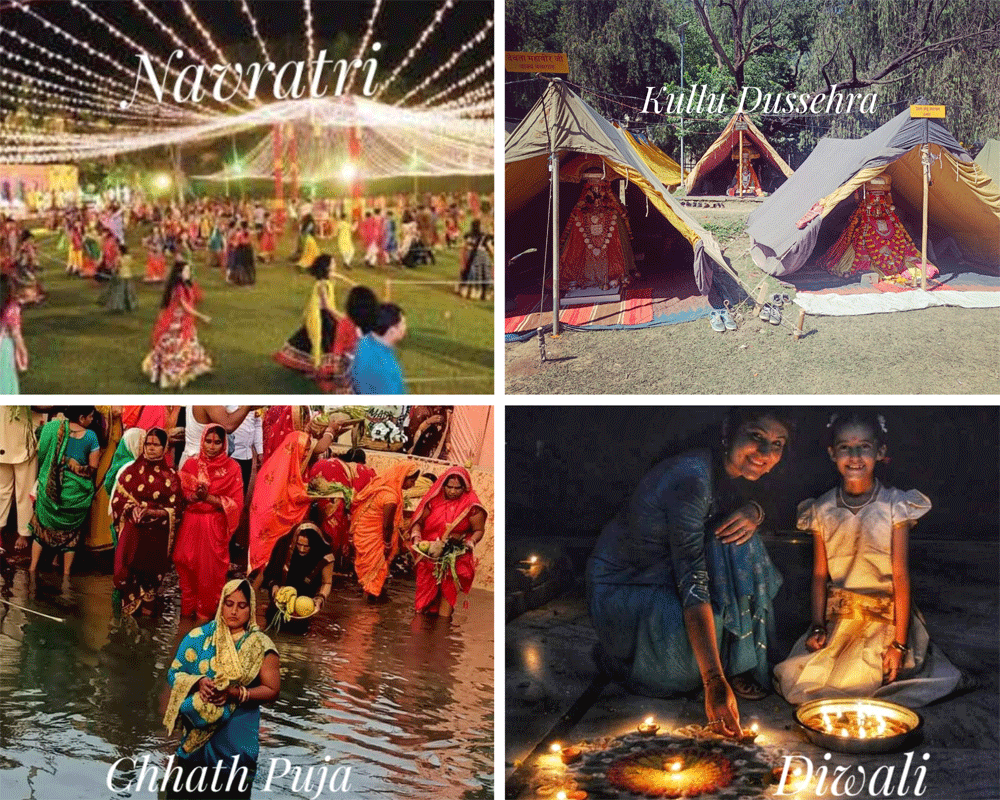 October – November
Diwali 'Festival of Lights'- across India
Diwali – 'Festival of Lights is one of the most celebrated festivals in India in October and November. It is one of the major festivals that are celebrated throughout the nation.
It is celebrated to mark the return of Lord Rama, Lakshmana, and Devi Sita after 14 years of exile. The houses and streets are decorated with lights, earthen lamps, and rangolis. People perform pujas, burst crackers, and exchange gifts on this occasion. In Punjab, it is celebrated with great fervor by decorating Temples as well as Gurudwaras. The lighting decoration of the Golden Temple in Amritsar is a must-see during Diwali. This day is also celebrated as Bandi Chhor Diwas by the Sikh community in Punjab.
Key Highlights: Bustling crackers, beautifully decorated homes, temples, gurdwaras with earthen lamps, candles, & strings of colorful LED lights.
Chhath Puja- Bihar
Chhath Puja is the most vibrant festival celebrated in the Indian state of Bihar with full enthusiasm and is a very auspicious festival of the state. This festival is mainly dedicated to Chhathi Maiya (Goddess) and Sun God. It is celebrated after six days of Diwali. The best place to witness the Chhath Puja in India is Bihar. But, we all can experience the authenticity of Chhath Puja across India.
Key Highlights: The rituals of Chhath puja are observed over four days which include holy bathing, fasting (without water and food) for 2 days, standing in water offering prasad and prayers to the setting and rising sun.
By Rahat Arora
November
Gurpurab 'Guru Nanak Jayanti'- Punjab
Guru Nanak Dev's birthday or Guru Nanak Jayanti also known as Gurpurab is a grand occasion in Punjab and neighboring states where Gurdwaras are lit with fairy lights. This festival usually falls in the month of November. On this auspicious day, the devotees of Guru Nanak Dev pay tribute to his pearls of wisdom that enlightened the world.
Key Highlights: Prabhat Pheris (early morning processions), Akhand paths (48 hours of non-stop reading of the holy book (Guru Granth Sahib), distribution of Langar (free distribution of food), and Nagar Kirtans.
Pushkar Camel Fair- Rajasthan
Pushkar Camel Fair is one of the most colorful and vibrant festivals in Rajasthan, India. It is a traditional festival that takes place every November. For generations, people have gathered here to trade camels and other livestock during this period. The vast barren fields outside the town get swamped with thousands of camels during the year and many other festivities and processions take place along with the trade.
Pushkar is a small, picturesque town built around a lake. However, it's a major Hindu pilgrimage with scores of temples, the largest one being the Brahma Temple, which is a rarity because usually separate temples are not built for Brahma (there is an interesting mythological backstory behind it).
Over the years, Pushkar has blossomed into a backpacker hub. So, the temples peacefully coexist with fancy cafes and backpacker hostels, and middle eastern and Italian eateries dominate the streets. This is what makes it a hippie paradise. You can read more about Pushkar Fair here.
Key Highlights: Gathering of huge camels & other livestock, amazing cultural performances like folk dances, bride & groom contests, moustache competitions, and many more.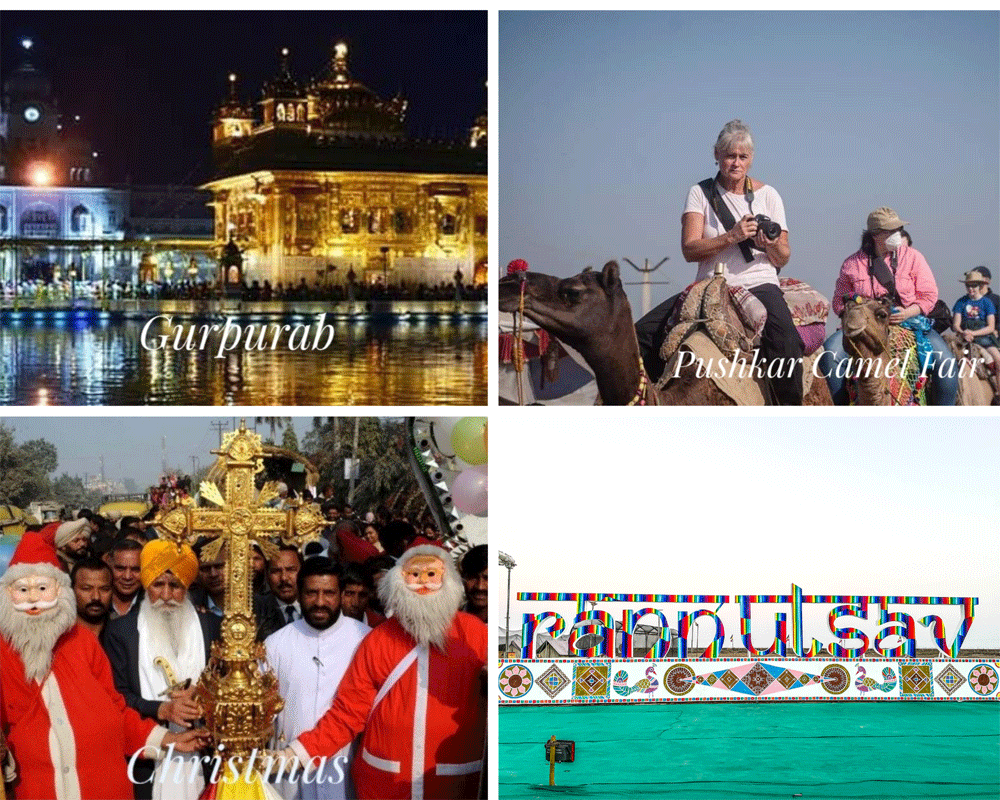 December
Rann Utsav- Kutch, Gujarat
One of the most amazing festivals in India is the Rann Utsav of Gujarat. This unique carnival, which is spread over the months of November – February celebrates the stunning landscape of the White Rann and the life and culture of the people who live here.
Every year, the Rann Festival is held in the small village of Dhordo, one of the last hamlets of Gujarat bordering the white expanse of the Rann. Locally, "Rann" translates into the desert and the White Rann is India's largest salt desert that turns into a pristine white wonderland every winter.
The Rann Utsav celebrates the surreal beauty of the White Rann with a plethora of cultural activities such as folk dances and music, local food, and traditional art and craft. It is a great place to buy local Kutchi souvenirs such as Lippan art, Rogan art, lacquerware, copper bells, and wind chimes.
You can decide to stay in one of the gated resorts (that are set up for the 4 months of Rann Utsav every year) such as the Tent City or White Rann Resort and take advantage of their packaged deals. Or stay in a local bhunga accommodation and enjoy the beauty of the Rann on your own.
Fun, colorful, and filled with culture, the Rann Festival is one of the best things to do in Kutch, Gujarat. Plan to visit Kutch in the winter, between the months of November – February, so that you can experience the vibe of the Rann Utsav. The weather is also perfect to sightsee other places such as Dholavira and Bhuj.
Key Highlights: White desert, tent city, cultural activities, local food, traditional art and craft, handicrafts of Kutch.
Christmas-Across India
Christmas is celebrated all over India with happiness and joy in December. People of all ages join in the celebrations. They dress up in their best festival dresses, decorate their houses with Christmas trees, exchange gifts, and relish yummy Christmas cake. The seniors of many families dress up as Santa Claus and present the young ones with gifts and goodies.
Key Highlights: Midnight mass followed by wine & cake, Christmas carols, decorations, and people dressed up as Santa Claus.
Festivals that falls once in years
Kumbh Mela
Millions of Hindus await this one day of ritualistic baths to wash away their sins. The Kumbh Mela of India has been recorded as the largest gathering of humans in the world. Celebrated for over 2000 years, the festival owes its origin to the mythological story of Samundra Manthan (churning of the ocean). As per the legend, when the war between the Gods and Demons broke out to claim the pious Kumbh (a pitcher) filled with Amrit (nectar), Lord Vishnu emerged as Mohini to help the Gods. While escaping with the Kumbh, 4 drops of the celestial liquid fell on earth – marking the four centers of the Kumbh Mela. These are Prayagraj, Haridwar, and Trimbakeshwar near Nashik and Ujjain.
There are three types of Kumbh Melas:
1. Maha Kumbh – that takes place once in 12 years in one of these places, based on the Hindu calendar
2. Ardh Kumbh – celebrated once in 6 years at Haridwar and Prayagraj
3. Kumbh Mela – that takes place at Nashik and Ujjain every three years.
Depending on the Hindu calendar, each Kumbh Mela lasts for 1 to 3 months. During this time, the pilgrims visit the holy rivers in the designated location for a holy dip during which they make offerings to the Lord with a plea to cleanse their mortal sins. It is during this festival that the elusive Naga Sadhus – holy men who live in the Himalayas pitch their camps at the Kumbh site. They are the ones who generally lead the procession on the most auspicious days of the Kumbh Mela for the Shahi Snan (ritualistic bath).
The last Ardh Kumbh Mela was celebrated at Prayagraj in 2019 and Kumbh Mela in 2021 in Haridwar. The next Maha Kumbh is to be celebrated in 2025 in Prayagraj.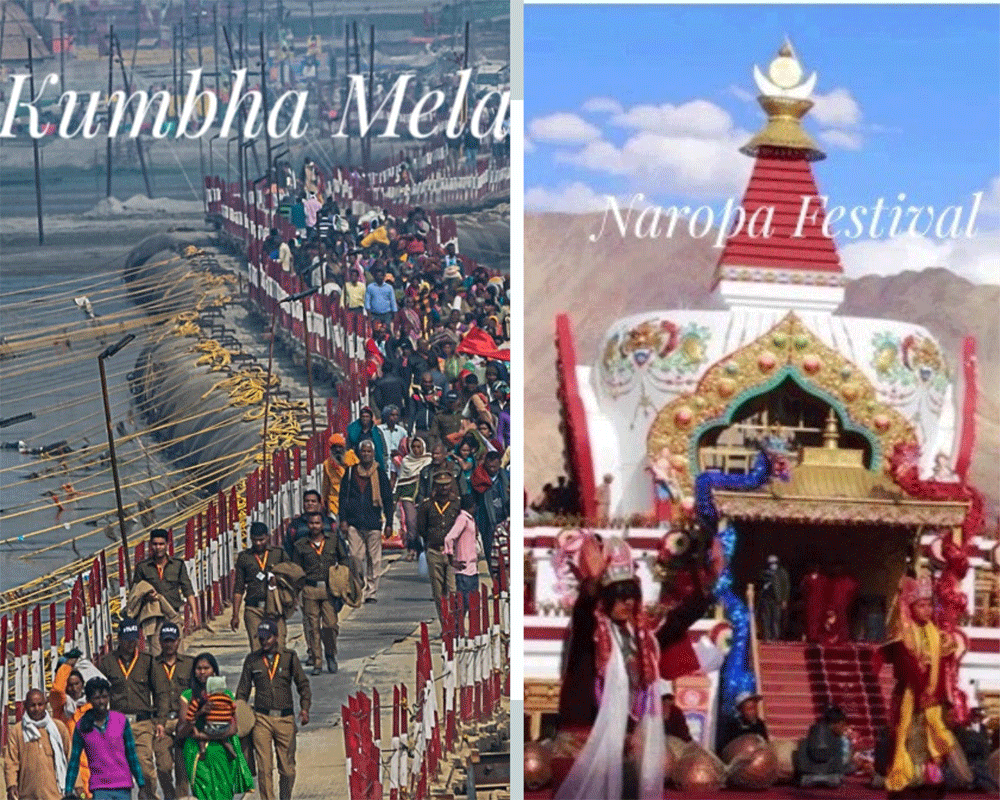 Naropa Festival- Ladakh
To enjoy the innate culture of Buddhism, one can visit Ladakh for the Naropa festival which is also called the Kumbha of Ladakh. In this celebration, Drupka followers visit the Hemis Monastery for rituals, performance arts, and much more. The best event is the grand opening ceremony. This festival comes once in 12 years and takes place in September. The last festival took place in 2018. The next will be celebrated in 2030.
Key Highlights: Display of relics, archery competition, panel discussion, a grand feast of traditional food and many others.
How many festivals you have celebrated? Which one is your favourite festival? Tell us in comment box. Don't forget to share this post. Use image given below to pin and save for later read.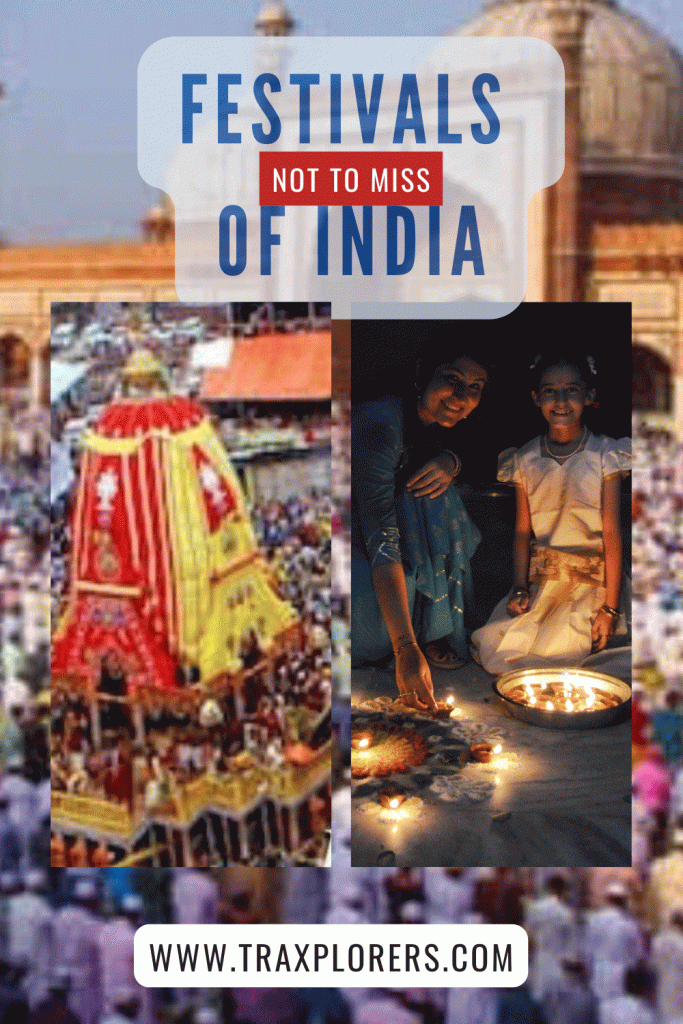 Tagged Aoling, Baisakhi, Basant Panchmi, Bihu, Bommai Golu, Chhath puja, Christmas, Diwali, Durga puja, Dussehra, Easter, festivals, Festivals of India, Gangasagar mela, Ganpati utsav, Gurpurab, Holi, Indian festivals, Kite festival, Krishan Janamashtami, Kullu Dussehra, Kumbha mela, Lohri, Mahashivratri, Mopin, Naropa festival, Navratri, Onam, Pushkar Camel fair, Ramadan, Rann Utsav, Rath Yatra, Shad Suk Mynsiem, Urs, Uttarayan