Memoir from the Shaken City of Gujarat: Bhuj
[bdotcom_bm bannerid="2055″]
---
Bhuj: The Shaken memories
As soon as we left the Great White Desert (Rann of Kutch), we were coming back with the wonderful experience of our lives. The majestic super full moon night and spectacular sunrise at white desert made our trip to Kutch district of India a remarkable milestone of our travel memories. While coming back to Ahmedabad we need to cross Bhuj, yet another historic place of the Kutch district.
Till now, you would probably get our intentions right. Yeah right! How could we skip this place without exploring some shaken memories of massive Bhuj earthquake way back in 2001. It happened on the morning of India's 52nd Republic day (January 26, 2001). The magnitude of the quake was 7.9 on the Richter scale. It killed more than 20,000 people, left hundreds of thousands homeless, more than 1,50,000 injured. More than a million buildings were destroyed and damaged, including many historic buildings and tourist attractions. We were keen to visit some historic places in Bhuj for a close insight of after more than 15 years of the quake.
---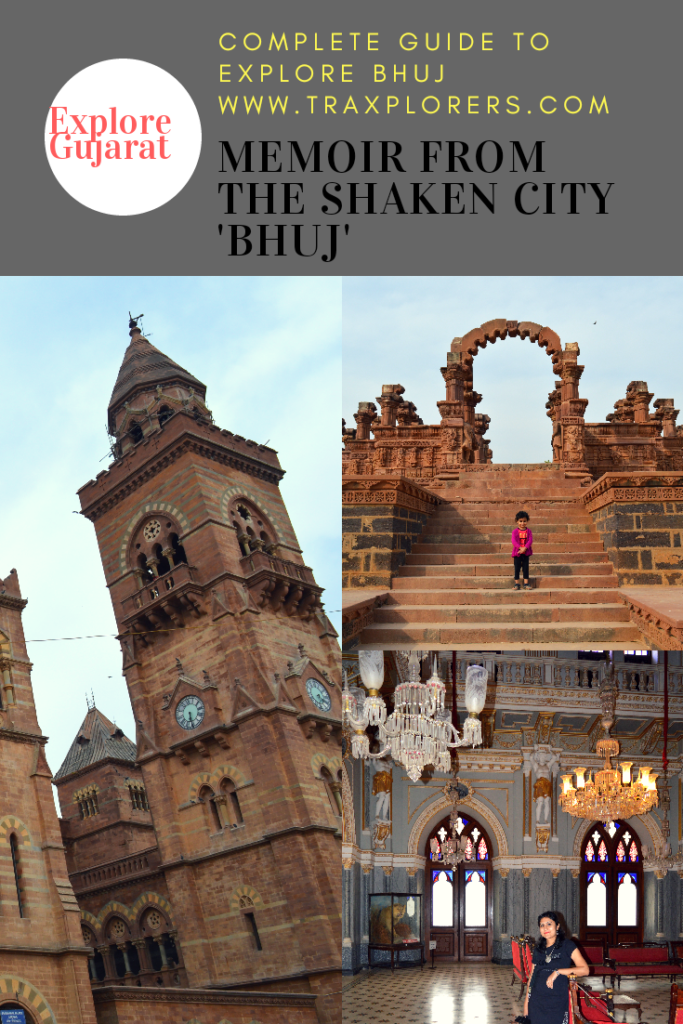 ---
Prag Mahal Palace
After around 2 hours of drive, we reached Bhuj. Our first stop was the Prag Mahal Palace in the old walled city. The Prag Mahal Palace was built by Maharao Shri Pragmalji (II) in 1865. The palace is the part of Darbargadh complex. When you get entry inside the palace, you will get to see the beautiful Darbar hall. This is a big hall with several wall paintings, hangings, chandeliers, antique furniture, and a big dining table. There is a pair of chair known as a love chair. This hall gives the best classic royal look with a high ceiling and all the detailed descriptions over it. There are several other types of furniture displayed in all the halls. There is one room displaying antique furniture and weapons. The Palace was used in the shooting of famous Bollywood movie 'Lagaan'.
---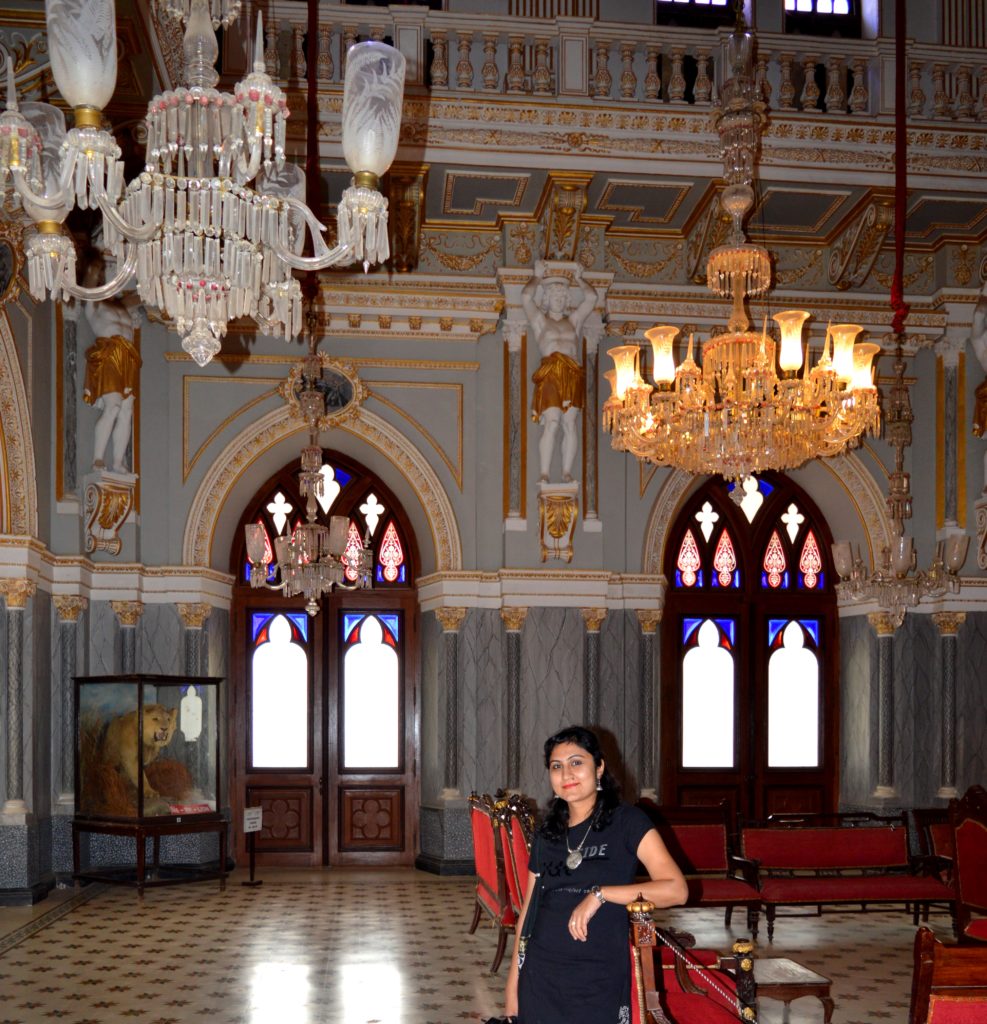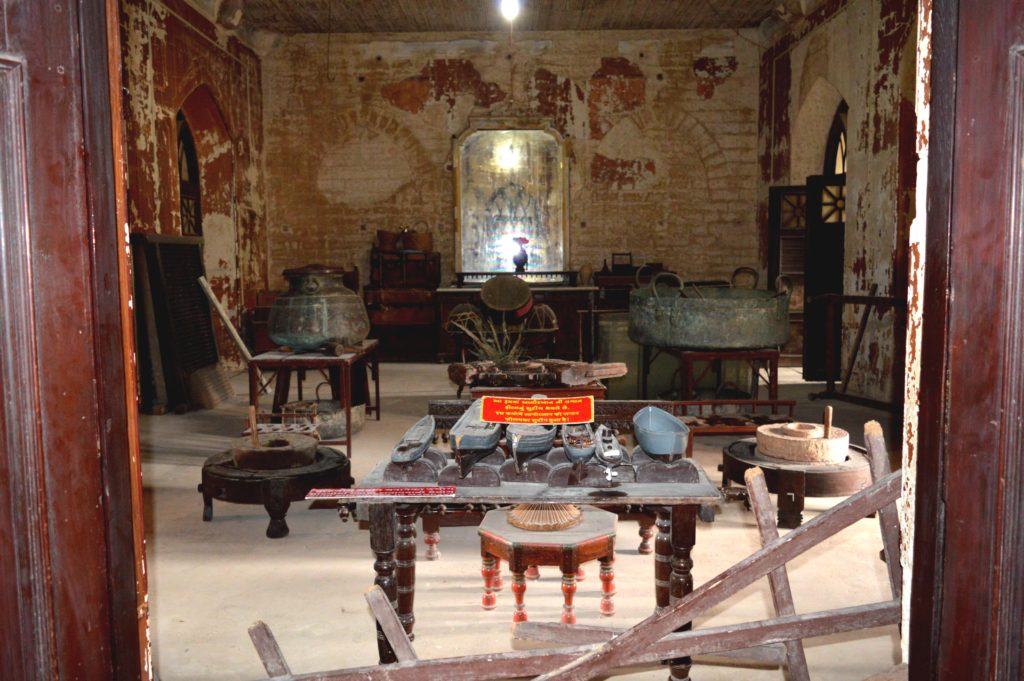 ---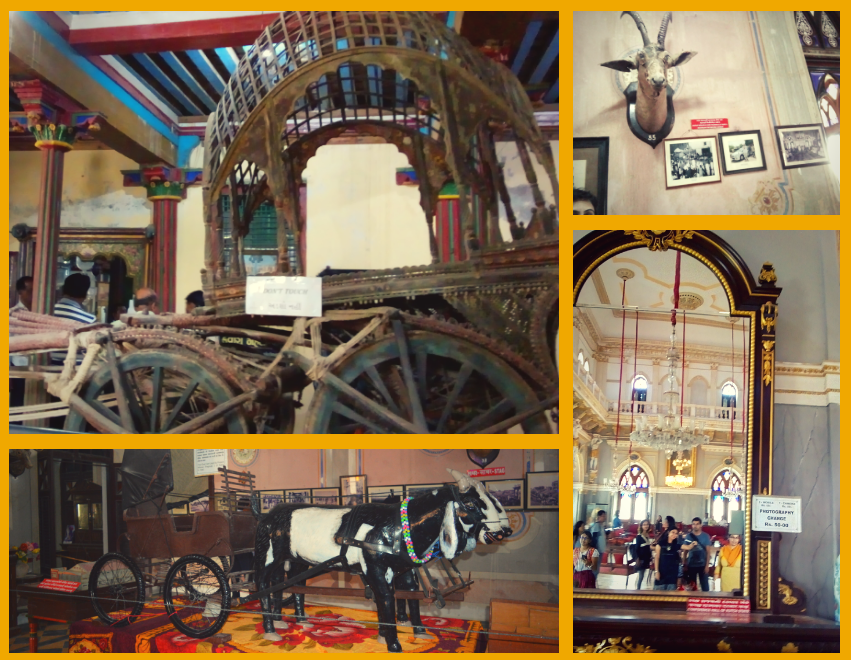 The most significant element–
There is a 150 feet high clock tower which is visible from all parts of Bhuj town. After coming out of the Darbar hall rooms, one can visit the clock tower. One has to climb around 60 steps on a spiral narrow staircase to reach the top. There from the top, one can get a clear view of surrounding areas of Bhuj town.
---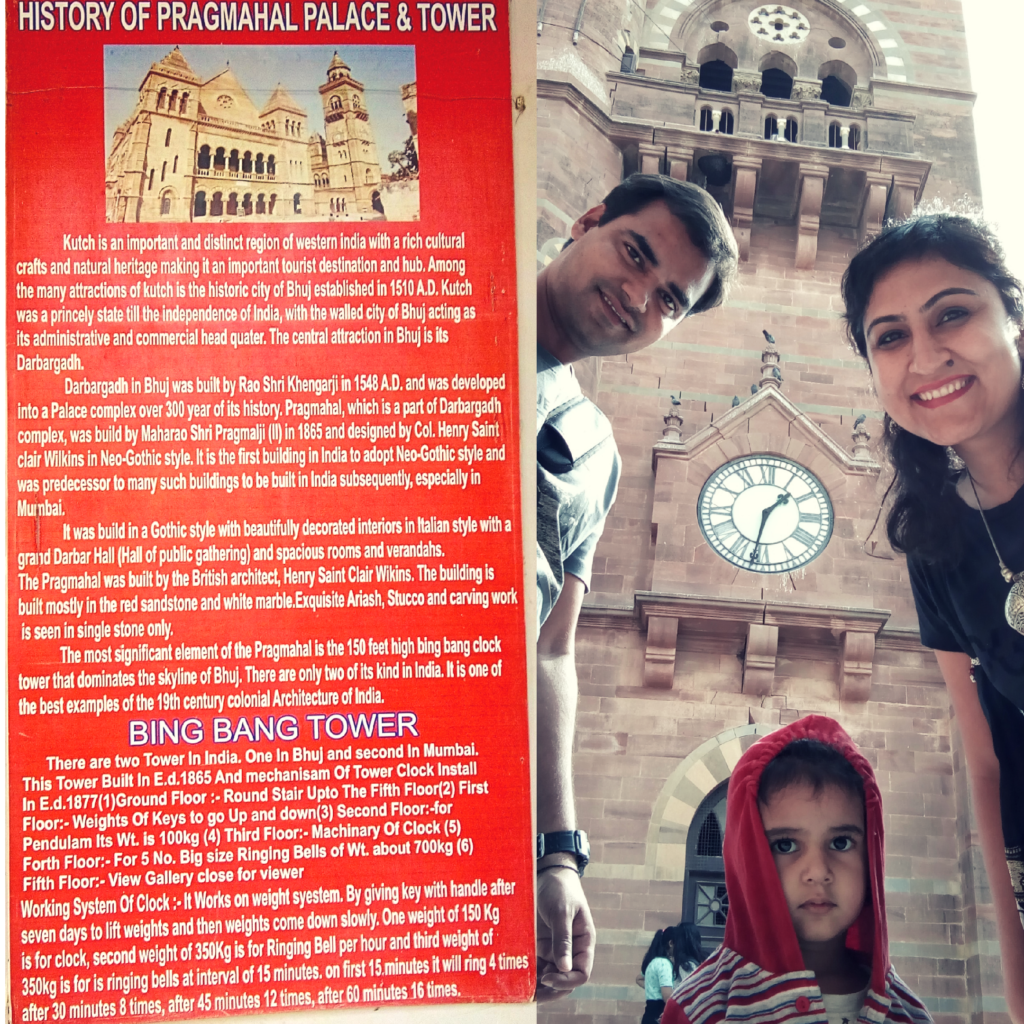 ---
The exquisite feature of the building–
The design. It was designed by Col. Henry Saint Clair Wilkins in Neo-Gothic style. This palace building has become first in India to adopt a Neo-Gothic style. After that many buildings came up in the Mumbai area.
---
---
Aftermath of the quake–
One can see the extensive damage due to the quake at the upper levels from an external inspection of the building.
---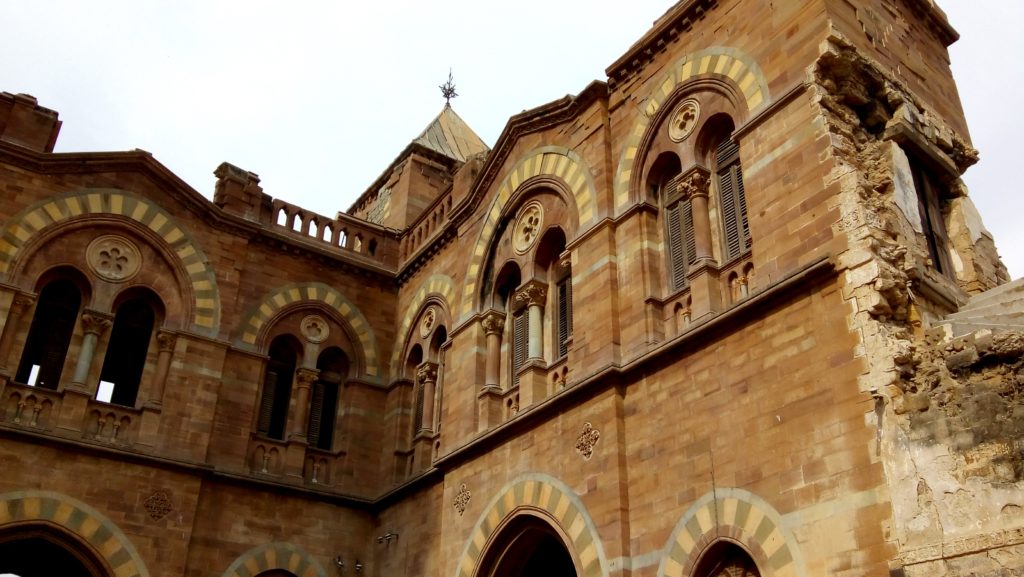 ---
Entry timings: 9:30 AM to 11:45 AM and 3:00 PM to 5:45 PM
Parking fee: Rs.20/-
Entry fee: Adult = Rs.20/-
Child = Rs.10/-
Mobile camera = Rs.20/-
Still camera = Rs.50/-
Video camera = Rs.200/-
---
Aina Mahal Museum Complex
This palace consists of a collection of buildings in a variety of styles dating from 18th century. The palace was constructed by Rao Lakhpatji. The building is three storied. It includes various rooms like:
Music room (Fuvara Mahal): used to perform Vraj Haveli Sangeet. There are several musical instruments on display.
Hall of mirrors (Aina Mahal) and Diamond Chamber (Hira Mahal): These both are the example of exquisite craftsmanship adorning the traditional interior space. The pieces of mica (mirrors) fixed on intricate patterns integrated the luminosity of the surfaces increasing the brilliance of the ambient light which was allowed within the interiors to develop a soothing effect.
An Office Room (Darbar Hall): This part of the complex is extensively damaged. The roof is also very badly damaged.
---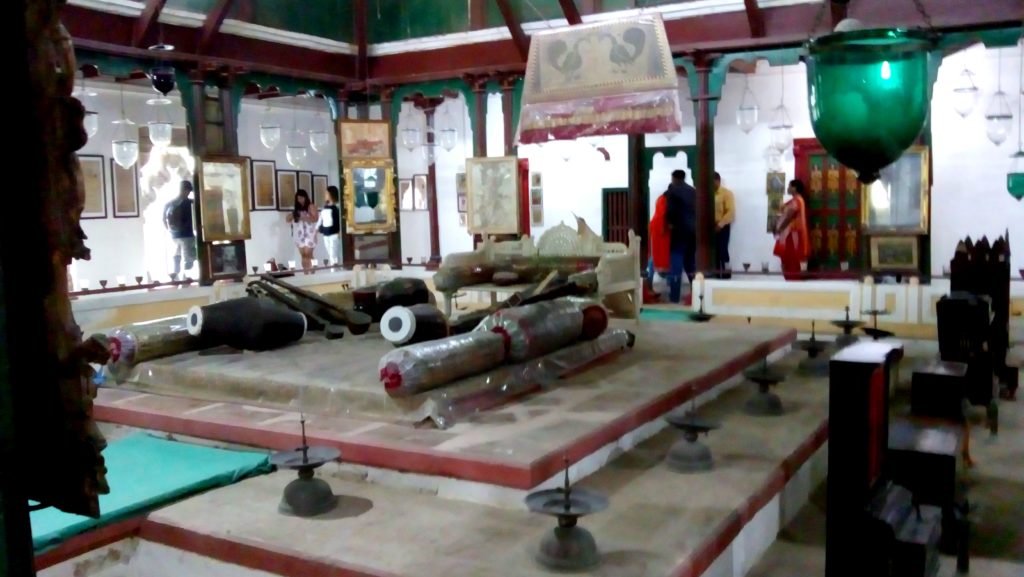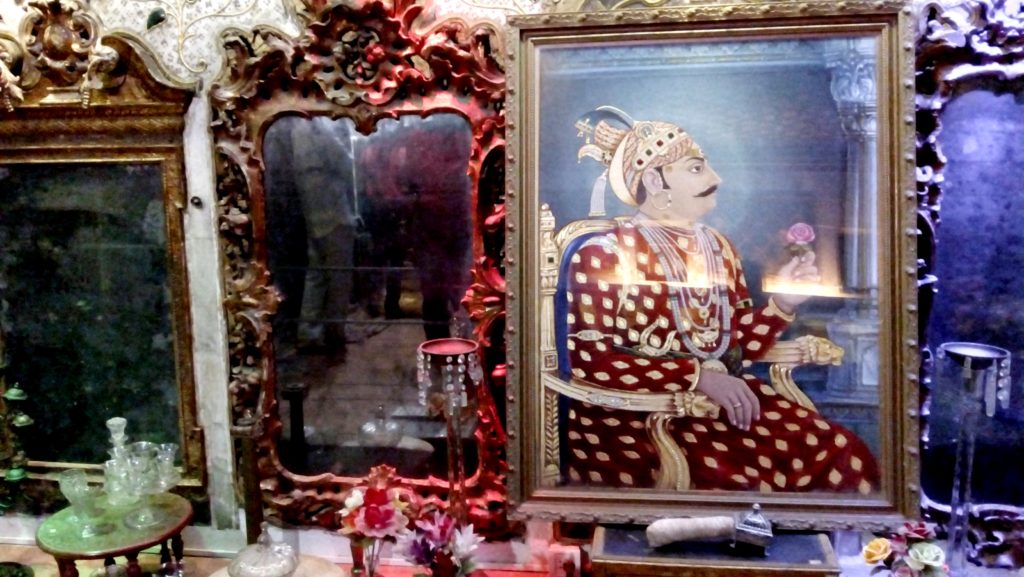 ---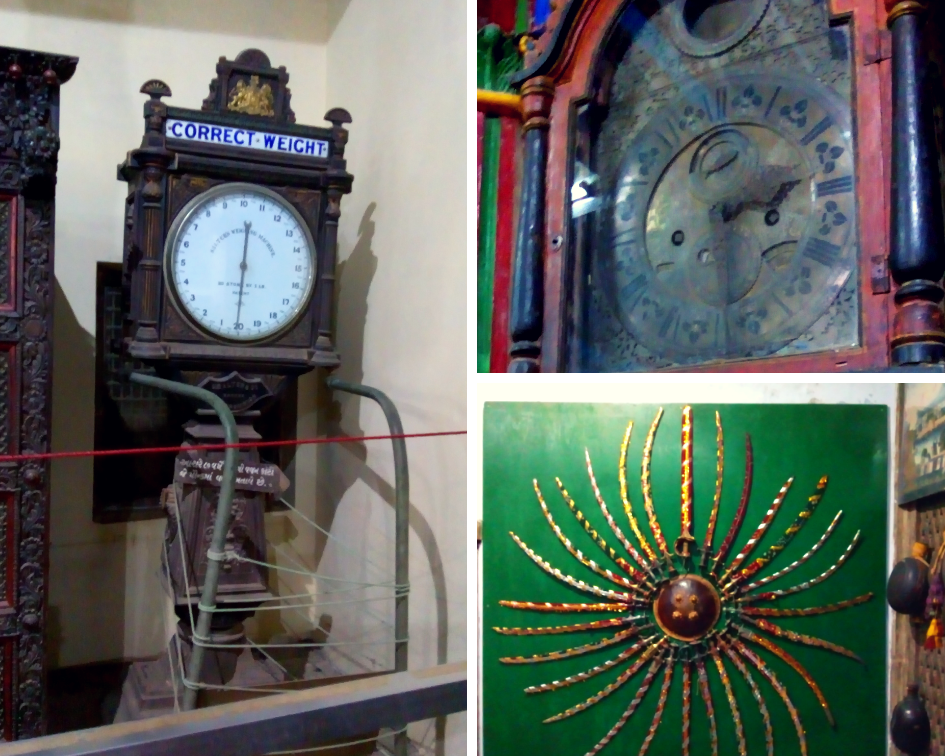 ---
Aftermath of the quake–
Many priceless paintings on glass fell from the walls and were irretrievably damaged. There is an irreparable damage caused in many parts of the complex.
---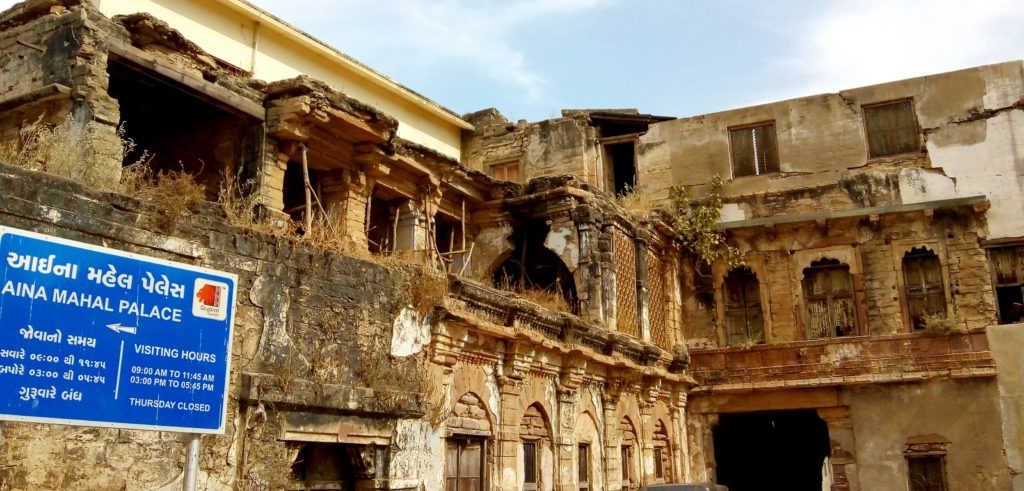 ---
Location: Close to Prag Mahal Palace.
Open: All days of the week except Thursday.
Entry timings: 9:30 AM to 11:45 AM and 3:00 PM to 5:45 PM
Entry fee: Per person = Rs.20/-
Child (below 5) = Free
Still camera = Rs.50/-
Video camera = Rs.200/-
---
Swaminarayan Temple
The famous Swaminarayan Temple is located within the city. It is the main attraction for tourists and devotees. This beautiful temple built with white marble stone. There are carved pillars and well-decorated ceilings. The whole temple is filled with carvings and artwork. The temple has three entrance gates.
The old Swaminarayan Temple was partly destroyed in the earthquake.
---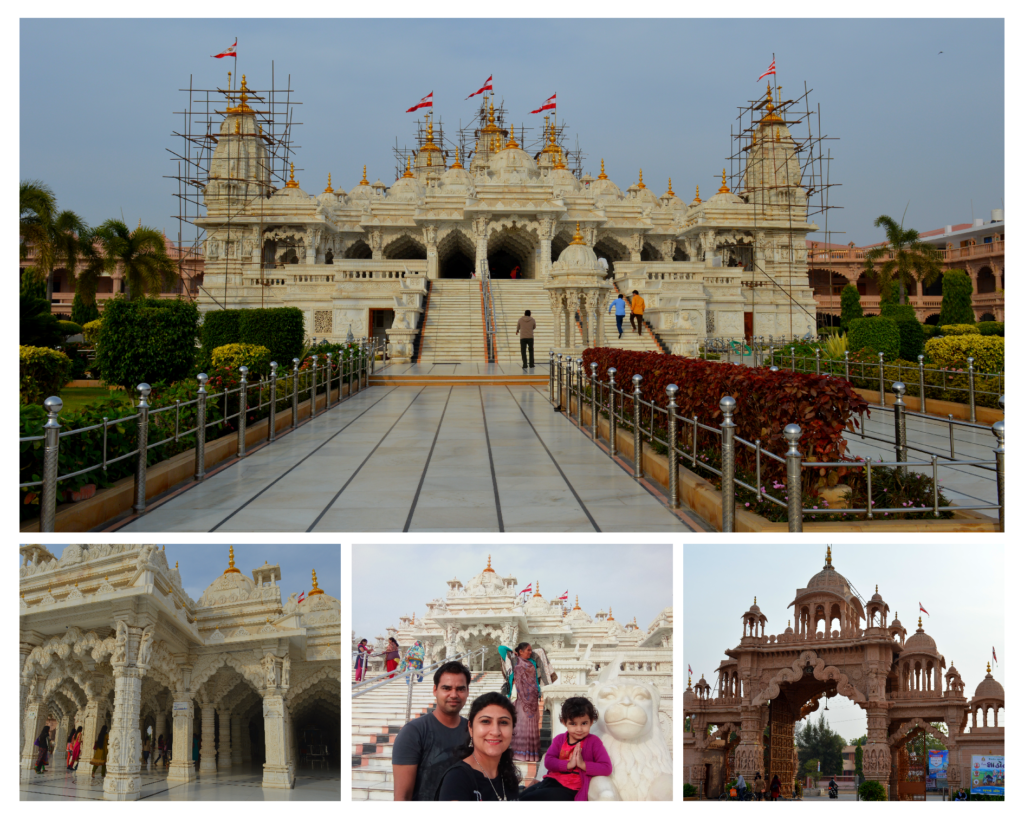 ---
Bhuj Chattardi (Funeral Memorials/ Cenotaphs)
The royal umbrellas (Chhatris) of Bhuj are the funeral memorials, commemorating members of the royal families in Bhuj. They were built during 1650-1850 and situated at a distance from the Palace complex outside the old city walls. It is an important architectural heritage of Bhuj.
---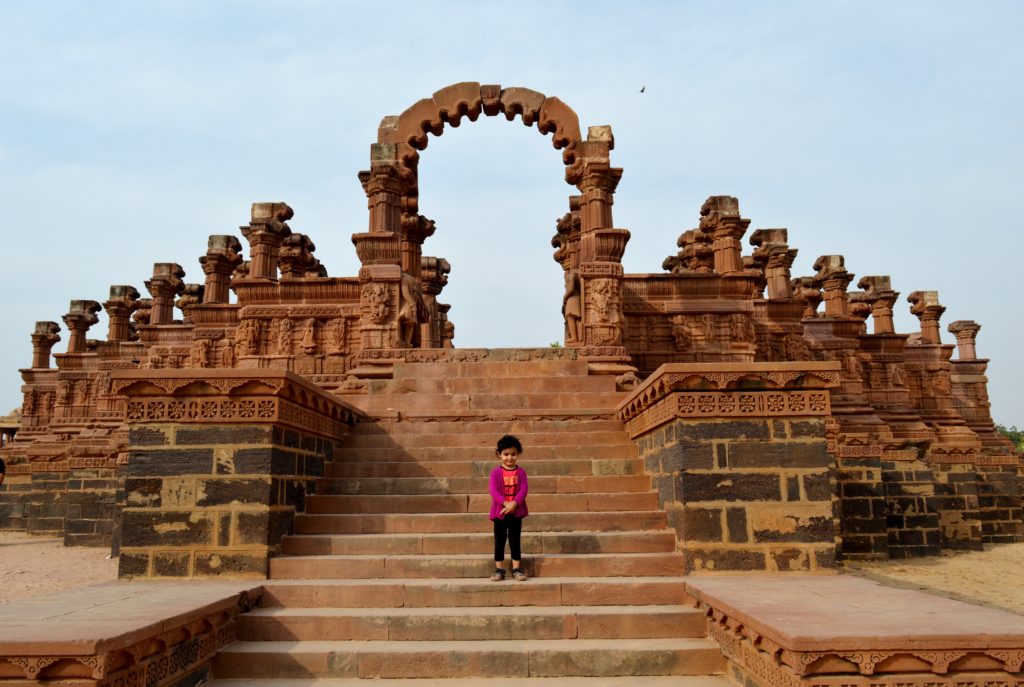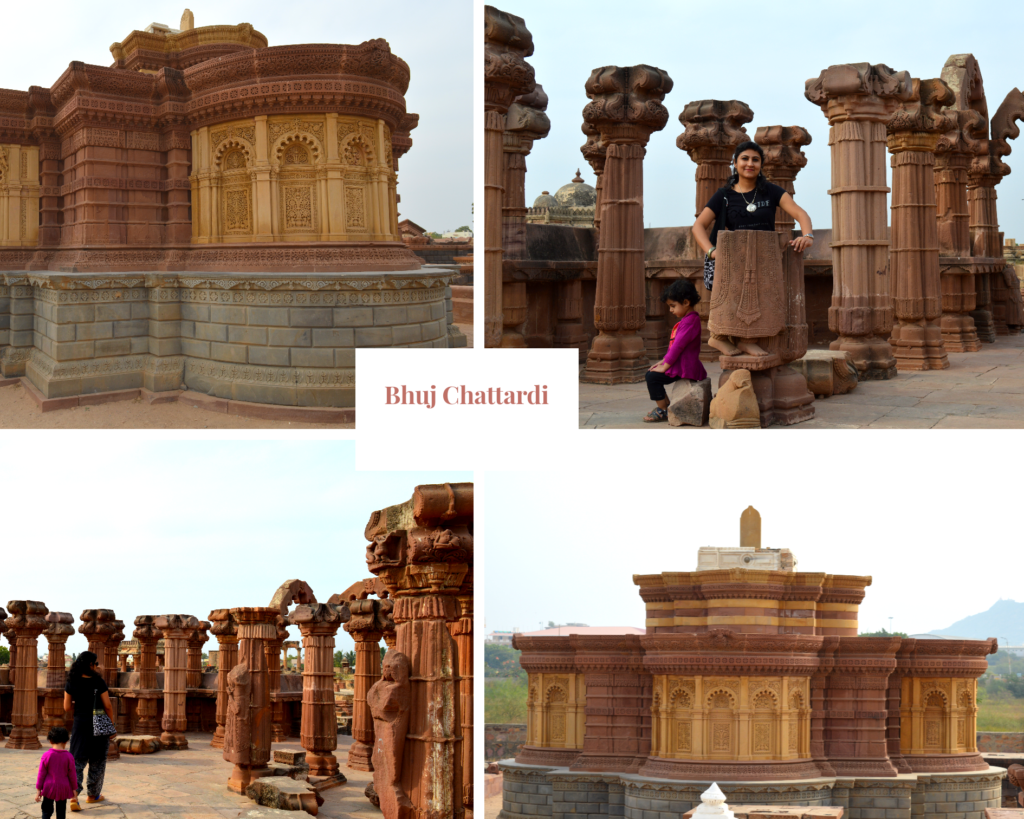 ---
Famous for photo shoots–
Popular Bollywood movie 'Hum Dil De Chuke Sanam' has some scenes shot at this architectural marvel before the massive earthquake ruined them.
---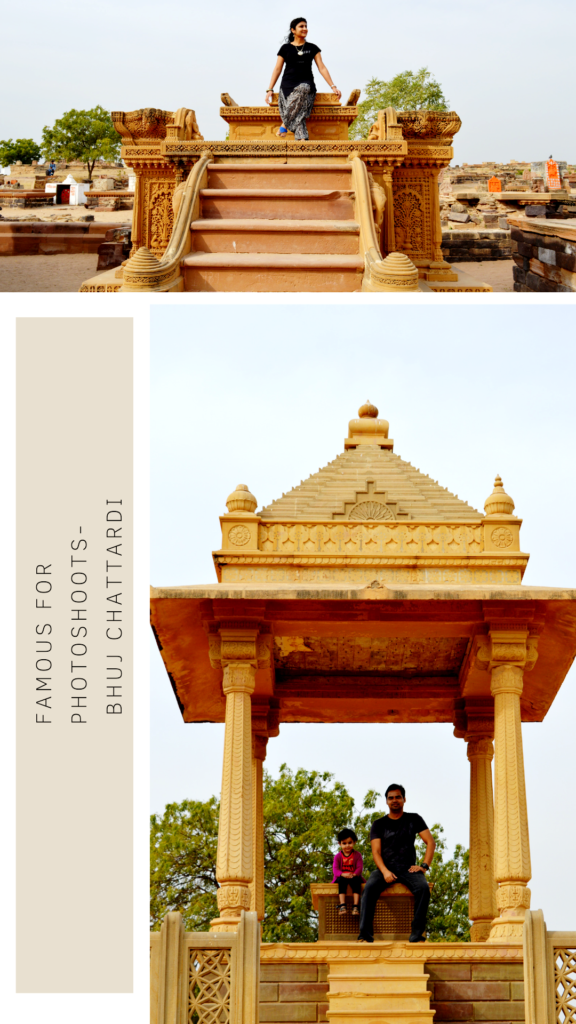 ---
Aftermath of the quake–
Some of the chhatris were totally destroyed, some survived apparently rather in an unstable form. Among the greatest monumental losses is the complete collapse of Rao Lahaji chhatri, built in 1761. It was the funeral memorial of the king.
---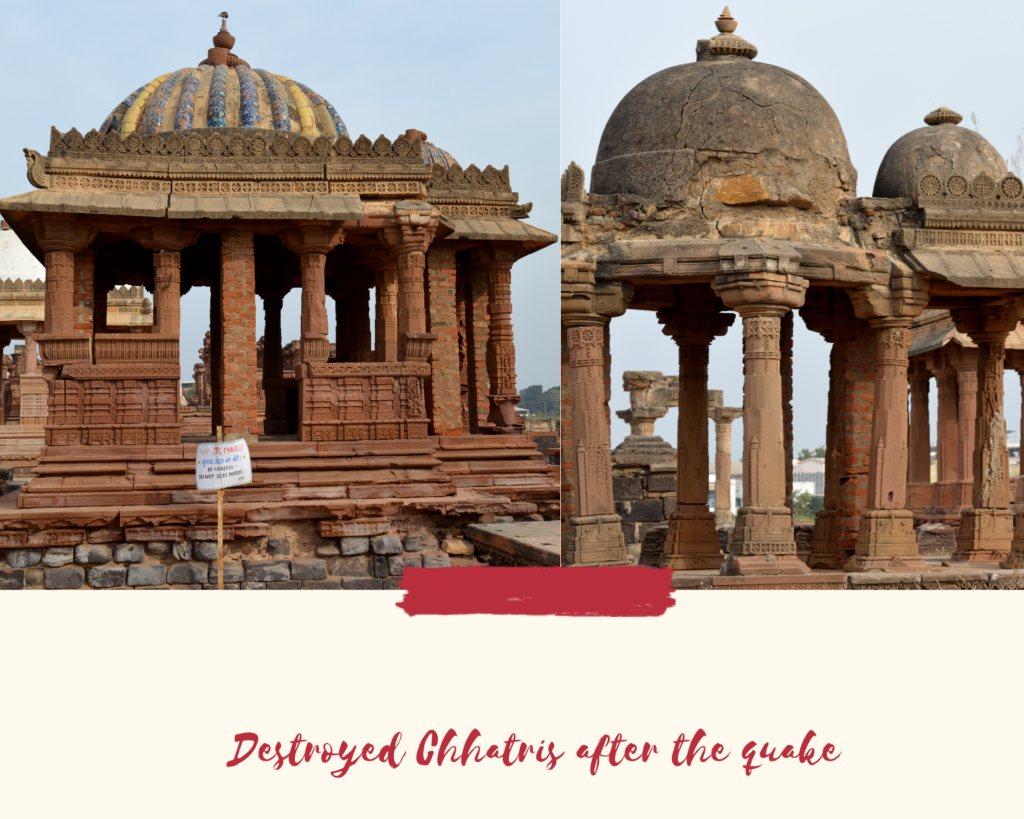 ---
Bhujia Fort
The fort is located on the outskirts of Bhuj town. It was built at the top of Bhujia hill by Rao Godji (I) during 1700-1800 AD. At present, the fort is ruined as not maintained well for some years but still charming. It is also known as the ancient wall of Bhuj city.
---
Attraction–
Today, the fort is known for the Bhujang Nag Temple. The Bhujang Nag is known as the brother of Sheshnag (Lord of Snakes). The locals greatly respect the Naga deities in this region.
After the independence of India, the fort came under Indian army. Indian army used it for military purposes for some years and later it was abandoned.
---
---
After the quake–
Smritivan, a memorial park dedicated to victims of the earthquake was built on top of Bhujia Hill, where trees dedicated to victims were planted in the garden and small water reservoirs were created on the hill.
---
Vande Matram Memorial
Vande Matram memorial is a history museum which in itself a unique national monument. It is built by Ashapura Foundation and is located in 12-acre complex at Bhujodi. The whole complex represents the momentous episodes in India's freedom struggle from British rule.
---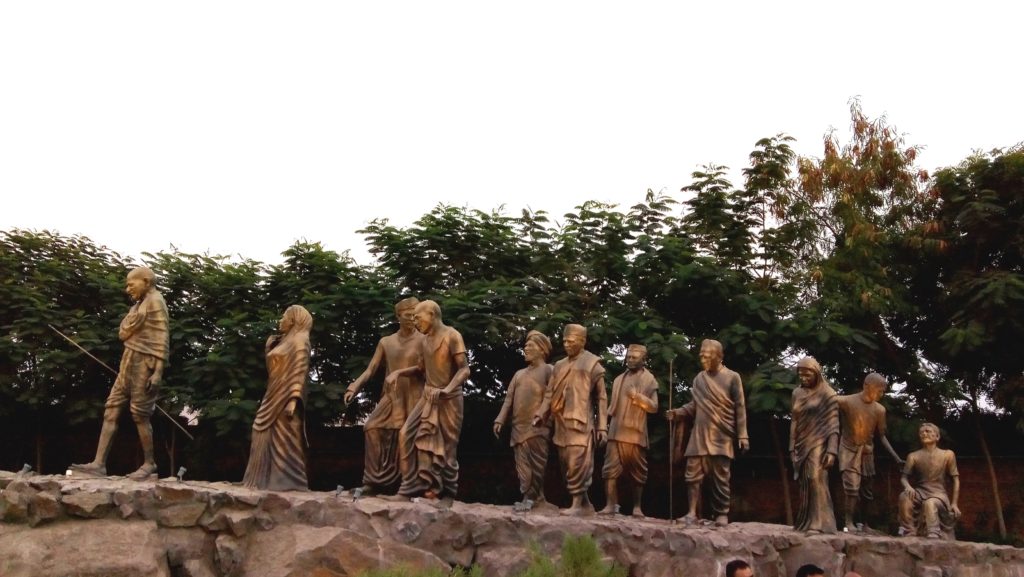 ---
Location– from Bhujodi bus stop towards Hiralaxmi Craft Park road, it is at 9.5 km.
---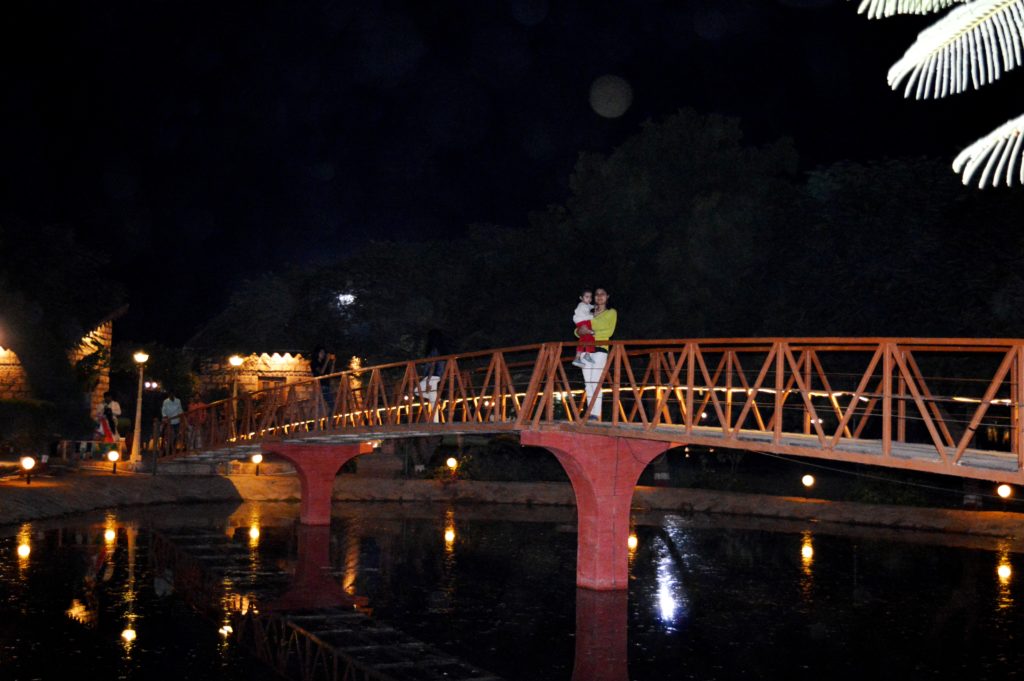 Interesting Facts–
There is a unique combination of art, architecture, and technology to provide and re-live the experience of the journey to independence.
The primary structure of the museum is modeled on the likeness of 'Sansad Bhawan' (Indian Parliament Building).
---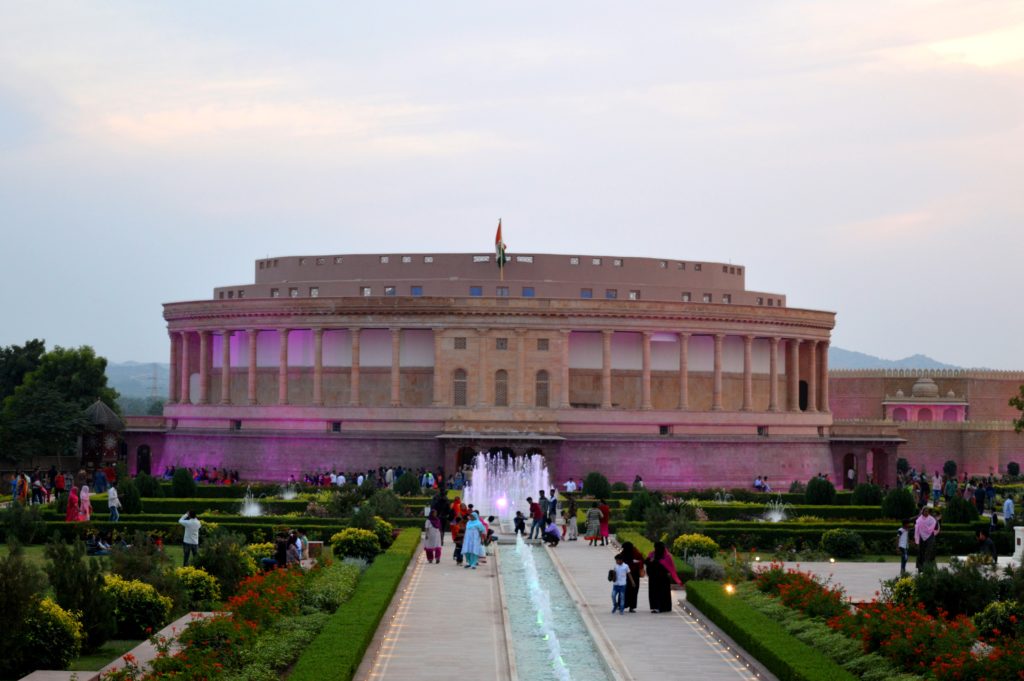 ---
Attractions–
Vande Matram Museum– The museum immortalizes 17 crucial episodes of India's freedom struggle with the technology of 4D projections.
Yellow Fort– This is the replica of Red Fort in Delhi. Also includes Gandhi Ashram (selfie point) and Gujarat freedom fighters gallery.
Hiralaxmi Craft Park– To promote arts of Kutch and making accessible to people, the park is a bridge between artisans and buyers.
Auditorium Hall– A multifunctional auditorium hall well suited for conferences, concerts, and cultural activities.
Façade Show– It is 15-20 minutes an open air light and sound show after sunset.
Bharat Mata Idol– It is 30 feet idol placed in the center of the memorial.
Cafeteria– There is a fine dining restaurant with interiors that would take you back to the ancient era.
---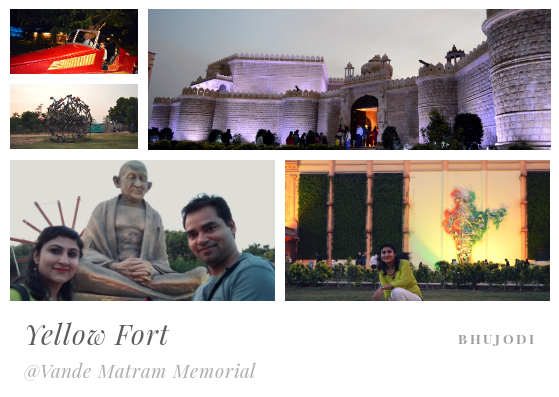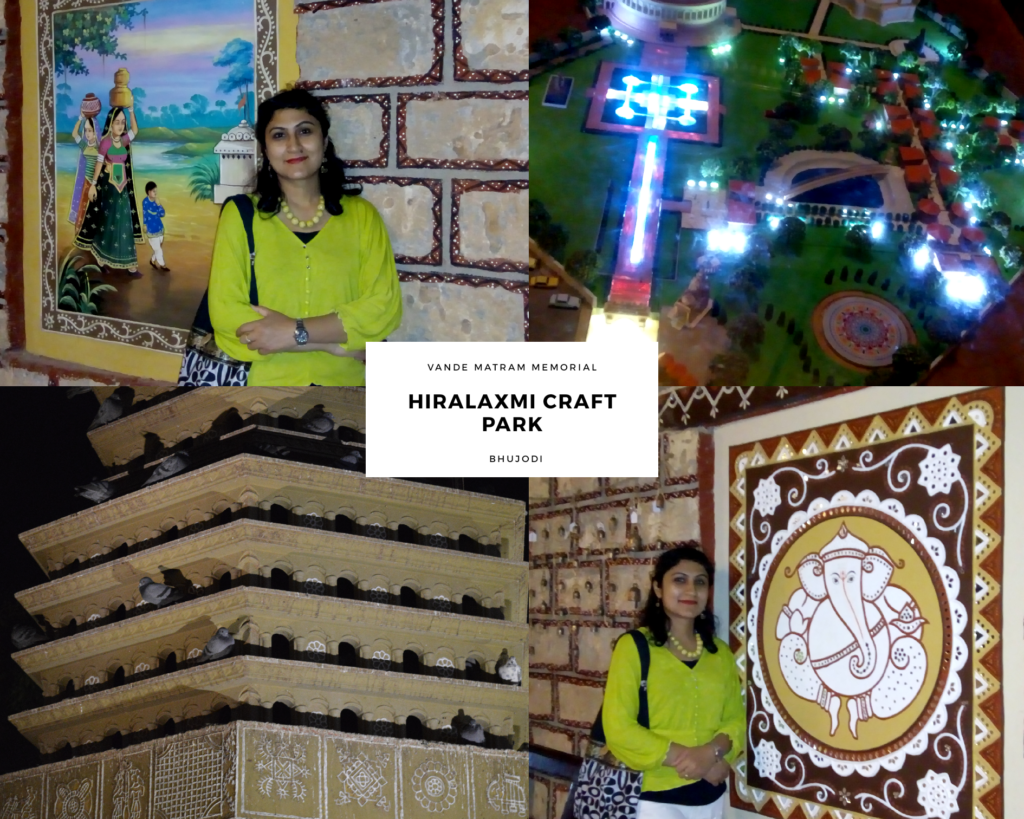 ---
Timings-
Vande Matram Museum– Summer- 10 AM to 7:00 PM
Winter- 10 AM to 6:00 PM
Hiralaxmi Craft Park- Summer- 10:00 Am to 9:00 PM
Winter- 10:00 AM to 8:00 PM
Façade Show– Summer- 8:30 PM
Winter- 8:00 PM
Entry fee–
Vande Mataram Museum
Adult = Rs.100/-
Child (Below 12) = Rs.20/-
Senior Citizen = Rs.20/
Foreigner = Rs.400/-

Hiralaxmi Memorial Craft Park
Adult = Rs.50/-
Child (Below 12) = Rs.20/-
Senior Citizen = Rs.20/-
Foreigner = Rs.400/-
---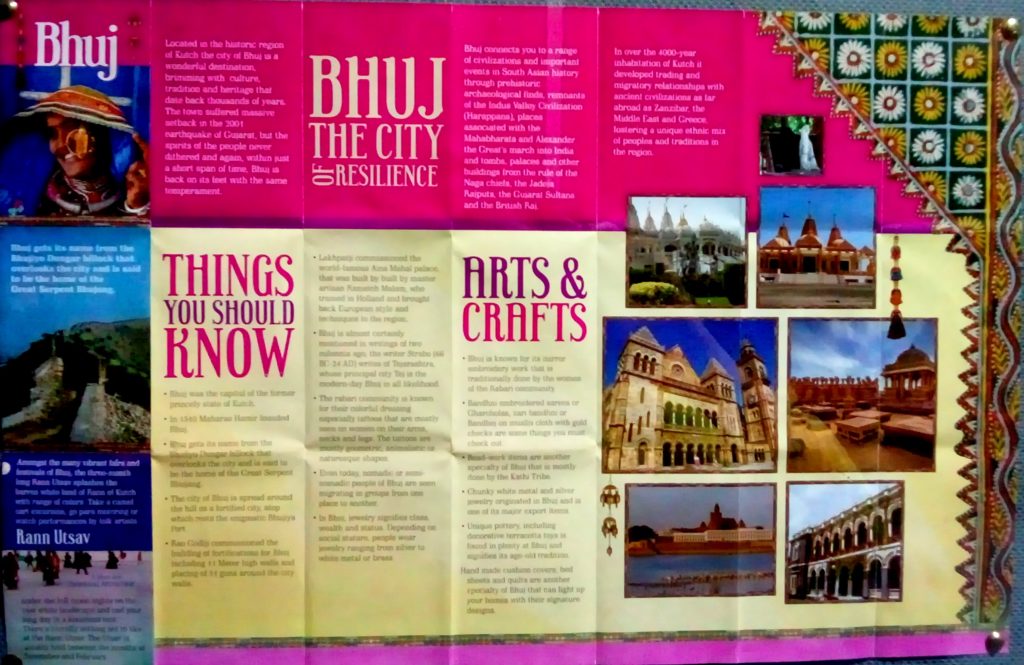 ---
The Vande Matram Memorial was not in our list before visiting the Bhuj city. It was suggested by locals during our stay in Bhuj and was a bonus to our trip. After spending one and a half day in the historical city of Kutch district, we headed back to our home. Once again, it was indeed a trip to remember.
---
Suggested Read: Former Portuguese Colony in Gujarat: Diu Island
---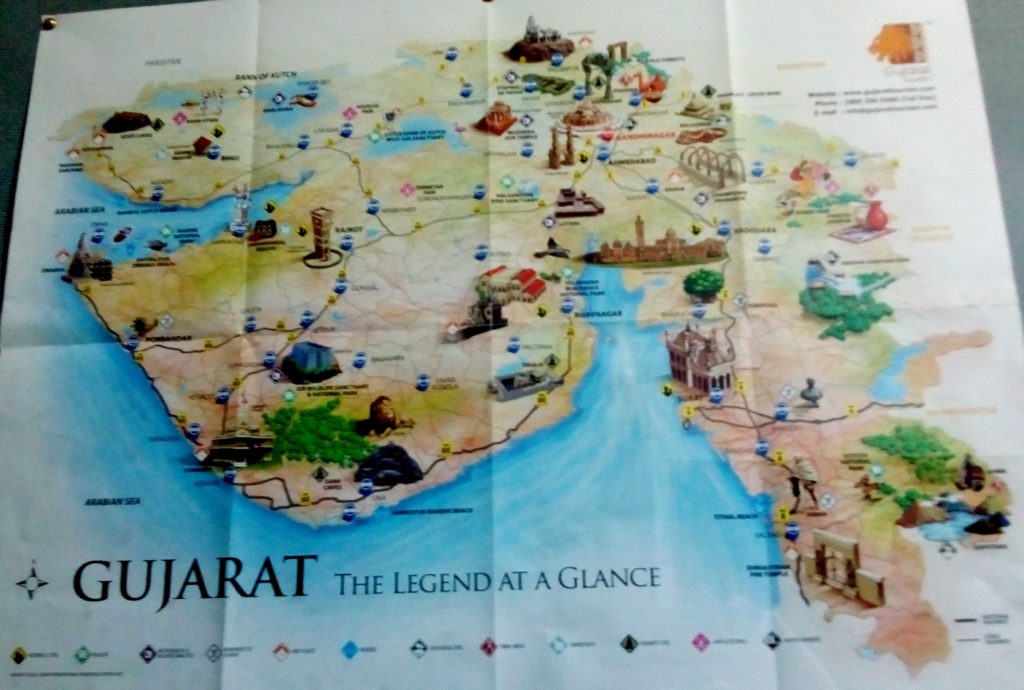 ---
Did you like it? Share among others. You may like to pin it and read it later. Save the image below to pin. Thanks.♥
---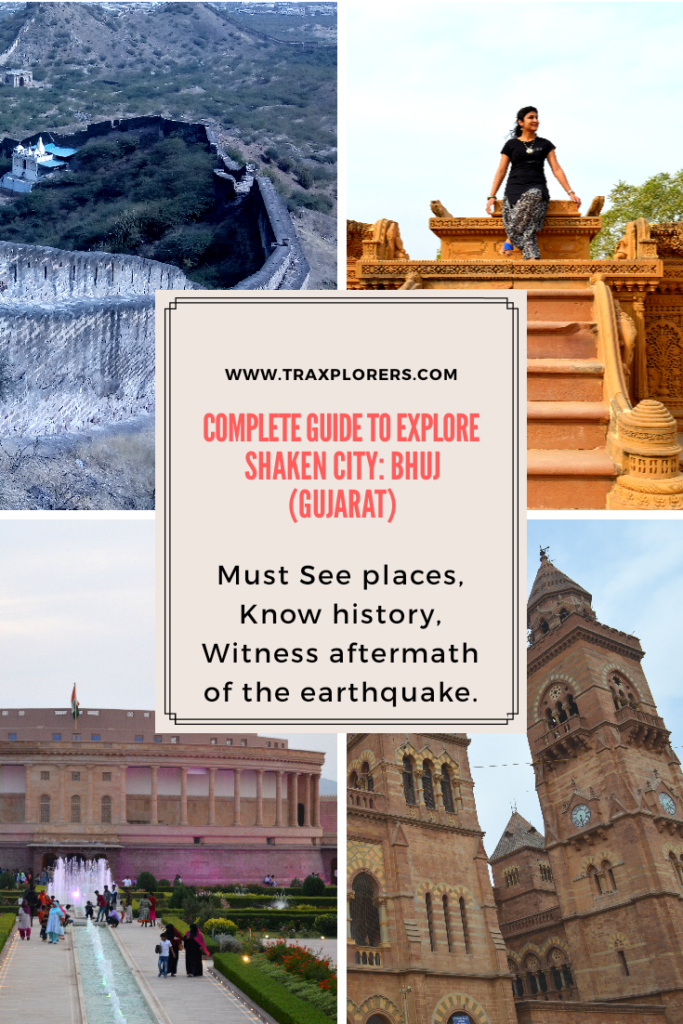 ---
DISCLAIMER: Some links on this site contain affiliate links, meaning if you book or buy something through one of these links, we may earn a small commission (at no extra cost to you). Thank you for supporting this website.
Terms & Conditions: ©Unauthorized use and/or duplication of any material (text and/or images) without consent from this site's author and/or owner are strictly prohibited. Links and excerpts may be used provided that full credit is given to Traxplorers or Supriya Bhardwaj with specific and appropriate direction to the original content.