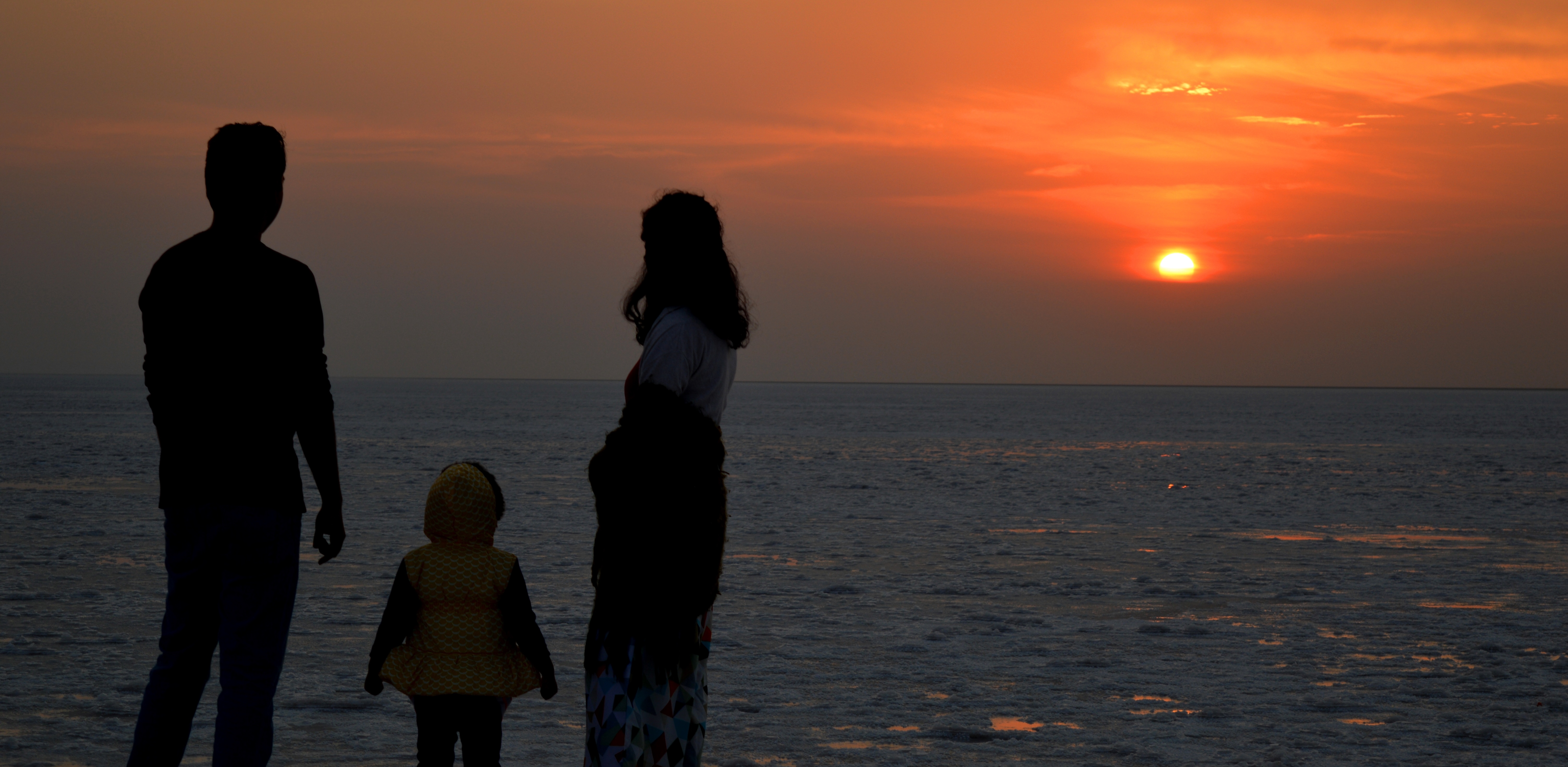 Experience the Great Rann of Kutch, Gujarat
---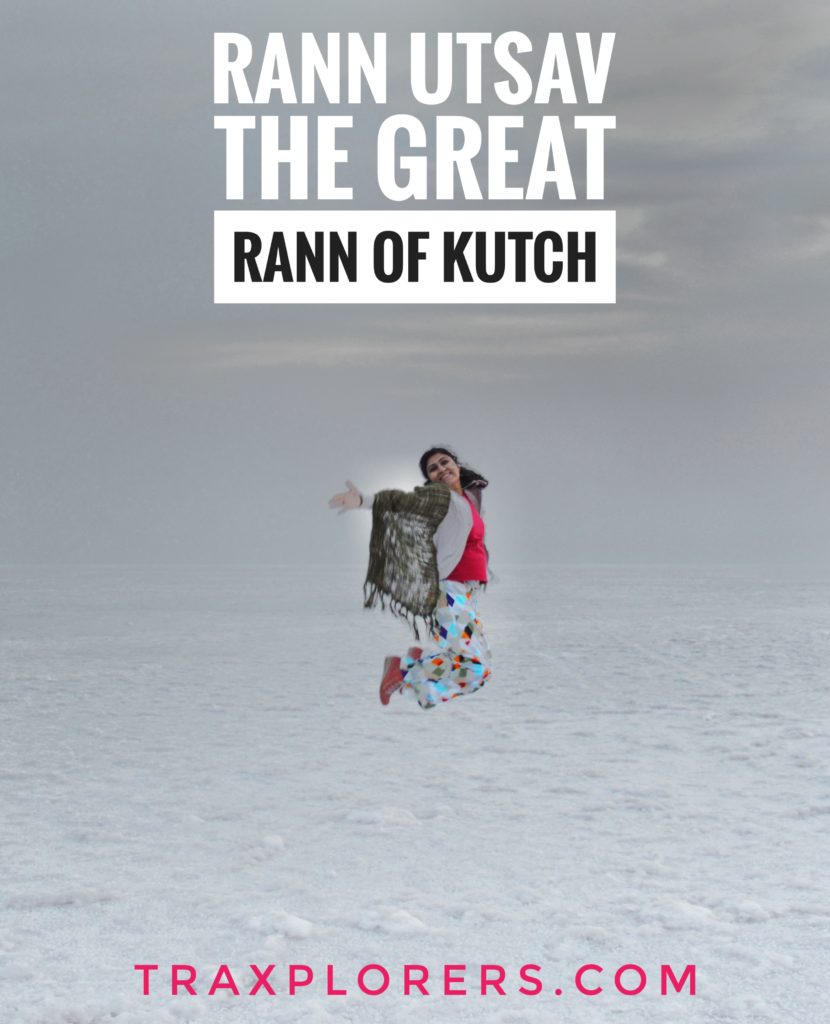 ---
I am glad to share this experience with you all. Since it was the most memorable and mesmerizing experience we ever had in Gujarat. Gujarat is always famous for its business and cultural capital Ahmedabad. But for those who are looking for something more or apart from the city's hustle then this post is ideal for them. Everybody has seen or known of sand dunes deserts all over the world but I bet less has known or visited the white desert; the name has come from its look which is due to salt. Famously, it is known as The Great Rann of Kutch. Apart from this, there is a lot more to see and explore in Kutch. I hope the below itinerary and other details would help you to experience the largest district of India.
---
---
Best Time to visit
During Rann Utsav (The Great White Desert Festival) which starts every year in November and lasts till February.
---
Road Trip: Ahmedabad to Kutch
Day 1: December 2, 2017
The total distance from Ahmedabad to Kutch is 400 km via NH 947. It took 7 hours for us to reach by car. We totally enjoyed the views while crossing the landmarks coming our way. Firstly, we crossed Bhuj en route then reached Kutch our stay destination. The time we were close to the destination, absolutely bowled by the road views we were getting to see along the whole way. We couldn't resist ourselves to stop by and come out of the car to feel the fresh boundaries outside. This was the only road we get to see so clear and free of hustle and bustle. Finally, we reached our pre-booked destination 'Rann Kandhi Resort' at 2 pm. It is actually a village homestay. We had a cool experience with the local culture. They provided all the three meals buffet (Breakfast, lunch, and dinner) which was included in Rs.3600/- per day along with stay for a family of three (2 adults, 1 kid). There are also other village homestays, guesthouses and luxury stay to locate in Kutch region. After having lunch and a quick nap, we were ready to explore this place.
---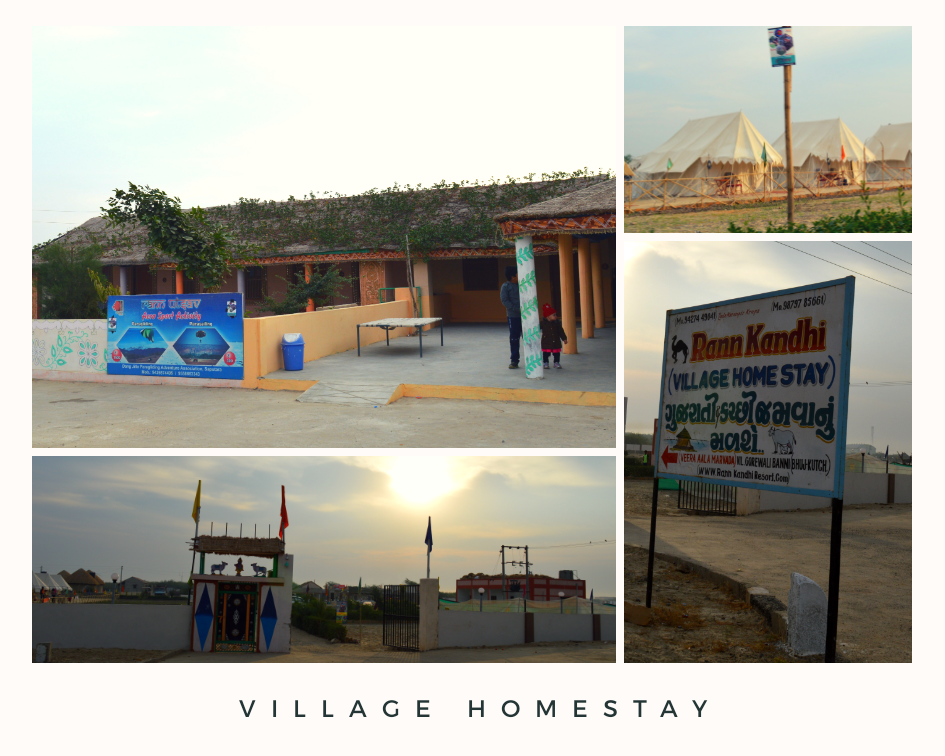 ---
[bdotcom_bm bannerid="2094"]
Kalo Dungar: Black Hill, the Highest point in Kutch
First, we headed towards the famous black hill named 'Kalo Dungar' by locals. The hill gets its name from the texture and color. It is the highest point in Kutch, at 462 meters. We get to see a panoramic view of Great Rann of Kutch from here.
---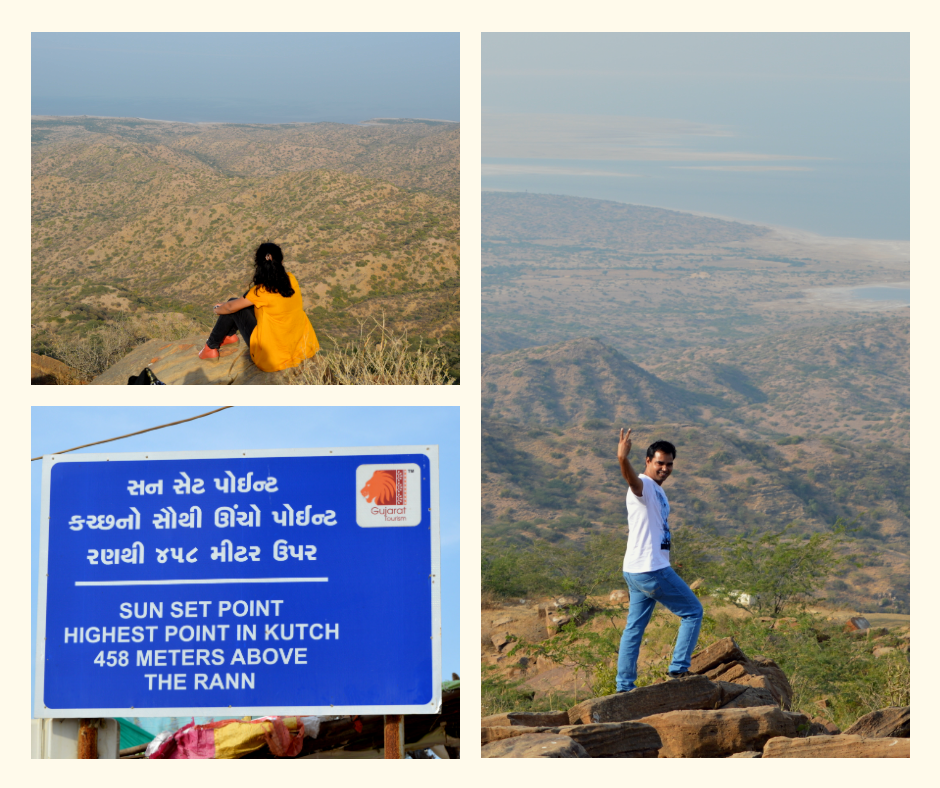 ---
Things to do
Dattatreya Temple- There is a small nice Dattatreya Temple built at the top.
Sunset point- Witness beautiful sunset from the height of 458 meters with a panoramic view of the Great Rann.
Magnetic Field Zone- Experience the magnetism at Kalo Dungar. One can stop their vehicle at one spot and witness it moving against the gravitational field at neutral gear.
Indian Bridge- You need to carry binoculars or else could buy at the site to see Indian bridge from Kalo Dungar. This bridge connects the Indo-Pak border and needs permission from BSF and that is likely not possible. The only way is one can see it distantly.
---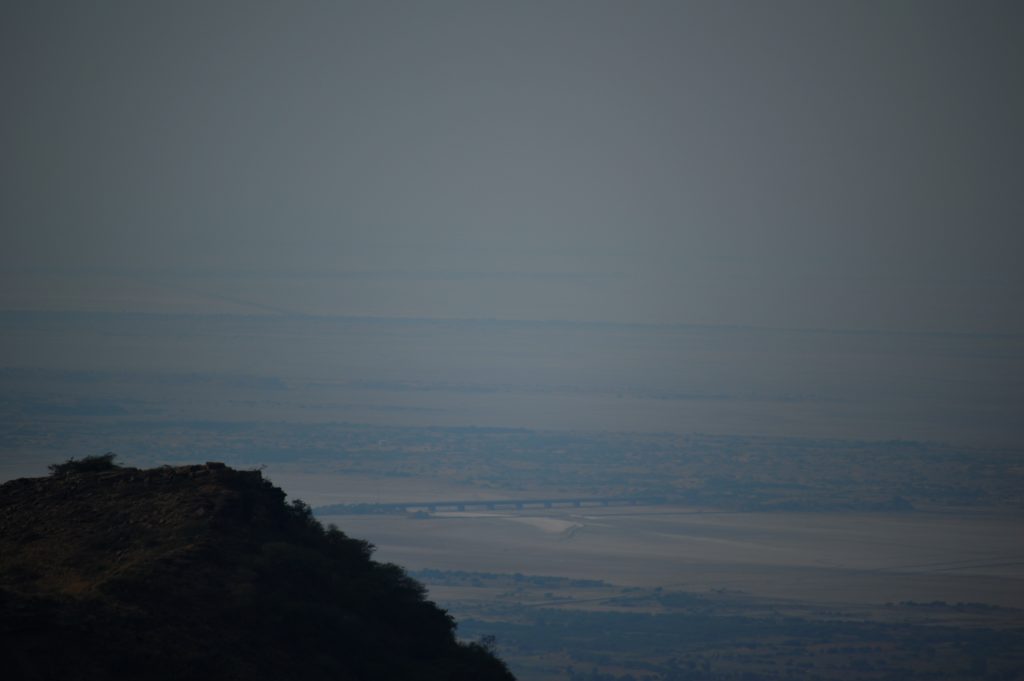 ---
Khavda: The Pottery village
This village lies in the west of Great Rann of Kutch, famous for its crafts, pottery, and sweets. The catchy thing about this village is that all the traditional artwork products are run by local women.
Don't forget to explore the Kutch Handicraft
with some exclusive pottery.
---
---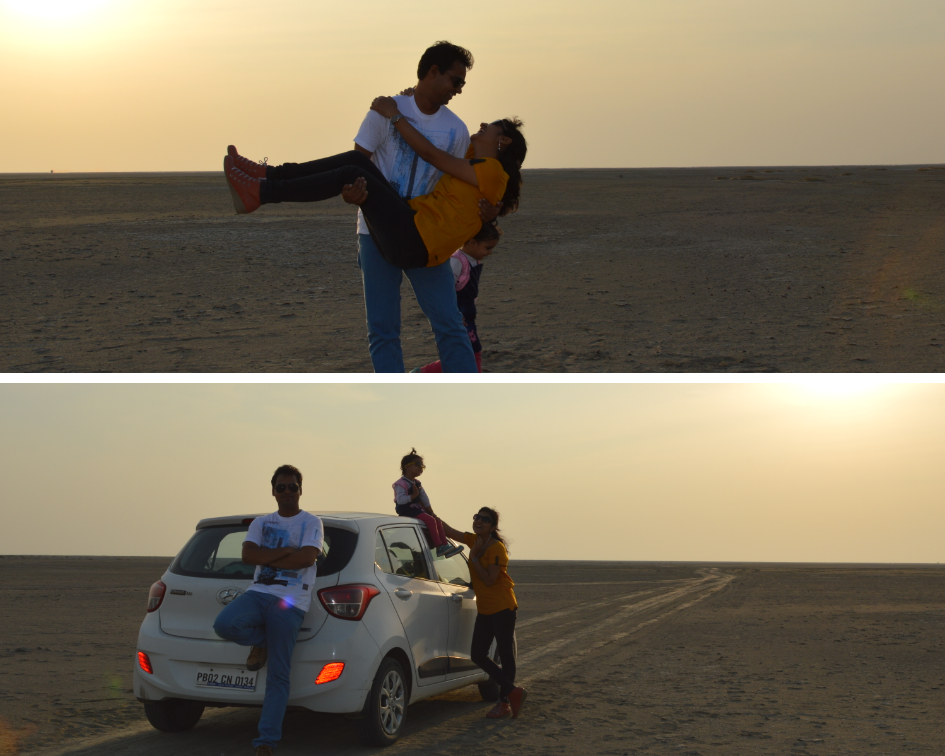 ---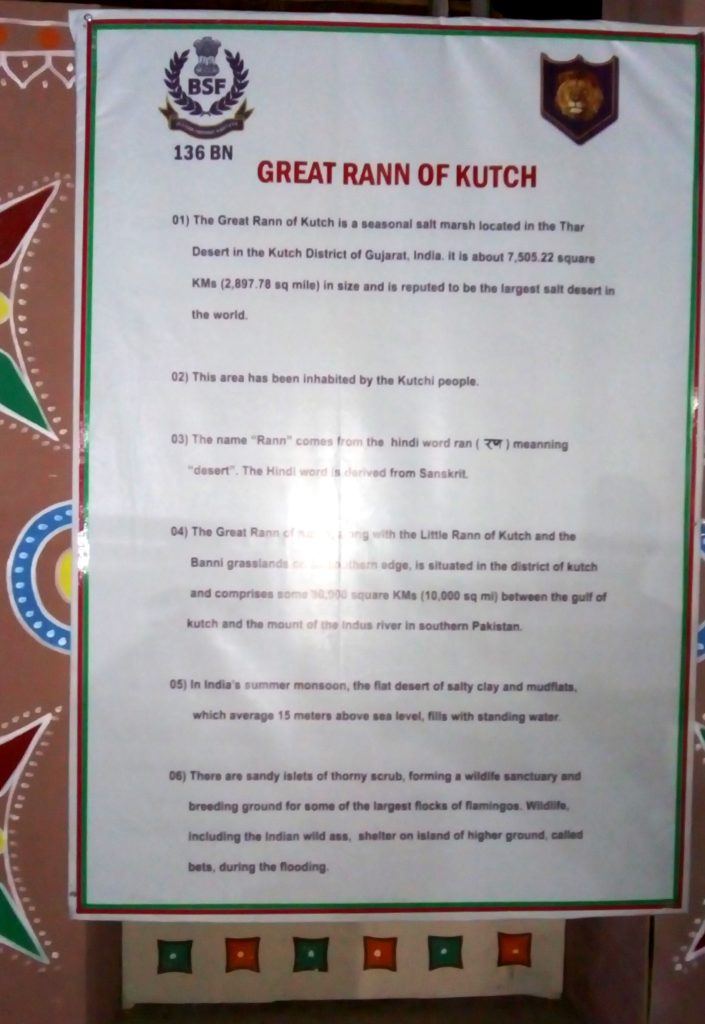 ---
Rann Utsav 2017 at the White Desert
After spending a jam-packed evening exploring some amazing places in Kutch district, next, we stopped by the location for 'Rann Utsav 2017'. This was the only place we found crowded because of the festival. At the entry point to Great Rann, was lit with full cultural market exhibiting things and cuisine of Kutch. We came to know that the entire exhibition would end at 9 pm and we could get entry into the white desert. It was around 8 pm we left to our resort for dinner. In the resort, we enjoyed our meals with local cultural music performances. After dinner, we headed back to Great Rann. It was the super full moon night. The first step we took at the salt crystal land of the white desert was unimaginable. It felt like the first step on the moon itself with some water patches in between salt crystal layers. The whole area surrounding us looked pure white, nothing else. When we looked up in the sky, a super full moon was smiling at us. 🙂 Felt like we were looking at the moon from the moon. Rest is beyond my explanation. The below photographs can do justice to some extent only. The real feeling and experience could be felt by being there only.
---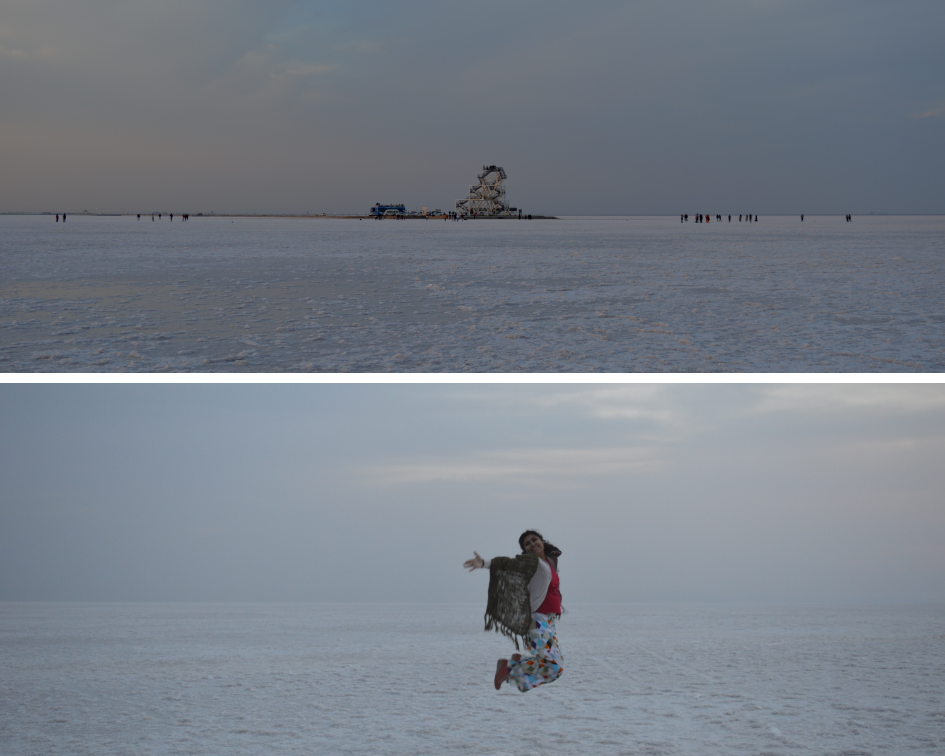 ---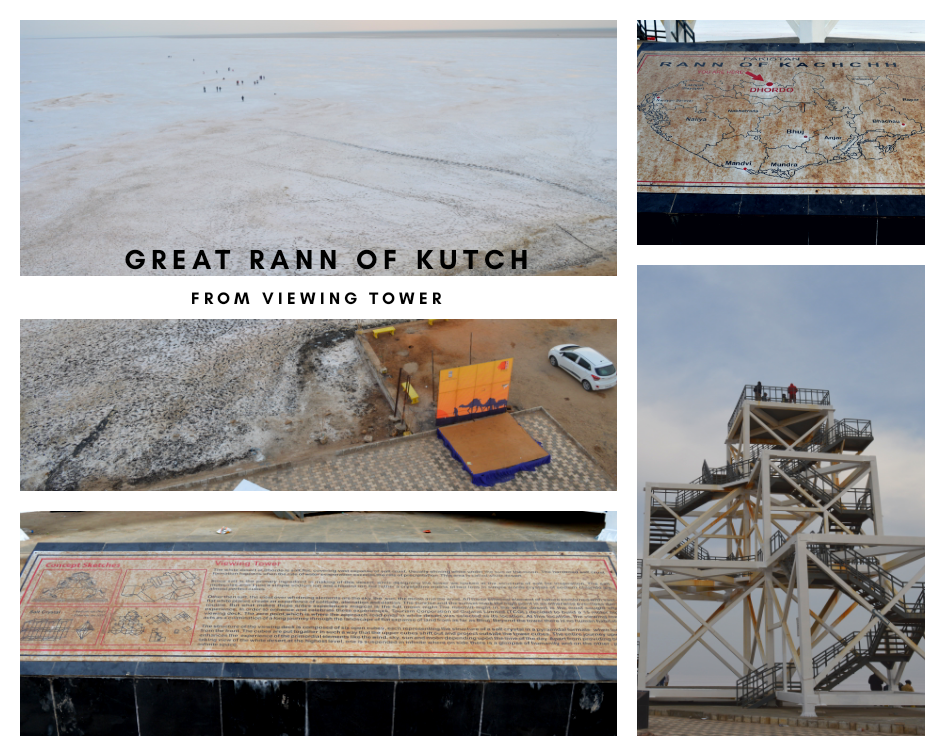 ---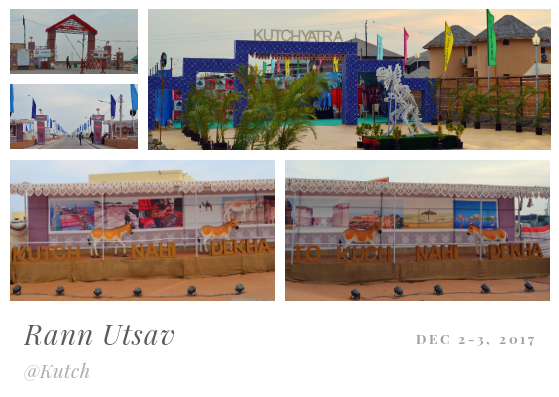 ---
The Great Rann of Kutch
Day 2: December 3, 2017
Last night sleep was spent restlessly as we were not totally satisfied with our visit to Great Rann in the night. We made up our mind to wake up early before sunrise and witness the great beauty of the Great Rann once more. With a firm decision, in the morning we reached there on time. Karen was sleeping. It was still dark and we were again in the White Rann. We waited for a few minutes and nature delivered us its best colors in the sky before sunrise. Here, Karen also accompanied us in the greatest show of nature. It felt like an astounding achievement for us. Then arrived the greatest show of nature, the stunning sunrise. We had never seen such a spectacular sunrise before. We were completely happy and filled with a sense of accomplishment for this trip.
---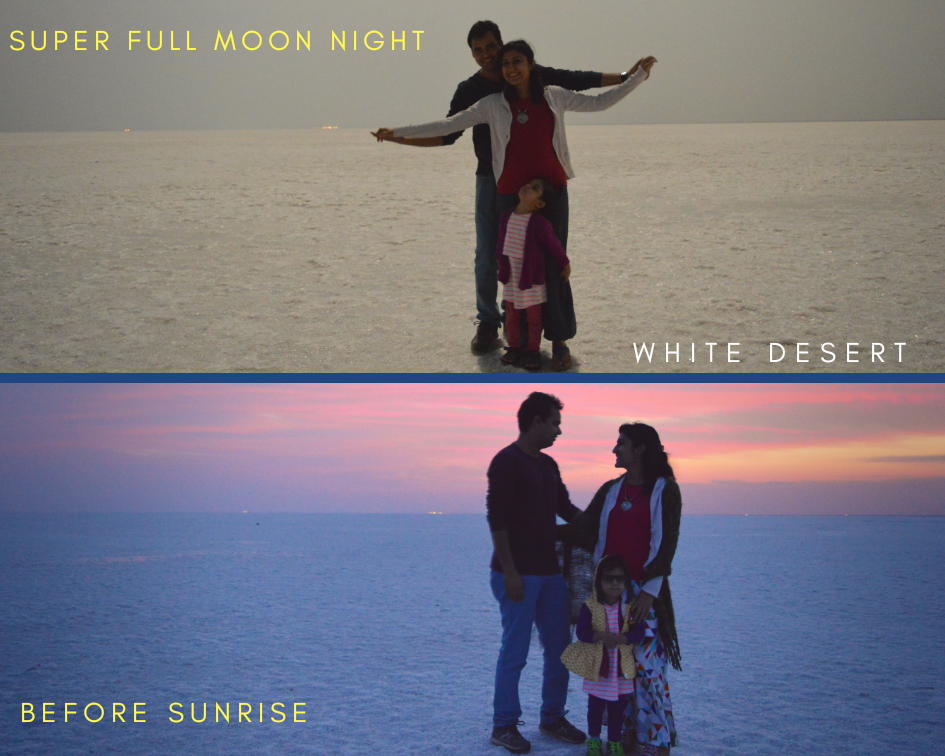 ---
Watch The Great White Desert Live

👇

👇
---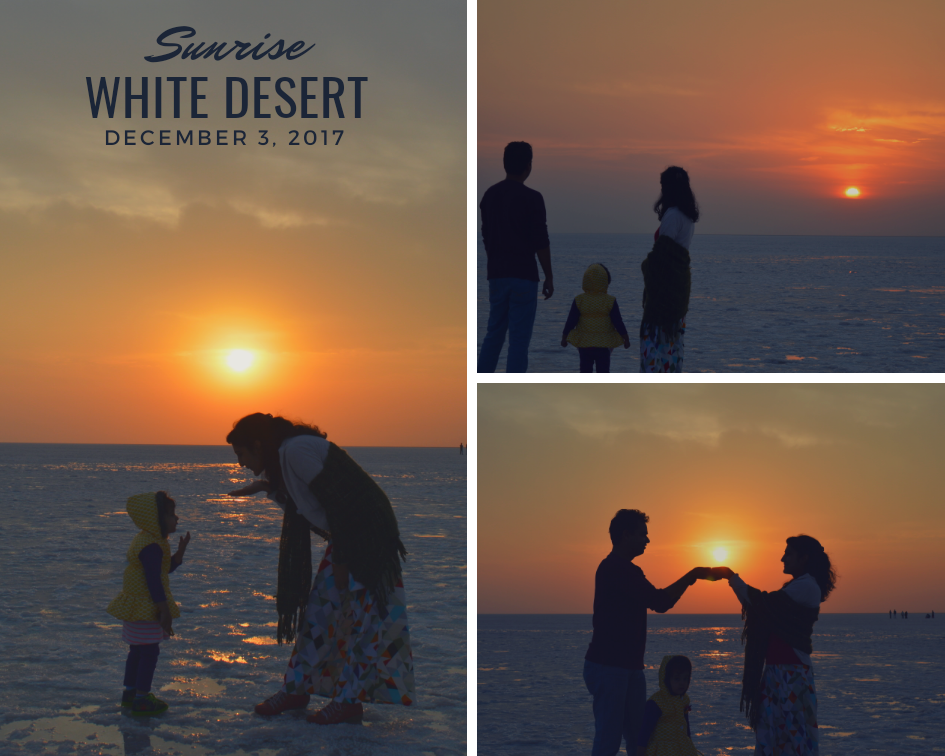 ---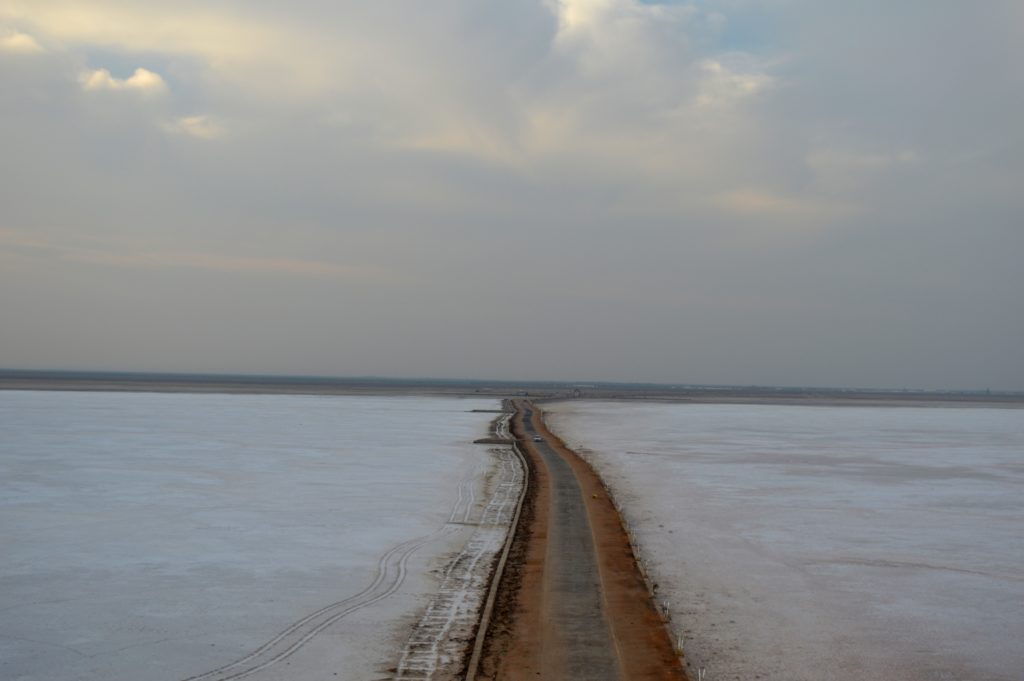 ---
With the most memorable and wonderful experience of our lives till date, we headed back to Ahmedabad but along the way we had other plans too. There were more to do and experience from the largest district of India. Will be continued from here, stay tuned for the next post on our Memoir from the Shaken City of Gujarat: Bhuj.
---
Suggested Read: Former Portuguese Colony in Gujarat: Diu Island
---
If you liked this post then don't forget to share it with others. Pin the image below to save and read it later. Thanks! ♥
---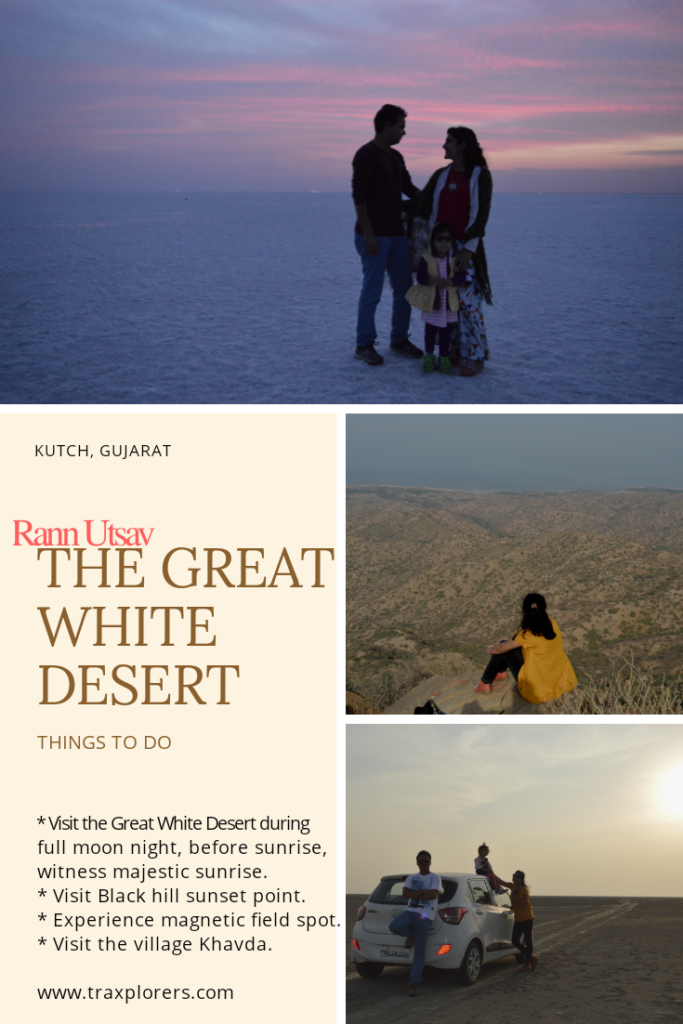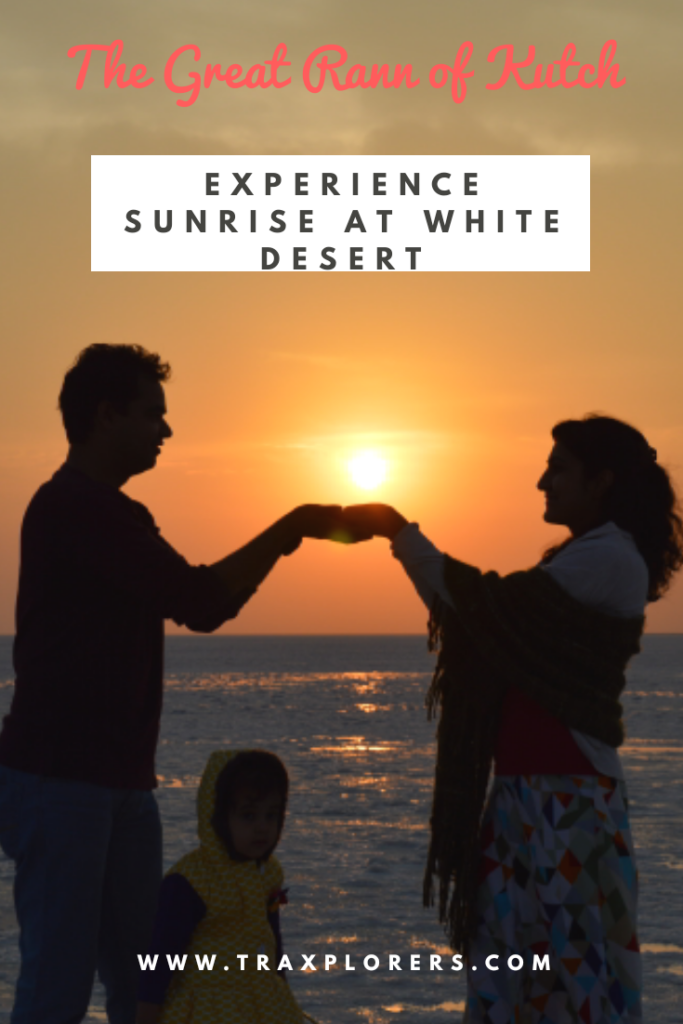 ---
DISCLAIMER: Some links on this site contain affiliate links, meaning if you book or buy something through one of these links, we may earn a small commission (at no extra cost to you). Thank you for supporting this website.
Terms & Conditions: ©Unauthorized use and/or duplication of any material (text and/or images) without consent from this site's author and/or owner are strictly prohibited. Links and excerpts may be used provided that full credit is given to Traxplorers or Supriya Bhardwaj with specific and appropriate direction to the original content.