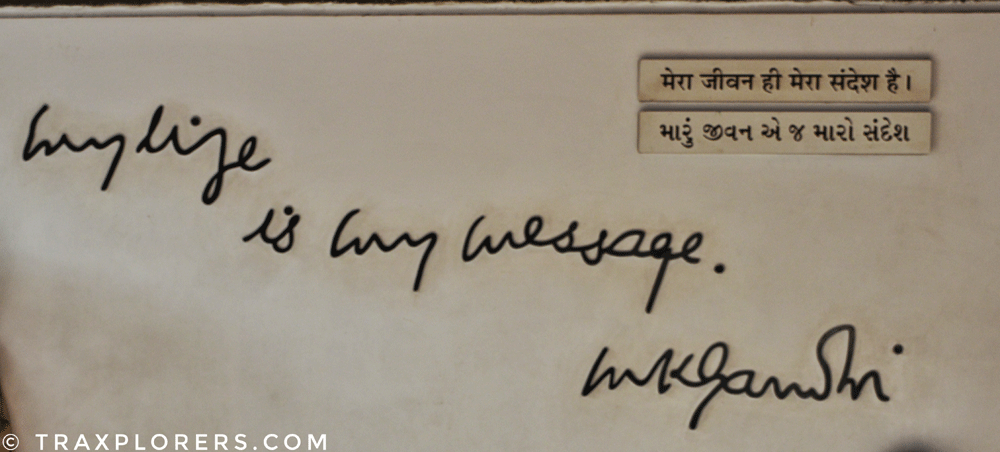 Best Unforgettable Places for Visual Biography of Mahatma Gandhi
Best Way to Re-Live The life of Mahatama

Gandhi
If you ask us which is the best place to know about Mahatama Gandhi? Where I can get detailed information about how Mohandas Karamchand (MK) Gandhi become Mahatama Gandhi? How did he become a famous personality in the world? We would highly recommend the two places in Gujarat (his birth state) for the visual biography of Mahatama Gandhi. These places are Sabarmati Ashram and Dandi Kutir in Ahmedabad and Gandhinagar respectively. Definitely not to miss them if anyone wants to know as well as feel the life of Gandhi in real-time with the help of photos, handwritten documents, papers, original writings by Gandhi, original belongings, visual descriptions, original audio, and video clips of MK Gandhi with digital and interactive manner. 😇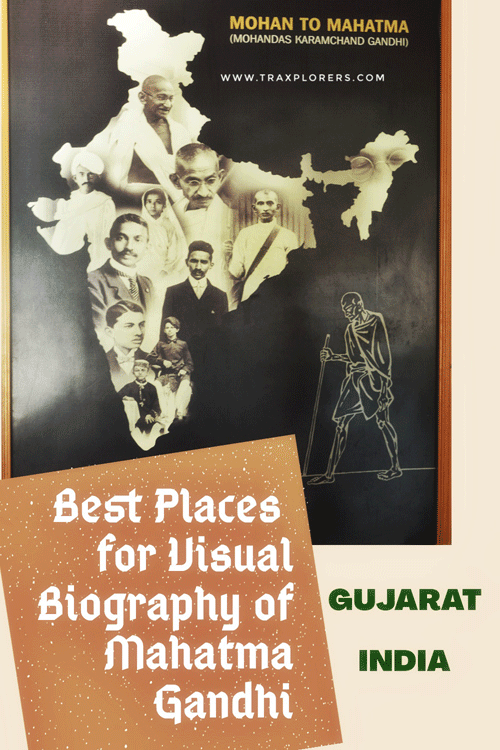 Experience the Life of Gandhi in Gujarat
Gandhi Ashram in Ahmedabad
Sabarmati Ashram in Ahmedabad has been named after the River where it resides. The Ashram was created for a mission to carry on the search for truth and as a platform for organizing people to non-violence movement during the struggle for Indian Independence.
The History of Ashram
Kochrab Ashram- The First Ashram in India
Kochrab Ashram was the first ashram gifted to Mohandas Gandhi by his friend Barrister Jivan Lal Desai. It was founded in 1915 during the Indian Independence movement lead by Gandhi ji. The Ashram was located near the city of Ahmedabad in Gujarat. At that time, the ashram was called as Satyagraha Ashram.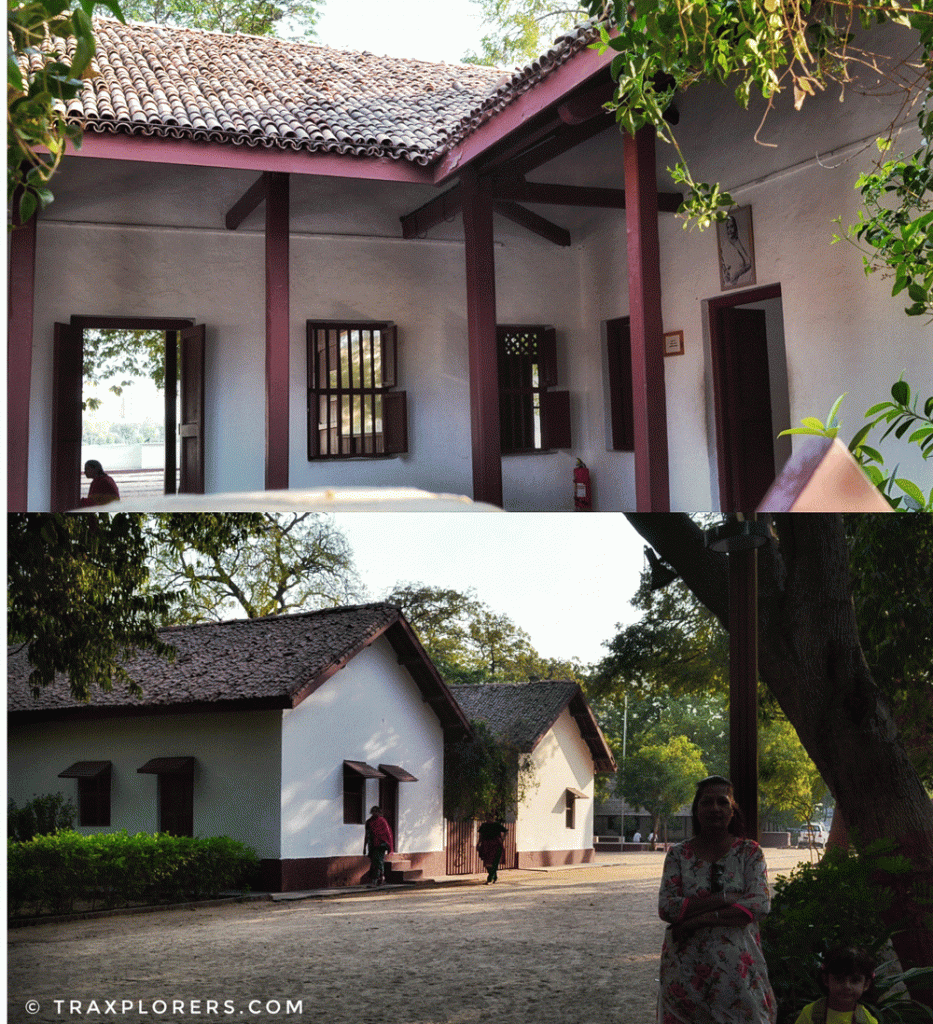 Sabarmati Ashram: Created for Dual Mission
Gandhi ji wanted a platform where he can bring people together to form a group of workers committed to the non-violence movement in the freedom of India. He then shifted his Kochrab Ashram, (which was actually a bungalow near Ahmedabad) to Sabarmati. Gandhi ji thought he could persuade people for the non-violence movement easily from this place. Secondly, Gandhi ji wanted to serve the Ashram as an institution which would carry on the search for truth.
Location of Sabarmati Ashram
The Ashram is located on the banks of the Sabarmati River. It is around 6.5 km from the Town Hall in Ahmedabad.
Address
Gandhi Smarak Sangrahalaya, Ashram Road, Ahmedabad, Gujarat, India.
Opening Time
The Ashram remains open every day throughout the year from 8:30 AM to 6:30 PM.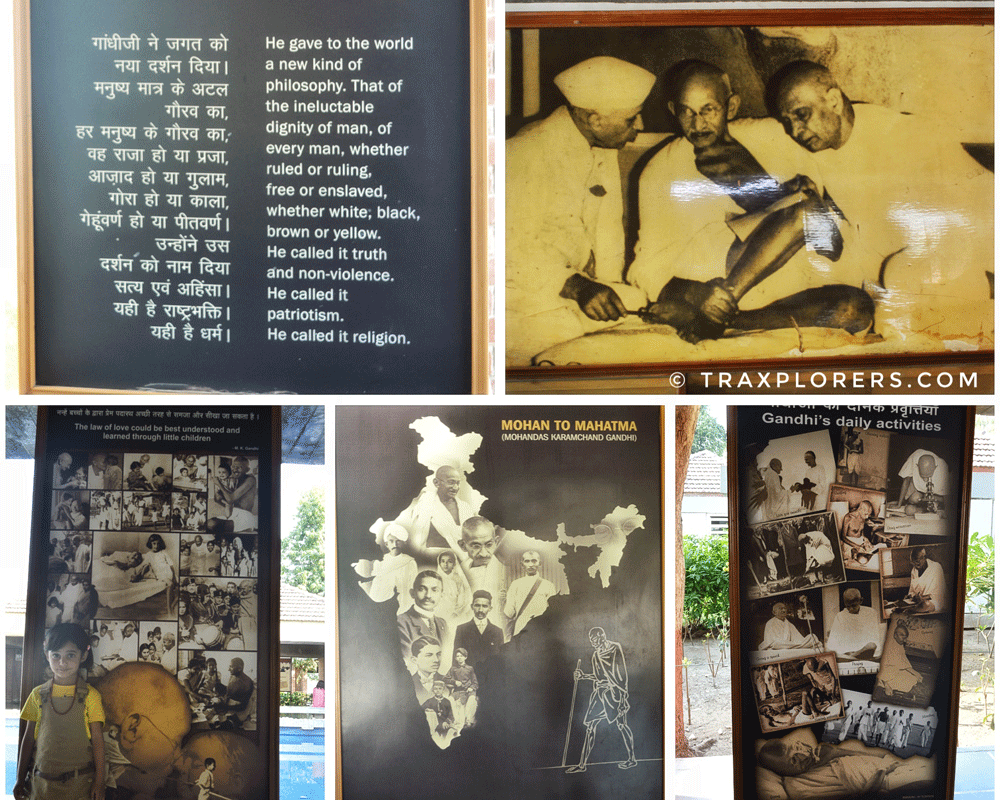 The Ashram Sites
Magan Niwas

It was Maganlal Gandhi's Niwas. He was a nephew and a true follower of Mahatama Gandhi ji. Gandhi ji called him 'The Soul of the Ashram'.

Hriday kunj

This was the home of Gandhi ji and Kasturba ji. They lived here from 1918 to 1930. There are 6 rooms inside, including Gandhi ji's and Kasturba ji's guest room, kitchen, storeroom, and Secretariat. There are replicas as well as some original belongings of Gandhi ji like Charkha, writing desk.

Vinoba- Mira Kutir

This was the residence of Vinoba Bhave. He stayed here from 1918 to 1921. Later on, a British Admiral's daughter, who was devoted to Gandhi ji's ideology, lived here from 1925 to 1933. She helped in the activities of Ashram. Gandhi ji called her Mira.

Nandini

It is the guest house of the Ashram. Many national leaders and visitors to the ashram stayed here.

Udyog Mandir

It is known as 'Temple of Industry' and was founded in 1918 during the historic strike of mill workers in Ahmedabad.

Somnath Chhatralaya

This huge building was used as community quarters for the students of Ashram, workers, etc. There was a community kitchen also.

Upasana Mandir

This is the place where religious prayers were held every morning and evening in the Ashram.

Gandhi Memorial Museum

The memorial museum was founded on May 10, 1963, by India's first Prime Minister Pt. Jawaharlal Nehru

.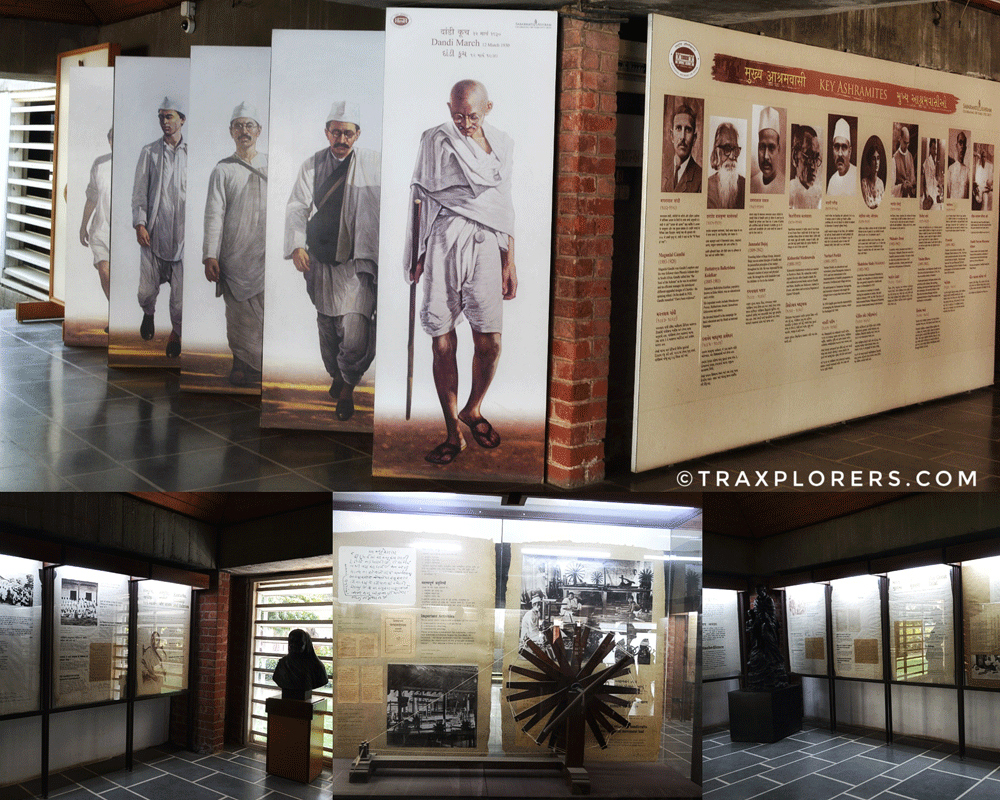 The museum has 3 galleries:
1. Gandhi in Ahmedabad
After spending 21 years of his life in South Africa, Gandhi ji returned to India in January 1915. In India, Gandhi ji resided in Ahmedabad for 15 years till March 1930. And then he left Ahmedabad during the famous Dandi Salt March.
So, this gallery focussed on the work of Gandhi ji from 1915 to 1930, depicting the major events and movements that occurred while he was in Ahmedabad.
2. Painting Gallery
The gallery is dedicated to many paintings and portraits of Gandhi ji in various poses. The various activities of Gandhi ji like marching, meditating, spinning wheel have been displayed.
"All true art is simple and natural." – MK Gandhi

3. My Life Is My Message
The gallery presented the life of Gandhi ji from Mohandas Karamchand Gandhi to Mahatama Gandhi in chronological order. Right from the birth of Gandhi ji in Porbandar (Oct. 2, 1869), his education, time in England, his role in the freedom struggle in South Africa, the various roles played during the Indian Independence Movement, and finally his tragic assassination in Delhi (1948). There are various handwritten documents, papers, photos with quotes from original writings for a better understanding of his work, and impact on the world.
Once visiting Bengal, he was asked to give a message to the people of India.
He replied, "My life is My Message." – MK Gandhi


Dandi Kutir in Gandhinagar
A Salt Mount Museum
Dandi Kutir is also called as Salt Mount Museum. The salt mount in itself depicts the famous Dandi Salt March lead by Gandhi ji. This museum is the world's largest and only museum built on the life of one man and his teachings- The Mahatama Gandhi. It is one of a kind three-storeyed museum with beautiful modernized architecture. Sophisticated technology has been used for audio, video, 360-degree shows, 3D visuals to display. The remarkable and unique style of portraying a glimpse of Gandhi Ji's early life, right from his birth, childhood stories, his youth full of experiments, and his marriage, made this museum outstanding. This museum offers a spectacular platform for all who want to know about Mahatama Gandhi in an interactive manner.
Dandi Kutir is the only museum in the world that depicts the Visual Biography of Mahatama Gandhi using sophisticated technology.
Attractions of Dandi Kutir
Digital LED Floors

3D Holography

Laser Light Shows

4D Virtual Reality

Audio Guide
All the above attractions will lead you to explore and deeply understand the life of Mahatama Gandhi in chronological order:
Early Life

Life in London and back home

Life in South Africa

Return to India and Satyagraha

Road to Independence
Location
Dandi Kutir (Salt Mount Museum) is remarkably designed for portraying the life and teachings of Mahatama Gandhi in Gandhinagar- the capital city of Gujarat.
Address
Salt Mount, Sector-13C, Gandhinagar, Gujarat. It is approximately 30 km from Ahmedabad.
Opening Hours
Tuesday to Sunday from 10:30 AM to 5:00 PM. It remains close on Monday.
Important
A batch of 50 persons is assigned with a tour guide at an interval of 30 minutes. This is to avoid the unnecessary rush and for better understanding.
Entry Fee
10 INR per person for Indians
200 INR per person for foreigners
Duration of Visit
You would need a minimum of 2 hours to explore it.
Salt Mount Museum with its digitalized interactive manner gives you an implausible experience.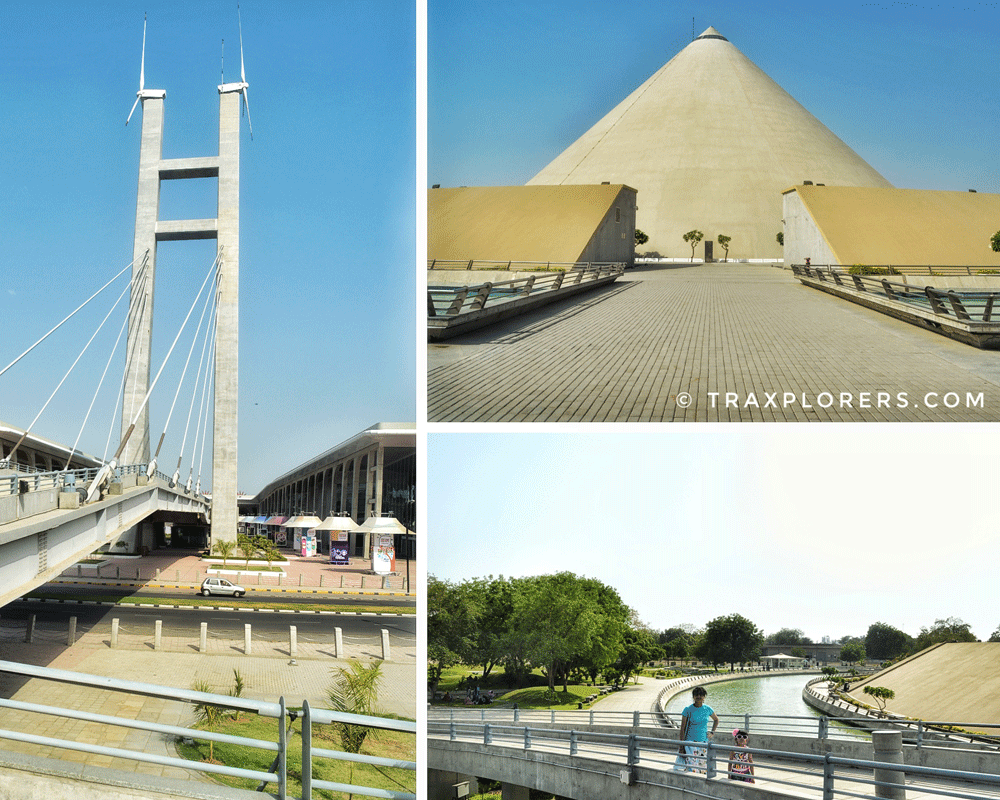 Added Attraction
There is a Dandi Bridge opposite the pyramid shaped Salt mount.

Mahatama Mandir linked to the Dandi Bridge opposite to Dandi Kutir. It is a convention center with exhibition halls in the heart of the city Gandhinagar.
Some Interesting facts about Mohan to Mahatama (Gandhi)
Mahatama Gandhi was addressed as The Father of the Nation for the first time on July 6, 1944, by Subhash Chandra Bose on Singapore radio.
Mahatama Gandhi was nominated five times (1937, 1938, 1939, 1947, and 1948) for the Nobel Peace Prize. But he was never awarded the prize.
Mahatama Gandhi was imprisoned for the first time in South Africa on January 10, 1908, when he was 38 years old.
Mahatama Gandhi undertook 21 days fast during Quit India Movement in 1943.
Mahatama Gandhi was named as Bapu by Devchand Uttamchand Parekh, an eminent citizen of Jetpur (city of Gujarat).
During Quit India Movement, Mahatama Gandhi gave the slogan 'Do or Die

'.
October 2, is celebrated as Gandhi Jayanti, the birth anniversary of Gandhi ji. Karen tried something on the occasion of Gandhi Jayanti.

May like to see her presentation here

👇🥰🥰🥰🥰
Recommended Readings:
Liked it? Pin it to save & read later. Please spread some love by sharing it. Thanks!❤️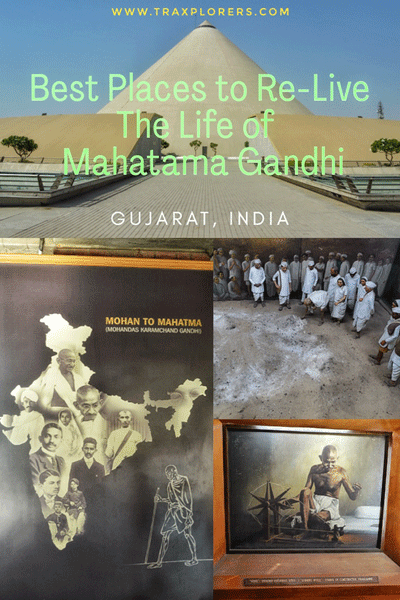 DISCLAIMER: Some links on this site contain affiliate links, meaning if you book or buy something through one of these links, we may earn a small commission (at no extra cost to you). Thank you for supporting this website.
Terms & Conditions: ©Unauthorized use and/or duplication of any material (text and/or images) without consent from this site's author and/or owner are strictly prohibited. Links and excerpts may be used provided that full credit is given to Traxplorers or Supriya Bhardwaj with specific and appropriate direction to the original content.