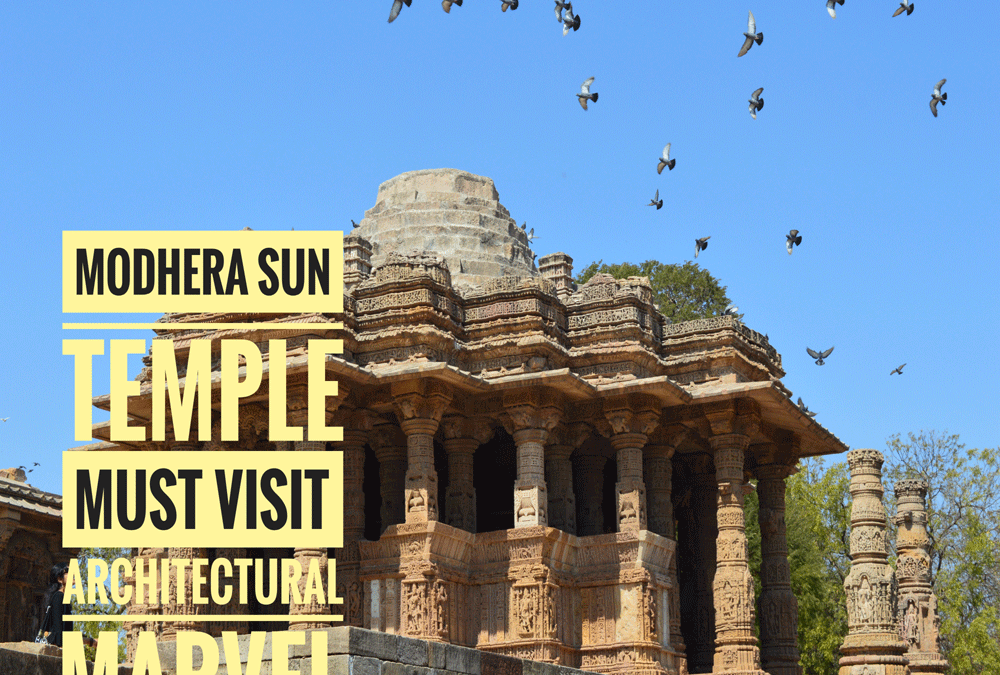 Modhera Sun Temple- Lost in Centuries Old Architectural marvel
Modhera Sun Temple: In Brief
Modhera Sun Temple is dedicated to the Hindu solar deity Surya. It is located in Modhera village of Mehsana district, Gujarat. The temple was built by King Bhima I of the Chalukya dynasty in the 11th century. The worship was offered till the Solanki period but this practice is now discontinued. The statue of Sun God no longer exists inside the temple. It is now a protected monument maintained by the Archaeological Survey of India (ASI). One can have many architectural legacies in Gujarat which are currently protected and maintained by ASI. You can read and know about more UNESCO World Heritage Sites from Gujarat here.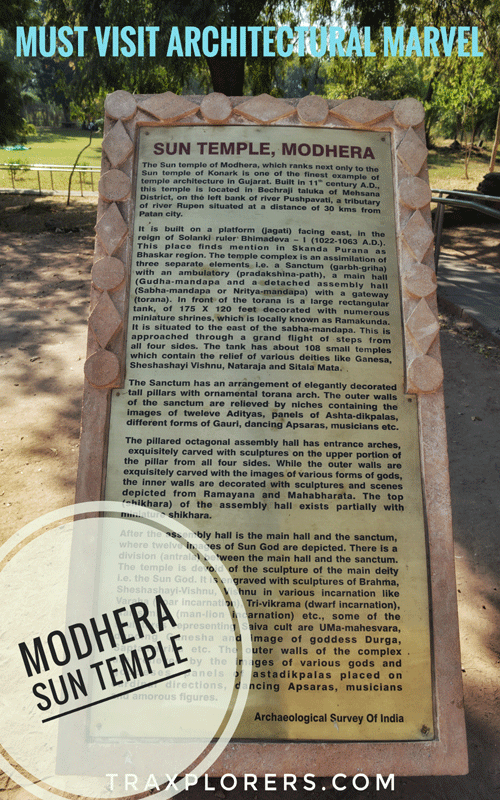 Location & Distance
Modhera Sun Temple is located on the bank of River Pushpavati. It is at a distance of 102 km from Ahmedabad.
How to Reach?
By Air: The nearest airport is Ahmedabad at 102 km distance.
By Train: The nearest railway station is 16 km from Modhera. Another convenient railway station is at Mehsana from where there are regular trains to Ahmedabad.
By Road: There is a regular bus service from Modhera to other destinations of the region.
Best Time to Visit
The best time to visit Modhera Sun Temple is in winter between the months of October to March.
Opening Time & Entry Fee
Opening time- 7 AM to 6 PM
Entry fee-
25 INR per person for Indian nationals, free for children below 15 years.
300 INR per person for foreign nationals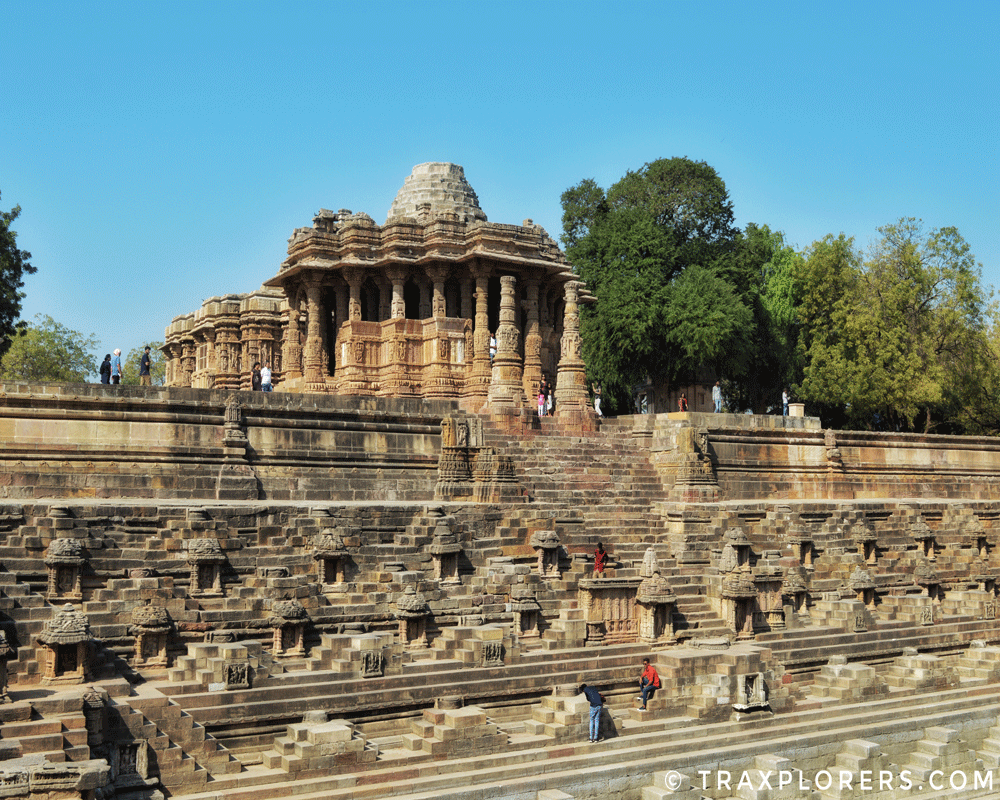 The Whole Structure of Sun Temple
Sun temple is pillared on a lotus-shaped structure. There are detailed and intricate carvings representing our Indian culture. There was a Sun God idol with a diamond placed on his head. The temple was constructed such that, two times a year when the sun crosses the plane of the earth's equator, the first sun rays would fall on a diamond placed on the head of Sun God. The refracted rays would make the entire temple illuminate in a golden glow. On the other days, two pillars in Garbha Griha (Guda Mandapa) would stay illuminated the whole day. But now one can only imagine all this as the Sun God idol was destroyed.
Three Segments of Sun Temple
1.Surya Kund-
The WaterTank
The kund is built in a rectangular shape which contains 108 shrines to various deities. The main three shrines on three sides are dedicated to Lord Vishnu and Lord Ganesha. The fourth side consists of Lord Shiva in a dancing position- 'Tandav' facing the sun temple. There is a rhythmic pattern of ups and downs of the kund steps.
2. Sabha mandapa- The Assembly hall
When we walk up the steps of Surya kund, it leads to the 'Sabha Mandapa'. The sabha mandapa still stands on 52 pillars. These pillars depict 52 weeks in a year. According to 12 months, there are 12 representations carved on the pillars which represent the sun. You can spot carvings on walls, showing the unity of the sun with the other four elements – water, air, earth, and space.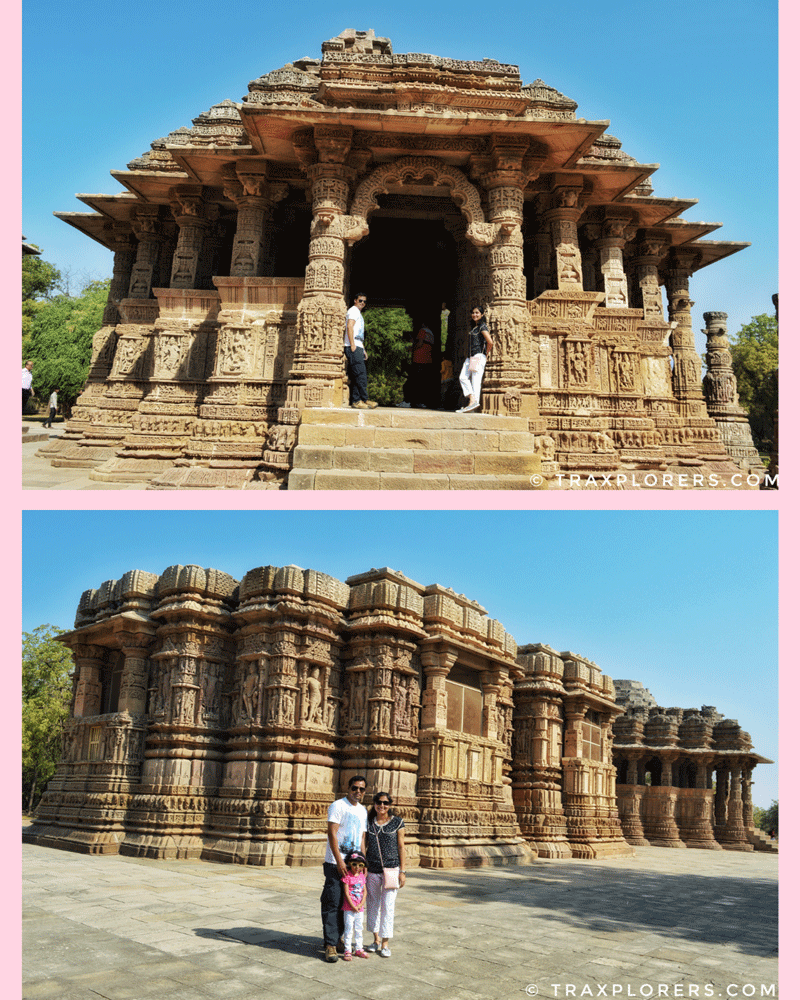 3. Guda Mandapa- The Sanctum Sanctorum
This segment would definitely give a spiritual experience when there was Sun God idol way back during the Suryavanshi Solanki period. Presently, there is the existence of marks of destruction at the place of the Sun idol.
Traxplorers' Experience
Had I said before, we never missed visiting architectural marvels from history. There are two prominent Sun Temples in India. Konark temple of Orissa is the other one. Now, you can feel the desire of visiting the temple. How could we miss it to visit when we were so close to it? Definitely not!
There is a vast green garden and a museum where one can see the artifacts of a bygone era. We enjoyed sitting under those shady trees in the beautiful garden around. We felt the tranquillity and bliss of being part of the magnificent temple complex of Modhera.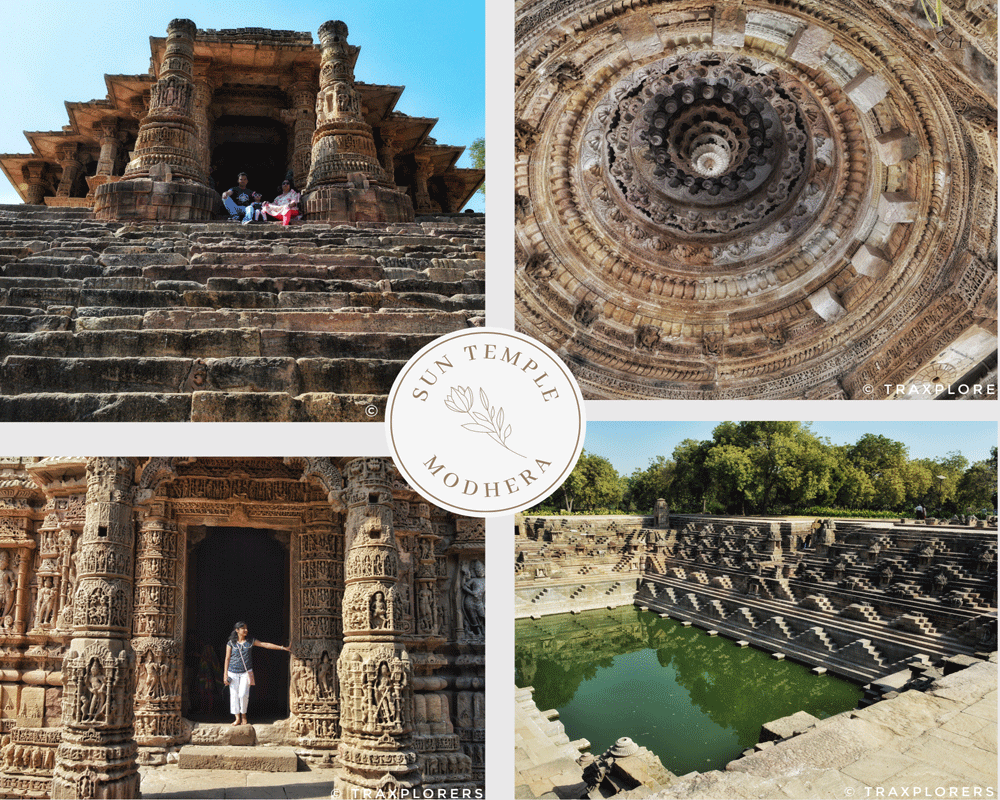 What Anguished Us?
There was an Idol of Sun God inside the Guda Mandapa – The Sanctum Sanctorum. It was ruined by Mahmud Ghazni.
Nearby Attraction
After visiting Modhera Sun Temple we also visited Rani Ki Vav, another UNESCO World Heritage Site nearby. It is in the Patan region of Gujarat. The distance between Modhera sun temple and Rani ki vav is 36 km. You can read about Rani Ki Vav-Queen's Stepwell in our previous post.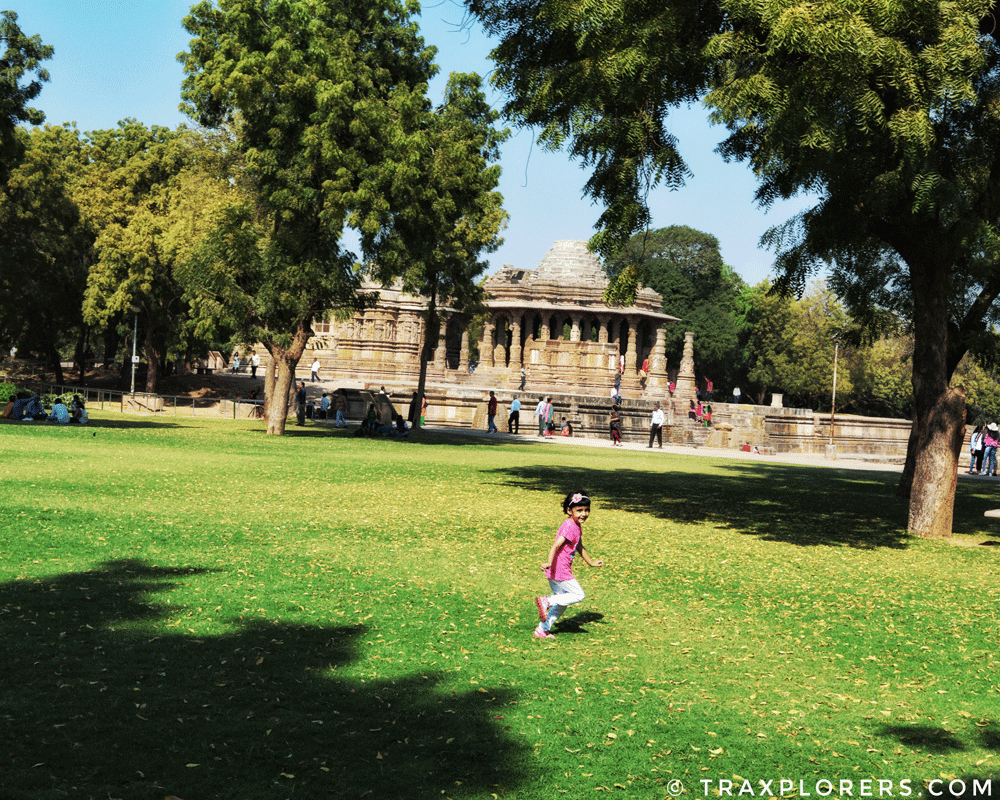 Did you know?
Modhera Sun Temple of Gujarat was built before the Konark Temple of Orissa.

In 2014, Modhera Sun Temple is listed under UNESCO World Heritage Sites.

Annual Indian classical dances are organized by the Tourism Corporation of Gujarat. The festival is held in the month of January.
Hope you liked this article. Pin it & share among your friends. Thank you!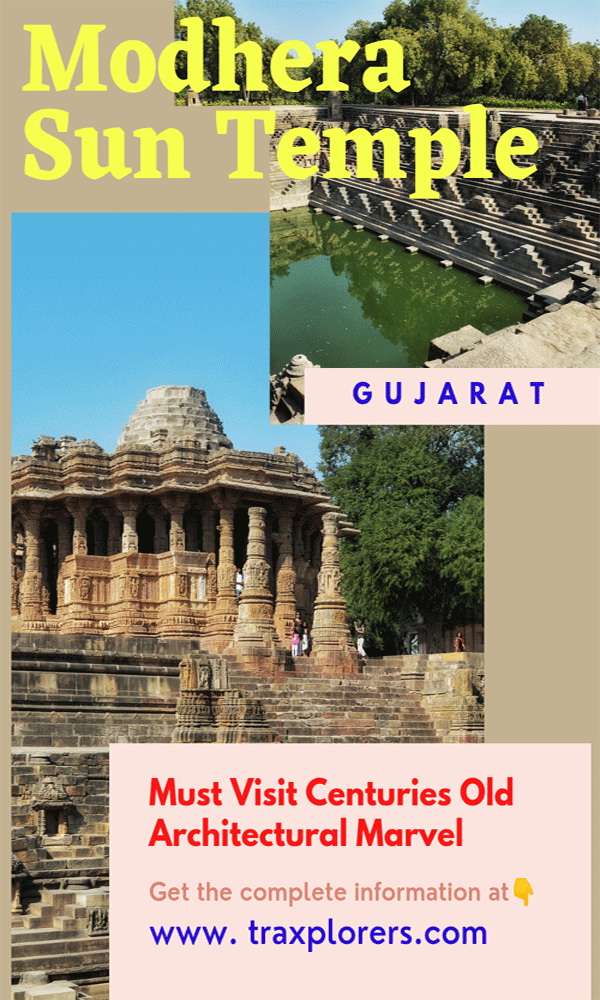 DISCLAIMER: Some links on this site contain affiliate links, meaning if you book or buy something through one of these links, we may earn a small commission (at no extra cost to you). Thank you for supporting this website.
Terms & Conditions: ©Unauthorized use and/or duplication of any material (text and/or images) without consent from this site's author and/or owner are strictly prohibited. Links and excerpts may be used provided that full credit is given to Traxplorers or Supriya Bhardwaj with specific and appropriate direction to the original content.