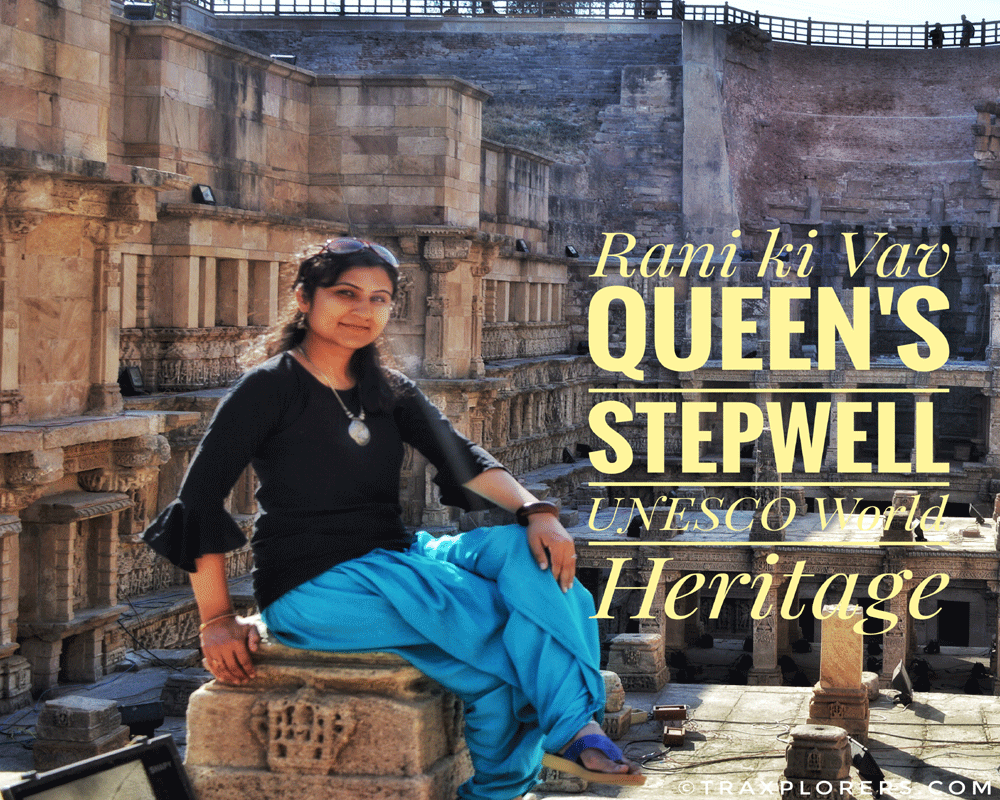 Rani ki Vav : One of the Best Stepwells in India
Queen's Stepwell | Rani Ki Vav: UNESCO World Heritage Site in Gujarat
Being a staunch admirer of heritage sites, we never missed a chance to explore such places. In this post we are sharing our experience visiting one of the heritage sites near Ahmedabad, Gujarat in India. Rani Ki Vav known as Queen's stepwell is listed as UNESCO's World Heritage Site since 2014. Let's know all about Rani ki Vav, how and when to visit the heritage site in this post.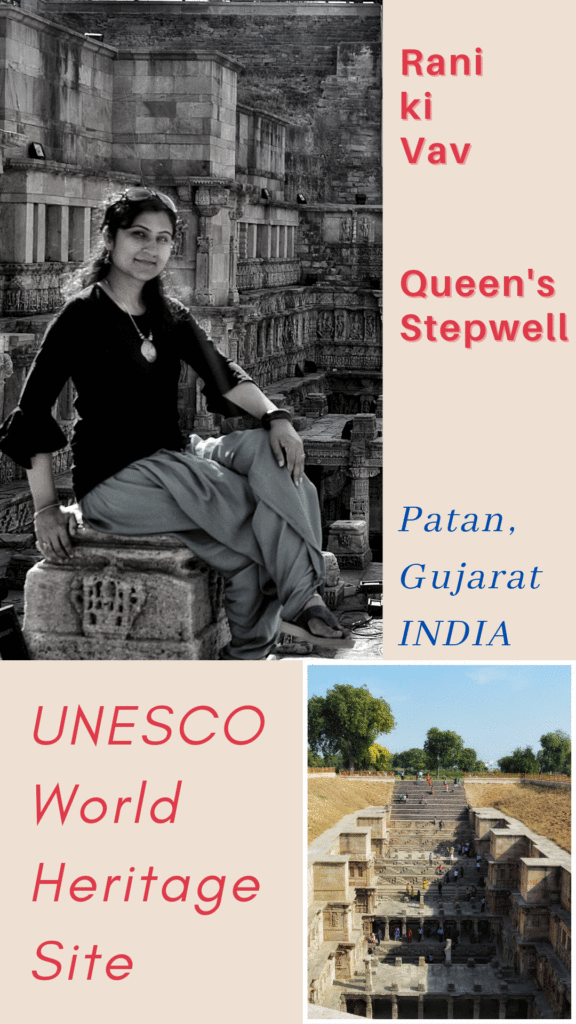 Exquisite Feature of Rani ki Vav
Rani ki Vav is the finest and one of the largest examples of its kind. With its extraordinary architectural details, this was designed as an inverted temple highlighting the sanctity of water. The stepwell has seven levels of stairs with sculptural panels. There are more than 500 major sculptures and over thousands of minor sculptures. These sculptures include combination of religious, mythological and secular images.
Location
Rani Ki Vav is located near banks of Saraswati River in the town named Patan of Gujarat.
Ahmedabad to Rani ki Vav
Rani ki Vav is located in Patan at a distance of 125 km from Ahmedabad. The distance from Patan railway station is 4 km. One can hire a cab/ auto or go in your own car.
Best time to visit Rani Ki Vav
Best time to visit Rani ki Vav is during winter. It is from the beginning of October until March.
How to reach Rani Ki Vav
By air: The nearest airport is Ahmedabad- Sardar Vallabhbhai Patel International Airport (122 km)
By train: Patan Railway station (4 km)
By bus: Patan bus stand (1km)
Rani ki Vav / Queen's Stepwell – History
Rani ki Vav was constructed by queen Udayamati, spouse of King Bhima of 11th century Solanki dynasty. She was the daughter of King Khengara of Saurashtra. The construction of stepwell was started in 1063 and it took 20 years to complete. Its construction is attributed to the queen so named as Queen's Stepwell / Rani ki Vav.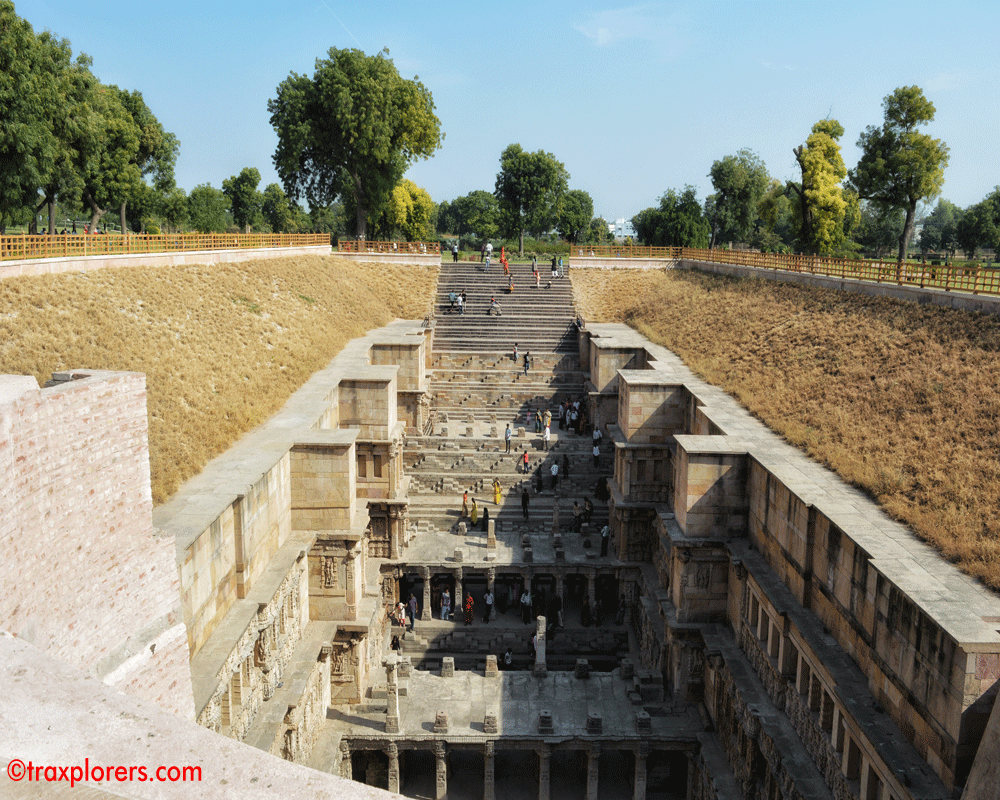 Flooded and Silted over centuries
The stepwell was once flooded by the nearby Saraswati River and silted over. It remained buried under earth and unnoticed over centuries till 1890s. Only well shaft and few pillars were remained visible. In 1940s, Baroda state excavations revealed the stepwell. Later, in 1986, the major excavation and restoration was carried out by the Archeological Survey of India (ASI). During this excavation, Rani ki Vav was recovered in the current state. An image of the queen Udayamati was also recovered.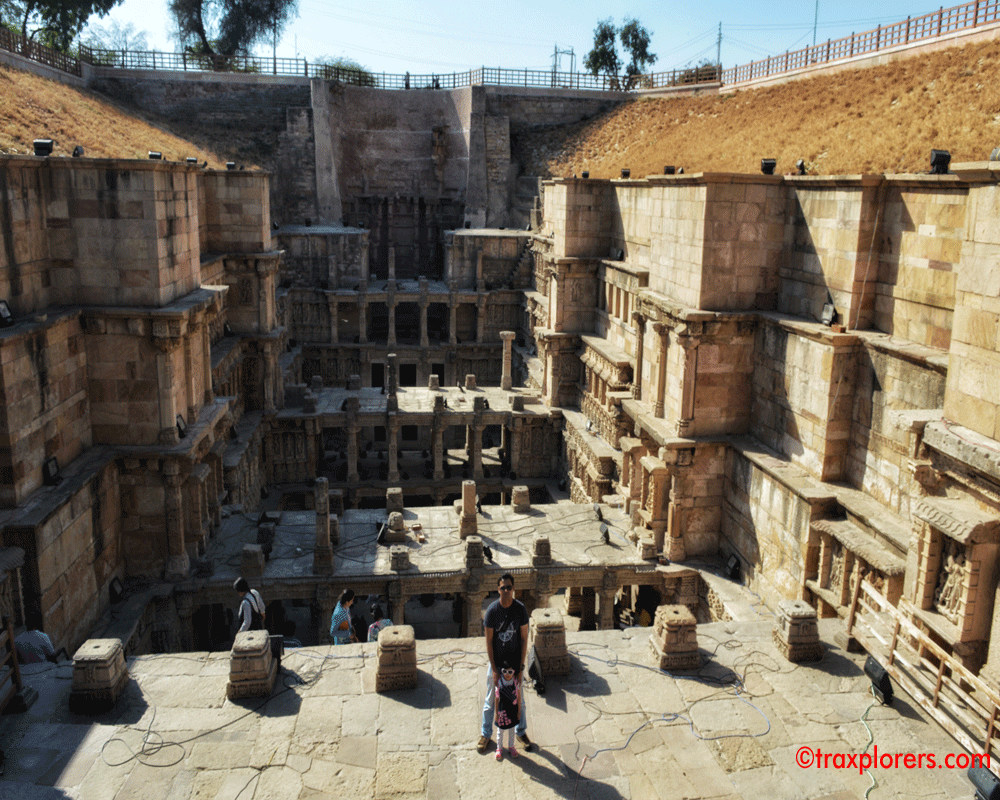 Monument of National Importance
The Archeological Survey of India (ASI) has declared Rani ki Vav as the monument of National Importance and has been protected by ASI. It was added to the list of UNESCO's World Heritage Sites on June 22, 2014.
The Architecture
Rani ki Vav is considered as one of the largest examples of stepwell architecture in Gujarat. The architectural style is Maru-Gurjara architecture, which reflects the mastery of the complex technique with finest details and proportions. The architecture and sculptures are similar to the temples in Mount Abu and Sun Temple at Modhera.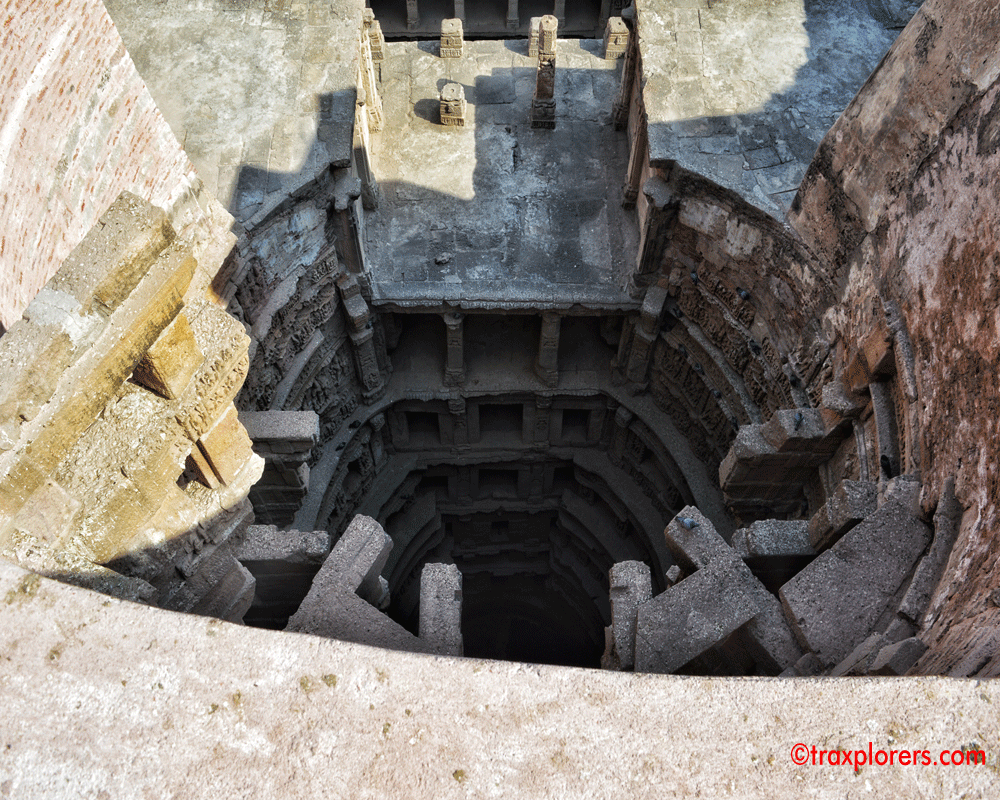 The Stepwell Classification
Rani ki Vav – the stepwell is classified as Nanda-type stepwell with 65 metres of length, 20 metres of width, and 28 metres of depth. The fourth level is the deepest rectangular tank with 23 metres of depth. The stepwell entrance is from east while the well is located at the west end. The stepwell is divided into seven levels of stairs which leads to deep circular well. There are stepped corridors which are compartmentalized at regular intervals with pillared multistorey pavilions. There is tremendous artwork in the form of carvings on walls, pillars, columns, and beams. There is marvelous work done on side walls with beautiful figures and magnificent sculptures. There are total of 212 pillars in the stepwell.
Ornamentation of the Stepwell – Rani Ki Vav
There are more than 500 sculptures that combine religious, mythological and secular imagery. The ornamentation of entire stepwell depicts the entire universe inhabited by Gods, Goddesses, celestial beings (Apsaras), men & women, monks, priests, animals, fishes, birds, plants, trees, flowers including real and mythical ones.
Spiritual Significance of the Stepwell
The stepwell was designed as an underground or inverted temple which has spiritual significance. It represents the sanctity of water. The sculptures in stepwell depict numerous Hindu deities with their families. There are images of nine planets known as Navagraha as well.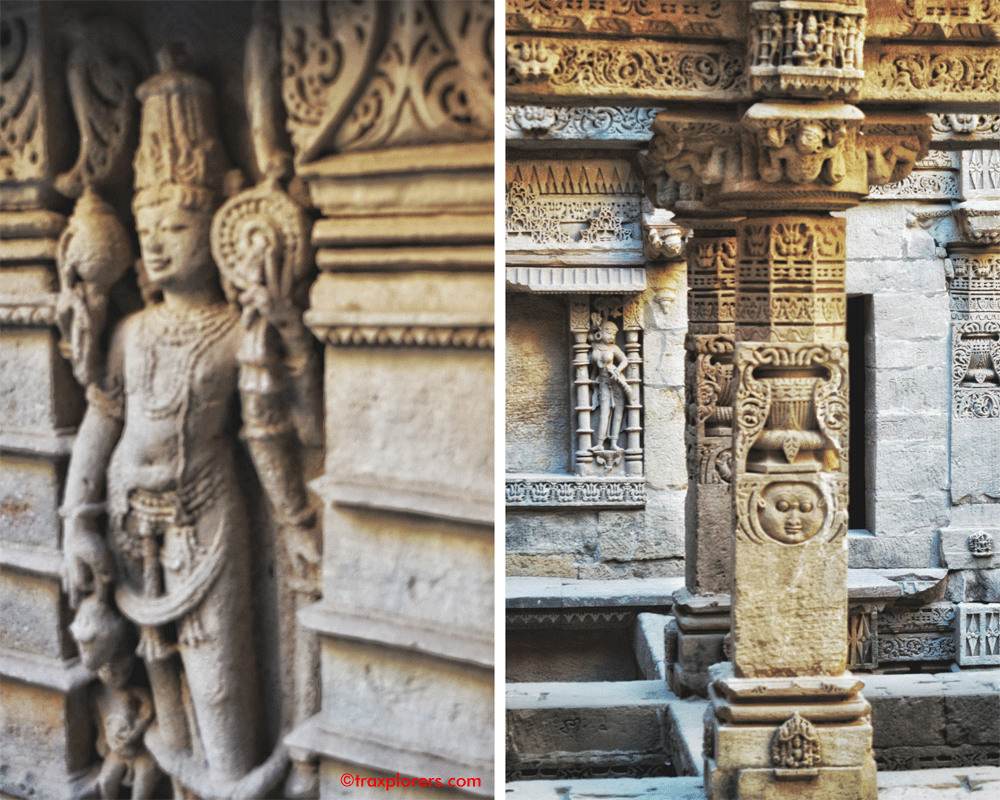 Traxplorers' Experience of the Heritage Site
We started our one day trip to visit Rani ki Vav at Patan region of Gujarat in the month of February 2019. As always, we travelled through our own car from Gandhinagar, Gujarat. It took around 2 hours for us to reach Rani ki Vav. After getting the entry tickets, we got to see a huge garden complex and were wondering about the stepwell. As we walked a bit forward through the garden then we got to see a huge rectangular shaped superb architecture in front of our eyes. We were simply amazed and stunned at the sight. As we stepped down, got to see marvelous sculptures all over around us. The sculptures are present along the walls and pillars. The well is deep down at the end which holds the absolute charm. We must say not to miss this historical place which is now world known UNESCO heritage.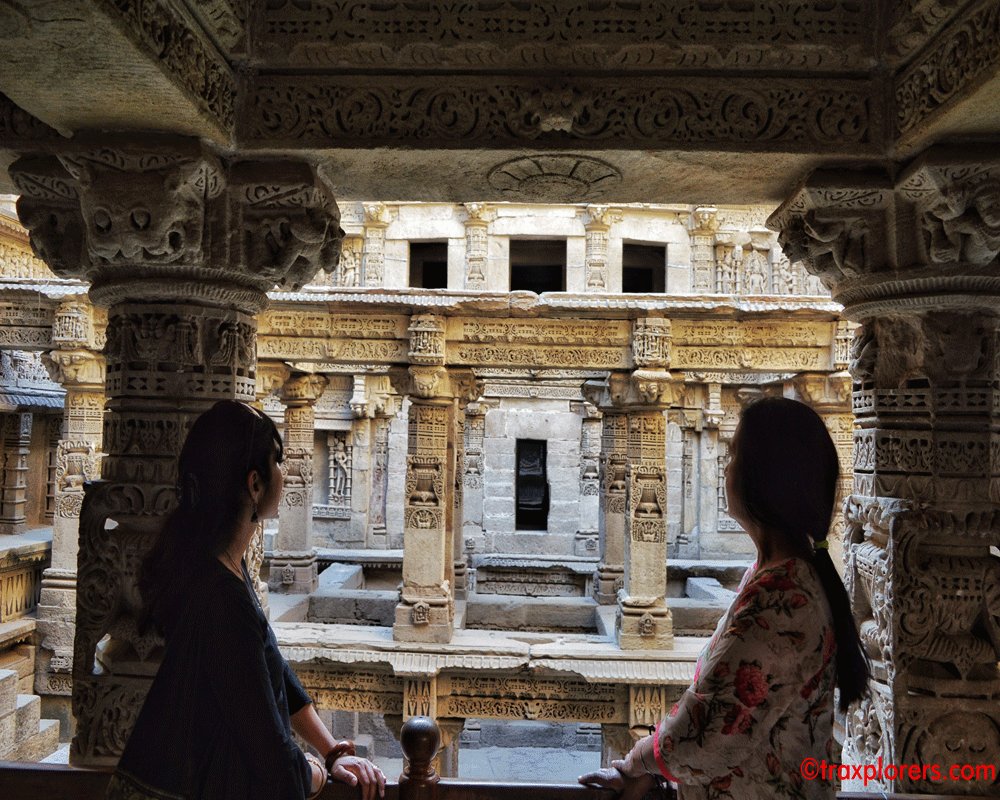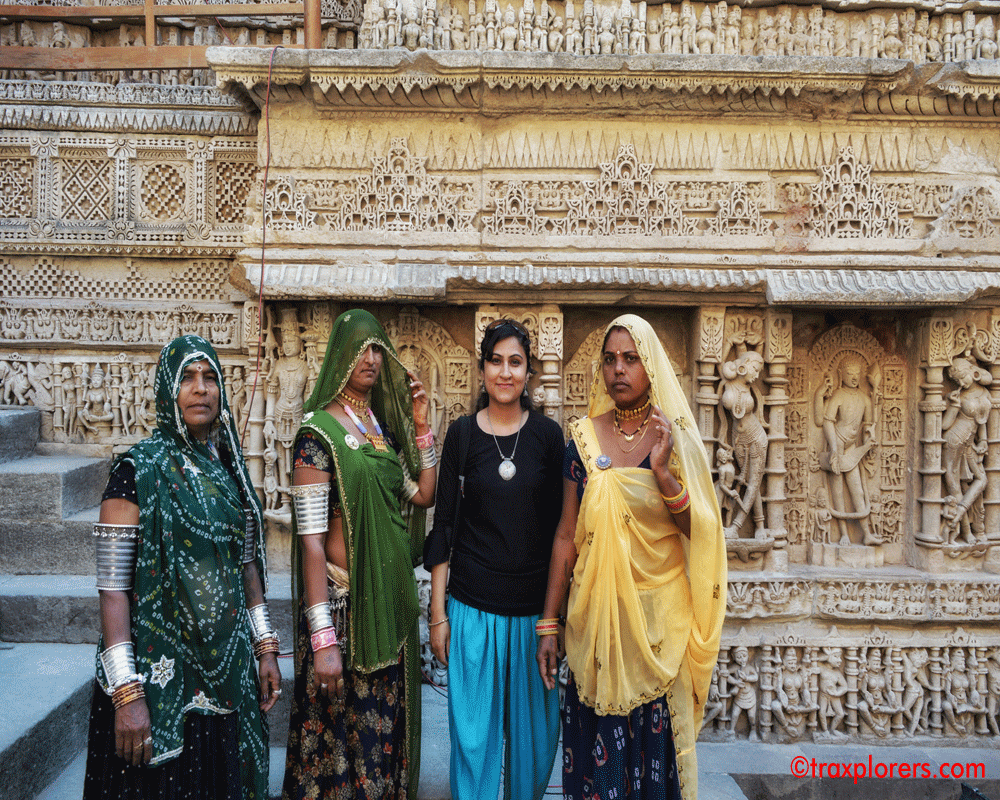 Things to know about the UNESCO World Heritage Site
Rani ki Vav features on banknote
Since July 2018, 100 INR banknote features Rani ki Vav on the rear side.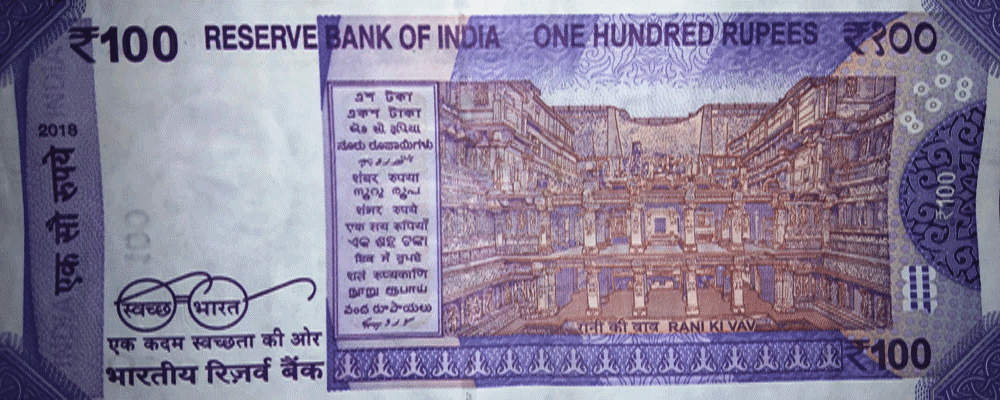 Rani ki Vav was named as Cleanest Iconic Place at 2016 Indian Sanitation Conference.
Like it? Pin it. We appreciate each and every share. Thanks! ♥️🙏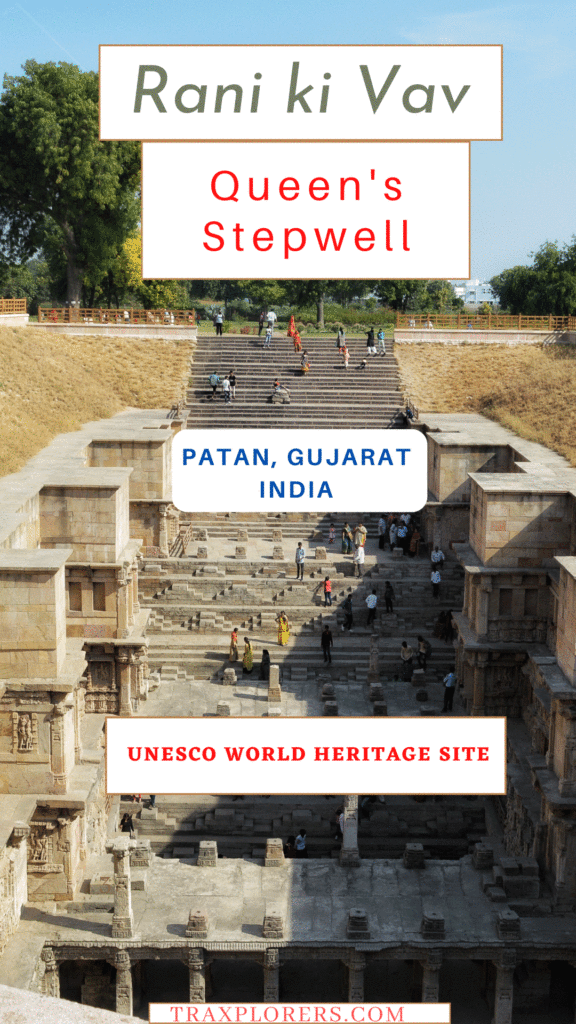 DISCLAIMER: Some links on this site contain affiliate links, meaning if you book or buy something through one of these links, we may earn a small commission (at no extra cost to you). Thank you for supporting this website.
Terms & Conditions: ©Unauthorized use and/or duplication of any material (text and/or images) without consent from this site's author and/or owner are strictly prohibited. Links and excerpts may be used provided that full credit is given to Traxplorers or Supriya Bhardwaj with specific and appropriate direction to the original content.