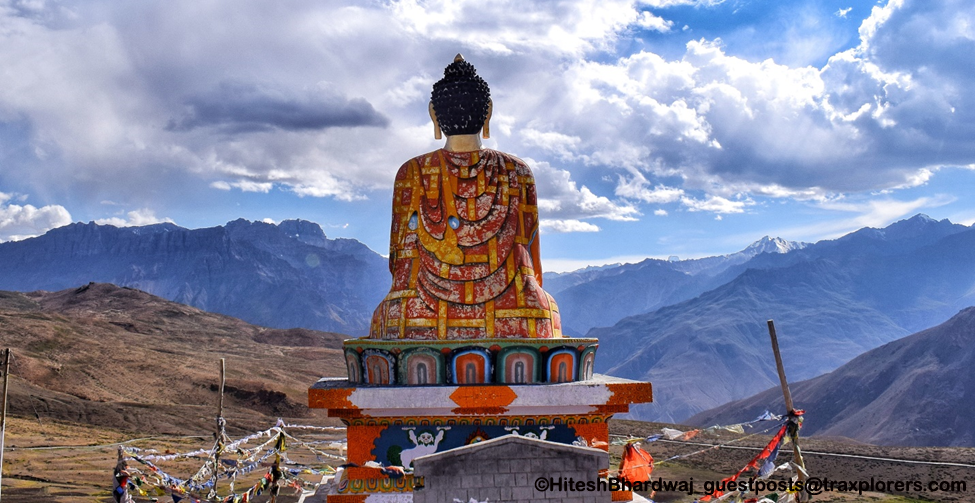 When the Himalayas call… Spiti Soul Searching!!
When the Himalayas call... Spiti Soul Searching!!
Pretext:
It all started with a phone call in the middle of the night. 'I am going to Spiti, he said and would be in Chandigarh waiting for you if you care to join. It has to be tomorrow evening, no delays.'

You see, one of my friends is married in the region and visits his family once every season. I remember expressing my innate desire to visit the valley once but could not join him a year ago due to work commitments.

Working five days a week in the corporate sector does not always allow you the opportunity to travel to far lands. However, not much had changed since last year except my desire becoming stronger. I was ready in an instant but could not figure out the logistics – I had just left for work (17 km from my apartment) and had to figure out a lot of things. Long story short, I took a sabbatical and left for Chandigarh.
The Journey Begins
Reaching the tri-city at almost 1 in the night, I was picked up at the Tribune Chowk in his brand new car. We drove towards Shimla and reached almost 5:30 AM. He ran some errands quickly and we left Shimla at around 6:30 AM.
The idea was to reach his wife's village before 9 PM and he told me we would not stop at all since we were already late (I wondered how could we not stop for 500 km.) Anyway, this is where the adventure began. For me, Shimla is not really a destination owing to the fact that I have lived there for over 3 years, finishing my Master's degree. It is beyond Shimla, that my stories begin.
For those who have not traveled through this region, it is quite interesting to note how the terrain, climate and even the flora changes along the way. For instance, Rampur is in the Shimla district, and is insanely hot (almost as Punjab), has Eucalyptus trees (unlike Deodars of Shimla region) and has dry winds blowing throughout it.
We did not make any stop for more than 10 minutes (except a stop of 30 minutes near Kalpa where the BRO was fixing the road) and were not allowed to take many photographs under the pretext of being late. The only ones I managed to take were from the moving car.
The Road:
When you cross Rampur and keep moving towards Spiti, there are several little towns that come along the way. Sarahan kind of marks the end of Shimla district and the beginning of 'Kinnaur' – the land of local deities (devtas). Most of these devtas are characters from the age-old Indian classic Mahabharata, with slight local adaptations. Kinnaur is way too gorgeous to be just crossed in hours and needs a week on its own to be described. I would cover the region in another post.
Upon reaching Jhakhri, I saw a massive concrete gravity dam called the 'Nathpa Jhakhri' project. The project apparently supplies 1500 MW of electricity to the country. A few miles along the road lays the 'Karchham-Wangtoo' project. It is heavily guarded by the Indian military and photography is strictly prohibited. You can take some along the road though.
Fair warning: Do not try to sneak in a photo or two inside the military base, you will be questioned.
It is around this area that the landscape drastically changes from lush green hills to little barren ones. This phenomenon marks the fact that you are slowly leaving Kinnaur and are about to enter the mesmerizing Spiti valley.
I had to force him to stop upon reaching 'Chulling'. The village had the most picturesque backdrop of mountains I had ever seen. A wide straight road heading into the mountains, and the clouds moving swiftly above them – I took a photograph and well, you're welcome!
For Good Photos need Good Camera
All other stops along the way offer a similar landscape but mostly dotted by BRO/Indian Army posts. Due to the Indo-China border being nearby, you can see a huge presence and movement of Indian forces along the way.
As soon as we crossed Pooh, the climate changed drastically. The winds were colder, although the terrain was more rough and dry. Some of the mountains look like giant piles of sand dumped on each other.
The deeper you venture into the valley, the more exciting it gets. Each hill, each ravine is different from the other. Some argue that it is exactly like Ladkah; however, I would beg to differ. Spiti has its own unique landscape and aura. Most of the way, rivers flow along the road we took and several metallic bridges spawn the land.
At nightfall, we reached Dhankhar (there's a famous Gompa here) and were well on our way to Kaza.
Kaza is the largest town in the region – the district headquarter where you would find all supplies, petrol, some of the only ATMs in the region, transport facilities etc. We made it to Kibber, a tiny village almost 20 km from Kaza.
We were so tired that fell asleep as soon as we reached his home.
My Itinerary
Day 1:
I woke up in the quaint little family-run guest house in the village, with a view of the fields. The sun shone across my bed and I forgot about a little headache I had since the night before (a common phenomenon in this region – you feel dizzy, light-headed or have a mild headache due to a low amount of oxygen in the air. It takes a day or two to be completely acclimatized).
I did not have any plans for the day, except my friend's little one's birthday and then I was just going to roam around. Tenzin is one of the cutest little things I have ever seen and we celebrated his birthday with a local organic, home-made cake, a picnic in the fields with the village kids and lots of folk songs.
After the celebrations, we headed to Chicham – another village across the river on which lies Asia's highest bridge. At 13,244 ft. from sea level, this bridge certainly leaves an impression on first-timers. If you are lucky enough, you might spot an Ibex nearby.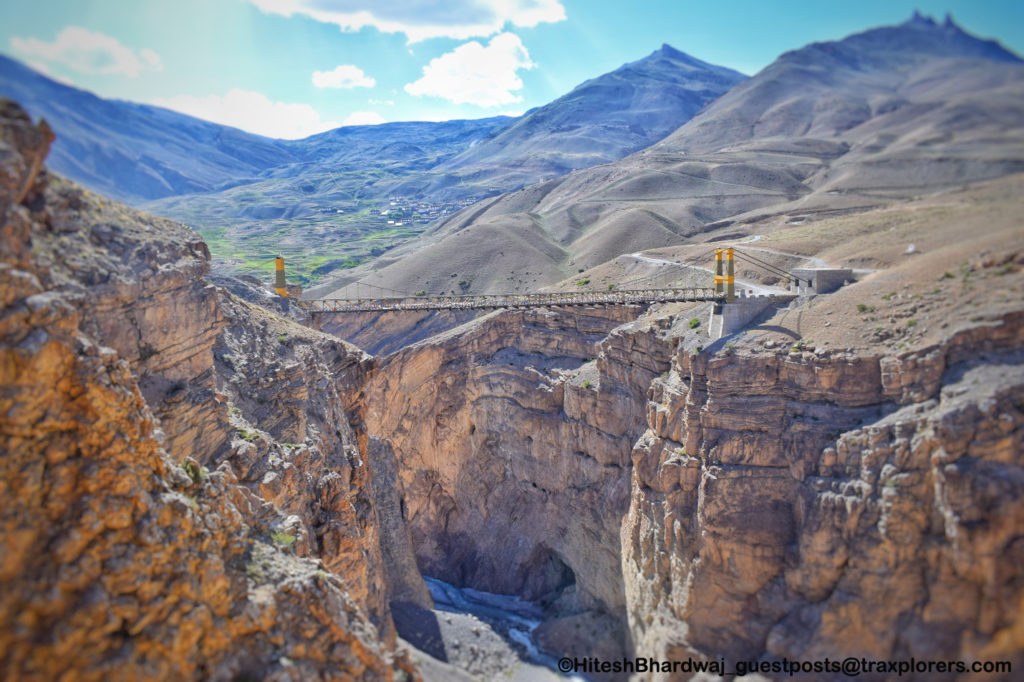 We returned home at nightfall. I was happy to sleep in another comfy home-stay this time – named after our little Tenzin. Kibber is a very small village where everyone knows each other and people are quite friendly.
Buddhism is the primary religion in the region and one finds influences like prayer flags, Stupas, Gompas, and Tibetan rosaries all around.
Interesting Fact: It is considered auspicious if someone gifts you the prayer flags, rather than you buying them for yourself.
Day 2:
My friend was primarily there with a new car to teach his wife how to drive. I would normally never accompany someone in such a boring and arduous task, but it becomes a whole new ballgame when you see someone almost bumping into a rock at 4000 meters above sea level. With our hands on the door and my friend's on the handbrake, we kept teaching his wife (one of the sweetest souls I've ever known) to drive. It felt like our lives were on the edge a lot of times while we made it to one of the most fascinating villages in the region – Langza.
Langza, also called the 'fossil village' of the Himalayas is a sight to behold. Here lies a magnificent statue of the Buddha overlooking the valley.
As soon as we parked to witness it in all its majesty, a local kid came up to me offering to sell me a fossil for 50 rupees. Quite a bargain I must say, but I passed.
On our way back to Kibber, we met two young cyclists moving up and waved at them. I would later narrate how this would prove the universe works in mysterious ways.
Our night ended with a delicious dinner along with the occasional nuts, locally grown.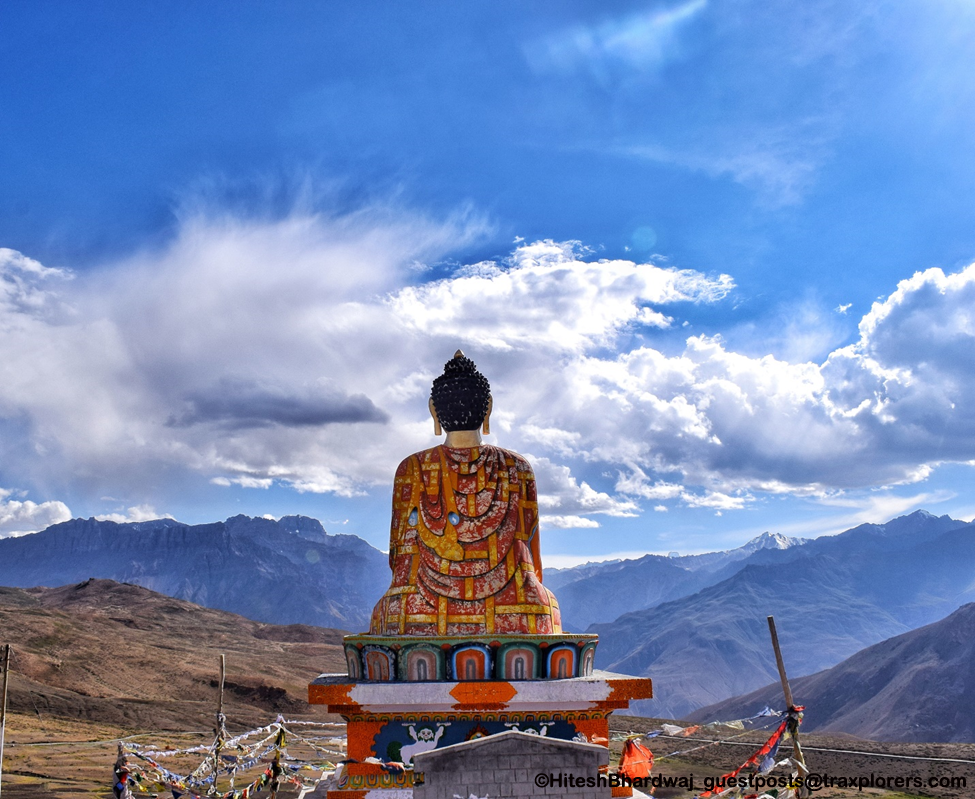 Day 3:
I got up early to visit the village on my own, taking a motorbike and my camera.
Caution: If you carry a drone to get aerial views, you might want to watch out for the army outposts. They do not really like drones around their areas!
After mid-day, my friends accompanied me to the Key Monastery (Key Gompa), a majestic construction dedicated to the monastic lifestyle. It is noteworthy that it is very haphazardly built – mostly due to the numerous invasions that kept happening. The view from the mountain above it is absolutely stunning. The Spiti river flows nearby, the fields near it are lush green and the rest of the terrain is absolutely barren, offering a sharp contrast.
One of the Lamas in charge there was a family friend and we were invited over for a cup of warm butter tea. On my way downstairs, I met some famous TV stars ready to set up and roll for their next episode.
Kaza is nearby, we stopped for some gas, cash, and dinner in a local restaurant. Also, I checked the schedule for buses to Manali and Shimla from the Kaza bus stop.
N.B – There are only a couple of buses leaving early morning and you might rather want to get a shared taxi (between 500-800 INR for Manali).
We spent the evening in Kaza, strolling in the markets, tasting local foods, and taking some photographs.
Word of advice – There is no point of buying souvenirs in the shops since most of them are shipped from New Delhi and are just overpriced since well, you're in Kaza!
We returned to Kibber in the night. The drive to Kibber is an adventure in itself, with the river flowing right next to you and sometimes, you might have to remove a little boulder from the road yourself to make way (a couple if you're lucky and are here in summers).
Word of wisdom - Nothing beats the thrill of trekking in Himalayas.
Day 4:
The next day I packed my backpack and went on a short solo hike near the Chicham village. The river below the river twists a hundred times before your eyes and the air is just so pure that you forget all worries. I literally sat down on the road and felt dizzy enough to lay just there.
My inner silence was broken by some crack-heads speeding towards the village and honking – signaling me to get off the road.

When they approached closer, asking me where am I headed, all I could think of while looking at them as if there is any place on earth where I could avoid humans.
Long story short, I cooked up a story about who I was and where I was headed and let them leave (It is never a good idea in these areas to tell total strangers who you are).
Noticing that there was not much movement on the road after that, I ventured a little deeper into the gorge for a good photo and found myself at the edge, with a steep 400 feet fall. I wish I had paragliding equipment and I would have met myself on the other side gladly.
After 2 hours of soul searching and mistaking random lookalike cars for my friends, I decided to take the road back to Kibber. The sunset made me wonder why do I even have to return to my corporate job. I could just grow peas here and sip water from the river all my life. I run out of words to describe the hues of the sun that evening.
Almost when it was completely about to set down and I was half-way through packing my cameras, I witnessed a little red fox crossing the road. Marveled by spotting an endangered wild creature in its natural habitat, I must admit my common sense did not stop me from stealthily following it through the fields into the ravine, just to get a good glimpse and probably a good photo.
But all my attempts of sneaking low into the maize fields and assembling the camera went into vain as soon as it spotted me and ran swiftly into the darkness.
As soon as I sat down in disappointment, I heard a lady's voice, shouting something in the local language. I waved towards her and she signaled me to come closer. I did and she asked me to help her lift up the haystack which I gladly did, in return for a photograph of course ;). While we both started to move uphill towards the village, she said she thought I was a local and hence asked me for help, to which I replied – I am a local everywhere!
'Around the nallah, that's where you'd find those little devils', she said.
Jump a day ahead and I was in my office in Gurgaon, wondering why I ever came back. I'd rather be looking at foxes and the night sky in Spiti.
Until next time, Himalayas…
Hitesh Bhardwaj is a blockchain enthusiast leading Website Content Management teams by day and writing by night. He loves coffee, country music and is passionate about digital marketing, social media analytics, and Ayurveda. He is featured on YouPic and volunteers for SciDex.
Follow on: Twitter / Instagram
Isn't it an interesting venture into Himalayas-Spiti Valley? Do share your thoughts/experience in the comment box below. Don't forget to share this post and subscribe to the blog for upcoming posts.
Pin the image below to read it later. Thanks! ♥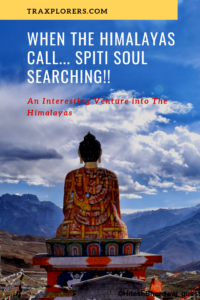 DISCLAIMER: Some links on this site contain affiliate links, meaning if you book or buy something through one of these links, we may earn a small commission (at no extra cost to you). Thank you for supporting this website.
Terms & Conditions: ©Unauthorized use and/or duplication of any material (text and/or images) without consent from this site's author and/or owner are strictly prohibited. Links and excerpts may be used provided that full credit is given to Traxplorers or Supriya Bhardwaj with specific and appropriate direction to the original content.

Tagged Asia highest bridge, Buddha statue, Chicham, Chulling, Dhankhar, fossil village, Gompas, Himachal Pradesh, Himalayas, Indo-China border, Jhakhri, Karchham Wangtoo, Kaza, Key Gompa, Key monastery, Kibber, Kinnaur, land of local deities, Langza, Langza Buddha, monastic lifestyle, Nathpa Jhakhri, Pooh, Spiti Valley, Stupas, Tibetan rosaries