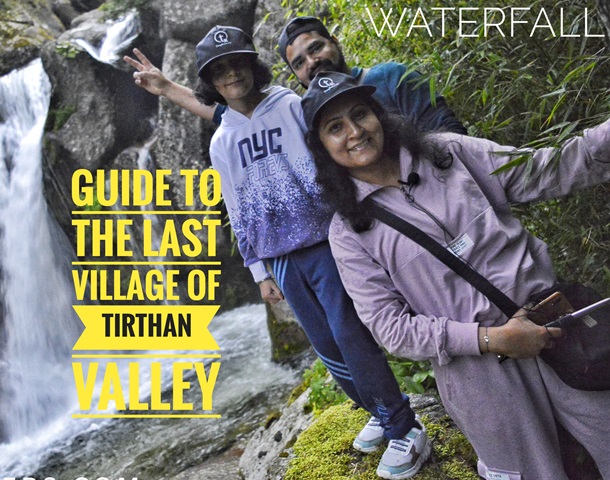 Unveiling Tirthan Valley's Best Kept Secret: The Ultimate Guide to Explore a Hidden Gem
Tirthan Valley
Tirthan Valley, nestled in the Kullu district of Himachal Pradesh, India, captivates with its enchanting natural beauty. Named after the Tirthan River, it is a part of the Great Himalayan National Park (GHNP), a UNESCO World Heritage Site. This serene paradise offers stunning views of snow-capped mountains, lush forests, and pristine river streams. Adventure seekers can relish trekking, hiking, and fishing while exploring the diverse flora and fauna. Serolsar Lake and Jalori Pass nearby add to its allure. Emphasizing eco-tourism, the valley provide a glimpse of local Himachali culture and traditions. Tirthan Valley remains an idyllic retreat for those seeking solace amidst the awe-inspiring Himalayan landscape. It includes a hidden gem like Falachan Valley, a relatively less known or less explored part of the Tirthan Valley, offering a more secluded and offbeat experience for travelers.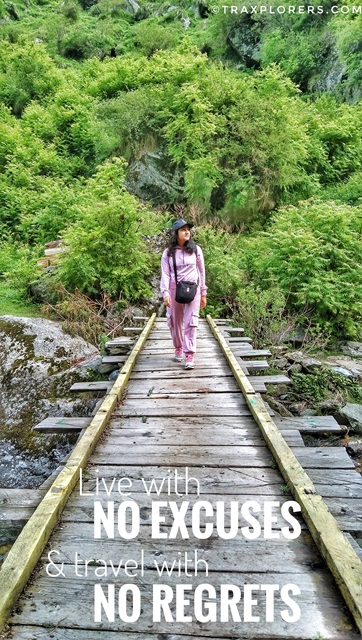 Tirthan River
The Tirthan River originates from the glaciers near the Tirthan peak in the Great Himalayan National Park in Himachal Pradesh, India. It begins its journey from the higher reaches of the Himalayas and flows through the picturesque Tirthan Valley, passing through various villages, before eventually joining the Beas River. These villages are scattered along the banks of the Tirthan River, creating a picturesque landscape of lush greenery and traditional Himachali settlements.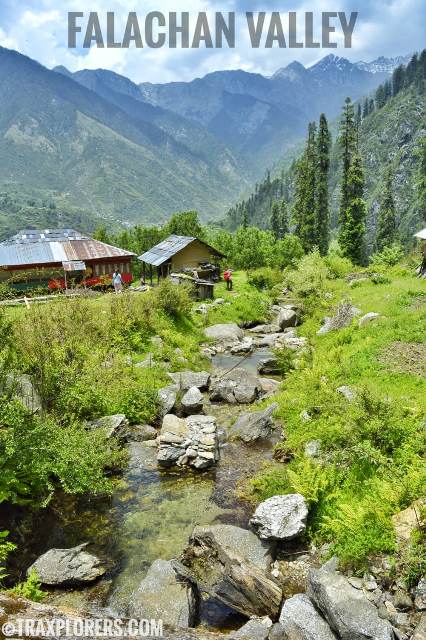 The Hidden Paradise- Falachan Valley
Falachan Valley is a relatively new or less popular local name given to a valley within the Tirthan Valley. It is characterized by lush forests, scenic landscapes, and presence of the Falachan River (extended to Tirthan River), adding to its natural charm. Falachan River flowing through Falachan Valley is the name used locally for a stream or river in the region, not a well-known or widely recognized name beyond the local communities.
The Last Village of Tirthan Valley
Ghalingcha village is a picturesque hamlet located in the Tirthan Valley, more precisely 'Falachan Valley'. Here, the landscape becomes more remote and rugged. Beyond Ghalingcha, the terrain becomes less accessible, and the region transforms into a pristine wilderness, characteristic of the Great Himalayan National Park. It serves as the last settlement for trekkers and adventurers heading into the national park for more challenging and remote treks like 'Shrikhand Mahadev'.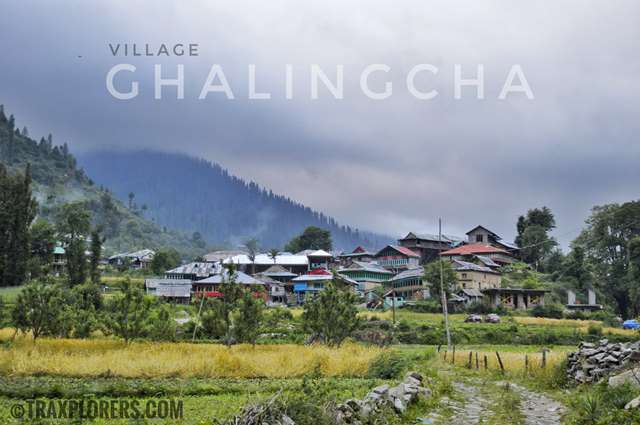 Key features of Ghalingcha village:
Scenic Beauty: Ghalingcha village is surrounded by breathtaking natural beauty, with mountains, dense forests, and the Tirthan River flowing nearby. The landscape is ideal for nature walks and exploration.
Trekking Base: The village serves as a base for trekkers and adventure enthusiasts looking to explore the Great Himalayan National Park. There are various trekking routes that start from Ghalingcha and lead to remote and scenic locations within the park.
Local Culture: Ghalingcha offers a glimpse into the traditional Himachali lifestyle and culture. Visitors can interact with friendly locals, experience the local way of life, customs, and cuisine, making it a culturally enriching experience.
Tranquility: Being a lesser-known destination, Ghalingcha provides a tranquil and offbeat experience away from the bustling tourist crowds, making it an ideal place for those seeking peace and solitude.
Eco-Tourism: It emphasis on eco-tourism and sustainable practices. Many accommodations are emerging in the area which are eco-friendly and offer a chance to experience local culture and traditions.
Wildlife: The Great Himalayan National Park is home to a wide variety of wildlife, including the elusive snow leopard, Himalayan black bear, musk deer, and numerous bird species. It provides an excellent opportunity for wildlife enthusiasts and bird watchers.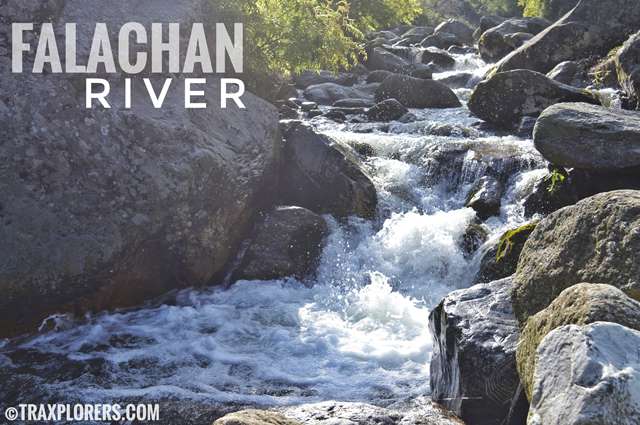 How to Reach Tirthan Valley
By Air: The nearest airport to Tirthan Valley is Bhuntar Airport (Kullu-Manali Airport), located about 50 kilometers away. From the airport, you can hire a taxi or take a local bus to reach Tirthan Valley.
By Train: The nearest major railway station is Joginder Nagar Railway Station, approximately 100 kilometers from Tirthan Valley. From the railway station, you can hire a taxi or take a bus to reach the valley.
By Road: Tirthan Valley is well-connected by road. You can reach the valley by hiring a taxi or driving yourself. Here are some common routes:
From Delhi: Delhi - Chandigarh - Bilaspur - Mandi - Aut - Banjar - Tirthan Valley
From Manali: Manali - Aut - Banjar - Tirthan Valley
From Shimla: Shimla - Narkanda - Rampur - Aut - Banjar - Tirthan Valley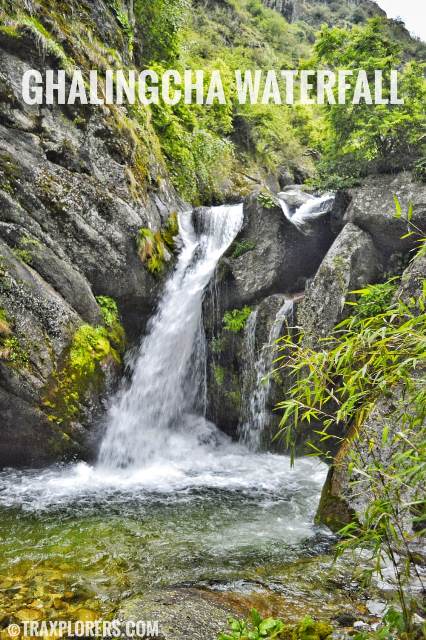 To reach the Last Village of Tirthan Valley, Ghalingcha Village:
First, reach 'Gushaini village' either by your own car or by hiring a taxi.
From Gushaini, Ghalingcha village is 15 km away. There is also another village called 'Bathad' on the way, which you can reach by road.
After Bathad, the final 5 km stretch to Ghalingcha village is offroad.
Please note: The road conditions in the mountains can be challenging, especially during the monsoon and winter seasons. It's advisable to check weather and road conditions before your trip.
Best Time to Visit Tirthan Valley
Summer (April to June): This is the most popular time to visit Tirthan Valley. The weather is pleasant with temperatures ranging from 15°C to 25°C during the day, making it ideal for outdoor activities like trekking, fishing, and nature walks. The nights can be slightly cooler, but it's generally comfortable. This season is perfect for those who want to escape the scorching heat of the plains.
Autumn (October to November): This is another excellent time for sightseeing, photography, and outdoor activities. The weather is generally stable during this season. The landscapes retain their greenery. The skies are generally clear, and the temperatures remain cool and pleasant.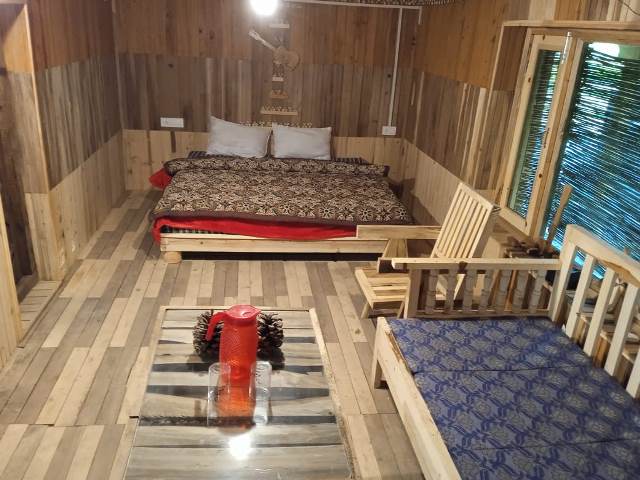 Where to Stay in Tirthan Valley
Tirthan Valley offers a range of accommodation options to suit various preferences and budgets. Here are some popular places to stay in Tirthan Valley:
Guest houses and Homestays: Tirthan Valley is known for its warm hospitality, and staying in guest houses or homestays is popular choice. You would get a chance to experience the local culture, interact with the locals, and enjoy home-cooked meals. Many guest houses and homestays are located close to the Tirthan River, offering stunning views and a serene atmosphere.
Riverside Camps: If you prefer a more adventurous experience, you can stay in riverside camps. These camps are usually set up near the Tirthan River and offer a unique opportunity to sleep close to nature. Camping can be a wonderful option during the summer and autumn months.
Resorts and Lodges: There are few resorts and lodges in and around Tirthan Valley that provide comfortable accommodation and modern amenities. These options are suitable for travelers who prefer a more luxurious and comfortable stay amidst nature.
Budget Hotels and Cottages: You can find some budget-friendly hotels and cottages in Tirthan Valley that provide basic amenities and a comfortable stay without making hole in your pocket.
Great Himalayan National Park (GHNP) Eco Huts: If you are interested to explore the Great Himalayan National Park, you can stay in the GHNP Eco Huts. These huts are located within the national park and offer a unique experience for nature enthusiasts.
Popular villages and areas to consider for accommodation in Tirthan Valley include Gushaini, Nagini, Banjar, and Jibhi. These places have good selection of accommodation options and are well-connected to nearby attractions.
Please note: It is advisable to book your accommodation in advance, especially during the peak tourist season, to ensure you get the desired place to stay.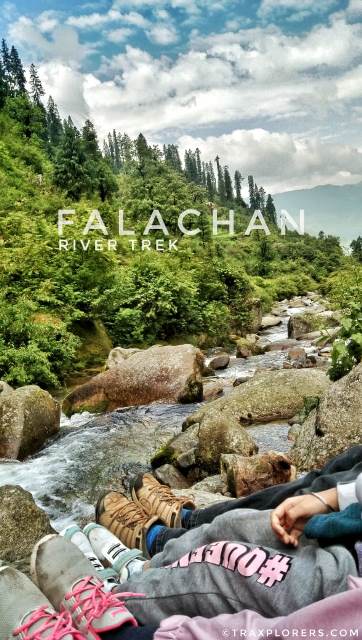 Do's & Don'ts
It is always a good idea to plan your trip in advance, book accommodations, and check for any local restrictions or permits required for travel to the region.
Always check online reviews and ratings to gauge the quality and service of the accommodation before making a reservation.
Always respect Nature and don't litter anywhere.
Be a responsible traveller and always seek guidance of locals to explore the region well.
How to explore Ghalingcha Village?
Liked the article? Show some love by sharing it to others. To save & read later, pin the image below. You may like to comment about the article, do it please. Thanks!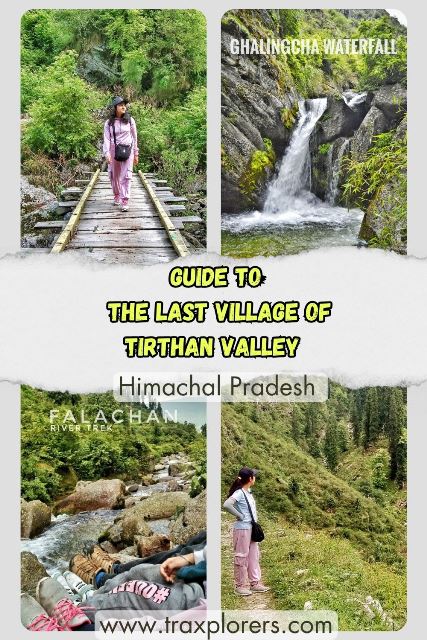 Tagged Bagori Meadows trek, Best time to visit, Eco-Tourism, Falachan River Hike, Falachan Valley, Family travel, Ghalingcha Village, Ghalingcha waterfall, GHNP, Great Himalayan National Park, Hidden Gem, hiking, Himachal Pradesh, Homestay, How to reach, India Travel, Local cuisine, offroad drive, Rivers, Rivulets, Road Trip, Tirthan Valley, trekking, UNESCO World Heritage Site, village tour, Waterfalls, where to stay, wildlife