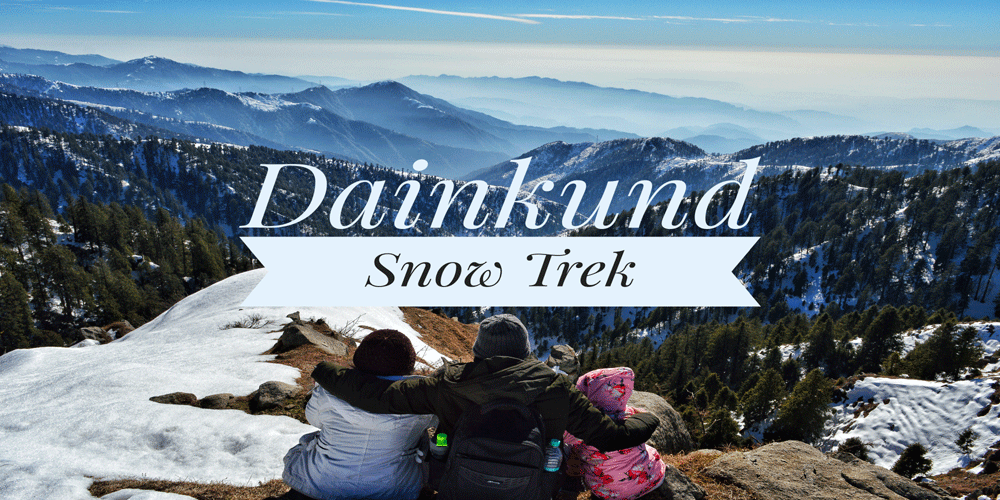 How to do trekking & camping with a kid: Dainkund Snow Trek
Family Trekking & Camping in Himachal Pradesh (North India)
Are you interested in outdoor adventure along with fun activities at Dainkund trek? But hesitate as you can't plan with family including a small kid? Then you are at right place. This post may motivate you to plan your trip right now. In this post, we bring our own first-hand experience of Dainkund snow trekking and camping in Dalhousie, Himachal Pradesh with family. Hope you will get to know what you are looking for and get ready for your own outdoor adventure along with your beautiful family including small kid(s). If you are looking for extracting more on a day trip then must read our experience of Dalhousie-Chamba-Khajjiar. Don't miss to read our other travel experiences from Himachal Pradesh. Never miss out the fun you could have with your family and build memories for lifetime.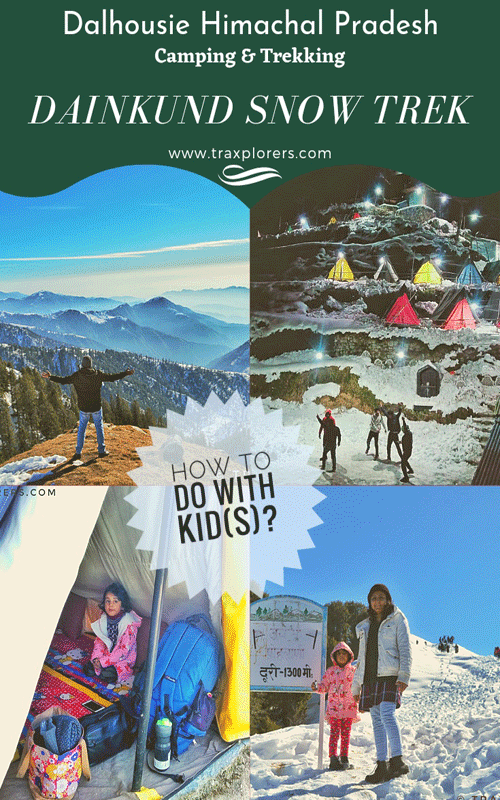 Dainkund Trek- Dalhousie, Himachal Pradesh
Dalhousie in itself is beautiful place of Himachal Pradesh that attracts many visitors. The Dainkund Peak is one of the most visited places in Dalhousie. It is the highest peak in Dalhousie and is located at an altitude of 2755 meters above sea level. It provides 360 degree of the whole valley and mesmerizing view of trees and tranquil mountain ranges from its top.
View this post on Instagram
Dainkund Facts
Dainkund is popularly known as "Singing Hills" as the noise of breeze passing through trees creates a musical sound here.
There are folklores that witches used to live in these valleys during old days and local villagers were afraid of them. However, these are just myths, no evidence of those witches has been found till date. At the top, you will find Pholani Mata Temple, which is believed to protect villagers from witches. That is how Dainkund got its name.
Dainkund trek is quite easy trek. It is is about 1.5 km steep to the top and the total distance is 5 km from the Lakkadmandi. The trail begins near Air Force Base. Up to Air Force Base, one can drive from Dalhousie town.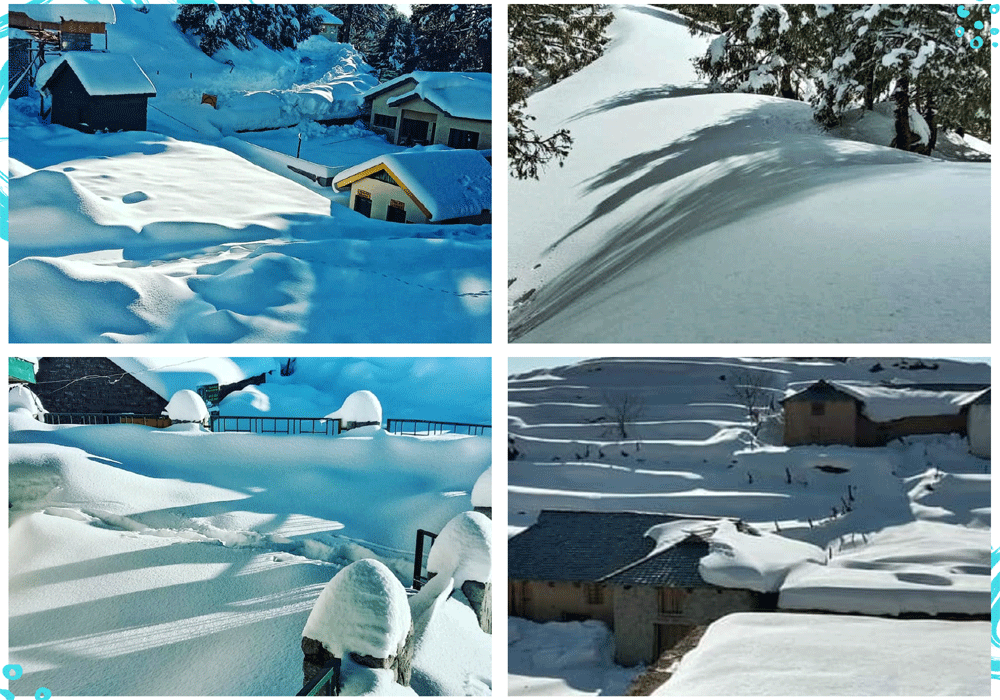 Best time to visit Dainkund Peak
The best time to visit this beautiful and wonderful destination of Himachal is in winter, when the mountains are covered with snow and there are refreshing trees all around. So, it is the best time for snow trekking at Dainkund Peak.
Camping at local set up
This time we had selected a local camping set up at Dalhousie. Through deep research and contacting local people of Dalhousie, we decided to do camping at Himalayan Campaign site in Dalhousie. The camping site is at 5-6 km distance from Dalhousie bus stop, just near Panjpulla waterfall. One can locate it easily on the Google maps.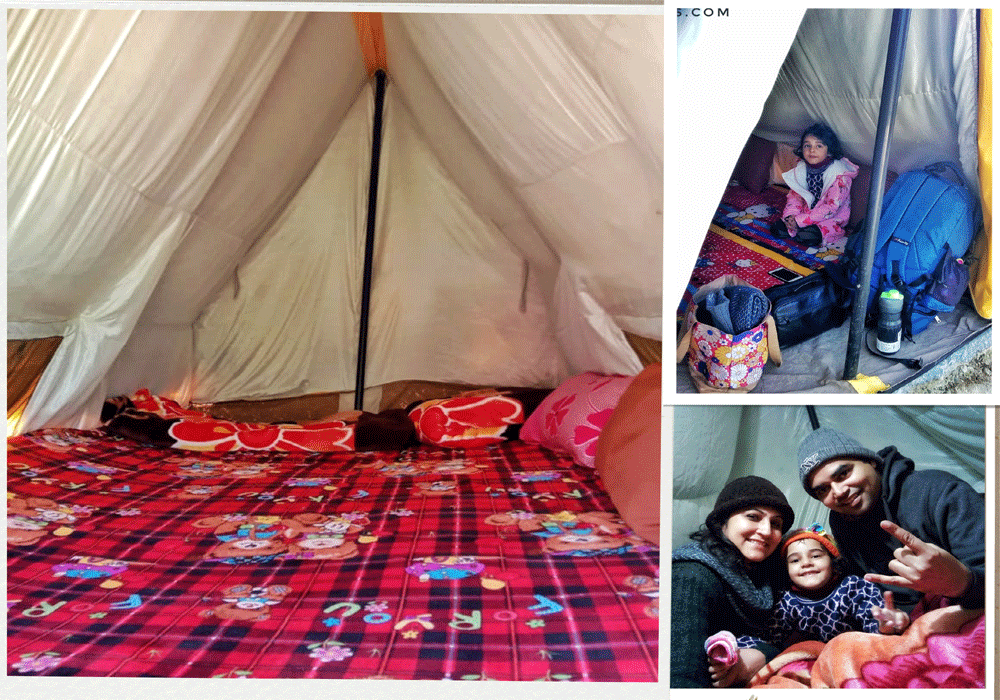 Picturesque Village View in Snow
After a 3 hours of drive, we reached at the parking site, mesmerized by the view of village in front of our eyes. Without wasting our time, checked in and kept our belongings into the tent (had pre-booked our spot). We left to wander freely into the village area and saw stone steps going uphill towards a village, as usual we were tempted to explore a bit. On the way got company of two local girls who had just arrived from their school. Talked to them and got to know that they live at the village. After reaching at top, got spectacular view of village houses covered in the beautiful snow. We found PEACE up there. How calm and peaceful sight it was! Obviously, we spent our time there admiring the beauty of nature and few beautiful people offered us the tea. After sharing few words without getting late, we started downhill and reached our camping site and witness beautiful sunset in the hills.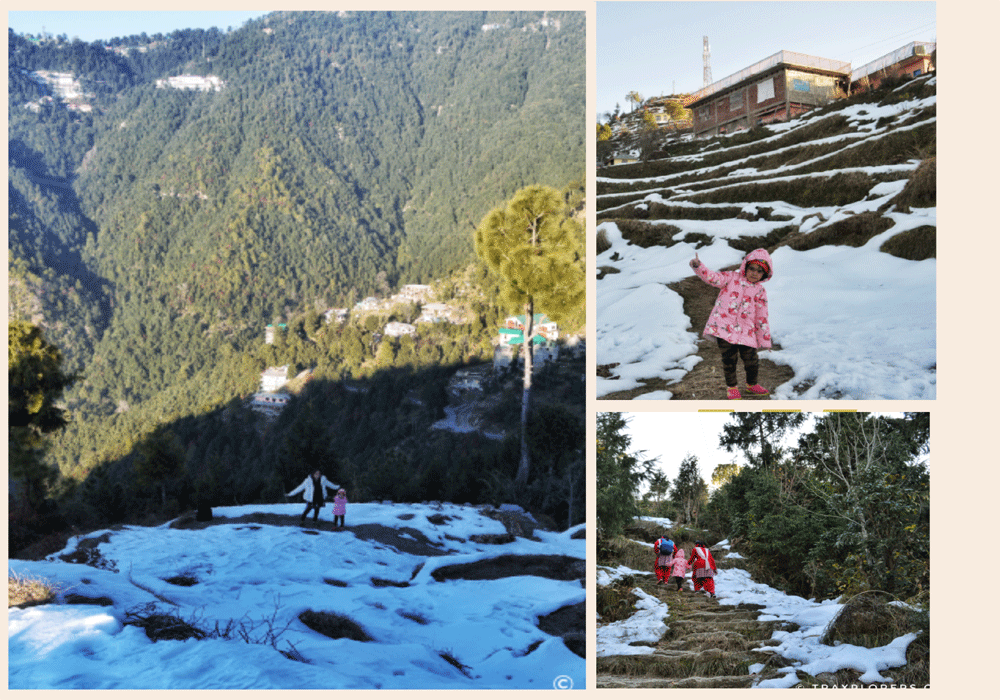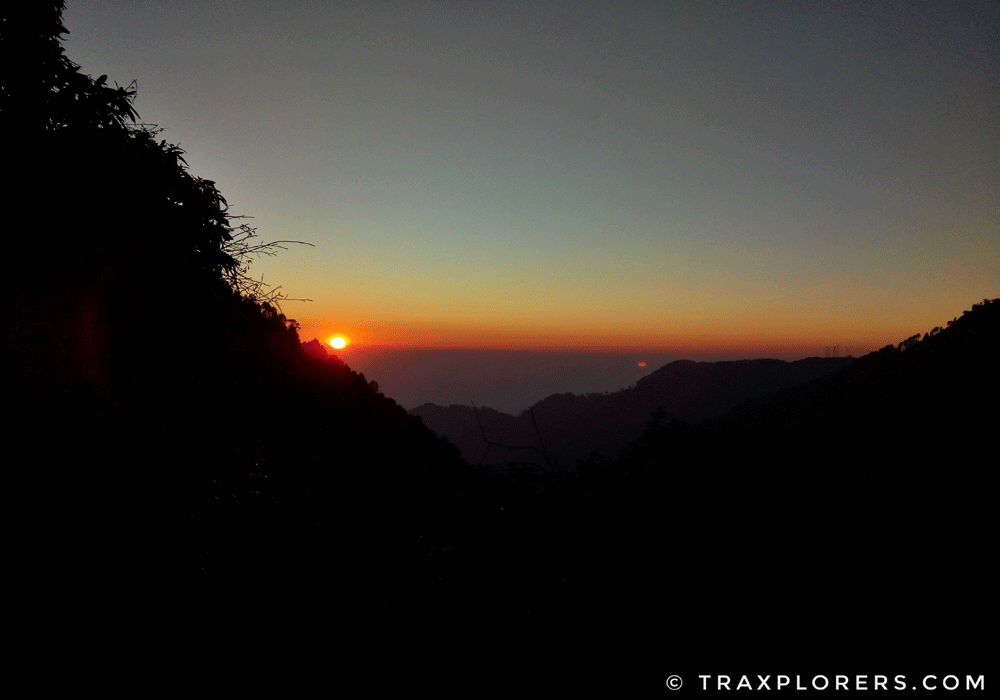 Dinner & Bonfire with music
Himalayan Campaign provided a huge room size tent with bedding. Washroom and bathroom provided with a convenience of hot water facility. In the offered package, they provided us breakfast & dinner along with bonfire camping & music. They have a separate kitchen where they cook food and dining area for guests.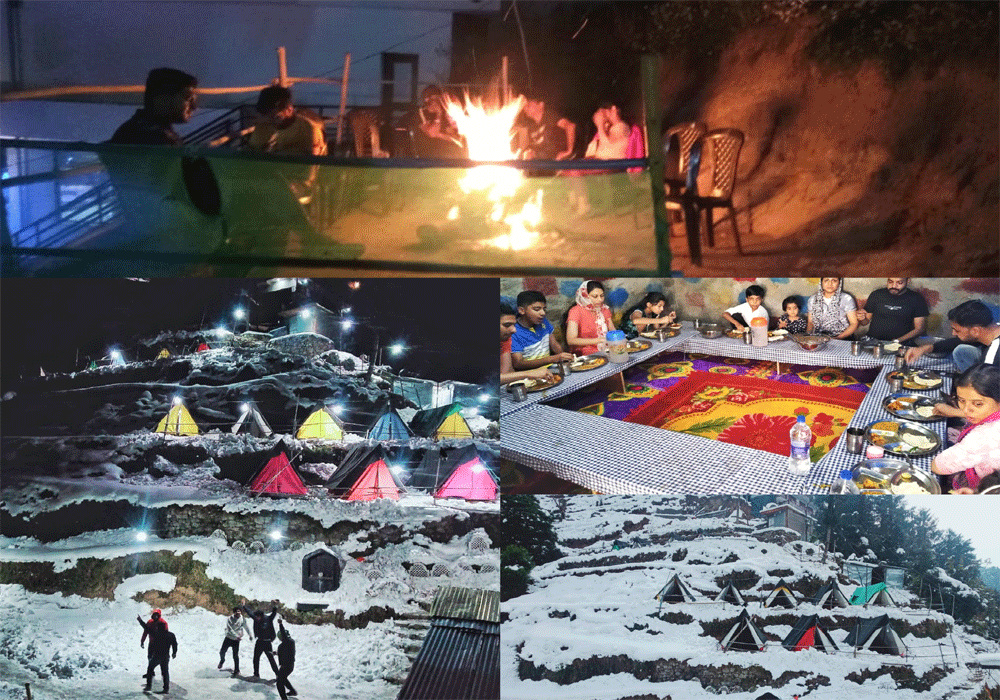 Trekking with local guide
Mr. Vivek kumar – Our Trekking guide, is a certified trekking guide from Government of Himachal Pradesh. We did trekking to Dainkund with our 5 years old kid and it is absolutely safe trek to cover with family. You just need to pick a good guide for the trek.
Check Dalhousie trekking & camping guide Mr. Vivek Kumar's Instagram profile.
Contact: +91 9882709691
Dainkund Snow Trek
The trek started in the morning at around 10 AM from Lakkadmandi, Dalhousie. Our guide managed to provide us gumshoe from a nearby shop which is essential for snowy trek. We had necessary clothes to cover ourselves and carried sufficient drinking water for the trek. Around 4 Km of the trek was on snow covered road with plain path but surely slippery one. The whole trek provided us snow covered hills all around us. The sun rays falling on snow made the view more enchanting. After that came a steep trek of around 1.5 km. Those hill inclinations lead us to the top of Dainkund Peak. The view from top was majestic.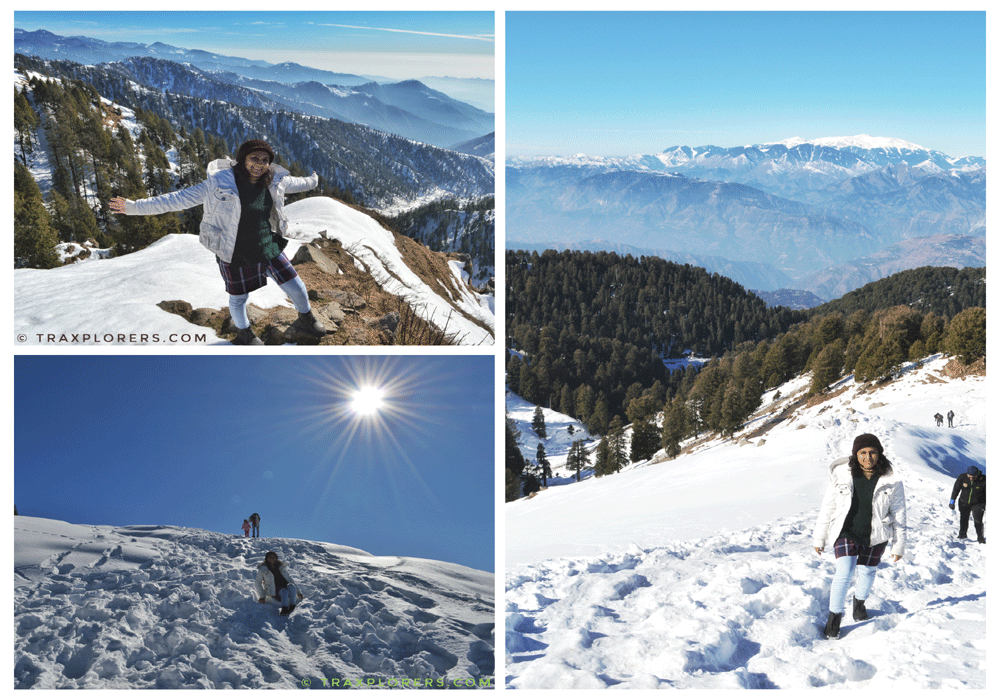 It was wonderful to get 360 degree view from the top. It was the top, from where we get to see view of another beautiful place Khajjiar, also known as mini Switzerland of India. After spending a memorable moments at the top we started our downward trek and in between our guide managed to get a jeep service which took us back to our starting point i.e. Lakkadmandi.
Extra perk: On the way towards starting point of Dainkund trek, we have witnessed a huge Ranjit Sagar Dam. There is a view point downstream side. The view captured in our camera was worth a shot.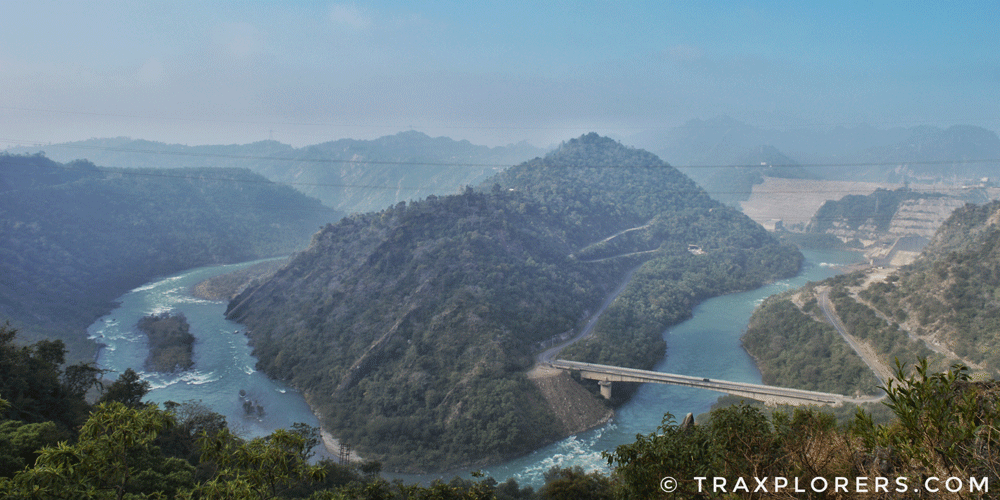 Best point for photography
The best point for photography on Dainkund Snow trek is at the top of Dainkund Peak. Never miss it out.
Note: Drone shot is strictly prohibited due to Air Force base station.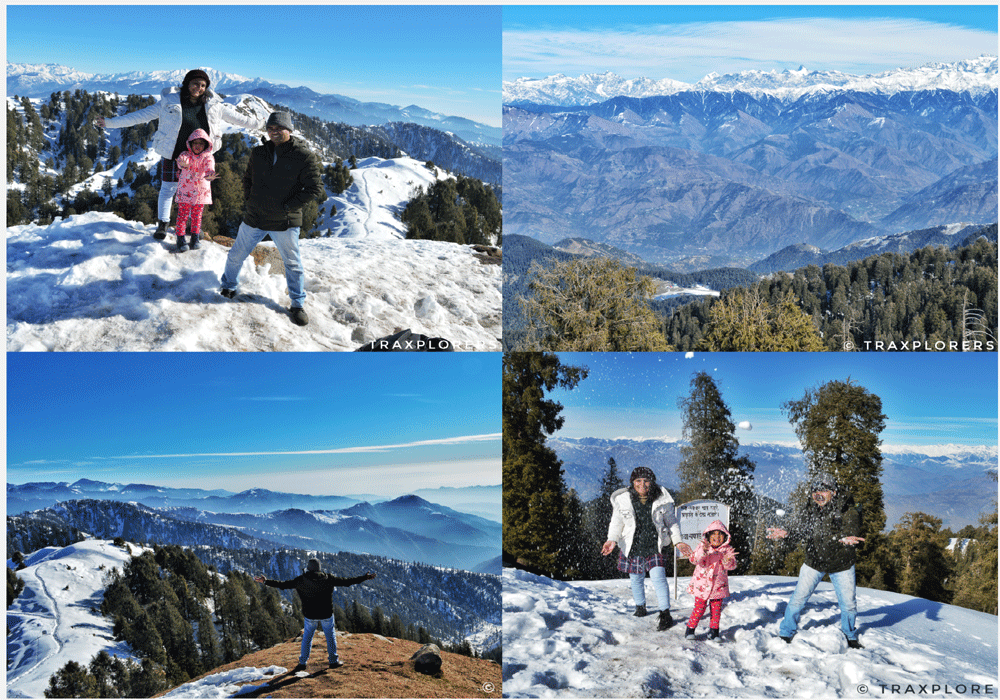 Traxplorers' Experience
It was an amazing experience to trek to the snow covered Dainkund Peak with Karen. The terrain is not very difficult; Karen (5 years) did climb. The peak gives mesmerizing views of snow-capped mountains. The sun shining through the snow covered peaks provided spectacular view. We tried our best to capture the most of it as much we could with our DSLR and GoPro. We had thought of taking drone shot but got to know it was strictly prohibited due to Air Force Base Station.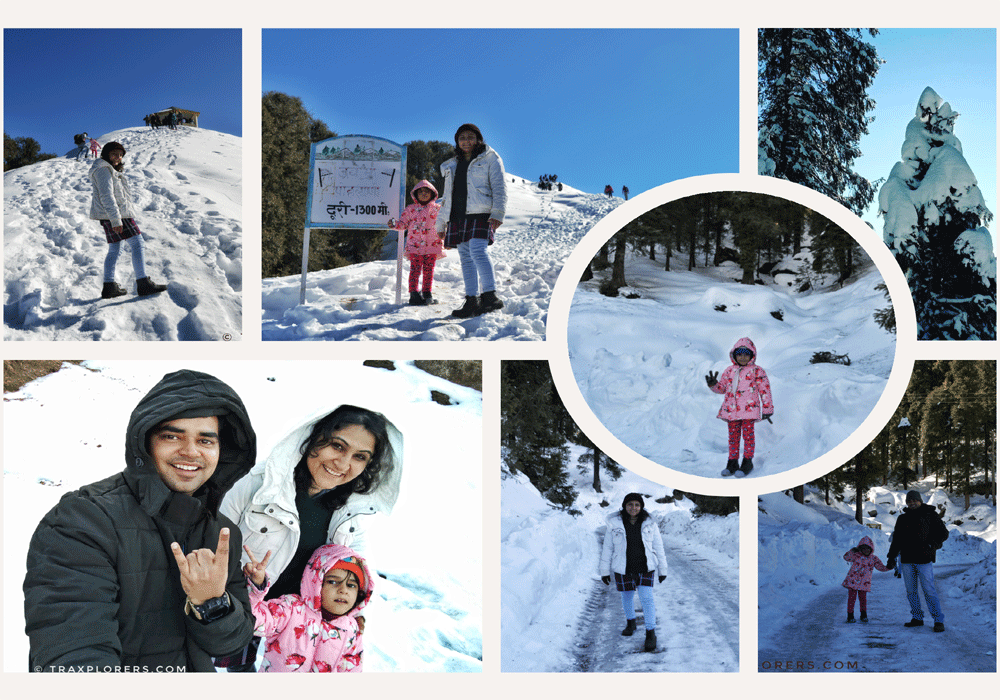 Lastly, wanted to mention, there was no kid found on this trek except our Karen. A bunch of guys approached us and urged to get a picture with Karen and admired her stamina to climb up to the top. This way Karen had got many fans who were excited to get photographed with her 😃 and we were like proud parents 🤗
Our guide was quite helpful and guided us well throughout the trek. We loved our stay at the Himalayan Campaign with bonfire.
View this post on Instagram
Things to keep in mind:
Carry enough warm clothes with you. It is quite chilly weather at evening.
Carry enough drinking water before embarking.
Carry essential toiletry.
Trek is quite safe and easy for kids (above 5 years). Feel confident to venture with a local guide.
Hope you liked this article. If anyway it has helped you to think over/ plan to go for the trek with family then please like & share it among your friends also. We appreciate each and every share. Pin it to save and read later. Thanks ❤️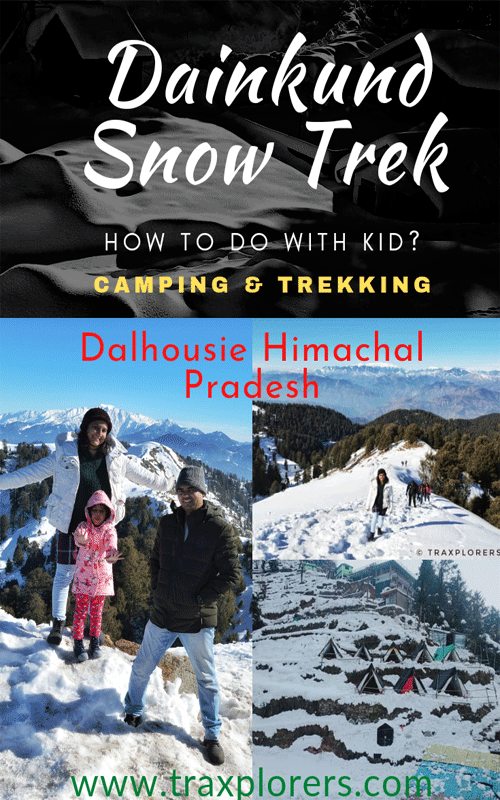 DISCLAIMER: Some links on this site contain affiliate links, meaning if you book or buy something through one of these links, we may earn a small commission (at no extra cost to you). Thank you for supporting this website.
Terms & Conditions: ©Unauthorized use and/or duplication of any material (text and/or images) without consent from this site's author and/or owner are strictly prohibited. Links and excerpts may be used provided that full credit is given to Traxplorers or Supriya Bhardwaj with specific and appropriate direction to the original content.