City of Pearls: Hyderabad
A trip to Remember in City of Pearls: Hyderabad
Location:
Hyderabad is situated in southern part of Telangana in south-eastern India. It lies on the banks of the Musi River, in the northern part of the Deccan Plateau. Hyderabad is the capital of Telangana as well as Andhra Pradesh's de jure capital.
Culture:
The culture of Hyderabad is also known as "Hyderabadi Tehzeeb" is the traditional cultural lifestyle of "Hyderabadi Muslims". It characterizes distinct cultural and linguistic traditions of North and South India.
Famous Architecture:
Hyderabad tour means the must-visit Charminar ("Four Minarets"), a monument and mosque. This landmark is the global icon of Hyderabad and is listed among the most recognized structures of India. It is a historical place with a mosque at its top.
Famous Cuisine:
Hyderabadi Biryani
What can I buy?
Hyderabadi Pearls- a must buy in the Pearl City of India.
Colorful Lac Bangles- a perfect Hyderabadi Souvenir
How did we get to Hyderabad?
This trip was actually the part of a scientific meeting held in September 2016. I and my colleagues were pursuing the doctorate degree in Dermatology and were invited to a Pigmentary Workshop to demonstrate the application of 'Human Skin Cell Suspension'.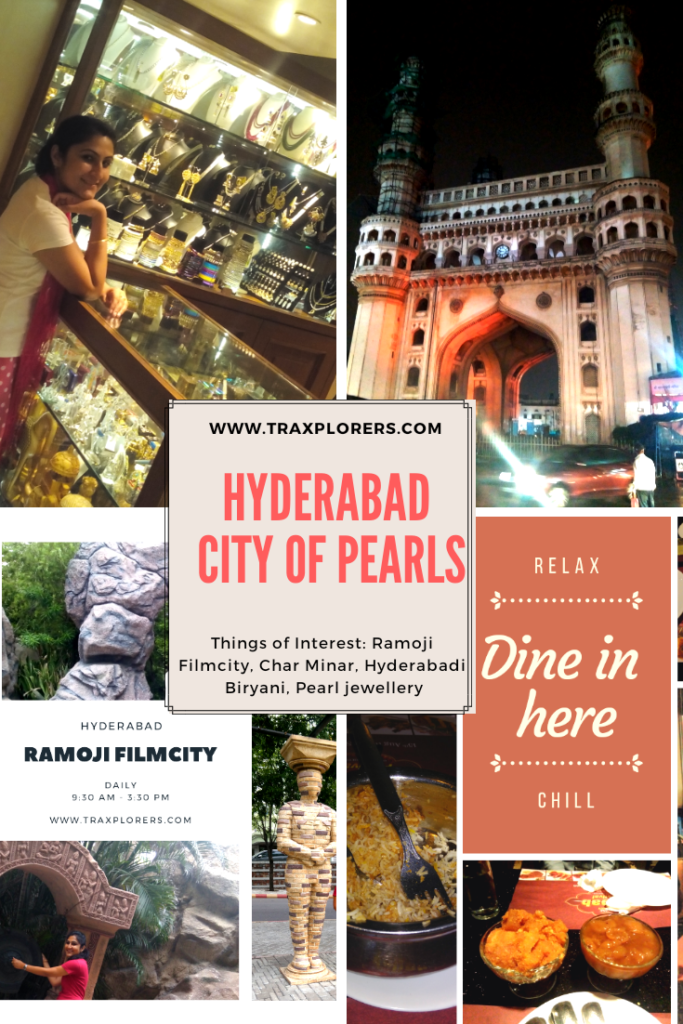 Day 1: 08/09/2016
Chandigarh to Hyderabad
Travel Partners:
1) Dr. M. Sendhil Kumaran
2) Ms. Seema Sheokand
3) Ms. Niharika Srivastava
We headed to Hyderabad from Chandigarh Airport to Hyderabad (Telangana) Airport at 11:45 AM. We had a connecting flight with a 30 minutes halt at Mumbai Airport. We reached Hyderabad at around 4 PM. Rajiv Gandhi International Airport is huge and beautiful. It is located in Shamshabad at 24 km south of Hyderabad. It is the only airport in the city and takes care of domestic operations as well. We waited inside Airport for our pick up service to hotel Sitara, our destination at Ramoji Film City.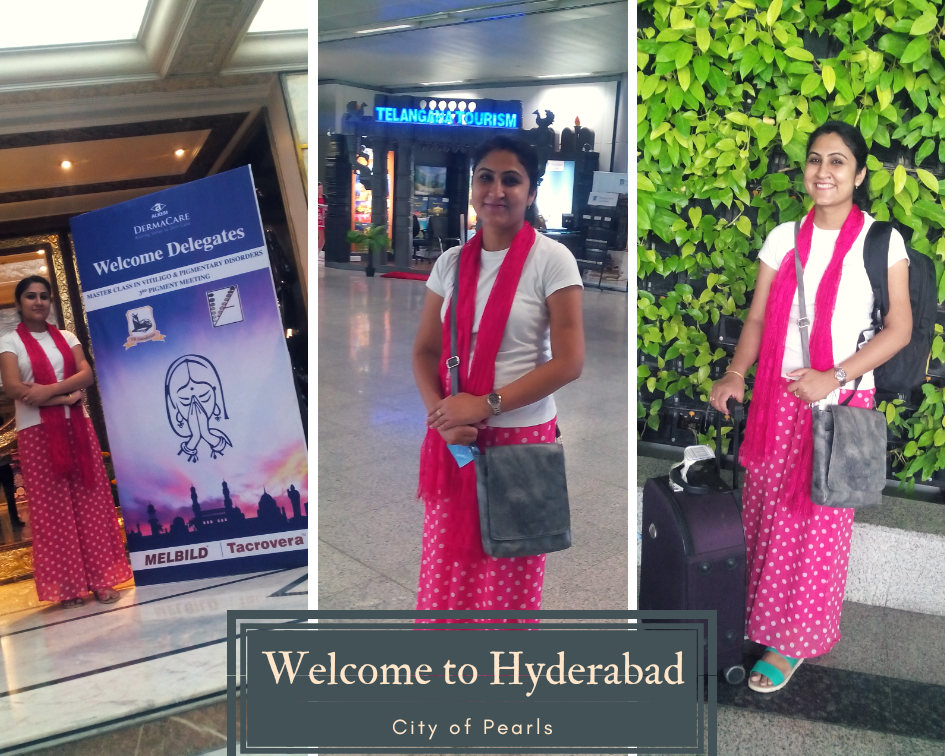 Finally, after some phone calls, our cab driver managed to receive us and drove to the hotel. The distance from Airport to Ramoji Film City is 40 km and it took around 1 hour and so to reach there, considering the usual evening traffic of the city. By that time, we were a bit tired of traveling but once we reached the hotel our fatigue was all gone. 🙂 It was a beautiful eye delight in such a cool and peaceful place. We got our respective rooms, refreshed ourselves and looking forward to the tasks to be done on the next day at the workshop.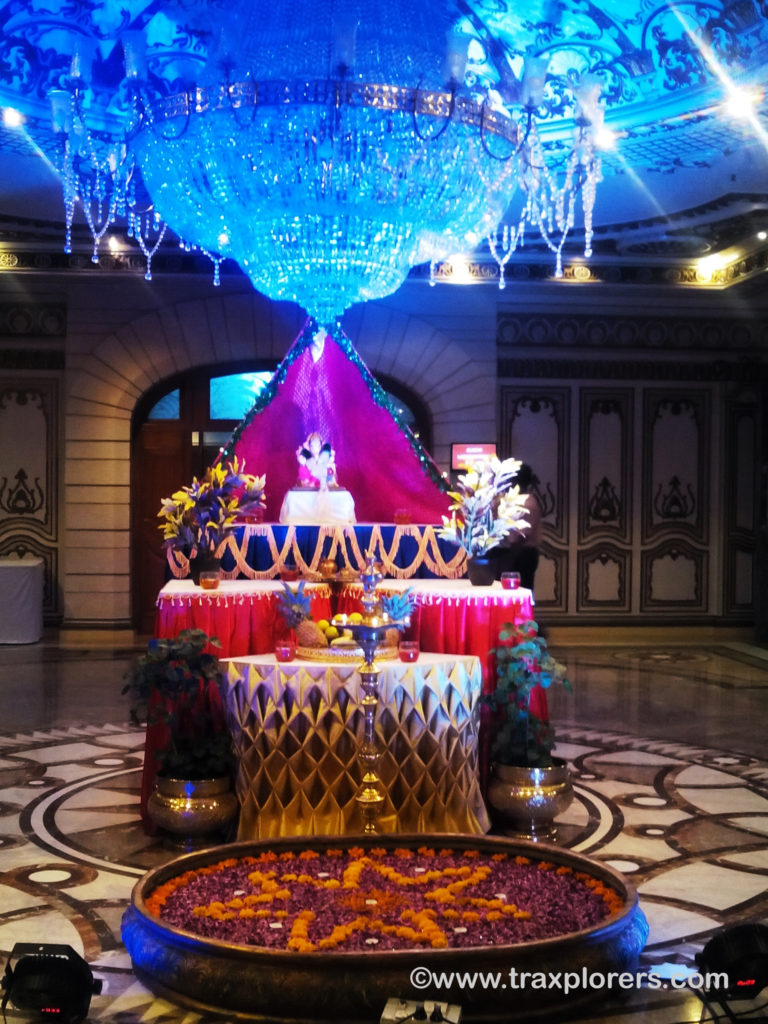 Day 2: 09/09/2016
Early Morning Excursion: Ramoji Film City
Though we had a big day ahead of us still we managed to quench our thirst of exploring the huge Ramoji film city. We woke up early, all set to took a broad walk around the film city.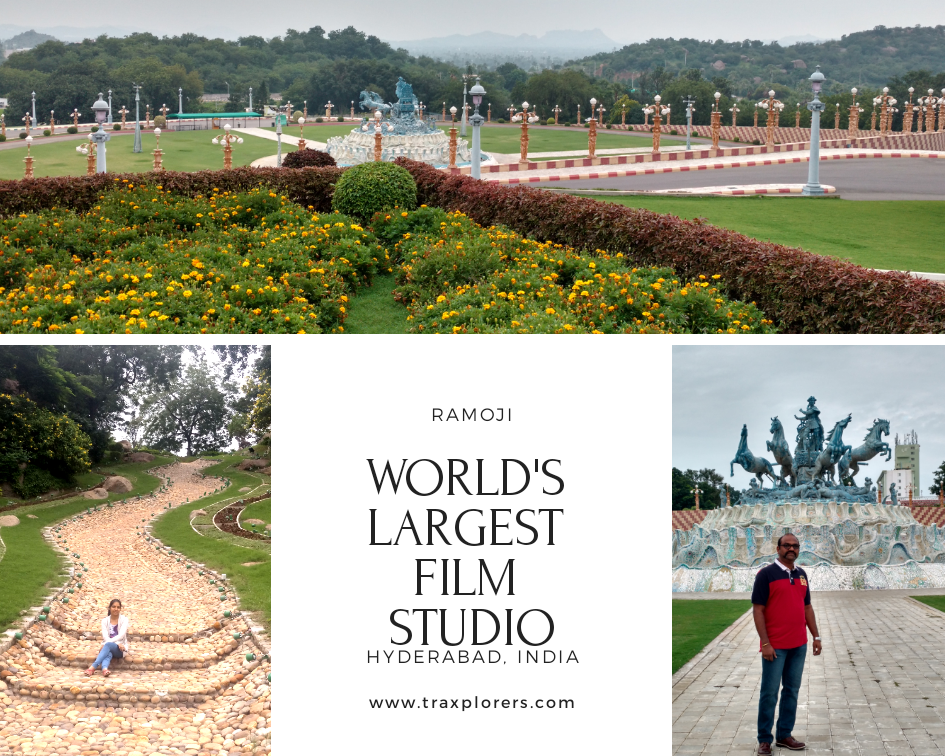 Interesting facts about Ramoji Filmcity
It was set up by Telugu film producer Ramoji Rao Group in 1996. It is so impressive that any filmmaker who brings a script here, in a short while leave with a fully completed film.
It is spread across 2000 acres
It is world's largest film studio complex, certified by Guinness World Records.
Ramoji Filmcity Timings
The doors open at 9:30 AM and close at 3:30 PM daily.
You can get more information about timings, entry fee and Ramoji Filmcity packages here.
We were staying in the hotel Sitara, inside the Filmcity. So, we were lucky enough to explore this place in the early morning before the scheduled timings of the place.
Ramoji Filmcity Attractions
There are many exact replicas of churches, an airport, railway station, Japanese garden, and interiors of palaces, temples, mosques, waterfalls, caves, haunted house, and even a highway.
Prop shop where all the fabulous costumes are kept.
Sound studios where soundtracks to many famous movies are recorded. There are 47 sound stages.
It has many film sets, theme parks, and amusement rides.
You can have a look at some of the best movies about India, among them the famous Jodhaa Akbar featuring Royal Palaces and architecture can be seen in the film city.
Hotels inside Ramoji Filmcity
Vasundhara Villa- Family Getaway
Greens Inn- In the Lap of Nature
Find best hotels near Ramoji Filmcity here.
Unforgettable Experience:
Our visit to Ramoji Film City was the best highlight of Hyderabad tour. This film city is the favorite choice of Bollywood filmmakers and is a must-visit destination. It is world's largest integrated film studio complex. We enjoyed the kaleidoscope of attractions ranging from striking gardens, rolling landscapes and thrilling rides. There are various amazing and equally realistic sets of royal palaces from the Mughal era, Mauryan Empire, and towns of Africa. The most exciting thing we had the picture-perfect replica of the Hollywood signs.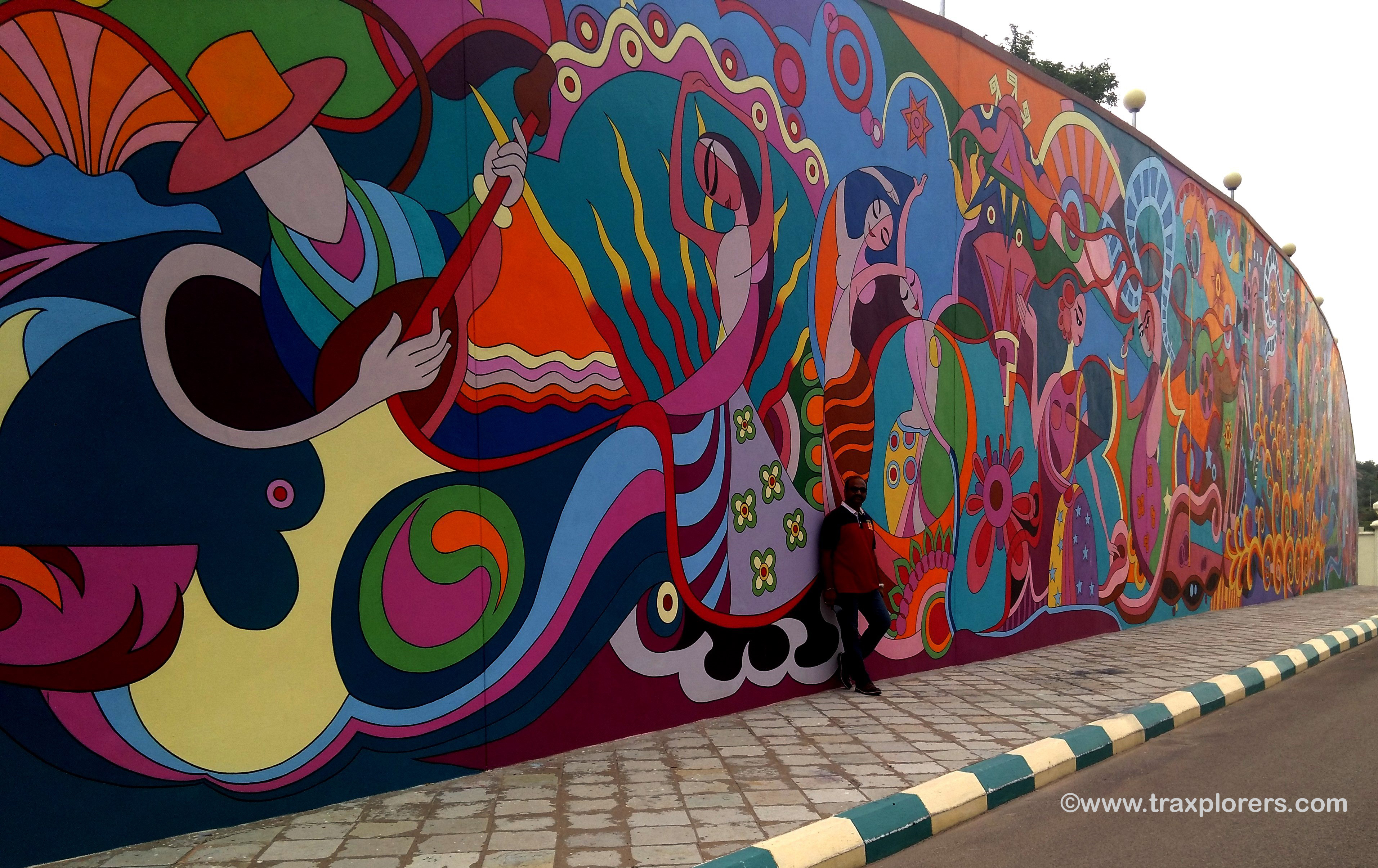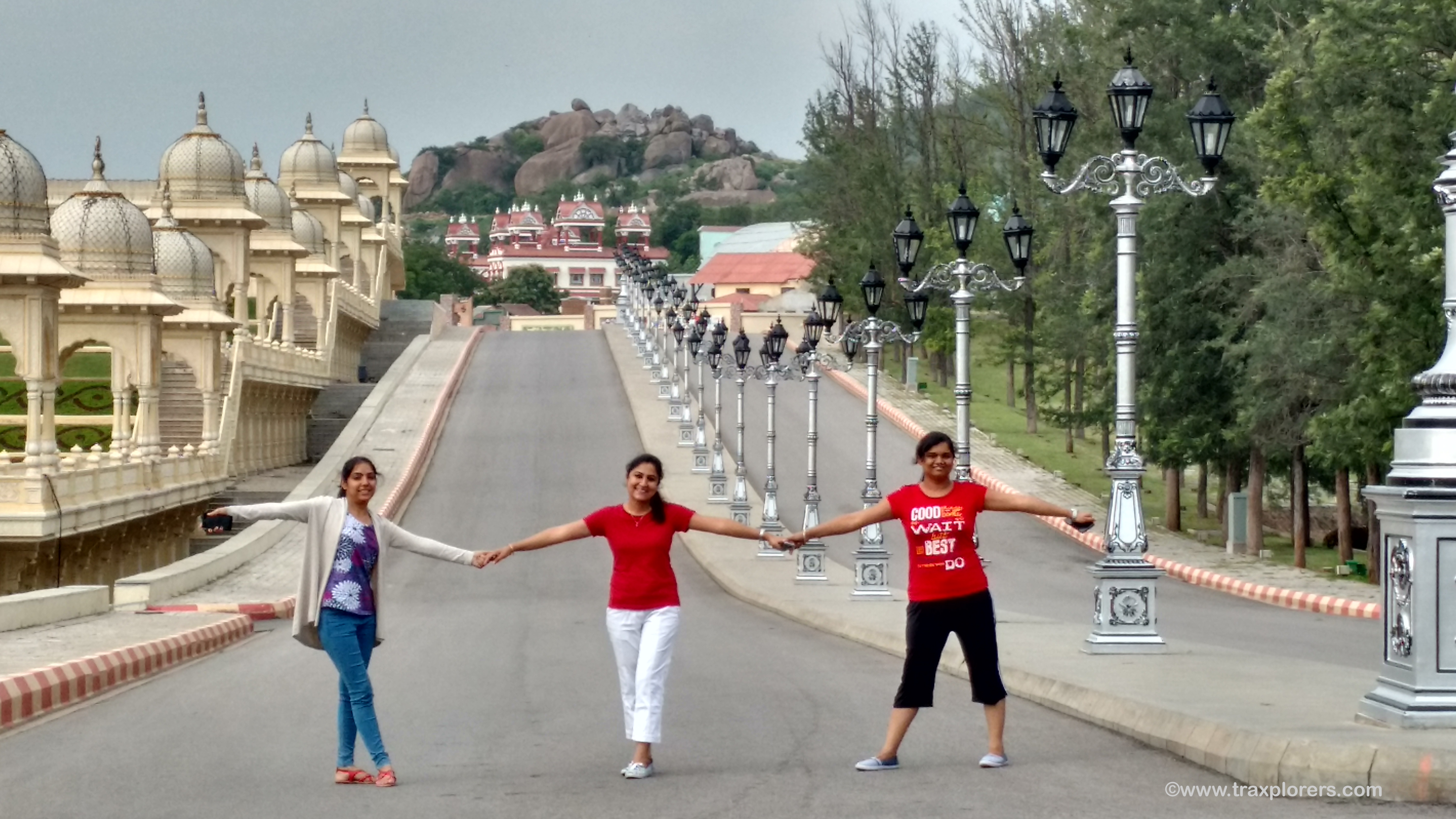 Our Ramoji Filmcity excursion ended in two and half hours and we were back to our hotel for the next big task of the day.
Pigmentary Workshop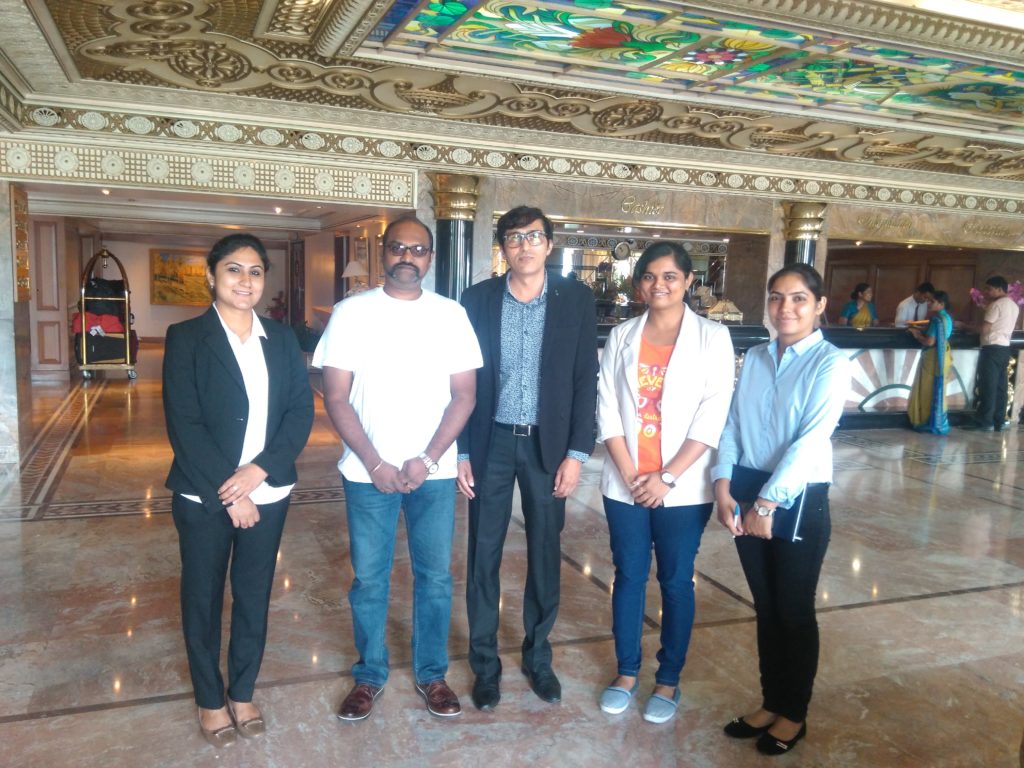 We all got ready after breakfast and headed to the set for our Pigmentary workshop in the filmcity at 9:30 AM. All the arrangements were checked and we were ready for the workshop. All the scientific session ended in the evening at 5:00 PM including lunch and tea breaks. We were exhausted till now but still had energy reserved for an evening exploration of this beautiful city of pearls. J
Jaunting in the city
I and colleagues managed to get a cab from the filmcity to Gachibowli, Hyderabad.
Shopping: Pearls of the city
My colleagues had done some pearl jewellery shopping in Mangatrai jewellery shop located in Gachibowli. If you are in the city Hyderabad then should surely get some piece of pearl jewellery from here.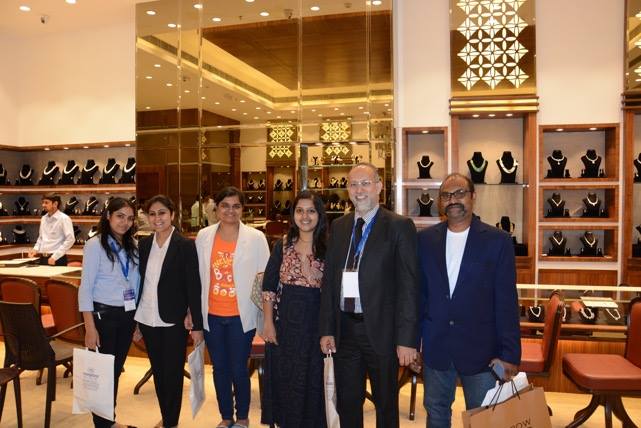 Mangatrai Jewellery Shop
Address:
Shop No.9, Ground Floor, The Platina Building, Gachibowli- Miyapur Road, Jayabheri Enclave, Gachibowli, Hyderabad, Telangana 500032
Ph: 040 6745 8886
Timings: 11:00 AM to 9:00 PM
Famous local cuisine: Hyderabadi Biryani
Dr. Sendhil and his former students took us to Paradise Biryani special place for dinner. I, Niharika and Seema was for the first time in the city, so as a rule, we tried the Biryani of the Paradise restaurant. It is Biryani specialist chain restaurant with contemporary décor and a choice of five kebab varieties. As it is known for non-veg Biryanis but it didn't disappoint us in veg also. Everything was perfectly cooked. As expected and heard the food and restaurant were awesome. You can take away or dine in there too.
Paradise Biryani Restaurant
Address:
Plot No. 22 & 23, Gachibowli Road, Vinayak Nagar , Hyderabad, Telangana 500032
Timings: 11:00 AM to 11:00 PM
After a full day of work, shopping, and delightful dinner, we headed back to our hotel and didn't remember when fell asleep. 😀
If you like online shopping then please go to the Amazon search page below. Thank you

♥
Day 3: 10/09/2016
Scientific Meeting
We had a second day of a scientific program including scientific sessions and lectures. It was the day full of exchanging scientific ideas and new advances in pigmentary disorders through interactive sessions between delegates from many different countries around the globe.
An Evening Spent in the heart of the city
After work at five in the evening, we threw ourselves to explore the heart of the city.
Site Visit: Char Minar (Four Minarets)
It started drizzling when we reached the heart of the city. Firstly, we visited Char Minar (Four Minarets). It is like if Agra is for Taj Mahal then Hyderabad is for Char Minar.
Address:
Char Kaman, Ghansi Bazar, Hyderabad, Telangana 500002
History:
This historical monument was built in 1591 by Muhammad Quli Qutb Shah. It is believed that there is an unknown underground tunnel that Qutb Shah has made as an escape route, which connected the Golconda Fort to the Charminar.
Architecture:
Char Minar, an iconic 16th-century mosque has four grand arches, 48-meter tall minarets with Islamic and Indo-Islamic architecture.
Wandering in the narrow streets
Another thing to do there was wandering into the local market within the narrow streets. The nearby shops provided a variety of good quality stuff at low prices. One must try to shop famous Lac bangles out there. We did some window shopping though 😀
Another best thing to do nearby was to feed our stomach with delicious local cuisine. Food over there was simply superb. You should taste it at least once in your lifetime.
Visiting Temple inside Ramoji Film City
One more day fully packed with work and exploration to the city ended with a visit to a temple inside Ramoji Filmcity and went to our hotel rooms for a good night sleep. J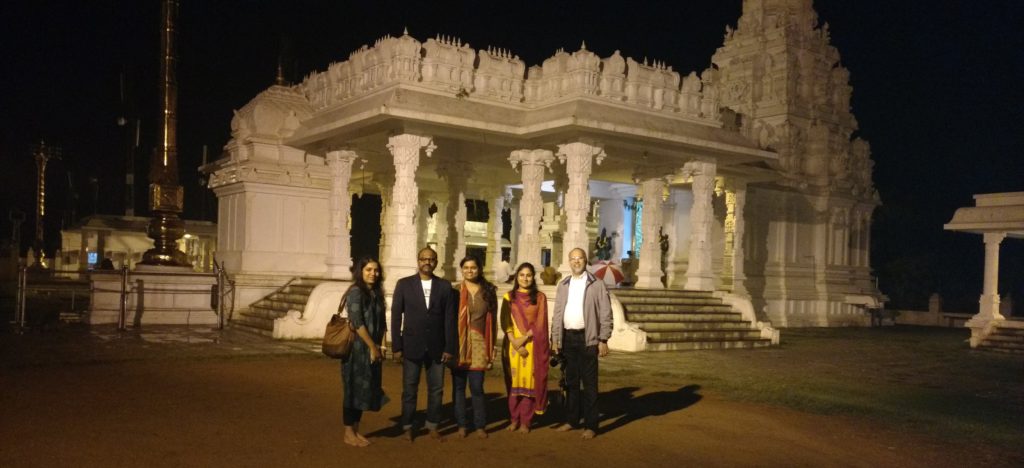 Day 4: 11/09/2016
Back to hometown Chandigarh
Collecting beautiful memories and unforgettable experience of the Pearl City we headed back to our hometown the next morning with a hope to visit the places we left unexplored in future.
Have you visited this beautiful city? Share your experience with us. If not then maybe this post would be helpful for you to explore the city. Don't hesitate to share our experience with others. Don't forget to pin the images below and save it for later read. Thank you!♥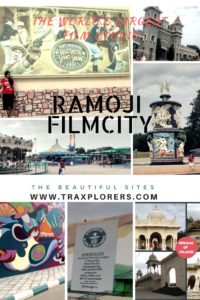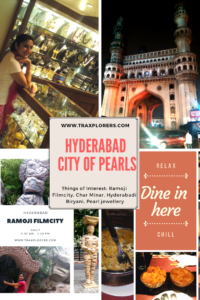 DISCLAIMER: Some links on this site contain affiliate links, meaning if you book or buy something through one of these links, we may earn a small commission (at no extra cost to you). Thank you for supporting this website.
Terms & Conditions: ©Unauthorized use and/or duplication of any material (text and/or images) without consent from this site's author and/or owner are strictly prohibited. Links and excerpts may be used provided that full credit is given to Traxplorers or Supriya Bhardwaj with specific and appropriate direction to the original content.