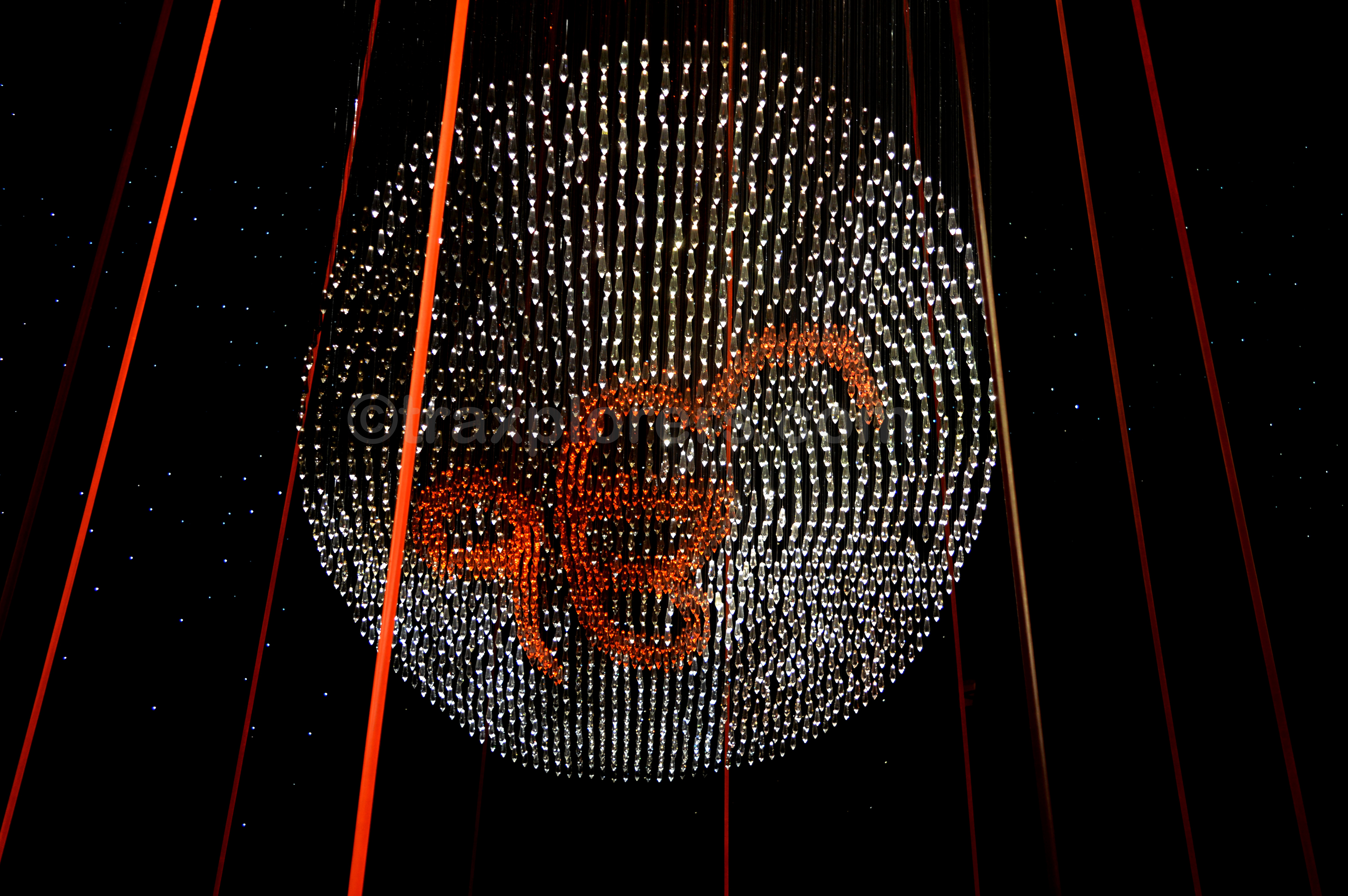 Virasat-E-Khalsa: Sikh Heritage Museum
Virasat-E-Khalsa: Heritage Museum || Shri Anandpur Sahib
Come and get a deep dive into the rich heritage of Sikhism and Punjab state of India. For all the history and culture lovers, Virasat-E-Khalsa is a wonderful and at the same time incredible Khalsa Heritage Museum that should not be skipped to visit. It is located and built in 100-acre land in a holy town known as Shri Anandpur Sahib which is at 85 km from 'The City Beautiful: Chandigarh'. The heritage museum is popularly known as 8th wonder among locals.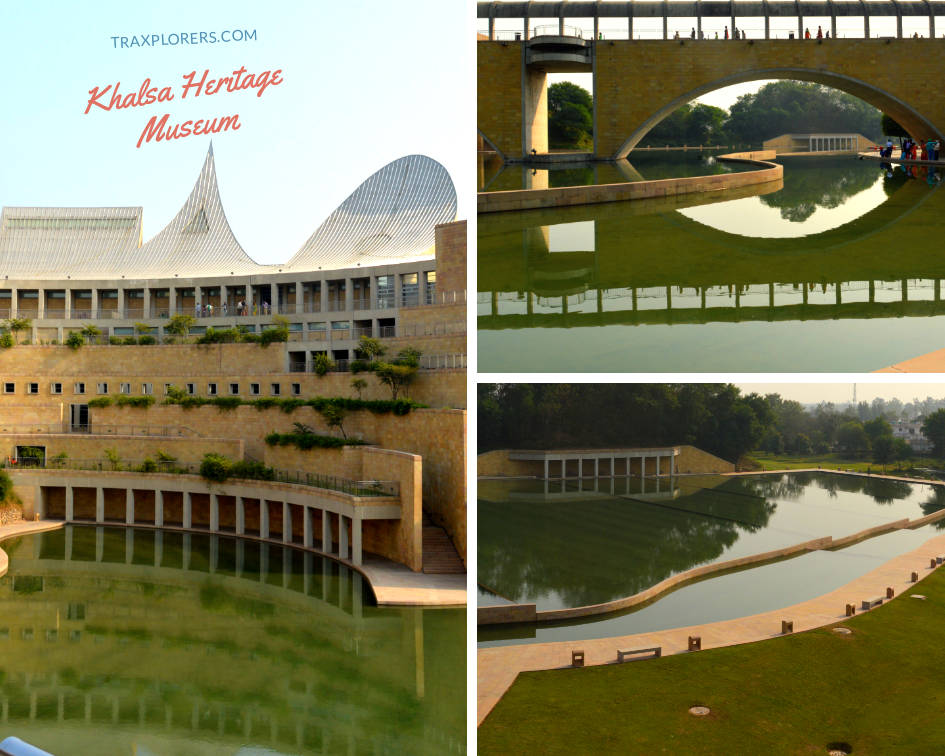 Gurudwara Shri Anandpur Sahib
This is a holy place of Sikh religion where Shri Guru Gobind Singh Ji spent 25 years of his life in teaching and guiding his disciplines. The Gurudwara is located on a hill and is known as a birthplace of the Khalsa. We had gone to 'Gurudwara Anandpur Sahib' and then visited the museum.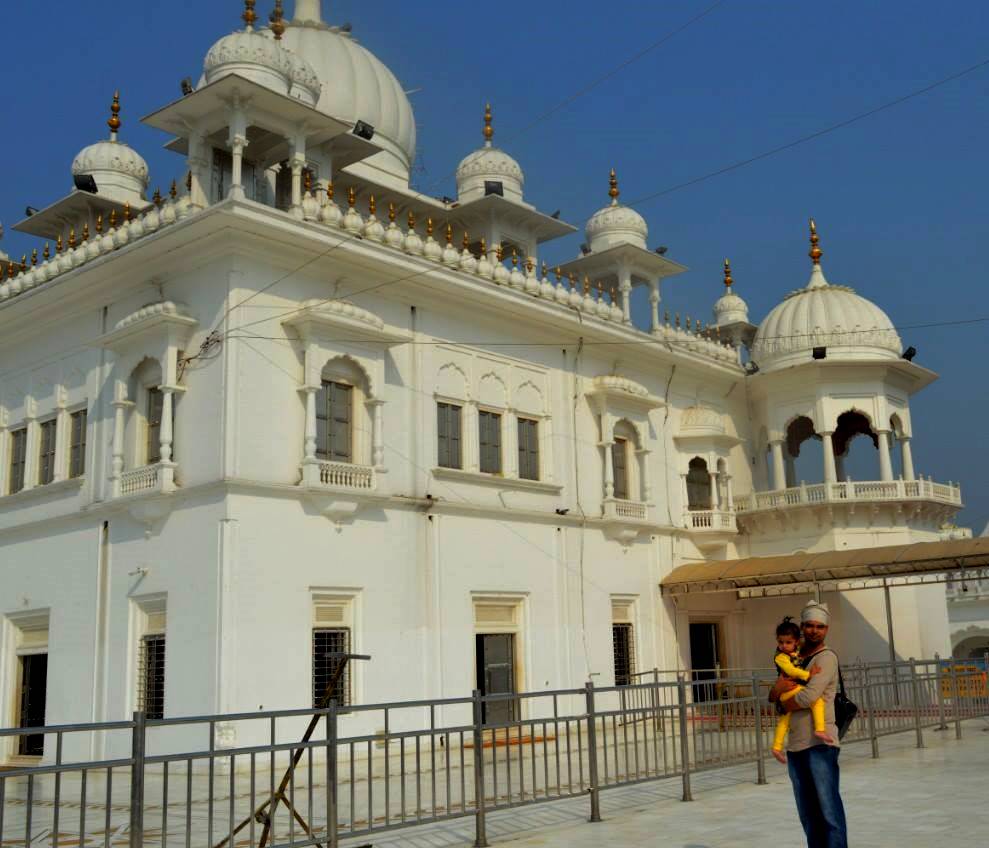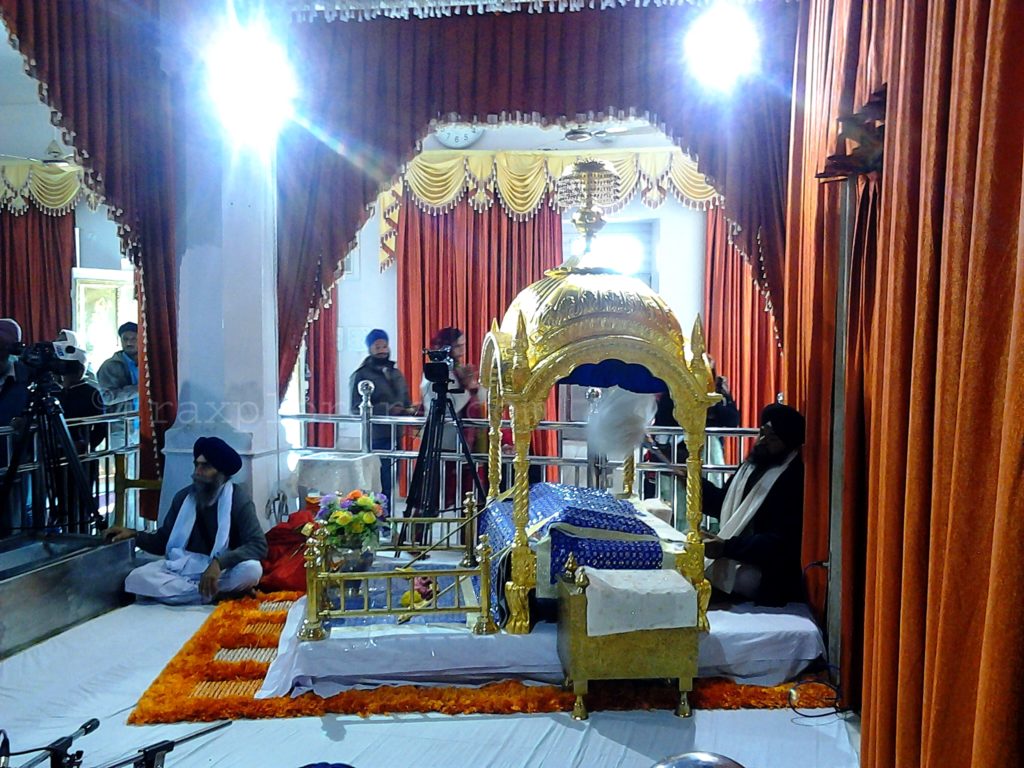 The Khalsa Heritage Museum
One of the most underrated but undoubtedly most enriching museums we have ever seen. It is a unique and one of a kind. The designers and the curators of the museum have made tremendous efforts to make this place a true reflection of Punjab's legacy and heritage. The museum is a technological marvel and a visual masterpiece. All the artifacts displayed are engaging in nature. We believe and strongly recommend it as a must visit alongside the pilgrimage as the young generation will find it very interactive to connect with their culture.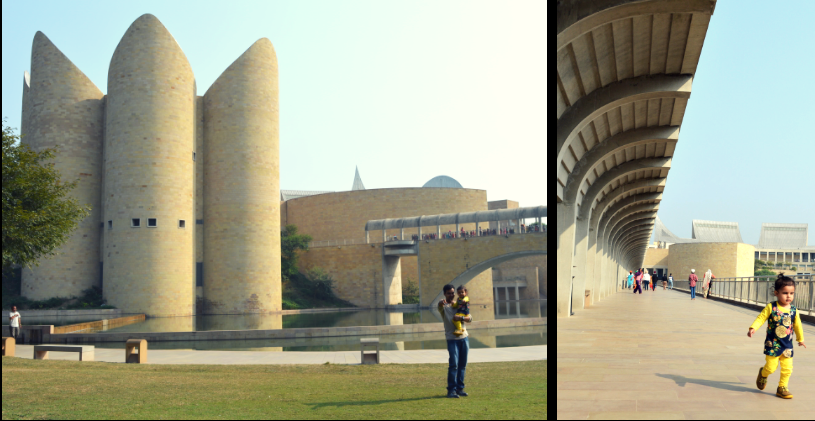 Architecture
It is a beautiful and brilliantly planned building with modern architecture. The views from the top floor of the terrace are amazing to capture. It does showcase the rich culture of Sikhs. The building is well planned for all kind of visitors. There are facilities for the elderly as well as differently abled people inside the building. The architecture of the place is marvelous. There are so many architectural masterpieces in the building that leaves you awe-struck. The huge water bodies around the building added more charm to this place.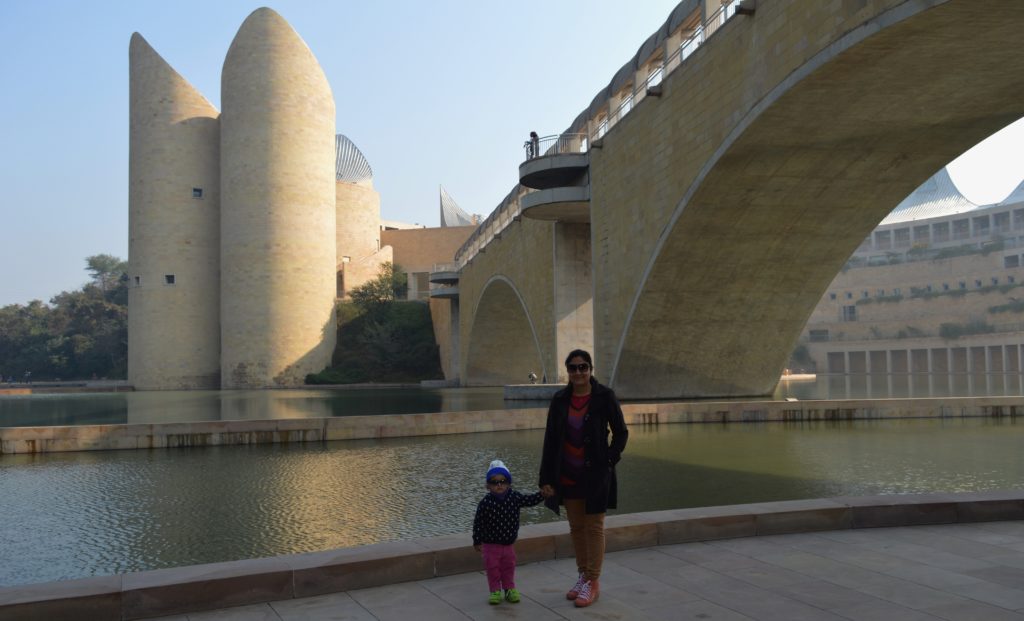 [bdotcom_bm bannerid="2081″]
What to Expect?
The heritage museum celebrates 500 years of the Sikh history and 300th anniversary of the birth of Khalsa.
Amazing Galleries-

Words cannot explain the intricate work, layouts, pictures, and displays. Very impressive, multimedia display of Sikh history. High-quality decoration on walls with lights, paintings, water bodies, music, projectors, wood works, multiple theatres.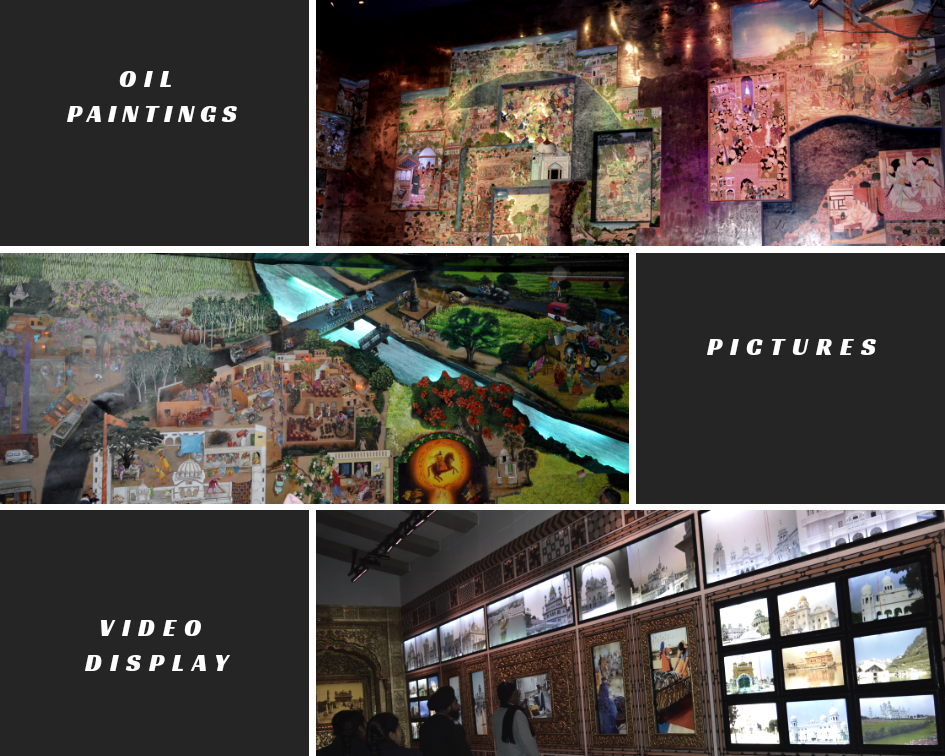 Three Phase Division-

There are three different museum entries taking to different Eras of Punjab history. These would take you back into the times of pre and post-independence of India from British rule. Truly amazing sights one should never ignore.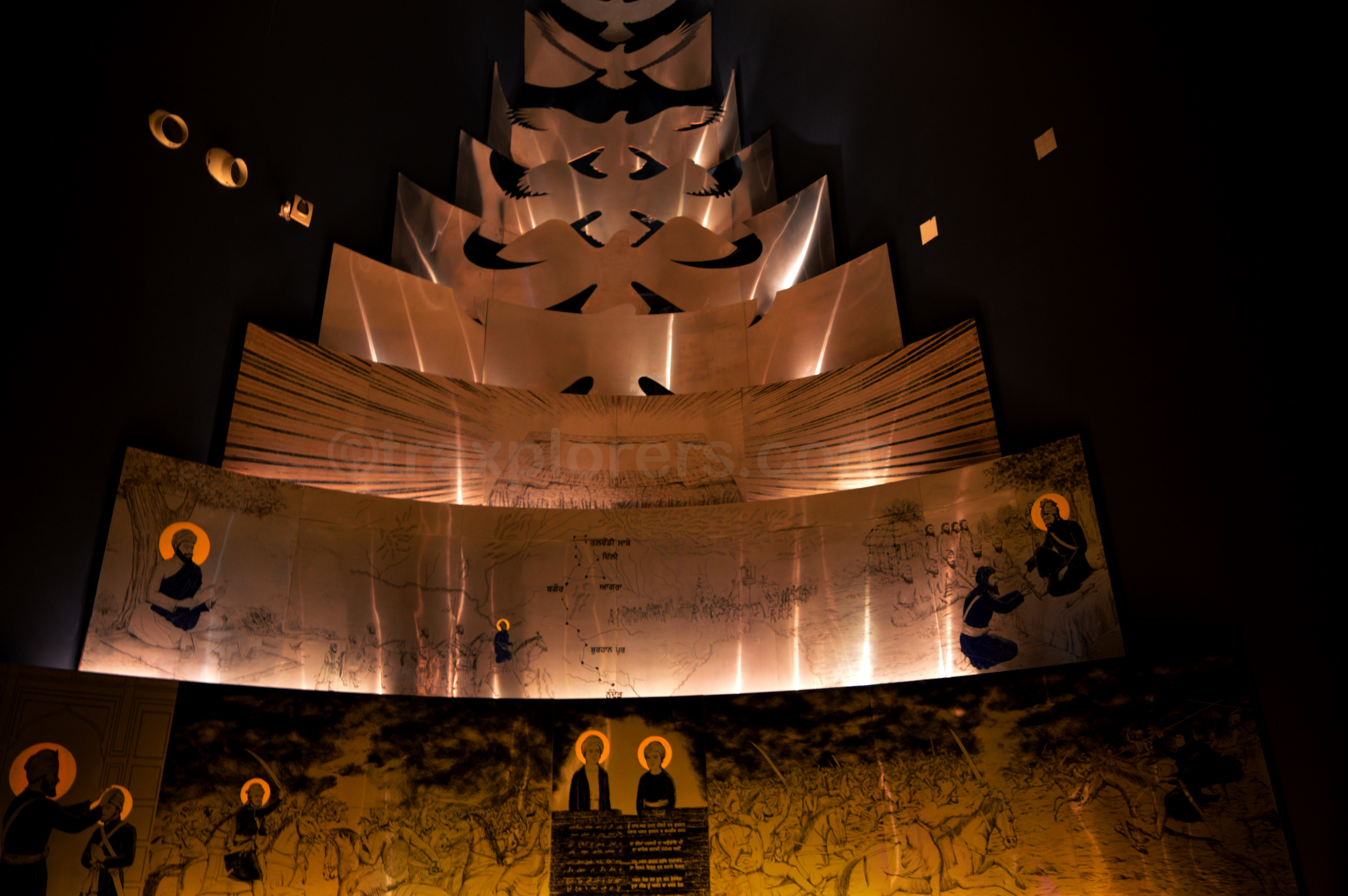 Phase 1:

The first part is the culture section that highlights the seasons, festivals and events in Punjab. It is a static rendition that is brought alive with sound and light. You walk up the ramp discovering the socio-cultural aspects of daily life, tickled at the nuances and the detail of what is familiar and yet so unique about the state and its people- like details of the men washing hair on Sundays or life around the Gurudwara.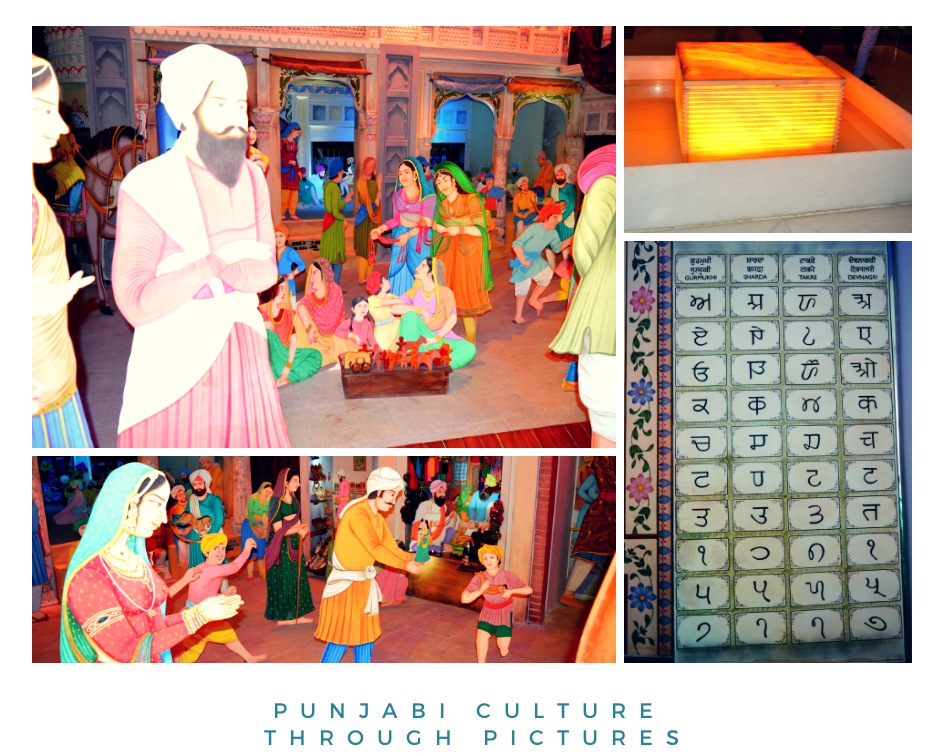 Phase 2:

The second section deals with the establishing of Sikhism and the history of the Gurus. It uses mixed media and various kinds of craft to tell this story. There are miniatures, embroidery, metal, laser, oils, wood and anything else you can think of. The recorded narrative, stimulated by sensors as you move from one section to another is lyrical, poetic and factual at the same time. It tells stories like they need to be told.
Phase 3:

Walking down the ramp full of lights and quotations, you reach the section which deals with the formalizing and spreading of the religion with a focus on warrior heroes. Several passages lead in this section is a linear yet intertwined manner and guide you through the Anglo- Sikh wars, the partition of Punjab, the migration and current politics.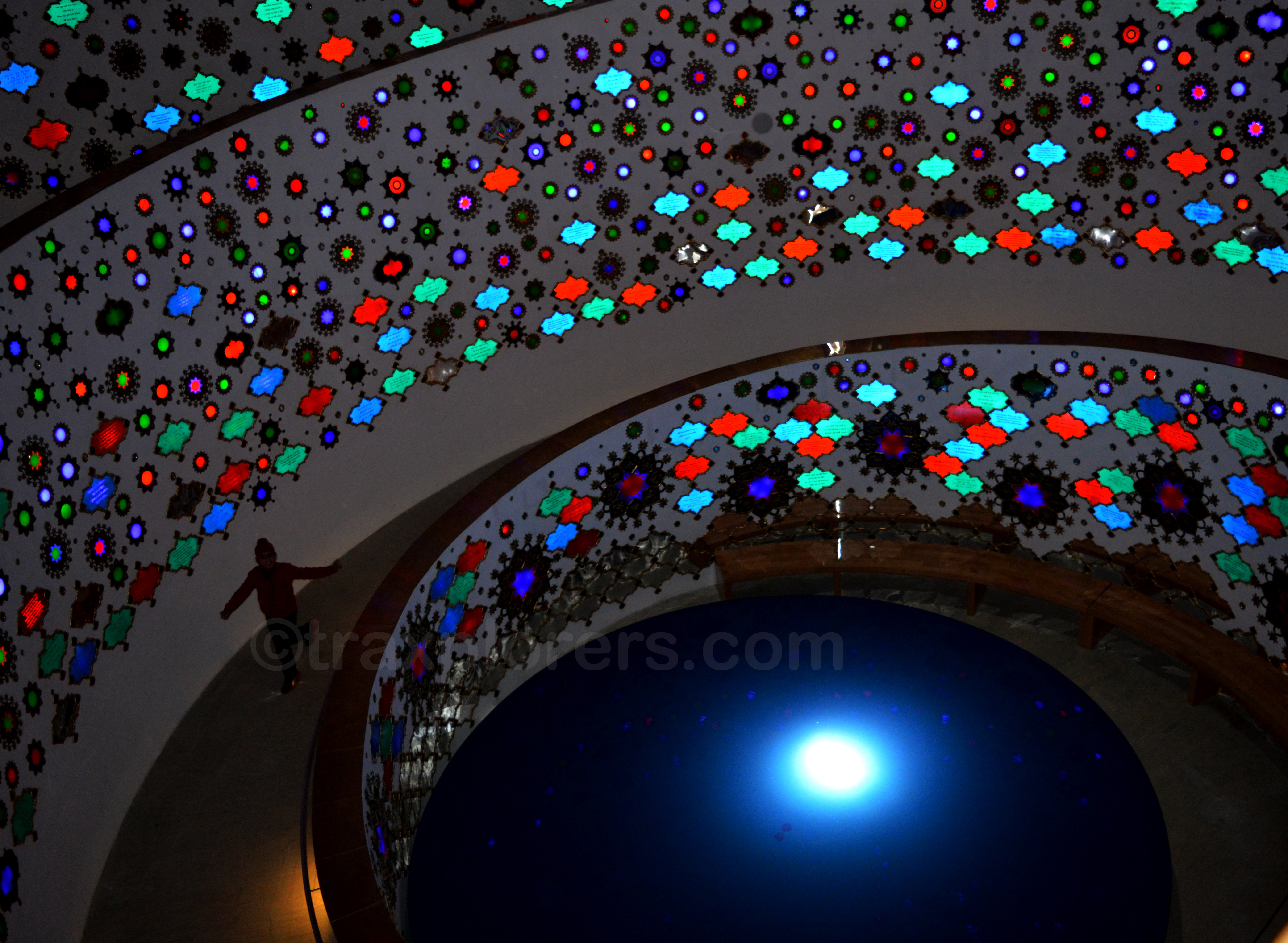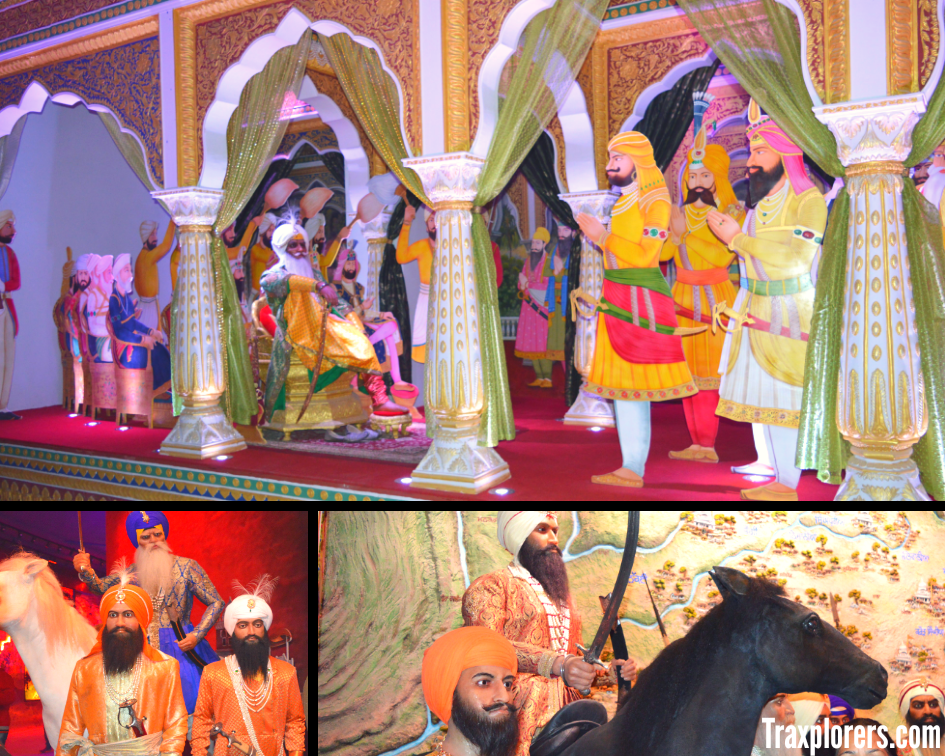 Audio pre-recorded tapes–

You are given pre-recorded audio tapes which you can listen on headphones to explain what each gallery is about. You can also opt for audio to be in English. The visitors are provided with audio phones on submission of personal Id.
Visual Recordings–

There are visual recordings at display in many places inside the museum showing some of the historical events from the history of Punjab. Amazing light and sound combination is used.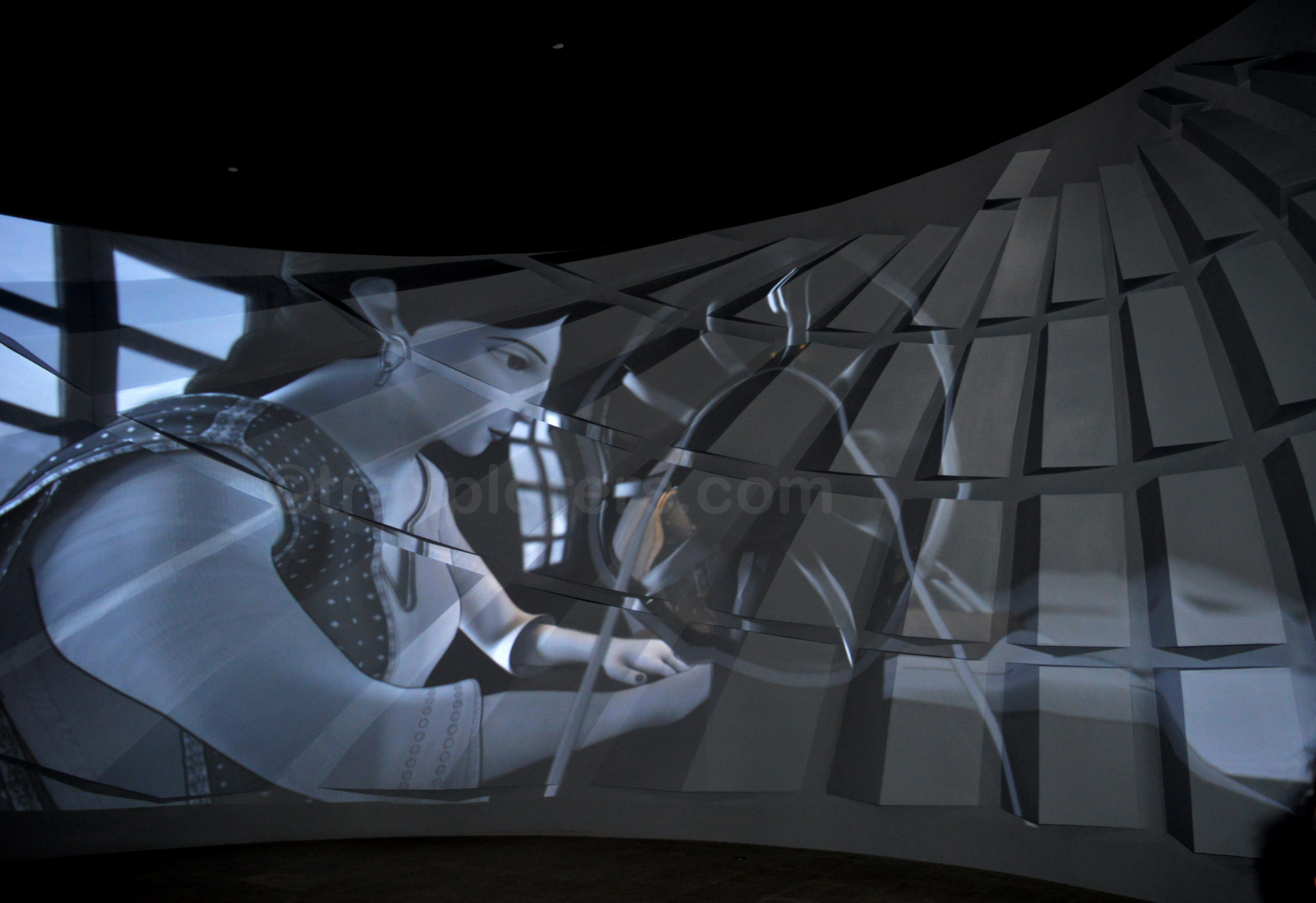 A sensor picks up-

There are sensor picks up which gallery you are in and gives you all history about it what is going in.
Small Souvenir Shop-

There is a small souvenir shop inside it. But the prices are very high.
If you like online shopping then please go to the Amazon search page below. Thank you

♥
Entry-

The best part of this museum is totally free entry. But there is a time slot given to you with an entry pass for one and half hour. It remains closed on Mondays.
Facilities-

Canteen, cafe, and clean restrooms.
Best Place to Learn About Sikhism and Sikh History
The heritage museum gives the live account of the history of Khalsa or Sikh religion right from the birth of Guru Nanak Dev Ji (1st Guru) to Guru Gobind Singh Ji (10th Guru). There is a true depiction of the history of Khalsa. Must visit for all to realize what actually Sikhs are and what sort of sacrifices they had done for the sake of humanity and protecting their motherland.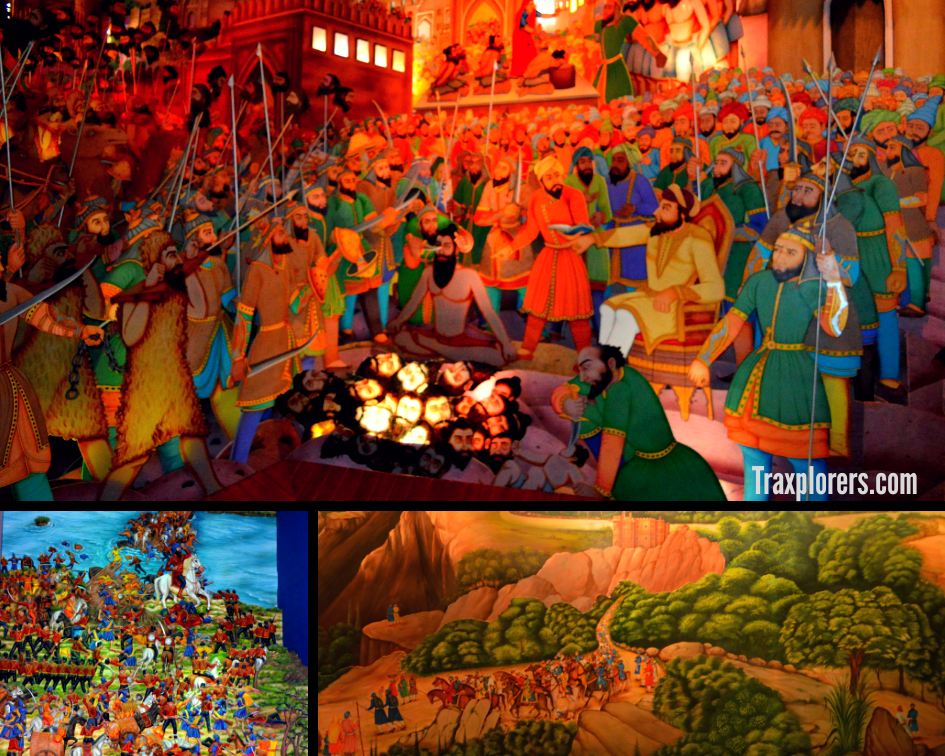 Wonderful Sights
Air pressure controlled the robotic creation of a Sikh man delivering a speech.
Statues of Kings, soldiers, and Sikh men felt realistic.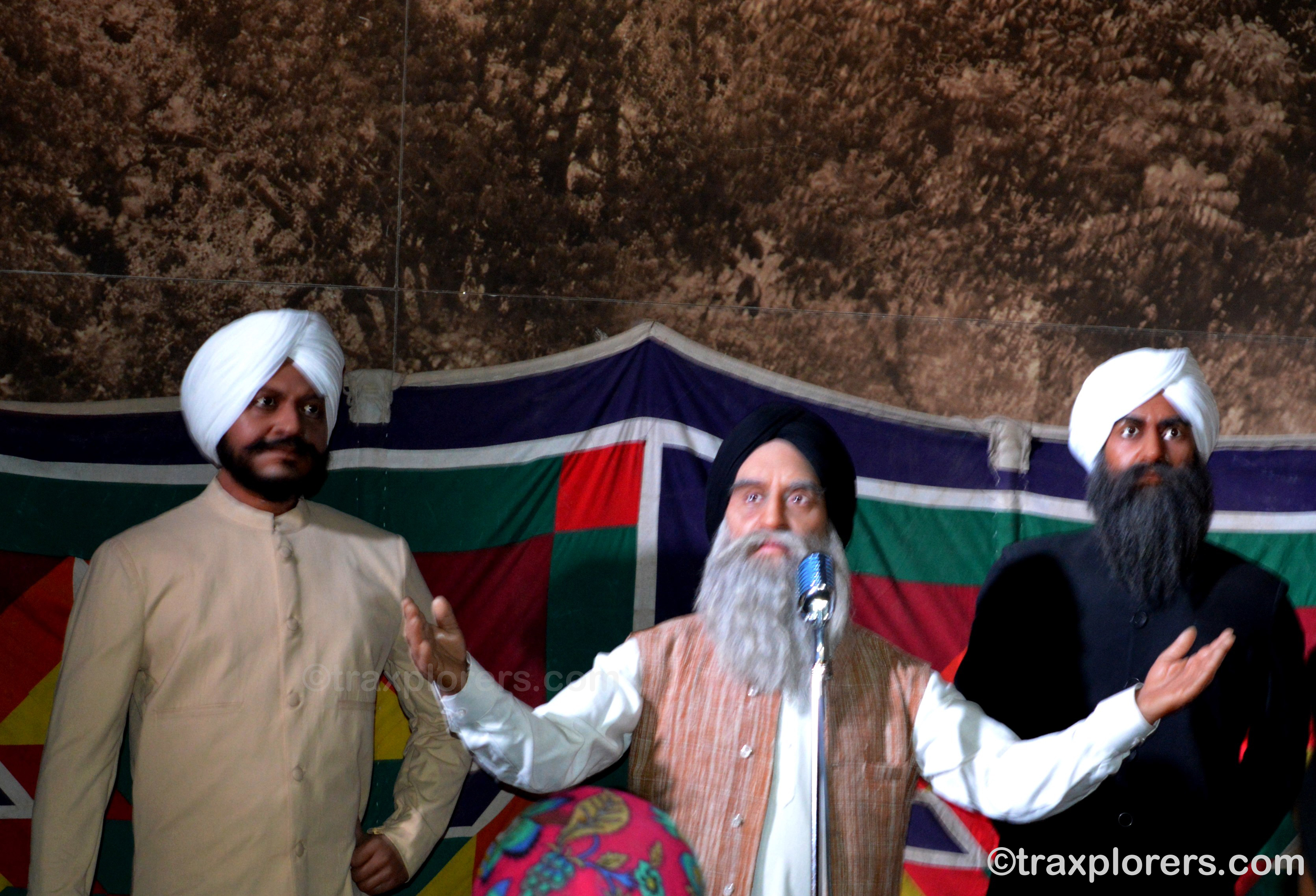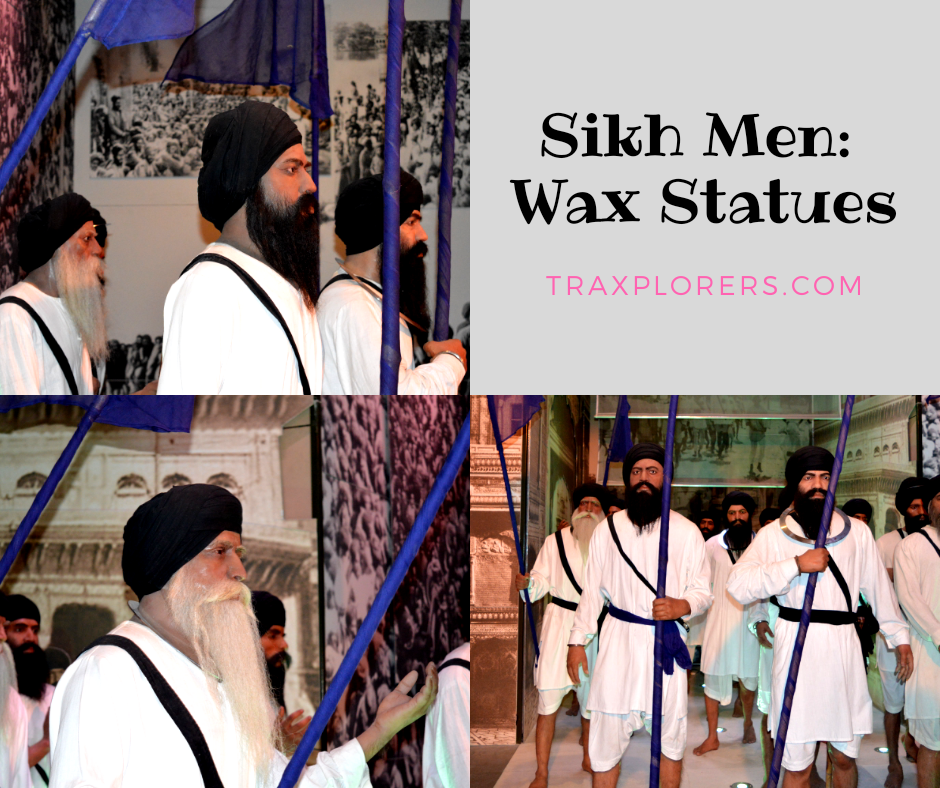 Also a place for Adventure Lovers
This place is in a foot of hills and full of adventure. The adventure lovers would find this place so fascinating.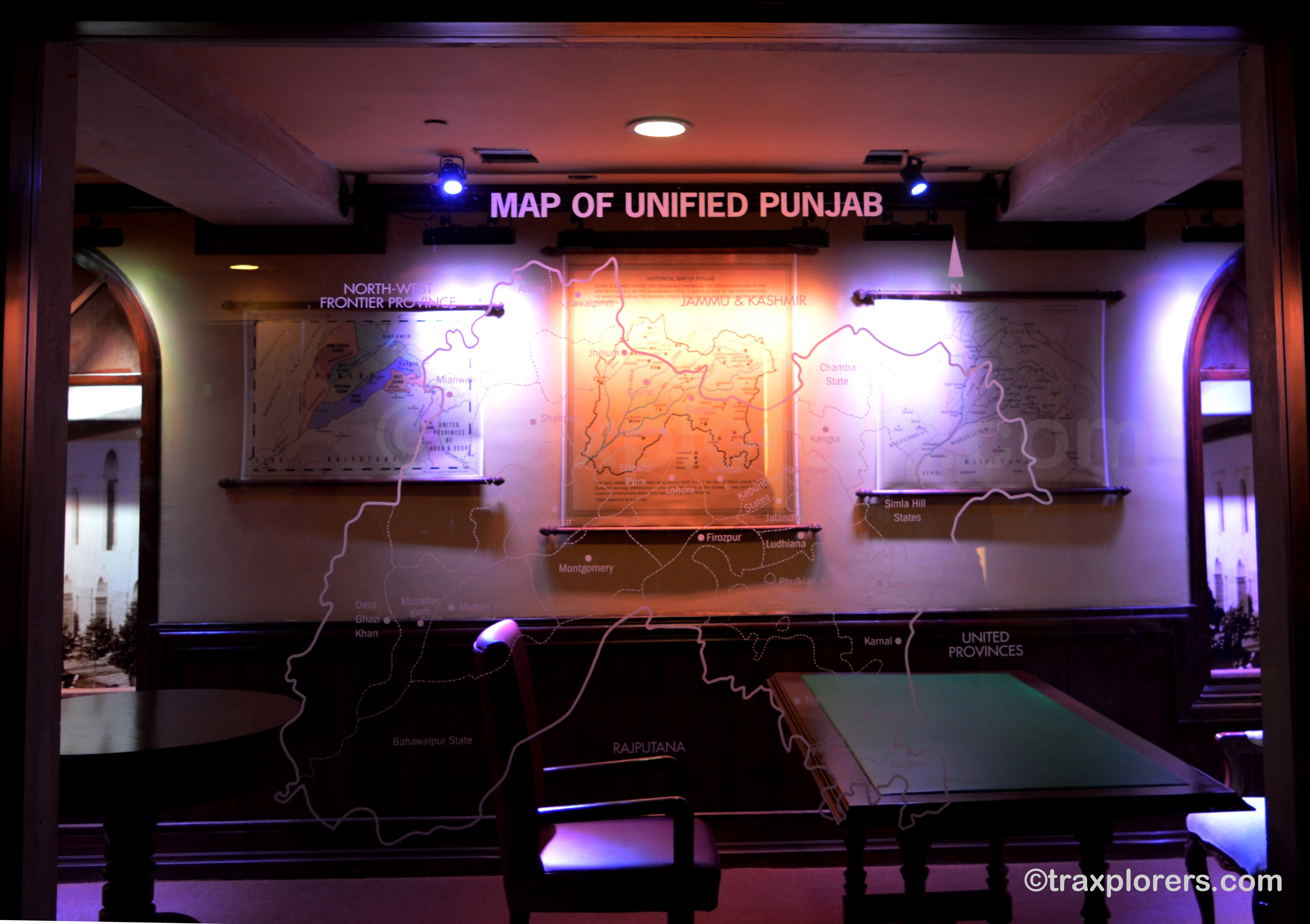 Note:
There is a good cafe on the premises and in case you want to grab a bite, the Gurudwara Anandpur Sahib (very close by) serves Langar (free meal). Be sure to carry something to cover your head in case you want to visit the Gurudwara (Sikh Temple).
We drove in from Chandigarh and it took us 2 hours. We visited the museum two times, in October and December 2016. We had to visit again because the third phase of the museum was not open to the public during our first visit. Winter is the best season and end December- early January will have tall poplars shedding their leaves, the mustard fields full of golden flowers and the sun. Don't forget to stop at the huts making jaggery out of sugarcane along the roadside in this season.
Hope you liked this post. Please spread the word. Do comment your thoughts and pin the image below. Thank you! ♥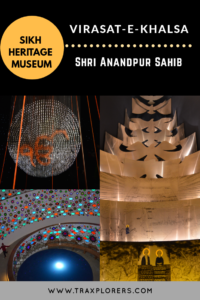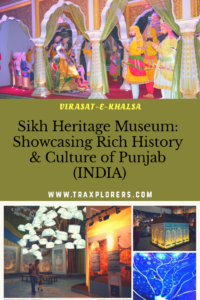 Here is a list of other places to visit nearby Chandigarh:
DISCLAIMER: Some links on this site contain affiliate links, meaning if you book or buy something through one of these links, we may earn a small commission (at no extra cost to you). Thank you for supporting this website.
Terms & Conditions: ©Unauthorized use and/or duplication of any material (text and/or images) without consent from this site's author and/or owner are strictly prohibited. Links and excerpts may be used provided that full credit is given to Traxplorers or Supriya Bhardwaj with specific and appropriate direction to the original content.

Tagged Anglo-Sikh Wars, Audio & Visual recordings, Birth of khalsa, Current Politics, Eras of Pre & Post Independence, Gurudwara Shri Anandpur Sahib, History of Freedom Struggle in India, History of Gurus, History of Punjab, Khalsa Heritage museum, Migration after Independence, Partition of Punjab, Punjabi culture, Rise of Sikhism, robotic creations of Sikhs, Shri Anandpur Sahib, Sikh Heritage Museum, Sikh Hierarchy, Sikh History, Sikh Kings & Soldiers, Sikh Temple, Sikhism, Theatres inside museum, Virasat-E-Khalsa