Adventure of Lifetime: Paragliding at Bir-Billing
Bir-Billing-Baijnath: Monastery|Paragliding|Ancient Temple
Here comes the post of our beautiful Himachal Pradesh with wonderful surprises. This experience is among one of the beautiful regions of Himachal Pradesh, India i.e. The three Big B's: Bir-Billing-Baijnath.
How we managed for the Greatest Adventure?
It was a normal working week of the month of May 2017 and our fourth marriage anniversary was coming in the next week. We got only option to celebrate was on the weekend. Just a wild thought popped up in my mind, "Let's do some adventurous activity this time." We are fond of such activities but couldn't make it because 'Karen' always demands our attention. Ever since I got information from my friend that Billing (Himachal Pradesh) is the highest point in Asia for paragliding, I made up my mind to experience it. But the thought vanished as soon as I looked at my toddler. How would we manage all this alone? For a while, we dropped this idea.
But, you know this famous phrase… "When you want something, even the universe conspires in helping you to achieve it".
It happened with us too. Without any plans, in a short time, an unplanned trip was managed with some of our friends.
The Journey Begins
This epic trip was started on the morning of May 20, 2017. We drove down all the way from Chandigarh to Bir, HP. It took around 6 hours to reach there in our car. To our surprise, the weather was so pleasant in Bir as compared to the heat of May in Chandigarh. It totally captivated us. For stay, we reached 'Shivalik Guest House' in the Bir Chougan area, just 2 Km from the landing site. The location of the guest house was so perfect to heal body and mind. Imagine how it felt to be in the middle of hills, surrounded by greenery, peace, sounds of chirping birds, and blue sky. After having some well-cooked food in the mess of the guest house, we took a nap.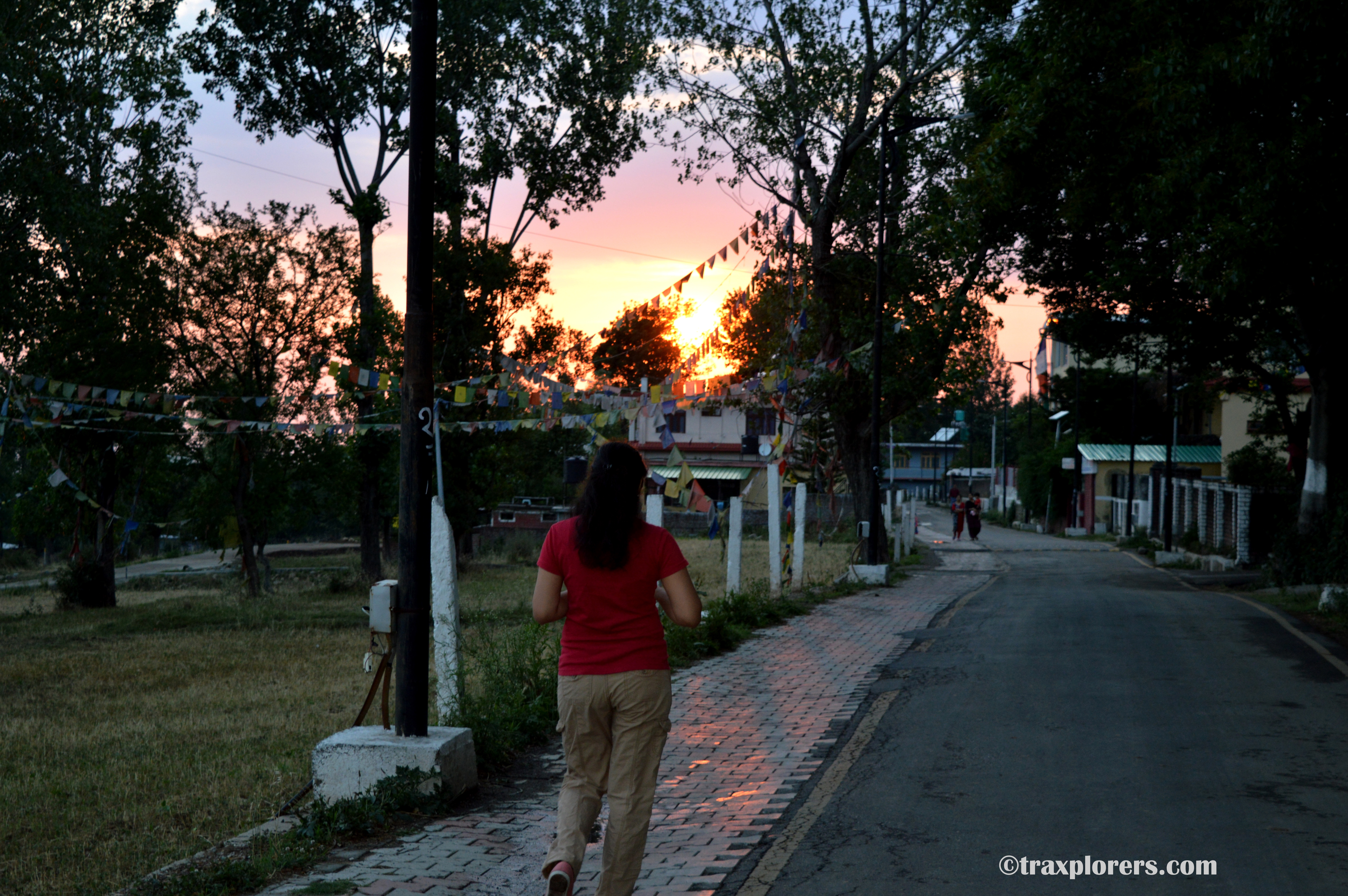 Stroll around Bir
Just before sunset, we behold the charming site of a number of paragliders in the sky. It felt awesome to witness the paragliders gliding across the sun. We were super excited to experience the same very soon. Meanwhile, we decided to take a stroll around Bir. It is a small village with Buddhist monasteries and also home to a Tibetan refugee. It can be easily reached from Dharamshala. While exploring and visiting the Buddhist monastery, we stopped by an adventure club that provides booking for paragliding from Billing (the take-off site).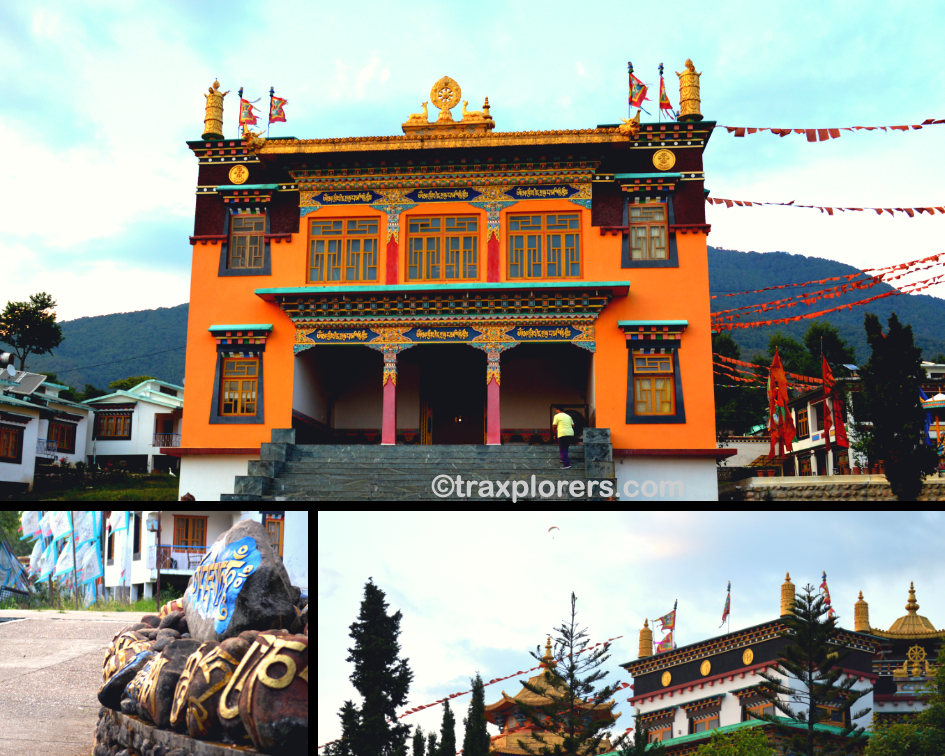 Paragliding from Asia's Highest Point
Billing is the World's second-highest (after Switzerland) and Asia's highest point for paragliding. Billing is take-off point at an altitude of 2430 meters from sea level and the landing is at Bir. For your information, the Paragliding World Cup event was hosted in 2015 at Billing, India in which participants came from all over the world. Paragliding in Bir-Billing occurs in tandem. Some experienced people paraglide alone after taking prior training courses. Different training courses are available, ranging from 6 months to 2 years. It is one of the best adventures in India. The person can fly with an experienced pilot. Pilot control paraglider from take-off to landing and the person can feel the thrill of flight. The road between Bir to Billing was not in good shape and normally takes 20 to 30 min. approx. for an experienced driver.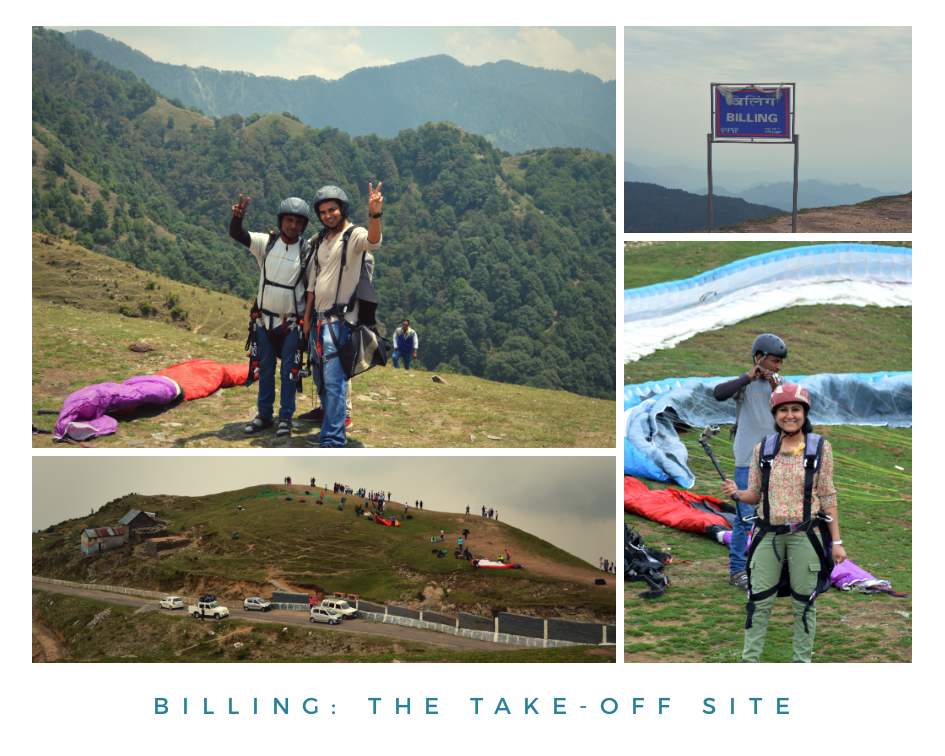 The Greatest Adventure of Bir-Billing
Finally, the day has come for the greatest adventure of our lifetime. We reached Billing as per the time allotted for us on the morning of May 21. We decided, Aditya would jump first and we would stay with Karen at the take-off site. The pilot told us about the unpredicted weather conditions of Billing. Sometimes there could be a very short spell for paragliding in the whole day and sometimes one could paraglide the whole day till sunset, it all depends upon how nature wants it to be. And suddenly the wind conditions became favorable and they took off, we enjoyed the view of flying Aditya high up in the sky.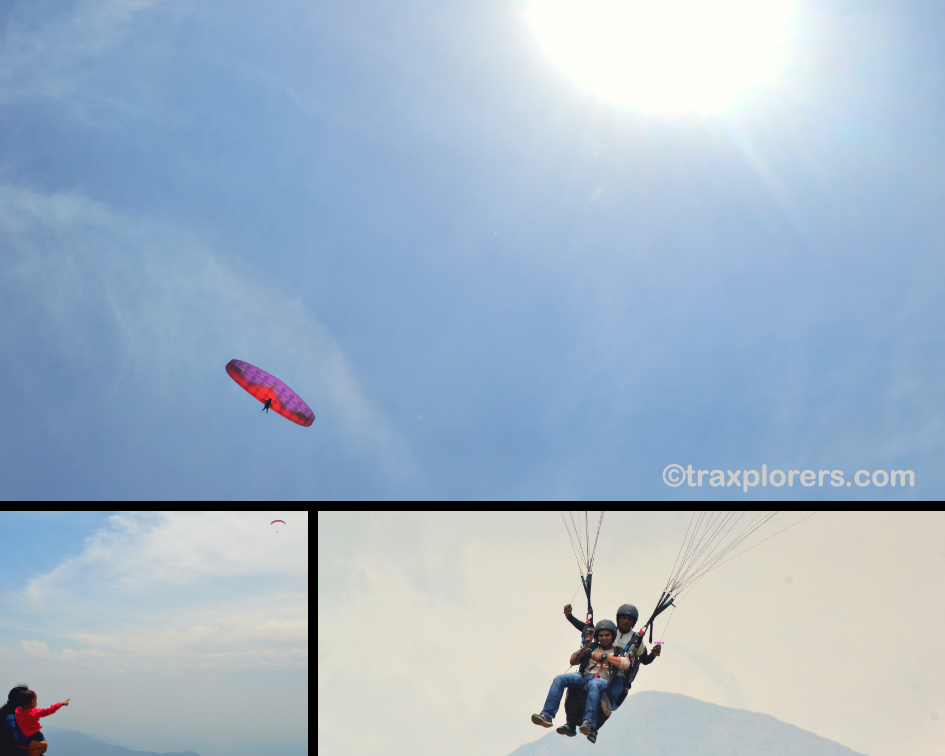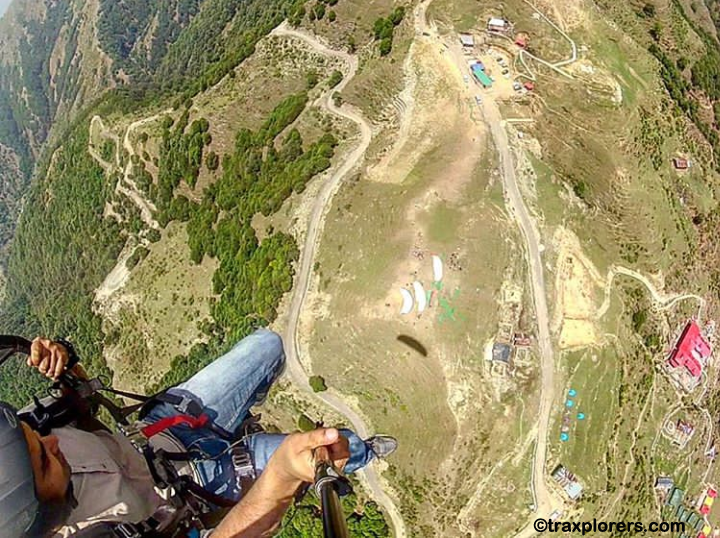 An experienced pilot told us that they got stuck in "thermal" which is a hot air current and therefore gone up more than usual. If a storm came in between one could drift away too far and may even get crash in the valley. But, it was a magnificent and jaw-dropping moment for us. We were wondering how it was being felt by Aditya in real-time. All we could see and imagine the whole experience through the video below:
What it was like Paragliding from Asia's highest point? Watch here Live👇👇
With the little surprise and little awareness, after hardly half an hour the weather started changing. To our whole surprise, within no time things flipped. There was a complete sheet of black clouds that covered almost the whole area up there. Nothing was visible from the top, we were worried whether Aditya had landed safely or not. We couldn't make contact with him on phone due to no network. The wind becomes so chilling that we had to take shelter inside a couple of shacks and had a hot cup of tea. We waited for an hour in that shack before Aditya came back with a wonderful experience to tell. It started drizzling and it was the concluding moment of the day as we had to wait for the next day to get the same experience. The rain and thunder continued till night. We were in a dilemma whether we could experience that feeling of free sailing in the air or not…
It was fortunate enough that Mother Nature showed some mercy and the next morning was a bit clear, not sunny though. That was how the greatest adventure of our lives started. We immediately booked our slots with the agent and got ready within few minutes. Much was on the stake so we skipped our breakfast also. It was Aditya's turn to take care of Karen and laughing while watching us running here and there. We left the room and literally running towards our cab which took us to the drop site. Everyone was looking happy and preparing for the jump in a bit hurry, nobody wanted to left behind now.
I would like to mention one thing. We both (Myself & Aditya) got the same pilot named Mr. Sahib Singh who is a very experienced pilot and has been doing this for the last eight years. 
Aditya was recording my pre-jump video, and then suddenly we heard that we need to run for the jump. I did as instructed and within a fraction of a second, I was flying in the air. Initially, it was unbelievable but then I got my senses back and started enjoying the view. Nothing was there beneath my feet, only clouds and a very faint view of fields. After 10 minutes of free-floating, my pilot performed some heart-throbbing stunts. I shouted in fear and there was an adrenaline rush running through my veins.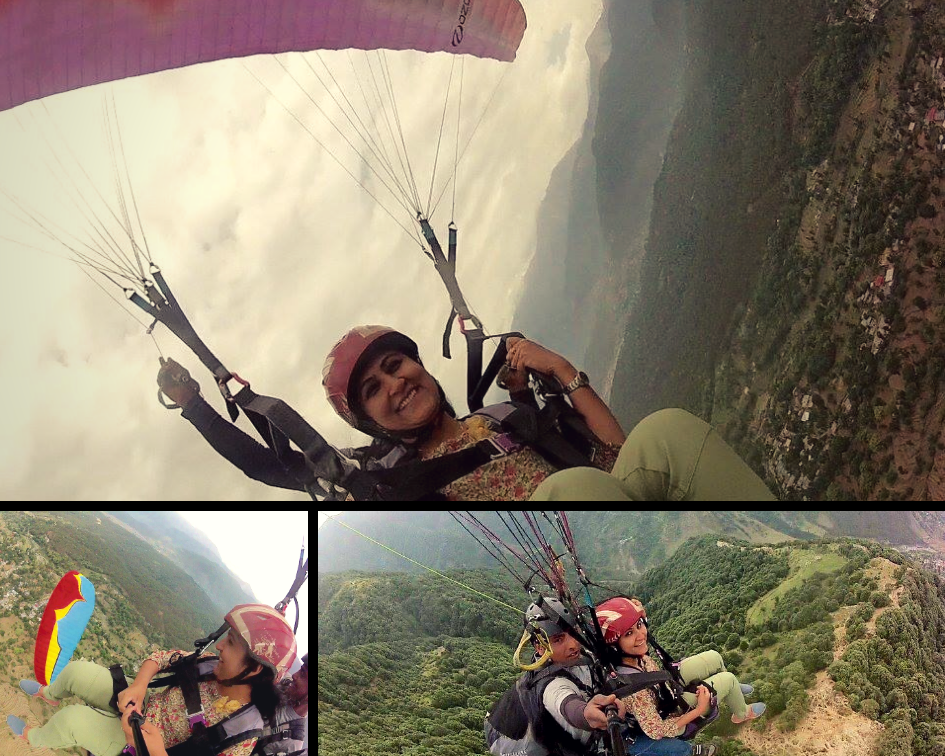 After approx. 25 minutes I landed safely, there our friends were waiting. We shared our experience, meanwhile, Aditya and Karen arrived there. We all were very happy and almost jumping together in the air, why should not we? We had experienced one of the best feelings of our lives and those moments were embedded very deep in our minds. 🙂
The total expense for Paragliding:
Paragliding (without GoPro video) = Rs.2000/- per person (Can negotiate)
Paragliding (with GoPro video) = Rs.2500/- per person
Photographs (from landing site) = Rs.200/- per person
Note: This expense included a ride from Bir (landing site) to Billing (take-off site).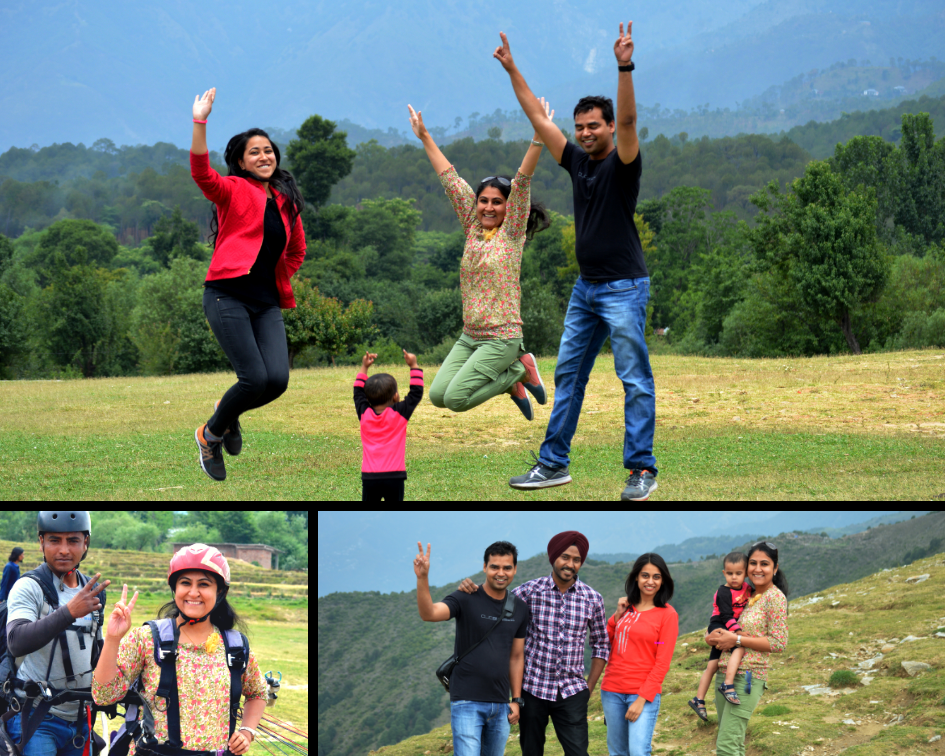 Suggested Read: Nine Adventure Experiences in India
Baijnath- The Ancient Temple of Lord Shiva
After the super awesome experience of paragliding from Bir-Billing, we headed towards the divine place Baijnath on the next day. Baijnath is famous for the 13th-century ancient temple of Lord Shiva. Baijnath is just 13 Km from Bir and 16 Km from Palampur. There is one of the unique jyotirlingas of Lord Shiva in the Temple and is set up in the backdrop of the Dhauladhar Himalayas. It provides a mesmerizing view with a unique Hindu architectural style.
After expressing our gratitude towards Lord Shiva, it was time to leave that beautiful place with a wonderful experience.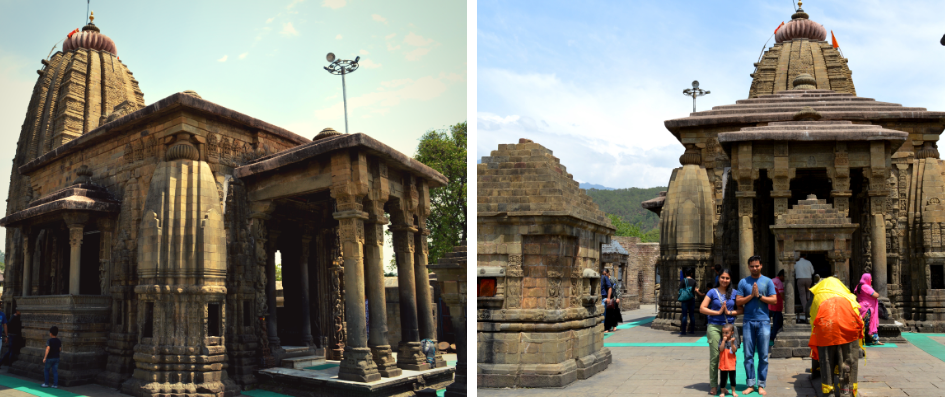 Have you experienced paragliding? Share your experience with us. Don't forget to save the pin image below to read it later. ♥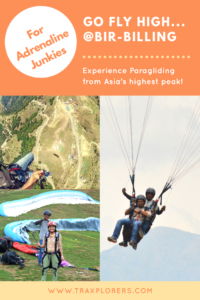 DISCLAIMER: Some links on this site contain affiliate links, meaning if you book or buy something through one of these links, we may earn a small commission (at no extra cost to you). Thank you for supporting this website.
Terms & Conditions: ©Unauthorized use and/or duplication of any material (text and/or images) without consent from this site's author and/or owner are strictly prohibited. Links and excerpts may be used provided that full credit is given to Traxplorers or Supriya Bhardwaj with specific and appropriate direction to the original content.