Backpacker's 5N/4D trip to Maharashtra
Backpacker's 5N/4D trip to Maharashtra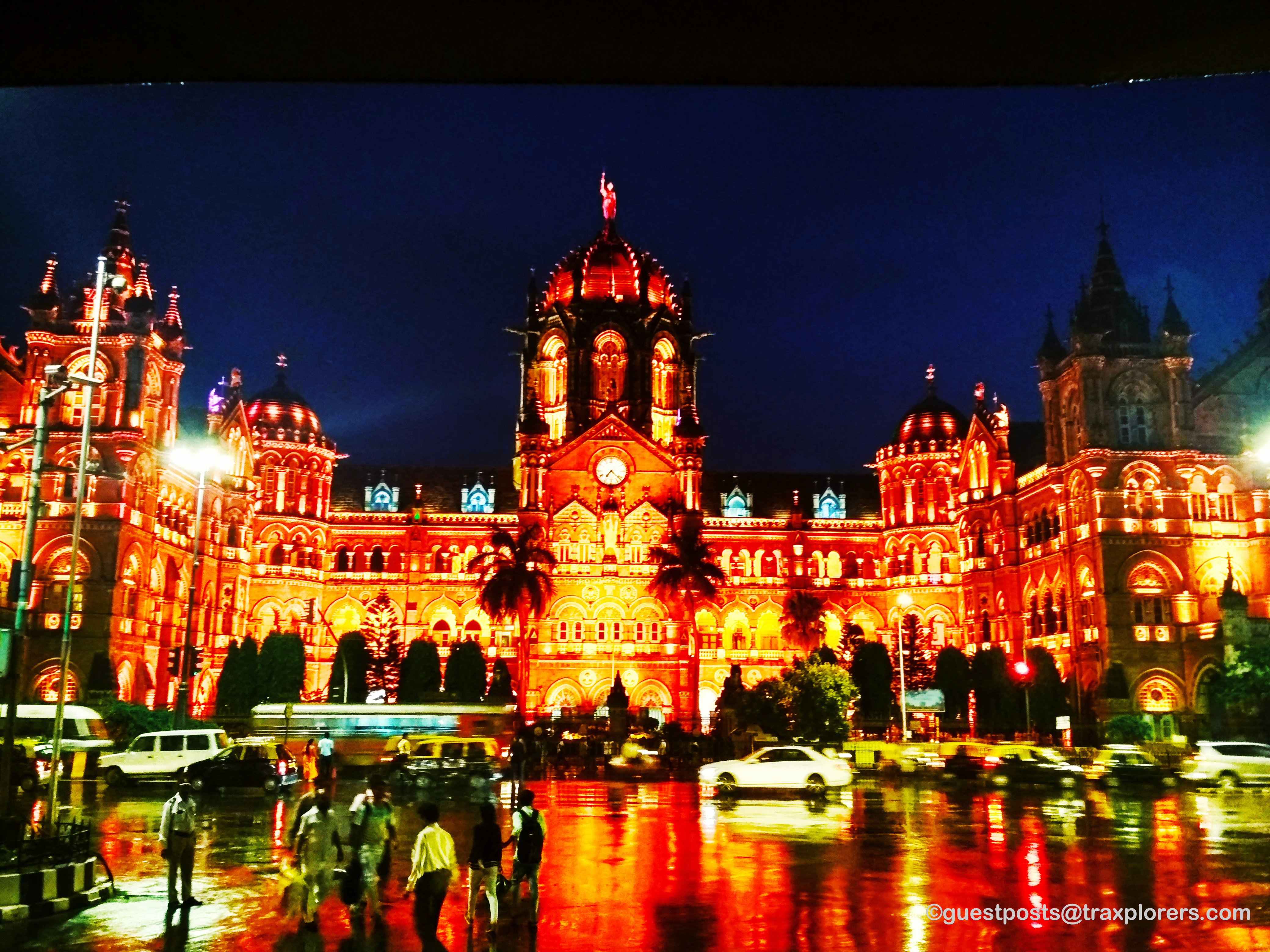 [bdotcom_bm bannerid="2081″]
Dates: 31st August to 5th September 2018
Places Covered:
Mumbai
Shirdi
Aurangabad (Ellora Caves and Bibi Ka Maqbara)
Day trek to Kalavantin Durg
Total Trip Cost: Rs.5,200/-per person including everything
Travel Partner: My friend Rahul
We spent 4 nights while traveling and 1 night at our host apartment in Navi Mumbai. So we incurred no expenses for stay during our trip. And also we walked daily on an average 20-25 km due to which we saved a lot on travel expense.
Day 1: Delhi to Mumbai
Started our journey at 3:30 pm from Hazrat Nizamuddin Railway Station. We were normally chit-chatting with each other and finally noticed that the vendors on the train were selling the goods at higher prices.
We bought two water bottles for Rs.40/- but MRP on each bottle was Rs.16/- When we questioned this, we got a reply "itne ka hi bikta hai" (it sells like this only). My friend Rahul clicked a photo of MRP printed on the bottle and twitted to railway ministry. After some time we got a call from ministry and they asked details about our tweet. We told the whole story and they asked us to keep a sample of the water bottle as they were sending someone to collect and register the complaint. At Kota railway station one official came with feedback form and asked about details, collected samples from us and left. At last, we got to know that the railway has imposed a fine on them.
Cost Details: Delhi to Bandra train Ticket: Rs.880/- per person for Chait Car + other expenses Rs.40/-
Day 2: Day trip to Mumbai
We reached Bandra railway station around 9:00 am and started walking towards Juhu Beach. We both were thinking to take a bath there, by the time we were talking within a few minutes it started raining and we just ran towards shacks near the beach. It hardly rained for 3-4 minutes but both of us were quite wet. Rahul started laughing and said, "We took a shower bath". We both got our clothes dried-up in the blowing wind near the beach and left Juhu around 11:00 am for next destination 'Haji Ali Dargah'. On the way to Dargah, we were searching for any food corner for our breakfast but we didn't find any. Wherever we found was either 'Vada pav' or 'Pav bhaji'. Both of us didn't like these options. We explored more and finally found South Indian dish-'Idli sambhar'. At Haji Ali Dargah we stayed for 1 hour and then decided to go towards 'Nariman point'.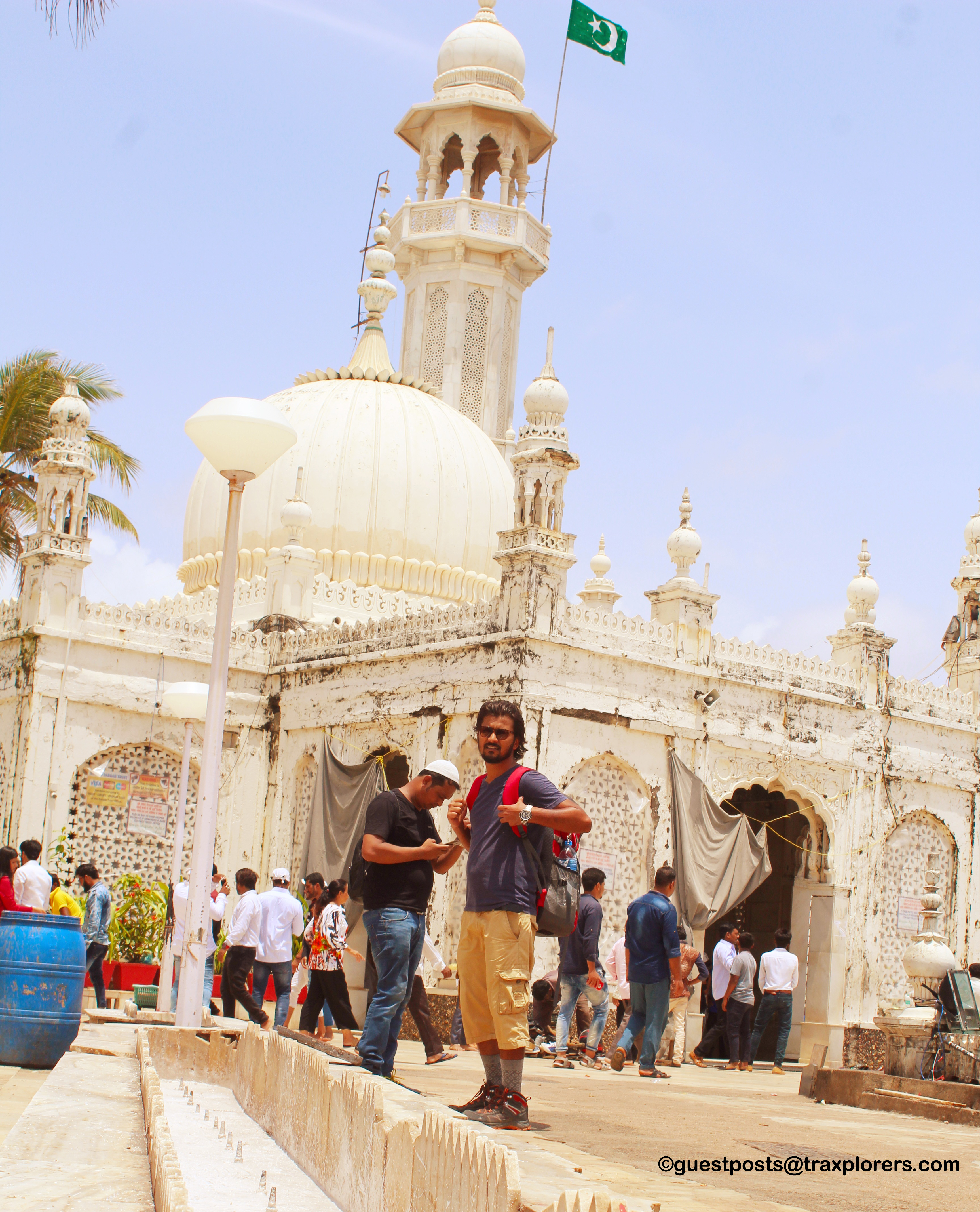 We took a bus towards Colaba bus stand and then walked towards the 'Bombay stock exchange', reached 'Gateway of India' where we saw some people selling tickets for 'Elephanta caves' to Elephanta Island. Both of us agreed to visit the Elephanta caves as we had a lot of time till our night train. We took tickets and sat on Ferry around 2:30 pm. It took 1 hour to reach Elephanta caves in the ferry from Gateway of India. We spent around 1.5 hours there and took another ferry at 5:15 pm towards Mumbai. Then we headed towards 'CSMT (Chhatrapati Shivaji Maharaj Terminal)', wanted to see that terminal as I heard a lot about it. It started raining again and I actually got irritated this time as at every hour it was raining. It felt like Mumbai was playing a wet and dry game with us. We waited for a couple of minutes until the rain stopped and then visited CSMT. Clicked some photos and then headed towards 'Marine drive'. I would like to say one thing about Marine drive, "It was peaceful". We both were tired walking around 24-25 km the whole day. Relaxing at Marine drive was awesome. I really wanted to sleep there but had to move towards Marine Station for the train towards Dadar. We had our dinner near the station and then boarded a train to Shirdi at 9:30 pm.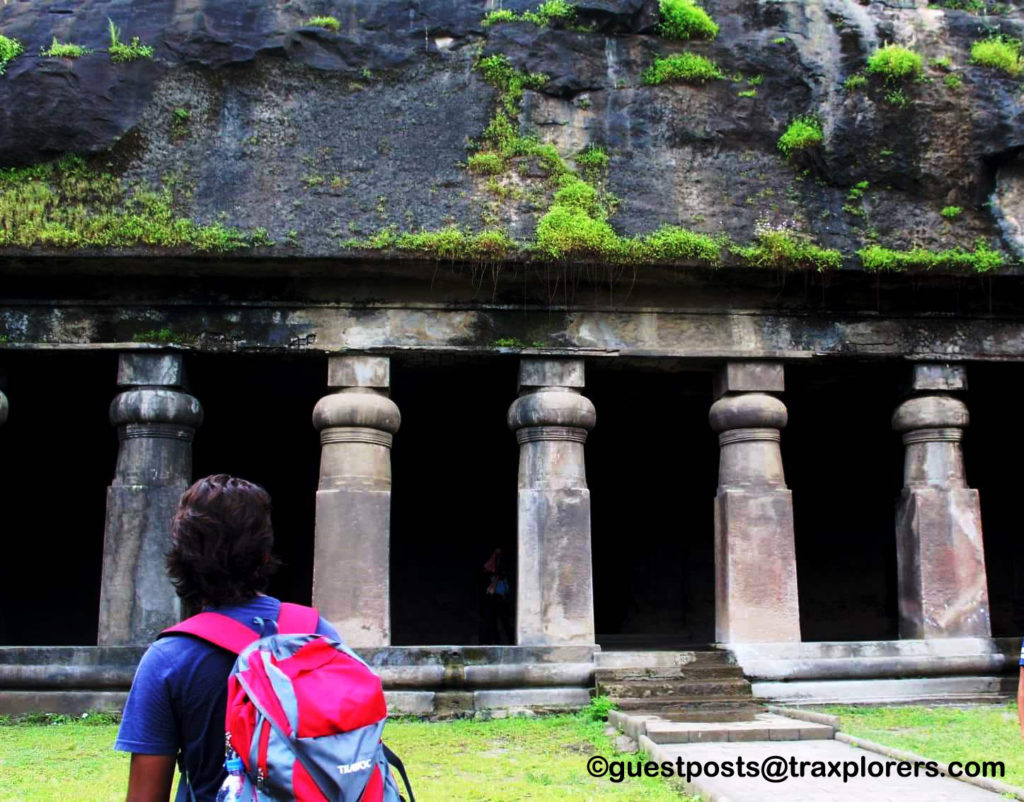 Cost Details: Local Train Tickets for the day Rs.25/-, Food expenses Rs.370/-Elephanta Caves Rs.200/- for a ferry ride, Rs.5/- for village entry and Rs.40/- for Elephanta Caves entry tickets per person.
Day 3: Trip to Shirdi and Aurangabad (Ellora Caves and Bibi Ka Maqbara)
Reached Shirdi railway station at 3:30 am. We took a shared auto to Shirdi Temple. It took 10 min to reached there. Went to Public Washroom and get freshen up (which took around 1 hour). Deposited our luggage and shoes to free cloakroom and get our entry ticket to Temple from free registration counter. It took 40 minutes to visit the Temple. We had our breakfast and ran towards Shirdi Bus stand to catch the Bus for Aurangabad. We boarded the bus around 8:30 am and it took 3 hours to reach Aurangabad Bus stand (around 11:40 am). When we got off from bus travel agents and taxi drivers surrounded us with their tour packages. They were charging Rs.900-1200/- for the day trip to Ellora Caves and Bibi Ka Maqbara. We asked them about any bus service running from bus stand but everyone denied. But I didn't trust them so I went to inquiry window at a bus stand, where I got to know about frequent buses for every half an hour to Ellora caves Without wasting time we took a bus and reached Ellora Caves in 30 min. We were very hungry and therefore started searching for food. We hadn't eaten very well since we left Delhi. Finally, we got North Indian food thali for Rs.100/-. That was the food we were searching for the past 2 days. The entry ticket for Ellora Caves was Rs.40/- per person. Kailash Temple is just in front of the entry gate. I must say this was the most beautiful archeological site I have ever seen.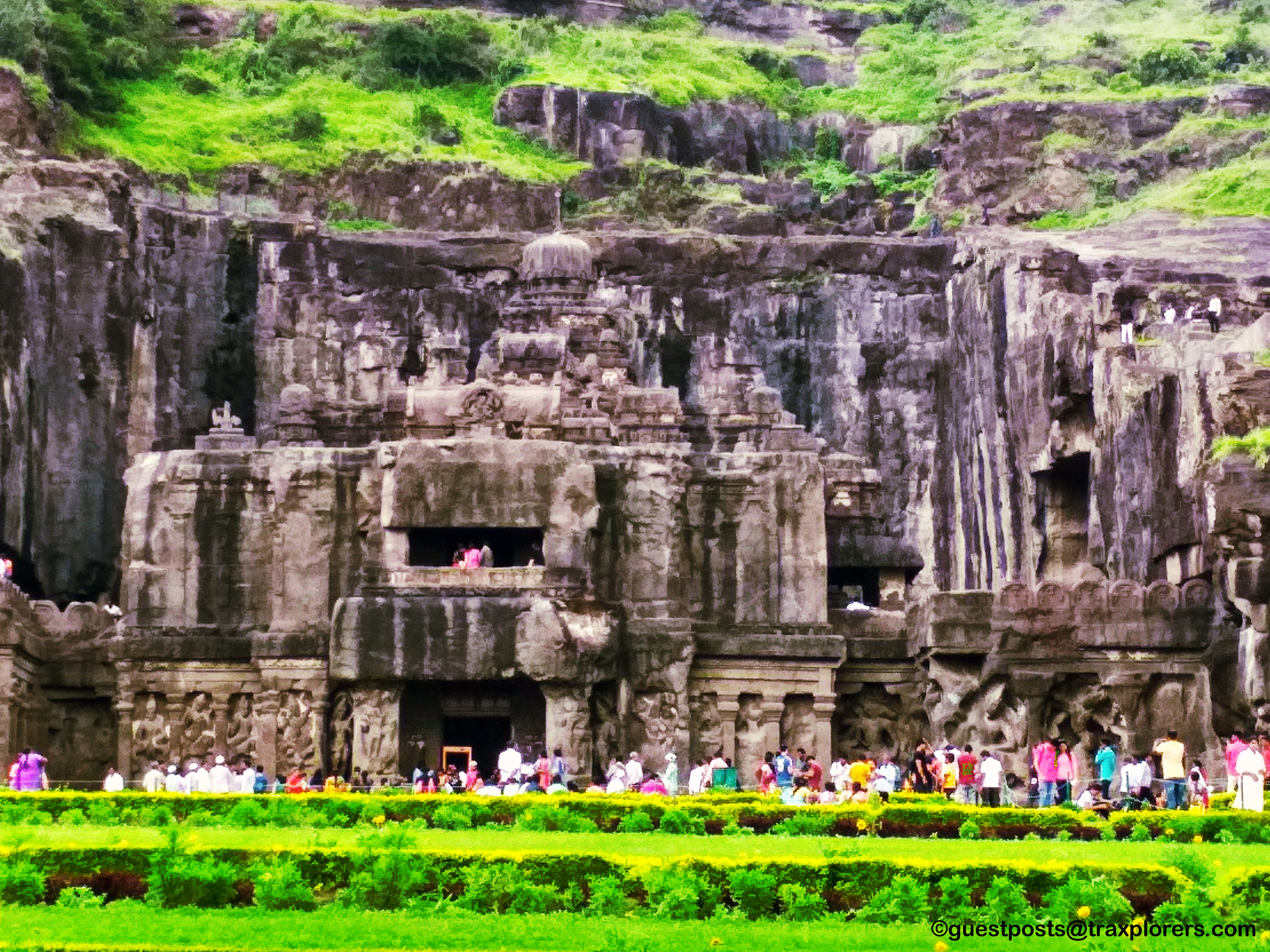 Admiring the architecture, I got a question in my mind "How did they build it?". Really it was a beautiful, amazing, and worth a visit. We spent our most of the time exploring and seeing this architectural marvel.

There are around 34 monasteries and caves in Ellora but we only visited 16-17 as all of them are almost same so we started losing interest to visit all of them.
At 3:00 pm we returned to the Aurangabad Bus stand and looked for shared taxi and cab to Bibi Ka Maqbara (also known as Mini Taj Mahal of Aurangabad). But then we realized it was a small city and there was no option for shared auto and jeep and for booking they were charging around Rs.200-300/-. We had our train at 09:30 pm, had plenty of time so decided to walk through the distance. We reached Bibi Ka Maqbara, spent around 45 mins there, explored the city on feet and reached the railway station. Had our dinner at a station and boarded our train at 10:00 pm to Thane (Mumbai).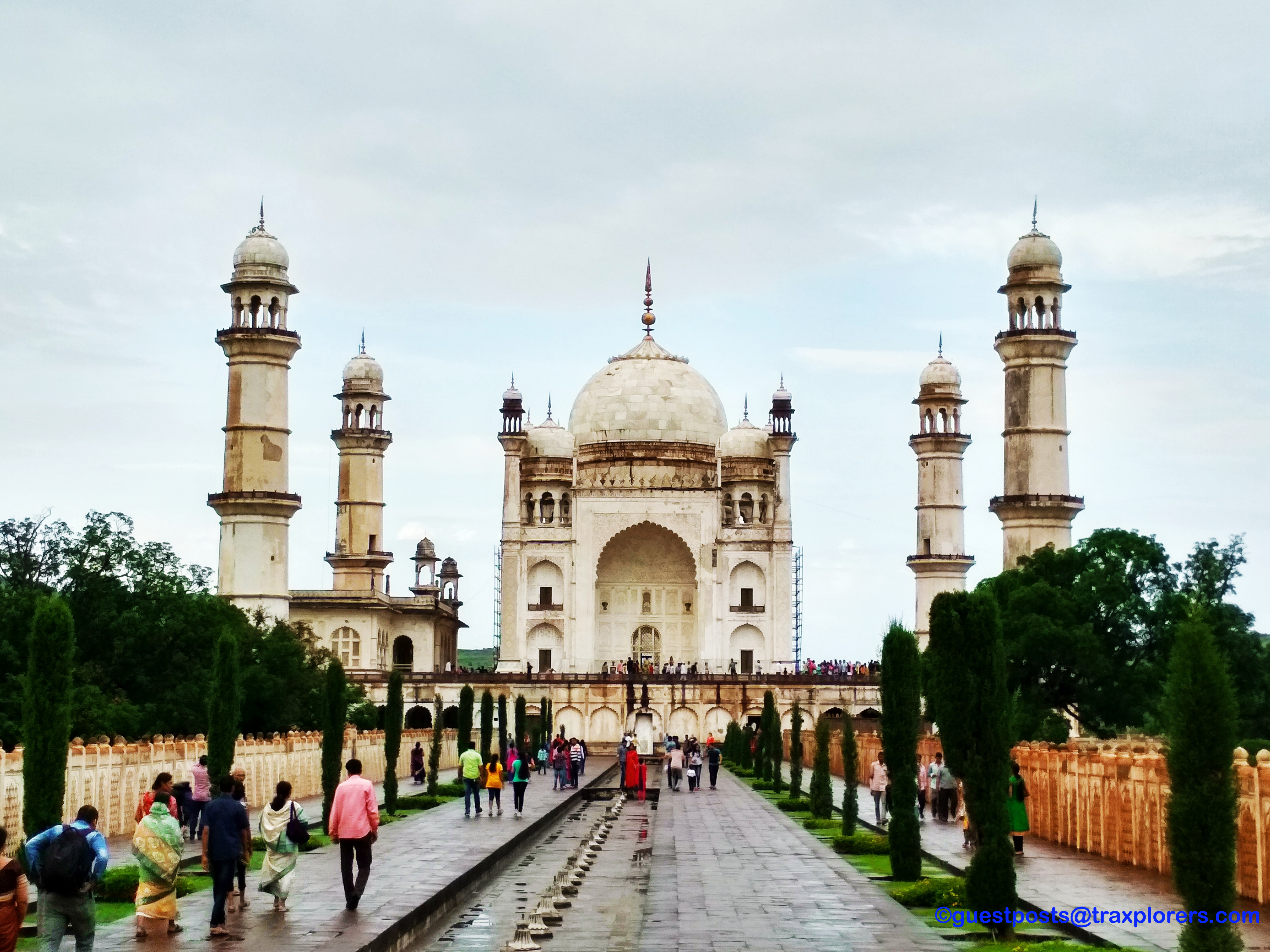 Cost Details: Dadar to Shirdi Train Ticket: Rs.245/-, Shirdi to Aurangabad: Rs.160/-, Aurangabad to Ellora and back to Aurangabad: Rs.100/-, Entry ticket to Ellora: Rs.40/-, Entry ticket to Bibi Ka Maqbara: Rs.20/-, Food expenses Rs.310/-.
Day 4: Day trek to Kalavantin Durg
We reached Thane railway station early in the morning around 6:00 am. Took Mumbai local train to Belapur CBD and went to meet our host for a day. We requested him to host us through CouchSurfing and he accepted. We reached there get freshened up and after that headed towards Panvel Railway station. It took 10 mins to reach there. It was 09:10 am and we got disappointed to know that we missed the train for Thakurwadi because of just 5 min delay. So we took another train at 09:55 am and reached Thakurwadi around 11:00 am. From there we started our trek to Kalavantin Durg. When we reached upside I was amazed by the view. It was beautiful. I never thought Western Ghats could look like this as I had always gone for trekking in the Himalayas (either Himachal or Uttarakhand). It was a mind-blowing experience. During trekking, light rain shower made the weather pleasant and provided us with beautiful views.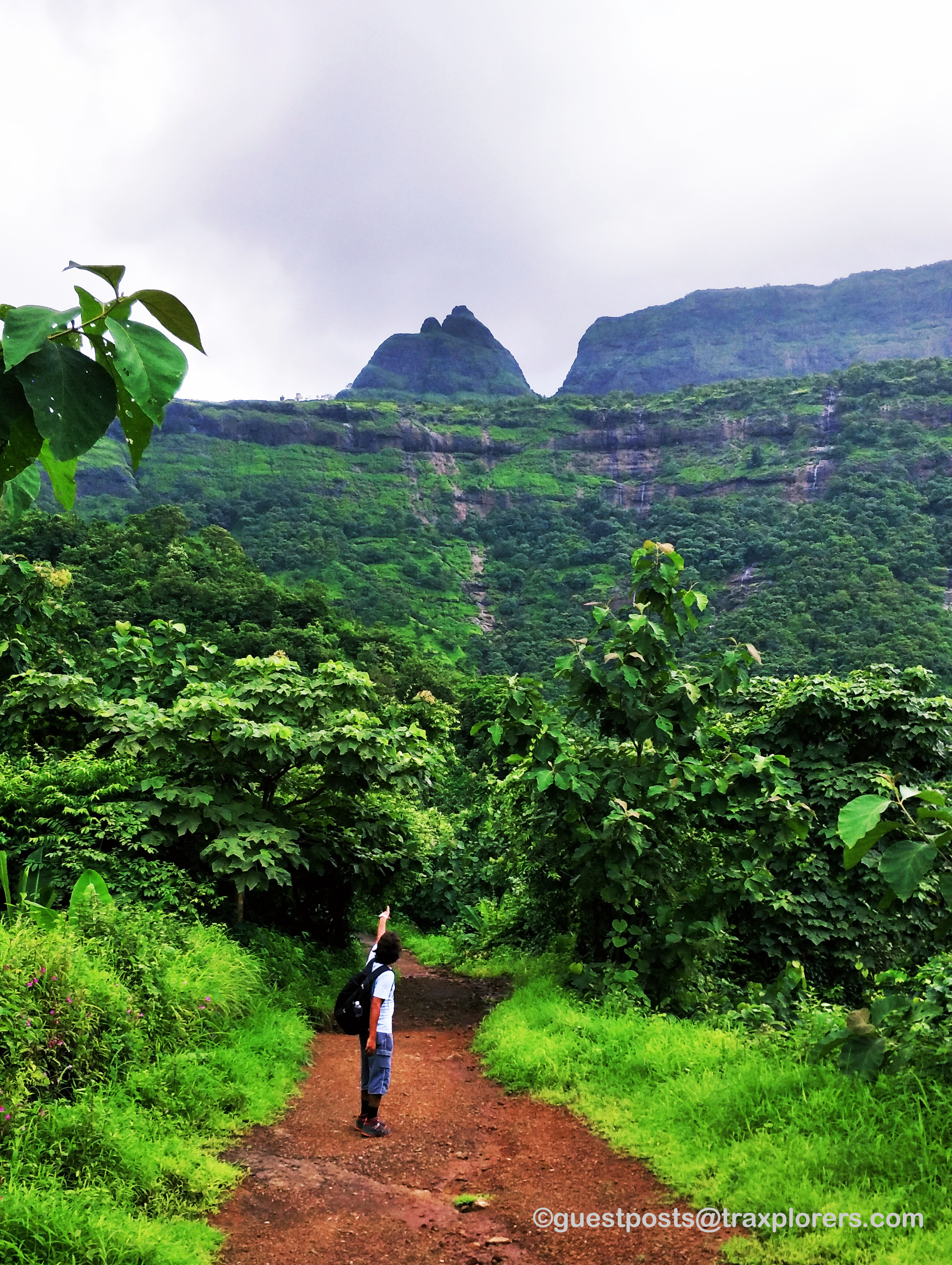 The whole trek was quite simple except for the last 100-150 meters stretch. That was the main stretch for which Kalavantin Durg is famous. It was 80-90 degree steep stairs and rain made it slippery and difficult to trek.
By seeing the last stretch my friend denied to go ahead to the top and preferred to stay down. I went to the top alone. Believe me, it was adventurous and scary at the same time.
Climbing up was not very much hard but the scariest part was returning back. A single small mistake and believe me you are done with your life for sure.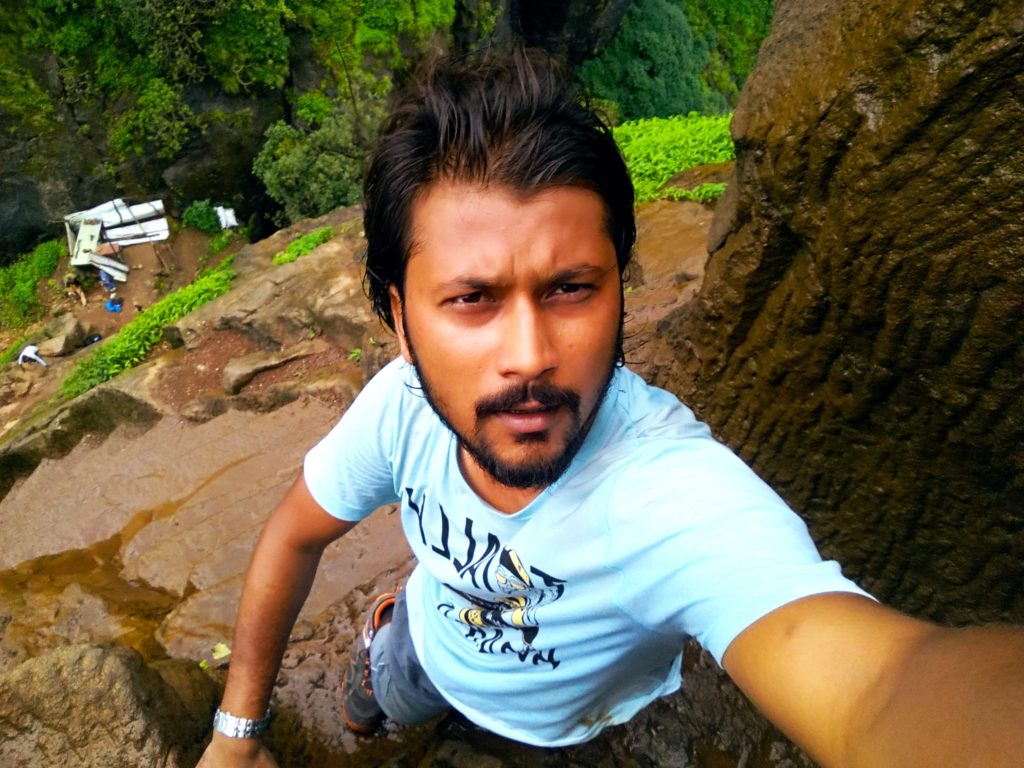 But in the end, when I completed that last stretch I was happy by heart. The feeling was great as I believe that, there is no reward without risk. This trek was worth but at the same time, I would say not for soft-hearted people.
Cost Details: Aurangabad to Mumbai: Rs.470/-, Mumbai local train cost: Rs.20/-, Panvel to Thakurwadi and back to Panvel: Rs.40/-, Food Expenses: Rs.300/-
Day 5: Visit Siddhivinayak Temple and back to Delhi
We said goodbye to our host around 8:00 am and headed towards Siddhivinayak Temple. We took the Mumbai local and visited Siddhivinayak Temple, roam around Colaba market, fashion street, etc. Finally, went back to Bandra Terminus and boarded our train to Delhi.
If you like online shopping then please go to the Amazon search page below. Thank you

♥

Cost Details: Mumbai local train: Rs.15/-, Food Expenses: Rs.280/-, Bandra to Delhi: Rs.1015/- for 3rd AC 'Garib Rath Train'.
That's all from this trip.
Keep Smiling, keep planning and keep traveling.
Feel free to ask if you have any question regarding the places which I have visited during my trip. I would be happy to help.
Follow me on Instagram.
Read our other guest posts here.
Hope you find this post helpful. Do share your thoughts in the comment box below. Pin the image and spread some love. ♥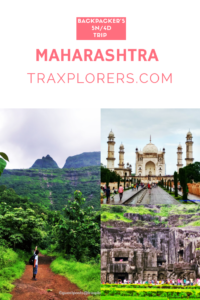 DISCLAIMER: Some links on this site contain affiliate links, meaning if you book or buy something through one of these links, we may earn a small commission (at no extra cost to you). Thank you for supporting this website.
Terms & Conditions: ©Unauthorized use and/or duplication of any material (text and/or images) without consent from this site's author and/or owner are strictly prohibited. Links and excerpts may be used provided that full credit is given to Traxplorers or Supriya Bhardwaj with specific and appropriate direction to the original content.