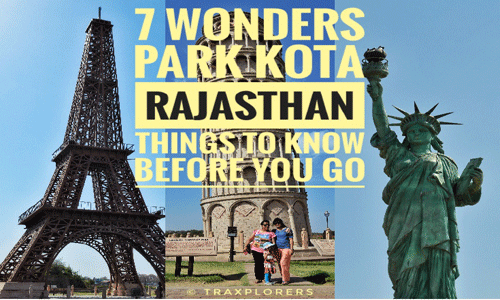 7 Wonders Park Kota | Things to know before you go
Kota: A city blended with Culture & Education
What is Kota Famous for?
Kota is a city situated on the banks of Chambal River. This is another city of Royal Rajasthan with a perfect blend of culture with education. Kota is famous for it's largest coaching industry in India. It is very well known in providing coaching for IIT, JEE, NEET, NTSE, KVPY. Every year lakhs of students are being polished through systematic coaching in the age group 11 to 18. Students from standard 6 to 12 are being prepared for National and International Olympiads. One of my friends has also got benefitted from the Kota education coaching system. No doubt it is a good place for aspiring students. Apart from this Kota is famous for many other things like gold jewellery, silk sarees, the famous Kota stone, palaces, and museums. But we were going there for something else. It was the Replicas of Seven Wonders that attracted us to visit Kota.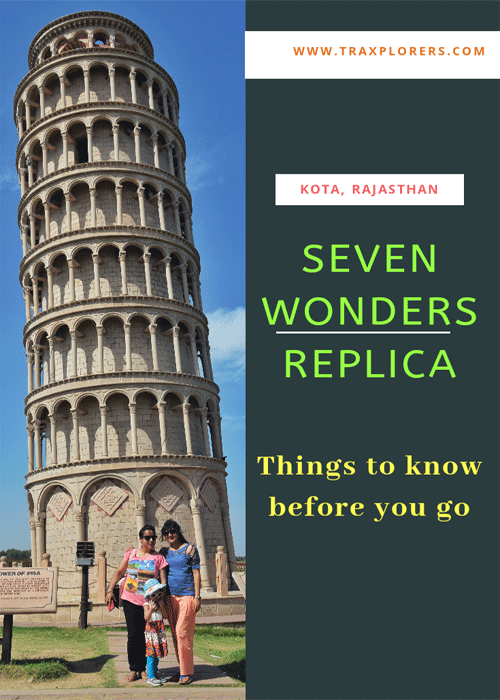 We headed towards Kota after visiting UNESCO heritage, Chittorgarh Fort.
Chittorgarh to Kota
We, two families after having breakfast buffet at Hotel Royal Inn headed towards Kota. We drove down all the way to Kota from Chittorgarh. The distance of Kota from Chittorgarh is 173 km. It took around 3 hours to reach Kota. We immediately looked for Seven Wonders Park. As soon as we reached there, we found it was closed. We came to know that it would open at 2 pm. We almost had more than an hour to wait. Thinking about utilizing that time we went to the nearby family park. There was a toy train ride, that made kids excited and we went for it. Kids loved the ride and enjoyed it well. After then we left to have lunch nearby Seven Wonders Park. Had our stomachs full and then our eyes glued at the entry gate and ticket counter of the park. The weather was quite hot in the month of March end.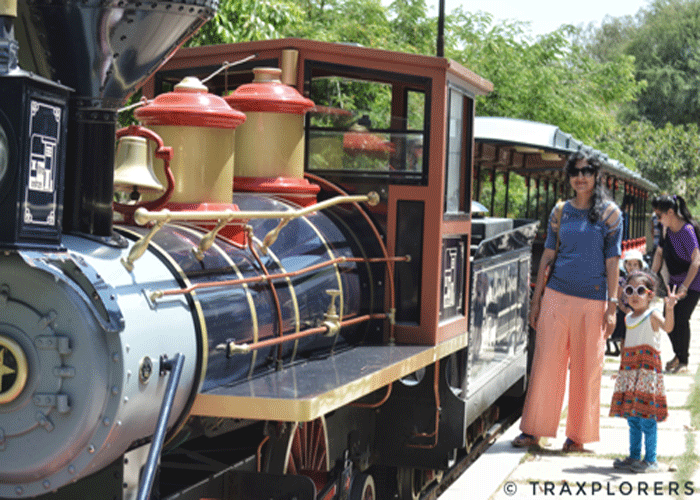 Entry to Seven Wonders Park
We had to wait till 2 pm then only get the entry tickets to the park. The park was well maintained from inside but what we found the nearby lake was not so maintained at all. There were weeds growing all over. This gave a pitiful look to the surroundings. However, theme of the park is good and appreciable. It is well suited for families.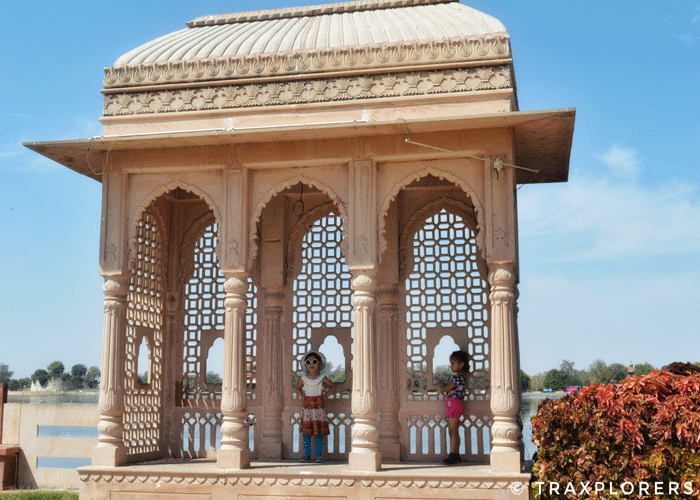 The Seven Wonders' Replicas
The park comprises of miniature versions of seven wonders around the world. It includes-
Taj Mahal of Agra, India
The Great Pyramid of Giza, Egypt
Eiffel Tower of Paris, France
Leaning Tower of Pisa, Italy
Statue of Christ the Redeemer of Rio de Janeiro, Brazil
Colosseum of Rome, Italy
Statue of Liberty New York, US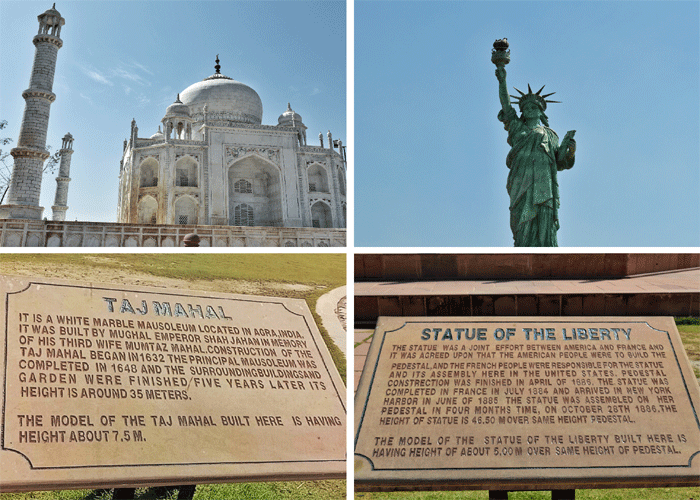 Seven wonders Park- Know before you go
Entry Fee: Indians- 20 INR per person, Foreigners- 40 INR per person
Opening Hours: 2:30 pm to 10 pm (all days of the week except Wednesdays), On Wednesdays- 11 am to 10 pm.
Note: Opening timings may vary during festivals or special occasions. Photography is allowed inside the park.
Best Time to visit: Winters (October to February)
Location: Kotri Mini Flyover, Ballabhbari, Gayatri Vihar, Kota, Rajasthan- 324007 India.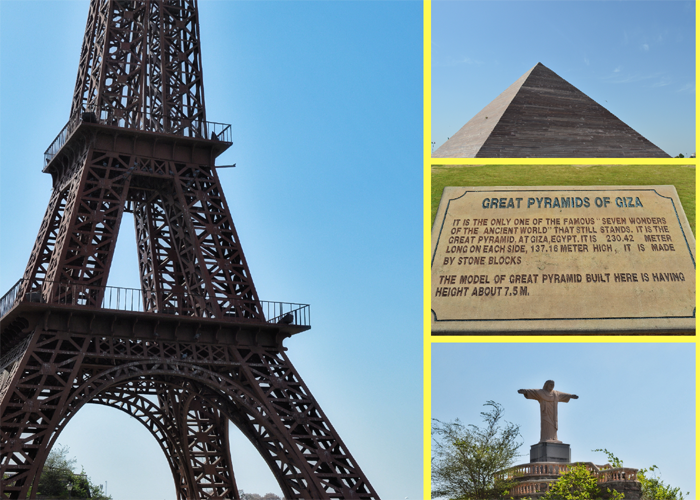 How to reach Kota
By Air- Nearest airport is Jaipur airport at 245 Km.
By Train- Kota Junction railway station is nearest at 7.5 km.
By Road- Kota is well connected to other major cities by road. Kota bus station is at 2 km.
Other Attractions in Kota
Pro Tips to visit Seven Wonders Park
Visit this place in winters only. It is hot even in the month of March.
To get the best view of Seven Wonders Park, visit in the evening when it is brightly lit.
Don't go in the early morning as the park will be closed. It opens only in the afternoon.
Share this article with friends. Thanks! ❤️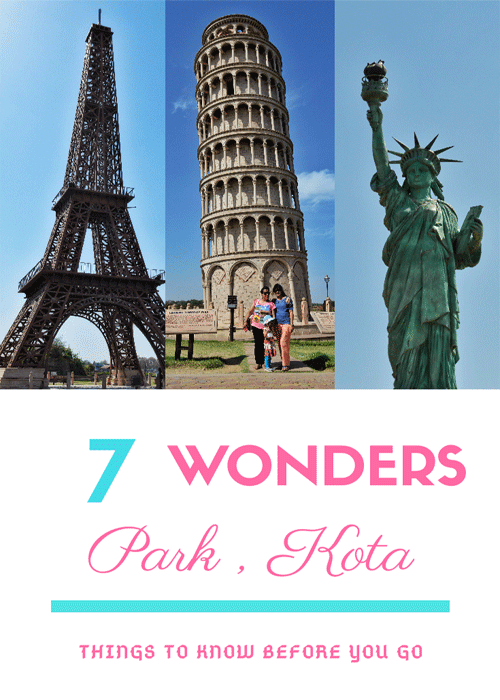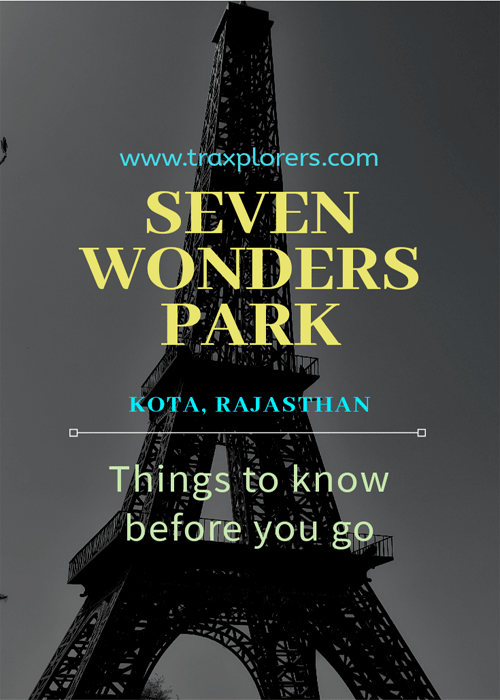 DISCLAIMER: Some links on this site contain affiliate links, meaning if you book or buy something through one of these links, we may earn a small commission (at no extra cost to you). Thank you for supporting this website.
Terms & Conditions: ©Unauthorized use and/or duplication of any material (text and/or images) without consent from this site's author and/or owner are strictly prohibited. Links and excerpts may be used provided that full credit is given to Traxplorers or Supriya Bhardwaj with specific and appropriate direction to the original content.