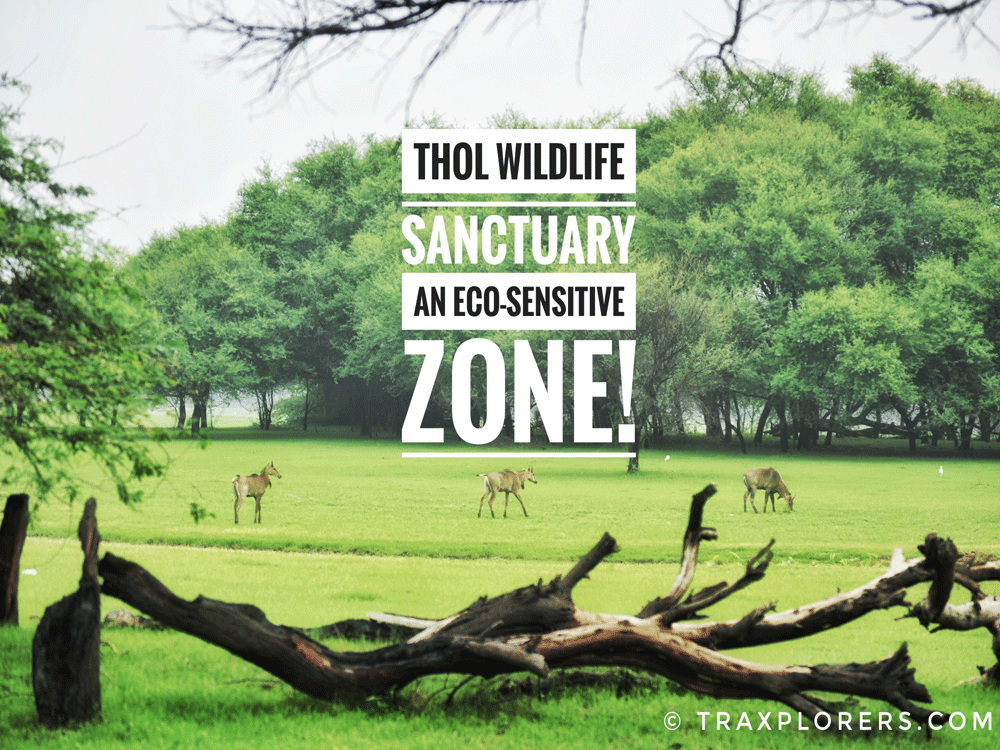 Thol Wildlife Sanctuary: An Eco-sensitive zone
Nature: The Wildlife
Observing today's scenario, worldwide health emergency - COVID 19 felt like a threat to human existence. Somehow, a smart specie of this earth, known as Homo sapiens, is responsible for this and it is undeniable. Mother nature always gives alarming signs to us and tries to convey her message. But we humans never took it seriously unless it truly happened. Need of the hour or one can say the lesson learned (whoever comprehends) is to conserve our precious nature, its wildlife, natural habitats of flora, and fauna. It is also an act of survival for the existence of humans. This post is dedicated to wildlife through one of our excursions into an eco-sensitive zone in the Thol region of Gujarat.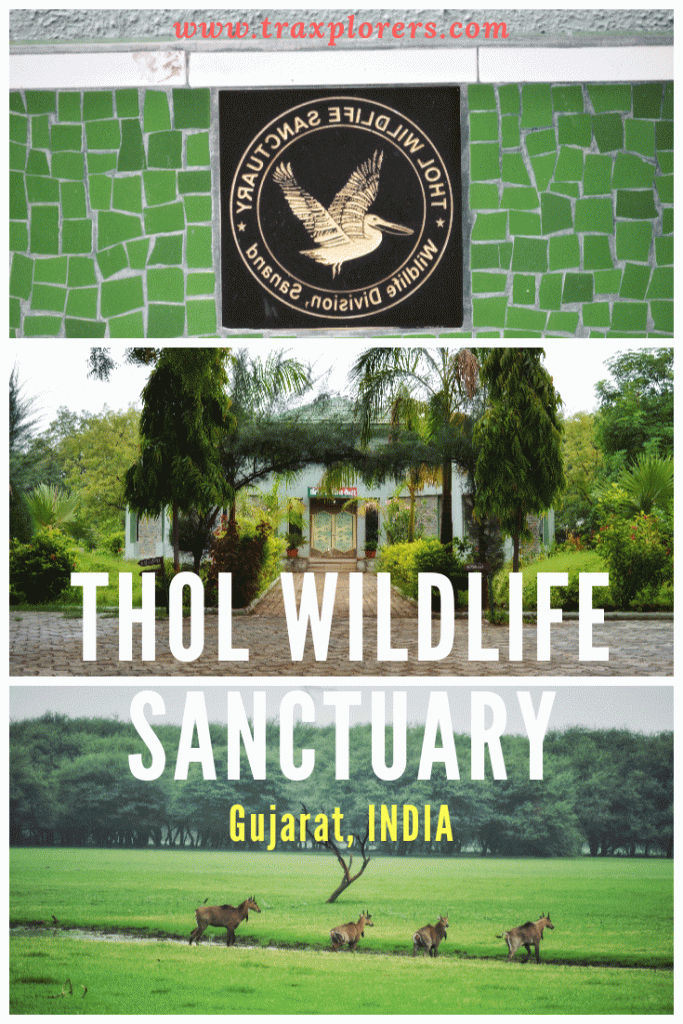 Thol Lake Wildlife Sanctuary
Thol wildlife sanctuary is located in Thol village of Mehsana district in Gujarat. It is a shallow freshwater body surrounded by marshes. Originally, Thol lake was constructed as an irrigation tank in 1912 to provide irrigation facilities to farmers. Later, it was named as Thol Lake Bird Sanctuary in 1988.
The Flora & Fauna
The sanctuary is a habitat for around 150 species of birds including many migratory birds. The prominent birds found in the sanctuary are flamingos. Some of the prominent animals found in the region like blackbuck, blue bull, and golden jackal. There are thick lines of trees in the peripheral area of the lake and wetlands are covered with many aquatic plants.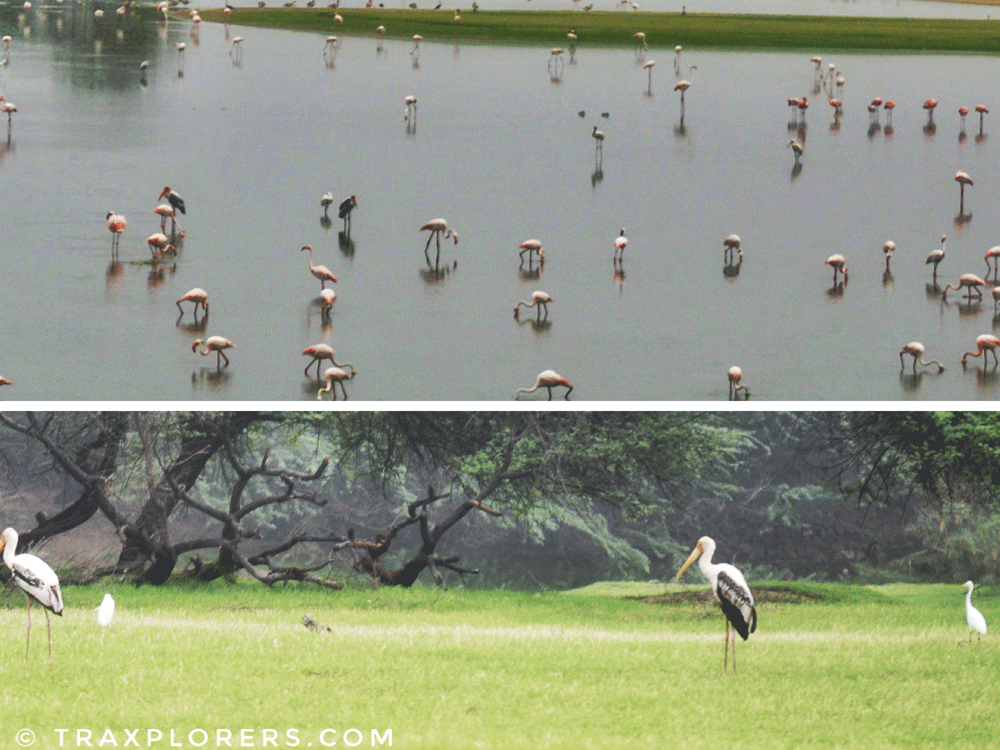 Location/Nearest station
Thol bird sanctuary is around 20 km away from Ahmedabad.
Best time to visit
The best time to visit Thol bird sanctuary is after the rainy season between and during the beginning of November to February.
Visiting Hours
Everyday from 6 AM to 6 PM
Things to do
Drive down from Ahmedabad to Thol lake to get away from the maddening rush of the city gives eternal joy.
A surprisingly varied variety of birds can be seen around the Thol lake. Be the one to witness Egyptian Vultures and Saras Crane, the world's tallest flying bird.
Best place for nature, wildlife lovers as well as bird watchers.
If you are lucky enough, you could get a chance to spot a beautiful herd of wild animals in their natural habitat.
An ideal place to spend a day with your family and friends in the lap of nature.
Our Experience in July 2018
We, Traxplorers along with another family chose a day during mid-monsoon in 2018. The decision to explore the Thol wildlife sanctuary was the result of finding it while Googling places for a family day excursion near Ahmedabad. It was an overnight accord between us to explore wildlife nearby. The next morning, it was drizzling. The weather was already favoring our excursion. We drove down to Thol village in Kalol and reached Thol lake bird sanctuary within half an hour. As we have started early morning so we carried our breakfast along with.
Things we enjoyed in Thol wildlife sanctuary
The exquisite feeling of being in a natural habitat of many species of birds and animals.
From the entry gate, there was a parking facility, a nicely decorated garden, and a forest guest house for forest officers.
After parking, we found two walking tracks surrounding the lake. We followed the right sidetrack and found it the preferable one as there were canteen and toilet facilities.
We totally enjoyed the morning view of nature with a homemade breakfast.
The bird watching, the lake, the marshy areas with no city hustle around, were like fuel to souls.
The family excursion into the wilderness and finding many areas of solitude with greenery only all around.
We enjoyed our wanderings into the long stretch of a region around the whole sanctuary. Got beautiful scenery of peacocks, peahens, gray langur to witness.
During our excursion into the deeper zones with a thick line of trees, we found a beautiful herd of blue bull. It was totally worth taking a shot. We spent half a day in the Thol Sanctuary.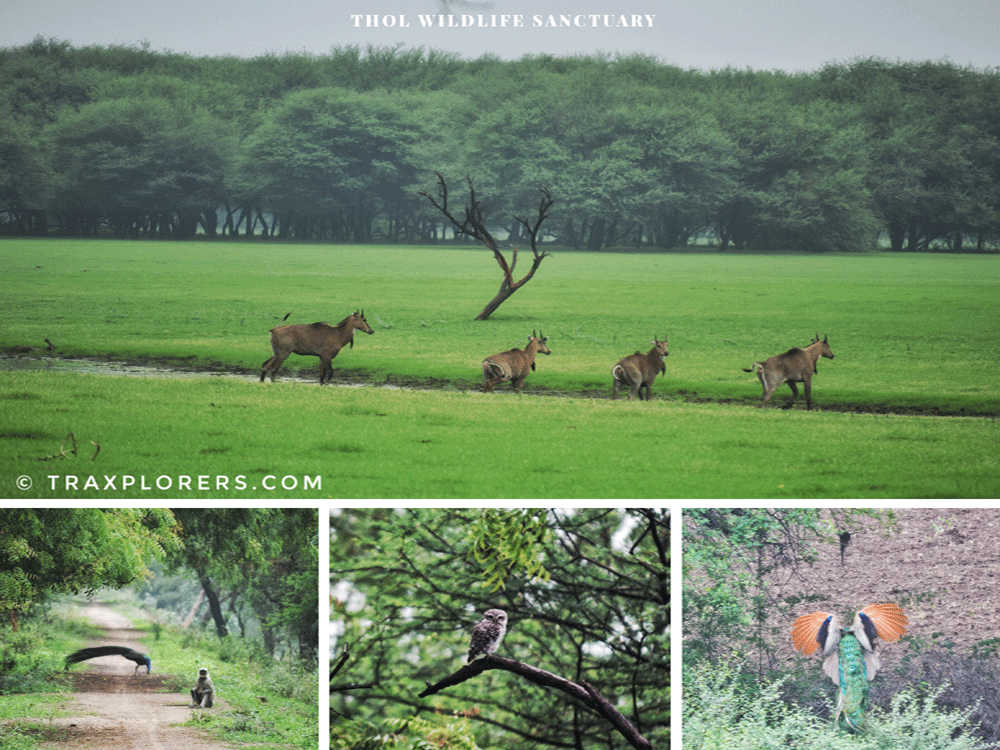 Things to know before you go
Must go early in the morning to enjoy nature at its best.
GPS will not work properly and the road is through a village/forest area. Some signages are there to guide but are at a far distance.
Take homemade food along with. You will definitely feel hungry after covering the long stretch on foot.
The entry fee is 40 INR for weekdays and 50 INR for weekends per person.
There is a paid parking facility charging 500 INR for cars. Two-wheeler parking is free.
It is advisable to go in a car during monsoon season and when packed in a group either family or friends.
Do carry a good camera for capturing nature's beauty. No fee for a normal camera but a 200 INR fee for a professional camera.
There is a refreshment stall inside but it will provide tea, snacks, water, etc. only. No food will be available.
Binoculars are available on rent at refreshment stall for bird watching.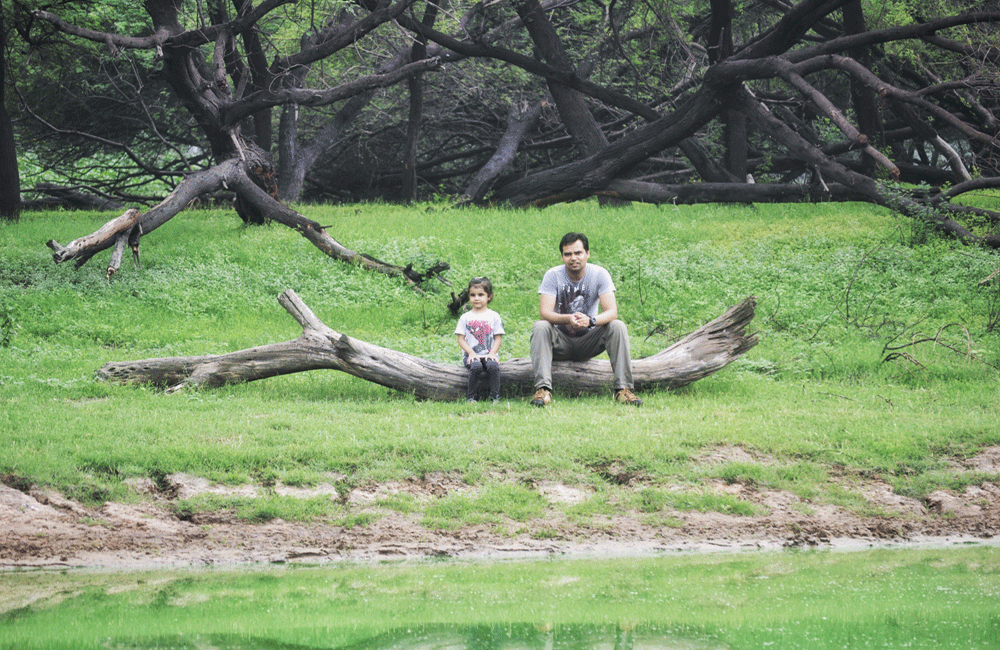 Things not to do
Thol Wildlife Sanctuary is home to around 160 species. It is not a picnic spot. So, try to keep a safe distance and keep quiet to maintain peace.
Don't play any loud music once you are inside. Just enjoy nature.
Don't litter around. Use dustbins placed at distances inside.
Further Reading: More posts from Gujarat, INDIA
Spread the love...by sharing it. Thank You! ❤️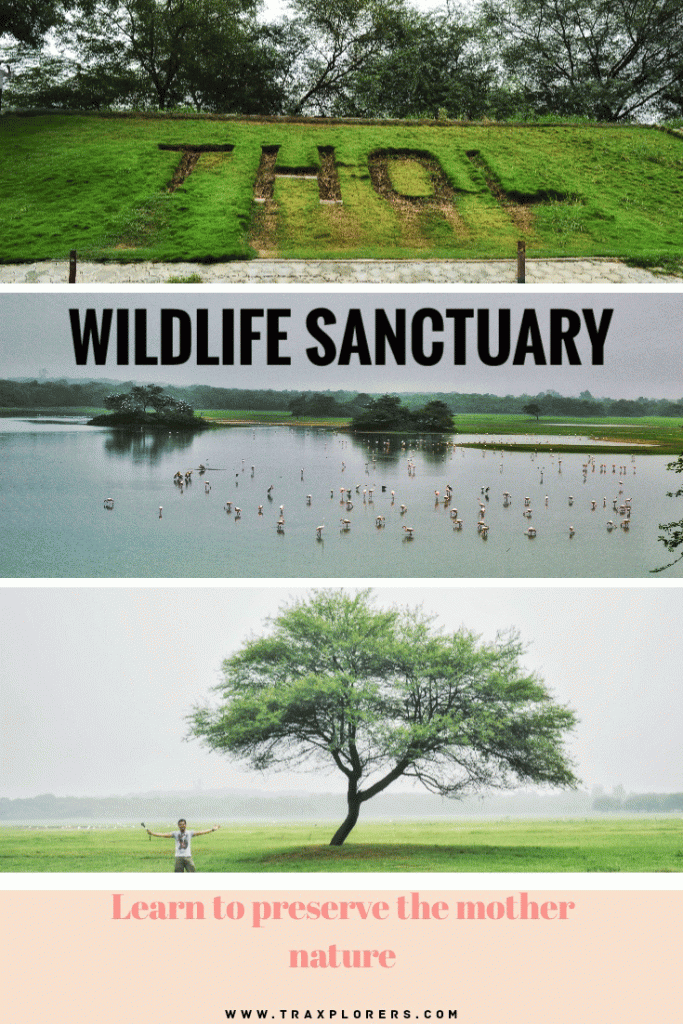 DISCLAIMER: Some links on this site contain affiliate links, meaning if you book or buy something through one of these links, we may earn a small commission (at no extra cost to you). Thank you for supporting this website.
Terms & Conditions: ©Unauthorized use and/or duplication of any material (text and/or images) without consent from this site's author and/or owner are strictly prohibited. Links and excerpts may be used provided that full credit is given to Traxplorers or Supriya Bhardwaj with specific and appropriate direction to the original content.