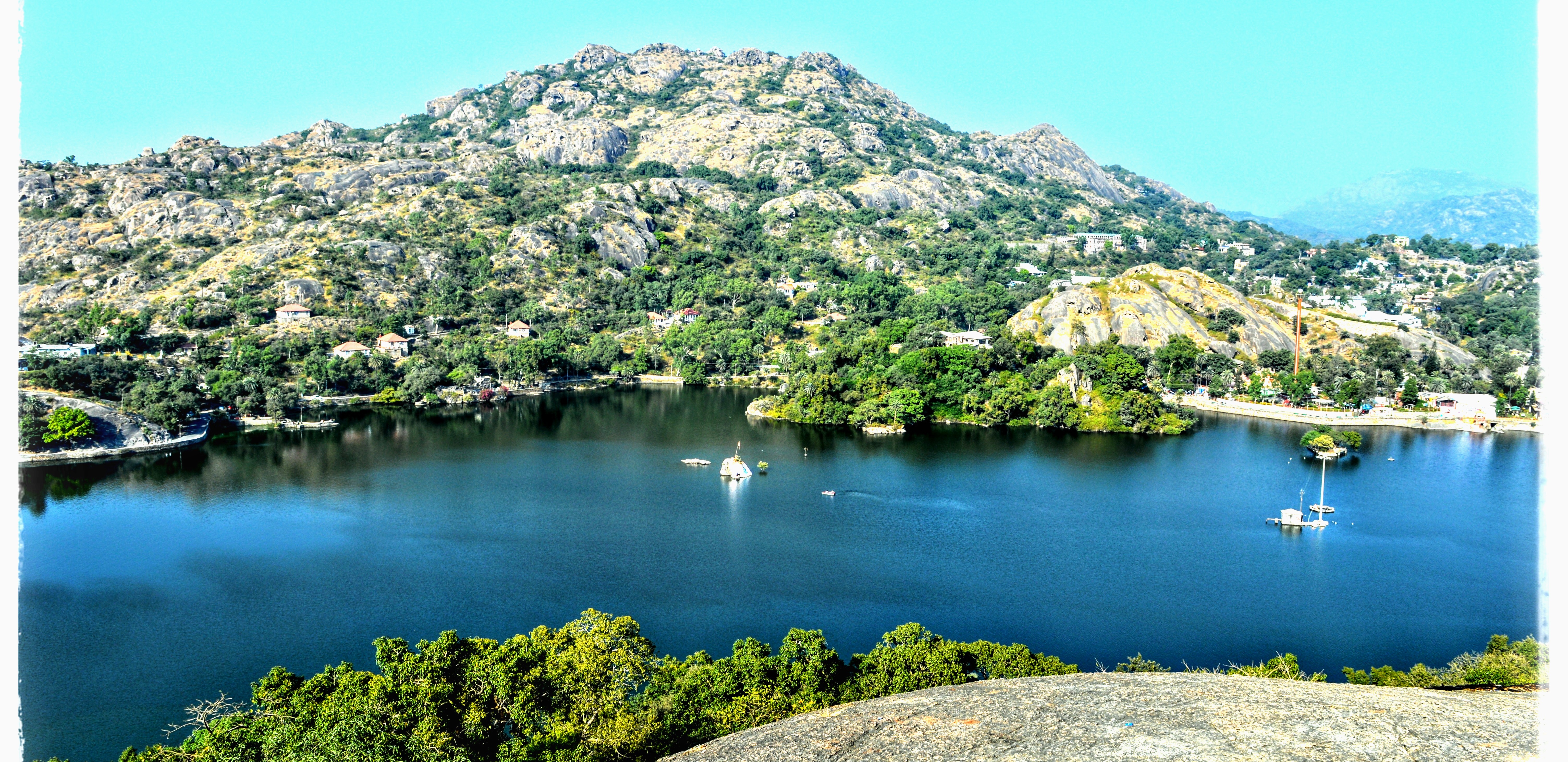 Mount Abu: A Hill Station of Rajasthan
---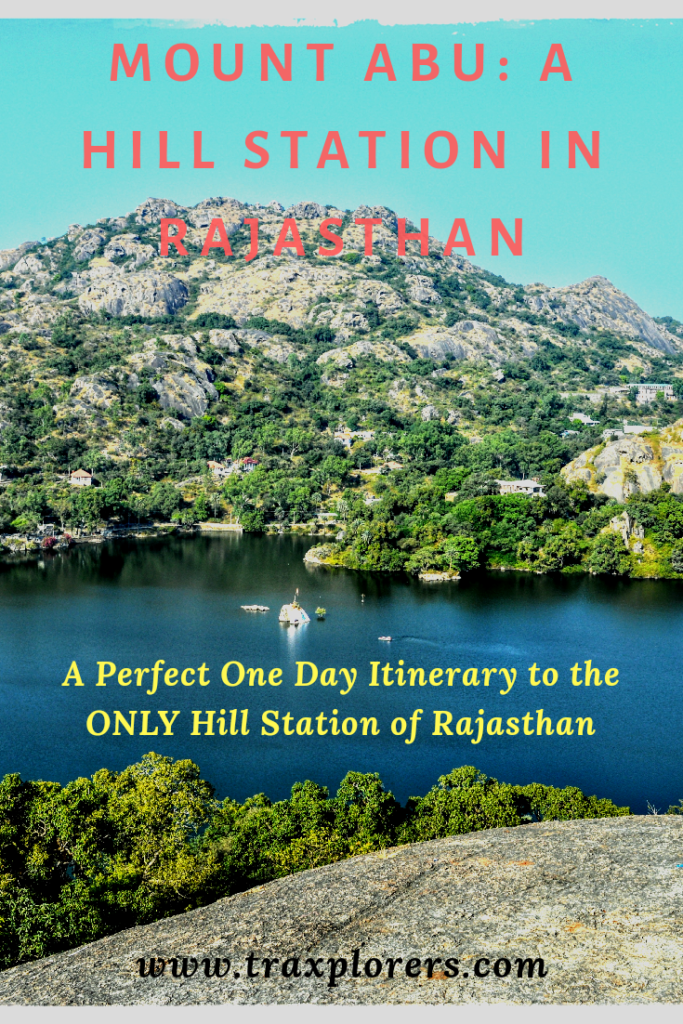 ---
A Hill Station in Rajasthan!
Yeah! You read it correctly. Mount Abu is a hill station in the desert state of Rajasthan. In fact, it is the only hill station of Rajasthan. It is situated in the Aravalli mountain range in Sirohi district and almost shares the border with Gujarat state of India. Due to the geographical location, lush green surroundings, and cool weather, Mount Abu is a quite popular tourist spot for Gujarat as well as Rajasthan. Apart from the cool weather, this place holds beautiful sites to explore along with centuries-old architectural marvels. There is a perfect itinerary for travellers and explorers to offer in Mount Abu.
---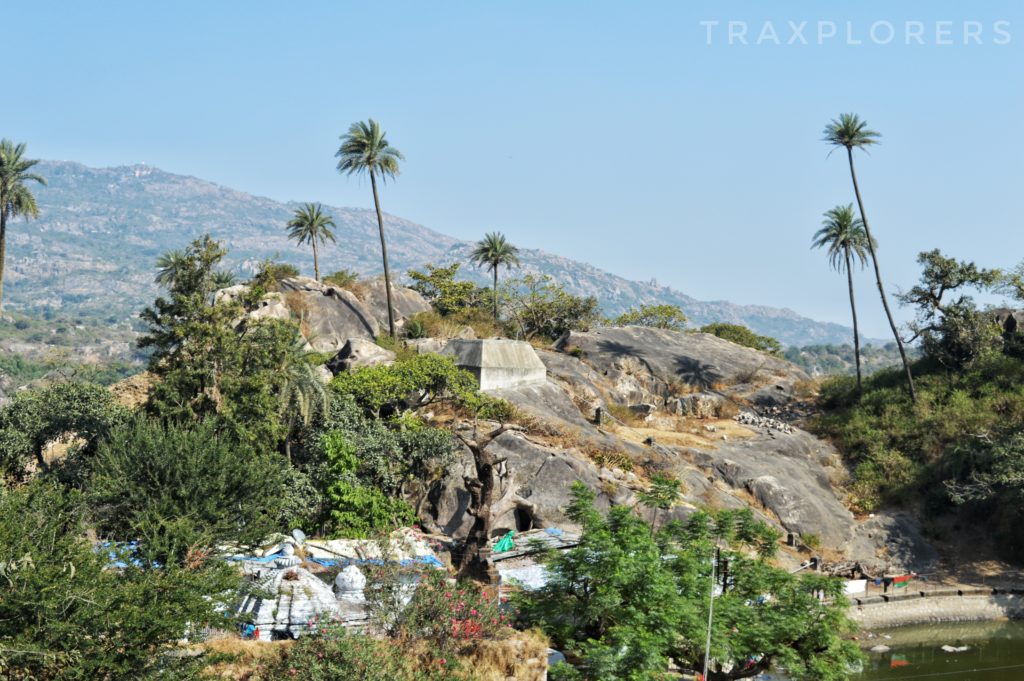 ---
Best Time to Visit
The best time to visit Mount Abu is from November to April. Summer starts in April and ends in June and temperature can go high up to 33°C. This temperature is relatively lower than the hot and dry weather of Rajasthan and Gujarat during summers. The monsoon season starts in July and ends in September.
---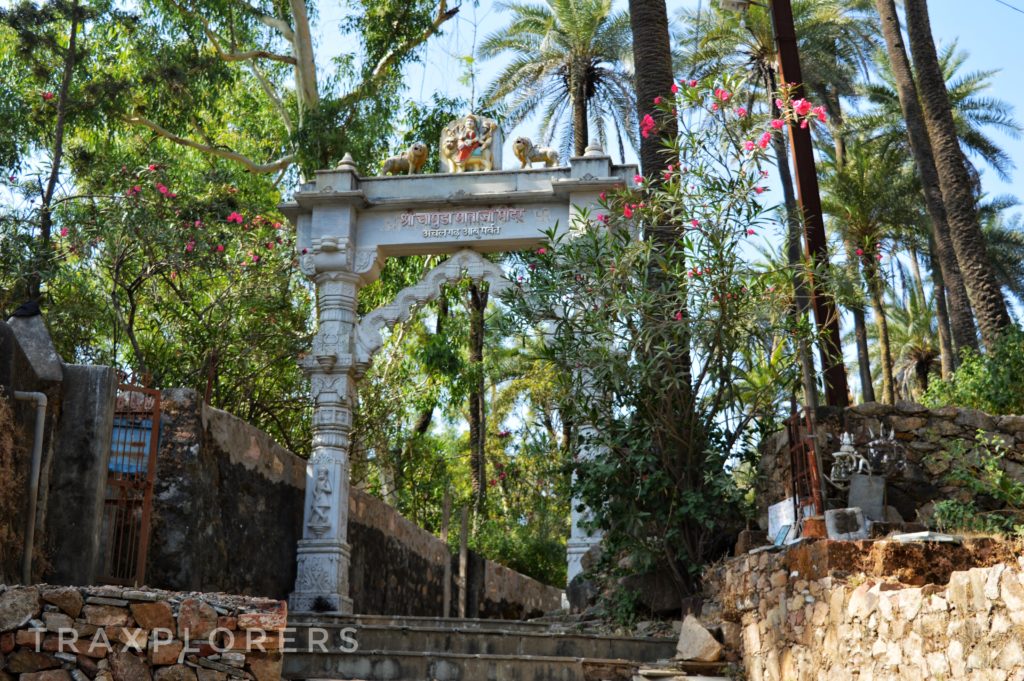 ---
Road Trip from Ahmedabad to Mount Abu
As usual, we took a road trip from Ahmedabad to Mount Abu. It was in the month of November 2017. It was a memorable trip for us as it coincided with my birthday. We started from Gandhinagar at 5:30 AM and covered a total distance of 228 km in 4 hours. One can plan for a stay but we hadn't planned for it so quickly ate our breakfast in a restaurant and went straightway to explore the paradise of Rajasthan.
---
Things to Do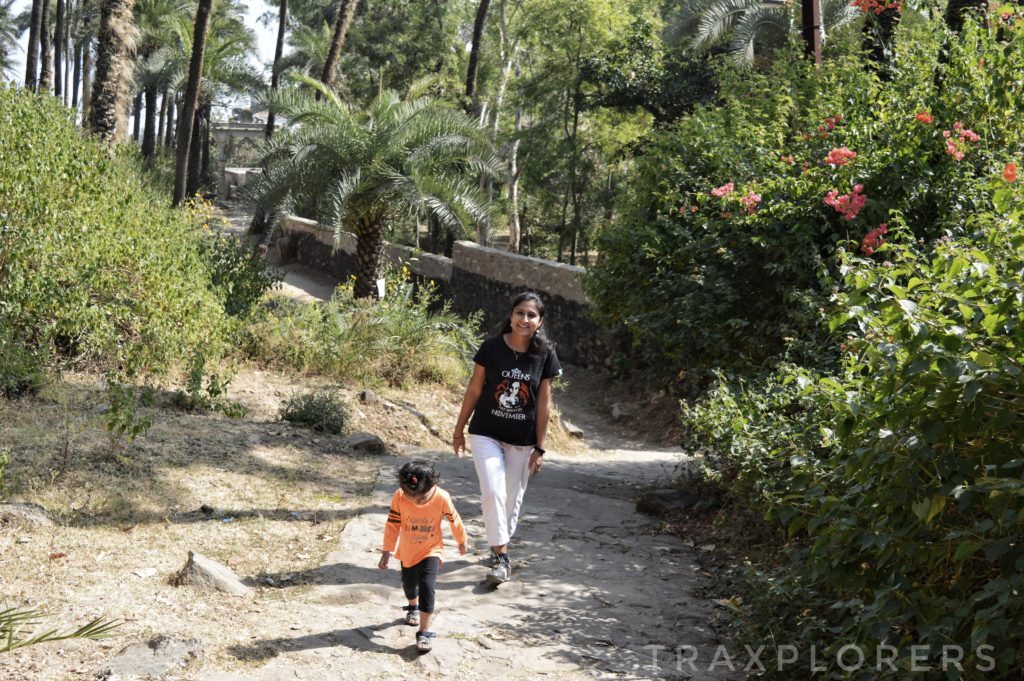 Climb the highest peak on the mountain: Guru Shikhar
Guru Shikhar is the highest point of Mount Abu in the Aravalli mountain range. It is at 5650 ft (1722 m) above sea level. This is the perfect spot to get a panoramic view of the whole region and is also famous for the temple of Guru Dattatreya, an incarnation of three Hindu Deities 'Brahma, Vishnu, Mahesh' in one. The name Guru Shikhar is after Guru Dattatreya who is believed to have resided on the peak as a monk.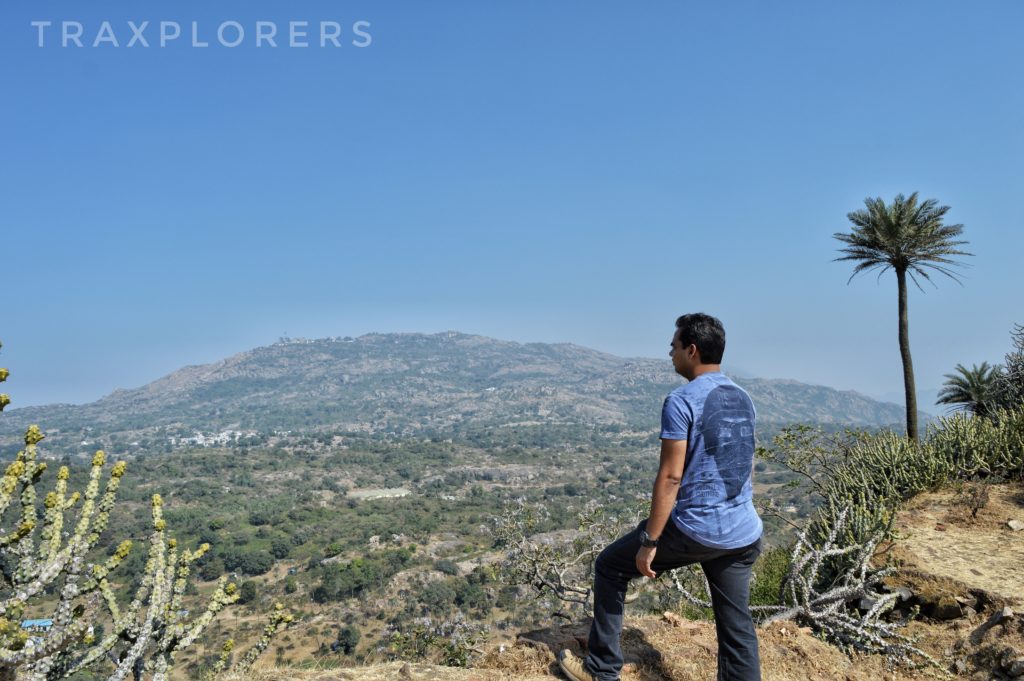 ---
Explore Achalgarh Fort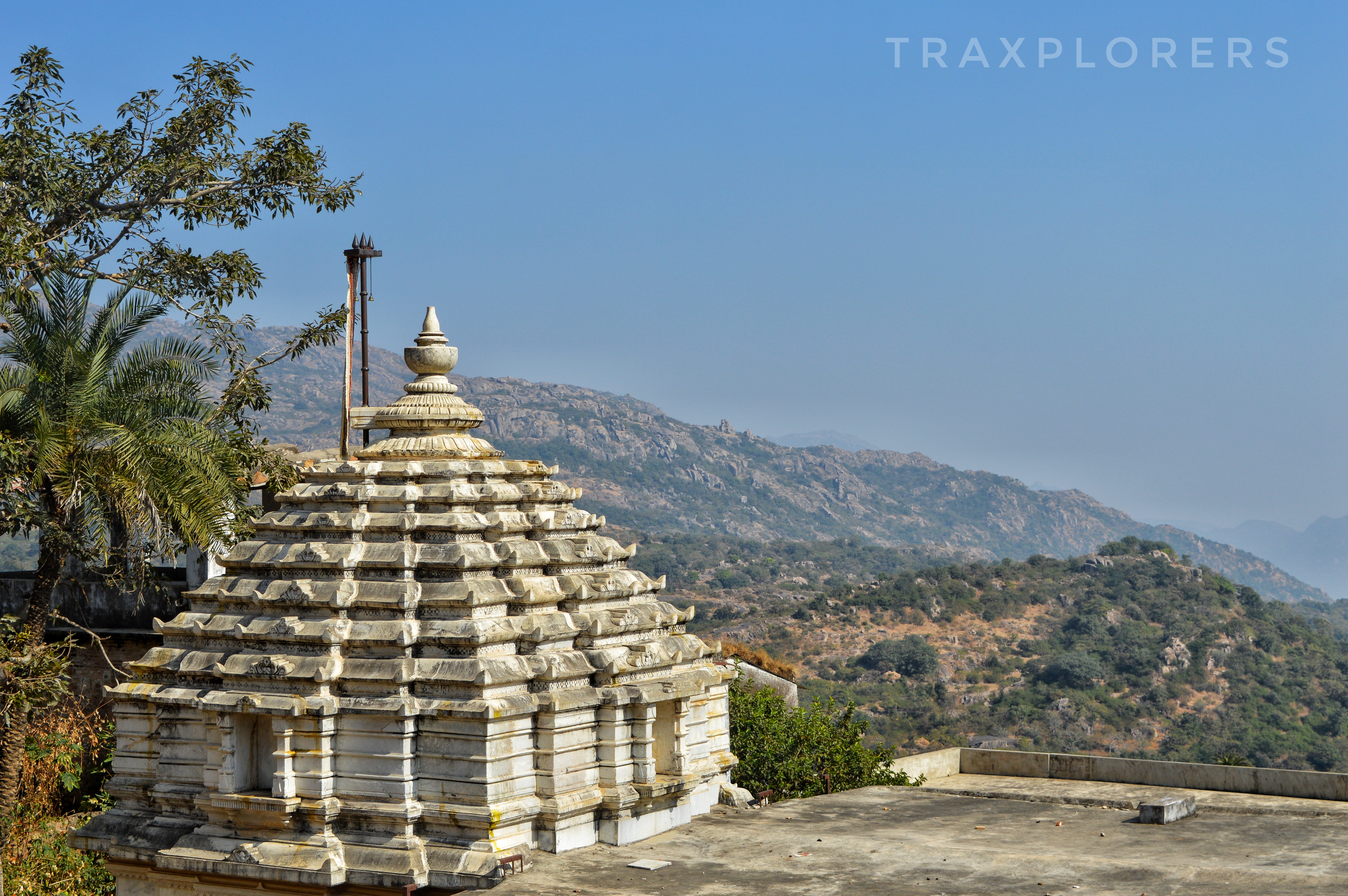 Famous for: Religious importance, historical heritage, and sightseeing.
Achalgarh fort is situated at 11 km from Mount Abu and was originally built by rulers of Paramara dynasty. Later the fort was renovated and named as Achalgarh by Maharana Kumbha of Sisodia Rajput clan in 15th century. The fort is in ruins currently but still worth exploring. You have to climb a great deal to reach up there. On the way, there is a Jain temple and also Chamunda Devi temple. Now a day you will get to see more visitors here due to the temples.
Very few climb up to the fort but it is quite peaceful above. At top of the mountain, you will see a breathtaking view of Mount Abu. There is a Goddess Kali Temple on the top. To enter Goddess Kali Temple you have to follow a small trail and decent bit carefully on the edge of the cliff.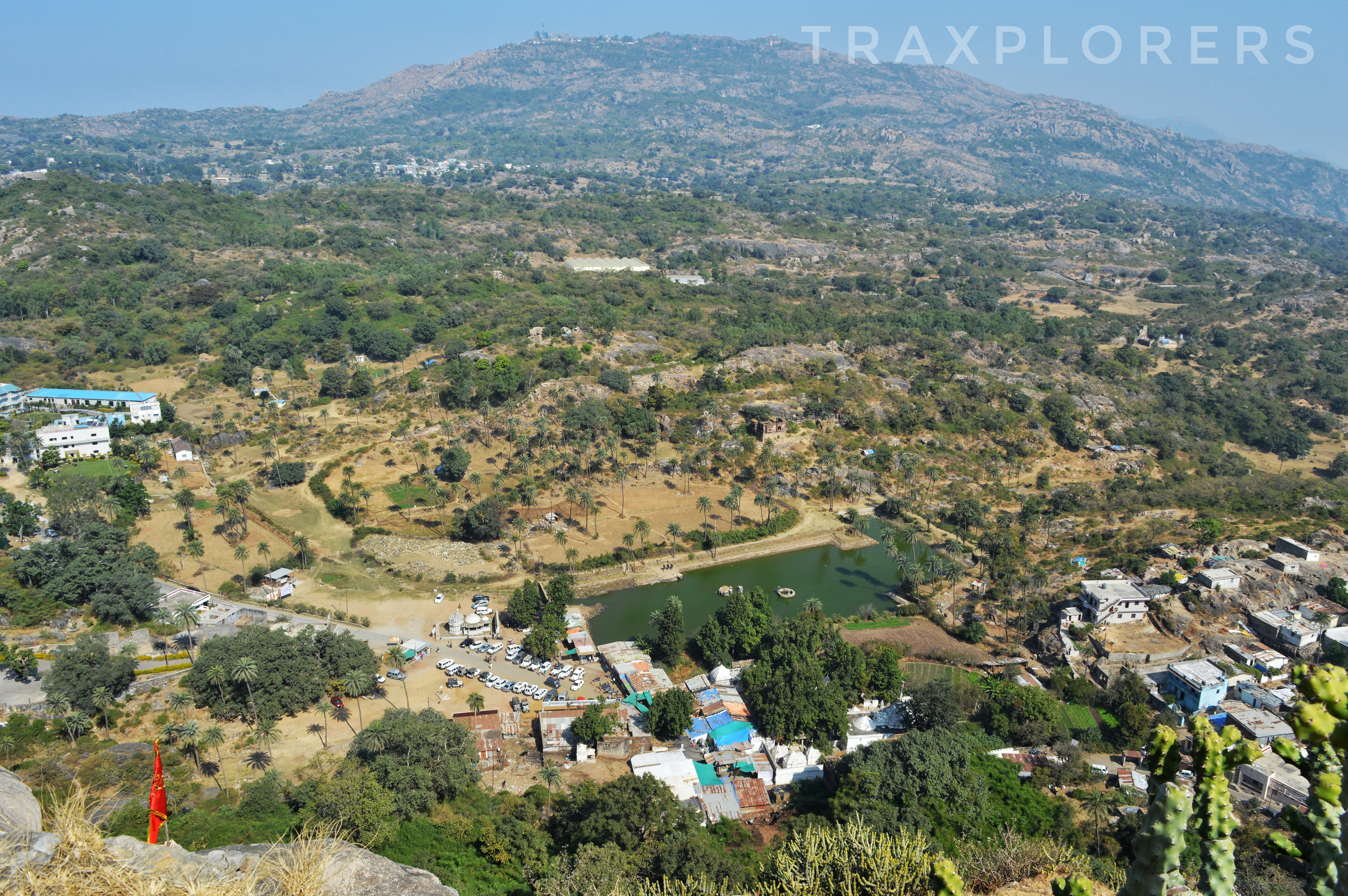 ---
Entrance Fee: None
Visiting Time: 10:00 AM to 5:00 PM
Visit Duration: 1 to 2 hours
---
Admire the architectural beauty of 11th century: Dilwara Temples
Dilwara temples are one of the world sacred pilgrimages of Jains with an extraordinary architecture providing the most beautiful site in Mount Abu. These temples look simple from outside but once you entered, got to see an architectural marvel in front of you. The temple complex is surrounded by high walls and green hills.
Facts:
Dilwara Jain Temples were built in 11th century by Vimal Shah and designed by Vastupala- Tejpal, Jain ministers of Dholka and are built of pure marble with intricate carvings.
There are five temples. Each temple consists of a pillared portico, a sanctum, assembly hall, and a closed hall. The whole structure is placed in a quadrangular court.
There are magnificent carvings on walls as well as on ceilings. The most impressive is the idols of sixteen 'Vidya Devis' or 'Goddesses of Knowledge' on the ceiling.
Timings:
For Jain community-
6:00 AM to 6:00 PM
For other travelers-
12:00 PM to 5:00 PM
Entrance Fee: None
Visit Duration: 1 to 2 hours
---
Travel Tips:
Visitors are not allowed to wear shorts above their knees.
Guides are available inside the temple to take you around for free. However, at the end of a guided tour, you will be asked to donate some money.
Cameras, mobile phones, belts, etc. are not allowed inside the temple. There are lockers to keep your belongings safe. However, you are allowed to take your wallet with you inside the temple.
---
Boating at Nakki Lake
Nakki Lake is the main attraction among tourists. It is like a paradise for nature lovers due to its soothing and refreshing surroundings. You will get to see most of the touristy crowd around it. It is also famous as love Lake of Mount Abu. Boating in the lake is the main attraction.
---
Boating Timing:
9:30 Am to 6:00 PM
---
Interesting facts:
Nakki Lake is a man-made lake with a depth of up to 30 ft. and a length of about half a mile.
It is a sacred Lake for Garacia tribe of Rajasthan. At the time of Shukla Paksha, a festival falls in April month, people of the tribe worship and remember their ancestors. During this festival, people consecrate their fingernails in the Lake. This is how the lake got its name 'Nakki'.
Surroundings of Nakki Lake:
If you don't want to go for boating in the lake still can enjoy the refreshing beauty of the lake by sitting in parks surrounding the lake.
There is a huge market around the lake where you can find various food courts as well as go shopping.
A huge 'Bharat Mata Idol' can be seen in front of the lake which in itself is an attractive site.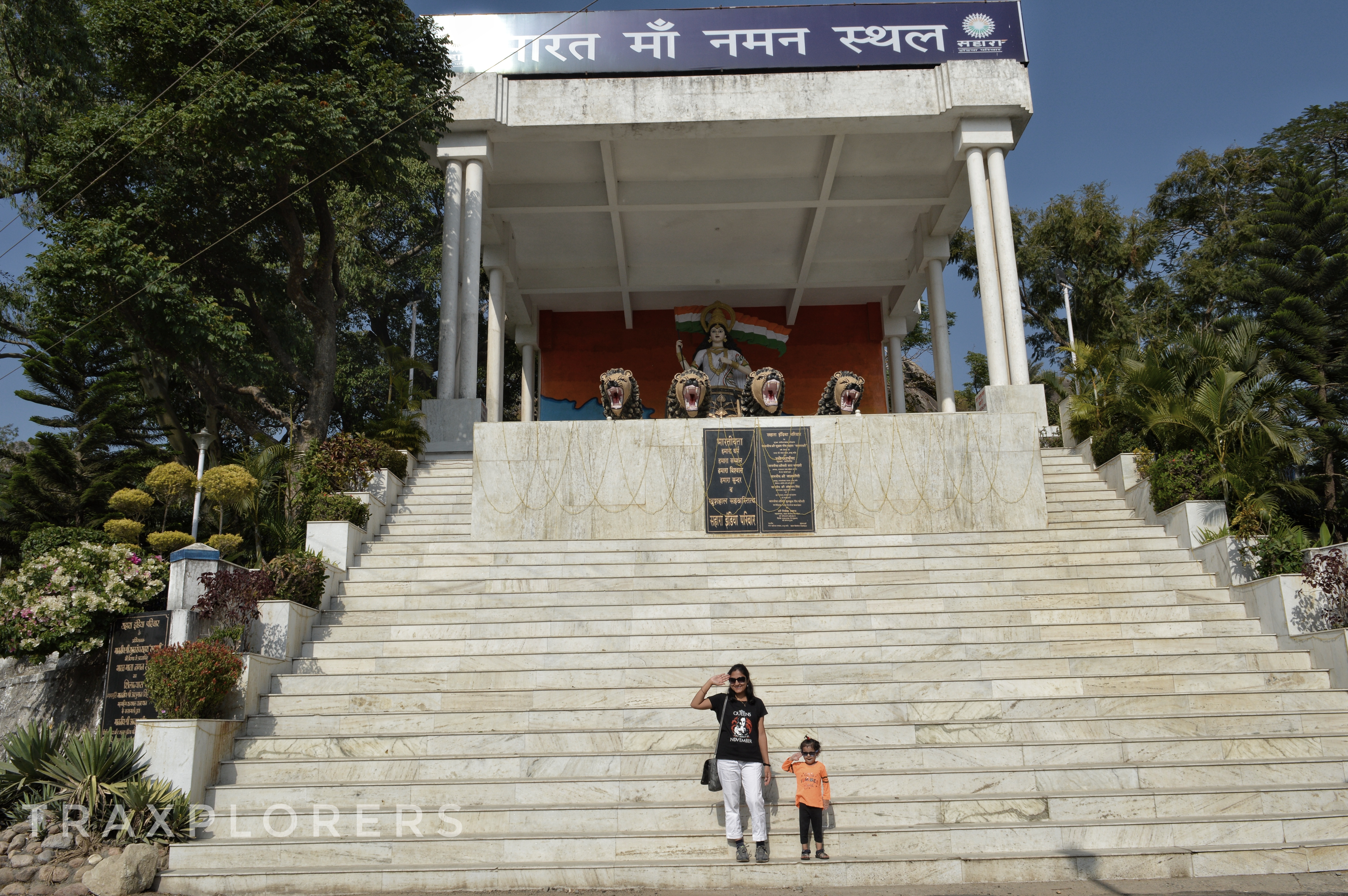 Get a splendid view of Nakki Lake from 'Toad Rock'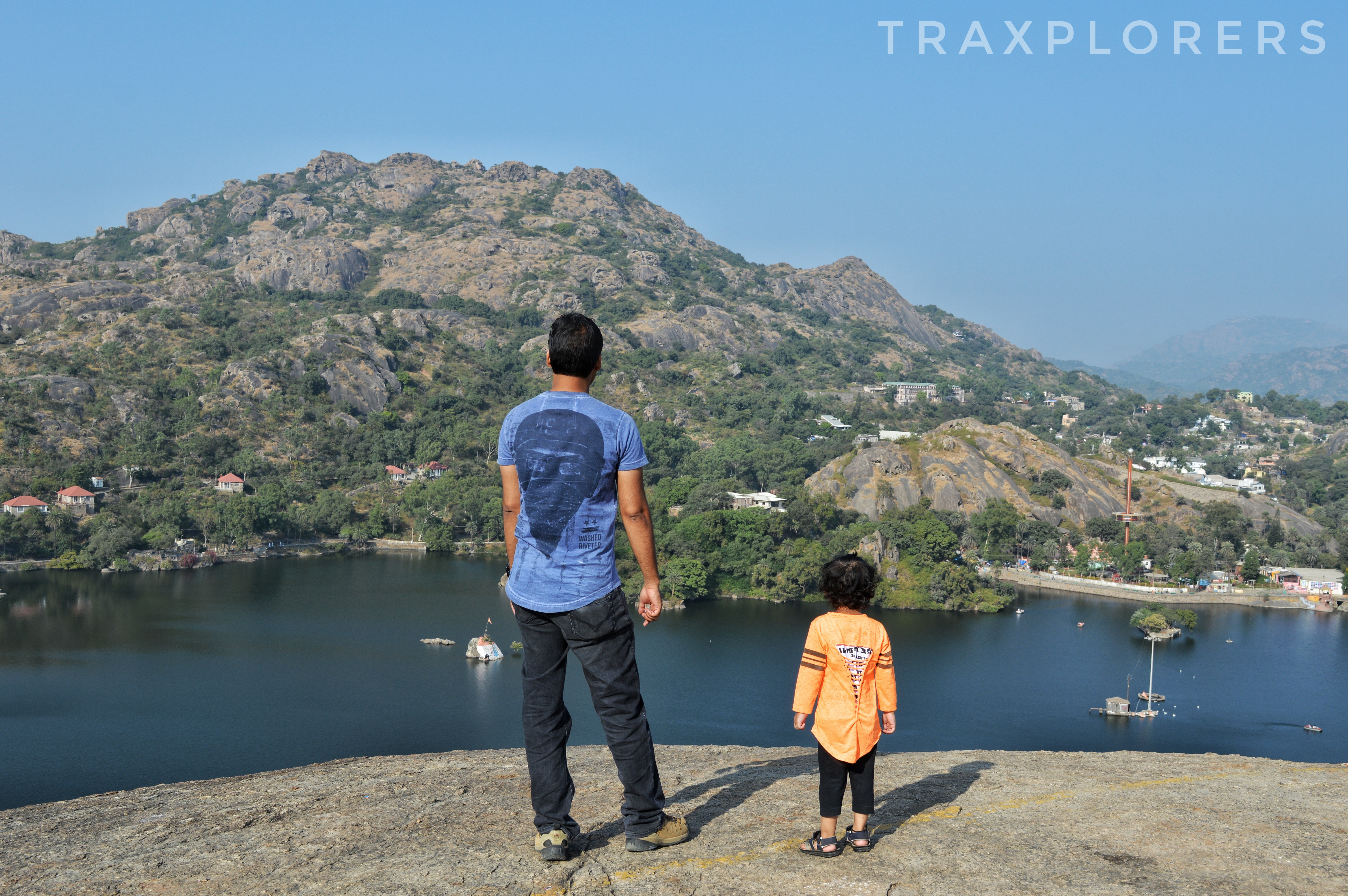 Toad rock is also known as a mascot of Mount Abu. As the name defines, it is a rock cut shaped like a toad and offers a panoramic vista of Nakki Lake from the top. It is a good hike and starts from a point near Nakki Lake. The view it offers is spectacular and one should never skip this point when in Mount Abu.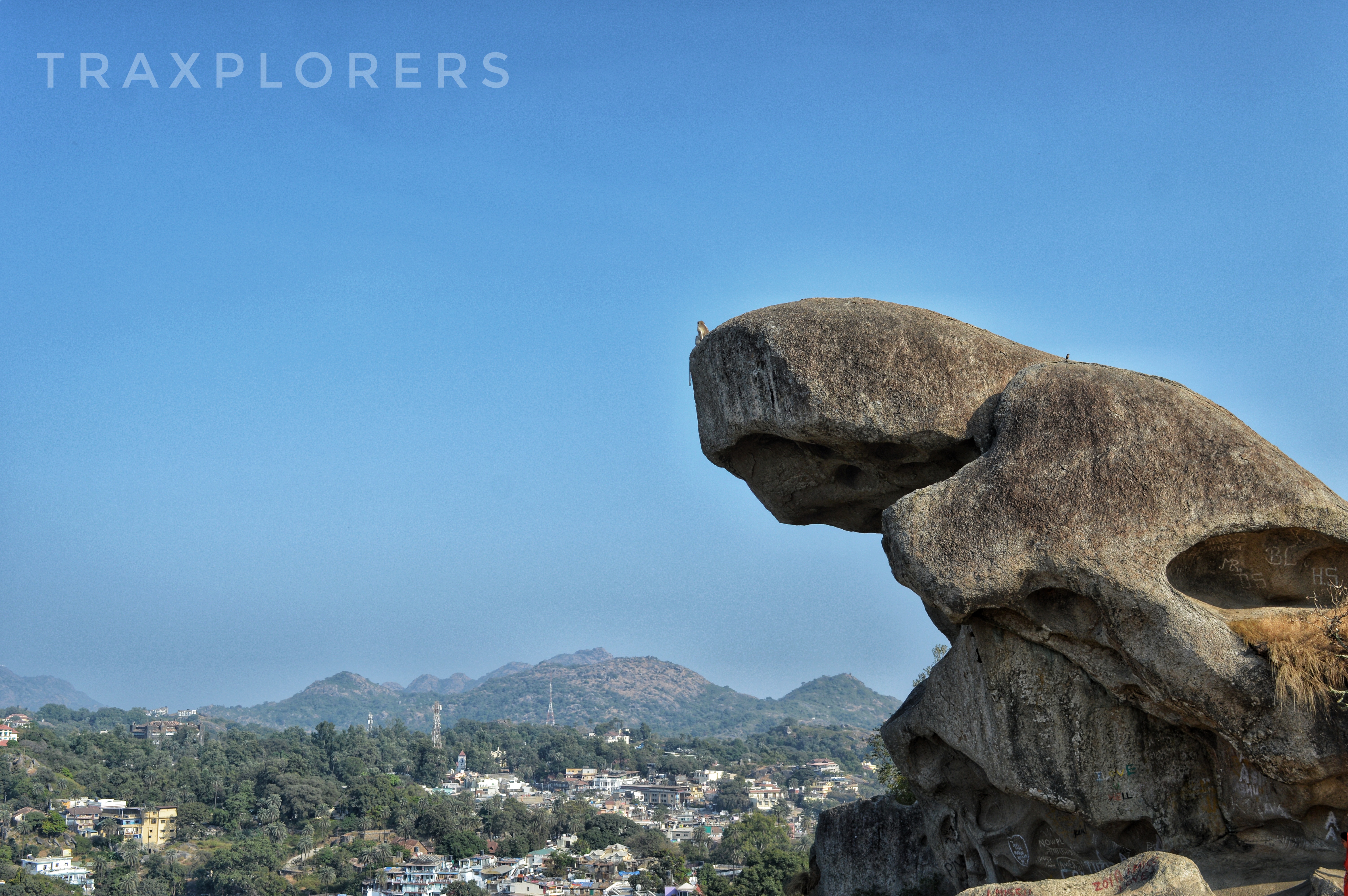 Capture the beauty of nature at 'Sunset Point'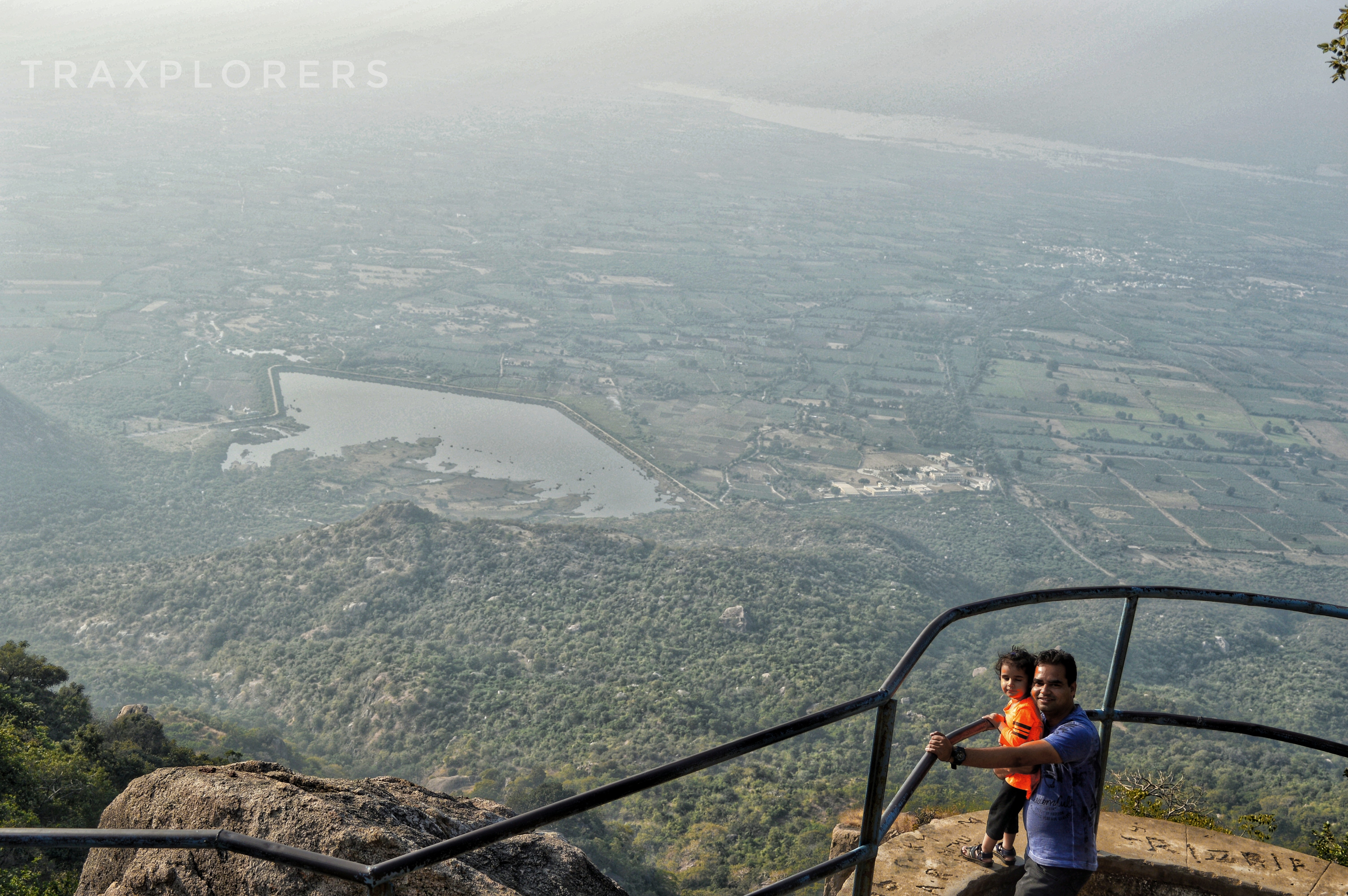 This point is also famous as 'Honeymoon point'. It offers a gorgeous view of hills kissed with radiating sun rays. You can enjoy the view of setting sun behind the Aravalli Ranges. It is at a distance of 2 km from Nakki Lake.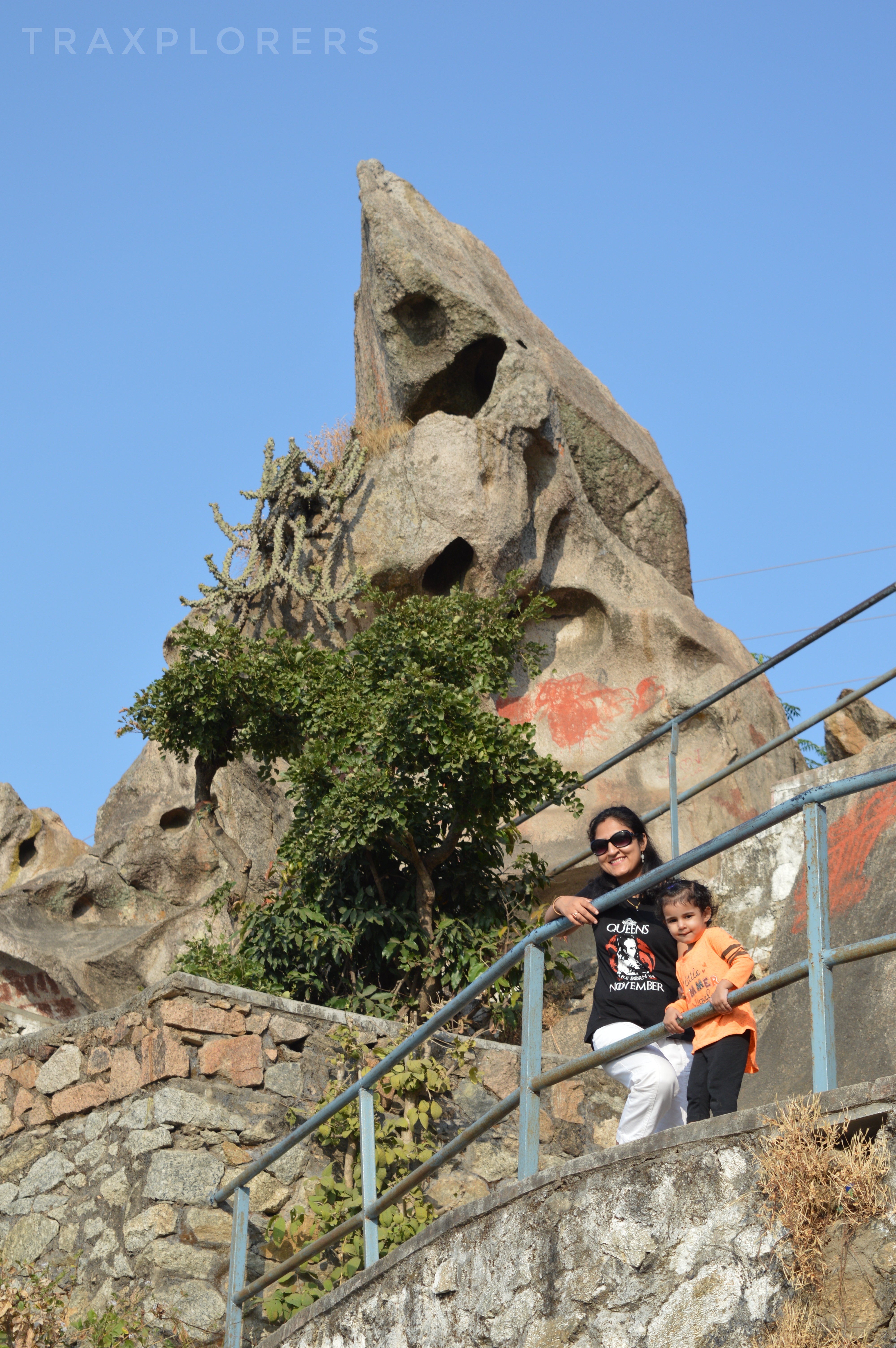 ---
EndNote
We had spent our day in Mount Abu with the above itinerary. It is a perfect one-day itinerary for travellers to explore the heart and soul of Mount Abu. Apart from this, Mount Abu also offers:
• Adventurous activities-
One can plan for trekking starting from Achalgarh Fort to nearby Jawai village and can also go for camping in the wildlife sanctuary of Mount Abu.
• Spiritual Experience-
If you are interested in some spiritual experience then your search ends here. There is a spiritual headquarter of Brahma Kumaris in Mount Abu. Get amazing spiritual experience at Shantivan- Ashram of Brahma Kumaris.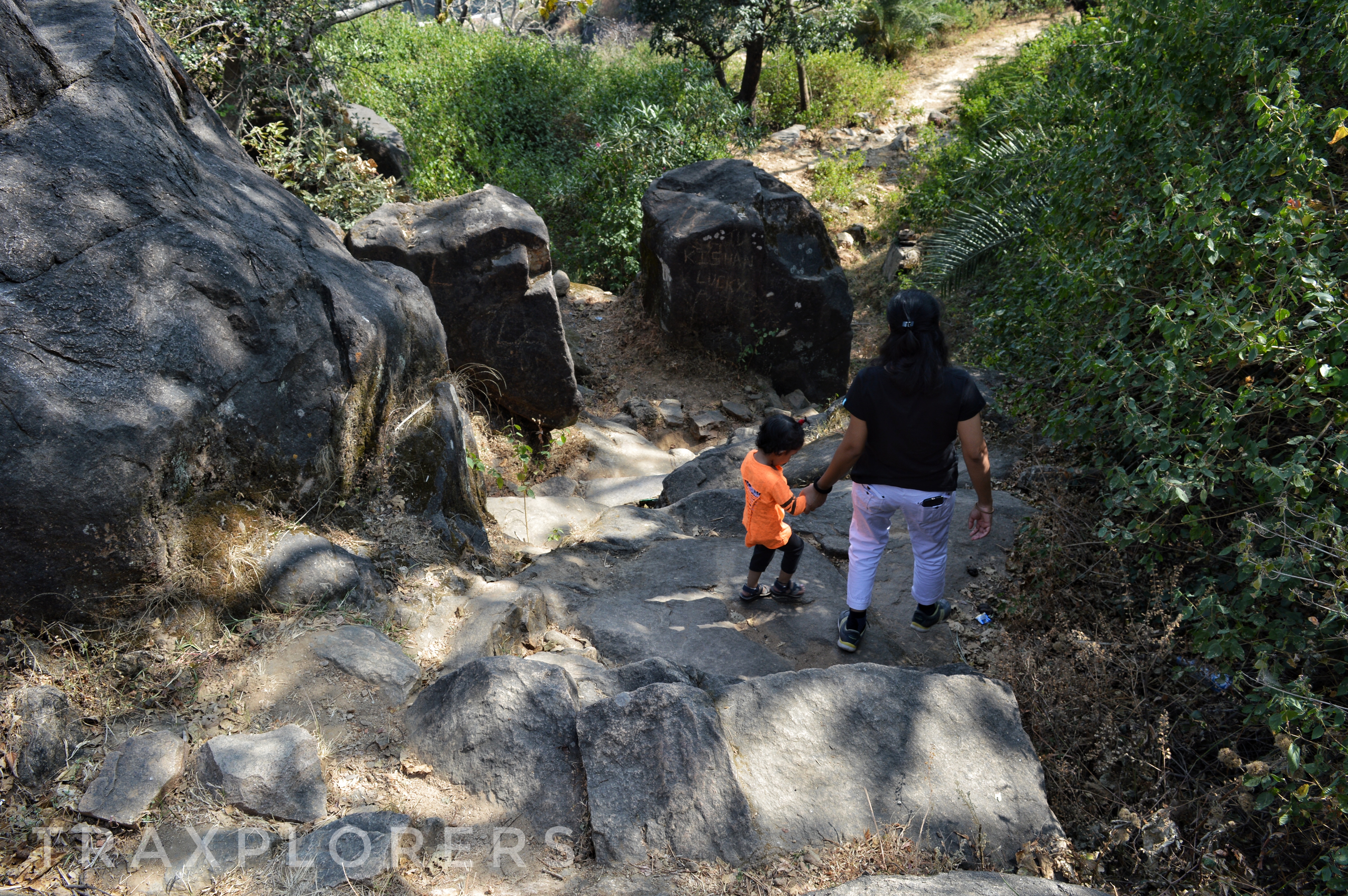 Suggested Read: Trip to the land of Kings- JAISALMER
Loved it? Don't forget to share it. Thanks ♥
Pin it to read it later ⇓
---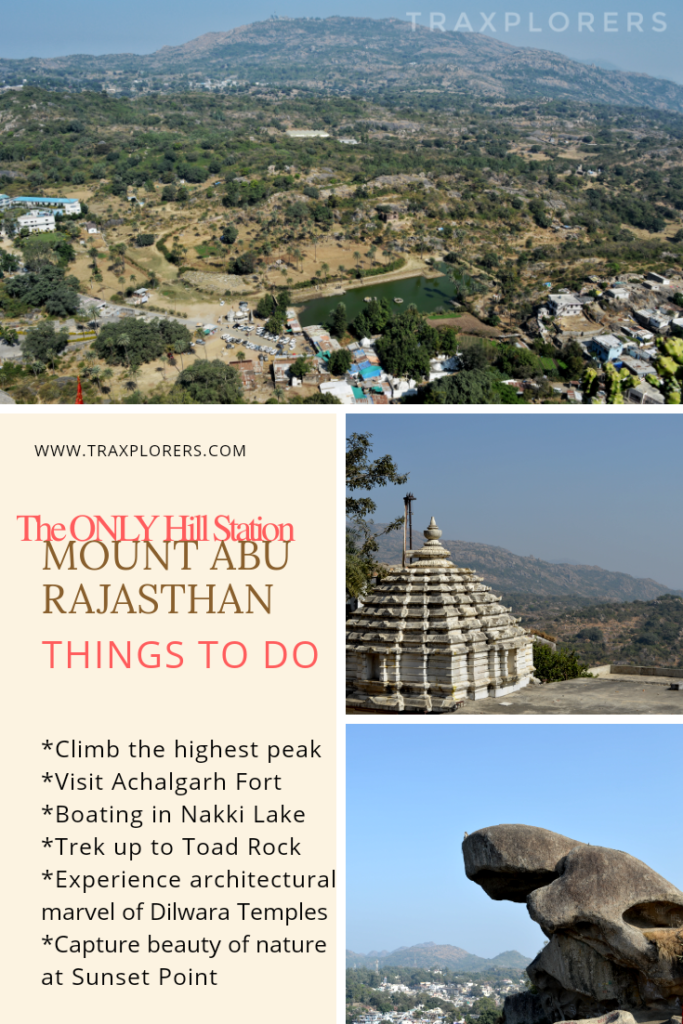 ---
DISCLAIMER: Some links on this site contain affiliate links, meaning if you book or buy something through one of these links, we may earn a small commission (at no extra cost to you). Thank you for supporting this website.
Terms & Conditions: ©Unauthorized use and/or duplication of any material (text and/or images) without consent from this site's author and/or owner are strictly prohibited. Links and excerpts may be used provided that full credit is given to Traxplorers or Supriya Bhardwaj with specific and appropriate direction to the original content.