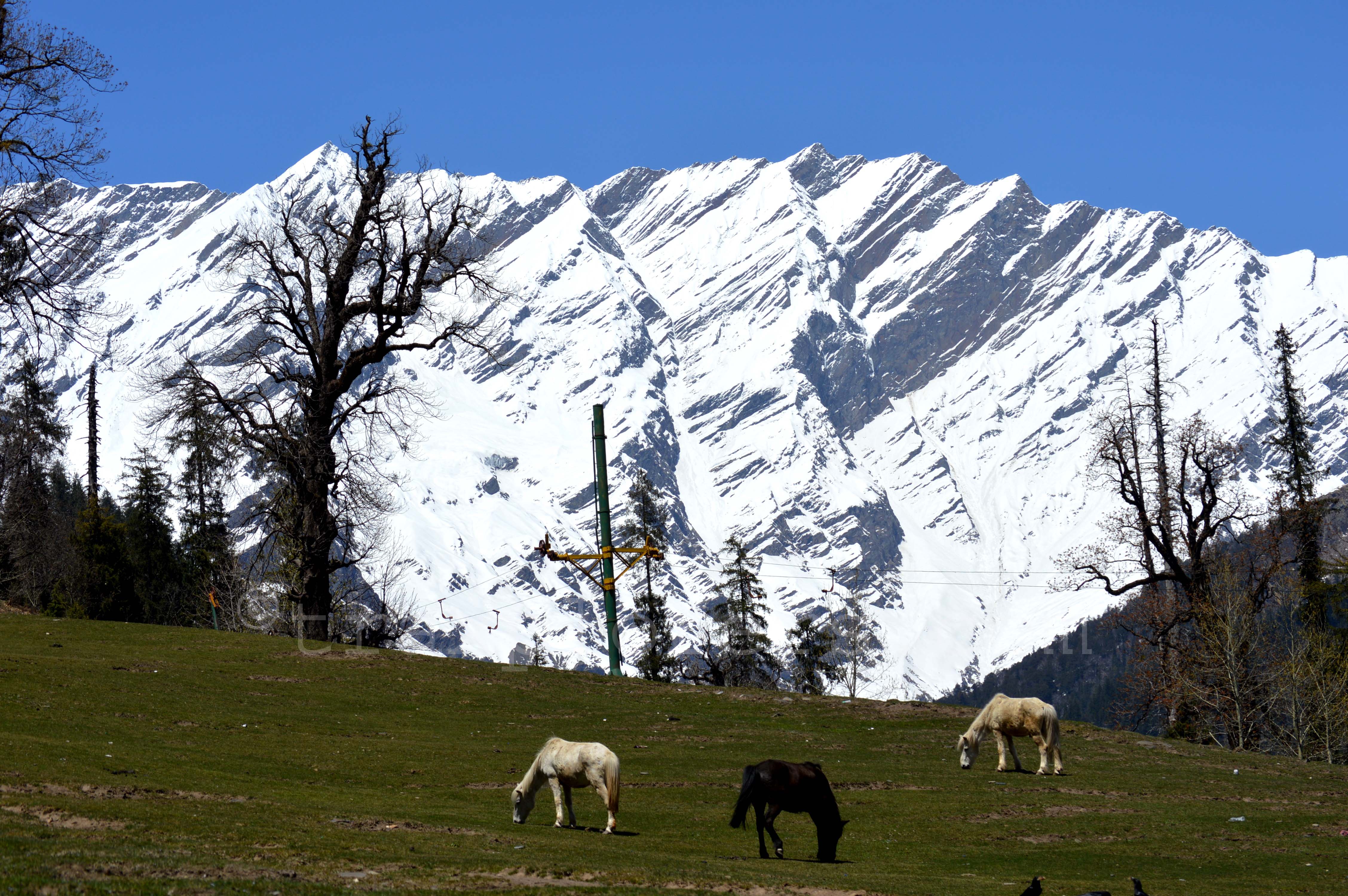 Manali (Part-1): Complete Guide for Travel Explorers
Manali, H.P (India)
The picturesque and distinguished beauty of Manali makes this hill station a must visit in Himachal Pradesh, India. There are lot many things to do in Manali. This can be divided according to the interest of visitors. For religious mindset, there are various ancient temples in old Manali like Hidimba Devi temple, Vashisht Rishi temple, Manu Rishi temple etc. For those who are interested in shopping and food, there is a famous 'Mall Road' in the heart of Manali. The people who are seeking natural landscapes and adventure rushing in their blood would have their treat at places like Gulaba, Solang valley (for adventurous sports like skiing, paragliding etc.), Hampta Paas and Rohtang Paas (for trekking seekers). All in all, Manali is a full package for every mindset.
Get exciting purchase offers with Amazon Pay Balance Offer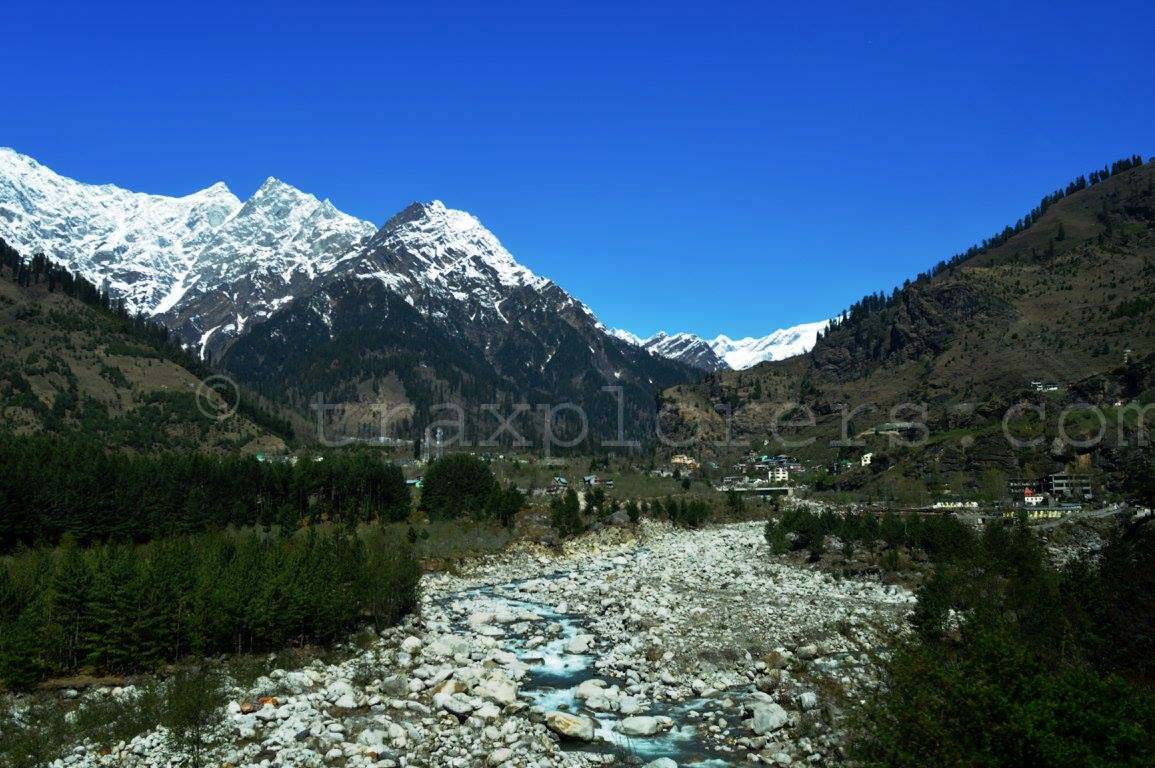 Our Journey towards Manali
It started in the month of April 2016; this was our first trip by bus with our daughter (16 months old) to Manali. We planned the trip according to our vacation schedule. We booked our hotel 'Thomas Villa' online through MakeMyTrip, a month before our travel. There were many bus services both for a day and night hours. We had chosen day hours for travelling as we were carrying our little girl with us. We started our journey on the morning of April 12, 2016, from Chandigarh. The bus route was national highway NH 21 from Chandigarh that passed through Bilaspur, Sundernagar, Mandi and Kullu towns. The road distance from Chandigarh to Manali is 310 km. We reached Manali as per scheduled time. Our hotel provided pick and drop service to their inmates. We did not face any problem locating the hotel. As we reached the hotel, we were amazed by the location and rooms of the hotel. Beautiful view of the mountains from our hotel room window offered us a delightful morning. We were offered complimentary drinks and free breakfast. It was the best budget hotel deal through MakeMyTrip. You can also find your own best deals for a stay in Manali.
We asked for any local guide/taxi service from the hotel staff. It was the best decision as we got Mr Rakesh (guide & taxi driver) from the hotel links and this service costs us Rs.3500/- for two days tour around Manali.
Day 1: April 13, 2016
Gulaba

Gulaba Valley

from the top @Manali (H.P), India" src="https://traxplorers.com/wp-content/uploads/2018/03/DSC_0074.jpg" alt="Gulaba Valley from the top at Manali (H.P), India @traxplorers.com" width="5975" height="3261"> View of Gulaba Valley from the top @Manali (H.P), India
Our hotel becomes bit crowded as that was the peak vacation time accompanied by a weekend. We talked to the hotel staff for any taxi service to roam around and explore the city highlights. The hotel had ties with local taxi drivers and we got one. So, for our first day of excursion, Mr. Rajesh was the taxi driver who took us to the first place "Gulaba". Gulaba was a beautiful landscape which took us away from the city's hustle. We found a lot of taxis with tourists at the taxi stand. Beyond that point, we trekked towards the snow-clad hilltop. It was a bit tiring but the amazing panoramic view from the top gave us a good dose of energy. Unfortunately, snow was scarce at that time of the year in upper regions of Manali.
Hike trails with the comfortable pair of shoes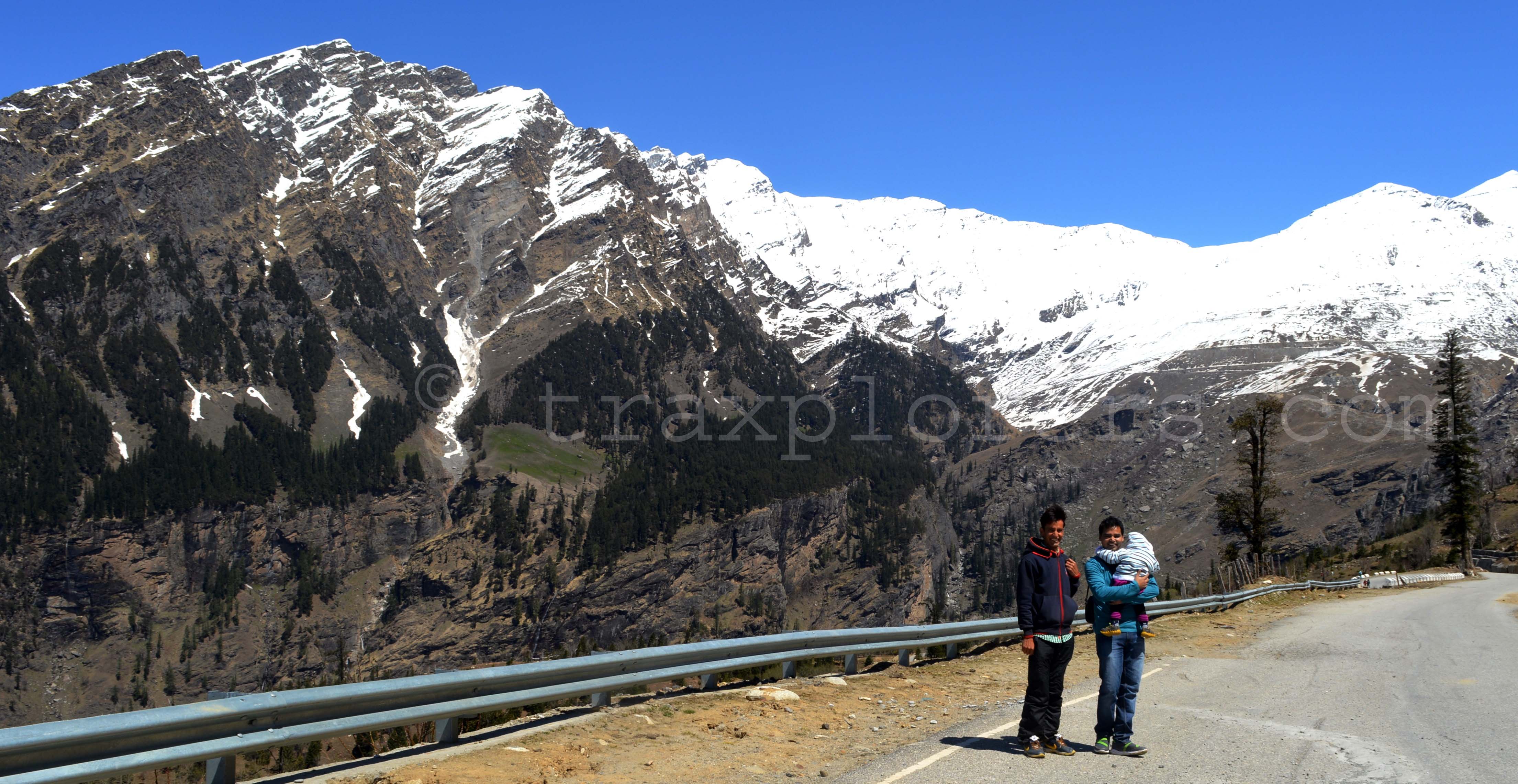 So, we found very less snow in Gulaba but the weather was cold and chilly winds were coming from the snow-covered mountains in front of our eyes.
Our next stop was Solang valley, famous for sports like skiing, paragliding, etc. One can also enjoy the view from the top by taking the cable car at Solang Ski centre. It is a perfect place to plan a family picnic. This was the most peaceful experience of the trip. We spent some time up there in the lap of nature. There were food points near Solang Ski centre. We had a quick lunch there and left for next place.
Famous Ancient Temples of Manali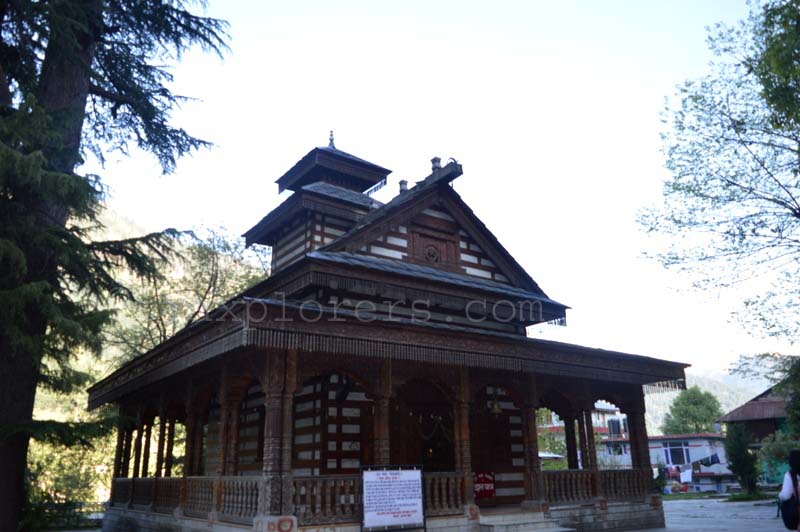 Hidimba Devi Temple:

This temple is located in the old part of Manali. This shrine is dedicated to Goddess Hidimba and was built in 1553. This is unique in itself because of its structure different from other temples. There are wooden doors, walls, and a conical roof. Interior of the temple is restricted to visitors so as to maintain the natural glory by keeping its original earthen style. Walls are decorated with animal skulls, carved stones, and mud.
Temple Legend: According to 'Mahabharta' (Hindu Epic), Hidimba was the wife of Bhima (brother of Pandavas) and mother of Ghatotkacha. She was a demoness who lived with her brother Hidimb in this area. During the exile period of Pandavas, Bheema saved the villagers from the torture of Hidimb by killing him and won the hand of Hidimba for marriage. After Bheema left Manali, Hidimba stayed back to look after. Years later, she left the throne to her son Ghatotkacha and went to the forest and dedicated her rest of the life to meditation. It is believed that Hidimba sat on a rock during her meditation period. It was the same rock on which temple was built later.
Vashisht Rishi Temple:

This temple is very ancient and believed to be 4000 years old. It is difficult to imagine. It is also in old Manali, located in the east of River Beas at 3.5 km from Manali bus stand. The temple is dedicated to sage Vashisht, the kula guru of Lord Rama. The nearby area of the temple is very busy with shops selling woollen clothes, antique items, and many beautiful cafes. To satisfy your taste buds, one can experience a unique taste of exotic cuisines nearby.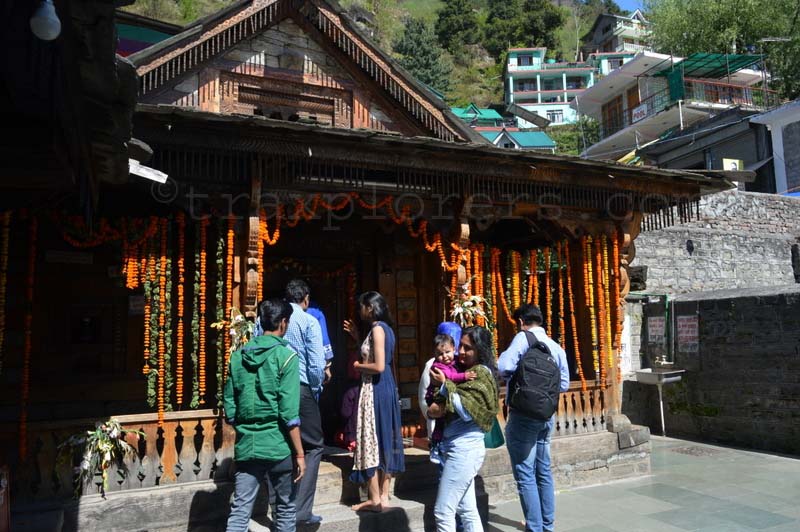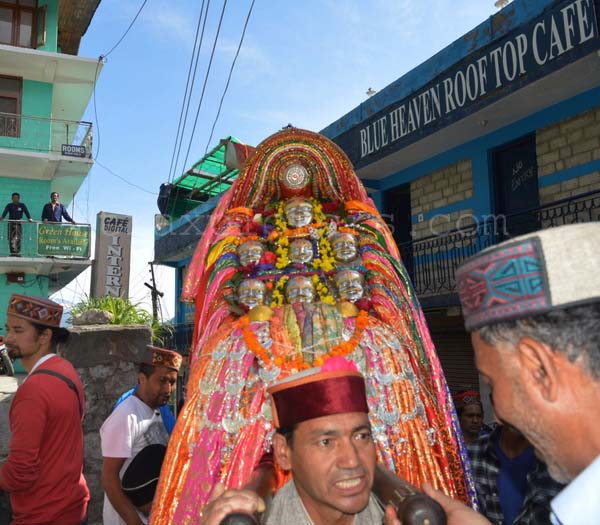 Temple Legend: According to legend, Rishi Vashisht was very upset and sad after knowing that his children were killed by 'Vishwamitra'. He then tried to commit suicide by jumping into the River Beas but the river refused to kill him. The river was named 'Vipasha' which means 'freedom from bondage', was later shortened to Beas River. After this Rishi Vashisht started his new life and meditated at this place.
Manu Rishi Temple:

This temple is dedicated to Hindu sage Manu, who is said to be the 'creator of the world' and writer of 'Manusmriti'. The name of Manali itself was derived from his name. It is located in the deep heart of old Manali. The temple is a Pagoda structure that offers a fascinating style of architecture. The place surrounding the temple is still very charming as it has maintained its natural beauty makes it an attractive spot.

History of 'Manu Temple' at old Manali (H.P), India.




'Manu Temple' at old Manali (H.P), India.
Temple Legend: It was believed that once King Manu found a small carp fish in a river and asked the King to rescue him. The fish was actually Lord Vishnu. The king put it in a bowl to save him but soon the fish become too big to fit in the bowl. So, the king moved it in a bigger bowl but the fish kept on increasing in size. Finally, the king had to move it back to the river. The fish grew too big in size that even river couldn't accommodate. The king then moved the fish to the ocean. It was then the Lord Vishnu appeared in his real form and informed the king about the flood that would wipe every life form off the planet. The king then built a huge boat to accommodate his family and nine kinds of birds, animals and plant seeds. After the flood was over, he landed on earth and meditated. So, by then he was known as sage Manu. It was believed that the Manu temple was built on the location where sage Manu meditated.
This is the heart of the town. It is also referred to as the main commercial hub of Manali consisting of multiple hotels, restaurants, shops etc. This place is full of activity throughout the day. It is the perfect street shopping destination in Manali.
So, the easy part is over next comes the exciting and adventurous trekking towards Hampta Pass. To know our experience read our next post "Manali (Part-2): Hampta Pass Trek"
Did you find this post helpful? Please share your views. Don't forget to share and Pin it. 🙂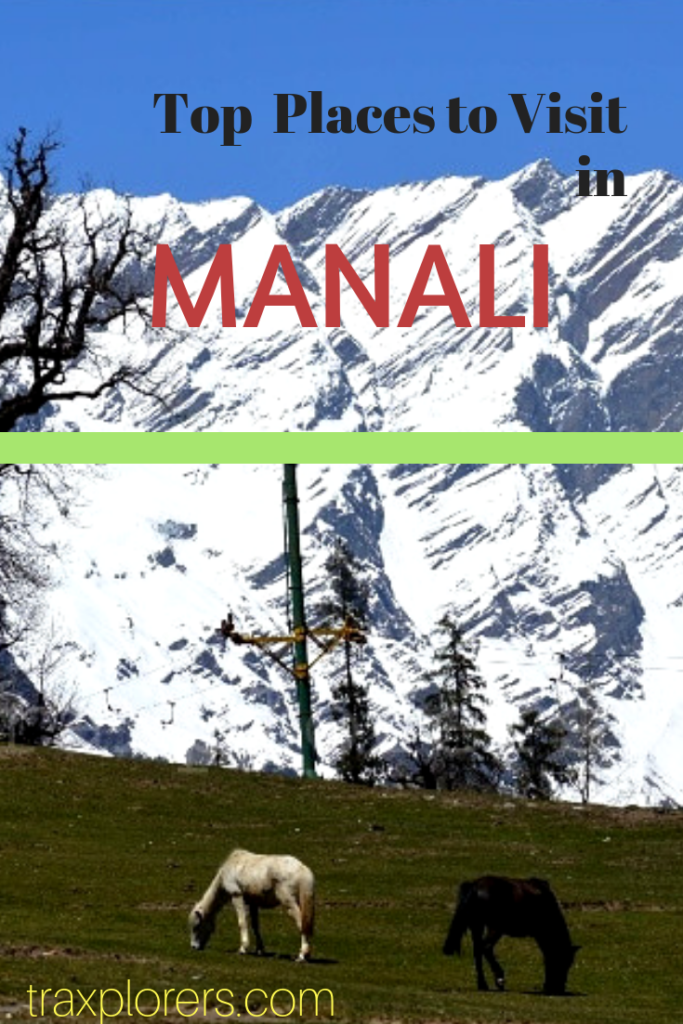 DISCLAIMER: Some links on this site contain affiliate links, meaning if you book or buy something through one of these links, we may earn a small commission (at no extra cost to you). Thank you for supporting this website.
Terms & Conditions: ©Unauthorized use and/or duplication of any material (text and/or images) without consent from this site's author and/or owner are strictly prohibited. Links and excerpts may be used provided that full credit is given to Traxplorers or Supriya Bhardwaj with specific and appropriate direction to the original content.