Budget Backpacking: Valley of Flowers & Badrinath
Welcome back to our 'Guest Posts Series'. Our guest writer Sandeep Kumar Bhagat would share his Budget Backpacking trip to Valley of Flowers Trek and Badrinath in Uttarakhand, India. This trek is famous for its monsoon time beauty. The whole valley blossoms up with numerous varieties of beautiful flowers. One could witness nature at its best in this trek.
Valley of Flowers and Badrinath
Dates: 26th July 2018 – 30th July 2018
Total Cost of the whole trip per head:  Rs 2,730/- (Transport + Stay + Food Expense).
Travel Partners:
1: My Senior Colleague Bikram
2: Inderjeet Singh Bist (A senior citizen, aged 62 years, contacted me through one of the travelers' group after seeing my earlier post). He is completely fit and an amazing person. This is my first trip with him and he won my heart. By seeing his activeness and stamina I dare no one can say he is Senior Citizen.
Initially, I planned to do this trip solo but at the end, it's become a group trip.
Day 1: 26/07/2018
Route: I.S.B.T (Delhi)-Chamoli (Uttarakhand)
We started our trip around 8:30 PM from I.S.B.T, New Delhi. I was expected to grab the last seat to sleep as I always do that because nobody would take the seat for a long journey of ordinary buses so I always choose to travel in non-peak time to avoid a rush. But this time case was different. The bus was completely full, and I was like "Lag gai is baar" and both the seniors were laughing at me and said not every time is a good time. "Yeah I know", I replied sarcastically and we started our journey. Along with the bus rain also started, but I was really excited this time because I would be going to trek in a rainy season, which I always wanted to do. I believe in facing and experiencing every type of situation whilst traveling. So, always try to do something which is outside of my comfort zone.
Cost Details: Delhi to Gopeshwar= Rs 680/- per head
Day 2: 27/07/2018
Route: Chamoli-Joshimath-Govind Ghat-Pulna Village-Ghangharia
We were expected to reach Gopeshwar around 11:30 AM but we talked to the bus conductor and he told us to get off the bus at Chamoli from where we could get shared jeep to Joshimath. We agreed to him and around 10:45 AM at Chamoli, we left the bus, freshened up, had our breakfast and got a shared jeep to Joshimath. From Joshimath, we boarded another shared jeep to Govind Ghat and reached there by 2:10 PM. There we get to know that entry for the trek was limited to 2 PM only. So we just ran towards the entry gate. And it was raining heavily at that time; we were in waterproof jackets and reached the entry gate. We tried to get an entry but a cop stopped us and asked to return, but we requested a couple of times to let us go but he denied. I again tried and he got irritated and shouted at me "Don't you understand Hindi? There is no entry after 2 PM if you want to enter then go to Police Station nearby and bring written permission for the same". And that time I was like about to cry. We had very limited time in which we had to cover VOF (Valley of Flowers), Hemkund Sahib, and Badrinath. But we had some luck with us (luck is for the bravest!!-truly admiring quote. 🙂 ), a jeep driver came to me, grabbed my hand and took me to other side and said if you want to go then come in a shared jeep at Rs.40 /-per head and he will drop us to Pulna village which was around 4 km. So we grabbed this deal and our trek reduced by 4 km. From Pulna, Ghangharia is around 11 km. We started our trek immediately as it was almost 3 PM and raining continuously. Treks were slippery so we were walking slowly. Trekking in heavy rain was not the same as trekking in clear weather. Initial 6 km was a normal trek, preceded by 1 km which was completely plain trek and last 4 km was slightly inclined, a toiled path and "Lord Inder Dev" was not looking happy on us as it was raining continuously. We slipped a couple of times but the best part was no one got hurt.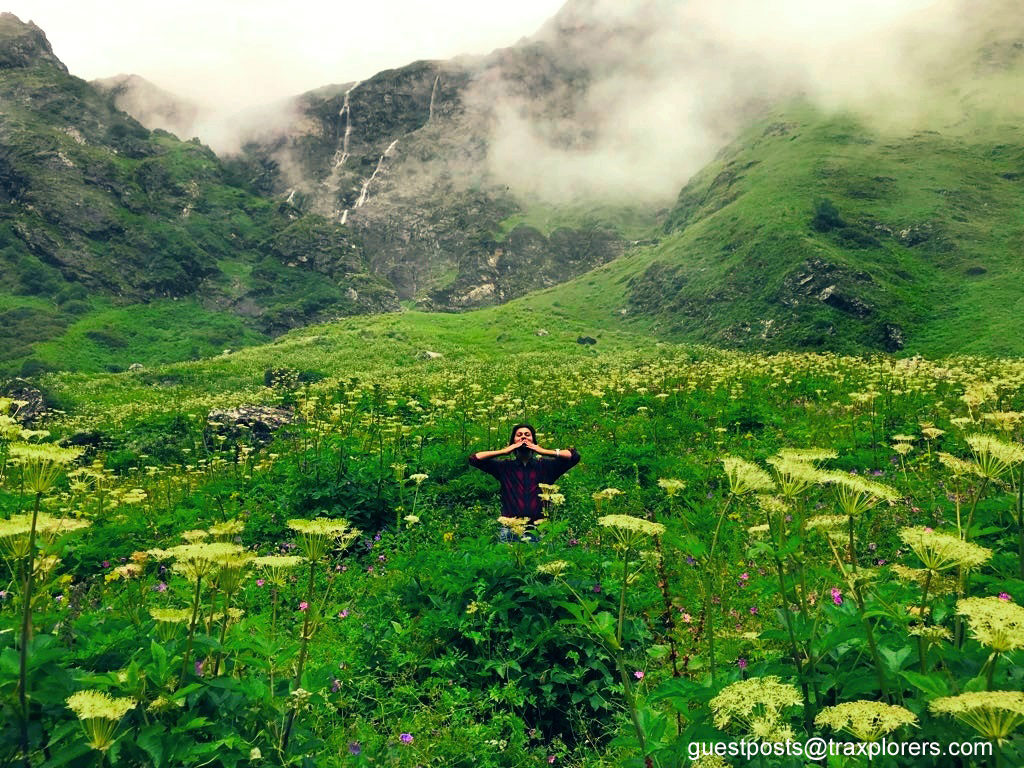 I believe monsoon is the best time for trekking as we can see all lush green mountains, seasonal waterfalls, and amazing scenic beauty. We saw 20+ seasonal waterfalls during this trek and all were amazing. The trek was strenuous and we were facing difficulties especially in the last 4 km (but the experiences which we got in return compensated that pain)
I was thinking about my partners who must be ready to kill me as this was my idea to trek in monsoon and none of them was a frequent trekker but the strange part was that they were enjoying too. That moment I realized that if we travel with buddies having the same passion and mindset then the experience we get is commendable. Both were adventurous like me and I was enjoying with them too. We reached Ghangharia around 7:45 PM. We got a room in Rs.400/- for 3 persons. That was the cheapest deal we found there. We had our dinner and went to bed immediately as we had to wake up early to complete both VOF and Hemkund on the same day (as per plan).
Cost Details: (Chamoli – Joshimath= Rs.100/- per head), (Joshimath – Govind Ghat= Rs.50/- per head), (Govind Ghat – Pulna= Rs.40/- per head), (Room = Rs.130/- per head),   (hot water =Rs.50/-per bucket)
If you like online shopping then please go to the Amazon search page below. Thank you

♥
Day 3: 28/07/2018
Route: Ghangharia-Valley of Flowers
Next day around 5:00 AM in the morning, I woke up with a strong noise outside like someone was throwing something on a tin roof. When I opened the door I was amazed to see a wall of water in front of me and I could barely see the next hotel which was just 20 meters ahead of me. But at the same time, I was very much excited by the thought of one more day of trekking in heavy rain. But my mates denied and they preferred to wait for a while until it slowed down.  So, no other choice was left for me and we waited till 7:00 AM. Meanwhile, we had our breakfast, by that time the rain slowed down and then we started our trek around 7:15 AM from Ghangharia. We reached the VOF entry gate around 7:45 AM (500 meters from Ghangharia).
Ticket Price at VOF: Rs.150/- per person for Indians and Rs.600/- for foreigners.
Valley of Flowers Trek:
From ticket counter, half km towards VOF was a plain trek preceded by a river crossing and the next 1.5 km was slightly upward trekking and rest of the trek was completely plain (overall it was an easy trek). We reached there by 8:45 AM.
My eyes were sparkling by the first sight of the beautiful valley. It was cloudy but got a clear view of the valley with a light shower of rain and mild wind with no hope of sun.  Valley was completely covered with a green belt thrived with blooming flowers of different colors and varieties. I was quite excited that I took the wise decision to come here in monsoon. I am pretty sure this type of beauty can't be seen in another season. It was peaceful and beautiful.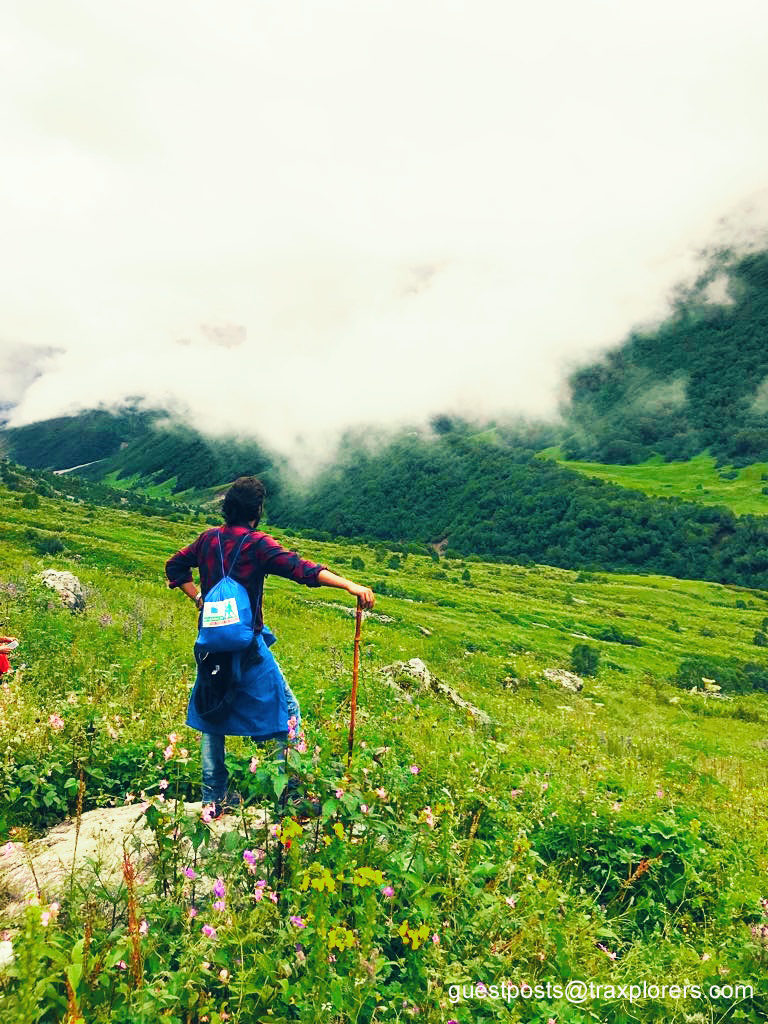 We planned to stay there by 11 AM and then leave for Hemkund Sahib. But we were not lucky this time. Around 11 AM valley was surrounded by dark grey clouds and it started raining again. We waited for a couple of hours in the valley and finally decided to leave as the rain was not going to stop. We also dropped the plan for Hemkund Sahib as it was a totally steep trek of 6 km to Hemkund. So we started moving back to Ghangharia at 2:00 PM and reached there by 3:30 PM. While returning back, I slipped two times and had a little injury (no worries). We reached our room, had our lunch, sat for a couple of hours chit-chatting and then went to bed early as we had to leave early so that we could visit Badrinath and return back to Delhi on the same day as early as possible.
[bdotcom_bm bannerid="2073"]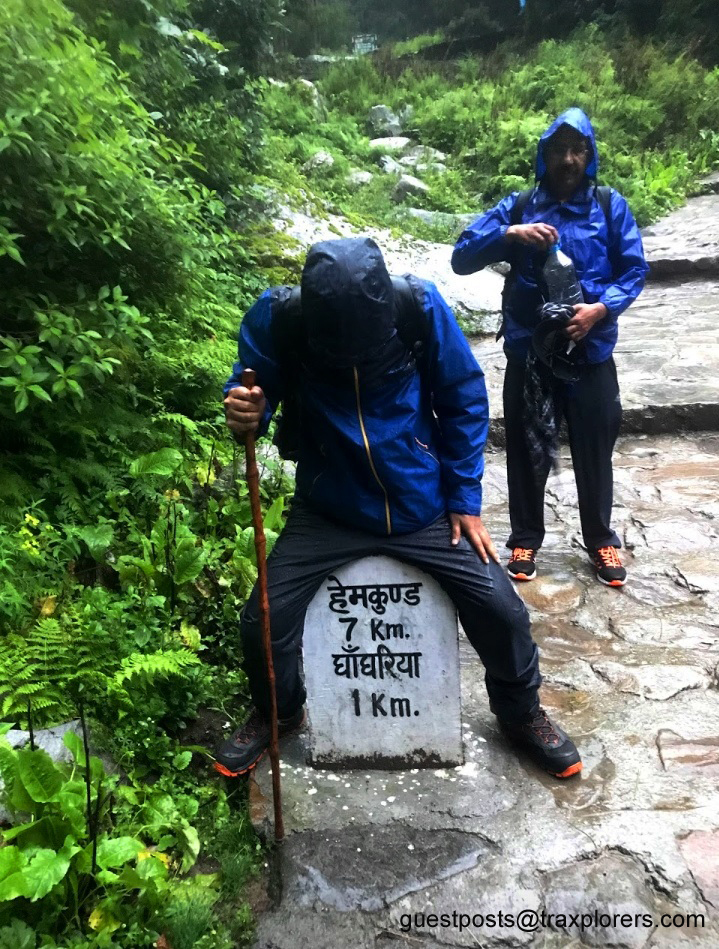 Cost Details: (Room = Rs.130/- per head,  hot water=Rs.50/- per bucket, VOF entry Ticket= Rs.150/- per head).
Day 4: 29/07/2018
Route: Govind Ghat-Badrinath
We woke up early and left for Govind ghat at 6:30 AM. This was the 1st day when we didn't see rain and all of us were really feeling good. At 9:15 AM, we reached Govind ghat and there I found my ex-colleague who was just starting his trek. We sat together for a couple of minutes and then we left for our respected destinations. We headed towards a bus stand and got to know that the public transport and shared jeep would be available only after 3 PM for Badrinath. The only way was to hire a cab, so we did that (we had no other option) and headed towards Badrinath at around 10:30 AM.
On the way, our cab broke down which cost us 15 mins, but the way to Badrinath was damn beautiful. Lush green mountains and their peaks were covered with milky clouds, truly magnificent views.  We reached Badrinath at 11:15 AM. We visited the temple, stayed there for around 1 hour and returned back to Joshimath. We hired a shared jeep to Chamoli and reached there by 3:00 PM.
Day 5: 30/07/2018
Route: Chamoli-Haridwar-Delhi
From Chamoli, we expected to catch a direct bus to Delhi. But we reached late and a bus had already left. So, we took a shared cab from Chamoli to Haridwar. We reached Haridwar around 11:30 PM and then took a bus to Delhi. We reached Delhi at 5:30 AM.
Cost Details: (Govind Ghat – Badrinath – Joshimath = Rs.500/- per head),(Joshimath- Chamoli = Rs.100/- per head), (Chamoli – Haridwar = Rs.500/- per head), (Haridwar – Delhi = Rs.250/-).
This trip has given me a new adventure and experience. I have learned a couple of things and hope my upcoming trips will teach me more.
That's all from this trip.
Keep Smiling and keep Travelling
🙂
To know more about our guest writer, you can check his Instagram.
Read more posts from Guest Post Series.
Hope you loved this post. Do comment your feedback here in the box below. Please subscribe and share this blog for future updates. Don't forget to pin the image below. Thank you! ♥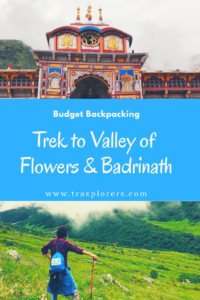 DISCLAIMER: Some links on this site contain affiliate links, meaning if you book or buy something through one of these links, we may earn a small commission (at no extra cost to you). Thank you for supporting this website.
Terms & Conditions: ©Unauthorized use and/or duplication of any material (text and/or images) without consent from this site's author and/or owner are strictly prohibited. Links and excerpts may be used provided that full credit is given to Traxplorers or Supriya Bhardwaj with specific and appropriate direction to the original content.