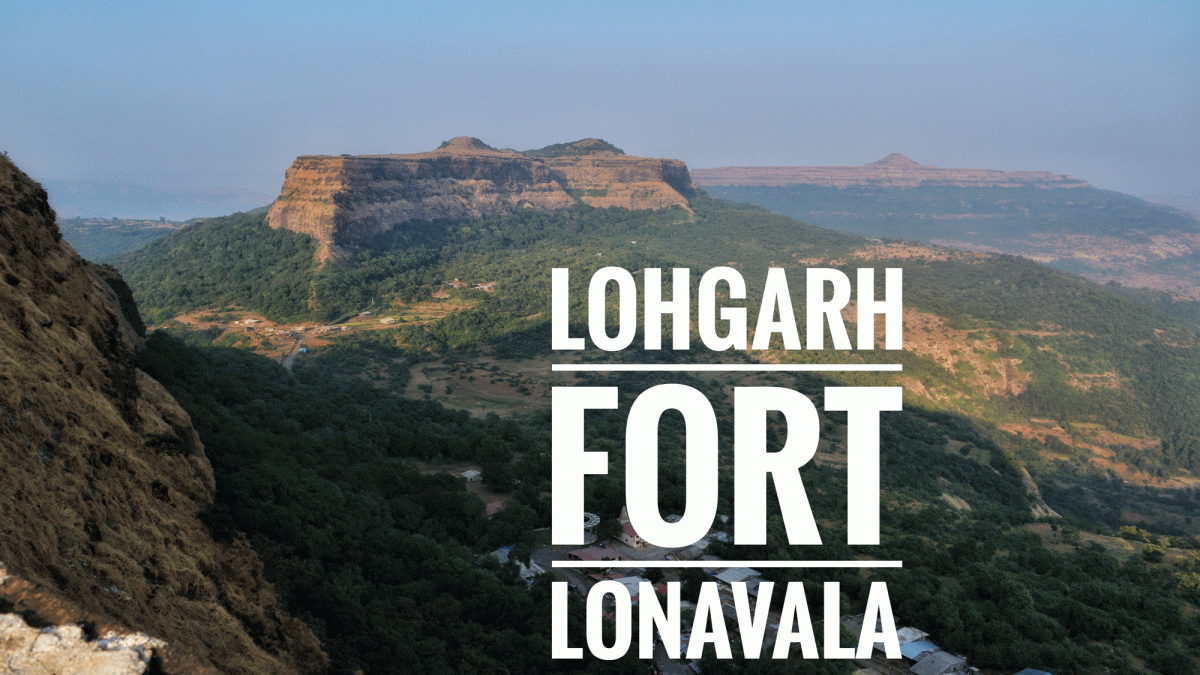 Lohgarh Trek: Unveiling the Secrets of the Western Ghats
Lonavala & Lohgarh Trek
Lonavala is a popular hill station and tourist destination located in the state of Maharashtra, India. It is situated in the Western Ghats, a mountain range known for its scenic beauty, and is approximately 83 km by road. It is known for its lush green landscapes, serene lakes, waterfalls, and pleasant weather, making it a favored getaway for both locals and tourists. Lonavala also offers a rewarding trekking experience of Lohgarh trek with a glimpse into India's rich historical and architectural heritage.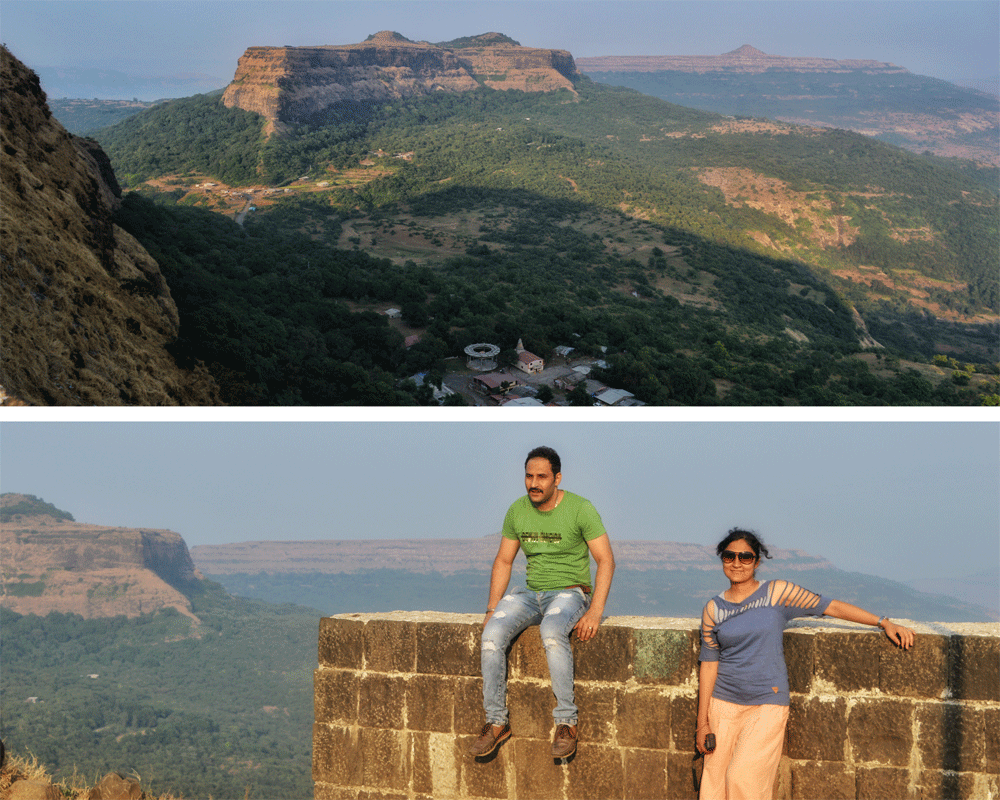 Reaching Lonavala by Road
The journey between the two cities typically takes around 1.5 to 2.5 hours by car, depending on traffic conditions and the specific route taken. The most common route is to travel on the Mumbai-Pune Expressway, which connects Mumbai and Pune and passes through Lonavala.
Best Time to Visit Lonavala
It depends on your preferences for weather and outdoor activities.
Monsoon (June to September): Many people consider the monsoon season to be the best time to visit Lonavala due to the lush greenery and beautiful waterfalls that come to life during this time. However, be prepared for occasional disruptions due to heavy rainfall.
Winter (October to February): Winter is best time to visit Lonavala, weather is cool to pleasantly cold, making it suitable for outdoor activities and sightseeing. Clear skies and comfortable temperatures make it a great time for trekking, camping, and exploring the natural beauty of the region.
Note: Keep in mind that Lonavala can be crowded during weekends and holidays, so plan accordingly if you want a more peaceful experience.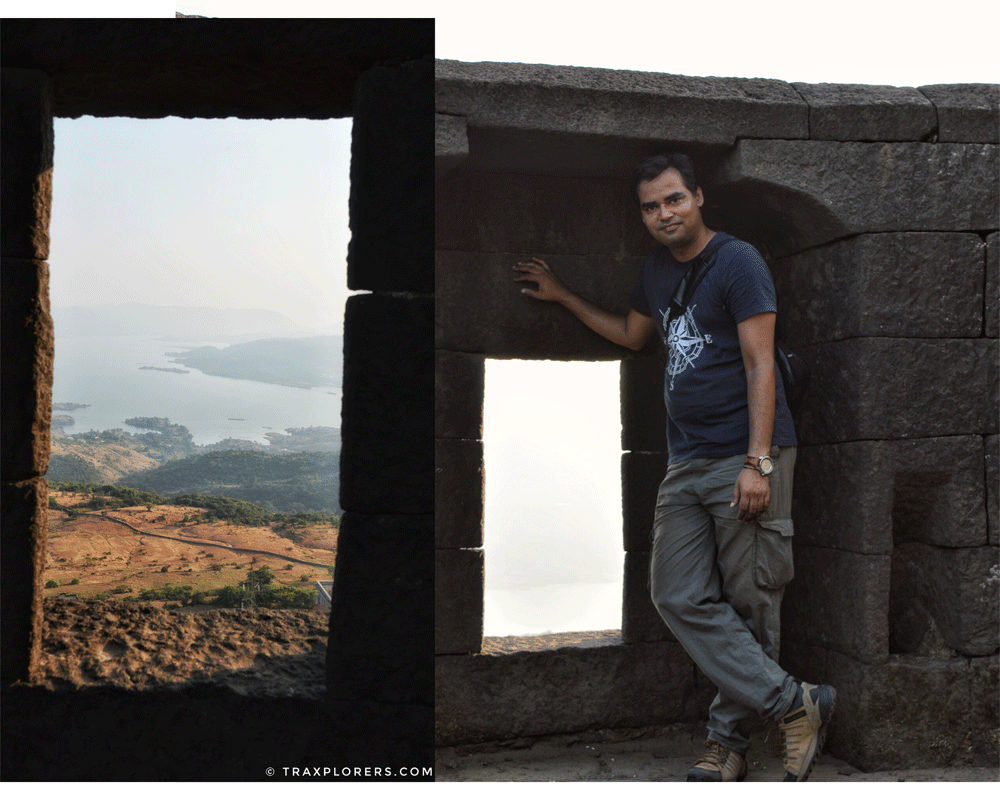 Tourist Attractions in Lonavala
The town offers a variety of tourist attractions, including scenic viewpoints like Tiger Point, Lion's Point, and Duke's Nose, which provide stunning panoramic views of the surrounding valleys and hills. Other notable attractions include Bhushi Dam, Karla and Bhaja Caves (ancient rock-cut caves), and Tungarli Lake.
Trekking and Hiking
The hilly terrain around Lonavala offers excellent opportunities for trekking and hiking. Popular trekking destinations in the vicinity include forts like Lohgarh and Rajmachi, which provide both historical and adventure experiences.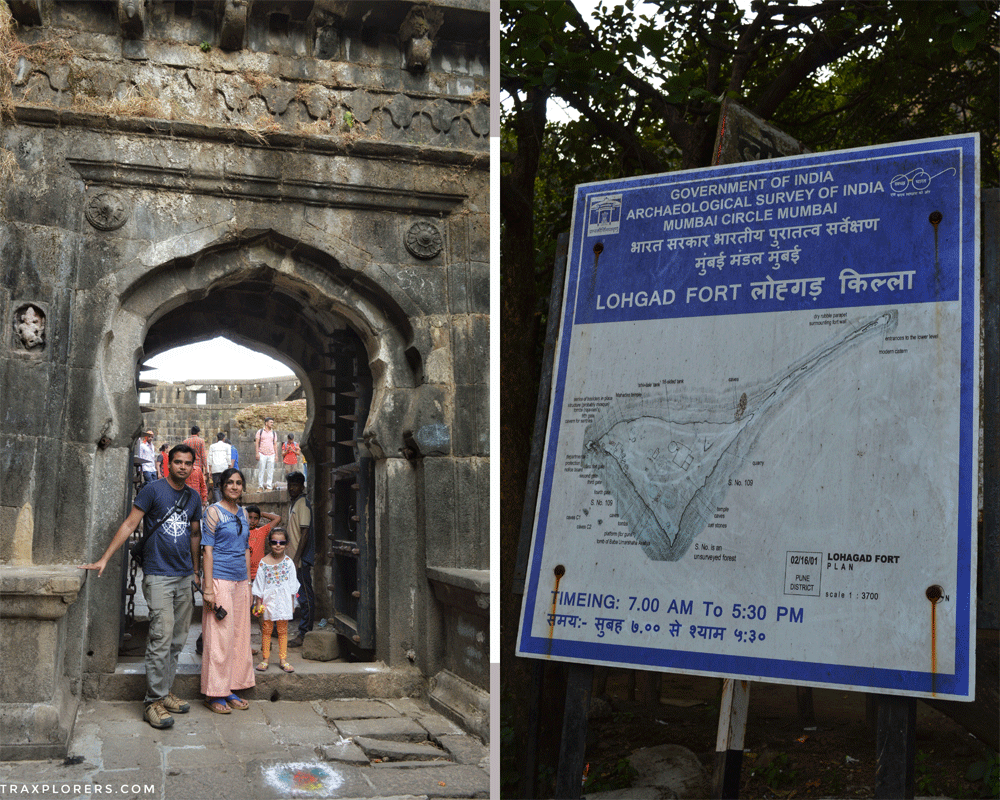 Lohgarh Fort
Lohgarh Fort is a historic hill fort is situated in the Sahyadri ranges of the Western Ghats, at an elevation of approximately 1,033 meters (3,389 feet) above sea level. It is located near the town of Lonavala. The distance between Lonavala and Lohgarh Fort is approximately 10 to 12 km by road, depending on the specific route you take. It takes around 30 to 45 minutes to drive from Lonavala to the base of the fort, where the trekking trail begins. Trekkers can choose to hike up to the fort from there. Lohgarh Fort is one of the many forts in the Pune district of Maharashtra and is known for its historical significance and breathtaking views of the surrounding landscape.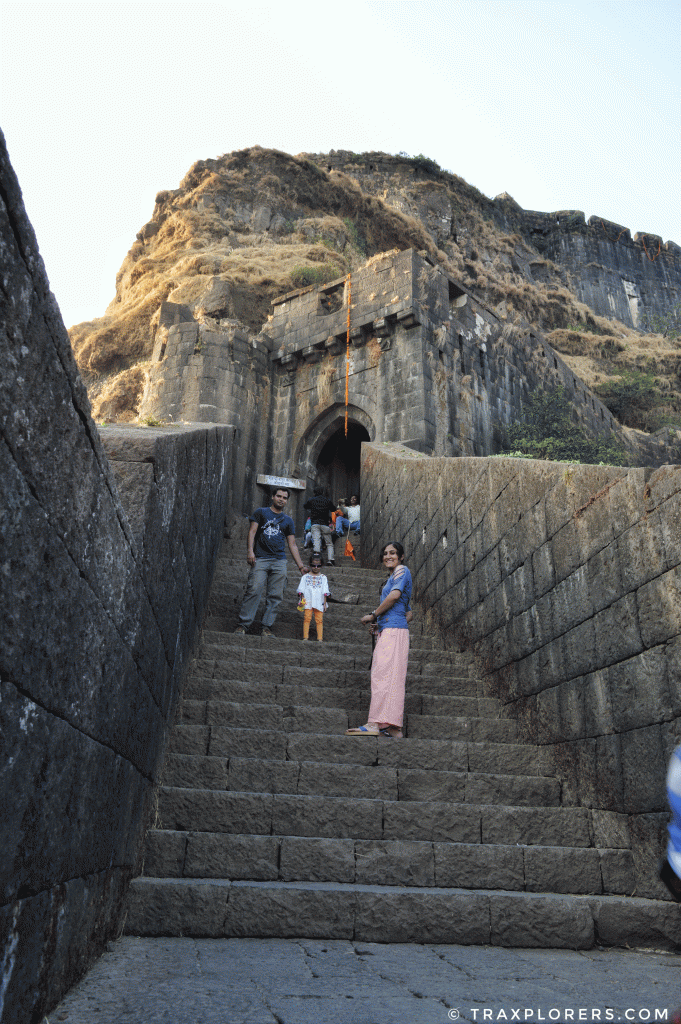 Some key points about Lohgarh Fort:
History: Lohgarh Fort has a rich history dating back to ancient times. It was initially constructed during the Maratha Empire, but its origins can be traced back to the 2nd century CE when it was built by the Buddhist Satavahana dynasty. Later, it was used by various dynasties, including the Marathas and the Mughals.
Strategic Location: The fort is strategically positioned on a hill with steep cliffs, making it difficult for enemies to access. Its location provided a vantage point to monitor the trade routes in the Sahyadri region.
Architecture: The fort's architecture includes a series of gates, ramparts, and several small temples. The main entrance to the fort is through the "Ganesh Darwaja," which has a carving of Lord Ganesh on it. There is also a massive iron door called the "Delhi Gate."
Conservation: Lohgarh Fort is now under the protection of the Archaeological Survey of India (ASI) and is considered a protected monument.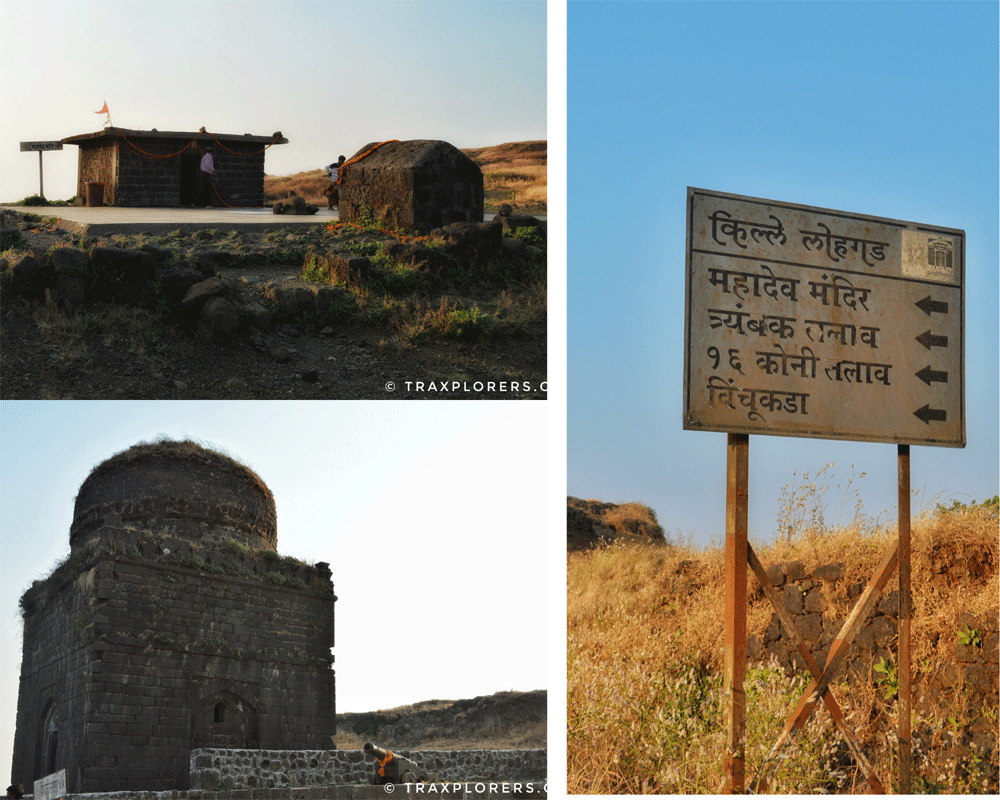 Lohgarh Fort Trek
The trek to Lohgarh Fort is a popular and relatively easy trek in the Lonavala region of Maharashtra, India. It is known for its historical significance, scenic beauty, and accessibility, making it a favored destination for trekkers and history enthusiasts. Here is a guide to the Lohgarh Fort trek:
Trek Difficulty: The Lohgarh Fort trek is considered a moderate trek. It is suitable for beginners and can be completed by people with a reasonable level of fitness. The trek involves some steep sections and uneven terrain, so it is essential to wear sturdy trekking shoes and carry enough water.
Trek Duration: The trek to Lohgarh Fort typically takes around 2 to 3 hours to ascend and 1 to 2 hours to descend, depending on your pace and how much time you spend exploring the fort once you reach the top.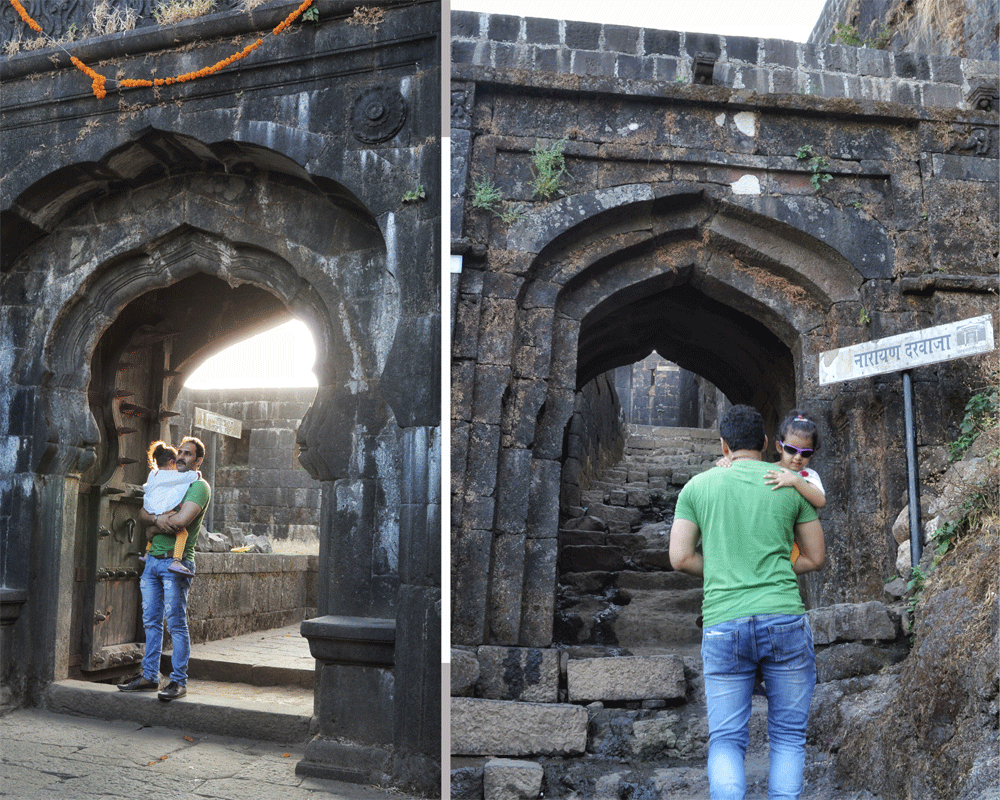 Lohgarh Trek Route:
Base Point: The trek to Lohgarh Fort starts from the village of Malavali, which is the base point. Malavali is easily accessible from Lonavala, and you can reach there by car or local train.
Trail: The trekking trail is well-marked and leads you through lush green forests and open plateaus. As you ascend, you'll encounter a series of stone steps and pathways.
Ganesh Darwaja: The main entrance to Lohgarh Fort is through the "Ganesh Darwaja," a large gate with a carving of Lord Ganesh. This gate is a popular spot for trekkers to take a break and enjoy the view.
Exploration: Once you reach the fort, you can explore various structures and attractions, including the fort's walls, cannons, caves, and a historic Shiva temple.
Views: From the top of Lohgarh Fort, you can enjoy panoramic views of the surrounding hills, valleys, and the beautiful "Pawna Lake".
Best Time for Trekking: The best time for trekking to Lohgarh Fort is during the post-monsoon season (from September to November) and winter months (from December to February). The weather is pleasant, and the landscape is lush and green during these periods.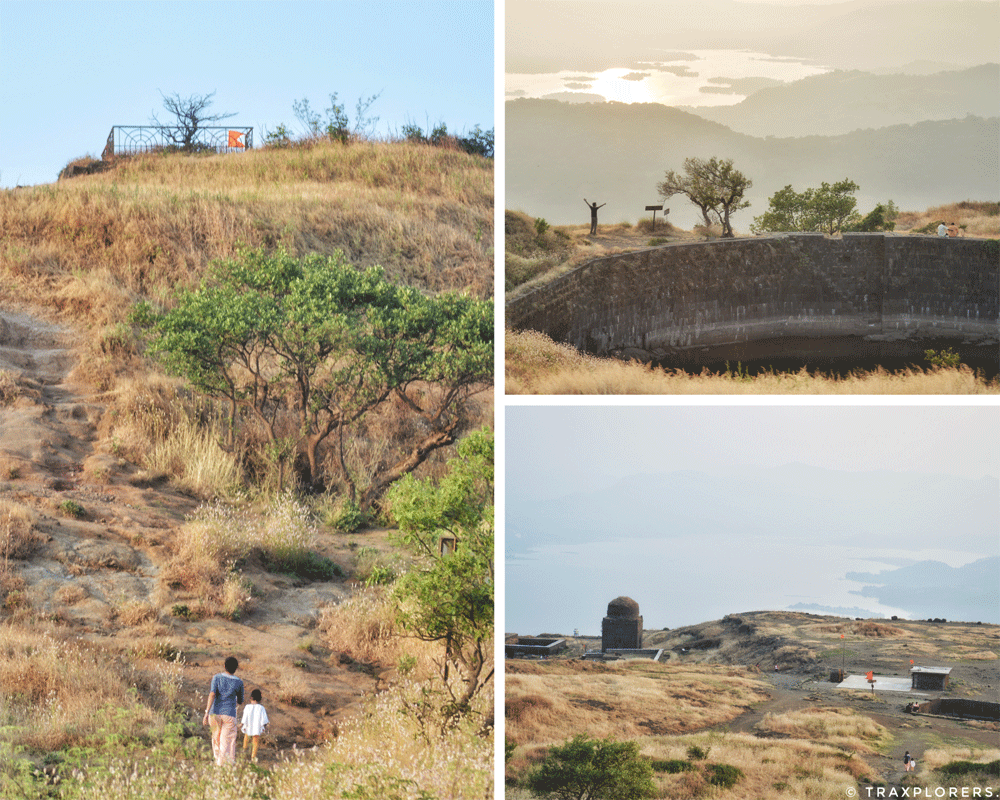 Lohgarh Trek: A November Expedition by Traxplorers
As seasoned adventurers, we embarked on our expedition to conquer the historic Lohgarh Fort in the crisp, pleasant month of November. Nature's artistry unfolded before us with every step, creating a serene backdrop.
Upon reaching the top, we were greeted not only by the fort's sturdy walls but also by the awe-inspiring panoramic view that stretched before us. We gazed in awe at the nearby plateaus, their edges kissed by the shimmering waters of Pawna Lake. The serene beauty of this natural vista was nothing short of breathtaking. It felt as if we were witnessing a canvas painted by the hand of the divine.
The day was slowly transforming into a golden-hued masterpiece as the sun began its descent. We found the perfect spot to witness the sunset – an experience that words could hardly capture. As the sun dipped below the horizon, casting an ethereal glow across the landscape, it was as if Lord Shiva himself had bestowed his blessings upon us.
We couldn't help but feel grateful for this remarkable journey. It was a day filled with the magic of nature, history, and spirituality.
This November trek left an indelible mark, reminding the Traxplorers of nature's beauty and the magic of exploration.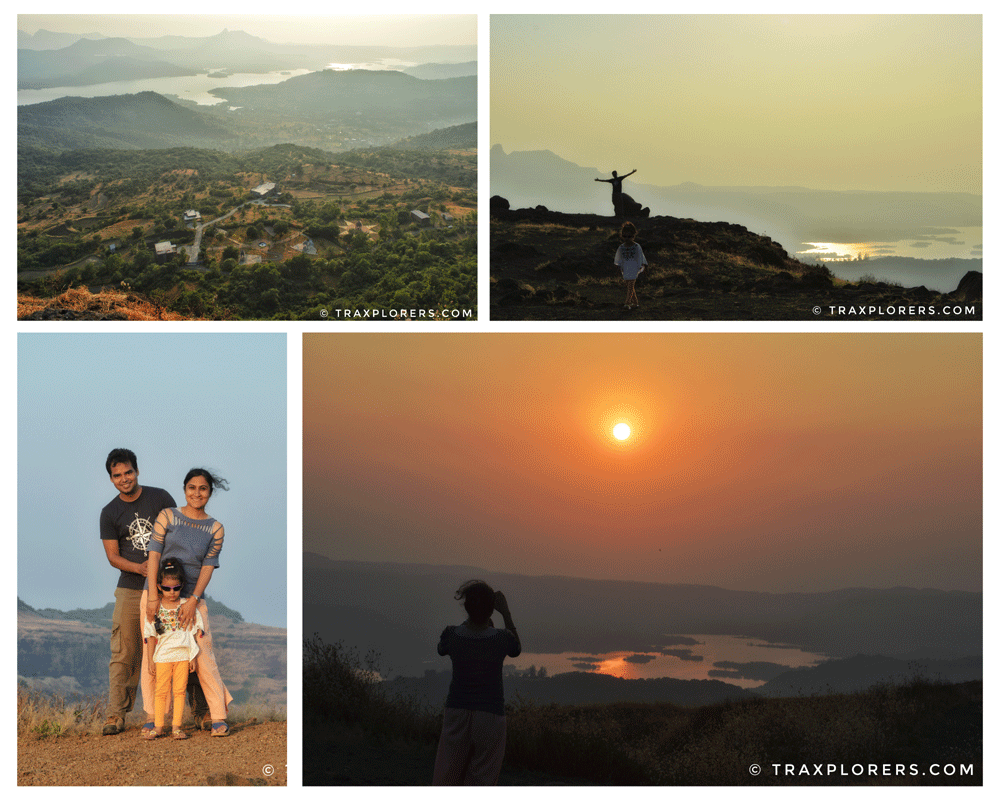 Safety Tips:
Carry enough water and snacks for the trek.
Wear comfortable and sturdy trekking shoes.
Trek with a group or guide if you're not familiar with the trail.
Be cautious during the monsoon season as the trails can become slippery.
Respect the environment and historical structures during your visit.
Lohgarh Fort offers not only a rewarding trekking experience but also a glimpse into India's rich historical and architectural heritage. It's a great day-trip destination from Lonavala or Pune and provides an opportunity to connect with nature while exploring history.
Liked the article? Show some love by sharing it. Pin the image below to save and read later. Thanks!