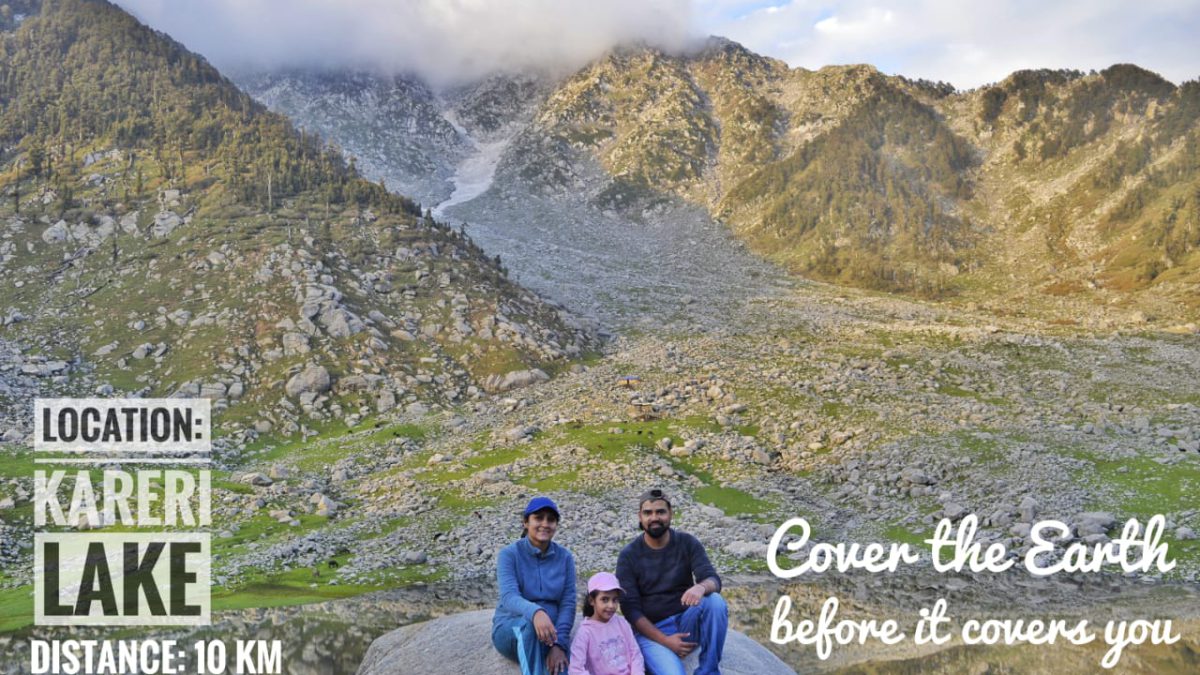 Kareri Lake Trekking & Camping with Kid: Hidden Jewel of H.P
Kareri Lake Trek in Kangra District of Himachal Pradesh
Kareri Lake Trek is a stunning weekend adventure for those people who are looking for some good options away from the beaten trek like the Triund Trek of McleodGanj. This post will help those who are seeking to explore this hidden trek with family or with kid(s). This article provides you with complete information about how to do Kareri Lake Trek with an experienced local guide. Let me tell you about Kareri Lake Trek with our own (Traxplorers') experience.
Kareri Lake
Kareri Lake is also known as Kumarwah Lake. It is a shallow, fresh water, high altitude Lake perched south of Dhauladhar range from northwest of Dharamshala in Kangra district of Himachal Pradesh, India.
About the Kareri Lake Trek
The Kareri Lake Trek offers beautiful views along the path which leads through the jungle trail, rivulets, scenic lush green valleys, steep upward hikes, beautiful mountain views, and rocky stretches. Kareri Lake is a hidden pristine lake perched atop surrounded by lush green views and mighty mountains.
How do we plan for Kareri Lake Trek?
For the past two years due to Covid 19 pandemic, we haven't been on any trips during the summer vacations. In June 2022, we planned to venture into the trekking adventure in Himachal Pradesh. Why did we choose Himachal? Because this state is nearest to our hometown. Even Karen was also willing and mentally prepared for this trek as now she has gained some experience of hiking/trekking in the recent past during the Dainkund Peak trek of Dalhousie in 2019. So, looking for trails to hike, we chose Triund and Kareri Lake Trek (both are in Dharamshala). Yes, we did both the treks as we didn't want to lose this opportunity. Triund Trek is a quite famous trek among hikers whereas Kareri Lake Trek is a hidden jewel.
Where to Reach?
It would be best if you reached Dharamshala, Himachal Pradesh. It can be done at your convenience or by using public transport. From Dharamshala, take a local state transport bus service which starts every morning between 8 AM to 8:30 AM, and reach Ghera village. Kareri village is 8 km away from Ghera. One has to hire a local taxi or shared taxi to go further to Kareri. Another option is to take an hour-long hike to the village. 🙂
How to Reach?
By Air: Nearest airport to Dharamshala is Gaggal airport. It is located about 13 km away.
By Road: Dharamshala is well connected to Delhi and other parts of North India via a network of both state and private bus operators.
By Train: The nearest railway station to Dharamshala is Pathankot.
Dharamshala to Kareri Village: The distance is 27 km.
Day 1- June 21, 2022
Amritsar to Kareri Khas Village
We started the journey from our hometown in the early morning in our car. It took around 4 hours to reach Shahpur via NH54 and NH154. To reach kareri Khas village, it further took 1.5 hours as the road before Ghera village gave quite an off-road experience. Due to landslides in past, the road was still under construction.
Village Homestay
We advise booking your homestay or cottage in advance at Kareri village. It is better to stay the first night in the village and start your trek the next day early morning to give head start as the total trek distance is 10km. We had pre-booked our homestay as well as trekking & camping guide in Kareri Khas village with Vijay Adventure and Home Stay.
The homestay offered the absolute charm of natural beauty around. It was peaceful and calm and we enjoyed our stay with the culinary delight of local cuisine.
Day 2- June 22, 2022
Trekking with a Local Guide
Our trekking and camping guide was Mr.Vijay from Kareri Khas village. We had found him through Google reviews and it was good to have him for the trek. If you are trekking as a family and have a small kid then it is best to have an experienced local guide for the trek. For the complete information about the Kareri Lake guide and homestay, you can go here.
The Trek Start Point: Nolli (Nohali) Bridge
Kareri Lake trek starts from Nolli (Nohali) bridge which is a 3 km drive from Kareri Khas village. A Nyund River is flowing under the Nolli Bridge.
Nyund River
You will have Nyund River which accompanies you from the start point of the trek up to the top at kareri Lake. You just need to follow the source of the stream. It felt like, we were there to find the source of the river. 🙂
Met Furry Buddy
We started our trek from Nolli Bridge on June 22, 2022, at around 9:30 AM. It was a cloudy morning and we expected rain soon. As we started our venture into the deep jungle trail, we met a furry buddy along the trek, and to our surprise, he started following us. He somehow speculated about our venture and decided to get along with us.
The Terrain
The Kareri Lake Trek leads through the jungle trail, rivulets, scenic lush green valleys, steep upward hikes, beautiful mountain views, and rocky stretches. The whole trek is quite scenic and beautiful. We kept moving along the running Nyund River which provided constant music of running water to us. It was quite refreshing.
1st Halt- Jheel café | To go or not to go
We reached the first halt i.e. Jheel Café after a 1-1.5 km stretch of the steep hike. It suddenly started raining which soon became a hail shower. We had to wait in the shack for the rain to stop before we proceed further as there was a rivulet and it was quite risky to cross it during heavy rain. While waiting, we nearly thought of canceling our trek but after 45 minutes of continuous rain we saw some hope, and the rain got stopped.
1st Rivulet Crossing
It was still drizzling intermittently so we put on our raincoats. After crossing the first rivulet, we headed into a deep jungle trail. Now, the trek was quite slippery and muddy due to rain showers. There were few steep upward hikes accompanied by small straight stretches.
Beautiful Valley Views
After covering around 4 km of the total trek distance through the jungle trail, we came across beautiful valley views. By this time, the weather became clear and the sun had shined high over us. It was already 12 past noon. We stopped by for a few minutes to catch some breath with breathtaking views in front of us.
2nd Halt- Maggie Point
Maggie point was another small shack eatery point that became our 2nd halt. We had covered around half of the trek distance up to this point. So, we fuelled ourselves here with Maggie and a few energy bars.
2nd Rivulet Crossing
This rivulet came with big rocks in between the stream. After carefully watching our steps, we crossed the rivulet and reached a straight stretch.
Iron Bridge Crossing
Soon we came across 3rd rivulet and it had an Iron bridge over it. Iron bridge crossing was the only point where we felt relieved from stretching our legs. 🙂
3rd Halt- Story of Bust in the Temple
At around 3 PM, we took our 3rd halt for a lunch break alongside the rivulet with a small temple of Shiva. There was a bust of a young boy inside it. Out of curiosity, I asked our guide about the bust and the written text "In the Memory of" beside it. We came to know that the young boy belonged to Kareri village. He was suffering from some illness since his childhood and was not cured. At the age of 20 years, he left the world at that particular point of the Kareri Lake trek. In his memory, his parents built the temple alongside the river.
After a 30-45 minutes break, we started hiking upward. We had left with around 2 km of the trek up to the campsite.
The Campsite
Again we had rocky terrain in front of our eyes. We were wondering about Kareri Lake as we were not able to see any area like a meadow or flat terrain etc. The only view we got was an upward hike with a rocky stretch and rivulet flowing beside. After covering several rocky stretches we reached our campsite at around 6 PM. Still, we were not able to see any Lake stretch nearby. Upon asking our guide, we came to know that Kareri Lake is situated at an upward inclination from the campsite. As camping was not allowed at Kareri Lake, so we had to set our tent a few meters away at the downside of the Lake.
4th Rivulet Crossing- Reached Kareri Lake
After having a tea break at the campsite, we headed towards Kareri Lake. To reach Kareri Lake, we had crossed the 4th rivulet of the trek and covered a small upward stretch. To our surprise, we found a beautiful view of Kareri Lake surrounded by majestic mountains with glaciers and lush green valleys. That view solely captivated us. The source of water in Kareri Lake was those glaciers. All the water in rivulets we had witnessed throughout our trek was coming from Kareri Lake. It was like, yay! We have found the source of the river. 🙂
Shiva Temple- Evening view of Kareri Lake
There is a Shiva Temple near Kareri Lake. The temple and nature at its best gave a divine feeling. We spent some quality time admiring the beauty of Mother Nature around us. If honestly asked, we didn't want to leave that place ever. It was so peaceful up there.
Camping with campfire
At night, the weather was cold up there. In June, it was a chilly night. Somehow, we managed to get the campfire lit up with the help of our guide. It was a magical moment in the lap of nature. It was a starry night. We hadn't seen so many stars in the sky ever before. There was no light pollution so we got the chance to witness the wonders of nature at their best.
Day 3- June 23, 2022
Kareri Lake in Morning
It was a bright morning waking up in the tent. Soon after refreshing ourselves, we had our breakfast. As pre-decided, we went uphill once more to catch the sight of Kareri Lake in the morning.
The Lake was filled with so pure and crystal clear water that we got to see a mirror image of mighty mountains in it. The view was stunningly gorgeous! Get on a virtual tour of Kareri Lake Trek with us over👉 here 🤩
Day 4- June 24, 2022
Back to Hometown
Even though we didn't want to leave that heavenly place but had to move on. The kareri Lake trek amused us with its natural charm. We headed back to the kareri village with memories of beautiful moments we had spent along the trek. In the early morning, we left for our hometown Amritsar. With a promise to ourselves, will come back soon for another dose of adventure in the mountains.
Things You Need to Carry
1. Take excellent and comfortable trekking shoes as the trail is challenging sometimes.
2. Carry enough warm clothes as the nights are colder even in June.
3. Always advised packing light for trekking as you need to carry the load yourself.
4. Carry your tent and sleeping bag if you are trekking without a guide. As you would not get any stay option up on the trek.
5. Always keep a few ready to eat options like energy bars, energy drinks, etc. It would be your emergency food supply.
6. Carry a raincoat as the weather in mountains can change at any minute.
7. Carry a water bottle. You may also refill your water bottle on the way.
8. Keep a first aid kit and necessary medicines, if required.
Do's and Don'ts
1. Leave your footprints not your litter on the trek. Don't leave plastic bottles, wrappers, etc. on the trek.
2. Be a responsible traveler by keeping the trek garbage free. Respect Mother Nature.
How do you find this article? Helpful? If you have been on this trek then share your experience with us in the comment box. If you haven't been there yet then Pin the images below to save and read later. Like and Share. Thank you! 🙂
Pinnable Images !