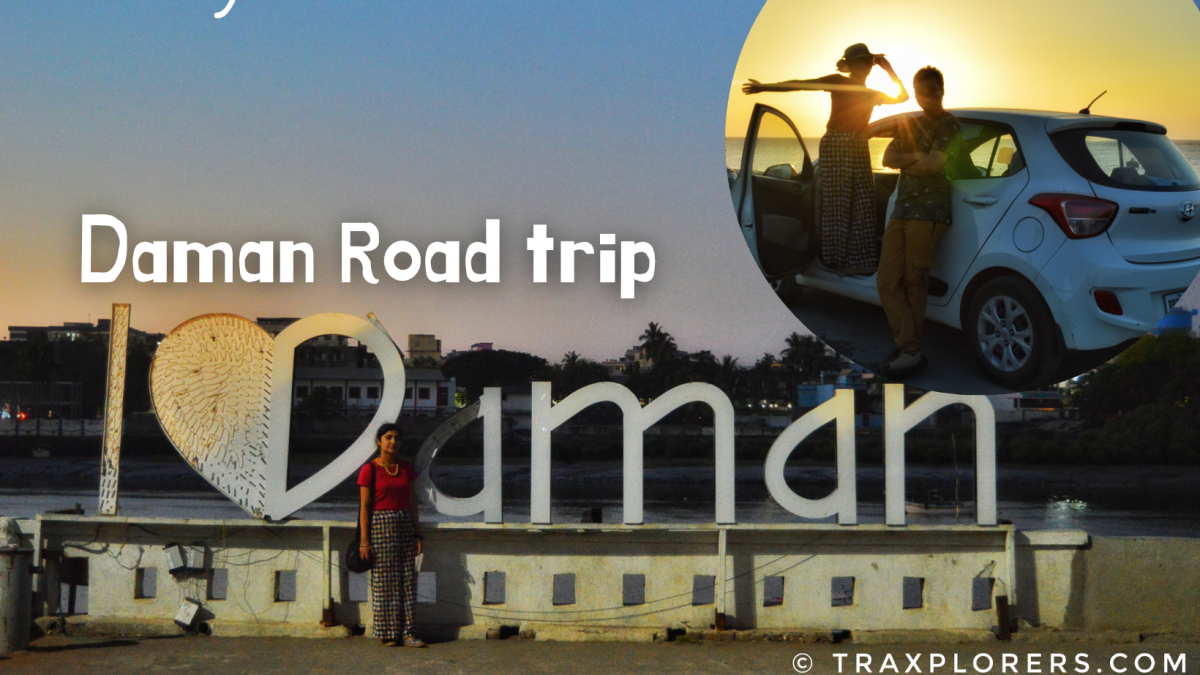 Top Reasons to Go for Road Trip to Daman
Top Reasons to Visit Daman
Daman is a city in the union territory of Daman & Diu on the west coast of India. Like Diu, this city also holds the past Portuguese colonial impression. Daman is a territory on the southern coast of Gujarat state and is situated 160 km north of Mumbai. Its beautiful beaches, Portuguese colonial architecture, centuries-old churches, historical forts, and mesmerizing beauty of twin towns- Nani Daman and Moti Daman will let you spellbound.
Mumbai to Daman- Ditch Lonavala & Khandala
During monsoon season, people tend to go to Lonavala or Khandala from Mumbai for a serene drive. Apart from these places the less followed route for a drive is Daman. The less-traveled road from Mumbai to Daman makes it devoid of traffic and crowd. In monsoon, it is quite enchanting to drive through as the road is well maintained and full of greenery around though the highway is not a broad one.
Ahmedabad to Daman- Ditch Goa
Daman being a former Portuguese colony is the biggest reason to go for it. One who is a fan of history and culture, Daman is a good place to soak in Portuguese architecture and history depicted via Forts and churches. The bonus is beaches for beach lovers who are fed up with Goa and want some quaint moments. This city has beautiful beaches facing the Arabian Sea. The road from Ahmedabad to Daman has good connectivity that makes it an ideal destination for a road trip.
Twin Towns- Nani Daman & Moti Daman
The river named Daman Ganga separates the city into two towns namely Nani Daman and Moti Daman. Nani Daman and Moti Daman are famously known as the Twin Towns of Daman. These twin towns lie opposite each other. Nani Daman is the larger part than Moti Daman irrespective of their names where Nani means 'small and Moti means 'big'. The old city is mainly in Moti Daman. Both of these are equally beautiful to explore. Other rivers separate Daman from Gujarat, north by Kolak River and south by Kalai River. There is a bridge connecting the twin towns known as Rajiv Gandhi Setu.
Top Places to visit in Daman
1. St. Jerome Fort- Portuguese fortress with scenic views
St. Jerome Fort is named after one of the most eminent fathers of the Catholic Church. This 17th-century Portuguese fortress is situated on the north side of Daman Ganga River in Nani Daman. It is also known as Nani Daman Fort. The fort is a beautiful vintage piece and is best to spend a peaceful time soaking in rich history. Though it is a small fort its arched gateway with high and elegant stone walls looks magnificent. There is also a church and school inside it. The fort offers a serene view of Nani Daman beach from the top. After visiting the fort one can go for a walk on the beach.
Opening hours: 8:00 AM to 6:00 PM
2. Devka Beach- black sand beach with a beautiful shoreline
Devka beach is in Nani Daman. It is the most popular beach in Daman. This beach has black sand mixed with stones other than the regular white sand of other beaches. The shoreline is picturesque with clean waters and a serene atmosphere. There is enough beauty to enjoy and have a peaceful time at Devka beach.
3. The Light House- a magnificent landmark of Daman at sunset.
The Light House is the famous landmark of Daman. It is situated inside Nani Daman Fort and provides breathe taking view of the Daman Ganga River. It is the best point to have a magnificent view of the sunset.
4. Moti Daman Fort- History
Moti Daman fort is bigger than Nani Daman fort with an area of 30,000 sq. meters. It was built by the Portuguese in the 16th century. There are still cannons on its walls. Many original Portuguese buildings are now converted into government offices yet their original architecture is still intact.
Opening Hours: 8:00 AM to 4:00 PM
5. Bom Jesus Church- 16th-century church with intricate carvings
This 16th-century church was a parish church constructed under Portuguese rule. It is located in Moti Daman and is at a walkable distance from the main road. The church had been designed like a Roman Catholic Church so also known as the Basilica of Bom Jesus Church. This church is one of the most popular places in Moti Daman which provides an experience of peacefulness. The architecture is 400 years old that provides an intricately carved doorway and a beautiful altarpiece. The altarpiece is heavily adorned with an ornamental form of architecture which is a rare sight. This church is an ASI (Archaeological Survey of India) protected monument.
Opening Hours: 7:00 AM to 9:00 PM
6. The Church of Our Lady of Remedios- Moti Daman
This is also a 16th-century parish church built by Rui De Mello De Sampaiyo, Governor and captain of the city in 1607 AD. The main altar is carved and gilded with 17th-century engravings. This church is an ASI-protected monument. It is located in a residential area and thus is quite serene and calm.
Opening Hours: 7:00 AM to 9:00 PM
6. Dominican Monastery- Ruins of an old Dominican Monastery
This place has ruins of the former 16th century Dominican Monastery which was the place of worship for a population of mixed African and European ethnicity. It is located inside Moti Daman Fort and is frequently referred to as the "Ruined Church". There are bare and lofty walls that are part of the magnificent structure of "Convent of The Dominican". Originally, it had an altar with a prayer hall and dormitories.
Opening Hours: Usually open until sundown.
7. Moti Daman Jetty Garden
This is an elegantly designed garden located near the jetty, Moti Daman on the shores of Daman Ganga River. It is a nice place to spend quality evening time with family and friends. There are plenty of street food options here. There is ample space for children to play as it offers a picturesque riverside park.
Opening Hours: 24 hours open
Help yourself to find location of Daman attractions by zoom in the following map 👇
Traxplorers' experience of Daman
We loved our road trip from Ahmedabad to Daman. Once off the NE-1, state highways are not broad enough though not crowded ones as not much opted route for road trips.
About forts- Although the forts are in urgent need of restoration still a walk inside the forts gives you an experience of the bygone era. The view of Daman Ganga River from the fort walls was magnificent. The thing that annoyed us is the lover's graffiti on fort walls.
Light House- We successfully captured a beautiful sunset view from the point.
Devka Beach- We spent our best evening time there gazing at the serene waters at the shoreline.
Basilica of Bom Jesus Church- We found its architecture a remarkable piece of history.
Ruins of Dominican Monastery- Initially, we were confused with the signage of "Ruined Church" as we were looking for Dominican Monastery. It is believed that the destruction of the church was caused by an earthquake but still one can observe the monastery's arches and lofty walls that withstood the earthquake. It is a must-visit archaeological landscape.
Jetty Garden- Good place to spend evening time gazing at the picturesque Daman Ganga River shoreline. Best place to relax and enjoy street food. We had captured some beautiful memories of this place at sunset.
How do you find this article? Like it? Share it. Thanks <3
DISCLAIMER: Some links on this site contain affiliate links, meaning if you book or buy something through one of these links, we may earn a small commission (at no extra cost to you). Thank you for supporting this website.
Terms & Conditions: ©Unauthorized use and/or duplication of any material (text and/or images) without consent from this site's author and/or owner are strictly prohibited. Links and excerpts may be used provided that full credit is given to Traxplorers or Supriya Bhardwaj with specific and appropriate direction to the original content.
Tagged Ahmedabad to Daman, Arabian Sea, Bom Jesus Church, Church of Our Lady of Remedios, Daman, Daman Ganga River, Devka Beach, Dominican Monastery, Family travel, India Travel, jetty garden, Light House, Moti Daman, Moti Daman Fort, Nani Daman, Rajiv Gandhi Setu, Road Trip, ruined church, St. Jerome Fort, traxplorers, Twin towns, Union Territory