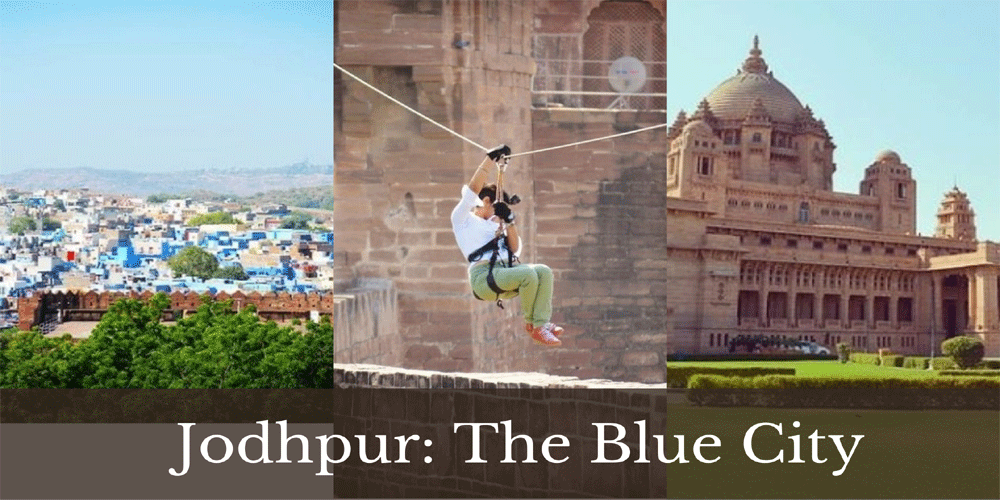 Jodhpur: How to Tryst Royalty with Spice of Adventure!
Jodhpur- The Blue City of Rajasthan
During festive season in India, we get holidays and sometime these become long weekend break. That is the time which we grab as an opportunity to widen our wings to fly away from the work place. Our visit to Blue city – Jodhpur of Rajasthan is among one of such festive holidays trip. Earlier, we have visited Jaisalmer and Mount Abu from the state. We visited Jodhpur during Dussehra holiday. This festival marks the win of good over evil. It is celebrated by burning effigy of evil form Ravana (character of the Hindu mythology- The Ramayana).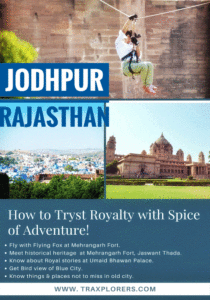 What actually craved us to visit Jodhpur?
This royal city not only offers the majestic beauty of palaces and fort but also gives an opportunity to get adventurous experience (Zip lining) along with relishing royal beauty around.  Royal and Adventure, just these two words are sufficient for us to visit Jodhpur without any extra thoughts.
Ahmedabad to Jodhpur Distance
Jodhpur is at 443.7 km via NH62 from Ahmedabad. It takes around 8 hours by road to reach.
How we planned to visit?
As usual, we decided to drive down from Gandhinagar, Gujarat to Jodhpur, Rajasthan. We booked our stay online in Yogi Guest House. This place is in centre of the city so is suitable to roam around and explore. It is also available at reasonable rates.
We started our journey in the early morning and reached Jodhpur in the noon. We had two days, so planned our itinerary accordingly.
Jodhpur: Day 1
Check in Yogi Guest House
Yogi Guest House is basically an old haveli (500 years old) with traditional courtyard. It provides traditional lifestyle along with modern amenities. Things we loved about the guest house are:
Situated in the centre of old city. This provided fair approach to the heart of Jodhpur.
The traditional lifestyle and hospitality.
The panoramic view of Mehrangarh Fort from the terrace. It looks fabulous at night.
The view of Clock Tower and the old blue city.
The candle light dinner on roof top restaurant.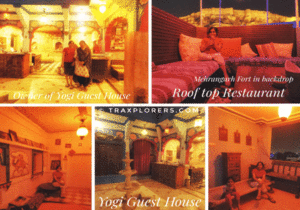 Address: Manak Chowk Rd, Naya bas, Sodagaran Mohalla, Jodhpur, Rajasthan 342001
Phone: 0291 264 3436
Toorji ka Jhalra- Stepwell
Toorji ka Jhalra, the stepwell was built by a Queen, Maharaja Abhay Singh's consort in 1740s. Interestingly, this stepwell was submerged for decades and was restored. The restoration uncovered 200 feet of hand carved historical marvel which in itself is a great treasure.
If you are curious about step wells, must visit it in afternoon as not good place to visit in the evening due to non-availability of evening light. Sit on steps for a while to admire the beauty of architecture. It remains open for 24 hours. There are lot of roof top cafes around to spend your evening time.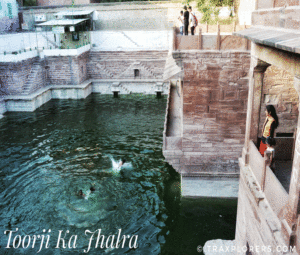 Address: Makrana Mohalla, Sutharo Ka Bass Rd, Gulab Sagar, Jodhpur, Rajasthan 342001
Mandore Garden
Mandore Garden locally is famous as The Ravana Temple. According to folklore, this place is known as the birth place of Ravana's wife Mandodari. Later on, back in 6th century, Mandore was the capital of Rajputana Kingdom. Now, it is famous as Mandore Garden which is built around the royal cenotaphs (Chhatris) of the Rathore rulers.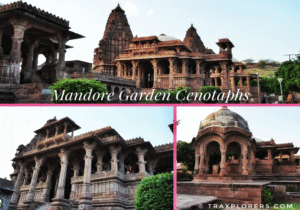 Monuments:
Mandore Fort– Now is in a ruined state with thick walls and its substantial size. Once was a fine piece of architecture. There is a huge ruined temple which is a highlight of the fort. The outer wall has carvings of botanical designs, birds and animals.
Temples– There is a beautiful collection of temples, memorials and high rock terraces. Main attraction is the Ravana Temple.
Cenotaphs– The garden houses cenotaphs (Chhatris) of many royal rulers of Jodhpur. The exquisite among them is royal cenotaph of Maharaja Ajit Singh, built in 1793.

Location: Mandore Garden is at 9 km north of Jodhpur city.
Jodhpur: Day 2
Mehrangarh Fort
Mehrangarh Fort is famous for its beautiful architecture and cultural heritage. It is one of the most magnificent forts in Rajasthan, India. The fort covers an area of 486 hectares (1200 acres) in Jodhpur. There are grand rooms in the fort:
Moti Mahal- Hall of Pearls
Sheesh Mahal- Hall of Mirrors
Phool Mahal- Palace of Flowers
Story of Mehrangarh Fort
The fort was built by Rathore dynasty of Jodhpur. It was founded by Rao Jodha in 1459. The main deity of Rathores was Sun God so the fort was named Mehrangarh where Mehran means Sun and Garh means Fort. The fort is built on rocky cliff at an altitude of 400 m above city's skyline.
Interesting Facts about Mehrangarh fort
The fort is built on a rocky cliff named Bakhurcheeria and is spread over 5 km. The walls of fort are 36 m high and 21 m in width.
It is listed among haunted forts of India. It was said that there was a hermit named Cheeria Nathji lived on the hilltop. During process of building the fort, hermit was displaced. To please hermit, a young man named Rajiya Bambi set ablaze. His soul was sacrificed. After that, series of misfortunes followed in Rao Jodha family. The fort is haunted with these ill feelings.
Rajiya Bambi was promised that his family and descendants would be looked after by Rathores. In honor to that, even today Rajiya's descendants continue to have special relation with Royal family.
Rao Jodha Desert Park– situated leeward side of the Fort hill. It is an ecologically restored desert land with arid vegetation spread over 72 hectares. The area surrounding the park has many volcanic rocks and sandstones from about 600 million years ago.
Cultural and folk performances are arranged every day in the courtyard of the fort. These cultural performances are real visual treat as different artists perform to various Rajasthani folklores.
Best time to visit: Between October to March.
Opening Hours: 9 AM to 5 PM
Visiting Hours: 3 hours
Zip Lining Adventure with Flying Fox
How to get the best view of Mehrangarh fort and the Blue City with spice of adventure?
Get the Zip tour with Flying Fox. Trek through the Rao Jodha Eco Park and glide over two desert Lakes with 6 zip lines up to 300 m long (total 1080 m of flight). Two highly trained instructors provided to guide throughout the zip tour.

Watch the thrill yourself experienced by 'Traxplorers' 👇🤩
For more info go to Flying Fox
Jaswant Thada
It is a cenotaph which was served as cremation ground for Royal Rajput families of Marwar. Jaswant Thada is popularly known as 'Taj Mahal of Marwar' as it is built of intricate carvings of marble. This beautiful marble memorial was built by Maharaja Sardar Singh in the memory of his father Maharaja Jaswant Singh in 1899.
Location: Situated near to Mehrangarh Fort.
Opening Hours: 9 AM to 5 PM
Umaid Bhawan Palace
Umaid Bhawan Palace was once home to the Royal family, built between1928 to 1943. The palace is named after Maharaja Umaid Singh who carried out the foundation of the building. Now is an elegant hotel and heritage museum set on 26 acres of the garden complex. It is perched on Chittar Hill, the highest point of Jodhpur, provides exotic views of historical Blue City.
Interesting Facts:
The palace was designed as a blend of western technology and Indian architectural features.
The palace has 347 rooms, many courtyards and a large banquet hall which can accommodate 300 people.
A part of the palace is managed by Taj Hotels.
Currently, world's sixth largest private residence.
The last of the great palaces of India, it houses a family museum.
Current owner is Gaj Singh, grandson of Maharaja Umaid Singh.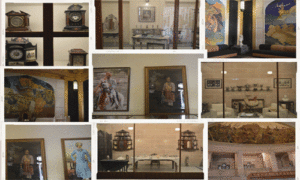 Made International headline: When Bollywood actress Priyanka Chopra tied the knot with Hollywood icon Nick Jonas in December 2018.
Museum Opening Hours: 9 AM to 5PM
Clock Tower- Ghanta Ghar
The clock tower, locally known as Ghanta Ghar was built by Maharaja Sardar Singh of Jodhpur. It is located in Sardar market and is the popular landmark of old city. This place is the busiest place in evenings.
Sardar Market- old city market
It is the largest and busiest market of old city Jodhpur. The name was given after Maharaja Sardar Singh, who built a clock tower in the centre of the market. It is a famous market of Jodhpur. One can get various varieties of handicrafts, silver, textiles, aromatic spices, vegetables and Indian sweets in shops situated in the market. Good place to get Rajasthani souvenir.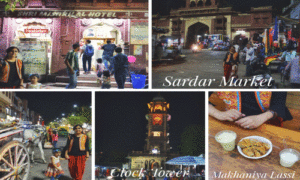 Things not to miss in Jodhpur
Apart from royal palaces and fort, must visit Shri Mishrilal Hotel which is actually an old sweet shop. This is famous for its delicious makhaniya Lassi. This shop is located in Sardar market near clock tower.
Should not miss to visit Mandore Gardens. Of course you need to go extra miles from city centre but are worth exploring.
Zip lining with Flying Fox at Mehrangarh Fort. ( If you are audacious enough)
Buy handmade craft items from the local market of old city.
Visit biggest and second biggest fort of India: Chittorgarh Fort and Kumbhalgarh Fort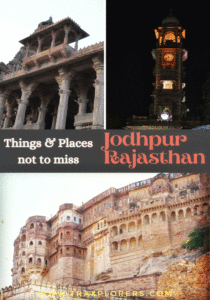 DISCLAIMER: Some links on this site contain affiliate links, meaning if you book or buy something through one of these links, we may earn a small commission (at no extra cost to you). Thank you for supporting this website.
Terms & Conditions: ©Unauthorized use and/or duplication of any material (text and/or images) without consent from this site's author and/or owner are strictly prohibited. Links and excerpts may be used provided that full credit is given to Traxplorers or Supriya Bhardwaj with specific and appropriate direction to the original content.

Tagged Adventure, Cenotaphs, clock tower, Flying fox, fort, GhantaGhar, Jaswant Thada, Jodhpur, Mandore Fort, Mandore garden, Mehrangarh Fort, old city market, Rajasthan, Stepwell, Things not to miss in Jodhpur, Toorji Ka Jhalra, Umaid Bhawan, Umaid Bhawan Palace Museum, Yogi Guest House, zip lining