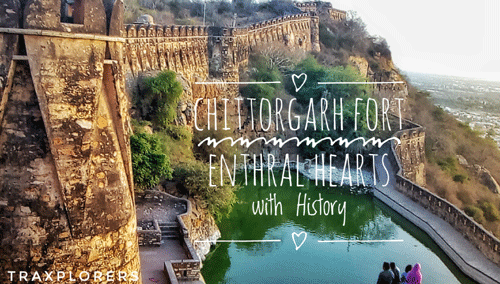 Chittorgarh Fort: Enthrall hearts with History
Chittorgarh: The Pride of Mewar Rajputs
What is Chittorgarh famous for?
This city in Rajasthan is famous for its vast hilltop complex Chittor Fort from 7th-century with the remains of many temples and monuments. It includes a nine storey Vijay Stambha from the 15th century known as Tower of Victory which is built from red sandstone and white marble. It houses many Palaces like Rana Kumbha Palace, Fateh Parkash Palace, and Rani Padmini's Palace. There are also many temples like Meerabai Temple and a huge complex of Jain temples. One of the most visited places inside Chittor Fort is Gaumukh Kund, a water reservoir. It offers incredible city views from the top and is lit up at night. The fort is a pride of Mewar Rajputs and it enthralls everyone with the glorious history of Rajasthan.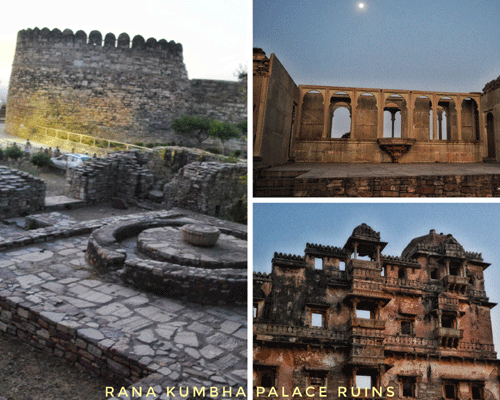 The Chittor Fort
The Chittor Fort is among one of the largest forts in India and also a part of Hill Forts of India. The fort was the capital of Mewar and is regarded as the symbol of Rajput chivalry and bravery. It is built on 180 m high hilltop that rises from the banks of Berach River. The fort is believed to be named after the person who built it, Chitrangada Maurya (the local Maurya ruler). It is now listed under UNESCO World Heritage sites.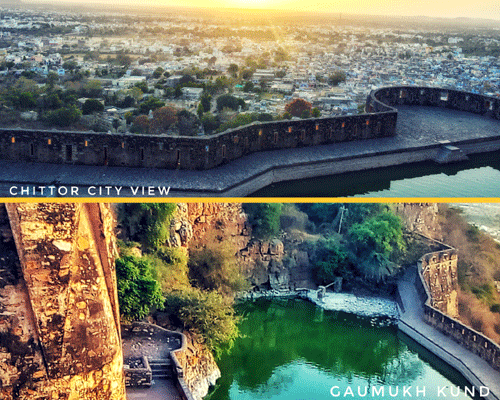 The Fort Wall
The fort wall extends to 3 km in length and 13 km in peripheral length. The fort is accessible through seven huge gates.
Location: The Chittor Fort is situated 175 km to the east of Udaipur.
The Fort Timings: 9:45 AM to 5:45 PM (all days of the week except Friday)
The Fort Entry Fee: 15 INR for Indians and 200 INR for foreigners.
Main Attractions of the Chittor Fort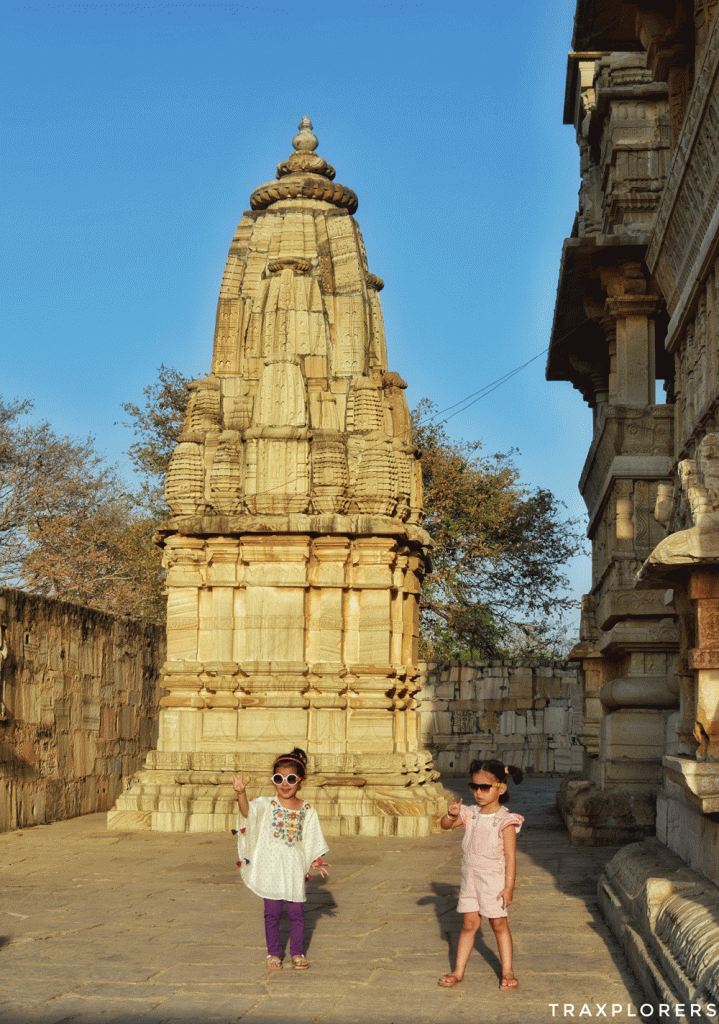 7 Gates of the Fort- Padan Pol, Bhairon Pol, Hanuman Pol, Jorla Pol, Ganesh Pol, Laxman Pol, and Ram Pol.
Temples- Meera Mandir, Jain Temple complex, Kalikamata Temple.
Palaces- Rana Kumbha Palace, Rani Padmini Palace, Rawal Ratan Singh Palace, Fateh Parkash Palace.
Towers- Two prominent towers stating the glorious history of Rajputs are Vijay Stambha (Tower of Victory) and Kirti Stambha (Tower of Fame).
Gaumukh Reservoir- A water reservoir shaped like the mouth of a cow and hence named as Gaumukh Kund. It is located on the west side of the Fort.
Rani Padmini
Rani Padmini also hailed as Queen Padmavati- the most elegant queen of Chittor in history. One can find the beautiful description of queen Padmavati in a poem written by Malik Muhammad Jayasi in 1540. It has been described by the folklore of Rajasthan that the princess from Sri Lanka who married the Rajput ruler Rawal Ratan Singh and then moved to Chittor. Today Rani Padmavati is remembered in Rajasthan for her flawless beauty, the act of valor and her sacrifice rather than falling into the trap of Delhi Sultan Alauddin Khilji. It is believed that Rani Padmini organized her self-immolation (Jauhar) inside the fort. The existence of Rani Padmini (or Padmavati) is still a topic of debate though. Many believed her as a real-life person in contrast to her fictional existence.
Get to know more about Rani Padmini alias, Queen Padmavati, from a book available in the Amazon store or you can watch Bollywood movie Padmaavat 👇
Ruins of Rana Kumbha Palace
The palace of Rana Kumbha is located near Vijay Stambha. The palace is in ruins now. But once this famous palace has Diwan-e-aam, a temple of Lord Shiva, Zanana mahal along with stable for horses.
Meerabai Temple
Meerabai Temple was built by Rana Kumbha and is perfectly located inside the fort with a rich history of Rajasthan. Meerabai was the Rajput princess and a devotee of Lord Krishna. She gave up royal life and devoted her whole life to Lord Krishna. The temple is actually built at the birthplace of Meerabai and is a beautiful piece of architecture. The Meerabai Temple holds both religious and historical importance in Rajasthan.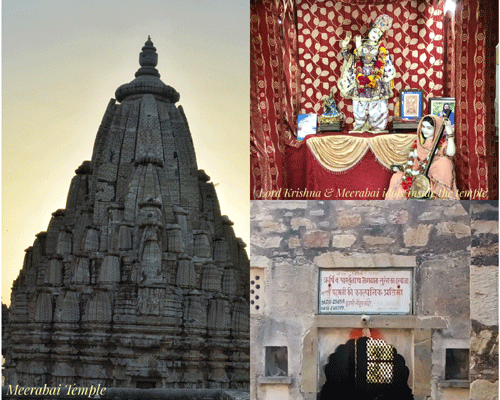 Read the full story of Meerabai from Amazon store 👇
Vijay Stambha
Vijay Stambha is also known as Tower of Victory was constructed by the King of Mewar Rana Kumbha in 1448. This tower commemorates the victory of Mewar king over the combined forces of Gujarat and Malwa led by Sultan Khilji. Vijay Stambha is dedicated to Lord Vishnu. The tower has 9 storeys with a balcony at every storey. The whole structure is made of red sandstone and white marble. The tower has inscription and carvings of Gods, Goddesses, seasons, weapons, and musical instruments used in that period.
Want to know more about glorious history of Chittorgarh and the braveheart Royal Rajputs? Pick the books available on Amazon store 👆👇
Ahmedabad to Chittorgarh
It was in the month of March 2018, we planned our trip to this place rich with history and mystery in Rajasthan. Along with accompanied a beautiful family of three like us. We drove down to Chittorgarh from Ahmedabad.
Get your own guide to explore this wonderful city of Rajasthan 👇
Our Stay
Upon reaching Chittorgarh, we looked for our stay and found a decent accommodation at Hotel Royal Inn with clean air-conditioned spacious rooms and breakfast buffet facility. The hotel provided good room service and friendly staff. We loved it. Immediately checked in and had a good bath. As we had a long drive so decided to explore the Chittorgarh fort after having a quick nap.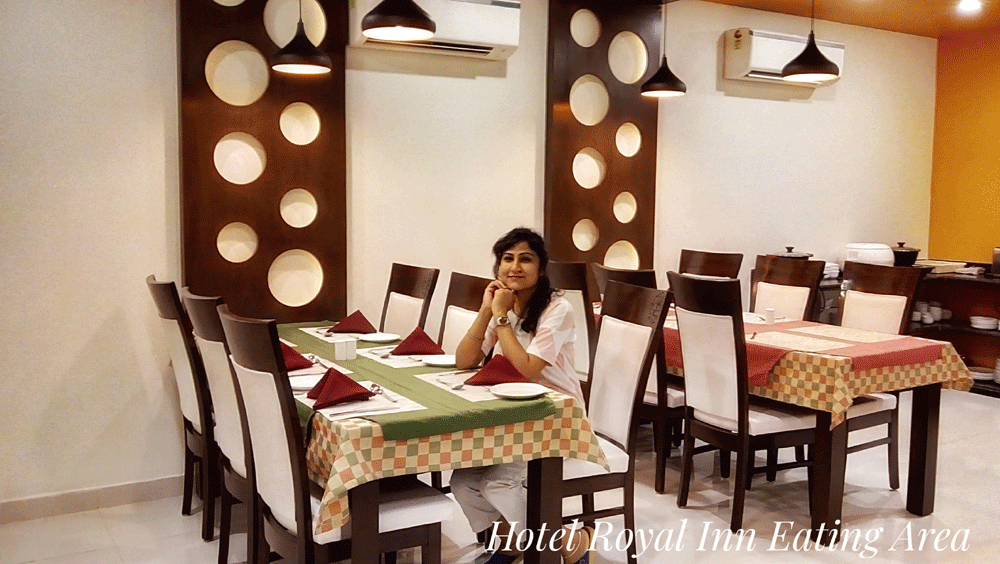 Ready to explore the place
After a while, we were ready to explore the site. Before evening, we reached the fort site and started admiring the architectural beauty of all the historical structures inside the Chittorgarh Fort.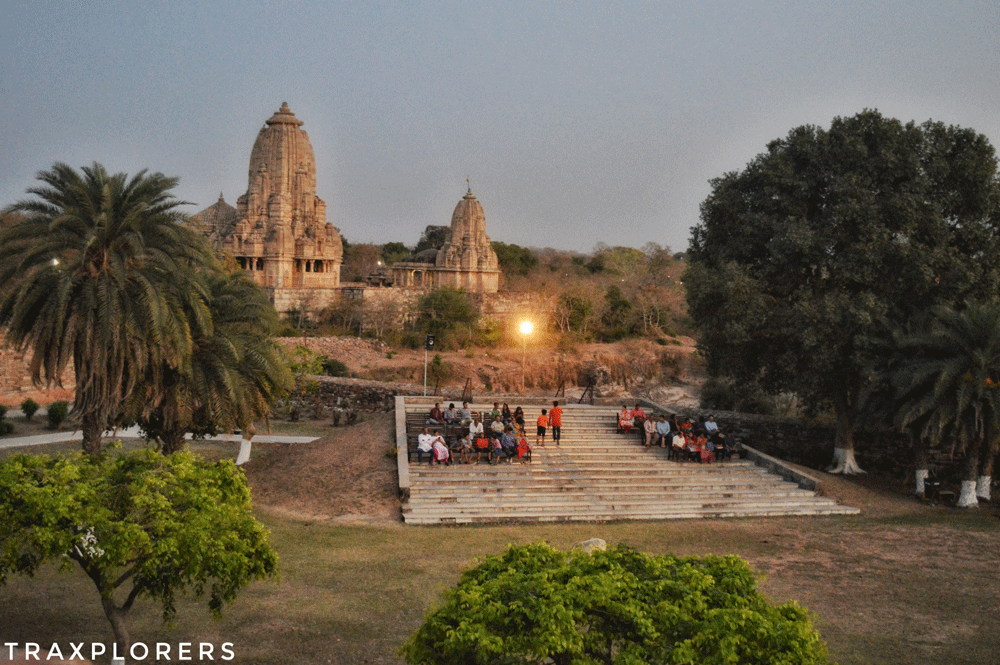 Every corner of the fort has so much to reveal about the bygone era. The palace ruins were like telling the stories and chivalry acts of their rulers' along with the cruelty done by enemies of the Mewar kingdom. I really wished I could time travel at the moment and witness all the past events happened right there in the fort. Anyways, all we could do was to admire the monuments stand firmly in front of us. As if they were also trying to express themselves.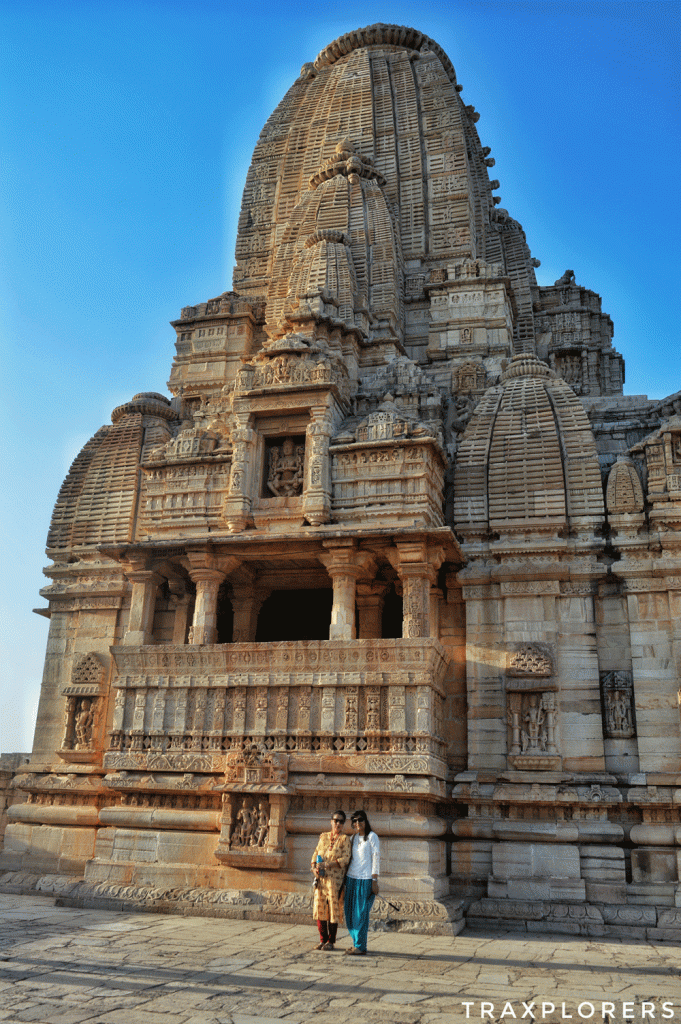 The beautiful sunset witnessed through the enamoring sites of the fort and the dusky sky even looked more beautiful from the fort. The view of Chittor city from the fort at that particular moment was totally captivating in twinkling city lights.
Where to Next?
We were pondering what to explore the next day. As usual, I have a habit of googling things and places near our location. I did my research and found a place, Kota, at 172 km from Chittorgarh known for its replicas of seven wonders. I thought it might be a good location too. The next day, we planned to go for it. What we found and what was our experience out there? Find out in our next post. Till then do comment your thoughts on this post and don't forget to subscribe to our newsletter to get new posts directly into your inbox.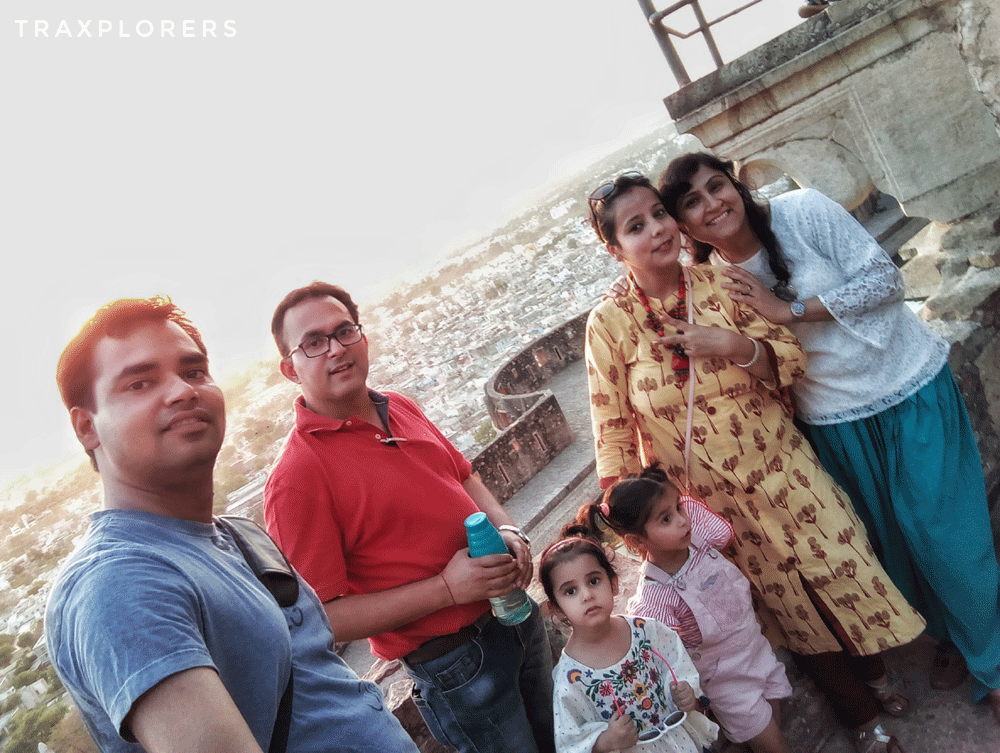 We appreciate each and every share. Pin the image below to save and read later. Thank you! ❤️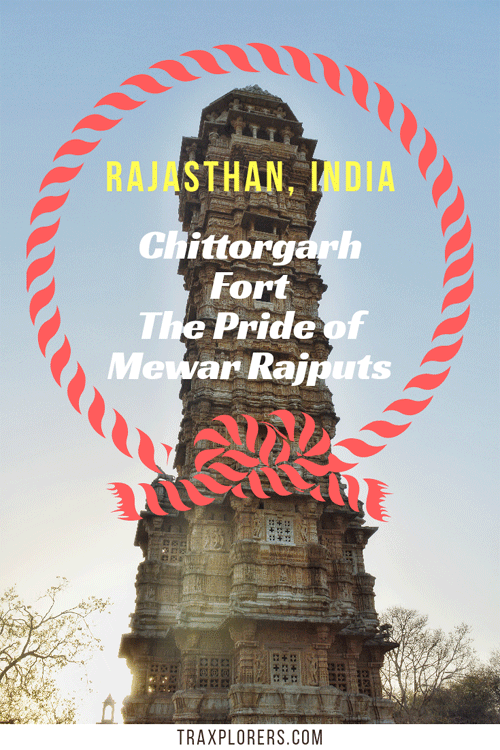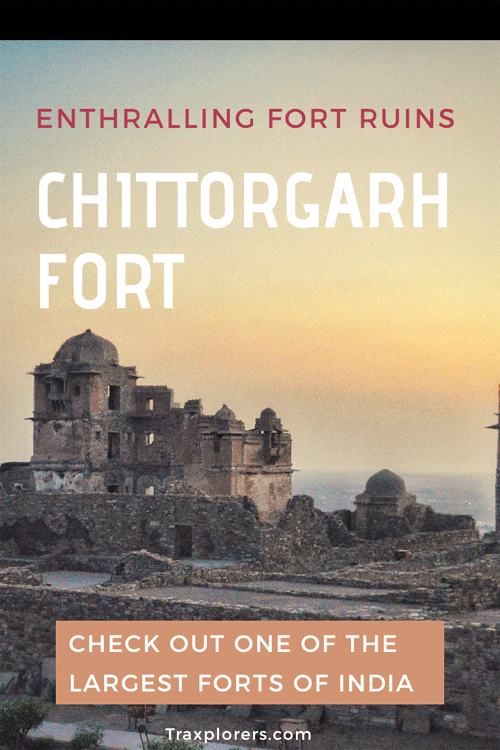 DISCLAIMER: Some links on this site contain affiliate links, meaning if you book or buy something through one of these links, we may earn a small commission (at no extra cost to you). Thank you for supporting this website.
Terms & Conditions: ©Unauthorized use and/or duplication of any material (text and/or images) without consent from this site's author and/or owner are strictly prohibited. Links and excerpts may be used provided that full credit is given to Traxplorers or Supriya Bhardwaj with specific and appropriate direction to the original content.