An Offbeat Hidden Jewel of Rajasthan- Bundi
Bundi is popularly known as 'Choti Kashi': There are so many temples and stepwells. The city is also known as "Queen of Hadoti" and Stepwell City of Rajasthan. Our visit to Bundi left us astonished with the number of historical places, the architecture, and their importance. We wondered how this magnificent historical city with the natural beauty of surrounding Aravalli ranges is still not so famous among tourists. We found Bundi like a bowl of precious gems offered with nature's delight. Indeed, it is an offbeat treasure chest that dwells in the hills of the desert.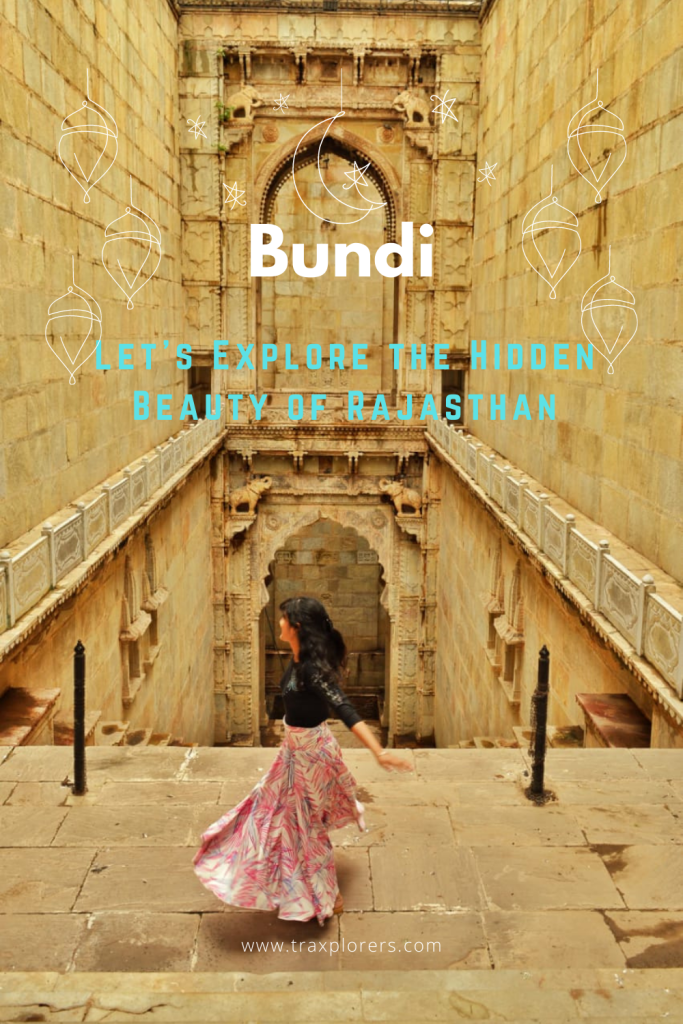 Main attractions of Bundi:
1. Moti Mahal
The majestic fort was built in 1645 by Maharao Raja Bhao Singh. Later on, the fort was further enlarged and strengthened by other kings. Moti Mahal is built in the form of a huge apartment-like structure that is embellished with gorgeous mirror work on the ceilings. It is believed that a lot of expensive stones, marbles, and around 80 pounds of gold were used to add beauty to the interiors of Moti Mahal.
2. Panoramic views of Aravalli hills
The stunning view of Aravalli hills can be seen from Moti Mahal (at the backdrop) and also from Sukh Mahal located on Jait Sagar Lake.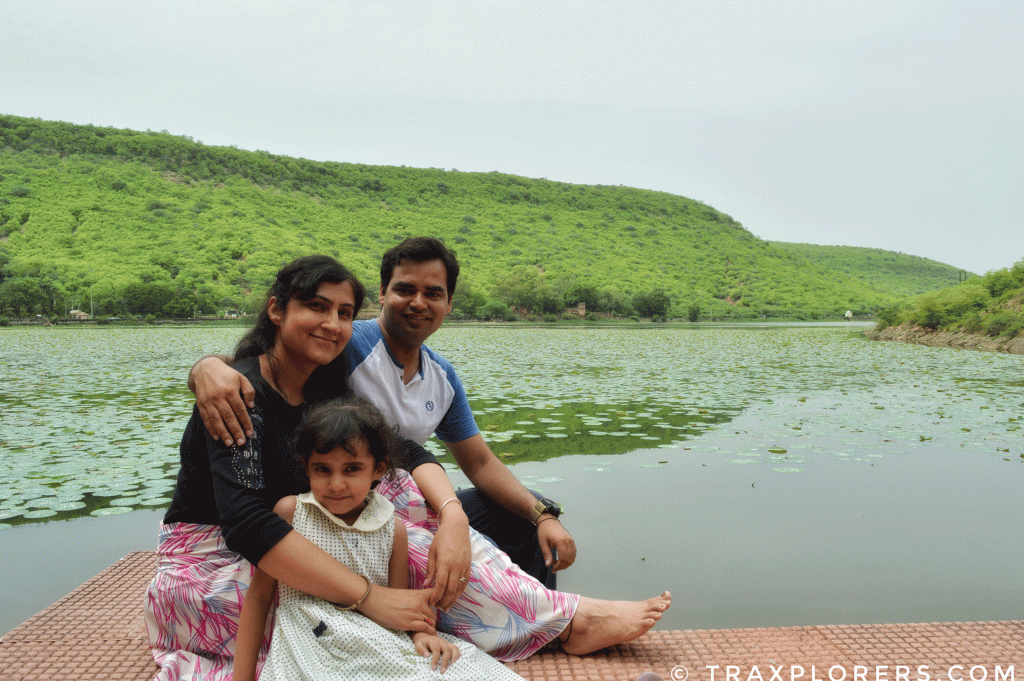 3. Jait Sagar Lake:
The lake is situated in the middle of beautiful natural surroundings. It is surrounded by mountains from all sides and is the best place for a day excursion. The Lake was built by Jaita Meena so it got its name Jait Sagar Lake. It is a 4 km long lake which is named after Sukh Mahal which lies on the edge of the lake.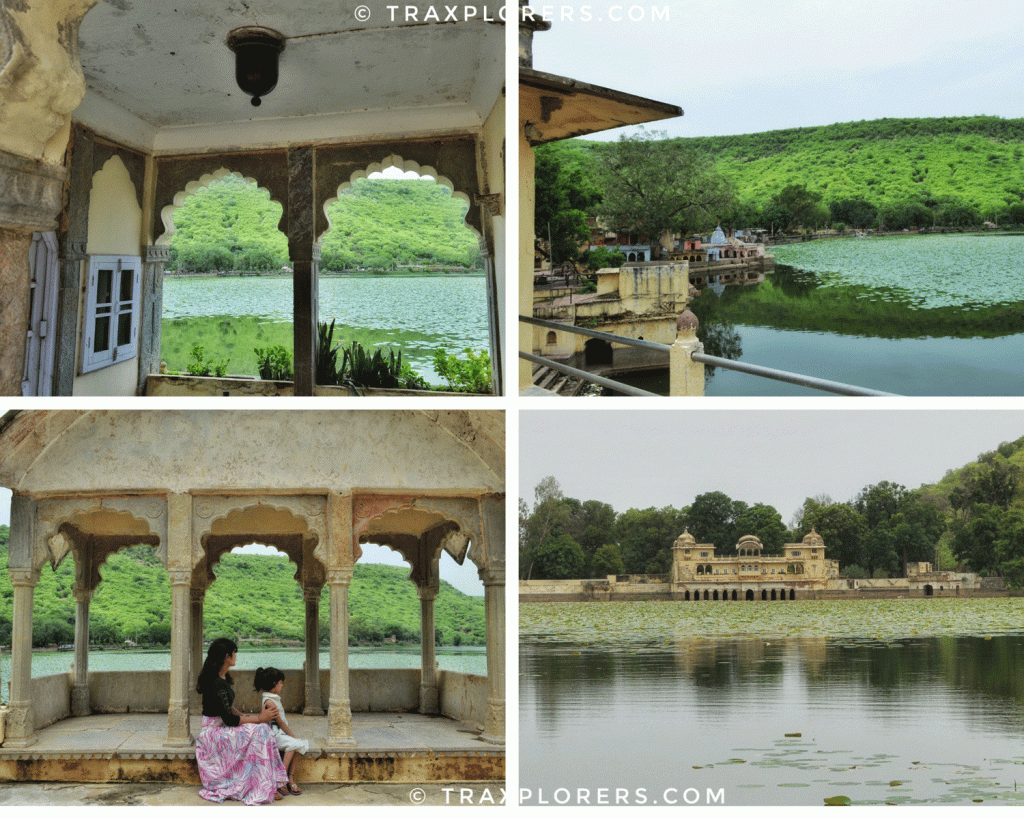 Sukh Mahal is a small summer Palace where Rudyard Kipling once stayed and wrote the famous novel- Kim. One can see the room where he stayed with a few of his belongings on display.
Shikar Burj- a former hunting lodge of kings, is located near Jait Sagar Lake which was known for a large range of boars, tigers, and deer.
Kshar Bagh- at one end of Jait Sagar Lake, there is a huge overgrown garden with 66 Chhatris (cenotaphs) of Bundi Kings and Queens.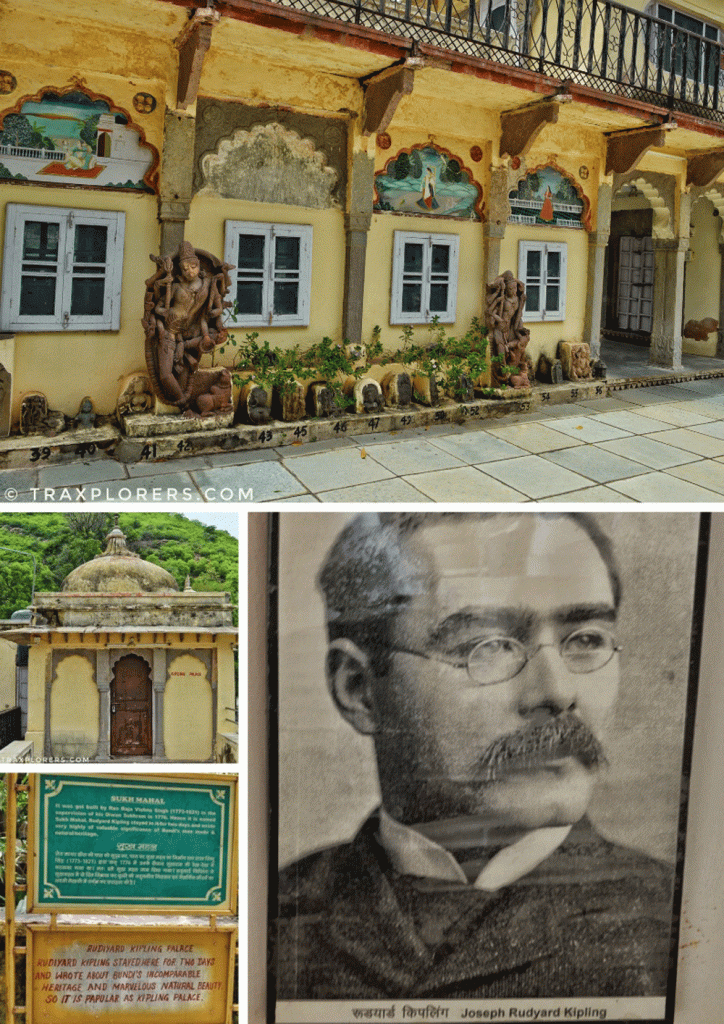 4. Taragarh Fort:
The beautiful landscape of Bundi is dominated by forts and the grandest fort of Bundi is 'Taragarh Fort'. This fort is situated in a narrow valley of Bundi and is tucked close to the Bundi Fort. Taragarh fort was built in the 14th century on a hilltop and it offers a spectacular view of the city.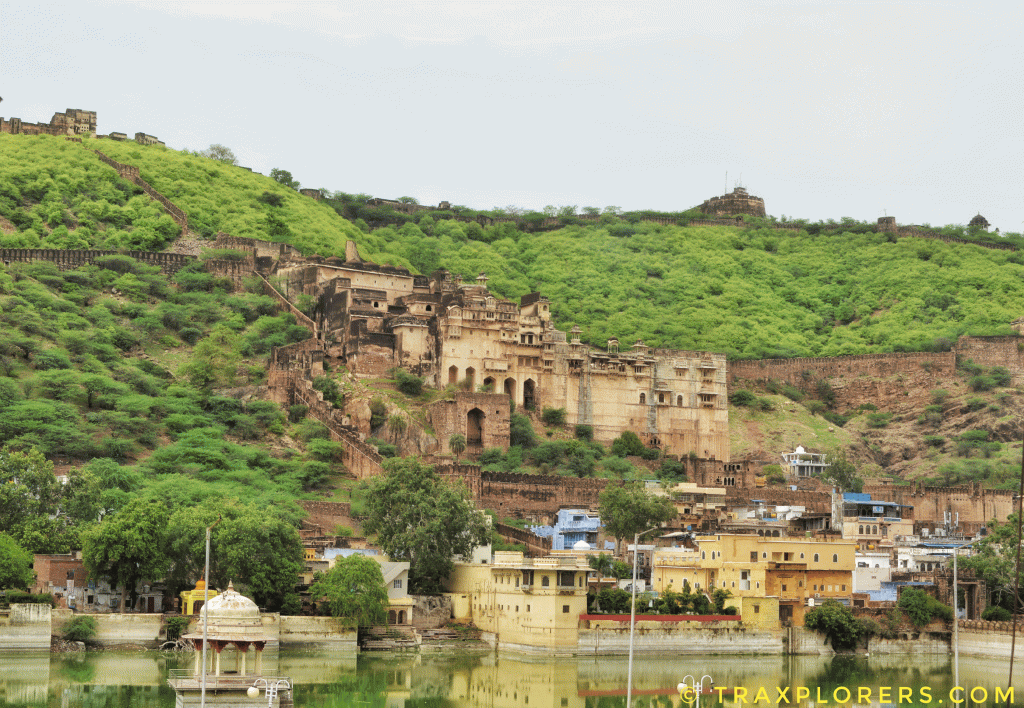 5. Bundi Fort:
It was founded by Rao Deva and was popularly known as 'Star Fort'. This is due to its location on a steep hill. The Fort offers a panoramic view of the entire city of Bundi. It is situated on the Nagpahari of the Aravalli ranges.
6. Chaurasi Khambon ki Chhatri- 84 Pillared Cenotaph:
This was constructed in 1963 by Rao Raja Anirudh of Bundi in the memory of his nurse named Deva, under whose guidance and love the prince grew up.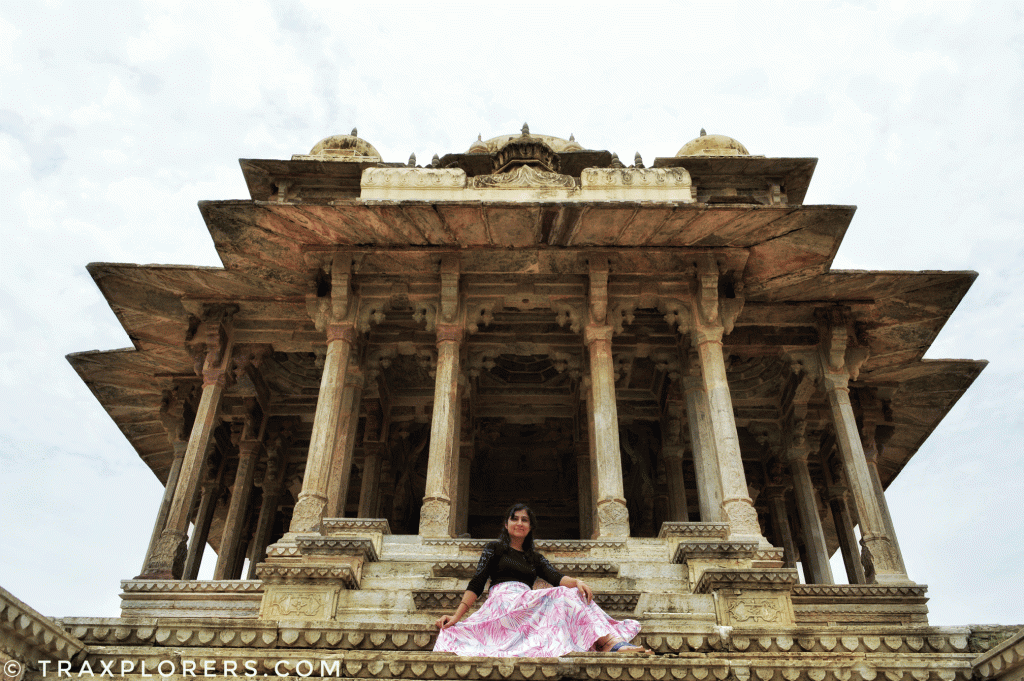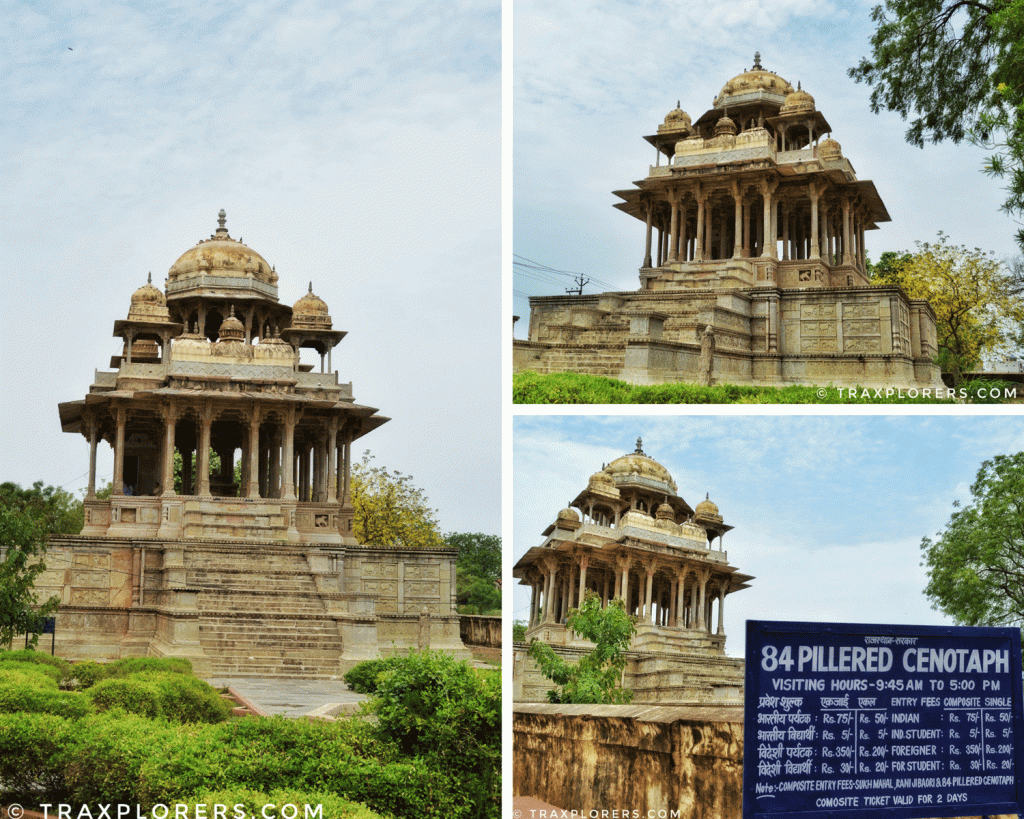 7. Raniji ki Baori- Stepwell
This stepwell was constructed in 1699 by Rani Nathavati (Solanki) who was the younger queen of Rao Raja Anirudh Singh of Bundi. The stepwell is 46 meters deep with superb intricate carvings on its gate and pillars. This multi-storeyed structure is so well designed with places of worship on each floor. At the entrance of the stepwell, there are four pillars with stone elephant statues standing in the corners. This stepwell is the largest stepwell of Bundi with almost fifty steps and is surely a magnificent piece of art.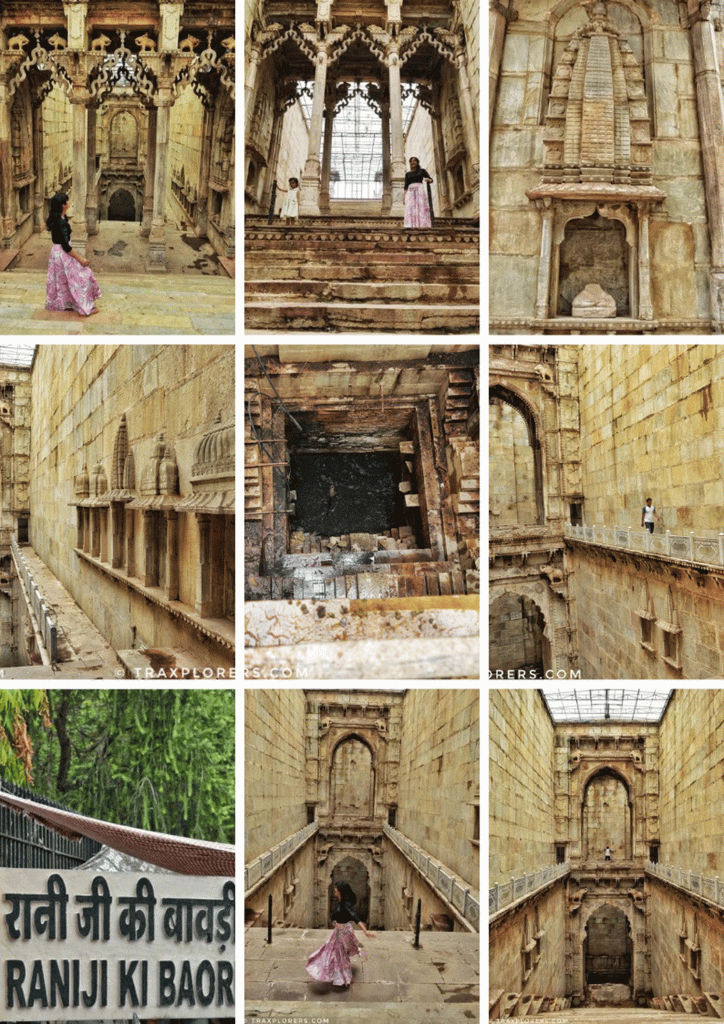 8. Nawal Sagar
Nawal Sagar Lake is the heart of Bundi City. It looks mesmerizing when viewed from Taragarh Fort. The Lake is dedicated to Hindu Water God (Lord Varuna) and there is a temple in the middle of the lake and also a small palace near the lake.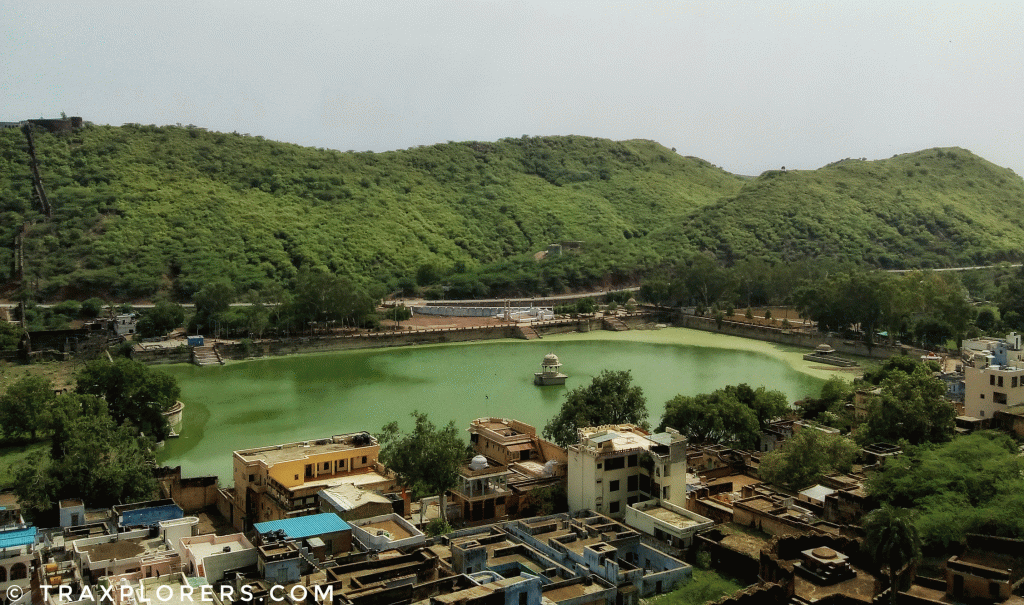 9. Dhabhai Kund
Dhabhai kund is among one of the finest stepwells with unique geometric style architecture. It was built in the 16th century and is located near 'Raniji Ki Baori' close to the main city. This stepwell displays magnificent artistic skills.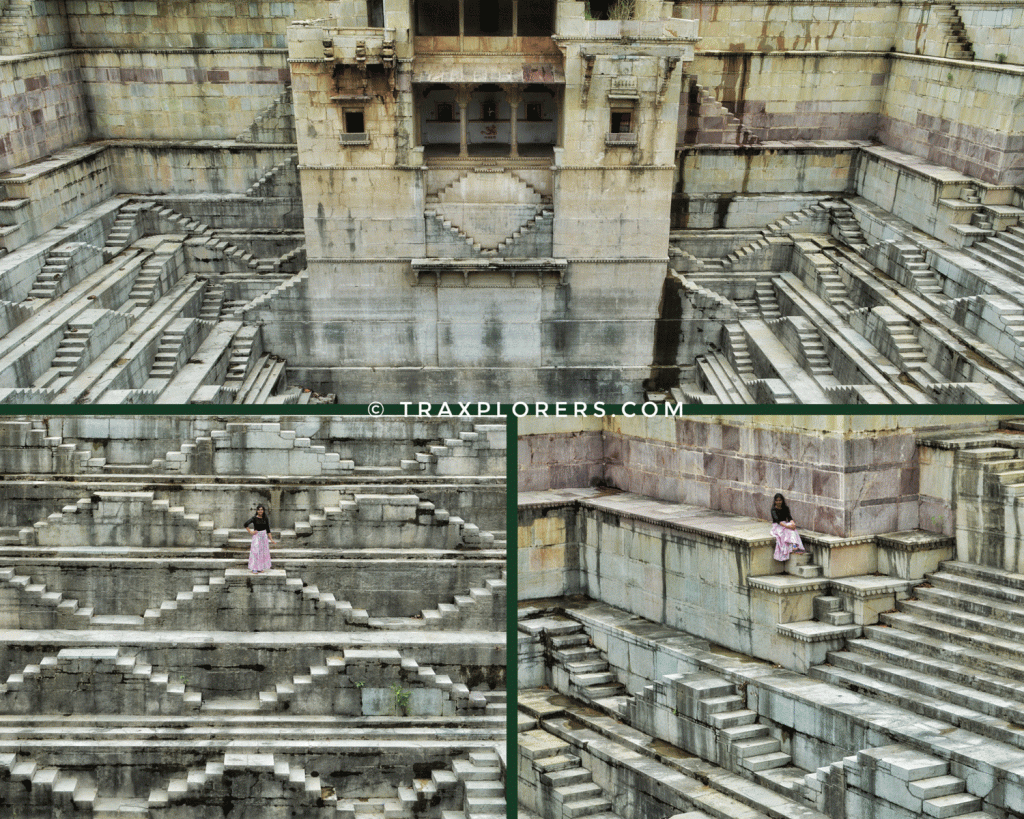 10. Garh Palace
Garh Palace is like a jewel in the crown of Bundi. It is also known as 'Bundi Palace'. The Palace is located near Taragarh fort. Garh Palace was built in the 17th century and is Royal Rajput Castle. You will get to see various colorful murals inside small palaces. There are beautiful 'Jharokhas' from where one can feel a cool breeze and mesmerizing view of the city. There is a huge entrance gate known as Elephant Gate: 'Hathi Pol,' guarded by elephant statues.The Palace can be visited between 8 am to 5 pm.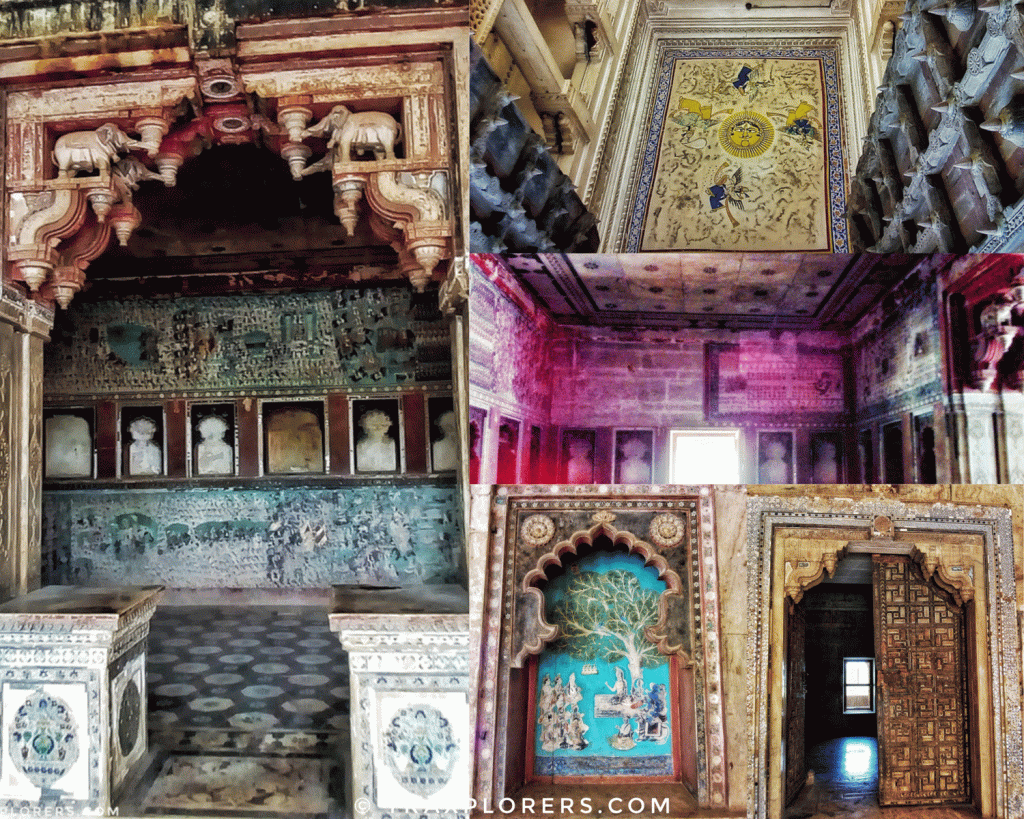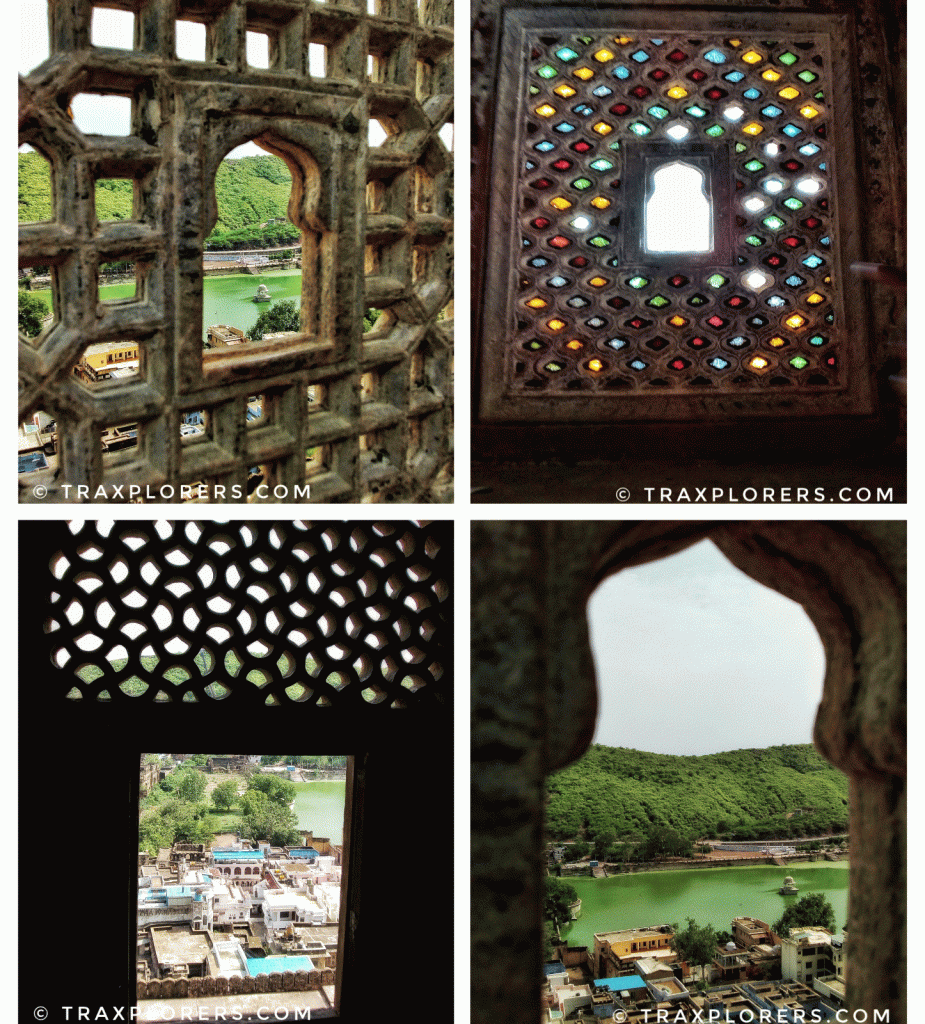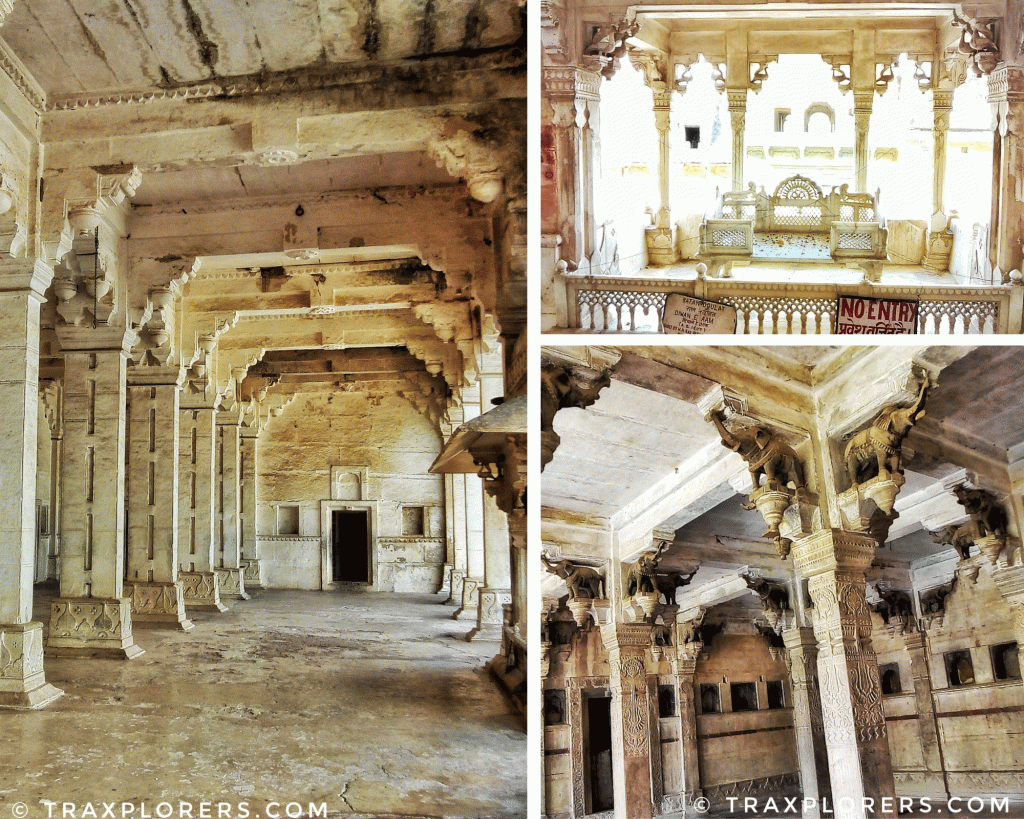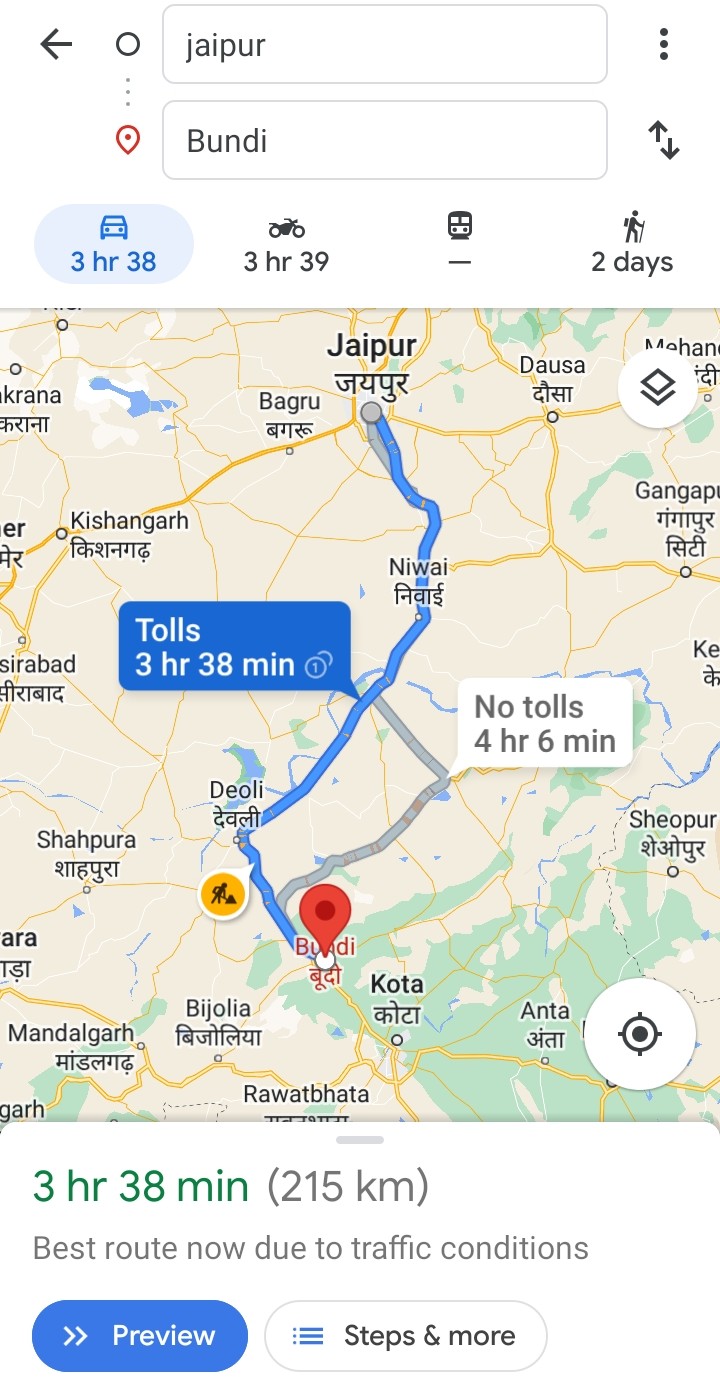 Help yourself to find out location of the places to visit in Bundi by zoom in the following map 👇
Traxplorers' Experience: Bundi
Bundi, being an offbeat station of Rajasthan naturally attracted us. We decided to venture into the unpromising outskirts through flat and dusty roads. This did nothing to portray the charm and beauty or cultural significance of the city. But then the road curved around a mountain and valley bowl that holds the ancient gem of the city appeared. The name Bundi was probably given to the city due to its bowl-like setup surrounded by mountains. We came to know further about this from some locals there.
Check out our Instagram pix 👇
How Bundi Got Its Name?
The Bundi region was earlier occupied by Mina and Bhil tribes. So, the name of the region came after a popular Mina Man called Bunda Meena. Initially, Bundi was known as 'Bunda-ka-Nal', meaning a narrow passage between the hills.
Places We Adored the Most In Bundi
We loved Raniji Ki Baori, the stepwell. However, we were not convinced of its location. It can be easily ignored if not have gone with proper research. This stepwell is surrounded by a huge crowded market. But once you get entry into this historical marvel, would be stunned by the beauty of its structure.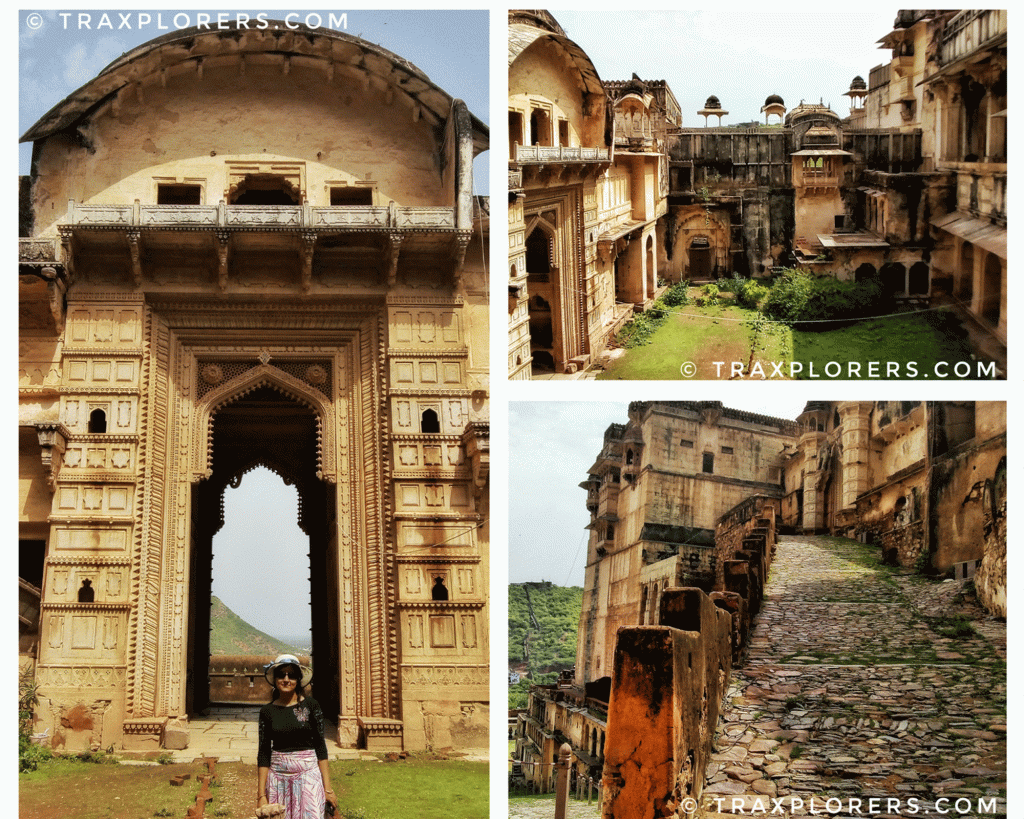 Check out our Instagram pix 👇
The second best place we have found is Garh Palace and Taragarh fort. After a steep climb to visit Garh Palace ends at the beautiful 'Hathi Pol'. The view of the whole city from the top of the Palace was mesmerizing. Luckily, we got a local guide who told us about every room of the Garh Palace with detailed history it beholds. We found Garh Palace as a much valuable piece of history. This place is an absolute gem of Bundi. But it is in dilapidated condition and should be restored.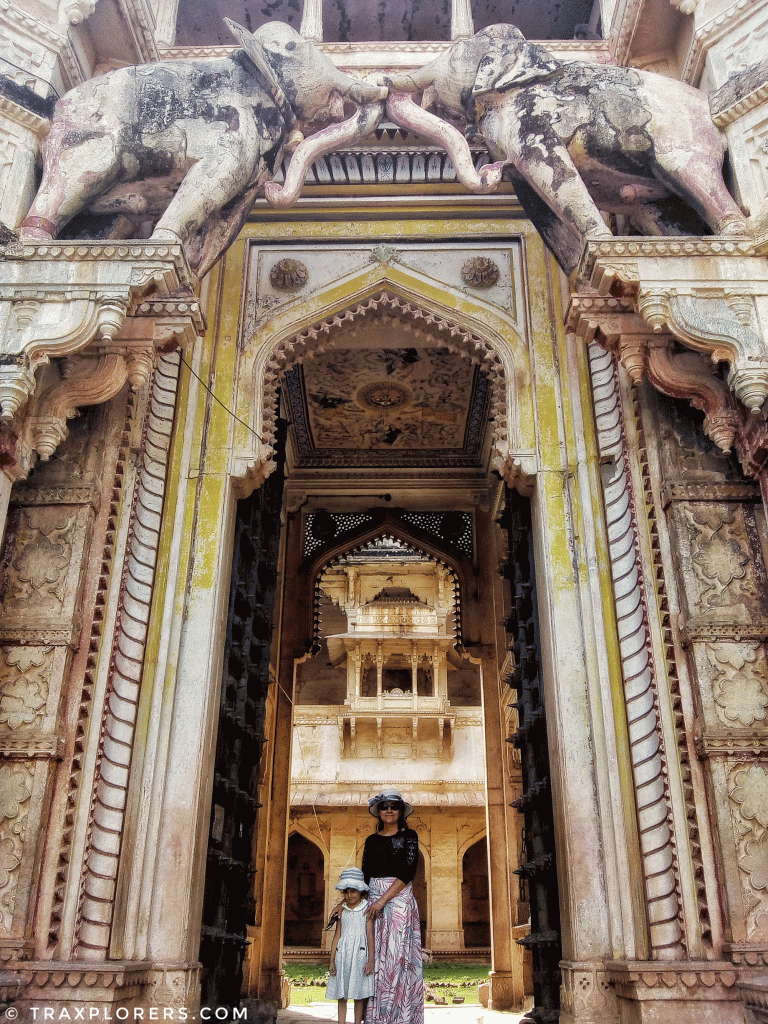 Thirdly, 84- pillared Cenotaph is a marvel in itself and we are convinced of the fact.
How did you find this article? Helpful? Share the love. Pin the image below to save and read later. Thanks!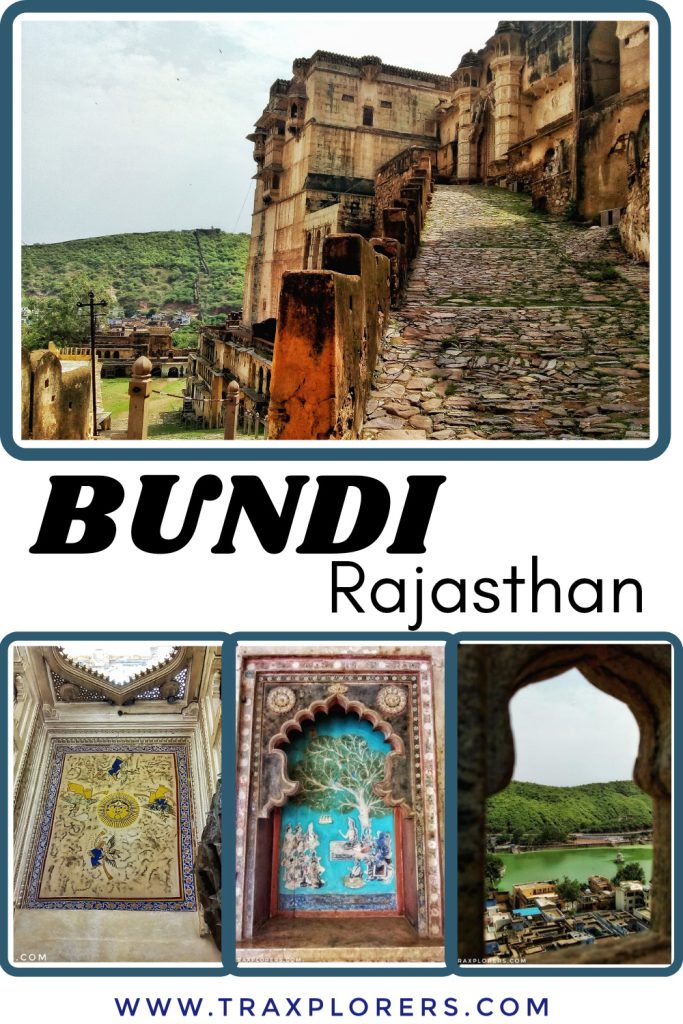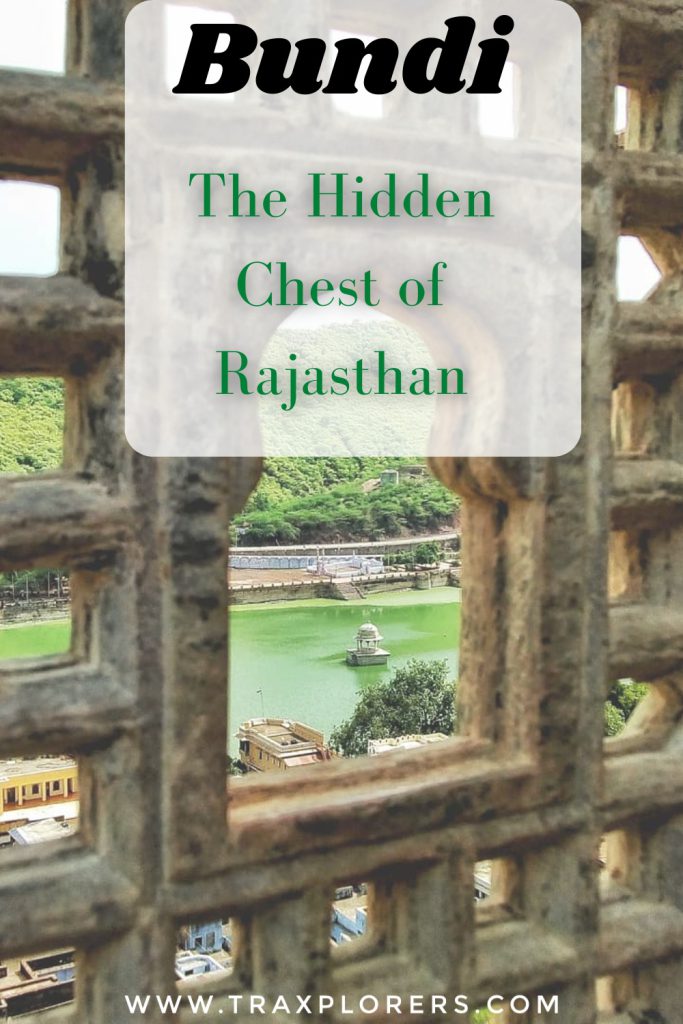 DISCLAIMER: Some links on this site contain affiliate links, meaning if you book or buy something through one of these links, we may earn a small commission (at no extra cost to you). Thank you for supporting this website.
Terms & Conditions: ©Unauthorized use and/or duplication of any material (text and/or images) without consent from this site's author and/or owner are strictly prohibited. Links and excerpts may be used provided that full credit is given to Traxplorers or Supriya Bhardwaj with specific and appropriate direction to the original content.